Our New Companion!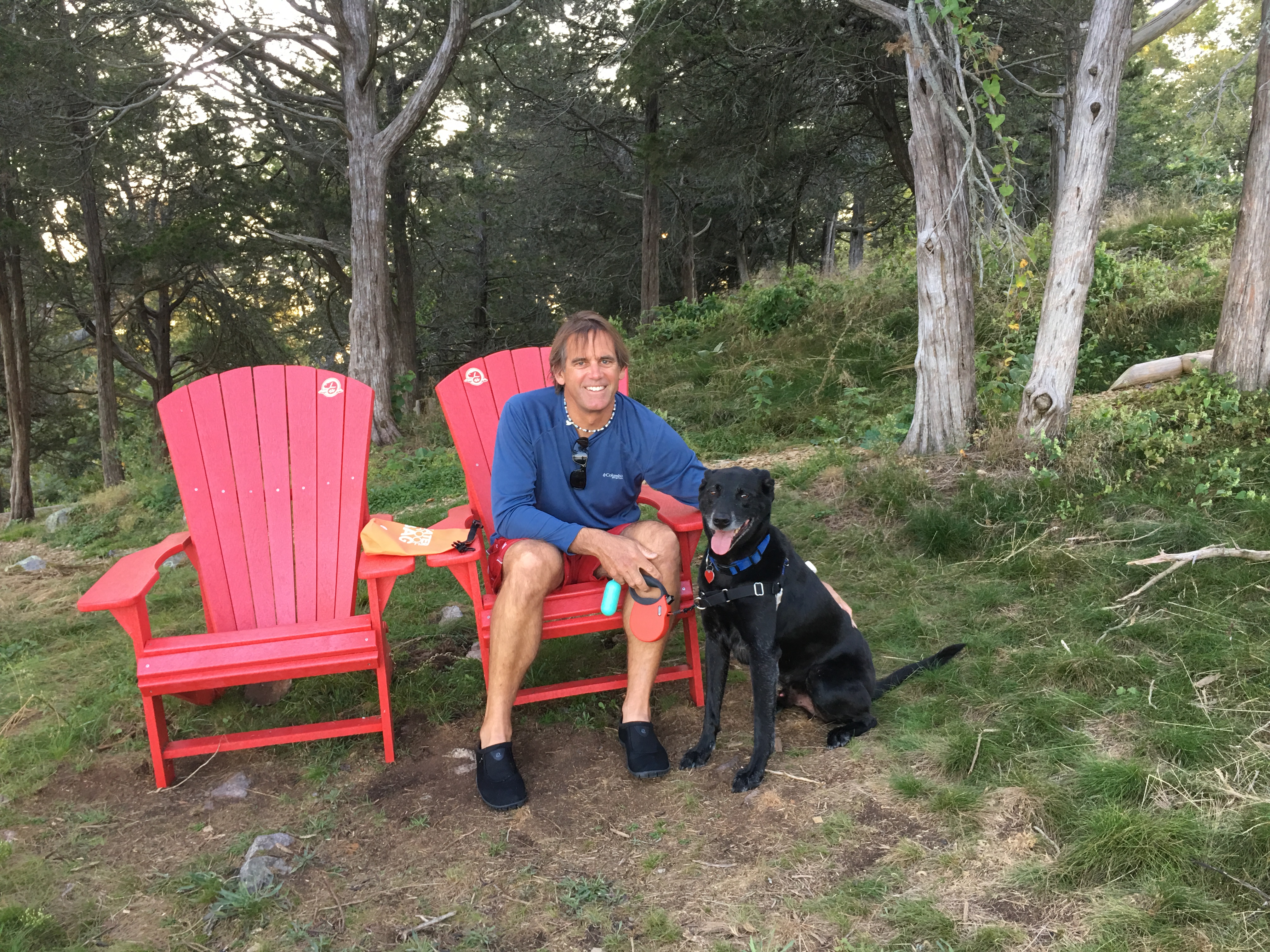 We are back on the boat after taking our youngest son to college. As you'll recall, we left Thalia in Toronto so it was a long drive home and back. Our dog "Journey" is now on board with us. Journey is a ten-year-old cross between a black lab, a blood hound and several other breeds. Journey has become less excited about being on the boat as he has aged. He gets anxious when we heal or if we are slamming through waves. While our son was home working this summer, it was nice to have Journey able to stay home; but with our son going to college, Journey had to come with us! This will be an adjustment for all three of us.
We decided to make our first day out with Journey a shorter one so we stopped at Port Whitby, a 27 mile sail from Toronto. We attempted to anchor inside the breakwater as our cruising guides advised. However, we felt too constrained/endangered by the surrounding shallow areas and the harbor channel passing closely by us. Because of these conditions, we raised the anchor and attempted to anchor outside of the breakwater. This didn't work either – the wind was kicking up from an unexpected change in direction and if we stayed here we were likely to rock uncomfortably all night. Our third attempt had us tied off at the docks at the Port Whitby marina! Little did we know that we might be in store for additional repeat performances.
First Attempt for Cobourg
The forecast for the next day indicated winds from almost the direction we needed to sail, which isn't ideal. However, the wind direction was supposed to change mid-day, so we felt we could make some progress against the lighter wind in the morning and the change of direction would let us continue to Cobourg in the afternoon. As morning broke, the winds were stronger than predicted and they stayed right on our nose all day as they grew in strength. Watch this video that shows our difficulties and ultimate choice to turn back and try again the next day.
Once we reached Cobourg, we anchored in the harbor between two protective breakwater barriers and walked around the lovely town. Unfortunately, it was Sunday afternoon of Labor Day weekend and the town was pretty much shut down. However, we could appreciate what it had to offer and would highly recommend Cobourg as a stop along the northern coast of Lake Ontario. There were many appealing restaurants and shopping boutiques. Here's a drone fly-over of the marina and town center.
Surfs Up!
As we left Cobourg, we knew it would be another challenging day on the water. High winds were predicted, but luckily the wind direction was from behind us and, while this is much preferred to beating against a strong wind, it was not without some white knuckle sailing! And, we broke a speed record on Thalia – we saw 11 knots on our GPS! This is nearly unheard of but is likely the result of strong, consistent winds from behind us. This had us surfing down the front-side of huge waves with a strong following sea and a heavy breeze both pushing us as fast as our boat could travel through the water. See a video on our day here:
The wind was a steady 20 knots all day so it built up some sizable waves (a lake effect!). When strong wind comes to you, you slam into the waves. When it comes from behind, you glide over them and surf down the front! It takes serious concentration to safely steer the boat in these conditions, but it certainly is fun. As the wind peaked at just over 25 knots, we saw great speeds!
Our goal while in the open waters of massive Lake Ontario was to reach Presqu'ile Bay where we would pick up the Murray Canal — both for variety and to spend time in a smaller body of water where there would be minimal or non-existent waves. Our dog was about to mutiny! We're so happy we chose this route – what a special area! Although very shallow, the Murray Canal is a well-marked inside passage for east-bound boaters making their way toward popular Kingston, Ontario and parts further east. See the chart below … this passage has you zig-zagging through the waters of the Bay of Quinte before passing inside of Amherst Island and on into Kingston. The shoreline homes, towns and farmlands were absolutely beautiful. We spent the first night anchored in Sandy Cove. It was a long day from Cobourg to Presqu'ile Bay, through the six-mile Murray Canal and then out into the beginning of the Bay of Quinte. This was Journey's fourth day on the boat and each had been quite rough in terms of stability on the boat.
The Inside Route
When we had about 45 minutes remaining before arriving at our intended anchorage, we heard squall warnings for eastern Lake Ontario on the VHF radio and, sure enough, the sky was darkening and thunder was rolling across the nearby hills. We quickened our pace as the storm approached. We rapidly drove into Sandy Cove, picked a spot, dropped our anchor and retreated below as the skies opened! Wow, what a couple weeks we have had in terms of weather … yikes. What we have been living is how we have heard everyone describe Fall in the Great Lakes but this is late August and early September. Given the storm, poor Journey had to wait even longer before heading to shore to do his 'business'. Luckily, we had docked mid-day at a wall next to one of the canal swing bridges and given him a break – I'm not sure he would have made it otherwise. The sun was about to set but we had to get Journey to shore so between bands of the passing storm, we tossed the engine on our dinghy, sped to shore, encouraged a quick potty experience and sped back just as another round of thunder, lightening and heavy rain passed overhead. Waking to bright skies and the knowledge of a minimal distance to travel was a welcomed gift for all of us, but especially for our sweet pooch.
Our second night in this inside passage was spent tied up on the town wall in Picton, Ontario. Picton is worth a visit should one find themselves on the north shore of Lake Ontario. The 555 Brewing Company delivers a solid offering of hand crafted beers and has great ambiance as well. There are a number of cute shops on the main street and TWO grocery stores in walking distance – quite a find indeed! If you were to ask my husband, the best discovery in Picton was the 'Naval Marine Archive: The Canadian Collection'. We were strolling down the main street when Tom stopped to read the historic signpost in front of a large brick building describing the archive and promptly said, 'I am feeling that I have to go in here!' I lost him for HOURS – he came out with 5 books and could have bought a bunch more. This treasure has one of the largest collections of marine/nautical literature and non-fiction material in the world and to stumble upon it was pure serendipity for Tom!
Here are some photos of our time meandering through the Bay of Quinte between Presqu'ile Bay and Kingston: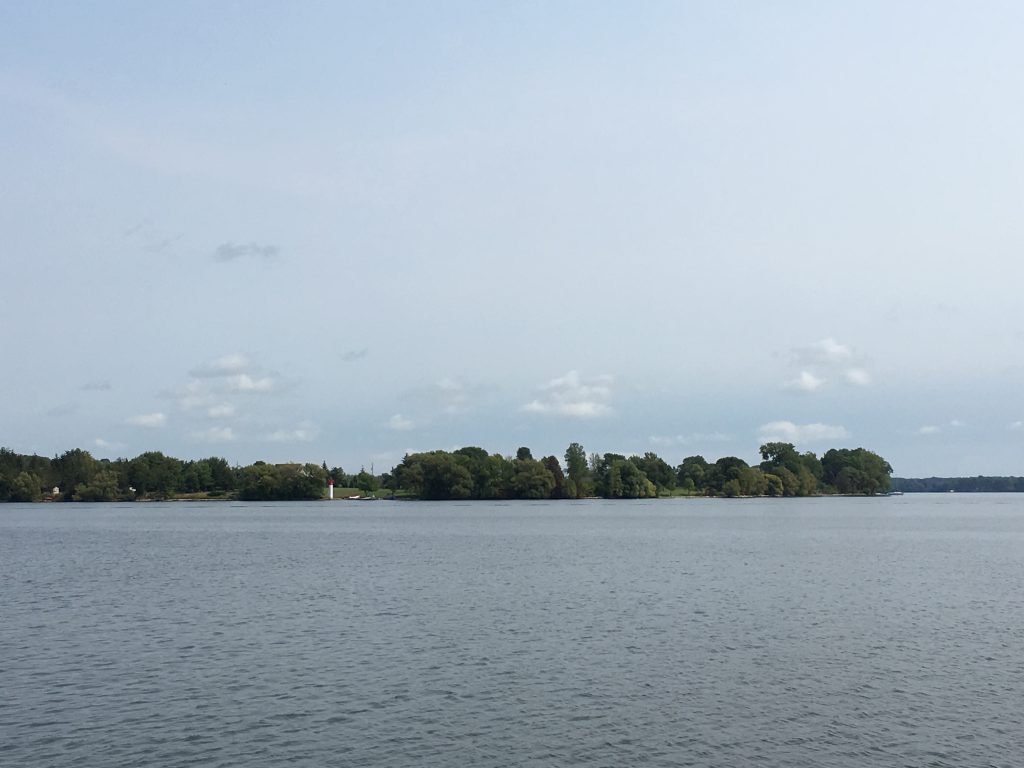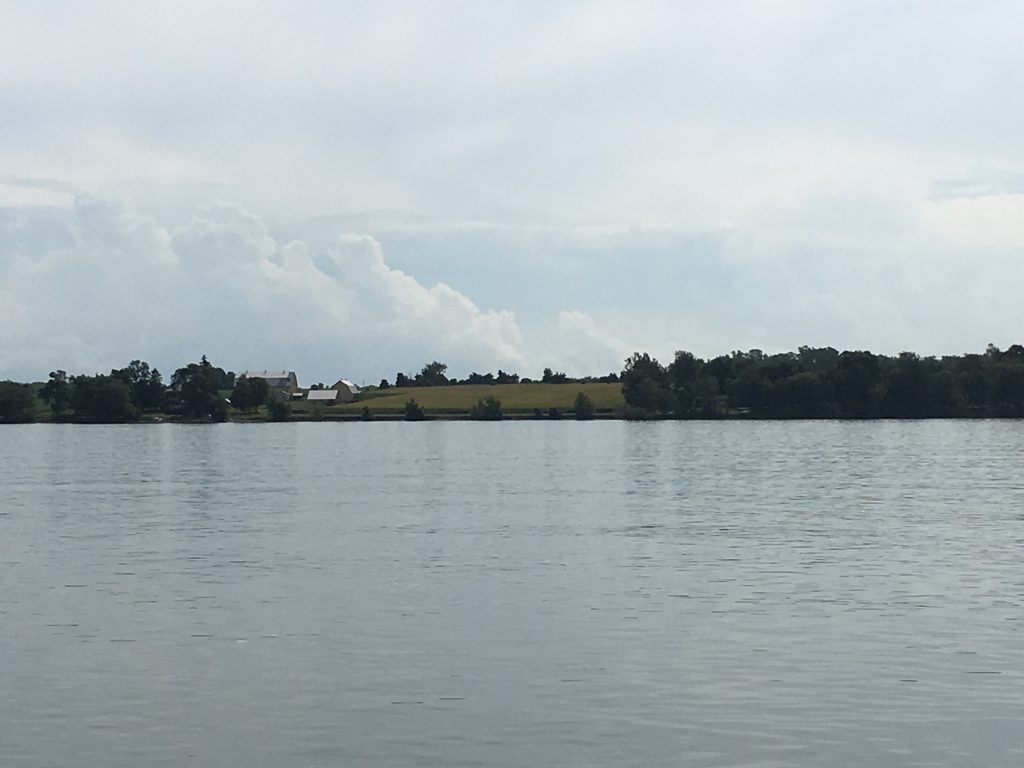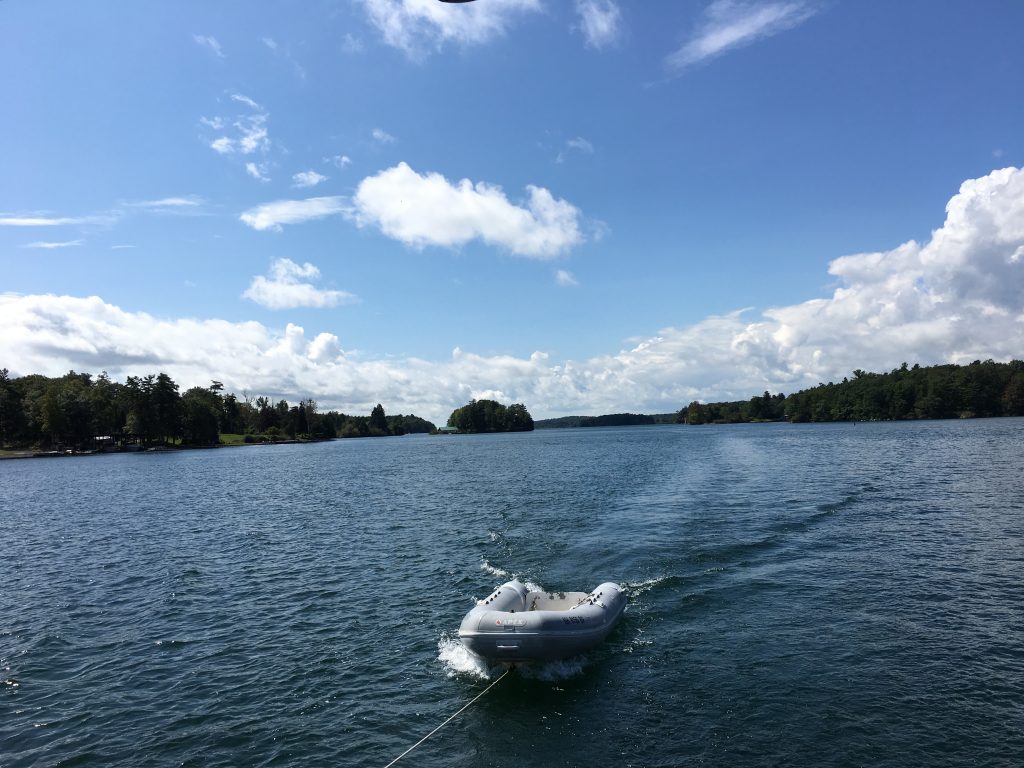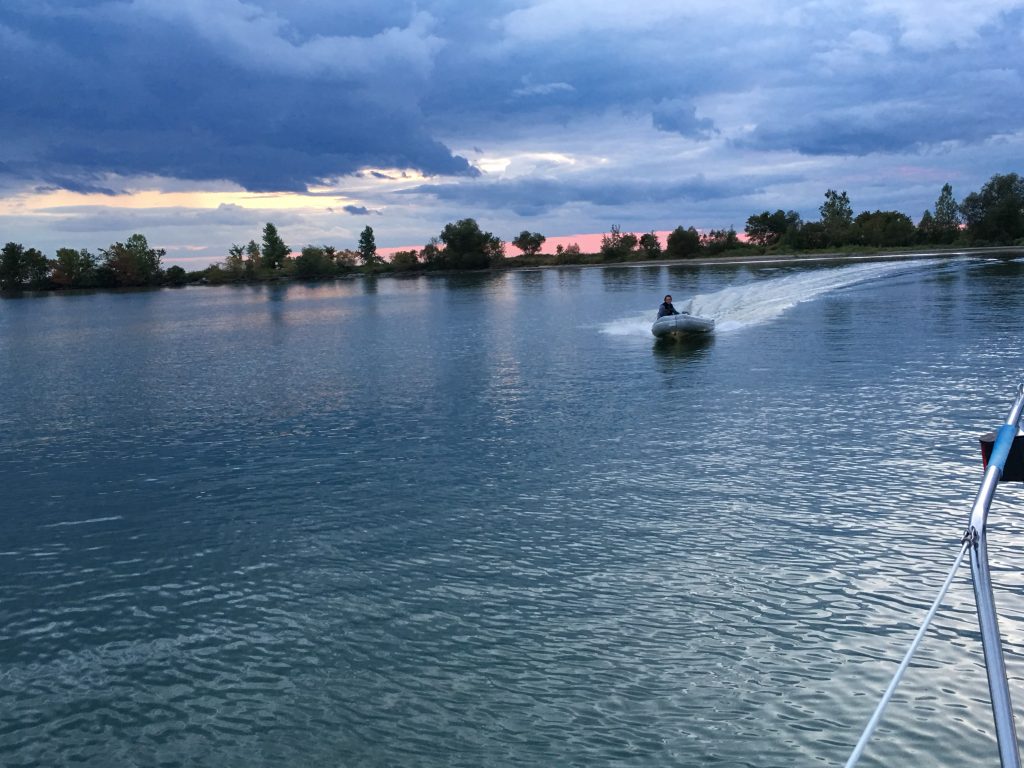 Ontario Crossing Complete
We arrived in Kingston, Ontario mid-afternoon on our sixth day underway since departing Toronto. Though you can continue east beyond Kingston, the waterway transitions from a lake into the St. Lawrence River so we declared our crossing of Lake Ontario complete upon reaching Kingston. Lake Ontario is a long lake when you travel nearly the full length – here are rough distance we traveled from port to port:
Toronto to Whitby – 27 miles
Whitby to Cobourg – 35 miles (plus 36 for the out and back first attempt!)
Cobourg to Sandy Cove in the Bay of Quinte – 48 miles
Sandy Cove to Picton – 23 miles
Picton to Kingston – 34 miles
Total of 167 miles
Kingston is a bustling college town full of history and energy! We took long walks and saw block after block of beautifully maintained historical architecture. It was common to see buildings from the early 1800's and the mix of old and modern in close proximity is tastefully presented throughout the vibrant Kingston streets. There are more pubs and coffee shops than could safely be enjoyed even if you spent a week here. We hope to return to Kingston for one more night after we explore the Thousand Islands area. Until then, here are some pictures of the waterfront park and some of the many beautiful buildings: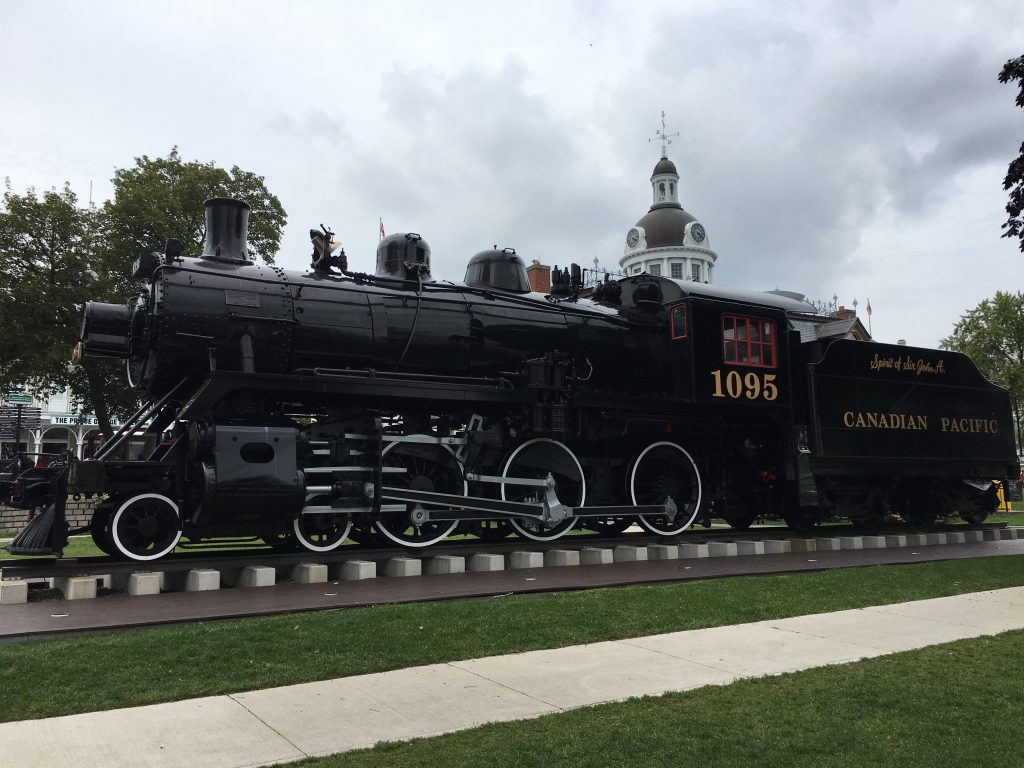 Early Thoughts of Winter Storage
With the change of seasons nearly upon us, we are starting to think about all we will need to do to prepare Thalia for winter storage. When we were first planning our trip through the Great lLakes, I recalled hearing about an old friend from my childhood that had a connection to a marina on Lake Ontario. I looked Christy up and, sure enough, she and her husband Steve are partners in ownership of Navy Point Marine in Sackets Harbor, New York on the eastern end of Lake Ontario! More coincidentally, Steve is a sales representative for Jeanneau Yachts and Thalia is a Jeanneau Sun Kiss. We became more and more comfortable that Navy Point was the place we would store Thalia for the winter of our first year in these new waters! We developed the itinerary for this summer knowing our end point would be Navy Point in Sackets Harbor.
Having spent this past weekend in Sackets Harbor with Christy and Steve, we are thrilled to have settled on such a great destination. Everyone at the marina is helpful, the facilities are terrific and the town is darling! The folks at Navy Point graciously invited us to the marina's end of season picnic where we met many great sailors and kind people. It has been wonderful renewing this friendship with Christy! After we had each married, had kids and now look toward our empty nest years, it is fun to see how much we have in common. Here's to many years of friendship and adventures in our futures!
Not so Fast . . .
However, it is NOT winter yet, so we're back out for two more weeks! In the second half of September, we have two sets of friends joining us on-board Thalia and together we'll explore the beautiful Thousand Islands area. Because we want the time with our friends to be special, Tom and I are doing some pre-visit discovery in hopes that we can identify the greatest spots to visit in the limited time we will have with our friends.
After September, we will write an entire blog post on the Thousand Islands. Until then, here are some photos of this stunning area:
Until next time …
Karen, Tom and Journey ~ aboard Thalia