I'll just get it out at the beginning. Leaving Detroit behind and entering Lake Erie, we were both a bit apprehensive. Apart from the tasty mojitos at Put-in-Bay on our way through last time, Lake Erie had not been very kind to us. Bugs, hurricane-force winds, shallows – I would have been perfectly happy finding a portkey of the kind Harry Potter would discover to take us directly to Lake Ontario. But being mere Muggles, we were going to have to do this ourselves.
The action adventure got off to an immediate start as we were pushed down the Detroit River, running with the strong current directly into an opposing wind, what we affectionately call the Buzzards Bay effect, as it is reminiscent of being flushed out the Cape Cod Canal into Buzzards Bay with it's prevailing SW winds and step square waves.
The waves settled down after we got out of the current effect of the Detroit River and we turned to port to make our easterly progress. The destination for the night was Pelee Island. But before we could enjoy this uniquely Canada island, Mother Nature had some more tricks up her sleeve. We watched as the skies darkened to the west of us and a distant crack of thunder could be heard. Canada Coast Guard came on the radio to warn boaters about strong wind conditions in Western Lake Erie. At the end of the broadcast, they let the word 'chance of waterspouts' linger in the air waves as they signed off. Immediately, we started pulling up the NOAA radar page for the region and checked other weather sources. Sure enough, there was a heavy rain system marching across the Michigan/Ohio border, from Toledo and on out into Lake Erie, intersecting directly with our course. NOAA does a great job with these radar images, providing estimates of rain fall starting with light green coloring (light rain), to yellow, and finally to red which indicates very heavy rain. They will also box off areas on the image to show where there's a risk of severe thunderstorms or waterspouts. Here's an example of what they look like.
This was not from the actual day, but gives you an idea of what they look like. On this particular day, there was red across most of western Lake Erie, and boxes marking severe thunderstorm areas. We furled in our sails and started motoring immediately. We put our computers into the oven to protect them from a lightning strike, and recorded our lat/lon in case our navigation equipment was hit. The one ace in our hand was that the wind was coming from behind us. Quickly the dark clouds descended on us and thunder steadily cracked above our heads. The rain came down in buckets and the wind steadily increased, peaking at 35 knots. Rain was literally blowing sidewise to the water. Thankfully we were able to steadily run with the wind. Was someone trying to push us out the lake? They could have been a little nicer about it! Here's what the storm felt like.
Scudders Marina, at the north end of Pelee Island, was a sight for sore eyes as we pulled in after the storm. It was a unanimous decision to make this a 2-nighter, and we took full advantage of the break by biking around the island, visiting local artist shops, and even a tour of the local winery. Pelee Island has the distinction of being the southernmost inhabited land in Canada. As such, the weather is mild enough for grape growing. Our expectations were low, and we were pleasantly surprised by both the quality of the wines and the knowledgable staff. Great job Pelee Island Winery!
If felt like we had most of the island to ourselves, as the winds from the prior day's storm were still lingering, and scared away most of the ferry passengers.
That evening, we were graced with a beautiful sunset, with the silhoutte of the passenger ferry headed back to the mainland. I sure hope their passengers got a few bottles of wine, and maybe a bike ride or artists memento of the island because this was a very special, peaceful place. Who know Lake Erie had these treasures?!
It was time for us to make hay, and the next morning we were away from the dock at first light. Our goal was Port Stanley, some 85 miles away, and it would take every ray of sunlight to get us there. The first obstacle was razor sharp Point Pelee, extending south from the mainland like a giant stalactite.
From Point Pelee it was a straight shot to Port Stanley, where we pulled in at dusk and anchored just inside the twin breakwaters of the harbor. Although our stay at Port Stanley was brief, it was pretty easy to ID this town as a summer resort community. There were a gang of jet skiers buzzing as in the harbor, and the feel ashore was that of a Florida or California beach town, with little cottages and small bars and restaurants. For us, it was a utility stop only, and after being awoken early by several commercial fishing boats chugging slowly out the harbor, and by the sound of it, right through our berth, we raised our anchor and continued our steady progress east.
From Port Stanley, the northern shore of Lake Erie starts to turn slightly south eastward. In a peculiar stroke of geology, a long peninsula stretches out from the main northern shore to form the area know as… wait for it… "Long Point"! What the early explorer whose job it was to name this spot missed out on was the tremendous beauty of this pointy Point.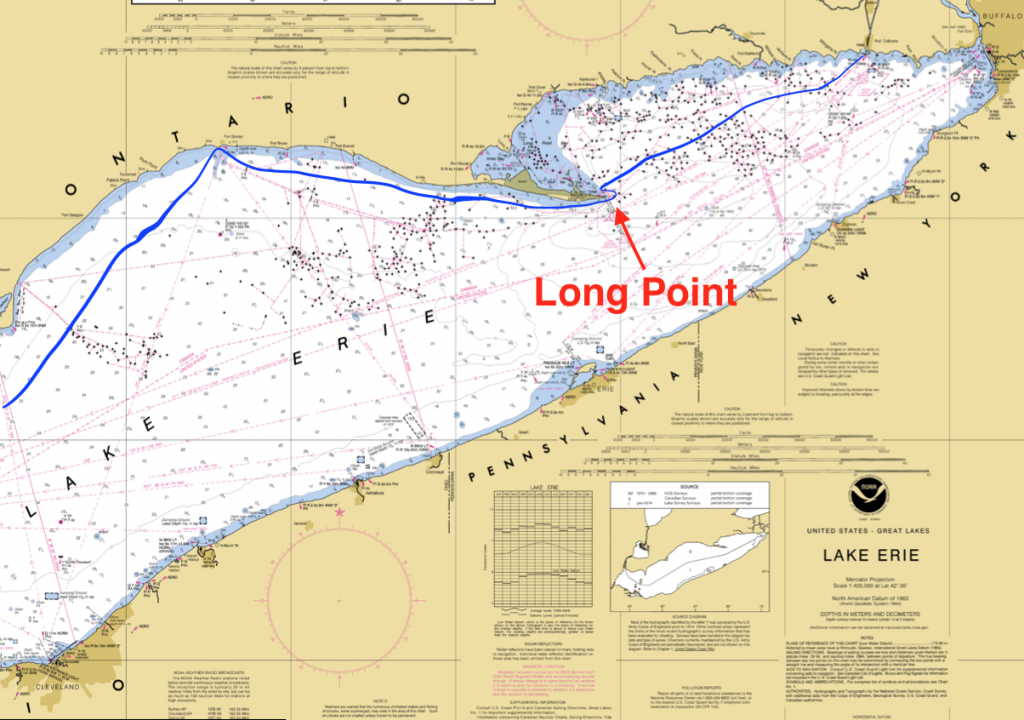 With steady westerly winds forecasted, we tucked around the end of Long Point and dropped the hook in the shadow of the lighthouse. Quite a few other boaters had the same idea, but they cleared out as dusk approach. We dinghied ashore and took in the rare experience of wading out into Lake Erie, watching waves break on the point from both the East and West.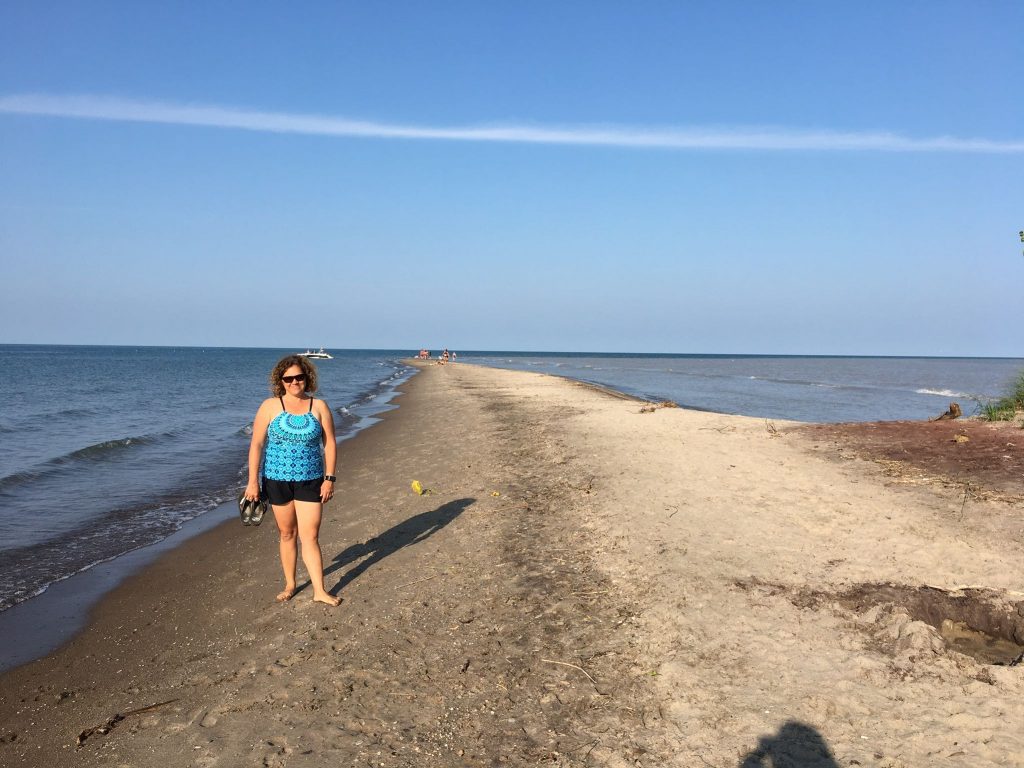 As it were, there had been a stretch of four days of good weather and sightseeing in Lake Erie since our first day of heavy squalls. We were overdue for a Lake Erie surprise, and it came at 5am the next morning. I stirred in our bunk and tried to fall back asleep, realizing shortly afterwards that I had awoken due to the distant clap of thunder. When I stumbled to the cockpit in that early morning fog of a mind, I could make out flashes of light to the west of us, upwind. OK, Lake Erie, just try toying with us one more time and we'll see who comes out on top! We both suited up in our foul weather gear and stood watch as a light sprinkle formed. We could clearly see the heavy rain on the radar, but providence was on our side, as the storm slide just south of us down the center of the lake.
Wide awake at 6am, it made sense that we weigh anchor and get underway. There was no sense trying to go back to sleep. I took the first watch and took in the sunrise above the passing storm clouds. Do you see a fire breathing monster in those clouds? I do!
With our luck at dodging this latest storm, our next challenge was our fuel supply. We had last fueled up in Harbor Beach, Michigan and when I checked the fuel gauge, the needle barely moved above empty. Yikes! Apparently we had done a lot of motoring recently. The winds were light on this day and normally we would have chosen to at least motor sail. Instead, we pulled out the assymetrical spinnaker, for the first time on this trip. It was a slow but peaceful sail to our destination of Port Colburne, at the entrance of the Welland Canal.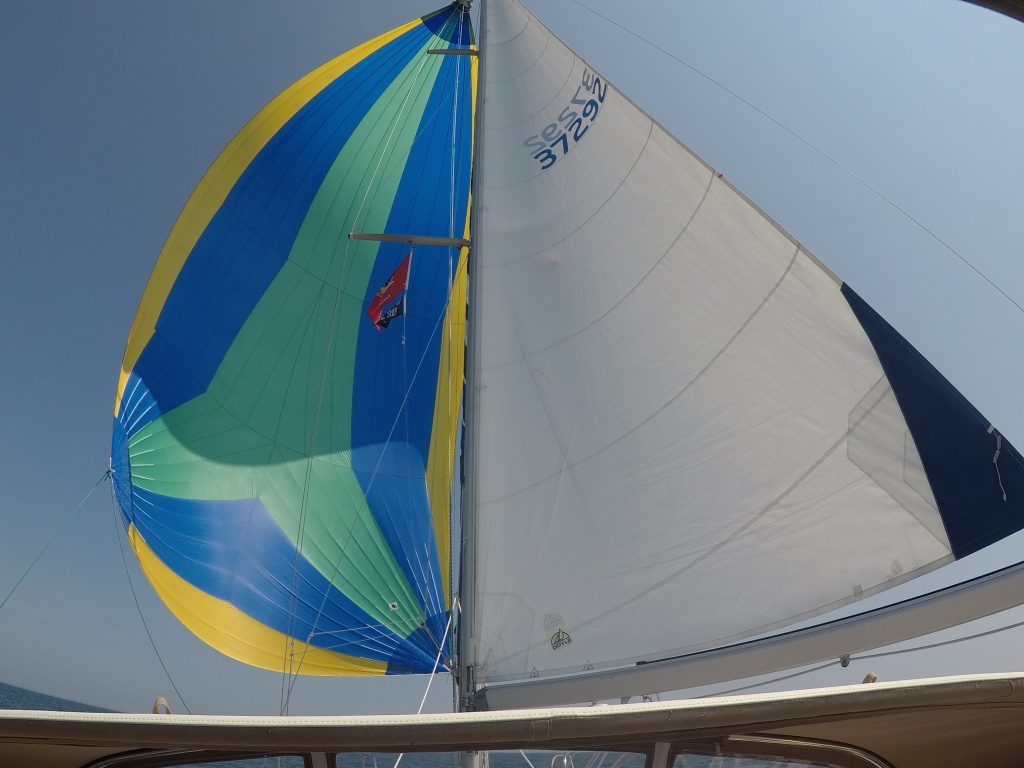 And just in case you don't trust me, here's video of the running-on-empty experience.
When we were within 5 miles of the marina, we dropped sails and motored in, filling up our fuel tank and snagging a slip at the Sugarloaf Harbor Marina. To our pleasant surprise, we tied up next to a large motor yacht that was also waiting here to transit the Welland Canal. The Welland, which bypasses the Niagara Falls, is a large commercial ship canal equipped with 8 locks that drop you 326 feet to Lake Ontario. "Commercial" is the key word here, as they cater to the big guys, and us little guys, out on the water for mere pleasurable purposes, are down on the bottom of the pecking order. So it was good fortune that we ran into another boat planning to run the canal, as the more pleasure boats queued up to go, the better chances they will let you through sooner. We had heard stories of some boaters waiting for 24 hours, and some getting the green light in the middle of the night. When they say go, you go, no matter what time it is, and you are required to do the entire 27 mile transit in one non-stop trip. No stopping to smell the roses or have a picnic. It is all business on this canal.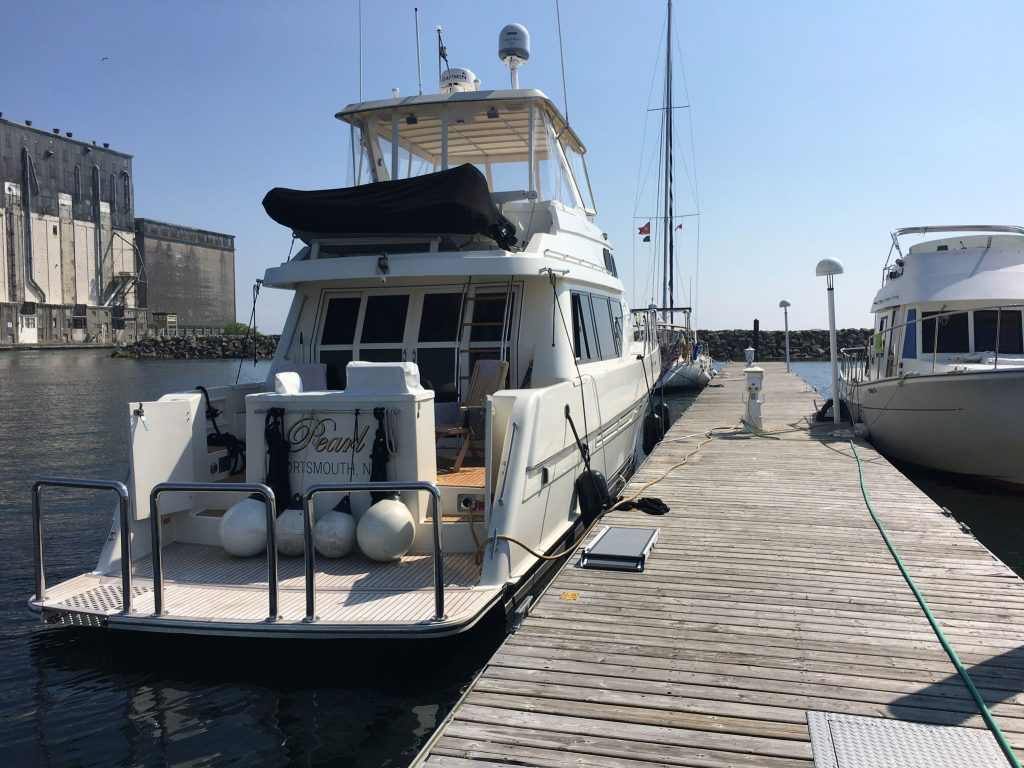 Together with "Pearl" our new best motor yacht friend, we tossed off lines at 6:30am the next morning after being given the go ahead from canal central. For the bargain price of $200, you get to navigate through 8 locks and under many more bridges. We had heard that due to the larger size of these locks compared to the Erie Canal, we should be prepared for more water turbulence in the locks. Each lock empties about 20 million gallons. As it turned out, our main challenge was the wind. Unsettled weather was passing over us throughout the day, and we had winds gusting to 25 knots. This made it super tricky getting lined up on the canal wall to take the lines from the lock attendants. With the wind from behind us, slowing ourselves down to grab the lines would have been easy with a few more hands, but this was a job left to just Karen and I. At one lock, I grabbed the 1/2 polypropylene line and lashed it to our sheet winch at the stern. As the line tightened, I was shocked that it didn't burst, as it abruptly stopped the momentum of our 25000 lb baby. I sure hope they cycle out those lines at the end of the season!
The first lock we passed through (Lock 8) is called an equalizing lock and it's drop depends on the level of Lake Erie. On this day, we only had to drop 4 feet, a good warm up run for the rest of the day. Exiting Lock 8, we were notified by radio from the canal authority that towing a dinghy was strictly forbidden in the canal. When I replied back that it was difficult for us to stow the dinghy on the deck and inquired about any other options, they abruptly told me "Yes, you can just turn right around and head back out the canal". Well OK then! We tied up to a nearby wall, and spent a tiring 45 minutes hoisting the dinghy on a halyard and laying it down on padding on the foredeck. Awhile back, we had cracked a deck hatch by carrying the dinghy on the deck and I was not thrilled about damaging the new hatches.
The remaining 7 locks in the canal drop 46 ft each, including a flight at Lock 6,5, and 4 that are in series, dropping you from one lock immediately into the next lock. This all made the Erie Canal feel like training wheels. Here's an example of the cavernous interior of Lock 4 once they flushed the water out and down 46 ft.
After stopping twice to tie to the canal staging walls to await commercial ships to pass, it took us all day to get through the canal. After the last lock, we tied up at the canal authority courtesy dock at St Catherines. I was so exhausted I could have laid out on the grassy field next to the dock and fallen asleep. But my go-get-um wife cracked the whip and instead of a nap, we took a 3 mile walk out to the end of the canal breakwater, overlooking Lake Ontario. The good news was that we were through. This was the last big hurdle that had loomed literally and figuratively on the horizon, and we had conquered it without damage to the boat or ourselves. My reward was a long night's sleep!
Here's the highlight reel of our Welland Canal transit.
If you are interested in a more technical discussion including tips on transiting the Welland Canal, please see my separate YouTube video titled "Tips and Tricks for Transiting the Welland Canal in a Pleasure Boat" which is intended to help other boaters planning to transit the Welland.
Gusty weather held on the next day, as we planned our crossing of Lake Ontario to Toronto, almostly directly north of the Welland. We benefited from a brisk west wind, which set the conditions perfectly for a fast beam reach, and a short four hours later, we were pulling into the Toronto harbor and settling into a slip at the Outer Harbor Marina, a swanky mega marina with 600 slips, including at least 10 other Jeanneau's and many more large motor yachts. It was clear where the money lay in the Great Lakes.
Neither Karen and I had been to Toronto before, so we opted for one of those hop on/hop off bus tours. We had one day to see and learn about Toronto and we wanted to make it as easy as possible. Afterwards, I couldn't put my finger on one stand out trait of the city. There was a little bit of everything going on. The financial base of business was clearly evident. So was the charm of the restored distillery district and it's tantalizing restaurant aromas. But there was a bohemian nature to the city as well. And they had a healthy support of the LGBT community. Was this Canada's melting pot? If I was hired as the city's tagline creator, I'm afraid I'd come up empty. My struggle continued as we toured Casa Loma, a Gothic Revival style castle completed in 1914 by financier Sir Henry Mill Pellatt. It contains 98 rooms and comprises 65,000 sq ft, all for just Henry and his wife. His poor wife passed just 3 years after it's construction, and Henry later ran into deep financial difficulties, leading to his forfeiture of the property in less than 10 years.
We finished our one-day downtown extravaganza by taking a boat tour of the inner harbor, with impressionable views of the city skyline.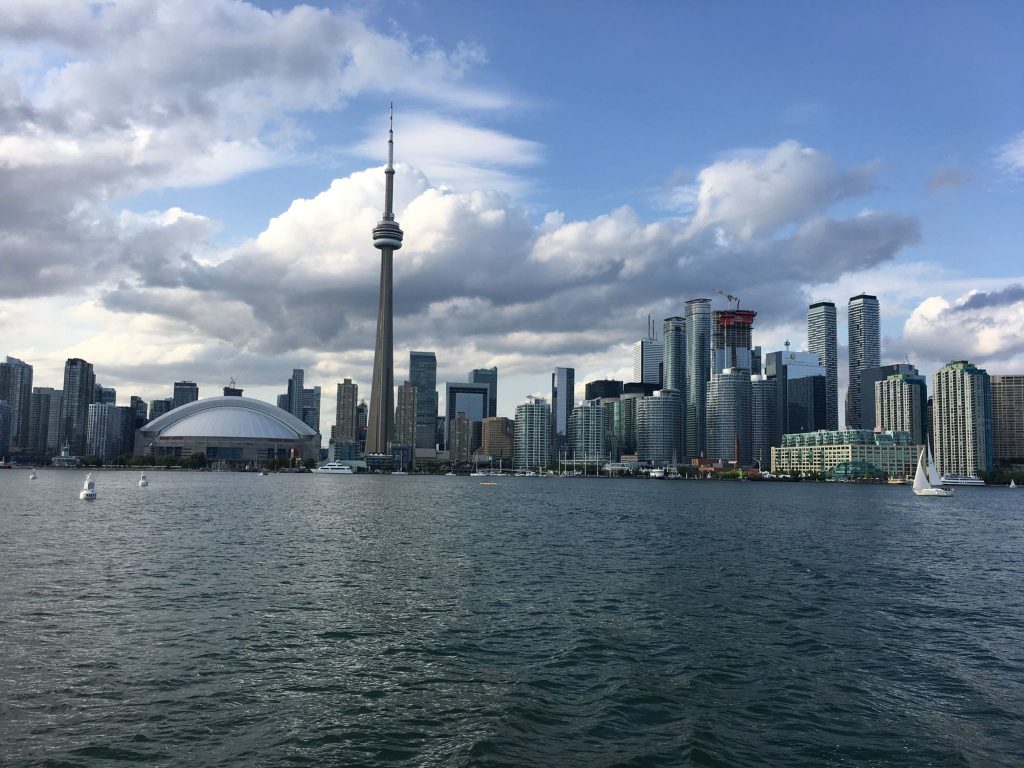 Before we wrapped up our Toronto stay, we invited our friends Heather and Don to the boat, friends we had met during the Caribbean 1500 rally 11 years ago. We ended up sailing with Heather and Don throughout the Caribbean islands and they even took our kids for a day of island exploring. We had kept in touch with them ever since and to our surprise they were going to be back in their hometown of Toronto during our visit, before returning to their boat in Grenada. It was fantastic meeting up with them again and enjoying a dinner onboard Thalia.
Now it was time for us to get home and move our youngest child into college at the Wentworth Institute of Technology, in Boston. We left Thalia at the Outer Harbor Marina while we drove home for a week of packing, errands, haircuts, and the like. Some of our neighbors, assuming we were home for good from our summer travels, were surprised when we told them we were headed back to the boat for another month. There's still sailing weather to enjoy on the Great Lakes, and new harbors to discover. We might have been flushed out of Lake Erie, but this trip ain't over yet!