No man is an island,
Entire of itself,
Every man is a piece of the continent,
A part of the main.
If a clod be washed away by the sea,
Europe is the less.
As well as if a promontory were.
As well as if a manor of thy friend's
Or of thine own were:
Any man's death diminishes me,
Because I am involved in mankind,
And therefore never send to know for whom the bell tolls;
It tolls for thee.
-John Donne
While I agree that 'no man is an island' but part of a greater whole, poet John Donne could not have know when he wrote these words in 1624 that the Thousand Islands area could capture many a man (and woman) in it's warm and tender embrace.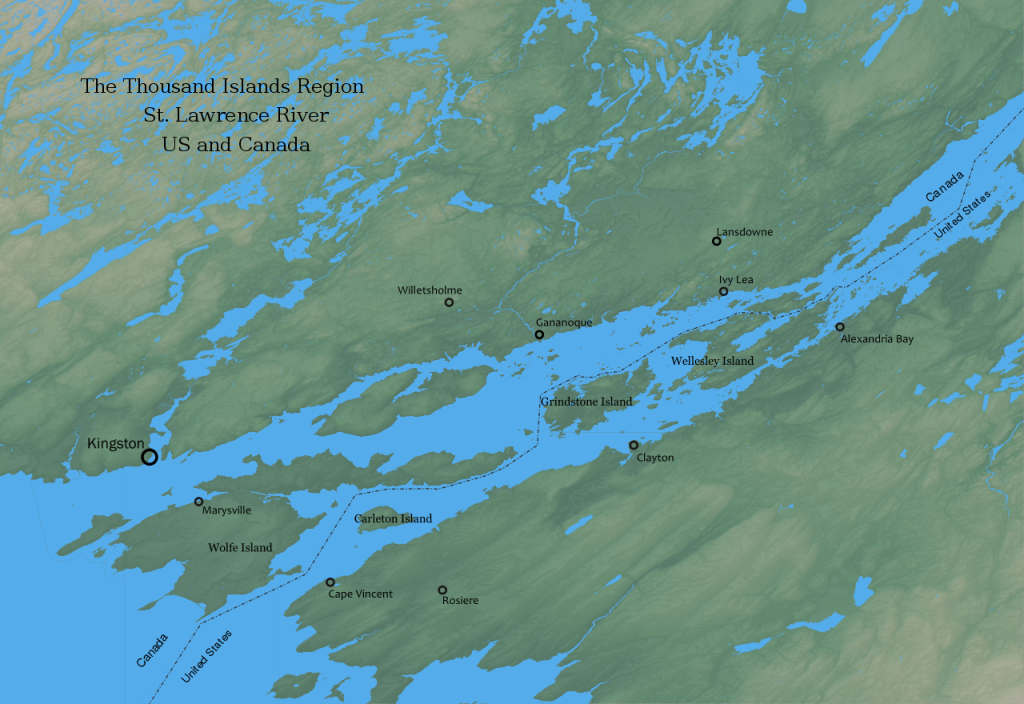 I remember old friends of mine from upstate New York raving about the Thousand Islands area – the beauty, the charm, the near-yet-remote feeling. I'd look at a map of the area and think, "OK, yeah, so there are a few islands. What's the big deal?" As it turns out, it is a big deal! In this relatively small area of approximately 40 square miles, there are over a thousand islands – 1864 of them to be specific. You have to look deeper than a simple map, and get up close and personal to really appreciate this region. And that is what we have been doing for the last two weeks onboard Thalia!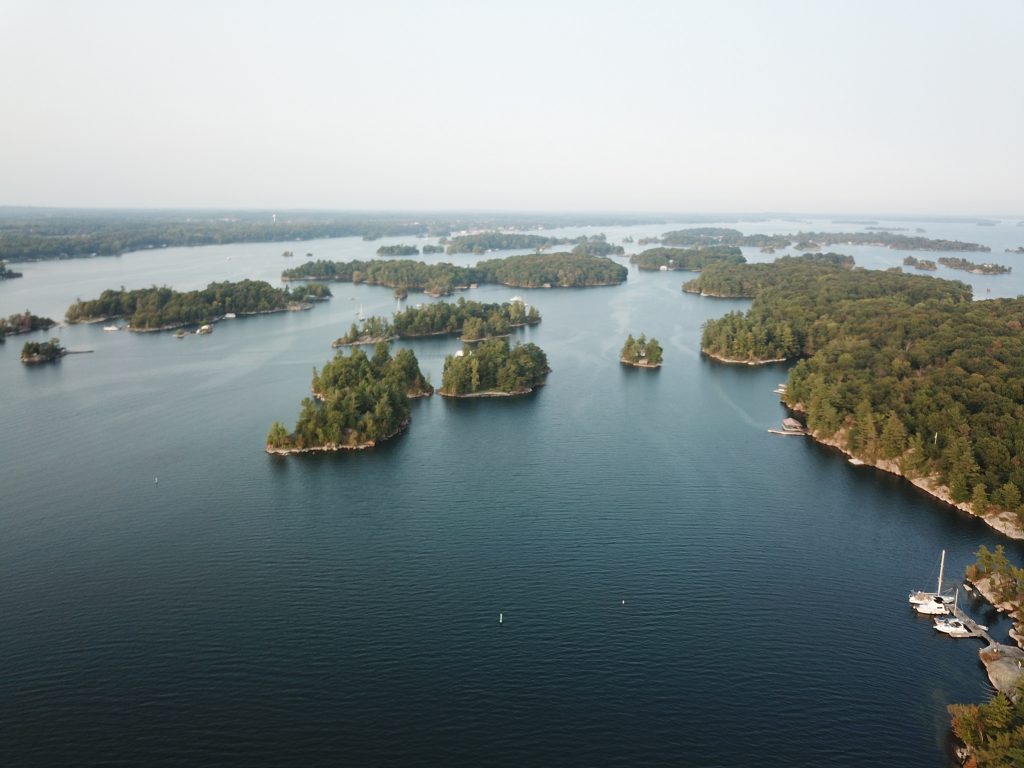 These Thousand Islands span the gap between the US and Canada, specifically New York state and the province of Ontario. They occupy the space where Lake Ontario waters enter into the St Lawrence River, on their last stop before emptying into the ocean in the Gulf of St Lawrence. And while it is a fantastic recreational boating area, these islands coexist with the busy shipping lanes of the St Lawrence Seaway – the critical transportation route for ships transiting between the Great Lakes and ports worldwide. It is the only deep water link to the ocean and international commerce. Boating here means careful vigilance for the big behemoths, as well as enjoying the beauty of them slipping by graciously amidst the contrasting light of a fiery sunset.
While many of the islands are private, our two country's park services – New York State Parks and Parks Canada – manage quite a few of the islands and provide the means for boaters to enjoy their natural splendor.
Onboard Thalia, we criss-crossed this island region numerous times as Karen and I explored by ourselves and with friends and family. We used the convenience of Clayton NY and their new municipal marina as a rendezvous and drop off spot for our guests. This ended up working out great, as provisioning is nearby, there are enough restaurants and cafes on the waterfront without being overly touristy, there's a check-in phone for US Customs, and there is a very impressive Antique Boat Museum as well.
Since this would be our last cruising area of the summer, we tried to make the most of our two weeks in the Thousand Islands. From West to East, here are some of favorite spots.
The Admiralty Islands
Comprising the Parks Canada properties of Aubrey Island, Mermaid Island and Beaurivage Island, this was our first stop in the Thousand Islands, and we came back here repeatedly with our guests. An easy day's journey down the Bateaux Channel from Kingston, these small islands have multiple docking options provided by Parks Canada, as well as nearby anchoring. Generally speaking, most of the Parks Canada docks are built for smaller boats than Thalia, but we managed to carefully wedge our way into a couple 40′ long end docks at Aubrey and Mermaid. The scenario ashore is very similar for each island. There are several picnic tables on the docks or at the landing; there is firewood for sale for use in nearby fire rings; and the walking trails covering the circumference of the islands are well maintained, taking one past campsites and rugged picnic shelters, some even equipped with wood stoves and food storage.
Every island had some form of a privy, which gave our holding tanks a break. Rarely were there trash or recycling services on the islands so boating here becomes a strictly pack in-pack out affair. There was also no electricity or water on the islands, and no stores, so planning and provisioning were key. Gradually more of the islands are being converted to a 'no charging system' policy which means generators are banned, as well as running your engine to charge your batteries. We were sitting pretty with our quiet solar panels and happily sought out islands with this no-charging policy. Costs to use the facilities were nominal, at $0.90 CAD per foot for dockage, $19.40/night for a mooring, or $5.80/day for dinghy landing if you anchored out. All payments were on the honor system at a kiosk ashore; we saw no parks personnel during our entire visit.
What we didn't expect but was a pleasant surprise was the camaraderie and social nature of tying up to the Parks Canada docks. These docks held very few boats – less than a handful typically – and given the close quarters and people's mutual interest in exploring the islands, it was great fun to meet new friends and exchange stories. Being newbies to the area, we avidly sought out advice on the best islands to visit, and by the end of our two week stay, we were the ones giving advice to other dock neighbors – an example of our small version of the sharing economy!
Here's an aerial view of the Admiralty Islands.
With our friends Don and Shelly, we squeezed Thalia onto the end dock at Mermaid just 30 minutes before all slips were taken for the night, and took advantage of the dockside picnic tables for a special pasta and meatball dinner courtesy of Shelly.
In this area, like most wilderness, you have to be mindful of your outdoor dining hour, as mosquitoes will invite themselves to join you at dusk, and we retreated to Thalia's cabin not long after this picture was taken!
On a later visit to the Admiralty Islands with our friend Steve, all the docks and moorings were taken on account of it being a Friday evening with an unseasonably pleasant forecast of sunny skies and temps in the 80's (in late September). We opted for a snug anchorage next to Beaurivage Island.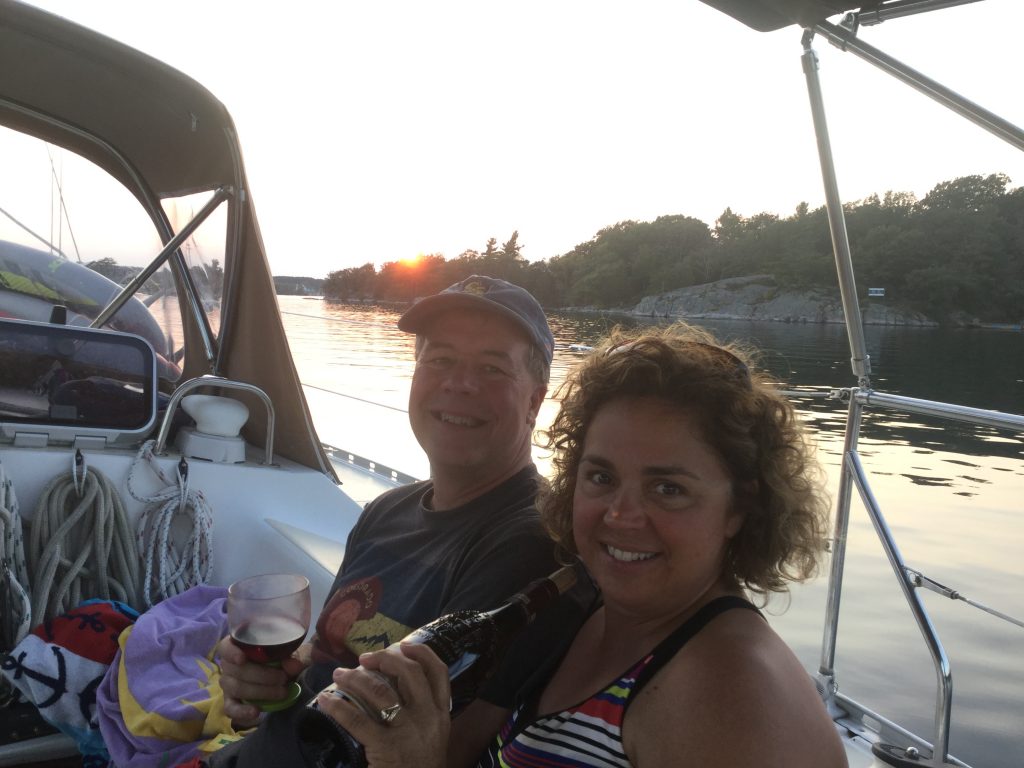 Before departing the Admiralty's, we dinghied over to a hidden gem on the backside of Bostwick Island. This little curved cove, aptly named Half Moon Bay, is too small for keelboats. But that doesn't keep a full cove of dinghies from coming here most Sunday's in the summer for an outdoor church service. There are even cables attached to the rocky cliffs for dinghies to line up in 'pews' in front of the stone altar on shore. We were left to imagine how special worship could be here, as the last service ended before September.
Gananoque ("Gan-ah-knock-way")
The village of Gananoque, on the Canadian shore of the Thousand Islands, is Ontario's answer to the charm of the US town of Clayton. They have a grocery store in town for provisioning, and on your walk there, you'll be enticed by the smells and laughter coming from several outdoor cafes, restaurants and a brewery.
Although a part of Canada, Gananoque has old ties to the U.S. In 1792, Joel Stone, a native of Guilford, Connecticut but a 'loyalist' to the British crown, fled to present day Gananoque during the American Revolution. He established saw and grist mills here, and later a thriving mercantile trade as well as ferry service. It's now a pleasant stop in the Thousand Islands if you are in need of a little shopping, a bite to eat, or a refreshing pint of beer.
Lake Fleet Islands
Heading slightly east of the Admiralty Islands, one comes upon the Lake Fleet Islands. Located further away from Gananoque and their daily tour boat jaunts, the Lake Fleet has a bit of a slower pace and vibe.
On our first visit, we grabbed a mooring at Endymion, at the recommendation of another boater. The water was so clear and enticing, it didn't take a long debate to jump overboard into the water for a refreshing dip.
In addition to Endymion, this group includes the hilly island of Camelot. With Don and Shelly, we couldn't find a free mooring and chose instead to tuck Thalia into a rocky cove, after checking depths first with the dinghy. We don't normally make it a habit to anchor with only a 3:1 scope, but the depths fell away too quickly. We minimized our risk by tying a line to shore and not leaving the boat too long. This was a lunch time swim and hike stop only, but it was glorious.
Navy Islands
Just a stone's through East from the Lake Fleet is the cluster of Navy Islands. While most of them are private, the larger islands of Downie, Ninette and Mulcaster provide a very well protected anchorage for a peaceful dinner onboard or a paddle board excursion. During a visit with Don and Shelly, Don and I dinghied ashore to the Parks Canada dock at Mulcaster to stretch our legs and to walk Journey. Halfway around the shore trail, Don let out a marked 'Yelp!' as he got stung by some kind of wasp or hornet, right on top of his head. By the time we got back onboard Thalia, he was feeling nauseous, he had a strong sensation on his tongue, and his face started turning red and puffy. Yikes, our first real medical emergency of the trip! Clearly he was having an allergic reaction to whatever stung him. There were some tense moments onboard as we realized none of us had an epipen and we were floating in a cove not easily accessible by medical personnel. But it did feel better knowing they were both pediatricians. Through it all Don kept breathing (thank god!) and we didn't need to summon the Coast Guard rescue helicopter this time. Benadryl and an hour's rest later, he was back to chatting it up and ready for more sightseeing! Another bullet dodged.
Grenadier Island Area
We continued east, along the Canadian Middle Channel, through tight twists and turns, past mansions and tiny summer hamlets on islands barely large enough for their foundations. The Middle Channel bypasses the busy St Lawrence Seaway south of us and its ship traffic.
Further east, the Middle Channel opens up and joins the wide waters of the St Lawrence River. We pushed a little further east to the island of Jorstadt, or Dark Island depending on your navigation source. Regardless, its main attraction is the impressive Singer Castle. Built in 1905 for Frederick Bourne, who was briefly the head of the Singer Corporation, it is now open for tours and has a great long dock for tying up visiting boats. The castle was built during a boom in castle building in the area, with the most famous being Boldt Castle just up the river on Heart Island. However, the two can not be more different. Singer was occupied by Frederick and his wife, and it stayed in the family until the 1960's. On the other hand, Boldt Castle, a much more ambitious project by George Boldt, was meant to be a reflection of his love for his wife. He even want so far as reshaping a portion of the island into the shape of a heart. When his wife died before construction finished, he asked the hundreds of workers on the island to set down their tools immediately and leave. He never finished the project nor set foot on the island again. If you are in the area and have the time, I would encourage you to visit both castles. Boldt, with its proximity to the town of Alexandria Bay, is where the large majority of tour boats go. The water was not deep enough at the dock for us to visit, so we chose the more down-to-earth Singer Castle (if there is such a thing!).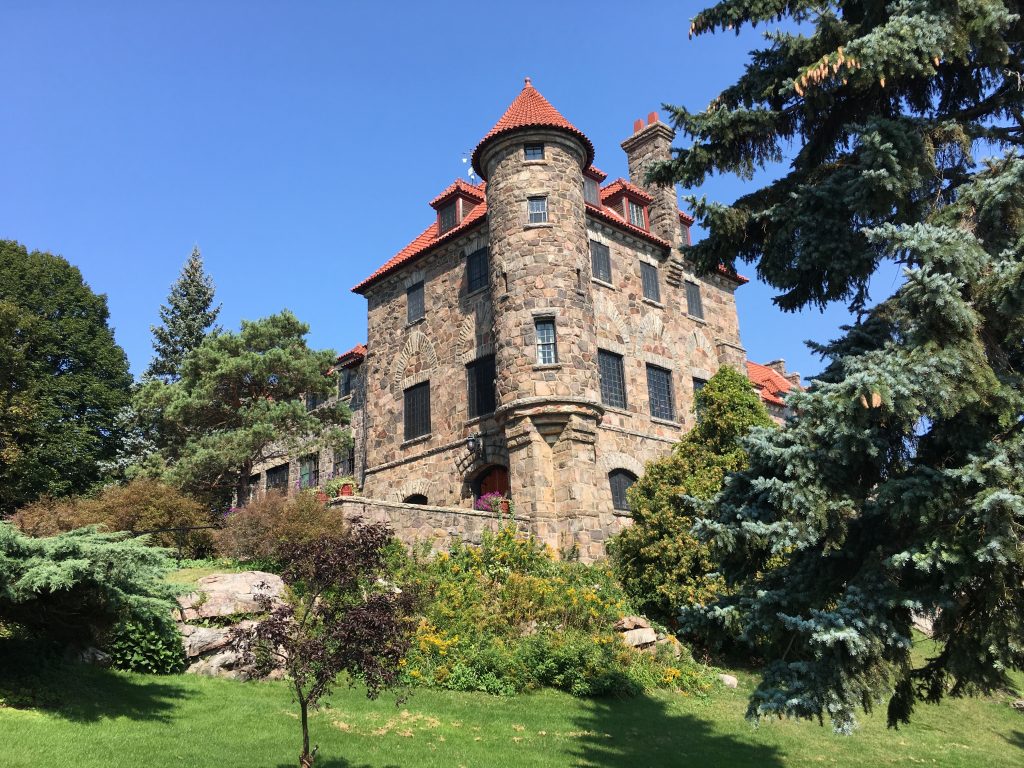 We so enjoyed Singer Castle that we brought Steve back a week later. Afterwards, we found a comfortable spot to anchor in the lee of Cedar Island, directly across the river from the castle.
On the following day, we planned to clear into Canada Customs so that we could show Steve more of our special spots. We chose a new place to clear in, at the Mallorytown Landing, and headquarters of the area Parks Canada staff. The dock here was very shallow and weedy, so Steve and I opted to take the dinghy in, leaving Karen to idle in deep water onboard Thalia. Clearing in went smoothly and before heading back on the dinghy I texted Karen that we were going to look for a market for a few provisions. To my surprise, Karen texted back that Canada Border Patrol was onboard Thalia! We skipped the shopping plans and buzzed back out to the boat. Sure enough, one of those intimidating looking black inflatable patrol boats was tied alongside Thalia, with four uniformed, body-armored patrolmen asking questions. Karen is much more in control and steady in these situations than I, and she simply told them we were ashore clearing in. Good thing they believed her, as I had her passport and Nexus card. All she could show them was her drivers license! As it turned out, they looked more intimidating than they acted, and were gone shortly after explaining that they were conducting cross-training, with one US Border Patrolman onboard. I'm sure they were finding it a challenge to train on this day, as there were very few pleasure boats on the water.
We pushed on with Steve to Adelaide Island, a spot Karen and I had scoped out the week before. We anchored in a cove without a boat anywhere in sight, and Steve and I took Journey ashore to explore the tiny island. To our shock and surprise, as we got back to board the dinghy, what did we see but a bright orange US Border Patrol inflatable tied along side Thalia! What gives! We could only laugh as we pulled back up to Thalia. Poor Karen. In the 30 minutes that Steve and I had left her alone all day, she had been boarded by two patrol boats! And what a chuckle we had, hearing Karen's story about them pulling up and explaining that they were doing cross-training. She explained that we had just been boarded by the Canadians, and after they verified this by radio, they buggered off. Phew! It was a tough assignment for them, trying to find enough boats to board!
In addition to being on the alert for patrol boats, if you ever anchor at Adelaide Island, try to find a spot free of weeds. This is the big hairy surprise that we pulled up on our anchor. It was definitely time to move on!
We settled for the night at nearby Grenadier Island, where there are a few less weeds, a calm cove to paddle board around, and a nice beach on which to run Journey. They even had flush toilets and hot/cold water in the washroom… a Thousand Islands luxury. I couldn't have been more eager to pay the CAD$11.80 park fee!
With both Karen and Steve trying their hand at paddle boarding, it was time to launch the drone.
American Narrows
When you are boating through the Thousand Islands, it is hard to avoid a section of the St Lawrence Seaway called the 'American Narrows'. As you might suspect, this section of the main river is especially skinny. If your itinerary for the Thousand Islands is based on a counter-clockwise loop, you benefit from a 2-3 knot run with the current. If not, you are bucking this current for several hours as you climb your way upstream to Clayton. Either way, you get to enjoy nice river views with some of the most exquisite homes in the Thousand Islands. Back in the day, if you didn't have the means to build your wife a six story castle on a heart-shaped island to express your boundless love, the American Narrows was your next best bet.
Once we were done gawking at the real estate, it was time to pay attention to the shipping traffic and the channel buoys. This is one example of the many ships we passed on the way through.
Clayton, New York
We became a common sight on the docks of the Clayton Municipal Marina as we met and dropped off friends. It was ideally situated close to the US and Canadian islands. In between drop offs, we enjoyed a visit from Karen's Aunt Jane and Uncle Dave from Potsdam. Little did we know, but they had been closely following our journey this summer and it was fantastic to catch up with them on the docks of Clayton.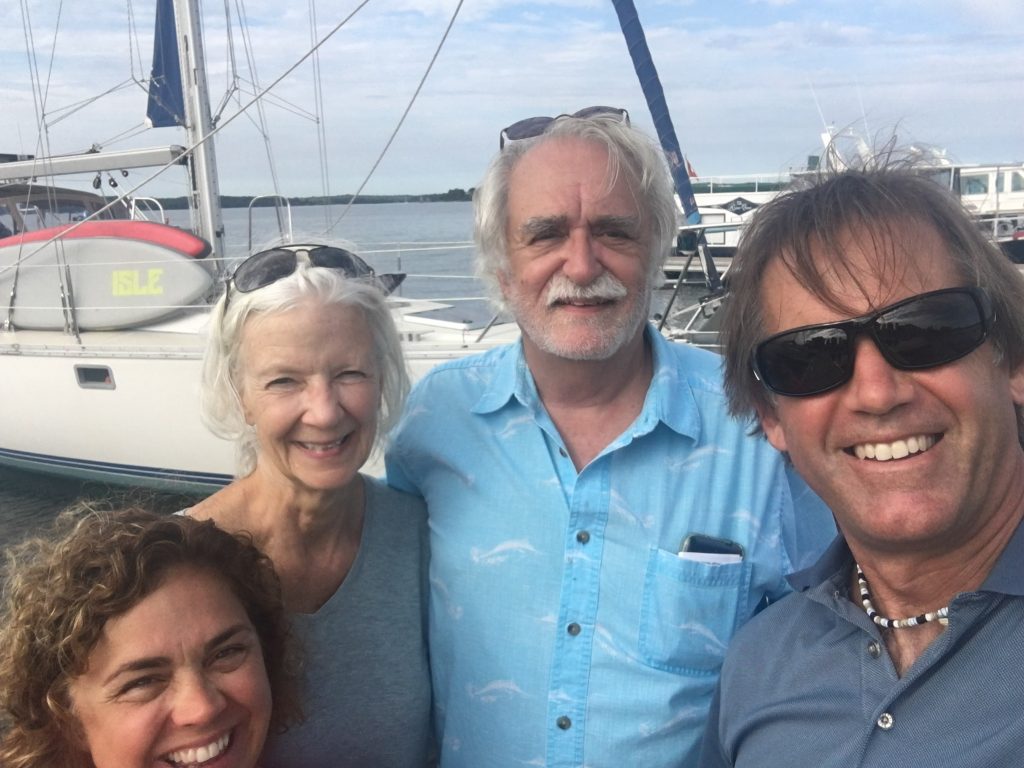 Although surrounded by waterfront businesses, including the well appointed Harbor Hotel adjacent to the marina, Clayton ended up being one of the most picturesque spots to take sunset pictures.
With our drop-off of Steve on September 20th, we concluded our most delightful journey through the Thousand Islands. We were blessed with what locals called the nicest weather of the whole summer – shorts and t-shirts, great walks through the woods, refreshing swims, peaceful paddle boarding adventures, and all in the company of close friends and family. I think this picture of Steve relaxing at Grenadier Island sums up how we all felt about this memorable collection of islands nestled between the US and Canada!