Like land travelers that had a taste of the sea on a sightseeing boat, we had a peek into life ashore during our tour of medieval Belgium through Brugge and Ghent. But it was time to get back to our chosen mode of transport. We had intended to push away from Oostende at first light the next morning, but it would seem other plans were being hatched. At midnight, Karen awoke with a start, insisting that someone was onboard our boat. Regular readers will note this as a common occurrence – Karen awake at the slightest noise, trying to shake me from a dead sleep. She was right of course. A small sailboat was rafting up to us, apparently having just pulled into the port in the eery shroud of darkness. It didn't make sense that someone would be underway so late, and then disturb someone else's rest by rafting to them, but not all of my brain cells were reporting in for duty. We had the pleasure of informing them we were leaving at 5am, which would require their presence to break free from the raft-up. They were indeed gone without a trace at 5, but high winds had arrived, prompting us to turn in for a little more sleep. Ha! This time, an hour later, I'm startled awake by loud noises up on deck. What now, I fretted. Another sailboat had decided to head out but was having difficulty turning quick enough in between the other boats. Their bow, complete with a hard-edged anchor on the bowsprit, was pressed against our toe rail and lifeline. I rushed to the foredeck to push them off, as another neighboring boat pulled on their stern. They commenced forward gear again and were off without a word, not even an apology. I would have even accepted a hand gesture of sorrow. Lucky for them, I could not find any obvious signs of damage.
To add to our angst, as we pulled away from the dock and started motoring out the main channel of Oostende, the Port Control officer in charge of all traffic in the harbor was already in a foul mood. The no-apology boat had exited the harbor without radio approval and would not respond to repeated radio calls. Like a child whose older sibling is getting chewed out by Mom and Dad, we worked hard to be the sweetest, most well-behaved boat of his shift. It was my birthday, but I was trying very hard not to have to play that card.
Our plan for the day was a 75 mile run to the Netherlands port of Buitenhaven, more recognizable as the tiny harbor adjacent to The Hague. Seventy-five miles is a long distance to motor, and the first hour running out the Oostende channel was full of steep short waves on account of the shallow water. We were delighted to find wind as we turned away from the channel, allowing us to set sails for a sprightly beam reach. Soon we were back in a sea dominated by cargo ships. In addition to those anchored in tight formation off Oostende, ships were crossing in front of us on their way into Zeebrugge and the Antwerp approach channel. From our vantage point, all we saw were a few idle container cranes, but the AIS targets on our chart plotter told the real story. Ships were shoved into berthing channels like sardines. And this was just for Zeebrugge. Further up the river near Antwerp were a dizzying array of even more cargo terminals. We were given at least four different VHF channels to call Vessel Traffic Services for clearance to proceed. If felt like sneaking by the wide open mouth of one hungry continent of consumers.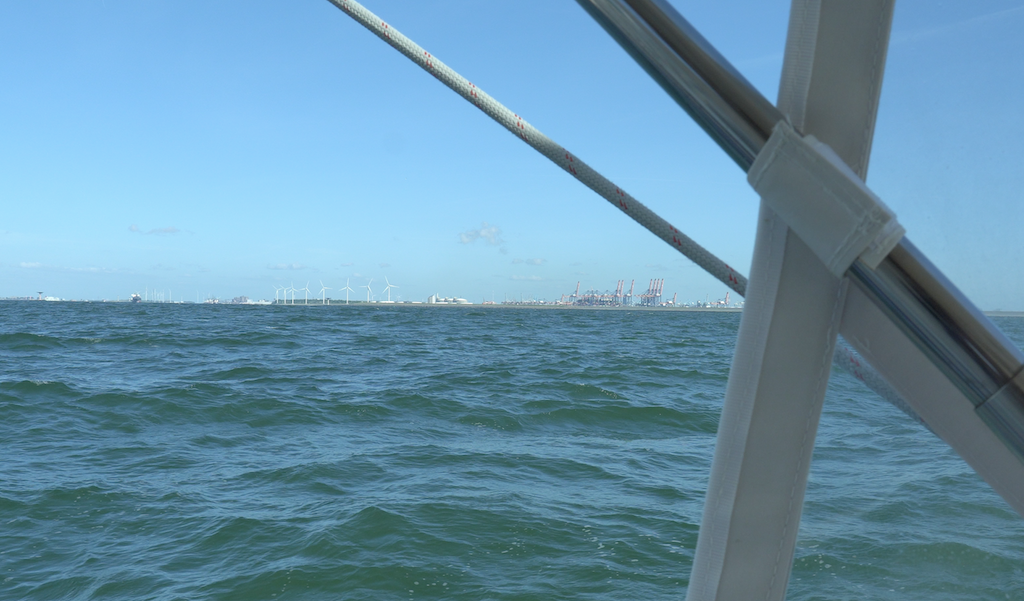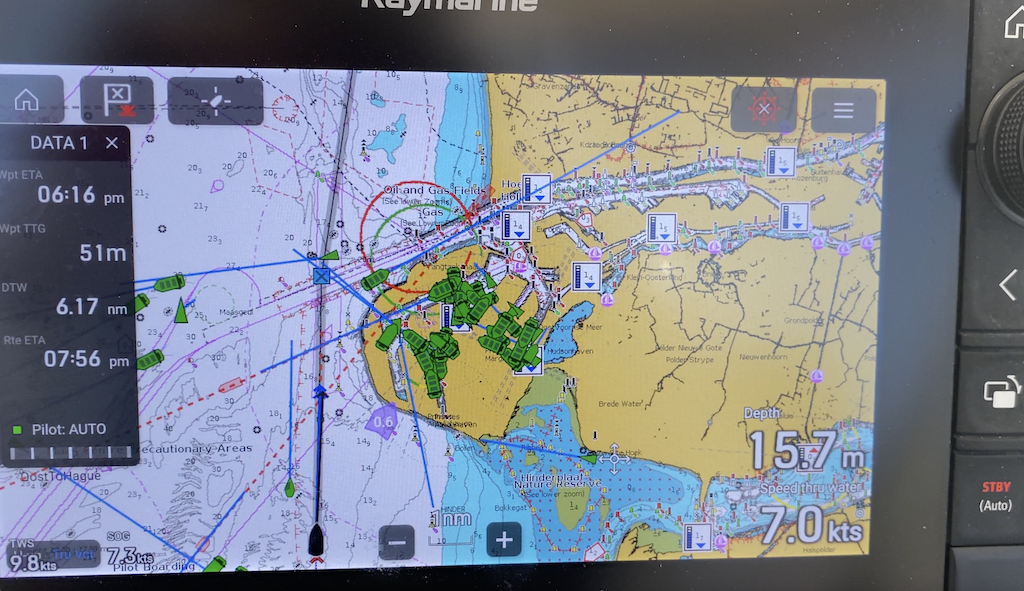 Winds steadily increased to 15-18 knots, giving us speeds surfing down the wind waves of at least 9 knots. A recent upgrade to our watermaker was working perfectly, even as we were heeled over close-hauled. The autopilot held our course firmly, while our solar panels covered all of these electrical loads and still was able to put additional amps into our battery bank. We were even gaining on a larger sailboat ahead of us. Life was proverbially good. Perhaps it also had something to do with my birthday – 59 was starting off to be a most excellent year!
Out to sea from our position, the horizon was blocked by a massive wind farm, an industry prominent in a country that is no stranger to windmills. The Hollandse Kust South, as it was known, consists of 140 wind turbines, each of which have a 200m diameter and are safely spaced 1km apart. The site has a total capacity of 1.5GW of power. When all phases are complete in 2023, it will provide power to 3 million households. Compare that to our toe-in-the-water project in the USA, the largest of its kind off the coast of Rhode Island, consisting of merely 5 turbines producing a maximum of 30MW. These Dutch are a force to contend with on the world stage of renewable energy.
The entrance to The Hague started to come into hazy view off our bow in the late afternoon sun. A quick and now very procedural call into VTS gave us the green light to enter. As we negotiated our way slowly around large tugs and other commercial vessels, we found Jachtclub Sheveningen in a distinctly man-made rectangular section of inner harbor. Karen took one look at the visitor pontoon and immediately backed us in next to another larger sailboat. It was time for us to take turns being the boat on the outside of a raft up. Not a ripple of wind or swell made its way into this heavenly inner sanctum as we sat down for a simple dinner in the cockpit. You know it has been a good birthday when you start searching your rolodex of past birthday memories to find one that is match-worthy.
In the morning, after the most blissful night of flat water sleep humanly possible, we were out the channel and continuing up the coast for a 25 mile stretch to Ijmuiden. Winds were favorable enough for us to fly our Code 0, a welcome arrow in our quiver as we fought a steady contrary current. Suddenly we heard a caller on the radio addressing us by our radio call sign. This never happens. Usually boats will see our boat name on AIS and hail 'Sea Rose'. When I answered, the caller identified themselves as the Netherlands Coast Guard. After switching to a working channel, they ran through a list of questions with us – where we had come from, where we were going, how many persons onboard, our nationalities, etc. Whenever these types of big brother questioning sessions occur – TSA screening, traffic stop, etc – I always nervously think back in time to consider if there was something we did recently that might have drawn their attention. Fortunately, the call was quite procedural and we were back on our way in brisk winds.
Up ahead, at the port of Ijmuiden, we would be entering the North Sea Canal which heads inland 15 miles to the city of Amsterdam and the beginning of an immense network of interior lakes and locks. Ijmuiden contained four locks, one of which, the 'Zeesluis IJmuiden' had just opened in January, measuring in at 500m long and 70m wide, longer than the Panama Canal's locks at 300m, and currently at the top of the list of world's largest locks. I doubted we would be directed in to this lock, but it wasn't clear which of the other three were for pleasure boating use. Further, I could not find, after reviewing every book onboard and every website search result, what the height of the lock change would be, whether we would be uplocking or downlocking, or even whether we should prepare to tie off on the starboard or port side. This was quite distressing. After locking through the Erie Canal, where information was forthcoming on all of these topics, we felt like our hands were tied behind our back. I called several phone numbers, all of which were disconnected. I tried several VHF channels, one of which was impossible to break into with nonstop traffic. Finally an English-speaking woman replied, telling us simply to go to the southern lock and wait for the green lights. OK, we'll be winging it! Do our fenders need to be low or high? Should we prepare our own dock lines or will they throw ones to us? How do we tie to the wall? Is there a fee and if so how do we pay? When you bring your pride-and-joy into a confined concrete space, it really helps to have answers to these questions!
The lock lights were red as we approached, forcing us to tie up to a waiting area with rough, oily, black rubber industrial bracings. A high-speed catamaran police boat came in swiftly in front of us 20 minutes later as the lock doors started to open, making it clear they were the priority and the reason the locks were opening. We took our position behind them. In fast-thinking mode, we spotted bollards inset into the wall and looped bow and stern lines around them as Karen brought the boat to a halt and huge metal girded lock doors the width of an expressway closed behind us. And then, nothing. We watched anxiously at the water line on the wall for any sign of change. Are we going up or down? Abruptly the water line started to drop. We descended 2 feet in a remarkably short period of time and the forward gates started to swing open. OK, that wasn't too bad!
Opening up before us was a manmade wonder. Flat water the width of a football field and straight as far as one could see, with rip-rap rock on the banks to absorb any wave action. Flocks of bright white swans mingled along the shore, dipping their long necks down below for tasty greenery before fluttering their wings in a sign of a content full stomach. Cars and trucks whizzed by on the elevated roadways along both sides of the canal, busily going about their day. A brightly signed gas station came up on the starboard side, near enough to the bank that we could have practically reached our fuel tank with their hose. We had built out Sea Rose to take on oceans, yet we both reveled in this glimpse inside land-lubber life. Long, extremely narrow barges passed by us in both directions at great speed, many with a small car lashed behind the wheel house. Would the captain use this car to return home at the end of the work day, we wondered?

Up ahead an 80m gleaming white super yacht stopped askew in the middle of the canal. A skinny barge was undeterred and pushed on around them, but we cautiously slowed down to just enough speed to maintain steerage. The captain was working the bow and stern thrusters to rotate the behemoth. Behind us, the distinctive thwap-thwap sound of a helicopter passed overhead, slowed down, and settled on a landing pad on the upper deck. Swanky passengers, light on their feet in the absence of a traveler's typically weighty luggage, were greeted by smartly dressed crew members as the pilot strapped down the helicopter and the captain pivoted to a course towards Amsterdam. A quick Google search of 'Boardwalk' revealed the owner to be a retail and developer tycoon from Texas who also owned the Houston Rockets. Further alarming to our life of reduced carbon foot printing was the fact the yacht had just been in Miami. It felt similar to a walk down the tabloid aisle at the supermarket checkout. Part of me is curious, but the better part of me is angry and appalled.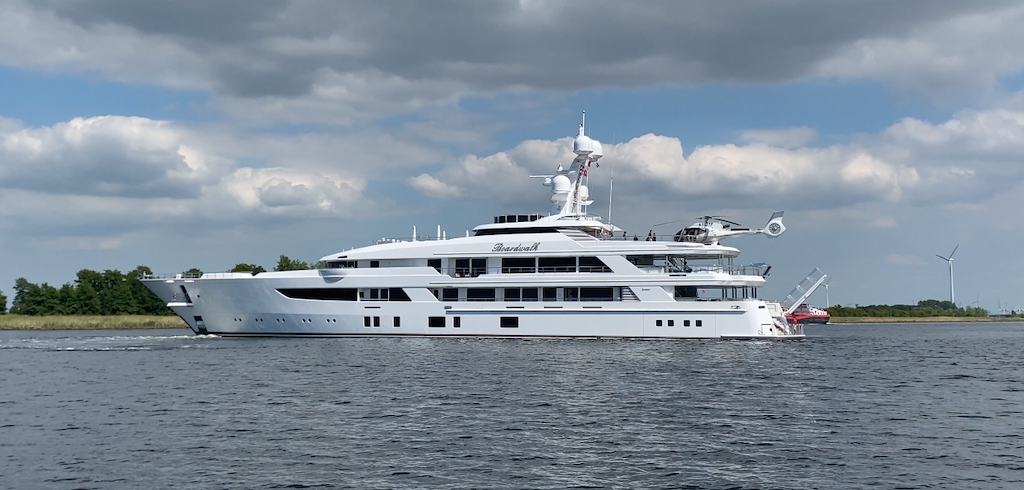 We had heard stories from other boaters about how attractive Amsterdam can be when visiting by private boat. There were several options for overnight docking right within the city limits. We nosed into the Amsterdam Marina located in what used to be a concentrated industrial area named Amsterdam-Noord. Previously full of shipyards and manufacturing and now, as these things commonly trend, it had become a hip place for the young and stylish. We were neither young nor stylish in our sun-faded boating clothes, but regardless we were welcomed on to the free bike and passenger ferry for its brief run across the river to the iconic train station in downtown Amsterdam.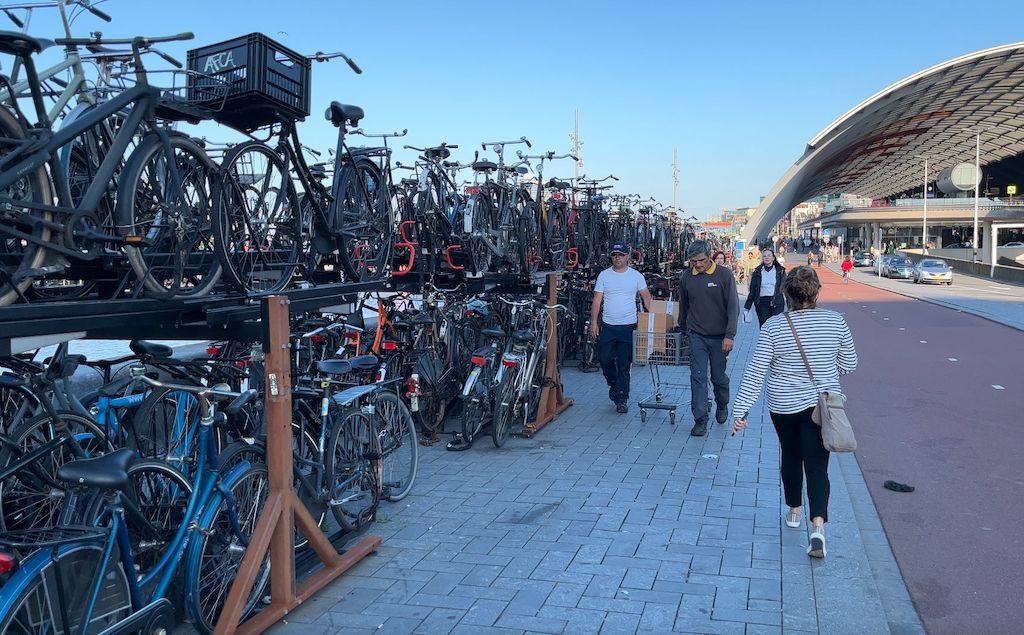 41 years ago, nearly to the day, a young Tommy G arrived at this same train station, jet lagged and awestruck for the beginning of my "I've-just-graduated-from-high-school" backpacking trip across Europe. For my mother, like most, with a biological propensity to steer their children away from inherent risk, seeing her 18 year last born head off to Amsterdam in a pre-mobile phone era must have induced serious stress eating and sleepless nights. I was well behaved but present day sailing over shoals and dodging tankers at 59 would not have brought her any solace. Like any son, I owe my mother an endless loop of recorded apologies for an unpredictable life out in the wild. May she rest in peace.
Since I couldn't recall much of my previous Amsterdam visit, and Karen had never been, our three days of city slicking through the waterways of the old city were a green field of adventure. I'm not sure you could fit another bike on the city's streets; and in fact, we saw workers rescuing bikes out of the canals with long grappling hooks. More gaggles of English-speaking college kids (and many adults) were catching up on their Covid-delayed travel. When the crowded streets overwhelmed us and our brains were suffering museum-fatigue, Amsterdam offered up many options for small outdoor cafes on quiet stretches of canal front with cold wine and beer at the ready. As we rode the ferry back on the last evening, I took it as a good sign that Karen confessed she could easily live in Amsterdam. Sounds like it will be less than 41 years before we return!
Be sure to also checkout the video content on our LifeFourPointZero YouTube channel. We regularly post updates on our sailing adventures, as well as how to videos on boat repair, sailing techniques, and more!