The surprise gift that was Malta had come to a close and it was time for us to head back to the big island of Sicily and continue our march westbound. Normally we sleep very well at a marina like Mgarr, on account of the few sources of worry, like dragging anchors and lumpy swells. But there had been a 'technical problem' with the ferry we had booked back from Valetta the night before. In the past, companies would just come out and say, hey, the engine won't start, or the gangway won't retract, but nowadays, with everyone appropriating the lingo of a high-tech world, it's always just a 'technical problem'. I think it makes it sound more like a complex NASA rocket launch being delayed because of a misbehaving sensor rather than the unglamorous nature of a recalcitrant carbon spewing diesel engine. In the end, we got back to Sea Rose and in our berth by about 1 am. I really liked Malta, but she wouldn't let go of her grasp. Some might call her clingy!
We had about 70nm to cross to Sicily, to the harbor of Licata, which gave us a slight progress to the west as well.
The intel we had on moving west along Sicily was scant, but many people said the north coast was the preferred one, due to a strong prevailing contrary wind along the south. We had already seen part of the north two summers ago, after a thrilling visit to the Aeolian islands, just two weeks before Stromboli erupted. And, to make it back to the north would require retracing our path to Siracusa and then through the turbulent Messina Straits. Some things are worth repeating. Champagne and strawberries with your main squeeze. Some are optional but recommended. Shampooing twice for instance. But then there's the negotiation of gyrating water columns. Yep. Check. Done.
We would push on westward along the south coast and take the headwinds literally on the chin if we needed to. Sometimes you have control over your future, sometimes not. Sometimes the wind is your friend; quite often here in the Med, it is not. But it can be a tease as well. We unfurled our Code 0 sail for an hour, more out of duty to Zeus than anything else. It was fun while it lasted, coaxing a modern engineered sailboat to go 6.3 knots in a 7.9 knot breeze. My sailing teacher of a Dad would be proud. He never liked it when I motored, or if the sails weren't trimmed correctly.
Alas, we were back to being a powerboat soon enough. It does have its advantages. With a flat boat, you can easily read, work on a laptop, or do simple repairs. Karen and I usually switch watch-keeping every 3 hours, which gives the off watch person enough time to do other tasks without having to frequently scan the horizon and check the chart plotter. On my second watch, a new symbol appeared as an AIS target on the chart plotter. A plane! It caught my eye because it had such a long 30 minute vector. On closer inspection, it was a SAR (Search And Rescue) plane, headed for Siracusa. I sure hope it was a training exercise. 
The south coast of Sicily, in addition to being a challenge with the wind, is comprised predominantly of man-made harbors and marinas. There are no Blue Lagoons here. The government has built large breakwaters out into the sea off the main towns, with sometimes a second layer of breakwaters inside. Appearing a bit like a Russian doll, within the inner layer is a commercial fishing harbor and usually a pleasure boat harbor, using the oh-so-obvious phrasing 'Porto Turistico' in their name.
Licata was exactly this, and we started the necessary but not so desirable pattern of marina hopping. Their Porto Turistico had received good reviews so we were happy to see an inflatable with two marineros (marina staff in Italy) rush out to greet us. They guided us to an easily reachable dock and helped us tie up without drama. We were placed right at the outside end of a long pontoon. Sometimes, these marinas will direct you to some narrow inner space, squeezed between two boats with dinky fenders and tattered lay lines. On this outer spot, we settled in with comfort. Little did we realize at the time, but this was a large marina, with pontoons widely spaced, and we were literally the farthest boat from the marina center and from the town; getting our daily steps in was not going to be an issue!
Licata is popular in the cruising community as a place to 'over-winter'. Boat owners will come here at the end of the sailing season – anywhere from September to November – and live aboard their boat for the winter months. It's a bit like a Florida retirement community, with an international flare. Neighbors get to know neighbors, cockpit social hours are formed, and the local merchants get a little boost to help them through the slow season. It's easy to pick these boats out, with the heavy growth along their waterline. We choose to haul our boat each winter and head home, but for those doing this full-time, Licata was one of the options. Perhaps due to Covid, there were still quite a few liveaboards on the docks now in July. And, as it seems like in so many marinas, there are also the abandoned or derelict boats. We were told this one, with one of several holes in the hull, have been siting here for years.
We didn't expect much from Licata. Our needs were simple. A place to rest at night, and a grocery store. For the later, we found a large Conad store right behind the marina, and we proceeded to empty their shelves of many staples. We had not fully provisioned since leaving Preveza. If we needed any reminder that we were in Italy, the deli counter said it all. You can't just step up to order ham. It's like going to a chocolatier and asking for chocolate. And then there's the cheese. Wheels and wheels of it stacked up like milk crates. Ham and cheese sandwich anyone?!
Our plan had been to depart the next morning, and we were moments away from tossing the lines off, were it not for a building side breeze. The instruments were showing peaks of 20 knots. Afternoon breezes were pretty common in the forecast here, but it was only 10am. A side breeze when you are med moored is a real headache, a condition the gelcoat repair technicians really love. We could have hailed the marineros for helping getting off the dock without getting snared up with the nice Jeanneau next to us. But instead, we decided to stay another night. Bashing into 20-25 knots headwinds for 50nm to the next harbor was not a pleasant prospect. It didn't take long for us to fill our day, between laundry, some repairs, and a long walk around town. And like in any retirement community, you have to be careful with eye contact. Too friendly of a demeanor, and you can lose an hour or more of chit-chat with the local marina liveaboards!
Considering how early the strong winds built out of the west, we decided on a departure time of 2am the next morning. Fifty nm to the next harbor of Sciacca conservatively might take 10 hours. So if we were lucky, we'd only have strong winds for the last hour or two. Sciacca (pronounced Shee-AHH-kuh) also had a fuel dock. With our recent windless exploits, we were soon going to be running out of the precious petrochemical stuff. 
When the ripe early hour of 2 o'clock arrived, the winds were non-existent and we slipped our lines onto a sea as glassy as a fresh Zamboni-treated ice rink. Karen drove us out past the breakwater into safe water and then turned it over to me for the first watch. I set up dual screens on the chart plotter, so that we could see both the chart and the radar. One of our biggest concerns was the little unlit fish buoys, some as small as a plastic water bottle. The radar might pickup the larger ones, and the rest would have to depend on my squinting eyes and pure providence. There was no moon up, and though we could have positioned someone at the bow with a spotlight to frequently scan the way forward, tedium and fatigue could set in quickly. I relied instead on the faint glow of the red and green running lights at the bow to catch anything at the last minute, as I took up a position close to the helm to throw the engine in neutral if necessary. By 530am, the sky was starting to subtly brighten behind me to the East, and the heralding of the end to the blindman's navigation. 
Karen came on watch at 6am, looking bleary-eyed as we both can be after an interrupted night of sleep. My adrenaline from 2am had gradually faded and I was down and out for a blissful 3 hours of off-watch. When I awoke again, Karen had the pleasant news that we were only 2 hours from Sicacca, and only a slight headwind had formed. By the time we approached the outer breakwater, the wind was peaking at 20 knots and white caps were surrounding us, confirming that our 2am departure had been the right decision. The fuel dock was a no-frills affair, squeezed in between an old schooner to our stern, and a fancy new Guardia Costiera chase boat off our bow. It was a good thing the dock hands were quick with their knots. Nobody wants to hit another boat, but especially the Coast Guard!
Stretching up the hillside was a multi-pastel collection of buildings, reminding me of the frequently photographed harbor at Ischia. However, once we got settled at the marina and hit the pavement for some exercise, we found that old saying ring true, 'some things are better from a distance'. Roofs were caved in on some, weeds growing out of upper floor balconies, and a busy narrow main road, with no place for an ambling pedestrian, ringed the old village. After summiting 245 steps (thanks to Karen for that stat!), we found a pleasant piazza and shops, mostly closed but not obvious why as this was too early for siesta.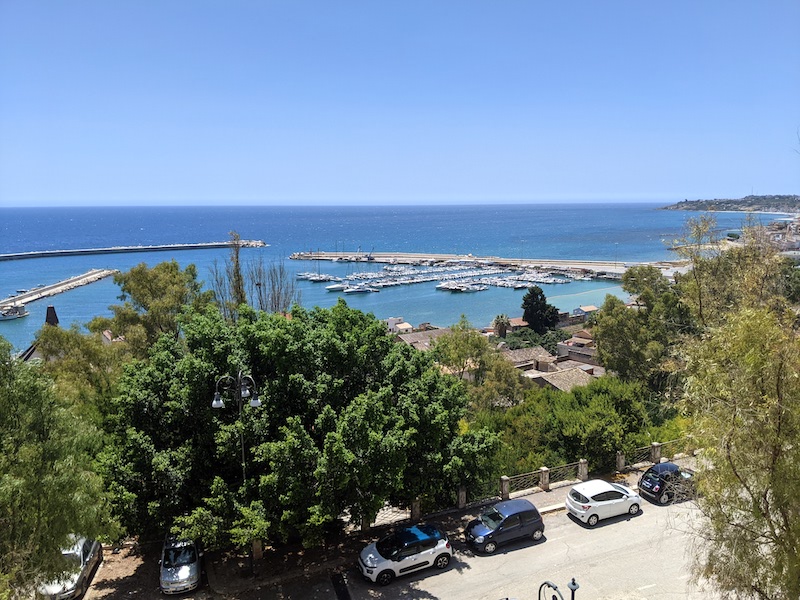 Like a couple of tourists accidentally dropped off the bus at the wrong stop, we wandered aimlessly around looking for something, we were not sure what, but anything that might seem appealing to a visitor. Kids seemingly too young for a scooter license were mimicking the Le Mans as they made laps around the main road, and we thought twice about using the cross-walks. Finally we found a grocery store, closed, but worth checking to see their hours. To my surprise when I peeked in the window, a shopper in command of a grocery cart was navigating through the aisles and waved passionately to me towards the side of the building where the entrance resided. It didn't matter if we had just gone shopping the day before, this building was cooled to an enticing level of comfort and I found myself walking slowly through every aisle to savor it. You know you are in Italy when the pasta options take up a whole aisle, and when you are not in Greece, because the yogurt options fit on a single small shelf.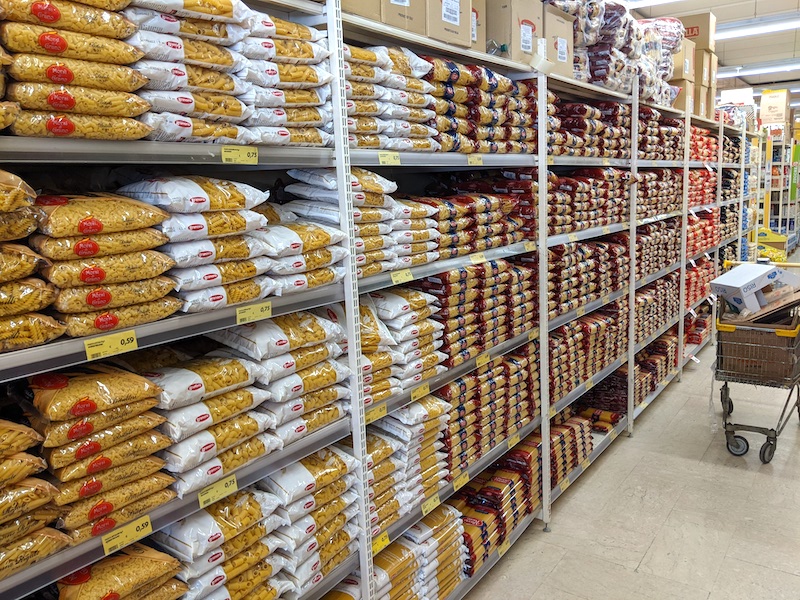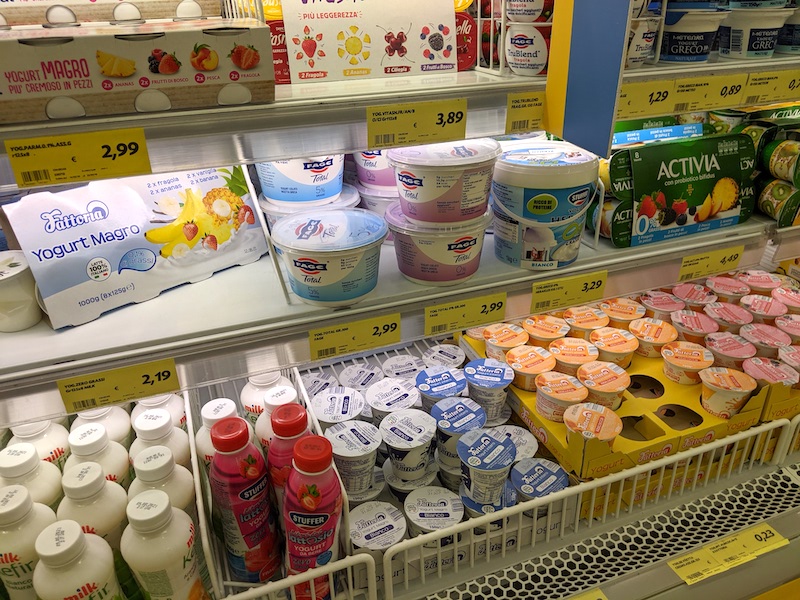 Back at the boat with a couple bags of loot, we concluded this town likely did not make it on the Fudor list, and maybe not even Lonely Planet. It was a harbor of refuge for us, in the truest form of that nautical phrase, as well as a substantial basecamp for a large number of fishing trawlers. Somehow, our plan for another 2am departure, and therefore an early night to bed, didn't leave me wondering if we were missing out on local sites.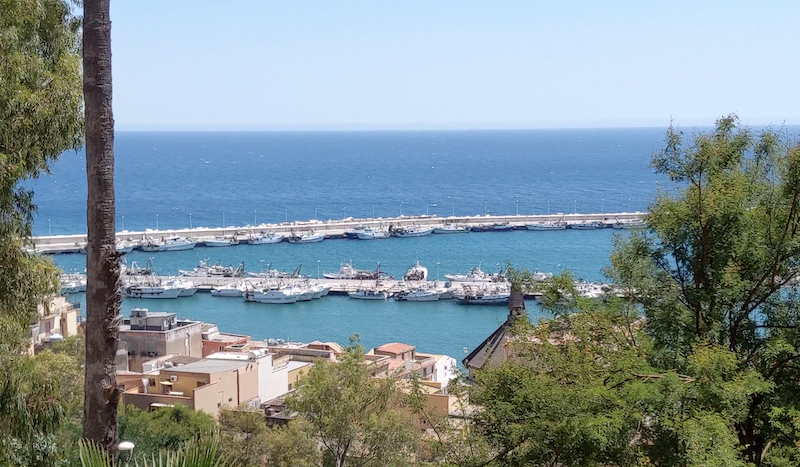 On this second early morning, it felt slightly more natural to be slipping the lines at 2am for the open water. We had spotted several fish traps when we had entered the day before, so I took up a position at the bow with our trusty rechargeable spotlight, and scanned the waters in front of us every 15 seconds, while Karen followed the chart plotter back at the helm. When we were a couple miles offshore, and having seen no fish buoys, I abandoned my post and returned to the cockpit to take over the helm for the first watch. Soon we had a healthy breeze off the land and Karen helped me unfurl the sails before she went down. With the engine off and sailing gently along at 3am, life couldn't be more appealing. Then the weather gods got impatient. The bag of rotten peaches I had thrown overboard earlier must not have been enough tribute. They turned up the wind to 18-20 knots, causing me to need to reef down. But we had the last laugh as we started hitting speeds in the 7's. Then the wind dropped down to 8-9 knots and all I could muster was a measly 4 knots of speed, until the wind machine turned off completely and I was back to motoring. To keep us on our toes, the winds came back to a steady and idealic 13 knots and we started sailing again on a close hauled course into the inky black, with a lighthouse off the SW end of Sicily to guide me so I didn't need to stare at the bright chart plotter the whole time. We had been accustomed to quiet nighttimes and afternoon sea breezes as the land nearby warms up. This was the case in Greece and much of the rest of our Med sailing. If there was any wind, it came in the afternoon. So to have enough wind to sail with before the sun rose was quite a change, a delightful change. Especially because when the big orange ball rose above the horizon behind me, the wind gave up its duties. We motored onward, with a destination of the Egadi Islands, a collection of three mountainous patches of earth extending beyond the west coast of Sicily. The prominent town on the mainland, curiously named Marsala, was the origin of frequent sightings of tour boats transiting across to the islands, and a handful of sailboats out for a day of island hopping. It seems these Egadi Islands were a close retreat for these mainlanders, and what a feast for the eyes they were. As we approached the middle of the three islands, Favignana, a steep peak came into clear view, with craggy vertical sections rising up to a fortress placed squarely on the top, just about the best defensive position one could ask for. We were headed to the harbor of Preveto, with the natural reserve that encircled the shoreline of these islands. It was not clear the exact purpose and regulations of the reserve. We just knew that there were moorings provided and a modest daily fee was due to some kind of authority that would come around to collect it, cash only. In other marine reserves we've visited, moorings were placed to stop boaters from setting their anchor and have it and the chain drag over the Posidonia grass, a habitat that provided a defensive measure of sorts for the young sealife below us. Yet, as we grabbed the first available mooring, and reveled in the peace of no engine noise, plenty of other boats were anchored hither and dither, while half of the moorings lay empty. I'm sure some of them were trying to skirt the daily fee, but in other reserves, if a mooring was provided, you were required to use it. In the end, no one came around to collect the fee, so maybe it's a result of meager enforcement. Or, as one local guide on another island had expressed in modest consternation, "It is Italy".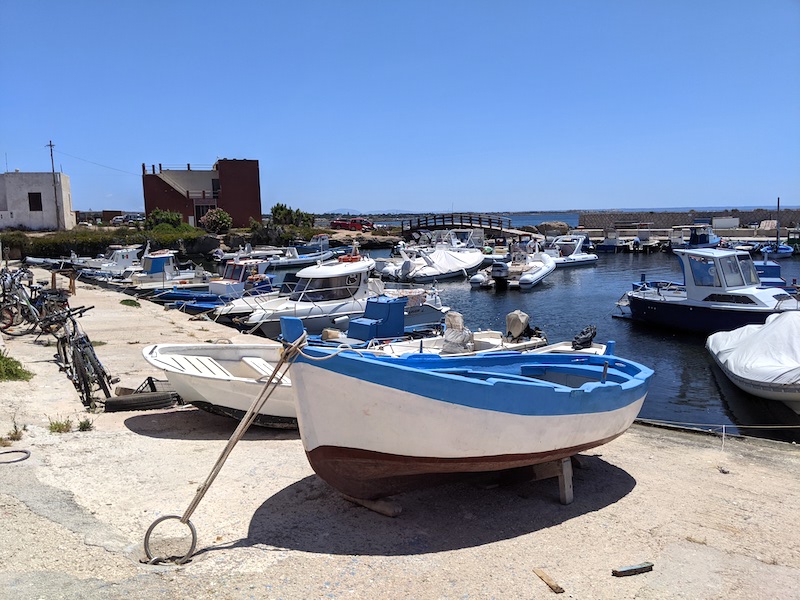 With our experience with yahoos fresh in our mind from the Blue Lagoon, we kept a safe distance from the rowdies and twerkers, and there were plenty on hand at Preveto. Even a bachelorette party boat full of young women drove by, to the frequent cat calls of the many Italian men in earshot. We skipped the festivities and dinghied ashore for a hot, dry walk into the town center, the nerve center of the island with its ferry landing. It was surprising to me how busy these islands were. We had been accustomed to the sparse population and tourist traffic of the out islands of Greece. As we worked our way west and closer to the population centers and vacation hotspots of Europe, it seemed like this was going to be more of our future. Yes, I am still going through postpartum depression from our Greece exit! Still, if we hadn't left Greece this year, we might never have. There was much to see in this world. I'm sure we are not the only ones conflicted between the comfort of the known versus the mysterious intrigue of the new.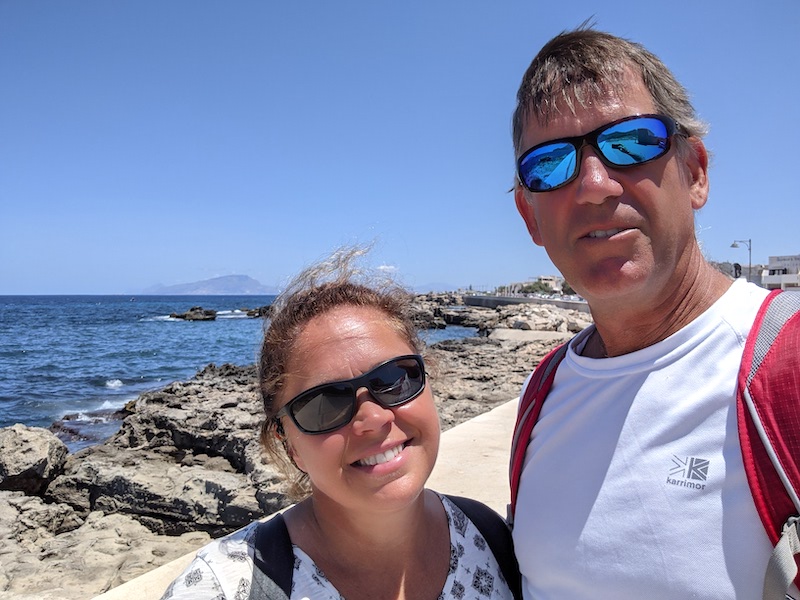 It was an early night as we prepared mentally and physically for our crossing tomorrow to Sardinia. We would have stayed in the Egadi islands for a few more days, but gusty west winds were in the forecast and if we didn't go in the morning, it wasn't clear when we'd have another window. We were on the run, with a schedule driven more by the forces of nature than our own desires, and with it, the humbling lesson that we are not always in control of our destiny.