This quote is loosely attributed to Oscar Wilde, and I believe to a few citizens over the centuries living on the island nation of Malta. The spirit of the phrase would mark our amazing visit to this geographically strategic spot in the middle of the Mediterranean. The price of admission was a long day of motoring south from Sicily, about 70nm, with occasional course changes to avoid the heavy east/west shipping traffic. Sometimes it felt like we were pedestrians trying to cross a busy Los Angeles freeway. At least the seas were flat and the engineers at Yanmar apparently well paid, on account of the reliable performance of our engine.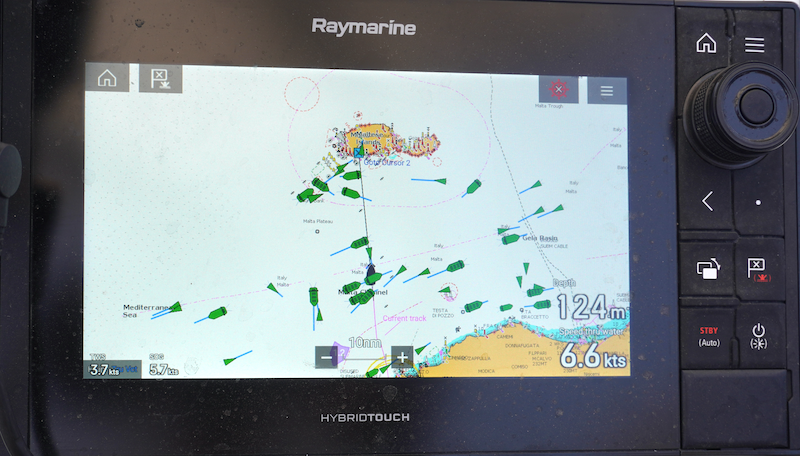 Malta had been a question mark in our pre-season planning. We knew we had to cross to Sicily from Greece, and from Sicily to Sardinia, but Malta was directly south and a full day's trip both ways, with the added uncertainty of clearing out of Italy, into Malta, and back into Italy. In a normal year this wouldn't be an issue (an oft-repeated statement for sure!). But Covid is still lingering around, and with the recent news of variants on the rise and careless school groups in Mallorca causing the local government to consider restarting lockdowns, we didn't want to push our luck. And like in battle, when communication is infrequent and unreliable, the latest requirements for entry into Malta and back into Italy were tough to nail down. Before we lost cell signal off the coast of Sicily, I sent a request to the Port Medic of Malta, on advice of another cruiser, to get clearance, at least from a health perspective, into Valetta, the main harbor. I also sent an inquiry to the customs authority, as there were lots of conflicting sound bites on clearing in as a non-EU vessel. To my surprise, the Port Medic accepted our health form and gave us the all clear to enter. And as we approached cell service from Malta, I got the good word from Customs that clearing into Malta from another EU country was optional. Yahoo! We let the good news settle in, and then quickly adjusted course to the middle island of Comino, where the tantalizingly named anchorage called the Blue Lagoon existed. If we had cleared bureaucratic hurdles, it was time to find a place to swim and play. The history and culture of the big city of Valetta would have to wait.
As we got closer to Comino and started to consider our anchoring options in the fading light, it was clear this was no Greece or Siracusa. It seemed like everyone had a boat, and they were all in fast mode. We turned into a tight anchorage named San Niklaw Bay, next to a few sailboats and a lot of power boats. Back in Greece, it was quite rare that we would share an anchorage with a power boat. As long as our neighbors didn't serenade us with their generator, we would put away our angry eyes. Ironically, it was our own sailing brethren that kept us awake. As Karen and I sat on the foredeck and considered the sunset and our day's highlights, a sailboat loaded with young adults came speeding in, dropped their anchor, and turned up the sound system. Our power boating colleagues were quiet as a whistle. Go figure!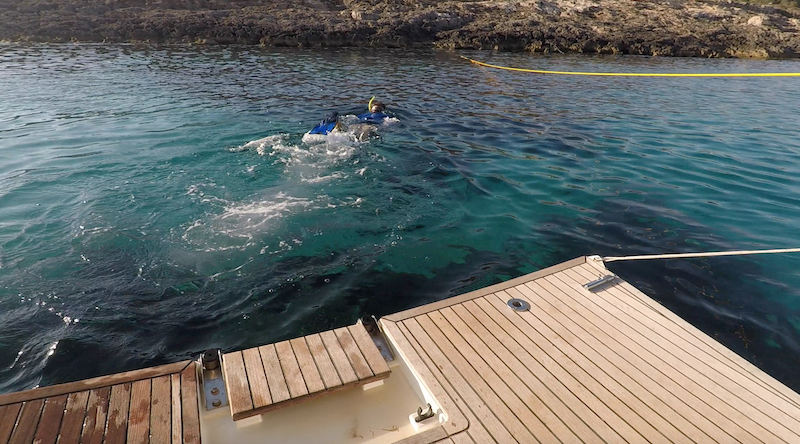 San Niklaw Bay had been a harbor of convenience only. The real prize here was the Blue Lagoon just around the corner, and all recommendations pointed to the need to arrive early to secure a good anchorage spot before the tour boats disgorged their passengers and peace on earth became just a Hallmark expression. Karen and I were tossing off shore lines at first light. Fifteen minutes later found us pulling those same lines back out again, as we found a nice secure spot just adjacent to the lagoon. This time, we were the only sailboat among a dozen power boats. If I wasn't such a renewable energy nut, I would consider buying stock in the Maltese diesel delivery business. It seems like every country in the Med has their 'Blue' attraction, the most famous likely being the Blue Grotto of Capri, so my expectations were somewhat moderated. I should have given the Maltese more credit, or maybe Mother Nature. The water here was a true-to-its-name stunning azure blue. The local authorities had established a north and south anchorage area, with a substantial bouyed-off swim area in between. That was another clue we were not in Greece or Italy. The Greeks, by and large, let you do whatever you want and assume the risk of those choices. Buoys of any kind, navigational or for swimming areas, were rare to find. Here, you could splash around in the shallows, float aimlessly on a noddle or blow bubbles out your snorkel and never fear a hot-shot jet skier or charter skipper giving you a fright. There was even a simple lifeguard tour on the shore. It is easy to feel shackled at times by regulations and authority, but other times it is a welcome relief of an organized, mature society. Malta was getting two thumbs up from the Sea Rose review committee. 
After a satisfying hour of snorkeling around the Blue Lagoon, and its neighboring coves and caves, the armada of boats started to arrive – everything from little runabouts, to dive boats, to super yachts. It was time to set up the sun awning on Sea Rose and watch the parade. A few sailboats joined us in the anchorage, but unlike us they tossed out a short anchor and swung in the middle, while we were tucked close into the shore with stern lines. Normally I don't worry about this too much, as these boats are on temporary assignment, leaving their crew to swim around for a while and then they are off to the next port of call. But our noisy visit of 20 somethings the night before was a foreshadowing of today's events. A monohull with at least ten energetic partiers, and their charter skipper, started circling like a dog in heat looking for a place to drop anchor. To our surprise, a loud crack echoed across the anchorage, causing everyone to turn to see this crazy boat colliding with the tall sharp bows of an anchored catamaran. No fiberglassed appeared to be breached, but a long black streak was now recorded on their starboard side, and as they circled, this skipper's resume was clearly painted with random black streaks on the port side. Not to be dismayed, he proceeded to raft up to another catamaran with an even larger quantity of twerking young men and women onboard. I get it. Over a year of being told your safe distance was 2 meters from your hormone raging friends was tough. I left them to their revelry while I flew the drone for some scenic shots of the lagoon and the large fort watching over us from the ridge. Soon enough though, I heard that dreaded tone in Karen's voice, as she called out "Tom, we better watch this." Everyone knows what urgency and fear sounds like in their spouse, and Karen was coming in loud and clear. The rager going on over at the raft up was dragging through the anchorage as the afternoon breeze started to fill in. They were aiming right for us and no one seemed to take notice. I yelled out to the two captains, 'Hey, you are dragging. Start your engine." Slowly the black-streaker found his way to the helm and started his engine. We were frantically grabbing fenders out of the locker. The drone, which I was hurriedly trying to land, or give up on if I had to save Sea Rose, hovered nearby. There is nothing more startling than seeing two rafted boats drifting down on you sideways. Shockingly, their passengers were still jumping off the boat and swimming around like this was totally normal to be crashing into other boats. I kept yelling to them to drive forward, and quickly. They narrowly escaped hitting our bow or snagging our anchor chain. I was livid at the clear incompetence of these two captains, not to mention the clear safety risk to their passengers, swinging around and climbing on and off their boats while their propellors are engaged. A good spouse will help you walk back from the cliff edge, and Karen performed admirably as I insisted that we raise anchor and get out of this anchorage of fools. An hour passed and soon boats started leaving on their own accord. By the evening, it was back to the company of our power boating (and more competent) neighbors, settling in for a quiet night of star gazing and barbecuing. 
Higher winds were in the forecast in two days, so we took the time during this calm to explore the westernmost Maltese island of Gozo. It's fifteen miles from the epicenter of Malta, the city of Valetta, and at the extreme end of the three island archipelago, so we were quite surprised to see how populated the island was, with large cathedral spires piercing the skyline on the high ridges and near constant ferry traffic at the main port of Mgarr. My favorite of the ferry lines was the brightly painted and appropriately named Gozo Fast ferry. Our plan of visiting Valetta was starting to take shape. When the high winds arrive, we'd find a berth at the Mgarr marina and take the ferry into Valetta. Why drive Sea Rose 15 miles each way – leaving the driving to someone else for a change seemed pretty appealing!
If Gozo seemed populated at Mgarr, the impression fall away when we pushed forward to the western end, as we passed jaw-dropping cliffs rising directly vertical from the sea, rivaling the Dugi Otok area in Croatia and parts of Corsica. I understood the basics of fault lines and tectonic plate movement, but how the land could be pushed vertically for 300 or more feet was astounding. Our destination was a nearly circular cove with the tongue-twister of a name, Dwerja Bay, protected by the much easier pronounced Fungus Rock at its entrance. A few boats had beaten us to the spot, including Dany Dany, with whom we had crossed over from Sicily in near company two days earlier. But the real attraction here was something called the Inland Sea, a pool of water accessed by dinghy through a natural limestone tunnel from the sea. Either adventurers before us had wanted to keep it a secret, or not many boaters made it this far, but after some hunting around the cliff edges, we found the passageway, a short trip to a semi-circular cove full of small fishing and tour boats, with their simple block-shaped boat houses and boat ramps ringing the shoreline. Fortunate for us weary and over-heated travelers, one of the boat ramp owners had the enterprising idea of turning their stake into a small umbrella-covered cafe. The air was still and hot here, as it radiated off the sloping land surrounding the cove. If you were to take the whole site in view, you would think you landed in the middle of a mini caldera.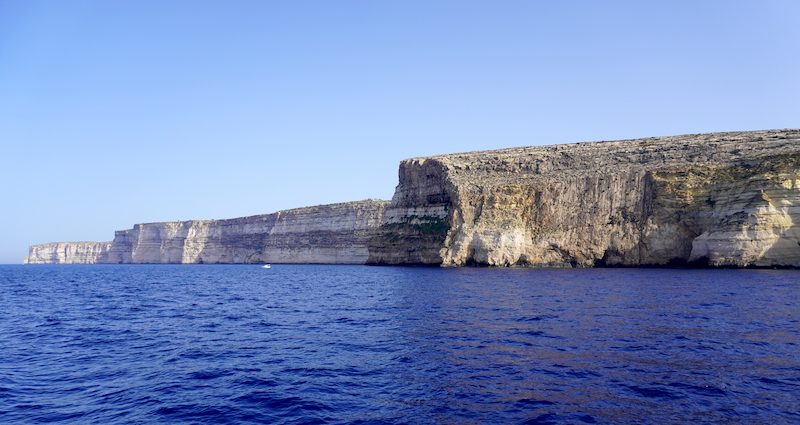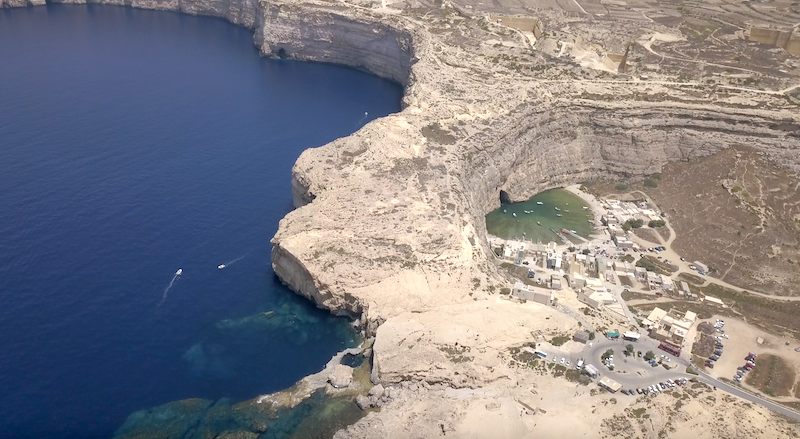 The business of scuba diving was ever present here, with some divers coming back in through the tunnel, and others gearing up for a boat ride outside. We learned of a feature called the Azure Window, a tall natural arch that had collapsed here in a storm in 2017, leaving behind an underwater chimney formation of rock, and a deep tunnel to a swimming spot inside the rocky shoreline called – wait for it – the Blue Hole! We dinghied out to the site of the chimney, trying to carefully avoid a few areas where air bubbles were rising to the surface, and dropped our anchor on top of the submerged chimney rock. Going overboard, I was struck by how clear and far you could see down to the depths, where divers ghosted by with a periodic kick of their fins in that slow motion dance where time seems to hang in the lurch. We were left to observe from the surface, or a few meters down for as long as we could hold our breath, absorbing ever so briefly a feeling a kinship with our diver friends of the deep.
Back at Dwerja Bay, more small inflatables had joined us, together with a few more sail boats and a beautiful trawler-style yacht. Likely due to our distance from the main tourist centers of Gozo, absent were the rowdies and the incompetents. Here was an anchorage of striking beauty on account of its rugged remoteness. This fact was supported by a yoga instructor on the cliff edge, with Fungus Rock in the background, being filmed from multiple angles by a camera crew eagerly waving us out of the background, as we walked ashore to find a restaurant. If I was a yogi, and a good enough one to be photographed, this would surely be on my short list for film locations.
By nightfall we were only one of two boats in the anchorage. In these situations, it's easy to get that feeling of "Does everyone else know something we don't?" The winds started to build in the next morning and though they were coming directly into the anchorage from the northwest, we were counting on the big bouncer at the door, Fungus Rock, to keep them at bay. I took a swim to check on our anchor, and as I like to do when high winds are coming, the anchors of those around us. The owner of the boat came out from his protective perch in the cockpit to say hello and inquire how his anchor was holding. He was an older man, flying a Polish flag, and we made small talk of the coming weather with his broken english. Since it was just the two of us now facing this weather, I told him to let us know if he needed anything. Hopefully this gave him some comfort, and it was reassuring to know he was there too.
As the afternoon arrived, the swell was rolling in around Fungus Rock and into our circular anchorage, and with the vertical rock walls surrounding us, it turned our peace of heaven into the agitated cycle of a washing machine. Waves would roll in, toss us from side to side, then hit the shore and bounce back, rolling us again. The shore was too rough to land the dinghy, so we settled in for the day onboard trying not to think about sea sickness and having little if anything to eat. The periodic roll of an ocean wave is not an issue for me, but when you have the erratic behavior of reflected waves, that's a different matter. We watched as waves started breaking across the entrance we had just used into the cove yesterday. There would be no departing until the winds had passed. I found myself staring longingly at tourists along the rocky shore, casually exploring and snapping pictures of themselves and the plumes of white water. I like the sailing life, but at this moment I really wanted to teleport myself to their state of mind. 
Most weather models had the wind shifting to the north overnight, giving us more protection, and then easing by morning. We both woke up throughout the night checking the boat position and listening for any unusual sounds.
Morning, glorious morning, came with a bright blue sky and calm air. My soothing swim around the boat was better for the soul than any massage.
We had had plenty of time to develop a plan for the next two days. It wouldn't feel appropriate to skip Valetta on a visit to Malta, so we secured a berth for two nights back at Mgarr, and took the fast ferry on a quick 45 minute jaunt down island to this historic city. If you have ever seen pictures of Valetta, the most impressionable feature is the remarkable tall stone defensive walls surrounding the center peninsula in Grand Harbor and also on surrounding inlets. The amount of human effort it must have taken to build these fortress walls is unfathomable. 
From the ferry landing, it was a steep hike up the narrow side streets to the center of the city, where the general prosperity of the island promptly came into view. Back to back top end designer stores, a clear change from Greece, were crowded in everywhere. It gave us a reason to slow down at their entrances to soak in the cool air conditioning spilling forth.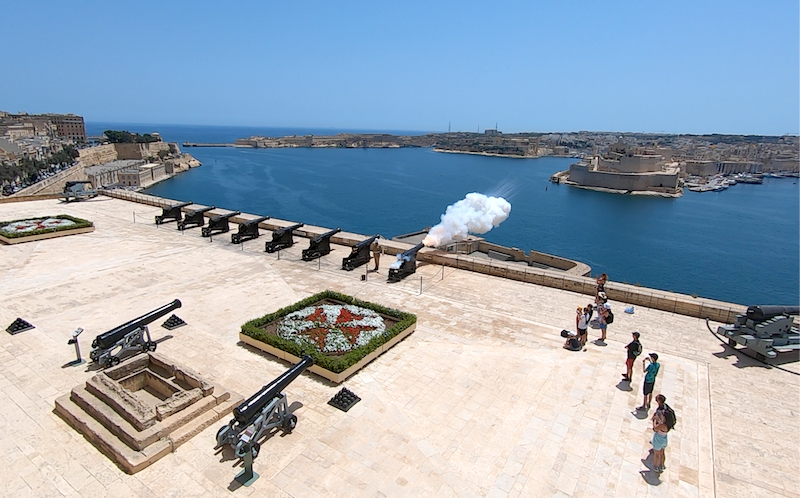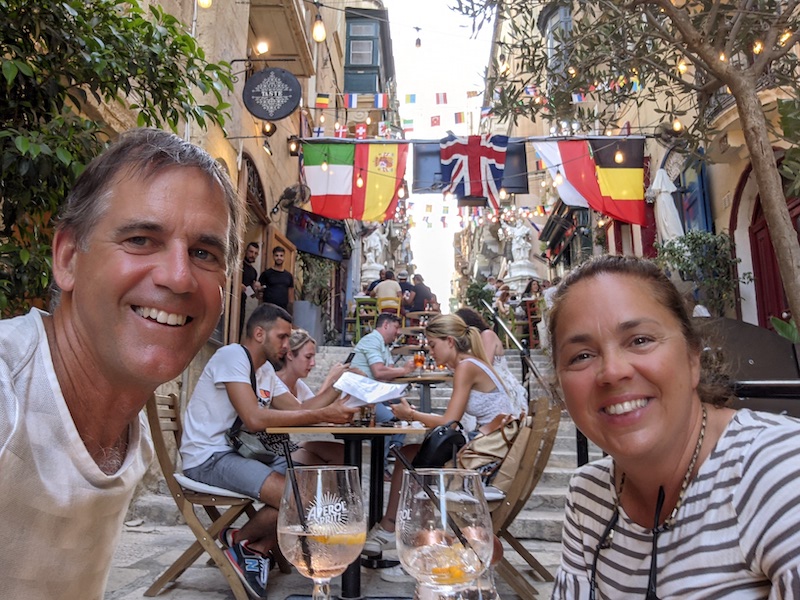 Malta, with its strategic location in the middle of the Med, played a key role during World War II. As a British protectorate, Allied air raids from here on Nazi shipping and ground movements in North Africa were making a significant impact of Hilter's advances in the region. Italy's air force was conducting bombing runs over the island, but eventually Hilter got frustrated with the lack of progress and sent his own Luftwaffe to put a stop to Malta's attacks. The Maltese were holding on with dwindling supplies and close to abdicating when Franklin Roosevelt and Winston Churchill came up with a plan for Operation Pedestal, a 50 ship supply convoy that would thread the needle through the Gibraltar Straits and avoid the submarine torpedo and aerial bomber gauntlet to make it to Malta. The island's military governor, Lt. Gen. William G. S. Dobbie, famously said "Malta must be held at all costs." Of the 50 ships, only 5 made it through, including the tanker Ohio limping to port after several direct hits. The supplies were enough to continue to hold the island, supply needed fuel to the air units and to keep up the pressure on the Axis forces. It's a tremendous story of will and stamina (A great book covering the subject is 'At all Costs'). British and American civilian and military personnel played a central role in Operation Pedestal, but Canada and Australian units were also involved. Malta continued as the British military headquarters of the Med for the remainder of the war, leveraging an advanced network of surveillance equipment on the island. Karen and I toured the underground headquarters, named Lascaris War Rooms, dug into tunnels deep under the present day shish-shishy designer stores. It was a little bit like an old World War II movie set, with large maps on the walls and small wooden models placed on large tables to mark important enemy movements. Though well done, the Lascaris War Rooms is a volunteer operation. For a more broader historic context, Malta's National War Museum helped Karen and I appreciate how much this island had been fought over. It seemed everyone wanted to claim it as a strategic prize. The Ottomans placed the island under siege back in 1565. The French occupation was led by Napoleon in 1798 in a seemingly civil take over, but were soon placed under siege themselves by the Maltese until they departed the island two years later. Finally, in 1814, with the British providing assistance to the Maltese against other aggressors, Malta asked for formal British protectorate status, the start of a 150 year relationship with the British empire. In 1964, Malta finally gained its independence. To the Maltese above all others, it was clear this island was well worth fighting over, and we felt honored for the opportunity to experience their art, their culture, their history, and, oh yes, their gastronomical delights. We were reminded of how important it is to fight for what's valuable to you, for what you believe in. And, when the fighting is over, to take the time to appreciate the hard-earned achievements by, for instance, taking a cooling dip in a Blue Lagoon, or a scenic yoga session. Just keep an eye out for the yahoos upwind of you!