The clear sky, as the sun rose at 4:15 am, seemed to be a fitting metaphor for our departure from Germany. Seventy nautical miles to the northeast of our anchorage lay the island of Bornholm, a fresh new country for our logbook with all the optimism and anticipation that comes with a new courtesy flag raising. It's difficult to miss Bornholm as you enter the Baltic Sea. It sits out in the middle, begging mariners to make a stopover just like the family dog sitting squarely in the doorway waiting for your loving return. Bornholm's geographical anomaly is only matched by its political oddity. Located as it is solidly off the southeast corner of Sweden, you might wonder if there was a cartographer's error that classified it as Danish soil. But, no, it is indeed part of Denmark. And, to fully explain the how and why of changing territorial lines between these Scandinavian states would easily fill a complete blog on its own. As Karen will attest, my fascination with history becomes more acute every day, but some stories could be so engrossing, we might run aground on the other end of the Baltic for lack of attentiveness!
With the ascending sun came a fresh breeze across the deep blue water of the Baltic, just what we would need for a full day's sail. To avoid a repeat of yesterday's grounding drama, we focussed like a laser on the channel buoys leading away from Germany's Rugen island. The winds in this area commonly come down from the north, but for our crossing we were blessed with a healthy southeast wind, putting us on a pristine beam reach worthy of a Jeanneau marketing brochure. Some days deal you light winds, on other days no wind, but here the winds were only outdone by the bountiful sunshine and clear skies. Settling into our normal two hour daytime watch schedule felt like a waste when we both wanted to be up on deck enjoying what nature had bequeathed us.
With Bornholm squatting in the middle of the Baltic, several Traffic Separation Schemes skirt around it to guide commercial traffic out of harms way. As we approached the first TSS, a beefy tanker, staring us down like an alligator floating menacingly low and wide, called on the radio to make sure we saw them. We ducked their stern as they sailed on unimpeded to the port of Gdansk. With Russia's game playing over European supplies of petroleum, I found myself looking very differently at the flow of non-Russian oil into vulnerable countries such as Poland.
Long day passages can lead many to crack open a new book or head below for a nap, but for me, as I listened to the incessant knock-knock of the autopilot mechanism whenever a course correction was needed, it was time to open the tool bag. The herky-jerky nature of the autopilot had been a bother since we first took delivery of Sea Rose four years ago. Jeanneau had sent replacement parts for the tensioning bar, the mechanism that connects both rudders together and where the abrasive noise seemed to originate. But nothing seemed to fix the problem and I couldn't imagine in a few years crossing the Atlantic for days on end, wondering if the knocking would lead to an abrupt mechanical failure. But nowadays, the fix is as much embedded in the flow of electrons as it is in hard metal and hand tools. The answer came in the form of an obtuse setting in the autopilot software configuration. Just like that, the helms started rotating smoothly and gracefully to the shift of wind or compass, exactly like a human driver would do. Finally, peace and quiet while underway!
As Bornholm started to appear on the horizon, we aimed for the small harbor of Hasle on the north shore, setting us up for a good angle to eventually cross to Sweden. As the port came into view, everywhere we looked were houses with red roofs, taking a monochromatic queue from the blue roofs of Greece's Cyclade islands. Growing up in California, I was quite accustomed to a broad personal preference to home design, including the choice of color. Neighbors took great pride in personal expression. But clearly the Danish sought personal expression by other means.
We approached slowly, following one faint placard that pointed to the guest harbor amongst the much larger fleet of work boats. Working harbors come with working-style big black rubber fenders and tires along their piers, the kind that leave stubborn dark streaks across a white sailboat's hull. Karen placed us gently along the only open spot left as we raced to move our fenders into position to protect our shiny fiberglass. Right away, I knew we would like it here as Poland, Sweden and German flags on nearby boats whipped back and forth in the wind. Hasle was a simple, no frills town, but with thoughtful European efficiency. A self-serve kiosk to pay one's dockage replaced the need for a full-time harbor master. The code on the receipt gave access to clean bathrooms, showers and even free laundry, a huge benefit to us as we made plans to hunker down for a couple days of stormy weather.
With my newfound luck of fixing nagging boat issues, I took up residence next to the bow thruster for the few remaining hours of daylight. The big, industrial 100amp fuse kept blowing after a short burst of the bow thruster, and I was rapidly going through our supply of spares wondering what could be at the root cause of the issue. A dive overboard back in Germany had ruled out any line or other obstruction in the propellor. My latest hunch was the aging condition of the two batteries making up the bow thruster bank. I decided to unbolt the wiring and swap these batteries out for two good ones from our house bank back in the main cabin, under the guest berth. Lugging individual 50 lb lead-acid batteries out of the berth, up the companionway, across the deck and back down into the sail locker where the bow thruster sat felt like punishment for enjoying such a splendid day of sailing. Once I had the new batteries wired in and I replaced the fuse, Karen tested the bow thruster and everything worked fine. But neither of us were convinced that a short test was proof of success. Only time would tell.
Bornholm has a very clean and efficient bus service circling the coastline of the island and criss-crossing its interior farm land. In the morning, we stepped onboard with a flimsy free bus map, the kind that is ringed with local advertisements–a dead giveaway that a couple of out-of-towners had just hopped on. A test of Scandinavian's notorious hospitality was on the line.
Being on a moving vehicle going many multiples of our fastest pace on Sea Rose always takes my breath away. Through the big bus window, I could see long fields of mid-summer wheat swaying in the wind, swallowing up the sunshine before a harvest that would bring delicious fresh bread to the tables of islanders, and maybe a few lucky visitors. As the bus curved around the northern tip of the island, a steady stream of small boat harbors appeared along the eastern shore, all with time-dating narrow stone entrances and remnants of hand operated storm gates to protect what once was an active fishing fleet. Now a bevy of small cruising boats had taken residence, wedged in cheek by jowl. There would be no way we could have fit Sea Rose into these quaintly micro-sized harbors. But for those lucky sailors that could, a charming village of cobblestone streets and rough cut stone homes and restaurants was the reward. We had had enough of the view through the bus window. Disembarking at Gudhjem, it was time to experience Bornholm's charm first hand.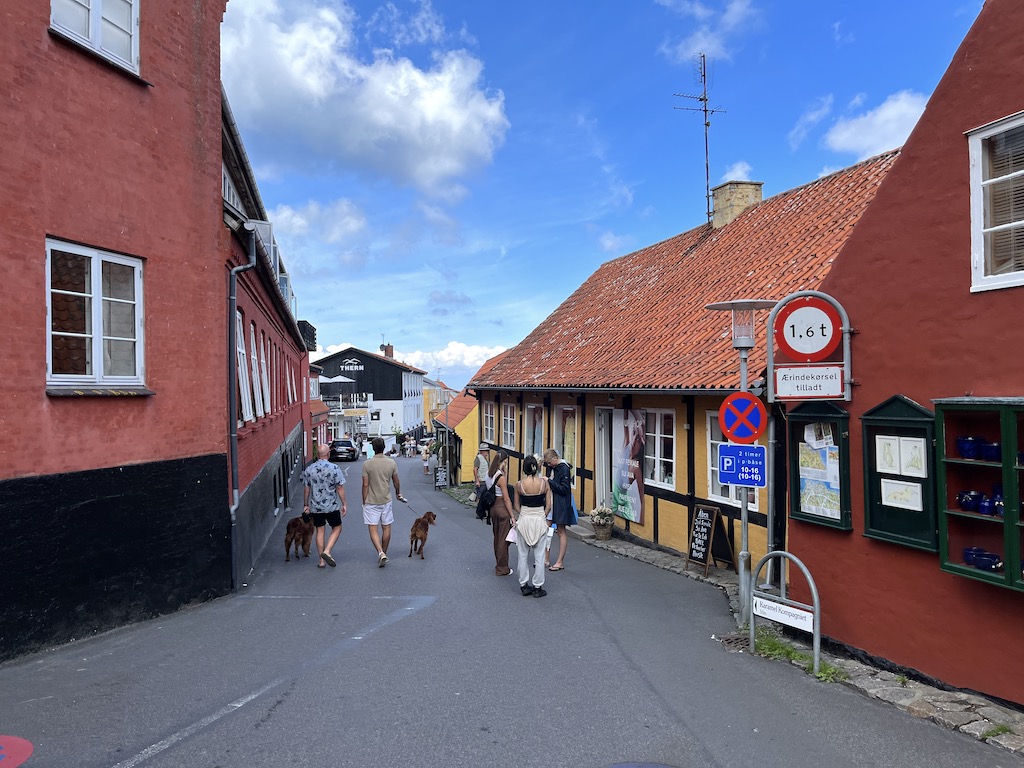 With its place out in the windswept Baltic, Bornholm attracts its share of artists; plenty of paintings and sculptures were on display at boutiques down every alleyway. But if you permit me to make a stretch analogy to airport check-in luggage, our life's accumulation of possessions was tipping the scale enough to raise the ire of the gate agent. Karen and I had recently downsized our home back in New England, and it was time to put meat behind the cheeky adage of 'more experiences, less stuff'. So we headed off in search of lunch. Our journey taught us that when an open carafe of tap water costs 7 euros, nearly half the cost of the pizza it accompanies, it is time to dial back the restaurant experiences too. Greece and Spain were filled with bustling outdoor cafes teeming with the laughter of friends and family gathered around a table covered in delicious food and drink, the perfect framework for socializing and absorbing new cultures, where a meal out was not much more than cooking at home. If Bornholm was any indication of what was coming in Sweden and Finland, we'd have to dial in our dining out, and find alternative ways to fill our cultural carafe.
Back at home base in Hasle, we were pleased that the high winds kicking up surf sizable enough to clear the harbor breakwater had not disturbed our precious Sea Rose. The high winds and waves were reassurance that staying put had been the right call. Meanwhile, children's laughter could be heard across the harbor, the kind of laughter that pierces – and flat out disregards – storm tossed seas. The energy level seemed to center on a combination sauna and outdoor swimming pool area. We were aware of our entry into the region of sauna lovers, and if there ever was a time to figure out this attraction, it was now. Karen and I donned swimsuits and flip-flops and headed over to mingle with the locals. We had read that community saunas like these were commonplace, free of charge and open to the public. Possessing an uncontrollable attraction to any source of warm water – jacuzzi, hot shower, geothermal pool, even hot chocolate in a pinch – making use of a communal sauna was a no brainer. We were joined by a boisterous yet polite group of young kids who had been shipped over from Germany to attend a local private school where the late afternoon reward for good behavior was a sauna and swim. In between visits to the sauna, they all would slip out for a jump into the pool (comprised of a fenced in area of cold harbor water). Of course, we followed suit, and began to appreciate the therapeutic nature of cycling between a 140 deg F sauna for as long as you could stand it, and the chilly Baltic water until the cold worked its way to your bones. Laying down in bed afterwards made me wonder how the finest Napa Valley spa could possibly compete with this prodigious feeling of calm and serenity.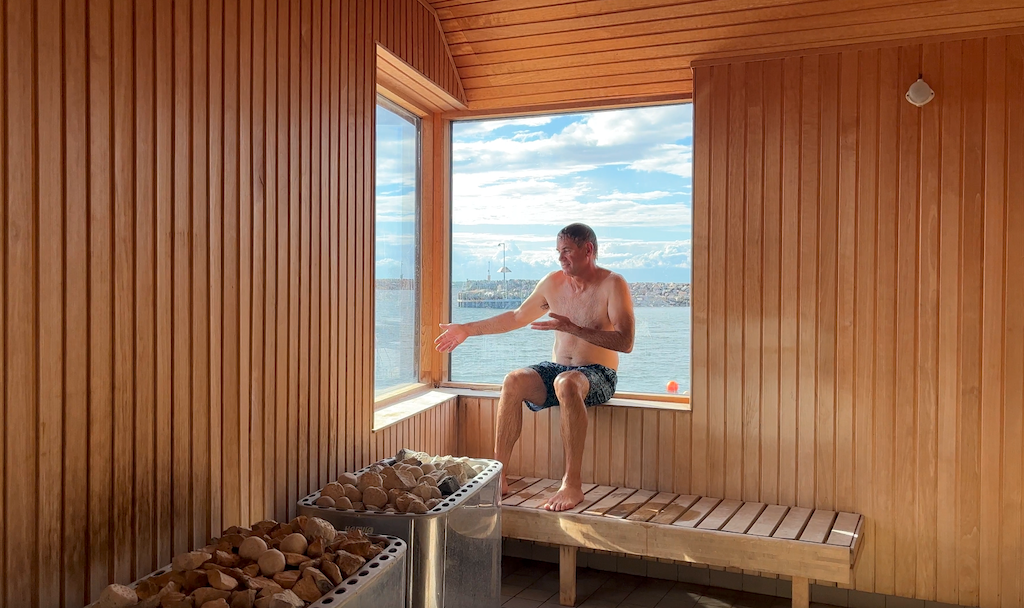 The forecast for more high winds was right on the mark the following day, as we boarded the island bus like we were well-informed locals. Immediately to the north of Hasle is the expansive castle ruins of Hammershus, purportedly the largest castle ruins in Northern Europe. This of course got me wondering what was bigger in the south that Hammershus couldn't claim the distinction for all of Europe. Regardless, it was indeed large and situated, as these medieval relics typically are, on a high promontory overlooking the sea. Large sections of the castle were still in significant ruin, with one diligent stone mason cheerfully at work delicately placing new stone and mortar to blend in with the old, as he listened to the latest pop music. What I would give to see the expression on the face of the original craftsmen (or slave) who built this one wall, as this man of modern times 700 years later carefully restored his work, all for the simple sake of posterity – no defense or survival or punishment at play.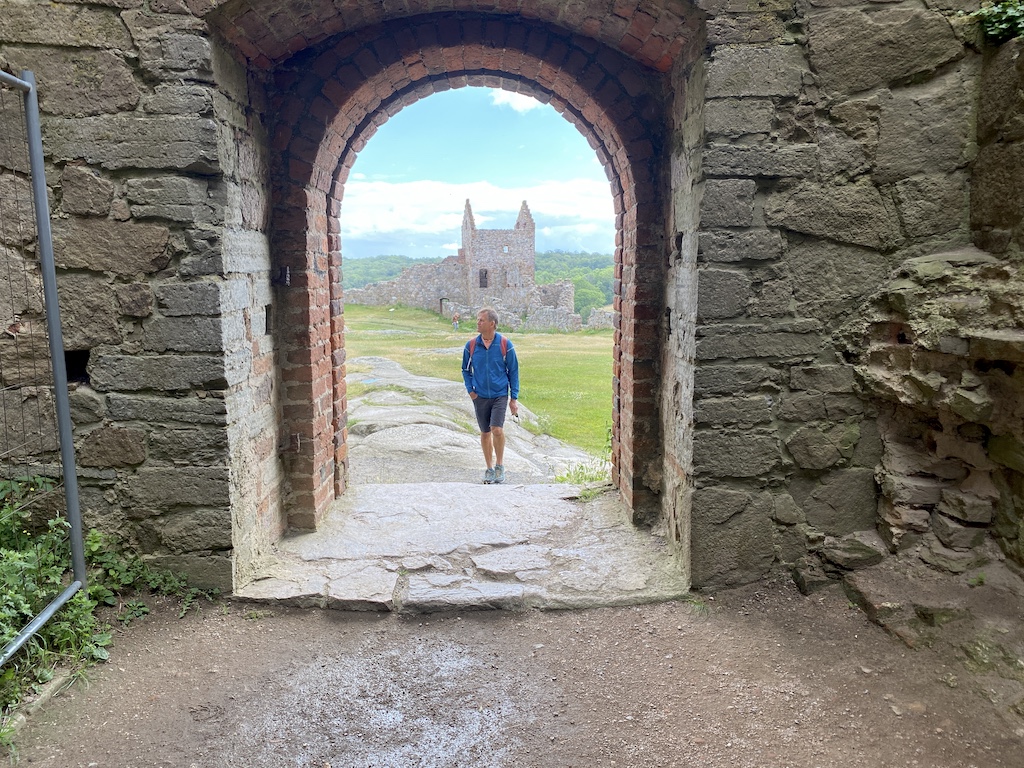 The only kink in the island bus' fine armor was the long spacing between bus arrivals, sometimes on the order of 3-4 hours. We chose to walk through the fields and woods to our next destination, the small town of Sandvig at the extreme northern tip of the island. Thankfully, the Danish government had established not one but several hiking trails along this route, and we chose a path circling Opalsoen, or Lake Opal, the remnants of a 19th century granite quarry. Here, where over a 100 men once worked away in dusty primitive conditions to export granite to Germany, more diehard workers had recently built an exhilarating zip line that stretched from the top of a tall sheer cliff to the lake below. Patrons skimmed across the lake water at the bottom at limb-jarring speed, leaving a long wake behind them similar to a water skier, causing us to wonder how many swimsuits had slipped off and sank to the bottom. Then again, modesty is a curiously unique American hangup.
We timed our hike into Sandvig for the once-a-week morning street market, with an appetite for anything savory paired with a cool down beverage. After retracing our steps for the third time in a town so small you'd have to be blind to miss an open-air market, it became clear our intel was out-of-date. Only a single coffee kiosk looked like it would belong at a street market, and the barista's only food was a thin luke warm pizza reheated in a residential sized toaster oven. Pizza two days in a row is a slippery slope one has to be sure to steer well clear of.
By this time, we were close enough to the next circuit of the bus which would carry us down south to the village of Svaneke bustling with tour groups and wayward hungry tourists like us, frequenting the more economical take out options such as fish and chips and a can of basic beer. So far, our Danish dining experience confirmed their ability to import Italian and British staples; perhaps one day we'd experience the real thing.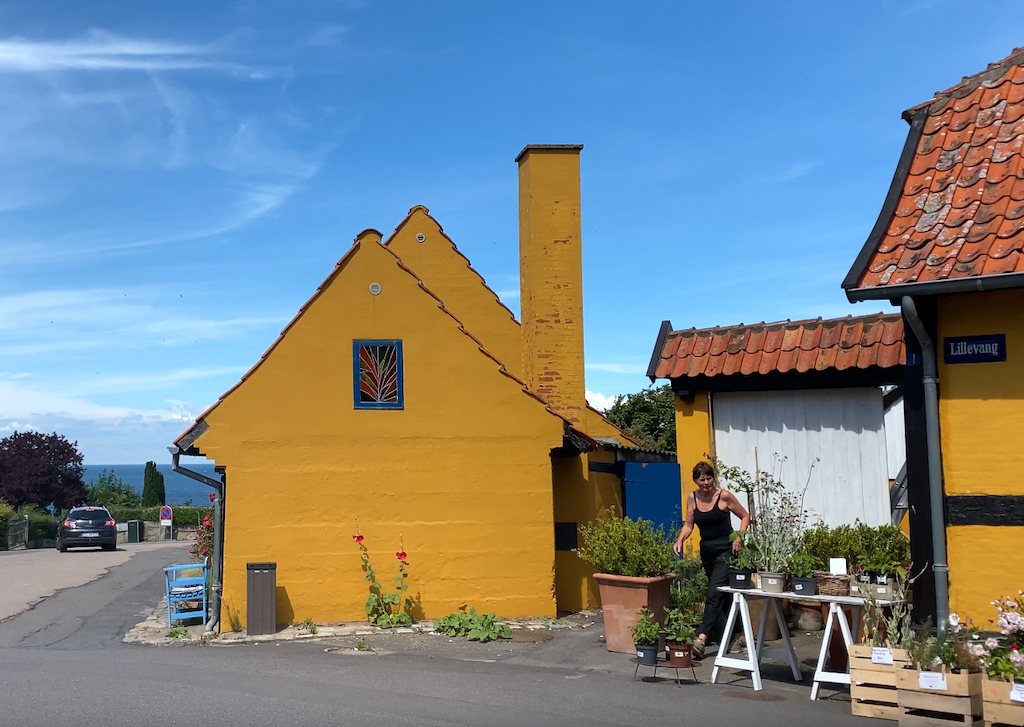 First impressions of the bus system were definitely being adjusted as we waited with many other travelers for a bus that never came. Instead, learning that there had been a breakdown, we rode the bus line in the opposite direction for a long circumnavigation of the island. What can I say, it was a work in progress. But at least there was the perfunctory sauna awaiting us on our return. This time, we were fully prepared for the school group throng. My grandfather had an exemplary talent for engaging young children, knowing exactly when to wear the face of whimsy and when to follow with sincerity, enabling him to tap into their curiosity and engagement. I try regularly to fill his shoes, but today I had it easy. As soon as I told one of the young boys we were from the United States, all their eyes widened and whispers passed from lips to ears. We carried on for a few more amusing minutes before the older kids decided it was time to wrap up and rotate out to the swimming area. Such is the wavering attention span of youth.
In the morning we would be taking our leave of Bornholm to strike out for Sweden. The winds were forecasted to remain strong, but shifting to a westerly direction, leading to the prospect of another stellar beam reach sail. It would be time for another courtesy flag swap, but we looked forward to the chance to return to Denmark, to her more traditional waters, to fill our insatiable bucket list of experiences.
Be sure to also checkout the video content on our LifeFourPointZero YouTube channel. We regularly post updates on our sailing adventures, as well as how to videos on boat repair, sailing techniques, and more!