With our cameo Denmark experience in the bag, Karen and I set out from Bornholm's Hasle harbor into sloppy seas to make good on our summer's promise to reach Sweden. The wind had moderated slightly from its ferocity of the last two days, giving us hope for a manageable passage. With at least 75 miles to go, we had no choice but to drop dock lines at first light. Outside of the harbor breakwater, a shoal bulged out from the shoreline, forcing us to make a wide arc in the opposite direction from our destination before we could turn on to our northerly heading. Hauling our sails in tightly, we just barely clear Bornholm's northerly tip. Our inshore course gave us a close view of the Hammershus ruins that we had toured by land yesterday, albeit through misty sea spray thrown off Sea Rose as we crashed through waves to windward. In our previous boats, it was difficult to sail close-hauled like this to windward. It felt like all of the physics onboard were conspiring to slow us down. But Sea Rose is a different animal, with a thirst for going upwind, a savage desire to heel over and slice through seas, even to the point that we had to occasionally rein her back in. Like a pent-up racehorse, she was clearly ready to show the world what she was made of after resting for two days at the dock. Speeds in the high 7's were a welcome start to our long day.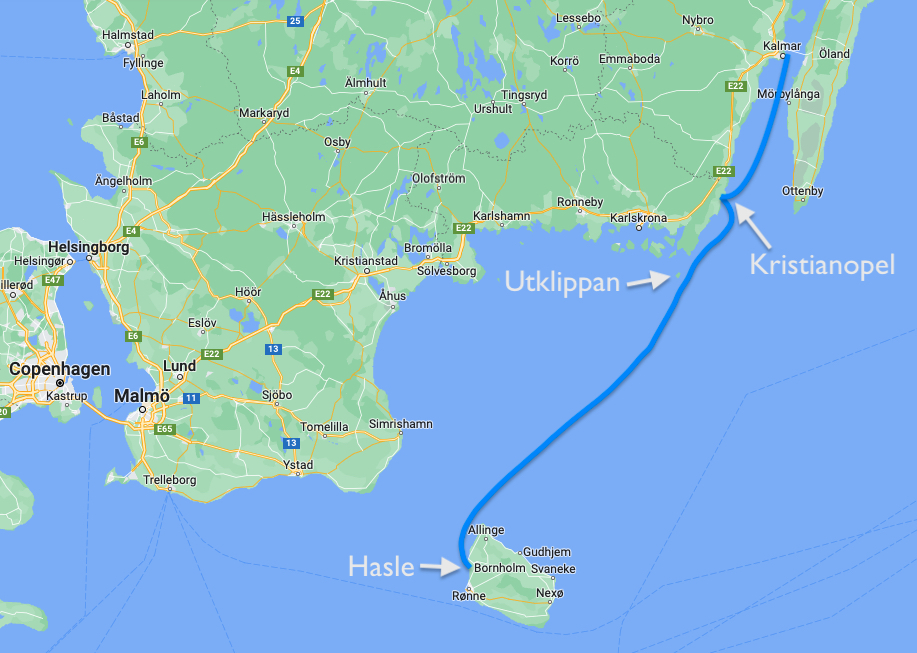 Once clear of the tip of Bornholm, we could shake our our reefed mainsail, bear away to a broad reach and settle into our standard two hour watch schedule. This section of the Baltic is wide open to a long fetch of wind waves from the west until the coastline gradually tapers inward close to Karlskrona. The protection of the land would be nice later in the afternoon, but the sleigh ride we were currently experiencing wasn't half bad either. We have had our fair share this summer of long days of favorable sailing conditions – our trip up the English Channel to Ramsgate comes to mind – and this day was shaping up to be another adrenaline shot in the arm. The weather pattern in Sweden can be a mixed bag, not nearly as predictably mild as the Mediterranean, so we would take as many of these sweet sailing days as possible.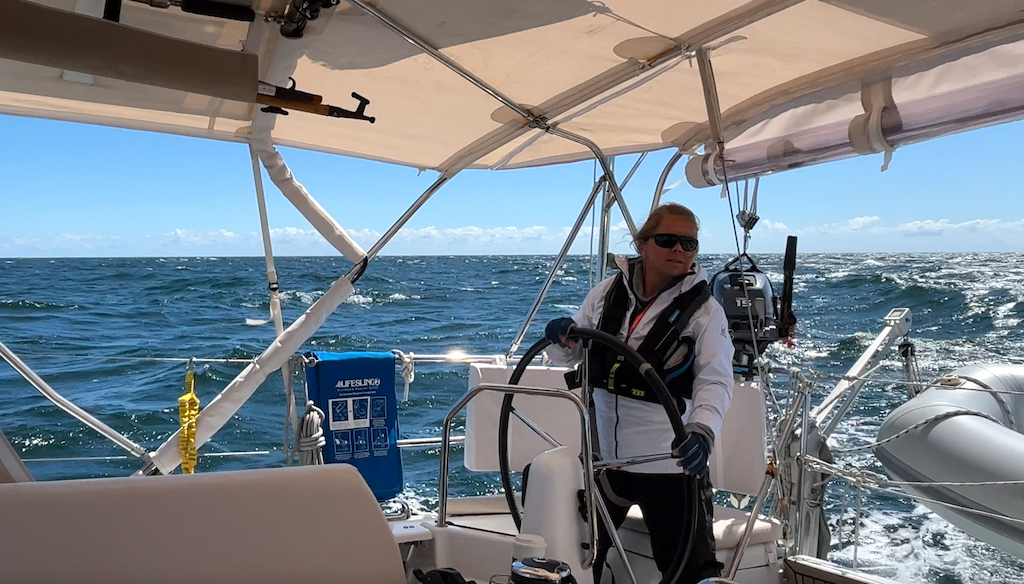 When my off-watch came, I clipped into the jackline to go forward for a look at our sail trim. Staying inside the cockpit, with our ultra wide bimini and dodger protecting us from the wind, sun and spray, it is purposely comfortable but comes with a side dish of isolation. Sitting up on the foredeck, the wind is unavoidably in your face, the water is gurgling by the hull below your feet, and the bird life is much more apparent. Like reconnecting with an old childhood friend, I wondered why I had waited so long. Here, I could see the sun beaming down on our solar panels, pumping energy into our batteries and keeping our food cold. Our autopilot, tapping into that same energy source, kept us solidly on course to our destination without any complaining. And, most splendidly, the wind was driving us along at 8+ knots. Wind and solar. We were a stand alone, renewable energy-based home, truly off-grid and unbridled.
After crossing a pair of north and southbound shipping lanes, we tweaked our course for the center of Kalmarsund — the long, narrow body of water between Sweden's mainland and the equally very narrow off-lying island of Oland. We passed a small outcropping of low lying rocks named Utklippan with a prominent, traditional lighthouse. It's possible we could have made it into the shallow harbor like several boats around us were doing, but the winds were so good we felt no need to stop. Besides, less miles today meant more tomorrow – it's pretty basic math.
Ultimately, we needed to get to the main urban spot in the area – Kalmar – for provisioning and a rumored well-stocked chandlery; but with the sun low in the sky, an intermediate anchorage with a quiet place to sleep was top priority. We found it in between shoals and rocks off the tiny village of Kristianopel, in perfect 4m depths of water. As soon as the anchor was set, we were surrounded by birdlife; or, more likely, our attention was freed up to witness what had been around as all along. With only one old structure on the low shore which was surrounded by a heavily wooded forest, it felt like we had entered a big nature preserve, decorated in the kind of evening hues that only a setting sun can produce. We hoisted our Swedish courtesy flag and took a quiet moment to revel in the surroundings. We had finally made it to Sweden. With the aid of our vigorous sail, we would be sleeping soundly tonight.
And just like that, the honeymoon was over. By the morning, clouds, wind and rain had found us. The fashion police would have had a lot to say about our multiple layers of foul weather gear, but with sheets of rain entering the cockpit from astern as we sailed downwind, comfort was paramount for our not-so-trivial 30 mile leg to Kalmar. As we pulled away from the anchorage, a test of the bow thruster once again caused the fuse to blow. Parts and advice from Kalmar could not come quickly enough.
With a long, narrow body of water like Kalmarsund, you are either dancing with joy over the wind at your back, or cursing the gods for wind on the nose, as the wind tries to follow the opening between the land masses. We set the mainsail to port and the jib to starboard, held out by our whisker pole in the classic wing-and-wing configuration. This is typically a low-stress point of sail with the boat rolling gently from side to side but otherwise flat enough that you can relax, read, or prepare food down below. And today was no different, even as the wind freshened to 15 knots. It's a point of sail that can be hard for the autopilot to manage, as waves overtaking you from behind have a tendency to lift and shove the stern to one side, then yank it back to the other side in the troughs, but our autopilot was performing admirably. Soon enough, despite the rain clouds, the buildings of Kalmar were coming into clarity up ahead. The depths of the Kalmarsund become shallow very quickly here, which squeezes all of the keel boat traffic into a tight 200 meter wide buoyed channel off the harbor entrance despite the 3nm width of the sound. First impressions indicated a harbor heavily used by freighters transferring logs and finished lumber from the interior, as well as grain and other siloed goods.
In addition to general provisioning, we desperately needed to fill up with diesel and conveniently the guest harbor offered a fuel dock right at the harbor entrance. As we laid out dock lines and tied fenders to each side, we made our final approach, backing into the short fuel dock so that the fuel pump would reach our deck fill. The wind was still fresh from earlier in the day, and combined with some confusion with the dock staff on what dock line to tie where, we lost critical time getting secured. A cross wind started blowing the bow off the dock and our tempermental bow thruster immediately blew its fuse. We had to abandon our docking attempt. By the time we got the stern line off the dock cleat, the wind was blowing us sideways further, directly torwards the hard metal corner of an adjacent service dock – the town's pump out dock as we would learn later. We were only a few feet away, and revving up the engine would only serve to carve out a deep gouge in the hull as the metal corner ran down the length of the boat from amidships to the stern. We had to let Sea Rose strike the corner, jump down and fend off as we gently motored forward. Complicating matters further was our stern dock line dragging in the water, a line that in our haste had not been fully brought onboard. It was now wrapped around something under the boat – possibly the rudder – which made it highly likely it would eventually find the propellor and disable us.
Like I said, the honeymoon was over! We very slowly and carefully motored out into the center of the busy commercial harbor and dropped the anchor. Normally this is a real no-no, but we risked more drama if we were cast adrift in the harbor without an engine on a windy day. We quickly launched the dinghy and I reached down around the rudder to unwrap the dock line. We collected ourselves, hoping we hadn't offended any locals from a country we loved dearly and one that we hoped to call our home for much of the remainder of the summer.
A short skip of a beach stone away was the guest harbor, with a lineup of big blue stern buoys to tie to as you pulled bow into the dock. Exhausted, we took the first available spot, lassoed a line around the stern buoy and gently nosed in. Phew! We hoped for a drama-free rest of the day and we got our wish. As the skies cleared, the sun hung low and the contemporary Linnaeus University buildings surrounding us reflected beautifully in the glassy water.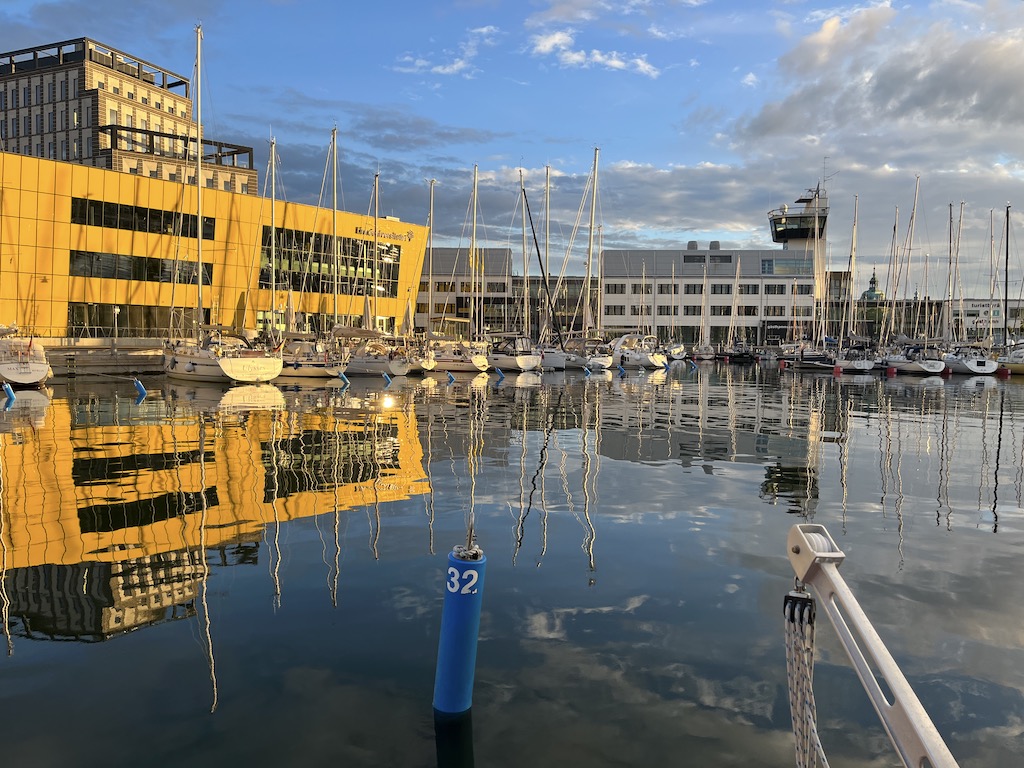 We settled into Kalmar for four days, taking advantage of a grocery store, a chandlery, a boatyard, laundry and even a sauna right at the waterfront. They say that your garage always gets filled to the max no matter its size, and the same is true with projects on a boat. We worked from sun up to sun down straight through our stay – a midsummer boat repair break, something we have found useful in prior summers as well. Halfway through summer is great timing, both for accumulated items that have broken and improvements that have risen to the top after several months of sailing. We pulled the dinghy into the cockpit and repaired the leaking fabric seam (for the fourth time), tweaked the rigging for the whisker pole, stocked up on cruising guides for Sweden, got a tear in our jib repaired, and secured a spot for Sea Rose to be hauled out at the end of the season. We were even able to fix the bow thruster, following the advice of a helpful local mechanic who was too busy to fix it himself but guided me on the size of battery cabling to upgrade to and the proper fuse to be installed. Prolonged testing at the dock gave us the confidence that it wasn't going to blow its fuse again.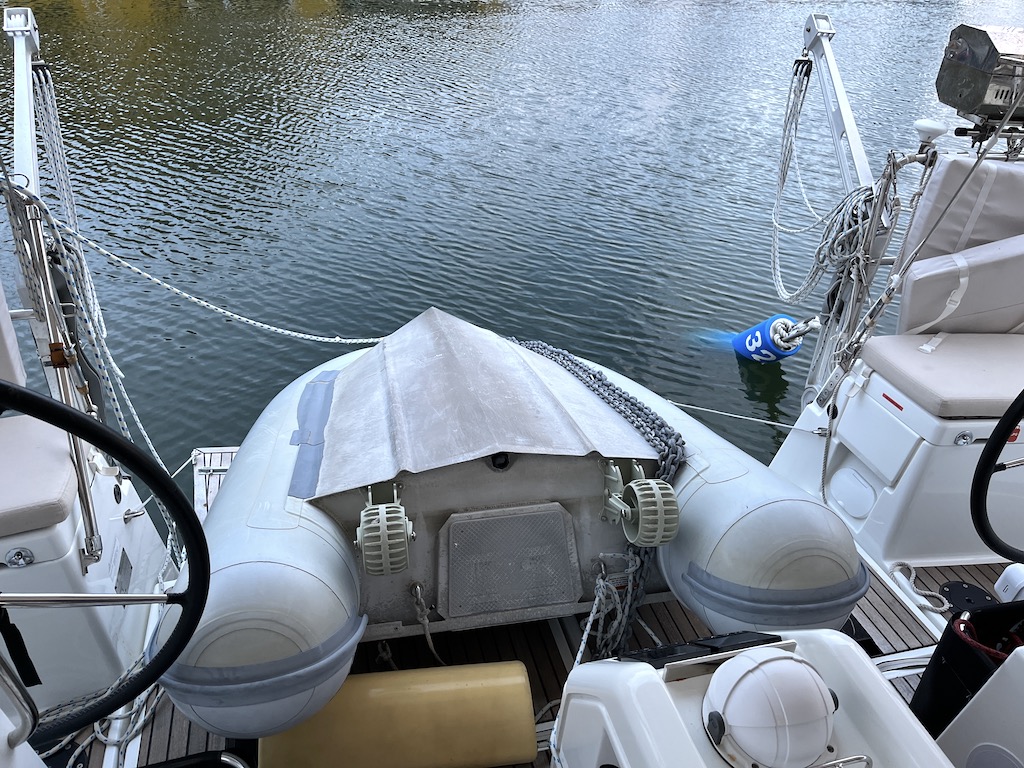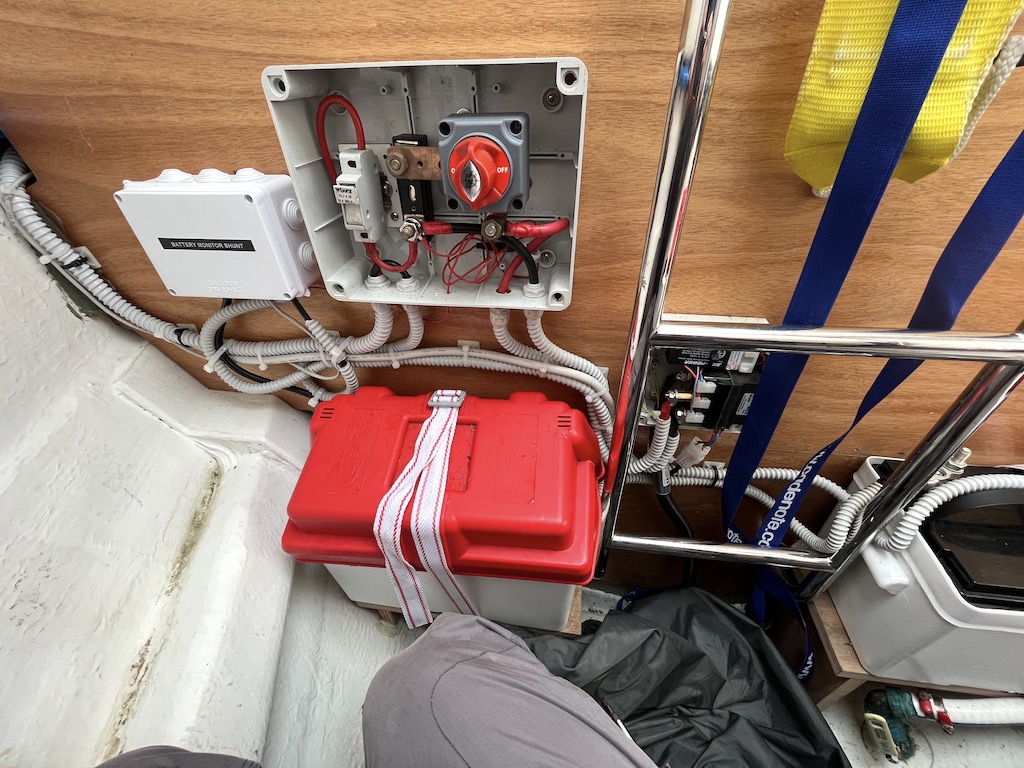 Karen and I were no strangers to Kalmar, having visited back in 2015 during a one week whirlwind driving trip around Sweden. If you had told me then that we would return 7 years later on our own sailboat to enjoy this delightful city once again, I would have been dumb-founded. Life is full of surprises, some more unusual and unpredictable than others.
On our last day in Kalmar, when the work shift was over, we ventured into the old, walled-in city center where tourists and locals alike congregate. It's clear why the tourists are here, but I have to imagine the locals take pleasure in a sense of permanence that is exuded from old stone buildings and quaint town squares. As much as we yearn for the latest smartphone model or high tech clothing, there is comfort in the old, knowing that an active productive life was lead by those before us and life will continue when we are gone.
In the center streets of Kalmar's old town are a collection of outdoor cafes and bars. Just down a side street from where we had dined back in 2015, Karen and I found an Irish bar with equal quantities of people and music spilling out on to the sidewalk. We had already cooked up dinner onboard Sea Rose, but a beverage would fit in nicely to celebrate the end of our midsummer boat projects. Inside, a versatile one-man-band was strumming American country music classics with the crowd singing along perfectly as if we were in downtown Nashville or Memphis. Who knew that Johnny Cash was so well known in this Land of the Midnight Sun. Long wooden tables ensured that no one (not even a couple frumpy American sailors) drank alone. Soon enough we were joined by a nice gentlemen of a certain age and his two lady friends, Kalmar locals eager to hear our story and even more eager to drag us on to the dance floor, as we all left phones and handbags and even a few wallets back on the table trusting the strangers all around us just like we would our own family. To be surrounded by the warmth of strangers, whom we did not know five minutes ago, and after tonight would likely never see again, brings a certain reassurance of the laws of nature and the potential reach of human kindness.
On a calm morning, we motored away from this congenial home knowing that it was not a goodbye forever, but only until the end of season and our winter haul out. Stopping by the fuel dock for a return to the crime scene, I marveled at how docile the docking experience can be with only one simple but critical variable removed – high wind. With full tanks, we turned Sea Rose north for the famed cruising grounds of Sweden's skargard, a collection of archipelagos so densely packed with islands that it would take more than a lifetime to see them all, a clear reminder of the magical wonderment of our dear Planet Earth.
Be sure to also checkout the video content on our LifeFourPointZero YouTube channel. We regularly post updates on our sailing adventures, as well as how to videos on boat repair, sailing techniques, and more!