As a group, sailors complain a lot about the wind. Either it is not enough, or it's too much, or it's come from the wrong direction. Karen and I are likely further jaded by the tempestuous weather of the Med, and the often repeated refrain, "There's either no wind or too much of it!" But in reality I don't think it's a Med-specific phenomenon. When we sailed throughout New England with our young kids, there would be many summer days where we'd be searching for a breathe of wind. As a kid, with my Hobie cat off the beaches of San Diego, it wouldn't take much to accelerate through the water, yet I spent many weekend days floating on a glassy sea. There's nothing particularly wrong with this. Sometimes the gift the water can give to us is merely the peace and separation from our troubles ashore. But sometimes you have a destination in mind. And having a suitable wind speed and direction is a highly preferred companion to your solitude.
We knew our stay in the Egadi Islands of western Sicily was going to be cut short. The forecast would only allow us to stay one night. If we didn't leave right after that, we'd have at least 2-3 days of headwinds to wait out before the crossing to Sardinia. The weather window was now and we had to strike while the iron was hot. The only wrinkle was the wind direction. While the forecast called for about 15 knots of wind, ideal in most situations, it was going to be coming from our stern. The adage, "Fair winds and following seas" is more of a carryover from the old square-rigger days, when the only winds these old ships were designed to handle was from nearly behind you. The modern rigged sailboat can take winds from astern, but is best suited for winds from the side (beam reaching) or close-hauled (at about 45 degrees to the wind). In truth, not many sailors like to go directly down wind. The boat moves slower, the inevitable waves generated by the winds easily push the boat off course, and the motion onboard is a double axis gyroscope of sorts, with the boat rocking from side to side, while also pitching forward and back.
Such was our experience as we left the Egadi islands to our stern on an early morning departure, and the winds started to freshen. We had rigged the big Code 0 sail knowing that we'd have winds from astern, and soon enough it was up and flying, allowing us to kill the engine. Karen and I settled into our watch schedule, but it was immediately clear the off-watch person was not going to get much rest. The seas were lumpy, and as Sea Rose would come down the face of a swell and speed up slightly, the Code 0 would collapse. Then, as she settled in the trough and started up the next swell and slow down, the Code 0 would experience more apparent wind and suddenly snap full again, causing a loud pop sound, shaking the rigging and slapping the jib sheets against the deck. This cycle would repeat with each swell pattern. We tried changing our course from the direct rhumb line to Sardinia, and this helped slightly, but still the snap, crackle, and pop was fatiguing. What we really needed was a whisker pole to hold the sail out full, but that will have to wait for the next Christmas wish list. The waves were starting to build (those romanticized 'following seas'!) and it became tough for the autopilot to hold a straight course. Karen took over hand steering, and I did the same when I came back on watch. In the swells, it takes a nearly complete rotation of the wheel back and forth, timed with the wave rolling underneath you, to keep the boat headed straight. It's a lot to expect from an autopilot, and a good workout when you are hand steering. 
As the afternoon approached, the wind started to change direction slightly, giving us an apparent wind angle between 90-120 degrees, instead of the previous 150-180 degrees, with 180 degrees being a wind coming directing behind us. This helped mellow out the snap, crackle and pop of the Code 0, and we started seeing speeds in the high 7's and low 8 knots. We had left in the morning, knowing that the optimistic case for our 170 mile was about 24 hours, putting us in the next morning. Just in case we had a cushion of 12 hours more of daylight if our boat speed was slower.
As nightfall approached, we had a decision to make. Should we keep the Code 0 up or douse it in favor of the more stable main and genoa. We don't normally like to sail the Code 0 at night because of the effort needed to furl it if a sudden wind were to arise. Whoever is off watch needs to wake up and help out, and it's just another stressor to deal with. But we were making good speed with it up, and keeping this passage short was also attractive. So when I took over at 8pm, we agreed to keep it flying. I had a setting sun ahead of me (one advantage of heading almost directly west), which gave me something to steer by. As darkness settled in, the wind was peaking at 20-22 knots, on the margins for safety with the Code 0. Every time I thought about furling it, the wind would drop slightly to 17-18 knots. With just the Code 0 up, we were flying along at 8-8.5 knots, close to the designed hull speed of Sea Rose and enough to send plumes of white water off to the side as we charged forward into the inky black. While it might sound exciting on the surface, I think it would be hard to find a sailor that would honestly say they relish this. And I'm certainly no exception. To say it was a lively ride would be an understatement. Sea Rose was blasting forward in the dark at her designed hull speed, with a wind that was on the top design range of her sails, requiring constant helming to keep her straight through the waves. The only ability to 'see' forward in the dark was our radar and AIS. With waves and white caps, the radar had a lot of noise close in, and not all boats these days transmit AIS, so there's the real possibility a boat or other object (e.g. floating container) could be in your path and you wouldn't know it until your 16 ton bucking bronco of fiberglass struck it. The Med is full of criss-crossing shipping lanes, and you can't count on a third mate on the bridge attentively watching their instruments. It's a bit of a trust factor, and as the night wore on, I longingly hoped for a ray of light in the east. Karen took over the watch at 11pm. It's a dreaded time to start. I know she couldn't have slept very well, and it's difficult and confusing to get your bearings in the dark when it was light out the last time you were in the cockpit. We talked again about dousing the Code 0, but in the end we left it flying and agreed that if it got too hairy, she would call me to help take the beast down.
By the time I started my watch again at 2am, Karen was understandably fatigued and I was pretty groggy myself. But having to hand steer pulled me back awake and we charged forward with impressive speeds and more white water spraying off the hull to leeward. We seemed to be out of the main shipping lanes now, as we headed for Capo Carbonara on the southeast tip of Sardinia, the closest land on our route. I really wanted to see the first signs of dawn behind me, but resisted the urge to keep checking my watch. I knew there would be some brightness in the sky by about 5am. I just had to make it until then. When you are sailing nearly blind at the top end of the boat's performance, it's a godsend to finally get your vision back. Never anywhere else do I appreciate the ability to see the most than onboard a sailboat during an overnight passage. By 5am, when Karen arose from the companionway, a faint horizon could be made out and we had just 12 miles to go. The wind strength had held up, but was now a headwind, causing us to furl the code 0 and start motoring the last couple of hours to Capo Carbonara. I stayed in the cockpit to keep Karen company, until I couldn't stay awake any longer, and I nodded off to sleep on the cockpit settee. We would be settled into the anchorage in a few hours and would both be able to rest, so it felt worth it to stay together in the cockpit.
Soon enough we were in the company of a half-dozen other sailboats anchored off a long sandy beach. The skies were full of dark gray clouds and rain kept threatening us as we lowered our anchor, a weather pattern so foreign to us after the cloudless summer existence back in Greece. We stowed the Code 0 down below just in case a surprise gale struck us, and then it was down in the bunk for us to get some much needed sleep.
This had been one of the more rigorous crossing, with the trickiness of steering through the following seas and the rambunctiousness of the Code 0. But we had made it through and were finally back in Sardinia after our last visit three years ago.
Capo Carbonara is guarded by two lighthouses and an old stone Genovese watch tower, which we climbed up to in the afternoon after the storm clouds were chased away by the afternoon sun. It felt marvelous! The wind howled through the anchorage until nightfall, but that was no worry after what we had just sailed through.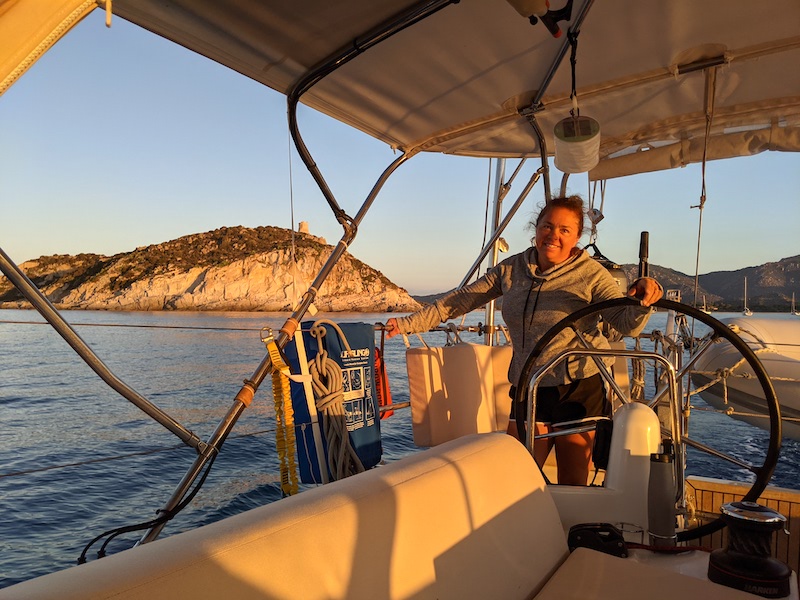 More winds were forecasted for the following day, and we raised anchor at first light to take advantage of them before they became uncomfortable head winds. We had a 35 mile jaunt across the Gulf of Cagliari to Malfatano, where we would cross paths with more big ships as they headed north to Cagliari and its freight terminals and oil refinery sites. After sailing across from Sicily, we were in no urgent need for fuel, which allowed us to skip the busy port of Cagliari for the more scenic surroundings of Malfatano. 
We weren't sure what to expect from this southern coast of Sardinia. We had a wonderful experience with our friends Matt and Michelle along the east coast three years ago, but this coast was unknown to us. There would be no benefit for us to travel up the west coast, as it didn't save us any miles on our next crossing to Mallorca. But when in doubt, natural beauty seems to prevail here in the Med. The Egadi islands had been a pleasant surprise in Sicily, and now this rugged coastline around Malfatano was quickly wearing out our media storage SD cards! All along this southern coast were more remnants of stone watch towers. The settlements here were apparently very concerned about pirate attacks. Karen and I hiked up to the one overlooking our anchorage and we were blessed with sweeping views of the bright blue sky and the deep blue sea. This was not a coast frequented by charter boats. Our neighbors were clearly stopping here briefly to enjoy the sites while passing through, just like us. In other regions, this kind of beauty would beg one to stop for several days or a week. But here on this windswept southern outpost of Sardinia, you are a bit exposed and must not linger too long no matter how calm it might seem at the time.
We pressed on for a short hop around the corner to Porto Pino. To reach this spot required passage through a military exclusion zone, with markings on the chart referring to occasional firing practice. Personnel assigned here must find life at one of two extremes – the pleasure of steep cliffs and rugged landscape, or the isolation of the same. Regardless, we did not idle in our passage, despite the lack of any signs of life on land.
Porto Pino possesses the unique feature of a long sandy peninsula with tall sand dunes carrying inland. The dichotomy from the rocky cliffs jutting vertically from the sea just a few miles back in the exclusion zone was striking. Indeed, sandy dunes in this area of the Med were highly unusual, not withstanding the north African landmass to the south that was full of the stuff. We approached the beach slowly as the water shallowed quickly, and took our place among a half-dozen boats already at anchor. On account of our early departure from Malfatano, to avoid the afternoon head winds, we were all settled and ready to explore by 10am. The beach front had a reputation for late night partying and music into the wee hours, but our neighbors did not seem any worse for wear, as one after another left the anchorage. We were left to double-check the wind forecast, thinking once again Do they know something we don't?!
Besides the abundance of sand and beach, Porto Pino is also known for a canal that runs inland to the heart of the village, and eventually to an interior lagoon. We didn't need any more encouragement, hopping into the dinghy with empty backpacks and a few euros. What we found was an appealing, curvy canal with fishing boats moored on both sides and strikingly clear water showing a maze of mooring lines and chains on the bottom scattered in all directions. Ashore, there was a hippy California beach vibe to the town with a few low-key restaurants, a tiny bakery, and one row of four touristy shops, including a mini market with beach goers and holiday makers choosing from a limited selection of boutique food options. When we ventured away from these few establishments, we only found summer cottages and a few swanky walled off villas. In a normal year, it seemed we would be crowded out by other visitors, judging from the large car parks surrounding the canal. But in this second of Covid summers, we were taking in the scene with a few adult tourists and a gaggle of teenagers, likely cast-offs from families coming here for a summer respite.
I had made a bet to Karen that we'd have five other boats join us in the anchorage by nightfall (one has to be creative in their game playing on a boat!), and it wasn't looking good for me with boats leaving shortly after our arrival. As a consolation, Karen joined me for a long dinghy ride down the peninsula to some isolated dunes in a section of the military exclusion zone that was open to visitors during the summer. A wave break was clear as we approached and this can be a tricky affair in a dinghy. From my beach days in Southern California, I knew that if a wave looked big from offshore looking onshore, it was going to be about twice as tall from the beach looking out, due to how the front of a wave breaks in the shallows. We had been swamped several times in the Caribbean trying to do a beach landing with the dinghy, but this time we hopped out as soon as we could touch the bottom and hastily pulled the dinghy up out of the surf. 
On the return trip, I regretted not taking one of the many dry bags we keep on onboard Sea Rose to protect our camera equipment. Instead, I resorted to a bundled up beach towel, as our little dinghy negotiated the wind waves that had seemed so benign downwind to the beach. Alas, one more boat joined us at the anchorage, leading me to still lose my bet, but with a little less shame. 
We setup for another early morning departure, at first light, to take advantage of the flat calm before we rounded Sant Antioco island and headed directly into the wind and waves of a mistral blowing down from far away France. 
Our destination was a marina at Calasetta, coming into view after a short last hour of sailing close-hauled into 20 knots of wind. Through the course of sailing in high winds over the last week, we had found a formula for reefing the sails that worked splendidly. When the wind rose above 15 knots and we were close hulled, we would put two reefs in the main and one in the genoa. This balanced the boat out and still gave us good power through any choppy conditions. It can take a long time to figure out what a boat needs in various conditions, and slowly but surely we were peeling away the onion and discovering Sea Rose's secrets. 
Porto Turistico di Calasetta was in the cross-hairs of our plans predominantly because they had an easily approachable fuel dock, and after our many miles from Sicily, and before we crossed to Mallorca, we needed to make sure we took on as much diesel as possible. In the worst case, if we had to motor all the way to Mallorca, we needed every drop of fuel in the tank. The fuel attendant was thankfully on hand as we approached, and quickly tossed us lines as the wind howled down the dock. We have a pretty refined procedure when we fuel up that starts with me putting on latex gloves, grabbing a bundle of paper towels, the bottle of diesel treatment, and a winch handle to open the deck fill. Often the long hoses from the pump have been dragged over dirt, sand, and leftover diesel on shore, so having gloves on and working together to keep the hose from sullying the boat is critical. However, the attendant first handed me a garden hose. I'm sure I had a unmistakable confused look on my face, which prompted him to simply say in return 'shower'. I looked at Karen and we both were left puzzled. He kept repeating 'shower', so I took the hose as he turned it on, thinking maybe he wants me to rinse down the area around the fuel fill. I splashed the area a little bit, but I wasn't keen about it because the last thing you want mixed in with diesel is water. Not only does it not ignite in the engine, it stimulates algae growth which, if left unchecked, clogs up the fuel filters, typically at the most inopportune time to lose propulsion. He kept motioning with his hands, and I said in my Span-Italian, 'No comprehendo'! He finally gave up his pantomime and took the hose back. To my relief, the diesel nozzle came next and we got back to familiar territory, topping up with as much of the liquid gold as we could squeeze in. Only later did I find out from another boater that they provide free drinking water at the fuel dock, a common offer at fuel docks back home in the States, but a rarity here. 'Shower' started to make more sense, and so did our adaption to this part of Italy that speaks very little English.
Calasetta had received modest but generally positive reviews from other boaters, so we took a berth for the night as well. The wind was gusting to 25 knots now, but our assigned berth was directly upwind and easy to negotiate once we got our stern lines secured. To our surprise, the pier was chock-a-block full of small one-design sailboats, called an 'Open Skiff'. Short, pudgy, and shaped like a wide surfboard, each was about 2 meters long and held one mylar sail. With the wind conditions, these sails were cracking and popping continuously, making it hard to hear each other. Tending to each one was a junior sailor, some could not have been over 7 or 8 years old and dressed in red shirts, while the 13 and over crowd had white shirts. Equally thrilling for us was to see a near even measure of boys and girls. We came to find out that our arrival coincided with the Open Skiff World Championship, and at least 100 of these boats were in attendance, with little flags stuck on their sails showing the team's country. I chuckle sometimes when we have our World Series baseball and Super Bowl football matches, with their U.S. centric teams. This Open Skiff competition was a broad mix of European countries, and even included one boat from the U.S. Despite my efforts I couldn't find the young boy or girl skipper to wish them good luck. Still, it was refreshing and inspirational to see so many young kids competing on the water, in conditions that very much necessitated their full wetsuits, life jackets, booties, and stamina. Seeing the older kids helping the younger ones with rigging issues, and then cheering them on from the breakwater as they sailed out to the course made us cherish the memories of our kids youth sporting events. Camera toting parents at the launch ramp were proof of the special memories these young families were soon to create. 
After walking through the gauntlet of crackling sails and swinging booms, I presented myself to the marina reception with our boat papers to pay for our night's stay. I was happy that the receptionist spoke a little more English than the fuel attendant, words with which she used to push me on the need for a visa. My highly perfected confused expression came out again, as I was pretty certain we did not need a visa to be visiting Italy. What she really meant was a document called a constituto, a visa of sorts for non-EU boats in Italian waters. We had requested one three years ago when we were in Sardinia with our friends Matt and Michelle. Matt and I took a long walk through La Magdalena trying to find the Guardia Costiera building, and once inside, someone that had heard of a constituto. So this time, when we first arrived in Italy, in the harbor of Siracusa, I wasn't in a rush to get a constituto. I was going to see if anyone asked for it first. I was delighted to have the Guardia Costiera approach our boat in the Siracusa harbor, simply asking where we were from. Once they heard U.S.A., they nodded their heads in acknowledgment and throttled up to talk to the next boat. I took that to mean we were in their good graces. But this time, the marina insisted that we get a constituto, stating that it was a requirement for non-EU boats, despite the fact we were leaving Italian waters in two days. Thankfully, the Guardia Costiera was just across the small harbor and she agreed to call to give them a heads up for my arrival. At their modest office space, a guy in full, bleached whites was taking a smoke at the entrance, and when I said simply, 'Constituto?' he took all of my papers and showed me to a seat inside. I felt like luck was on our side as he cheerfully offered me, in pantomime, a cigarette, which I of course turned down. But then came the long wait. Either he was new, or they don't get requests for constitutos very often. He took what he needed out of our boat binder, meticulously filling in several forms, and giving me a few to fill out myself. He then rattled off something in Italian, and I shrugged my shoulders, as we established the fact that he spoke no English and I no Italian. He skipped that section and moved meticulously on, while I tried to find something entertaining to glance at in a bland government office, with only the faded photographs of two Coast Guard boats crashing majestically into white water. We had all day to see the town, and this kind of paperwork shuffle is all part of sailing across international boundaries, but still I found it excruciatingly painful to watch as forms were checked and re-checked. The wobbly sound of a record being slowed way down kept playing in my head. Karen had walked over with me and was milling around outside, probably thinking I was being arrested. The gentleman then proceeded to ask me another question in Italian. This was curious, as we had already established our incommunicado conundrum. After he typed away on his computer for a minute, I heard a faint sound, while at the same time he looked up at me. The sound came again and he had a questioning look about him. Finally, I realized he was using something like Google Translate on his computer, and playing the English phrase on his speaker, which was now clearly saying the words 'hull color'. Ahh, we were making progress! I excitedly spat out 'Bianco'! Other phrases were uttered from his computer, and we played this dance for awhile. Finally, his computer said 'free medical practice'. I had him repeat it several times, but still I had no idea what he meant. I feel like I have become pretty competent in guessing from abbreviated pieces of English what someone is saying. Guessing it had something to do with the pandemic, I asked 'Covid' to which he nodded emphatically. I still wasn't sure what exactly he needed, but I tried by showing him one of our previous maritime health forms submitted back in Licata, Sicily. Suddenly the mood was not so cheerful. Apparently I had opened pandora's box, and his supervisor came to question me, in limited English. "What was your last port?" When it became obvious we had been in Italian waters for awhile, he thrust a blank maritime health form in front of me and said I needed to find a doctor and return later. The marina staff, exceedingly patient as they were, helped me as best they could, but in the end I couldn't get a response from any local health authorities needed to approve the form. For this and other reasons, we opted for a second night at the marina, deciding to spend our extra day visiting the town of Carloforte on the neighboring island of San Pietro by ferry. 
Still with no answer from the authorities, we slipped lines at the marina and sailed across to Cala di Guidi on the south tip of San Pietro to spend the night on anchor. After several days of strong mistral winds, we finally had a weather window for our 260nm crossing to Mallorca. Cala di Guidi was an ideal spot to rest up for a dawn departure. We bid adieu to Italy – both Sicily and Sardinia – and reflected on the diversity of this sailing region, as we prepared for the longest crossing of this summer and a chance to rediscover the wonders of the Balearic Islands. And I hope the Guardia Costiera will not rush to judgement on the next American boat in their harbor; I believe we made every reasonable effort to follow the rules, but some things just don't translate well!
Ciao! Arrivederci!