The Peloponnese landmass branches out into three prominent peninsulas on its southern shore, forming two long, deep bays. These peninsulas are barren, dry landscapes, with steep ridge lines running their length, reminding me of the spiny, crusty back of a Tyrannosaurus rex. And perhaps it is the threat of a T-rex emerging from the dead that keeps the general populous away from this region of Greece. Or the lack of roads. What remains is a number of small villages and, in the summer, a preponderance of mini-campers driven by modern day hippies trying to find a momentary escape from contemporary living. Perhaps there were a couple people onboard Sea Rose looking for a bit of the same.
We launched our exploration of these deep bays and peninsulas after an early morning departure from Elafonisos. I was hoping that the concentration of large motor yachts around the corner were not going to hinder our escape from a contemporary state of mind. Thankfully, the four hour trip across calm flat seas to the Mani peninsula and the port of Kayio was blissful – dare I say transformative. After so many days of high winds and nasty seas, it was magical to rediscover sailing in benign weather.
Gone were the bright white buildings with blue trim that dominated the Aegean islands and so many Greek travel websites. We were in the land of earth tones, and while I liked the more subdued look, it meant we were moving on from the unique architecture of the Aegean. Our son Zack, when he was a toddler, used to pronounce the word 'sandwich' as 'fetch-it', and Karen and I could barely contain our giggles and eye winks with each other when he said the word. Then, one day I realized he had stopped saying it in his unique way and would never go back; it made us sad and nostalgic. I harbored the same nostalgic feelings of white and blue Greece, not knowing if we would be back.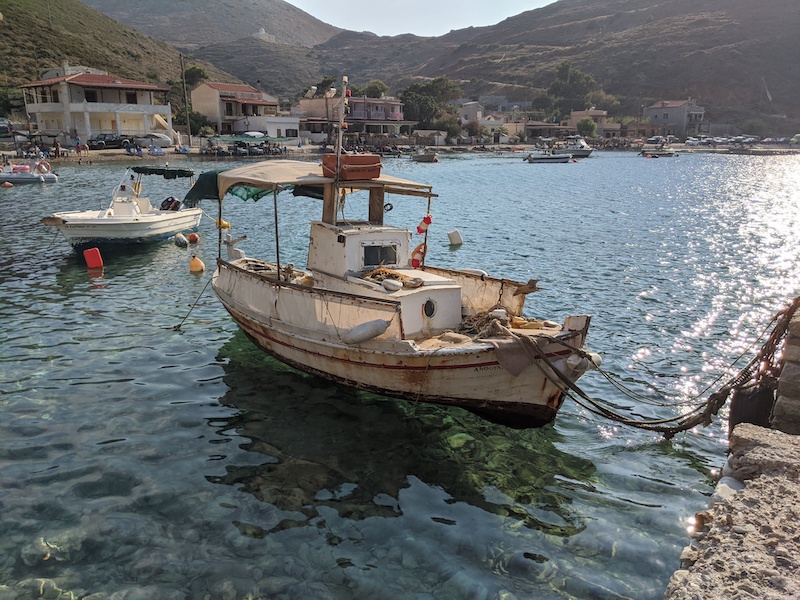 After getting settled with our anchor, Karen and I headed out on the dinghy to explore the harbor of Kayio. The village itself was pleasantly small, with little clusters of beach umbrellas, and not so obvious, subdued tavernas. In a country where even the tiniest of grocery stores has a healthy offering of produce, this village was even too small for that, leaving one to wait for a twice daily produce truck to rumble through town, charging non-hippie prices for marginal quality fruit.
Perhaps because of the remoteness, the snorkel we embarked on later led us through especially clear water, and I got to enjoy a close up encounter with my favorite translucent orange fishes.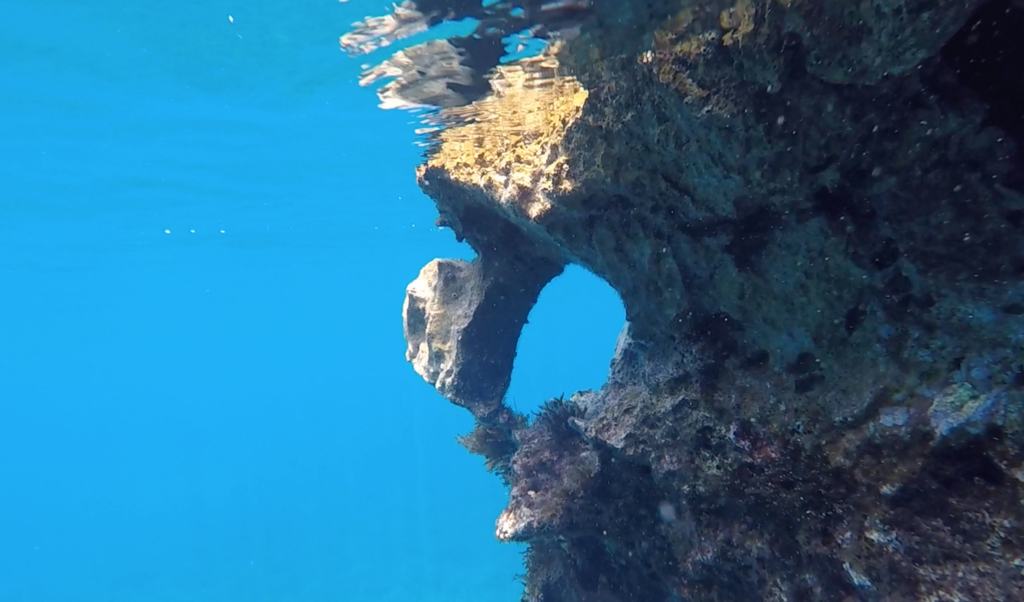 With a small port of call, the upside is that you can see everything in one day and move on without feeling like you missed out. The next morning, after Karen hoisted me up the mast so that I could dangle in the air with sharp objects in hand while checking the rigging, we proceeded to make our way around the tip of the peninsula and up the western bay. At the head of this bay is the town of Kalamata, which might seen like a rite of passage for lovers of this greek olive. It was certainly an item that featured prominently when I started making veggie wraps years ago. But we took a pass on it due to poor reviews in the cruising guide. Instead, we set our sights on a few little villages closer in, starting with Mezapos. To find this hidden gem, you need to round a steep imposing headland named Kipoula point. And 'hidden' is the key word here. Years ago, according to what appeared to be a mix of history and folklore, Mezapos was one of the main villages of the Maniot ethnic group (and the origin of the 'Mani' peninsula). The Maniot were known as fierce warriors that practiced piracy and bloody feuds. It received sparse mention in our cruising guide, but the Maniot back story was enough to draw us in.
If there were any present-day pirates, they would have had easy pickings. We were the only boat in the harbor, and we spent most of the day traipsing around the deck naked in homage to our hippie brethren. It certainly felt good to soak up the Mediterranean sun on a level deck absent of salt spray and queasy stomachs!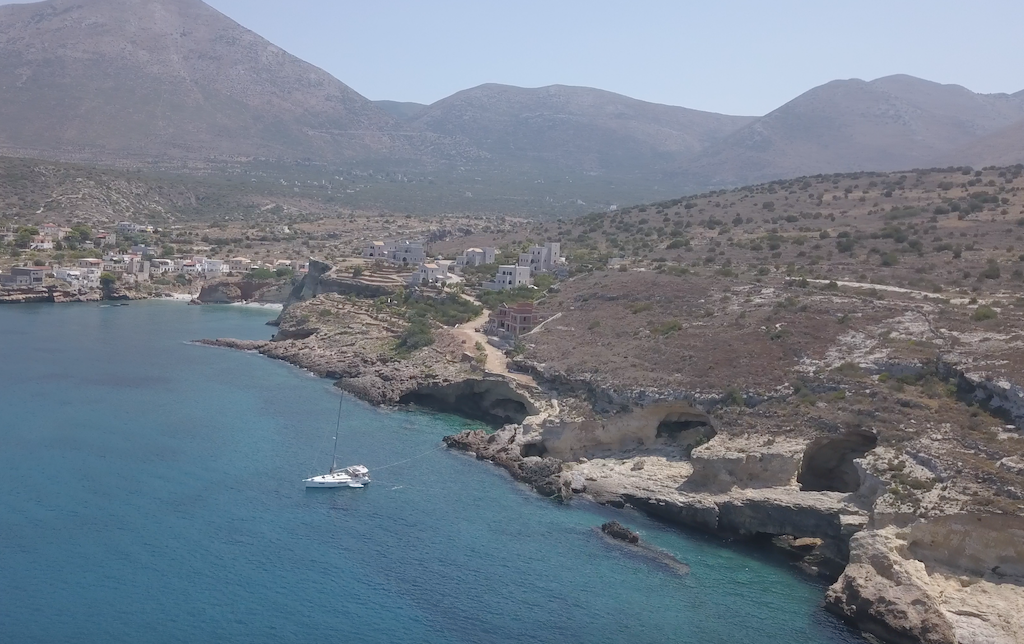 Mezapos has an undulating coastline, with the most prominent feature being its perfectly round little town harbor. We found privacy not far away, in our own little Shangri-la full of swimming and caving options. Here we discovered for the first time a strange visual sensation in the water close to shore. As you approached, the water would suddenly turn blurry, as if your optometrist was flipping through lenses, trying to find the right one for you. At the same time, the water was demonstratively colder. We concluded that this must be the location of a fresh water spring, emptying out its salt-less contents into an overly salty Mediterranean. I tempted to pull off my mask and wipe my eyes to try to clear them, but the water would return to normal as soon as we swam away from the shore. If this was a sign that my vision was fading, that would be another nail in the coffin for our battle with the native pirates!
Ashore, we were ready to appease the native warriors by plunking down some euros for dinner. Alas, only one rather rundown taverna existed in town, and its little dining room (that seemed to double as the owner's living room) was empty. Still, we stepped across the threshold, and were eagerly seated in plastic chairs, at a wobbly plastic table, with a sticky faded vinyl tablecloth. The proprietor had no menus to offer, but suggested fish, assuring us with his broken English, "I am a fisherman!" Not convinced, Karen inquired what kind of fish, to which he responded, "small, mixed fish"! To this, he added a greek salad and house white wine. The fish were indeed small and were mostly enjoyed at our table. I had to chuckle when another couple arrived and were seated right next to us, and when the wife asked for calamari, the proprietor talked them into 'small, mixed fish', greek salad and house wine. This was a one-hit-wonder of a taverna!
Before our departure from Mezapos, I took a swim into one of the larger caves adjacent to the town beach. Whenever I enter a large cave, I have a mix of emotions. I really want to go deep into the darkness and find out where it stops. But at the same time, my heart is racing and my imagination creates the fear in me that should be paid attention to. This time, I took our dive light, and swam in until the shallows made walking more practical. I was over 50 meters inside before I found a surprise – a shallow water tunnel crossing over to another cave that exited to daylight. A risk definitely worth the reward!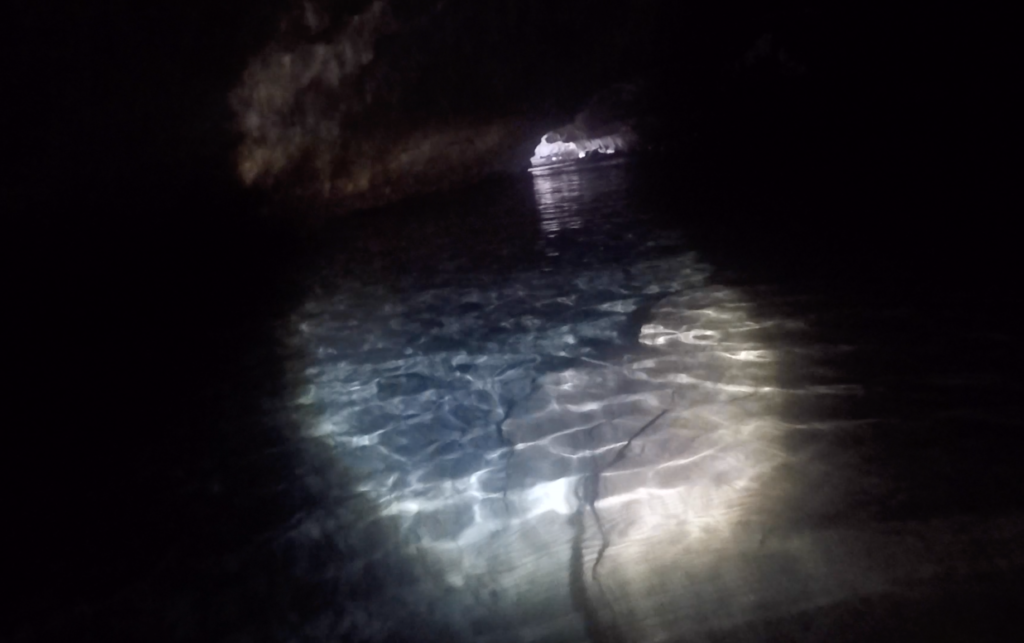 As it turns out, the cave hunting proved to be a foreshadowing of our next stop, at the village of Diros, just 7 miles north, home of the much more substantial cave of Vlihada. Here, after going ashore to pay your entrance fee, you leave the Mediterranean heat behind as you descend slippery stairs into the cool, damp and dark inner sactum of terra firma. We were carefully guided onto a Covid modified rowboat – four of us on a craft designed to hold at least eight – and we were gently paddled through a river of stalactites, at times requiring prompt ducking to avoid a forehead collision with a chunk of rock older than the Neolithic age.
The anchorage at Diros would work for an overnight stop, but we pressed on for a few miles north to try out the town of Limeni. It had a slightly more inset harbor with more protection, a cautionary effort that was proving less necessary as our heavy wind days faded into the past. Dinghying ashore, right away we could see a difference from last night's stop at Mezapos. Limeni had a definite chic feel. Instead of a handful of patrons at a single sleepy taverna, Limeni's waterfront was lined with multi-level bars and restaurants spilling down to the shore, with patrons filling most seats at a time in the afternoon when most other villages would be in full-on siesta mode.
Still in need of produce, I couldn't find a grocery store anywhere, despite plenty of food being served to hungry customers at the many restaurants. We nearly got run over during our pursuit of supplies, as we zig-zagged between cars and campers eagerly seeking non-existent parking spaces. What makes one town thrive so much, and another one, just a short drive down the road, not? At least the sky was blue, the water even bluer, and the dinner of skewered shrimp on the BBQ devine.
Peace, out!