The day and the hour had arrived. It was time to exit Croatia once and for all. Six weeks ago, we had cleared into a country that we knew only through travel books and friend's stories. This morning, we would trek back to the harbourmaster's office to clear out, with a plethora of diverse experiences tucked away in heads, enough to fill a few storytelling sessions around a winter's fireplace.
Our kids and Andrew were on their way to the airport, and we wasted no time shoving off from the Q dock to make progress south along the isolated last few miles of the Croatian coast before entering Montenegrin waters. This time around, we weren't groggy from an overnight passage from Italy. We had slept well, and knew exactly where to go and how to clear in to Montenegro.
With formalities out of the way and a one-week vignette from the harbormaster's office in hand, we debated on which of the many great anchorages we should call home for our first night back. The sun was shining bright and with so many picturesque options in the Bay of Kotor, we could do no wrong with any choice. So we went next door!
Just down the shore from the customs dock was a brand new marina, new enough to not be in the cruising guide and for there to be only one entry in the Navily app. It seemed that their staff were just getting ramped up, and they were offering a flat rate of 40 euros/night. With good reports coming from the adjacent town of Herceg Novi, we hailed Marina Lazure on the VHF and found ourselves comfortably docked and virtually alone. But not for lack of charm and tourist appeal. Freshly laid stone work graced the boardwalk around the cove, and its center piece was a restored stone building that has to take the award for the nicest building housing a marine store I've ever seen, complete with compass rose on the steps of the entrance.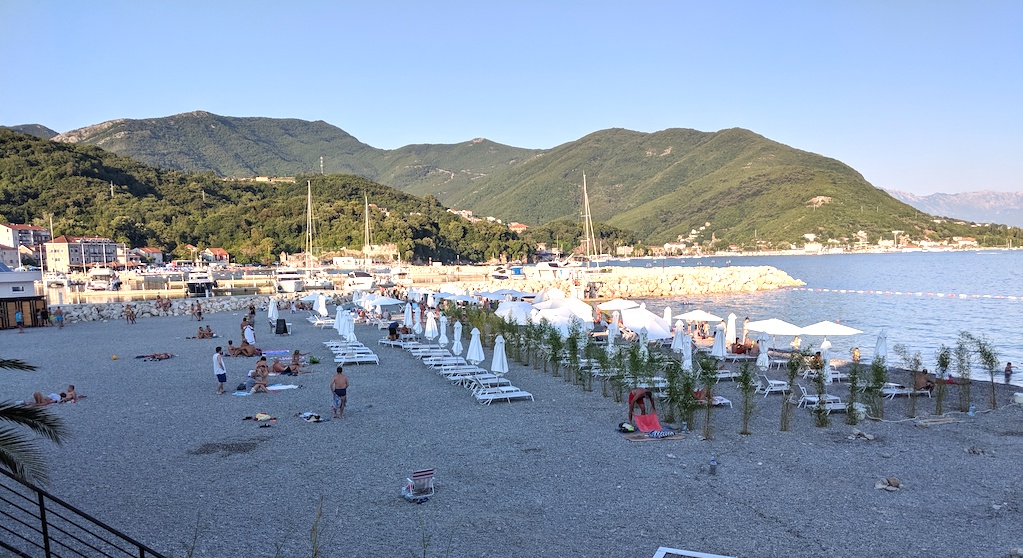 Smartly dressed beach goers had to put up with a beach full of gravel stone but cheeky rows of newly planted trees to protect themselves from I'm not sure what. Nevertheless, prompt food and drink service gave an air of elegance, if not exclusivity. We pressed on down the boardwalk, leaving the sheik stone work behind and the every-day-practicality of concrete, but the views of the seashore diminished little. I don't want to give you the impression that, with our long days on the water, we starve for more humanity, but these walks provide fodor for our people-watching notebooks. Abutting the boardwalk, barely an arm's length away, were summer rental units with whole multi-generational families crowding into one room units, with beach toys and strollers spilling out into the boardwalk. I'm sure they could have found double the space for the same price at one of the many rentals up the narrow alleys away from the water, but you can't blame them for prioritizing the view over comfort. We had chosen to vacate our spacious home in the woods back stateside for a boat with a fraction of the footprint and ended up with tantalizing water views.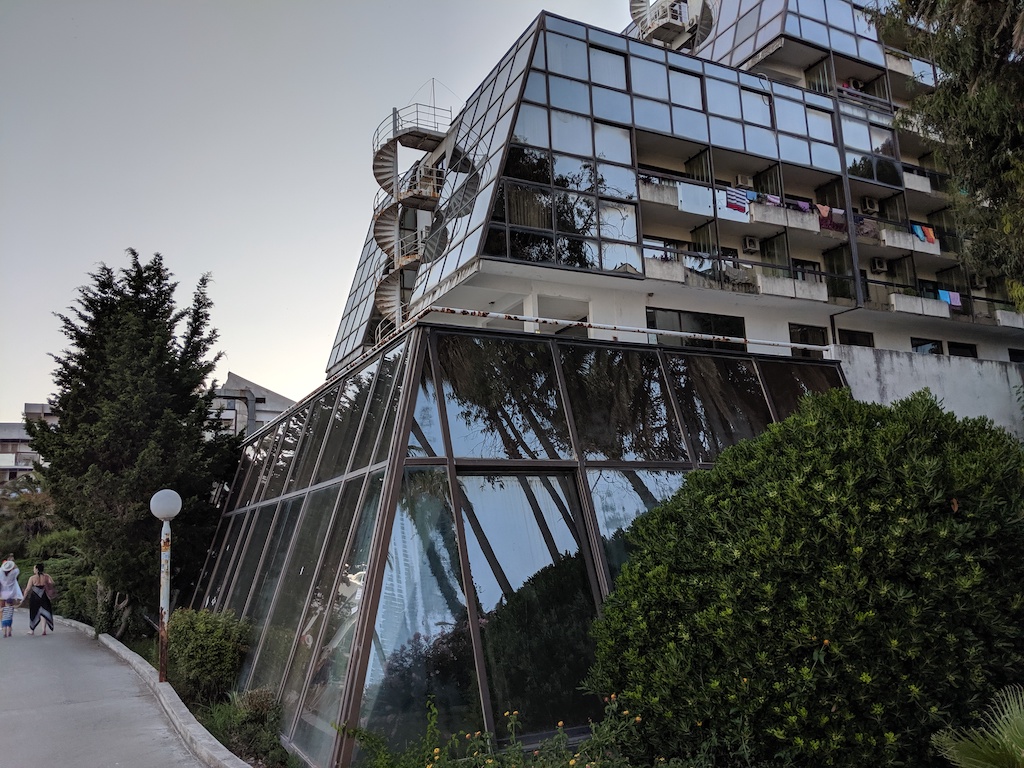 Before long, the boardwalk led us through the old city's fortified walls and into a bustling town square. We climbed to the highest spot we could find to earn ourselves some characteristically refreshing chilled local white wine. By all appearances, the Gradska Kafana cafe was the finest eatery in Herceg Novi, and we were prepared, dare I say delighted, to follow our wine by a pair of entrees whose taste would match the sensualness of the view, but alas, they only served drinks. So, their drink prices must be adjusted accordingly? In fact, no. Wine was still the customary 2 euros a glass. And a band was getting setup to perform. "Pardon me, sir, another round of wine please?!"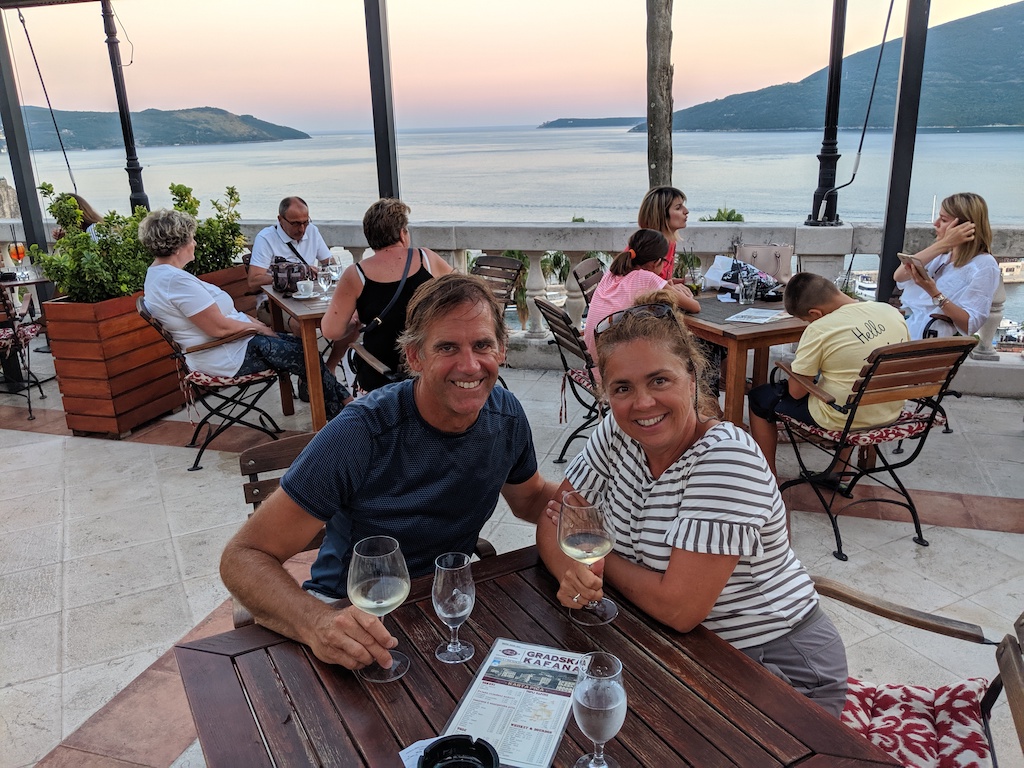 As night fell, the old town square took on a cozy, local feel, with storefronts luring you in to shop despite the fact that your shopping list was empty, teasing you with the prospect of that perfect momento of your visit – a pair of jeans, a refrigerator magnet or something in between. In Herceg Novi, it's also hard not to be lured into the signature landmark – its renovated clock tower. The buildings in the town center scarcely break the two-story level, so it wasn't a long hike up the stairs to the top of the clock tower, overlooking the roofs of the neighboring buildings and the town square below. In concert with the youthful, innocence of Montenegro as compared to its neighbor to the north, a collection of local historical society members were dressed in period costume, guiding visitors to the top and providing a multi-lingual lesson on how the town came to be. I couldn't help contrast this with the shoulder-bumping, figure-out-the-history-yourself experience on the Dubrovnik city wall walk. Ahh, Montenegro, you're tugging at my heart strings!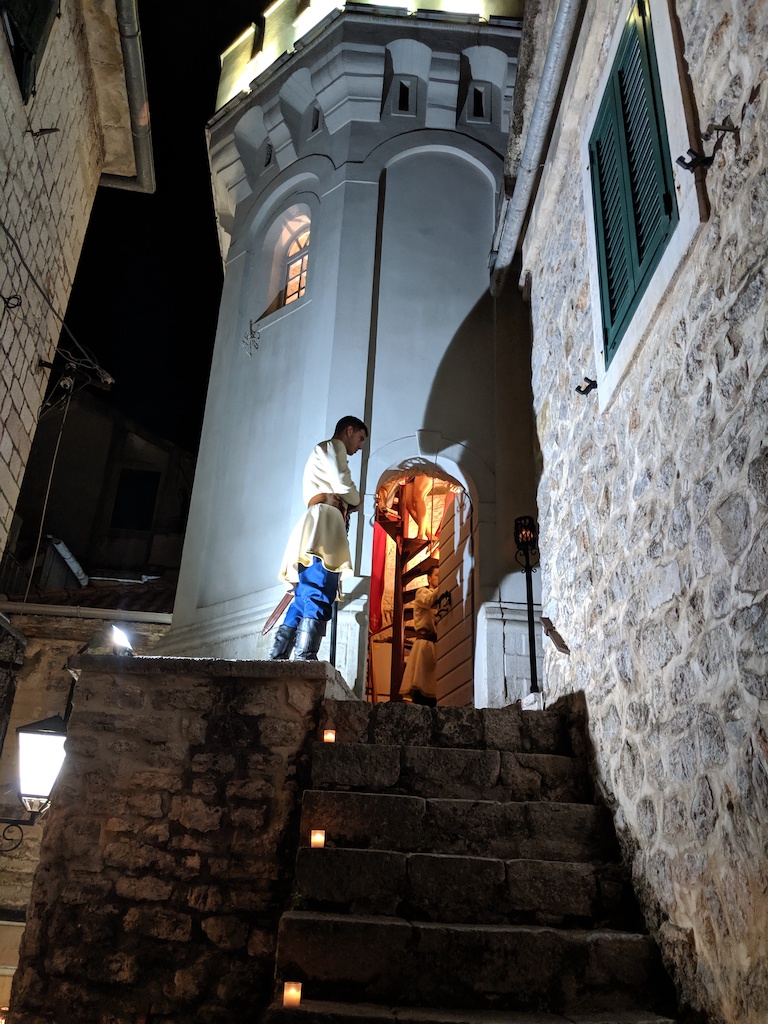 In the morning, we dove into our dueling roles as captains and weather junkies, scouring all our sources for the best guess on the weather between here and Corfu. Our initial plan had been to stop at Bar, another prominent Montenegrin waterfront city south of the Bay of Kotor. But the next 36 hour forecast calls for light winds and we jump at the chance for a calm passage south for the 200nm run to Corfu. If you can't have favorable winds on the beam or astern, the next best option is light winds. We are cleared back out of Montenegro faster than a New York minute, and settle into a 2 hour on/2 hour off watch schedule as the heavily fortified entrance to the Bay of Kotor clears our stern.
Our course takes us as close to the Albanian coast as we dare, with its slight bulge out into the Adriatic. Albania had been on our bucket list, with the combined attraction and mystique of its historically closed borders. Few cruisers stop there despite the exodus of its socialist government in 1992. Marinas for visiting boats are restricted to two ports, and political unrest is common enough, particularly inland, to scare many visitors away. If we had an extra week in our schedule, we would have stopped, but we had to settle for a view from a safe five mile distance offshore.
After a tasty meat stew dinner, I take the first 3 hour overnight watch as Karen settles down in the bunk. We motorsail with just the jib up, followed by a few brief gifts from Mother Nature allowing us to unfurl both sails. But as usual on summer nights in the Med, the wind disappears with the sun, and I push on into the darkness under engine power alone. Keeping track of several nearby fishing boats occupies my mind, as they erratically change direction but continue their signature 2-3 knot speed. Most any pleasure boat out here would be going faster than that, but they drive me a little crazy as they appear and disappear from AIS and radar. Karen takes over at 10 pm and I get my turn in the bunk. It's calm and I should sleep easily but it's slow in coming. Soon enough, I'm back up in the cockpit to trade places with Karen, as I listen to podcasts to keep myself awake. In this section of the Adriatic, the coast of Italy gets substantially closer, just 40 miles away at the narrowest part. With this funneling effect, an increase in ship traffic keeps me on my toes, including several cruise and passenger ships plying the waters between the large east coast ports of Italy and the Ionian sea of Greece. 
I'm down for another 3 hour tease of a nap from 4 am to 7 am, and awake to glorious sunshine and a building breeze from astern as we skirt the tall mountains of the Albanian coast. I raise both sails and we are moving along at a respectable 5-6 knots. Quick enough, the wind is at 25 knots on the stern and I'm buckled in for the Mediterranean version of a Nantucket sleigh ride. It's an exhilarating start to the day. Just as soon as it comes, it goes. We are suddenly dropped into a wind hole with sails slapping back and forth in the rolling seas. Did I just dream we were in 25 knots? Helter-skelter sleep can do that to your mind. In this flash-in-the-pan sailing, we are suddenly thrown into 15 knots of wind on the beam, about the best a sailor can wish for, sending us careening along towards Greek waters at 8-9 knots. 
We practice our gybing skills as we skirt through the 2nm wide channel that separates the Albanian coast and the northern tip of Corfu, only to lose the gift of wind behind the tall headlands of the island. Our destination is the gargantuan Gouvia marina. We tie up to get fuel first, then head off to a nearby anchorage as we await word on space at the marina. In a few days, we have reservations to fly home for a little R&R, and the Gouvia marina seems to be the top choice in the area for safety and security. In the meantime, at anchor, I jump in for a swim to wash away the stress of an overnight sail, finding the water considerably warmer in these more southern latitudes. Fancy vacation villas line the shore of the anchorage, and all manner of unique, unusual, and generally oversized yachts accompany us. No longer are we staring out the portholes to the beige stone buildings with red-tiled roofs so commonplace in Croatia. This is a high-end vacation zone, as jet skis and tube-toting runabouts buzz those of us who despise being buzzed. But it does feel good to be back in Greece after the honeymoon that launched our marriage 27 years ago.
In the morning, a bit of confusion reigns at the marina office, as an earlier email that promised us dock space for 2 weeks was challenged by the marina manager. I sat patiently at a comfy seat in the air conditioned marina office, in front of a row of crisply dressed, fresh-out-of-training assistants behind oversized computer monitors, as I could hear people talking in low voices behind me in a conference room with the occasional 'Sea Rose' breaking the translation barrier with the otherwise fast-paced string of Greek words. I had been warned by fellow sailors that Gouvia Marina would not take visiting yachties like us that planned to stay over a weekend, as all dock space is coveted during the mayhem of charter boat flipping. Empty slips abounded on this Tuesday, but similar to our experience at the charter-heavy ACI Dubrovnik Marina, it was not hard to picture a sea-change as dirty boats arrive back on Fridays and Saturdays, to be greeted by young summer grunts with hose, bucket, soap and brush in hand. Followed by slightly better put together maid service, carrying their clean linens and towels. Followed in turn by wheeled dock carts overflowing with requested provisions and water toys. It was easy pickings to ID the next charter group onboard. That dock cart full of every brand of local beer – definitely a group of guys dropping in from Germany!
In the end, a very professional female head of the marina apologizes about the delay and confusion and welcomes us to the marina with our assigned slip number. Woohoo! We hop a taxi into Corfu town, stopping at the customs and immigration office for an hour wait in an office definitely not air conditioned. But everywhere we have been so far, these officials have greeted us with respect, if not surprising patience, as we inevitably fill in the wrong box, screw up the order of clerks to visit, or any number of other actions that show our naive hand at this first-timer activity. 
Corfu town is bustling with narrow alleys full of high season visitors and it is a bit of a culture shock until we find a quite outdoor cafe adjacent to a city park and shaded by trees with trunks sizable enough to easily handle the next Mediterranean hurricane. With a cold glass of wine and a warm serving of Mousaka in front of me, and my bride across the table, I count my blessings for finally making it back to Greece. This is going to be good… actually, better than that — great! The setbacks we had with intense weather in Croatia had made us reconsider our remaining summer itinerary, but now that we were here, those worries all seemed like a distant memory!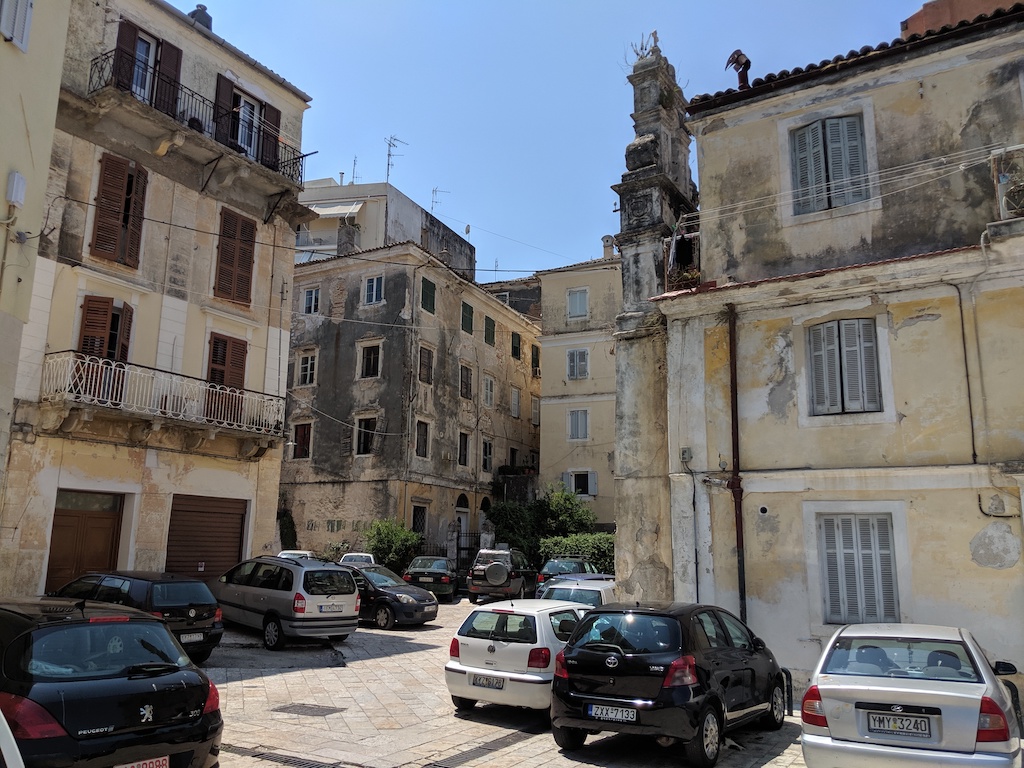 We pick up a rental car the next day to get a better feel of the interior of Corfu. It's a distinct sickle-shaped island, with beautiful coves and beaches evenly spaced across the northern tip. We stop to swim at one, and shop for trinkets at another, and observe closely at a third where sailboats arrive at the dock and take on fuel from a little tank truck. I chuckle at other captain's resistance to my helping hand as they moor to the public dock. To them, I'm just another curious landlubber tourist. Their loss!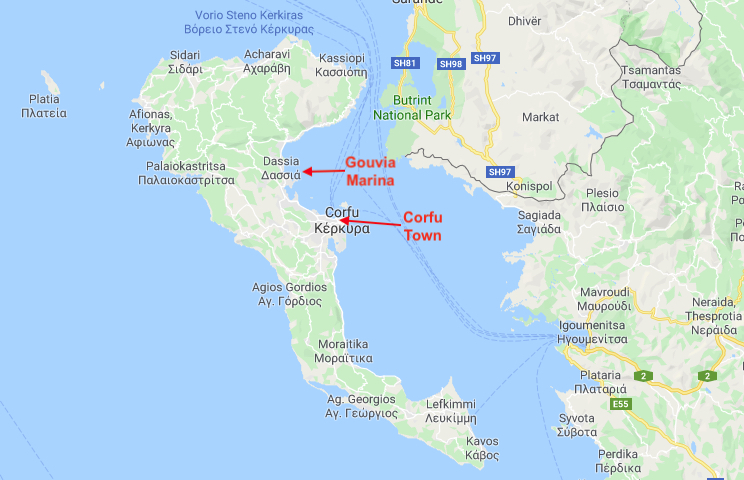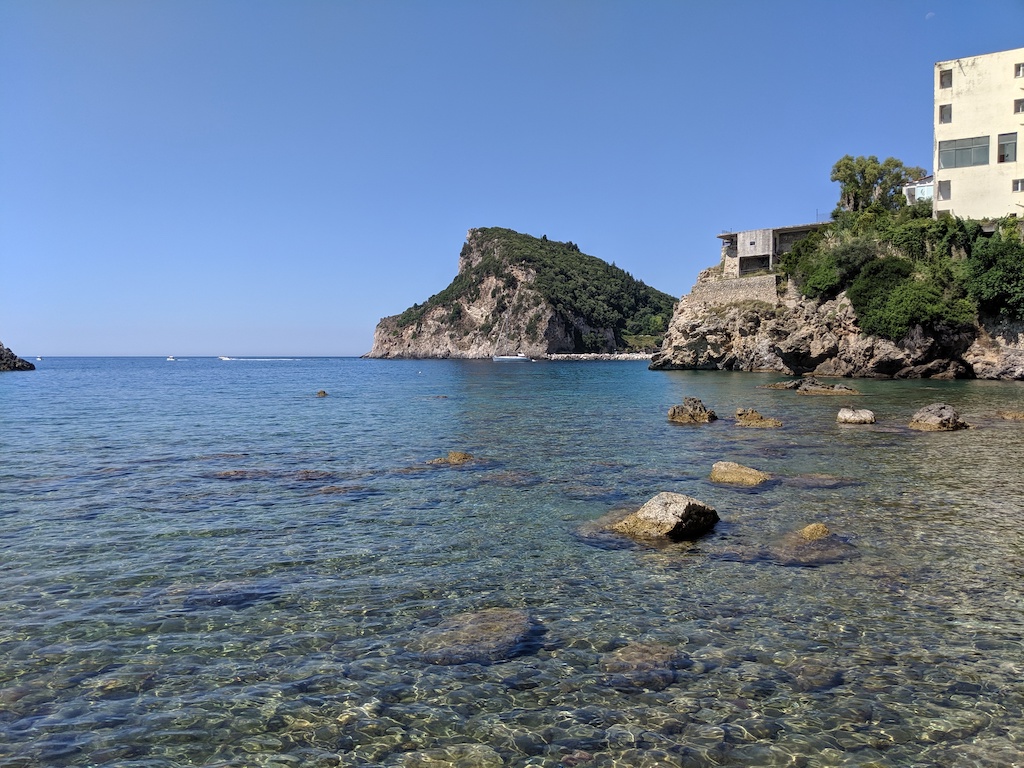 We make it back in time to use the car for a big provisioning haul at the local AB market, the closest we've gotten in a long time to the full-sized supermarkets back home. With provisions stowed, and a refreshing dip in the marina's saltwater pool, we are settling into life on the dock! Wait, stop! We are more than that! In the morning, we are off to the airport for our flight to Athens, Rome and then Boston. I'm all wide-eyed as the plane takes off from Corfu, using every meter of the short runway, and banks over the Ionian Sea and the Bay of Corinth as long shadows produce striking contrasts over a region we will take 3 weeks to cross. Instead, on this miracle of modern transportation, it is just 45 minutes to get to Athens. Good bye Sea Rose, rest up, we've got a lot more planned for you!