I'm not sure if being born in 1963 qualifies me as a child of the 60's, as I was still in diapers during Woodstock, but the concept of thumbing your way across the country is certainly appealing. In the present context, that means hitching a ride on the winds of the Great Lakes around the coast of Michigan. And what better coast to hitch along than one that Michiganders whimsically portray as the outline of a thumbing hand!
It's especially fun to meet people from Michigan and when you ask them where they are from and you give a confused look to their reply, they will whip out their right hand and show you exactly where on the hand they live. It's got midwest charm – it's practical and gets the job done. No one is left with any doubts and you can move on to other pressing topics. I love it!
Karen left off last week at South Manitou Island, in the upper portion of Lake Michigan.  We have made steady progress this week around the top of the hand, down the index finger, a little tickle at the thumb, then, with the helpful hand of Mother Nature, a quick push down current on the St Clair River to Detroit.
So dearest reader, grab a cup of coffee (or a glass of wine) and join me as we travel over, around, and occasionally above the waters of this great state of Michigan.
Our first stop on this wraparound-Michigan tour was Charlevoix, on the upper west side of the shore. Once you conquer the challenge of how to pronounce the name ("Shar-leh-VOY" or "Shar-la-VIEW", it seems locals couldn't agree), the next challenge was alerting the bridge tender to get passage through the lift bridge into the inner sanctum of Charlevoix, a tranquil little spot appropriately named Round Pond. Gracing the shores of this pond was the charming little town, the ferry dock for Beaver Island, a few upscale condos, and a healthy collection of stunningly manicured homes rolling down to the water with their immaculate docks and their pristine watercraft. Back in my sportscar days, we'd refer to other folk's immaculate Porsche 911's as garage queens – a source of pride for the owner, but rarely if ever driven. Here were more than a few dock queens. And, you know your not in Kansas anymore when folks decorate their docks with hanging flowerpots!
We happened to catch Charlevoix on the day of their farmers market – quite a treat as it seemed like we chronically missed a lot of these events in other towns we visited. At a Michigan farmers market, you can expect to get the usual healthy variety of vegetables, plus the local favorite of cherries, and the usual baked items and floral options. However, the meat vendors are going to tantalize you with a wide array of options in the bratwurst department. They take their bratwurst seriously here (as they do in Wisconsin). We walked away with a fist full of blue cheese and bacon brats. You don't want to pull out your calorie counter when you are shopping for these bad boys, but they grilled up beautifully a few nights later.
We stayed at the municipal marina at Charlevoix, but one of the cool things about Round Pond is that it leads into the much more substantial Lake Charlevoix, long and worthy enough for several days of sailing, which we put on the 'if we come back here again' list. At the extreme interior end of Lake Charlevoix is the town of Boyne, a few miles outside of which is Boyne Mountain, one of the skiing options if you are a Michigander, and also the owner of Sunday River in Maine.
It was busy on the dock at Charlevoix the morning we left, but I launched the drone quickly and took an aerial panorama of Round Pond. After the landing, two older guys came over to join me with their drones and to chit-chat about 4k, folding props and the like – I had finally found my peeps. Drone geeks of the world, unite!
With our fridge and hanging basket full of farmers market loot, we motored out from Charlevoix under gray skies and flat water. Some days, you have wind, other days you don't. Some days you have wind from the right direction for sailing, other days you don't. On this day, we had just a breath of wind from the stern, as we motored north toward the Mackinac Straits. The challenge with this is not only the monotony of hearing the engine chugging along for hours on end, but the wind from the stern brings headache-inducing diesel fumes wafting over the cockpit. But, hey, if we end up losing a few years of our life from carbon monoxide poisoning, it was worth it to discover these Great Lakes!
The Northwestern corner of the Michigan shoreline is covered with rocky shoals and shallows, and as a consequence the lake bottom is littered with the wrecks of ships of old. Thankfully there were plenty of buoys, and two lighthouses – one in operation, one abandoned – to guide our way through the area, allowing us to safely turn east towards the high towers of the Mackinac Bridge. Just before the bridge, on the southern shore is a large crescent-shaped cove named Trails End Bay, oriented perfectly for the protection we needed from the southeast winds. It was here that we anchored for the night, timidly checking for depths, and then setting the anchor hard, as this spot was not written up in any of our cruising guides or on ActiveCaptain. I had scoped out this bay a few weeks prior, during my bachelor days at Mackinac City, riding my bike through the nearby International Dark Sky Park. As the name suggests, this park was specifically located in a low ambient light area so that visitors could appreciate the view to the heavens. We tainted that mission ever so slightly with our anchor light atop our mast, but the moon was coming up later in the night anyway so I didn't feel so bad.
It was time to kiss Lake Michigan goodbye, and the next day we passed under the Mackinac Bridge to make it official. We were now in Lake Huron, whose waters would hold us in their grasp a few more days on our trek out the Great Lakes. On our trip up Lake Huron a month prior, we had sailed the eastern side of the lake, in Canadian waters. On this jaunt, we would sail down the lakes western portion, which traces the 'index finger' and 'thumb' of Michigan.
On this first leg in Lake Huron, from Mackinac Straits to Rogers City, we didn't have enough wind to sail, but instead motor-sailed, with the jib up to grab what little wind there was, plus help from the engines to get us moving faster. It was a bumpy ride in the morning, followed by a rain squall passing over us in the afternoon.
I'll come out and get it off my chest, though, that our first stop, Rogers City, was not the poster child of Michigan tourism. The town is in the shadows of Carmeuse, the largest limestone quarry in the world, but from the best I could tell, the quarry only employed 150 people, which was apparently not enough to bring economic stability to the town. We walked past many vacant storefronts, and for a Friday night, there was very little activity. Curiously, city planners had laid out nice wide boulevards, but maybe that stems from the town's earlier heyday as a lumbering port.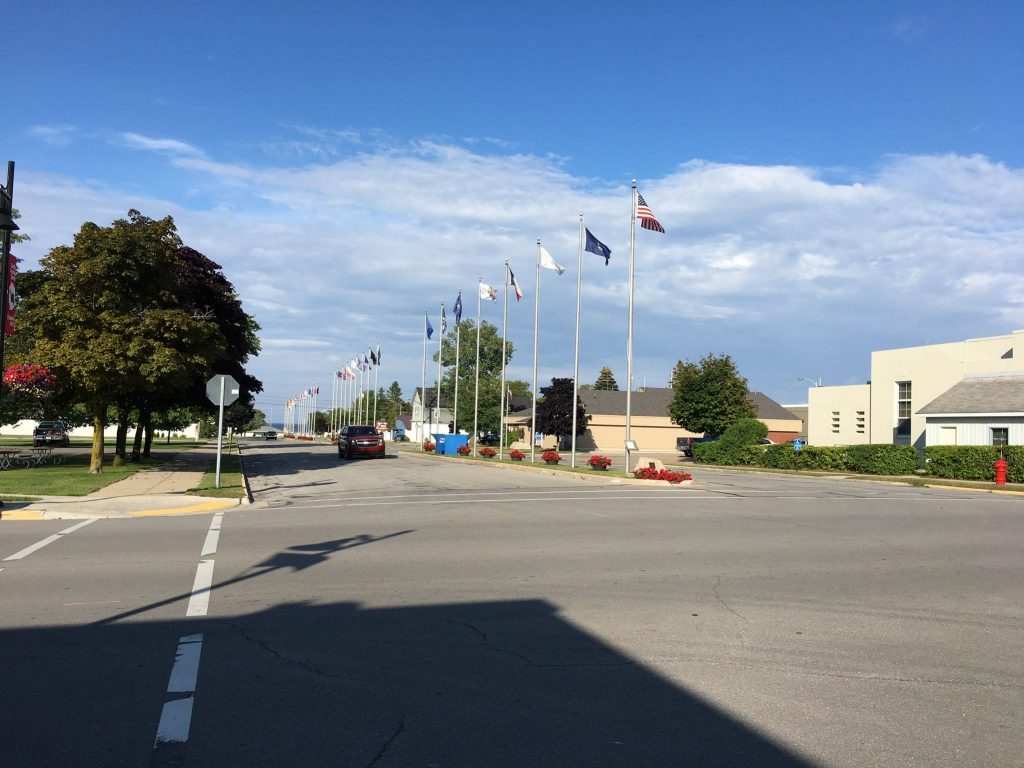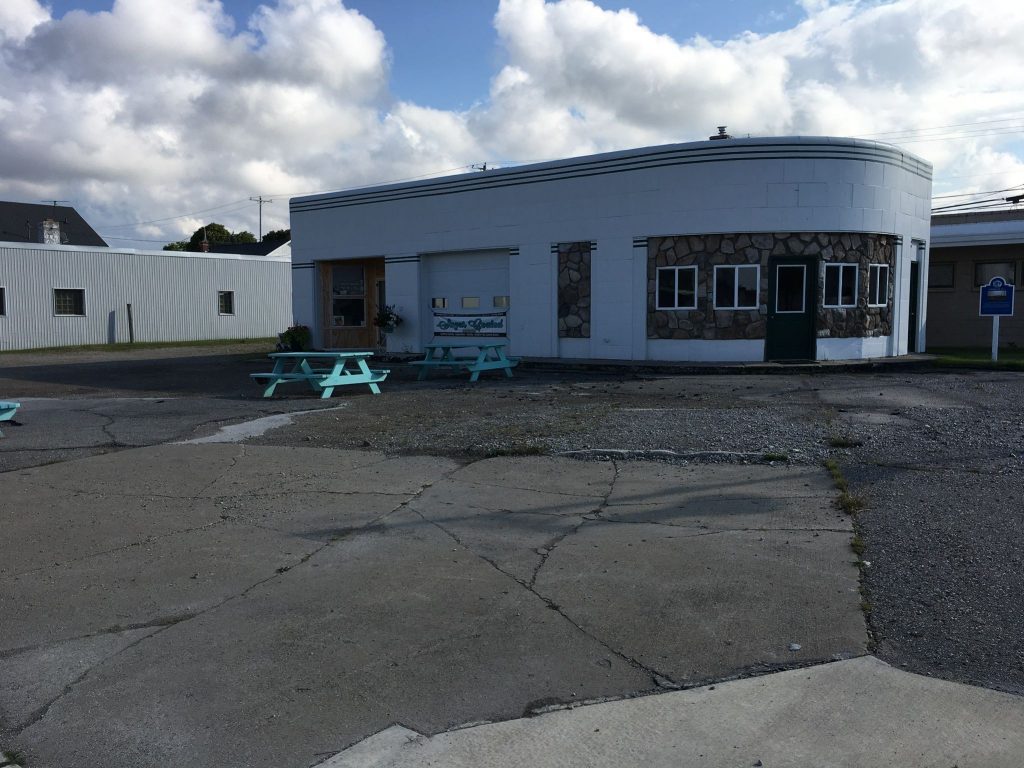 I promised Karen I wouldn't be too harsh on Rogers City, but apparently the gods of equanimity ruled against me, and as we were backing out of the slip, with a strong wind pushing us against the dock, the bow pulpit rubbed against the tall wooden dock stanchions (a feature unique to Michigan marinas), and the starboard navigation light went down to Davey Jones locker.
Unceremoniusly, we let Rogers City disappear behind our stern, and with strong following winds, we set a good pace under sail down to Harrisville Harbor. This town was a refreshing change from Rogers City. First of all, there was life ashore. A large tent had been setup in the marina parking lot, and a live band and general merriment could be heard carrying over the water as a part of a substantial wedding in progress. Harrisville is technically a harbor of refuge, which generally means they will find room for anyone in trouble or a crew that is fatigued. We were neither, but there was plenty of room at this well run marina, lead by an ex-US Coast Guardsman.
From Harrisville, it was time for us to jump across from the index finger to the top of the thumb, arriving at Harbor Beach at dusk after a long day on the water. Although they had a municipal marina at Harbor Beach, it had uncharacteristically poor reviews, and it was located right next to the Edison power plant. Fortunately they laid out this harbor with a substantial V shaped breakwater, giving us plenty of room to anchor in a tranquil, albeit very weedy harbor. Again the striking comparison to Rogers City jumped right out at you.
What makes the Harbor Beaches of the world stand out and why? I want to be sensitive to the economic stress that clearly saddles a town like Rogers City, but I'd also like to think there is someone behind one of the little cottage's front doors, or at a town council meeting, or at the executive suite of a local business – someone whose inspiration and vision brings forth the charm in this town. I'd like to think that it is more than just money, and given a choice between the two, I believe passion is the stronger driver of change. What do you think?
What I do know for absolute certain is that when the sun rises the next morning over the lighthouse at the end of the breakwater, it's enough to inspire anyone with an interest in photography!
With a boat full of inspiration and passion, we headed out from Harbor Beach for our final leg on Lake Huron, down to the southern terminus at Port Huron. We enjoyed a few ideal hours sailing on a flat lake, with an even heel, and a steady breeze. The gods that normally play shuffle the dice with the wind strength and direction on these Great Lakes were apparently busy doing back-to-school shopping for their kids and left us to enjoy one final day of splendor on Lake Huron.
At Port Huron, we joined the St Clair River, the same river we struggled upstream on 5 weeks ago. This time, we were reveling in the fact that mother nature was giving us an extra 2-3 knot push over the ground. We stopped overnight at the Port Huron Yacht Club, and then setup for the run down the St Clair. It was refreshing to be able to do some sightseeing along the shores of the St Clair River, after seeing a lot of trees and limited signs of life along the Michigan shore.
We were whisked quickly down the river and into Lake St Clair, and finally the Detroit River, where we stopped at the Henry Milliken State Harbor, the same one we stayed at on the way up. How easy life is when it's your second time around. Docking was a breeze, we immediately set out to do laundry and grocery shopping, and the walk into downtown Detroit along the riverwalk was a familiar one, but ever pleasant.
We have really come to love Detroit. The city is clearly making a comeback and  there are leaders putting time and money into the downtown area that are bringing back residents, businesses, and tourism. A local friend of ours said Detroit is doing better than it has in 30 years.
We couldn't hold back the enthusiasm as we got together with our dear friend Caitlin who just moved here for work. What better spot to compare notes than the Detroit Beer Company! Good luck Caitlin, we are rooting for you!
Our final night in Detroit was graced with dinner at the Bayview Yacht Club with our newly discovered cruising friends Mike and Therese, with whom we met in Kincardine, Ontario. We've kept in touch since then and they have been a huge help to us with their vast knowledge of cruising in the North Channel and elsewhere in the Great Lakes. Mike even picked up a part I needed from West Marine. Hats off to you both and thank you for the Detroit hospitality!
With that, we leave Detroit and plan to enter Lake Erie and continue our progress east.
I'll leave you with one more video, albeit one easy on the bandwidth, that caps our sail down the Michigan shore. That's it for the thumb tour. Peace out!