The time had come to wrap up the season. Karen and I took one more day on the water, on a beautiful blue sky day without a stitch of wind, to bring Sea Rose down from Borgholm to Kalmar. Earlier in the summer we had secured a spot at Baltic Kalmar Marina for the winter. To my surprise, it wasn't easy to find a place to haul out. A few boater friends recommended the north coast of Germany, another couple of days south from Kalmar, and probably easier to fly in and out of, but every yard was either booked up or couldn't take our size of boat. We had also looked at several well regarded yards in Denmark, to no avail. It's always a juggling match midway through summer to find a place. We have to guess how far we will go in the remaining months, what yard has a good combination of technical skills and a friendly nature, and where the best travel connections can be found. When we found Baltic Kalmar in July, it was a huge relief. We could plan on that destination and set our pacing and range of adventure accordingly. The one challenge we had was the winter weather. This would be the first time we hauled out in a freezing climate with Sea Rose. We had plenty of experience with this on our old boat, Thalia, in the Northeast U.S. But here in Sweden, we would need to figure out how to winterize this boat and source the materials needed. The marina encouraged us to store the boat inside – in what everyone in the area refers to just as a 'hall'. In a heated space, we wouldn't need to winterize the boat. But at twice the price, it was a budget buster. So, instead, our baby Sea Rose would sit outside, but at least we had a nice, heavy-duty cover for her, and from every indication the winters in Kalmar were fairly mild, at least compared to our experience in the Northeast U.S.
The Kalmar Guesthamn, a traffic jam of boats when we first visited in early July, looked like Times Square the morning after New Years Eve – a few of us boaters showing signs of weariness from too much fun earlier in the summer, and a few stalwart boaters that didn't get the memo that summer was over. We were pleased to see that our newfound buddy boat Pinocchio pulled into Kalmar as well. After finding, like we did, that so many other yards were full, Pinocchio's captain decided to haul out at Baltic Kalmar marina too. It's good to have a buddy when you are staring down a to-do list that will take a full week to grind through before you can head home. Some might even call such a relationship 'priceless'!
The first order of business was finding a storage unit to offload any gear that would not handle the cold and humidity. This included all bedding, sails, lifejackets, cushions, food, and many smaller items. We found the perfect self-storage location on the second floor above a small retail center. What an ideal spot. Usually these self-storage companies are on a ground floor, close to the cold and the wet, and painted some annoyingly bright color. Here, with the easy use of the one story elevator ride, our belongings would stay warm and dry all winter.
Getting all of our gear to storage would require multiple trips with a car, but rental prices here in Sweden can make your eyes water. It was nothing like the Europcar rentals in Greece that hovered around 20 euros/day. To our delight, we found the company Move About that offers exclusively electric cars for rent at a tolerable weekend rate. We ended up with a Nissan Leaf and were impressed with its cargo capacity with the rear seat folded down. Look up the company if you are traveling in Sweden, Norway or Germany.
The other urgent task was finding a source for antifreeze to winterize all of the plumbing lines onboard. Normally, in our home region, marine chandleries and hardware stores are overflowing with pallets of RV antifreeze in the Fall; this is the pink solution that is safe to use in drinking water systems. But the best I could do was one lonely 2 liter bottle on the Kalmar chandlery shelf and no chance to order more. A visit by bus to the suburban big box shopping mall (yes Sweden has these too…think IKEA!) turned up nothing but a scary looking locked cabinet of pink liquids that were either camp stove fuel or paint thinner, I couldn't tell which. When I checked the historical temperatures over the winter months here, clearly there were many days that were below freezing, some days by quite a bit. I certainly wasn't going to risk burst lines in our engine, water maker, refrigerator pump or the other myriad devices onboard that trapped water in their lines. I finally found an online auto parts store in Finland that would ship me four gallons of non-toxic antifreeze. After a day's reflection, I ordered another four gallon box. In the end, it was enough to properly pump through all of the lines and we could rest easy from afar whenever we saw the weather over the winter dropping below freezing. We likely have more systems on our boat than the average, but how the other boaters handle this freezing risk, I have no idea.
Baltic Kalmar Marina is located in an industrial section of the harbor. You have to be careful not to be run over by mammoth mobile cranes designed to manipulate large bundles of lumber bound for export and driving fast along the waterfront. This was not a pleasure boat harbor with nice smooth ramps or a wide slip designed for a travel lift, the common method for most sailboats to be hauled out. Instead, Sea Rose had two long straps slung on either side of the keel, and a tall commercial ship loading crane lifted her out with the ease and mismatched strength that mirrored King Kong lifting his distressed beauty. All turned out well for our beauty too, and after offloading all the sensitive gear, Sea Rose was buttoned up with her cover and a new winter solar installation on top of her bimini, to keep the batteries freshly charged.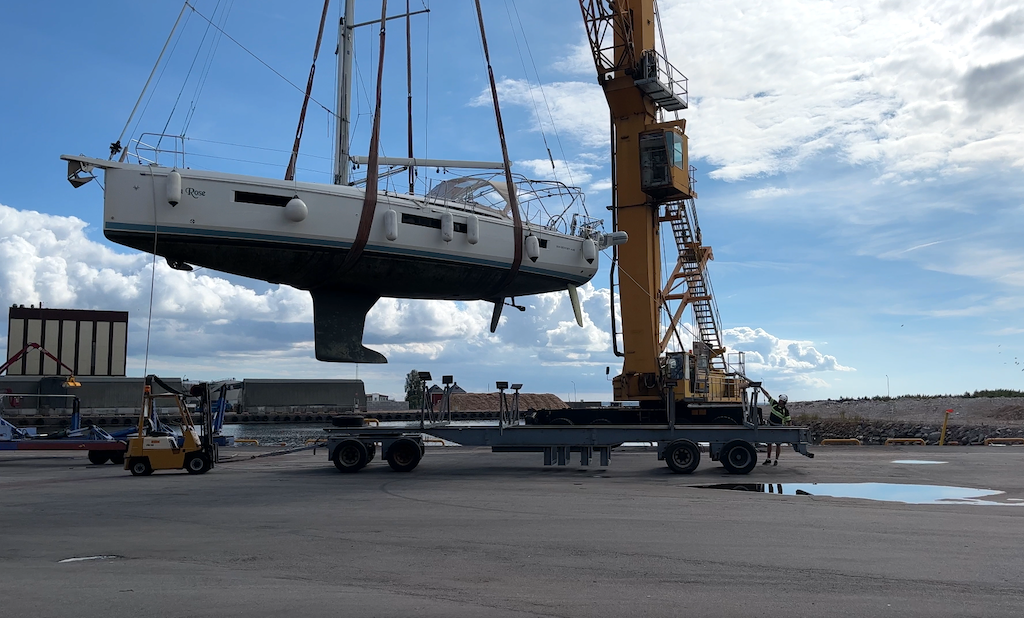 In the end, it was our longest sailing season ever, a total of five months since we departed Sada, Spain to cross the Bay of Biscay in the beginning of May. We sailed 3000 nautical miles through nine countries, passing through some of the largest tides in the world along the Brittany coast, and an inland sea completely absent of tides in the Netherlands. Despite the cancellation of the ARC Baltic Rally, our previous goal for the summer, we made use of the free time by more deeply exploring the Swedish archipelagos, and a three-week surprise addition of the Finnish archipelagos. What we lacked in the warmth of the Med we gained by countless rustic and deluxe sauna experiences throughout the Baltic. We covered great stretches of water without seeing another USA boat, in particular from Portsmouth, England to Stockholm. We ended the summer extremely grateful for the hospitality extended to a couple lone American sailors by marinas, shop keepers, restauranteurs, and casual pedestrians that put up with our random out-of-towner questions and requests. In turn, we are also grateful for you, our readers, and for your support of our adventures, both on and off the water. We thank you for your words of encouragement as we strike out into unfamiliar territory each season looking to understand and appreciate the incredible natural wonder that is our planet Earth. And if you are setting off to travel new lands, I would encourage you to write and share your adventures as well. Everyone needs new sources of reading material, particularly for those long winter nights, or mornings when it's too comfortable to get out of bed, or when the day's news leaves you wanting.
Karen and I wish you the best of luck whenever your adventures take you. For us, it is on to Norway!