Expanding on my "Tom's Top Ten List" from our last blog, today I'm telling you about our Top Six destinations on the route south of the Stockholm Archipelago, in a no less spectacular sail to our winter haul-out location at Kalmar. We took this route with our friends Patty and Patrick, dropping them off in Vastervik, and Karen and I made our way alone the rest of the way. The Stockholm Archipelago gets a lot of attention, partly because it is close to where so many Swedes live on the eastern side of the country. But I think you'll agree after reading this Top Six list that there are many more hidden gems south of Stockholm. So, let's dive in!
Ringson
Cruising south of the Stockholm Archipelago involves longer sailing days; the islands are not quite as concentrated. But this allows a sailboat to stretch its legs and work out the cobwebs after weeks of short jaunts. Twenty-five miles south of Dalaro is the remote island and nature harbor of Ringson. The weather overnight was forecasted to be calm, but the harbor here forms a highly meandering path, twisting around small wooded islets, providing options for protection from any wind direction, a kind of jack-of-all-trades harbor. There was no question that we were back in nature; no fancy resort and spa beckoned us all from the shore. Instead, we found a well placed nature reserve map right at our dinghy landing. With eagerness, we set off on the path in front of us and abruptly lost our way. Thin wispy lines in the underbrush seemed to be the makings of prior humans, but these paths petered out or were blocked by low branches, making it clear we were instead following wayward animal tracks. In a clearing up ahead, we spotted a large herd of deer with girthy antlers making them look more like mature elk. Soon, we located twin tracks of a lightly used road. These tracks led away to an even larger meadow with more herds feeding on the tall grasses. As they startled at several 100 meters away at the slightest twig snap under our feet, they scattered behind several heavily weathered buildings that we later learned were part of a horse riding school, closed now in the off season. As we looped through the center of the island and bushwhacked our way back to where we guessed we had left the dinghy, passing more healthy-sized herds, it warmed my heart to know that this little island supported so much non-human life. Sometimes it feels like if we would just let animals live naturally and roam free, the world would be far richer.
Harstena
A further 35 nautical miles south from Ringson is the little hamlet of Harstena, once a thriving seal fishing village. Harstena has a narrow cut down the middle that provides some protection to visiting boats; that is, unless the wind blows right down the slot as it did for our arrival. We tried our newly acquired skill of dropping a stern anchor off the back as we went bow into the dock, since this harbor provided no stern buoys. Our stern anchor is a small lightweight aluminum model that I like for its easy handling. Without the power of an electric windlass like we have at the bow, the aluminum model with its short length of chain is easy to deploy and retrieve. But it has to be strong enough to hold the full weight of Sea Rose in cross breezes, so I was glad when it arrested our movement before we hit the dock. With limited provisions onboard, we promptly took a walk to the one restaurant at the harbor, which was closed for the season. On a stroll through the middle of the little collection of red-painted houses that formed the village center, two older woman lounging on their back deck waved eager hellos to us. In these small settlements, particularly after the main tourist trade has subsided, you never know how your arrival will be treated. It was nice to know the natives were friendly. Our hunt turned up a closed grocery store, and worse even, a closed bakery. However, Harstena provided plenty of bounty in the form of wild blackberries – deeply stained hands and clothing were the price to pay for this precious loot. 
Trasso
After a further 30 mile sail south of Harstena, we found ourselves with an opportunity to anchor at Trasso, more a collection of tiny islets than any one particularly prominent island. Along the way, giving up on the prospects of finding a grocery store, I accepted a challenge from the crew of baking bread using flour that had sat unappreciated since its purchase back in Finland. Times were desperate and we needed a vehicle for delivering lunch meat. No sooner had I finished the first kneading cycle, wild screams of joy came from the cockpit. A harbor up ahead with a store was flying flags and showing every indication of being open! It was reminiscent of Moses parting the seas as we marched in to buy like giddy school children, pockets full of new coins.
At anchor in Trasso it was doubly pleasurable to know we had excellent waters for paddle boarding and, as the light faded on the day, a generously portioned fish stew from our day's bounty. Sometimes all of the elements for a fine experience come together on the same day.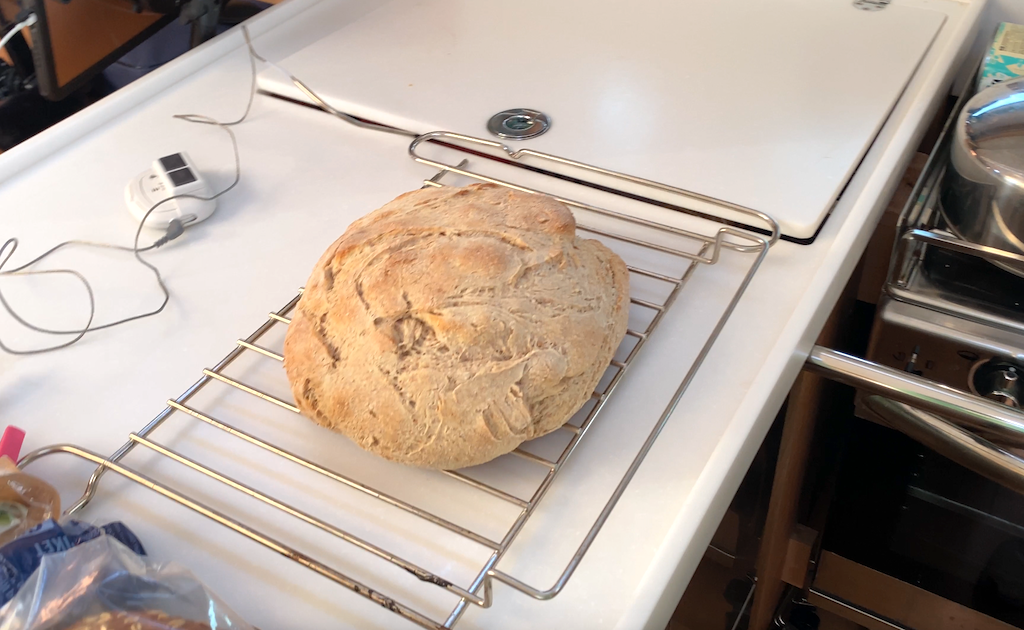 Vastervik
If there is a civic centerpiece to this stretch of the southern Sweden coast, it is Vastervik. Close to the common navigational routes up and down the coast, unlike its neighbor Norrkoping, you can get in and out without too much fuss, making it an ideal place to switch out crew. And this would serve as the end of the line for Patty and Patrick's visit onboard Sea Rose. Traveling to Sweden is not as straightforward as flying to more common sailing destinations like the Mediterranean. It was with great joy and appreciation that we welcomed Patty and Patrick onboard, as well as Zack and his friends Even and Andrew and my neice Julia with Mary.
After a walk through the historic district of Vastervik, with its rows of brightly painted homes once used by ship's crew and captains, we bid adieu over waterside dinner at the Slottsholmen Hotel. A boisterous wedding party was consuming much of the focus of the staff but we were in no hurry and the meal was wonderful. I hoped that this bride and groom might one day, say 30 years down life's wondering road, celebrate their anniversary in the elegant comfort of the Smadalaro Gard resort and spa.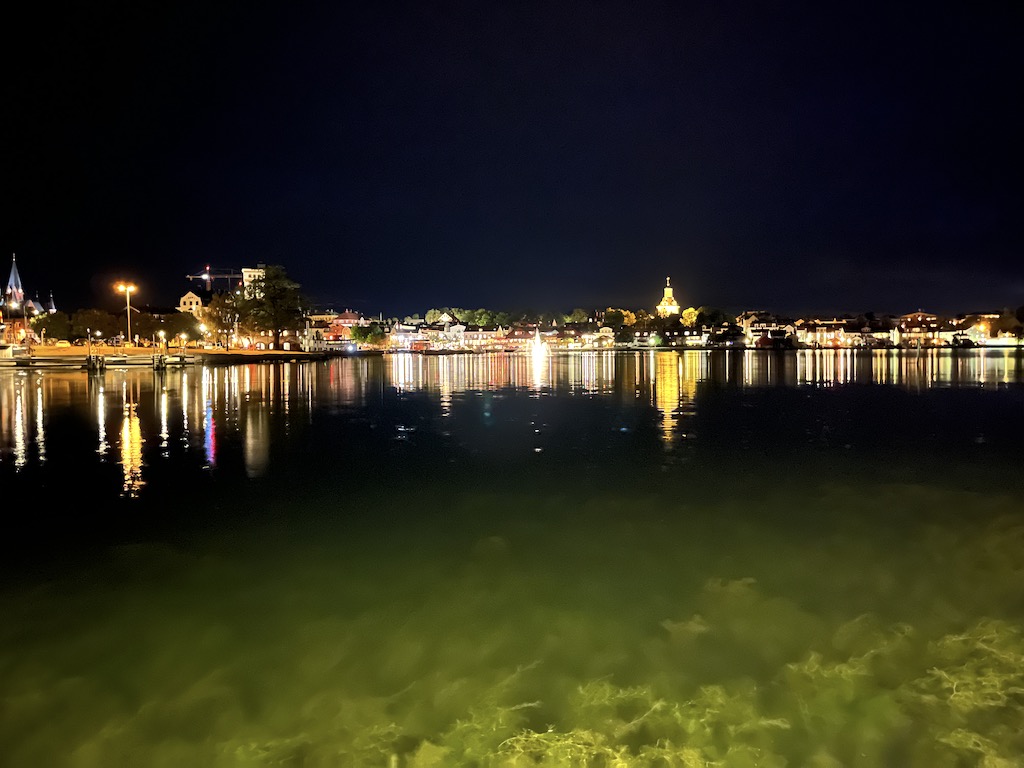 Alo
Karen and I were back on our own for the last few days of sailing to Kalmar. The experience in the archipelagos of Sweden had been incredibly special. But, like the change of seasons, one day you wake up and abruptly realize everything that once was is no longer. Short sails in protected waters to anchorages and guest harbors as eye pleasing and diverse as a pinwheel of colors were in the rearview mirror. To our surprise, we found one more treasure tucked into a field of tiny islands south of Vastervik. The anchorage at Alo required slow and mindful navigation through a very narrow entrance with depths down to just 0.5m below the keel. By now, though, we were getting used to this. We just had to make sure our attention, in familiar challenges, did not wane. Alo was the kind of anchorage and tiny village that would have prompted paddle board exploring or a dinghy ashore, but the work of six months of summer sailing had caught up to us. A view of the changing colors of the shoreline at sunset was enough to satiate our souls.
A lone sailor on the boat Pinocchio arrived just before dusk, and I recognized his boat from the harbor at Vastervik. With meticulous care and without a crew, he carefully dropped his anchor, covered his sails, tidied up his lines and disappeared below deck for the night. I wondered what his story was. Sailing in these waters was manageable alone, in the same fashion that you could theoretically prepare a five course meal by yourself, but having a partner, both to share the work and savor the rewards, is, like how the Mastercard commercials say, 'Priceless'.
Borgholm
Karen and I had made plans earlier in the summer to visit the long skinny Swedish islands of Oland, just off the coast from Kalmar, and Gotland, slightly further out in the Baltic. We had been told they possessed a unique perspective on summertime life in Sweden. But after consulting charts and cruising guides, there were very limited places to take a boat. These were islands better suited to commercial ferries and car travel. However, the city of Borgholm ("Borrie-home"), on Oland, is an exception. A marina with plenty of space, robust concrete docks and good shower facilities is located right in the city center area. And to our amazement, the sailboat Pinocchio pulled in right after us. We got to meet the owner, Teddy from Belgium, who had been shadowing us for the last three days. I had to wonder no longer about his back story. His English was excellent and we quickly became fast friends as I learned that he and his wife had sailed throughout Finland as well, and he was assigned the end of season solo duty of sailing to the boat's winter home. When we learned that he had sailed recently up the coast of Norway, our planned destination for next summer, I had to throttle my excitement and cross examination for fear of scaring him away! It was great to meet someone else who was so passionate about sailing in Northern European waters.
A walk through Bornholm's downtown to window shop and absorb the restaurant aromas is certainly pleasing, but the real reason for coming here is to take in the Borgholm Castle occupying a tall bluff just outside of town. Three storey stone walls stretch above the surrounding wooded fields, making quite a statement on an otherwise flat island. But as you approach, there's something off about the structure, and it soon becomes evident. There is no roof. It is just a shell of a building. It's had a wayward and stormy history, much like an 80's rockstar. Originally constructed in the 12th century as a single tower and keep, it grew into a full-sized castle in the 14th century. With its strategic location right on the Kalmarsund, it was repeatedly caught up in battles with the Danish as it was used to protect from invading ships. The cannon fire from ships in the sound would destroy the castle, it would be rebuilt, and it would be destroyed again. In the 16th century, the Swedish government invested great sums to rebuild it into a renaissance style castle. But, the Danes would have nothing of that and destroyed the castle again in the Kalmar War. In the 17th century, it was rebuilt in the style of a baroque palace but due to a heavy burden on the Swedish crown, it fell into disrepair once again. The Swedish government deserves much credit for restoring it to its current state of stability and leaving it as an open-air structure, something we greatly appreciated on the sunny bluebird day that we walked the grounds. It has been a popular venue for special events and concerts over the years, including this music video 'Listen to Your Heart' by Roxette.
That wraps up my Top Six Destinations south of Stockholm! I hope you enjoyed the stories and historical anecdotes. We always look forward to your comments. Please feel free to drop us a note at the bottom of the blog.
Be sure to also checkout the video content on our LifeFourPointZero YouTube channel. We regularly post updates on our sailing adventures, as well as how-to videos on boat repair, sailing techniques, and more!