"You are entering an active shooting area. Change course immediately to 045 degrees for Tango 7 buoy."
Regardless of whether you have had your morning coffee or not, hearing these words from the VHF radio will bring any boater to complete, 100% attention. As we departed the Kiel fjord with our friend Pedro onboard for a week's exploring along the northern Germany coast, we were following a series of waypoints we had carefully programmed into the chartplotter, a route that would miss all the shallow areas on our way to Heiligenhafen. I had noticed that much of the electronic chart was criss-crossed with purple boxes and tiny, hard to read symbols. These charts are the digitized cousins of the old established paper charts that mariners have used for decades. But 'digitized' is a bit of a misnomer. A human being, of unknown skill and compensation level, reads the paper chart and enters the latitude and longitude of all the features on the chart. Given that it is human, mistakes and omissions are possible, and to be expected. Place names are commonly misspelled. Important footnotes on the paper chart that explain the meaning of boxes and symbols are left off or buried in a menu deep enough that you should pack a canary for the journey. But this was one region you wanted to dig for the details. We were indeed headed into an active firing range and a fast-approaching patrol boat was ready to reinforce the verbal instructions with their imposing physical presence. We locked in a course for the T-7 boundary buoy without delay, and examined the chart closely for the full perimeter of the firing range. With the recent invasion of Ukraine by Russia, the navies of the NATO countries were understandably on high alert. Our role in this conflict was to stay out of the way, and the explosions and staccato sounds of automatic fire in the hazy distance were a regular reminder for us to not cut corners.
On this voyage through northern Germany, present day conflict would find easy kinship with a history riddled with wars and skirmishes. Our course east of Heiligenhafen would have us negotiating submarine practice areas as we entered the waters of what had once been East Germany. The city on the boundary, Lubeck, had been the medieval capital of the Hanseatic League, the monopolistic merchant trade organization founded in the 14th century. Lubeck, with its prized Gothic architecture would have to wait for another day, given the amount of upwind diversionary sailing required to get there. Instead, we pushed on to the small hamlet of Warnemunde, at the river entrance to the much larger city of Rostock. Here, the ARC Baltic Rally would have begun, just one week away, had Russia not invaded Ukraine earlier in the year and put at risk the rally participant's safe passage in the eastern Baltic. But the many present day visitors to Warnemunde seemed unfazed by the ongoing drama. A packed car ferry brought us from the swanky Yachthafen Hohe Dune to the city center, filled with bustling outdoor restaurants, chic boutiques, and lots of permanently moored fishing boats selling take away Backfisch – popular fish sandwiches. Regardless of where you are in the world, if you fry fish, people will come find you. Here, it is often dipped in a beer batter before frying and served with lemon and a bread roll. Congregations of seagulls were standing by in case you lost interest or turned to talk to a friend.
This part of northern Germany is mostly low-lying sandy dunes. Visitors come here to sun bathe on the beaches in between their fried fish, and these same low elevation features on land make for large concentrations of shoals offshore. A catamaran, with its barely-there keel, would be the ideal craft. Huge inland bays and estuaries filled the coastline here, but were completely off-limits to us with our 2 meter draft. There was a possibility we could get into an anchorage and national park named 'Hiddensee' about 50 miles east of Warnemunde. We couldn't count on a high tide to help us, or a low tide to strand us, as the Baltic is virtually tide free, but we would give it a try nonetheless. At sunrise on a windless sea, we dropped lines at the marina and motored east, appearing to be out of the military practice areas with just a large passenger ferry as our company on its way to the southern tip of Denmark.
Every country has their own standards for the size and shape of their buoys, and in this part of Germany, the buoys were particularly hard to identify from a distance, likely complicated by the low lying land in the background. As we approached the channel entrance to Hiddensee, it was critical that we positively identify each buoy to avoid running aground on the sandy mud flats just outside the channel. This was no time to scan the phone for world news, or go down below to make a sandwich. Even inside the channel, there was only 1 meter below the keel, which we knew to expect before we set out in the morning, but it was still nerve-racking to have such little margin for error. The channel came to a T junction, just like an intersection on a roadway. We were supposed to turn right, but a powerboat right behind us, with not enough width in the channel to pass us, kept hovering at our stern like a pesky hornet. Karen had given me the helm just beforehand, and I slowed down to execute the turn, knowing that boats turn a lot wider and more clumsily than a car. The depth went right down to 0.0 on the depth gauge. But which way to turn for deeper water? Was there any deeper water anywhere? We crept along at barely headway speed. Finally, the readings start to rise and we pushed ahead with the awkward depth reading of 0.5m. It wasn't clear how, if we ran aground, we would turn around, as the channel, like a rut down the middle of a long dirt road, lacked sufficient width to turn. Thankfully, Mr. Inpatient behind us pulled off at the next intersection, and we continued on to find a small area slightly deeper where we could anchor for the night. There was no lack of water around us, just not enough deep water.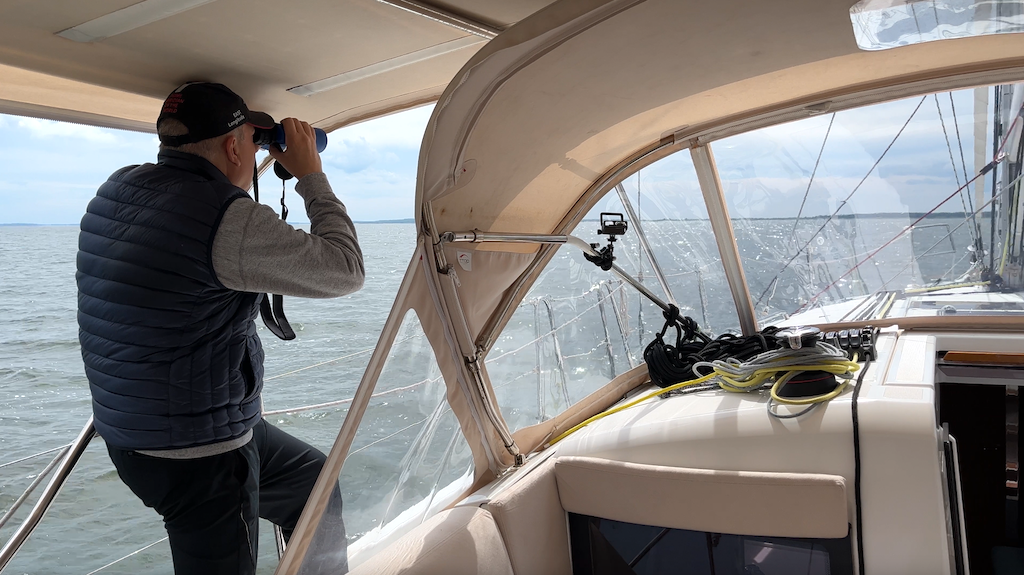 Hiddensee is a long narrow island in much the same shape as the barrier islands back in the North Sea, except it runs in a straight north/south direction instead of east/west. When we landed the dinghy at a subtle break in the heavy grasses along the shore, it became clear how fragile this island was, with low sands providing little protection from storms barreling east along the Baltic. It was wise of the Germany government to protect this delicate network of islands within their National Park framework. The upside for nature lovers like us was long narrow walking paths equally suited to light conversation with a friend or solitary reflection. We had landed at the outer boundary of the public access area. Sinewy thin strips of sand stretched further south from our position, the sole retreat of seabirds ranging from quick darting terns to majestic swans. If we could hear their conversations I wondered how they might squeal with joy as they bragged about taking back their ancestral land from those noisy, pushy humanoids.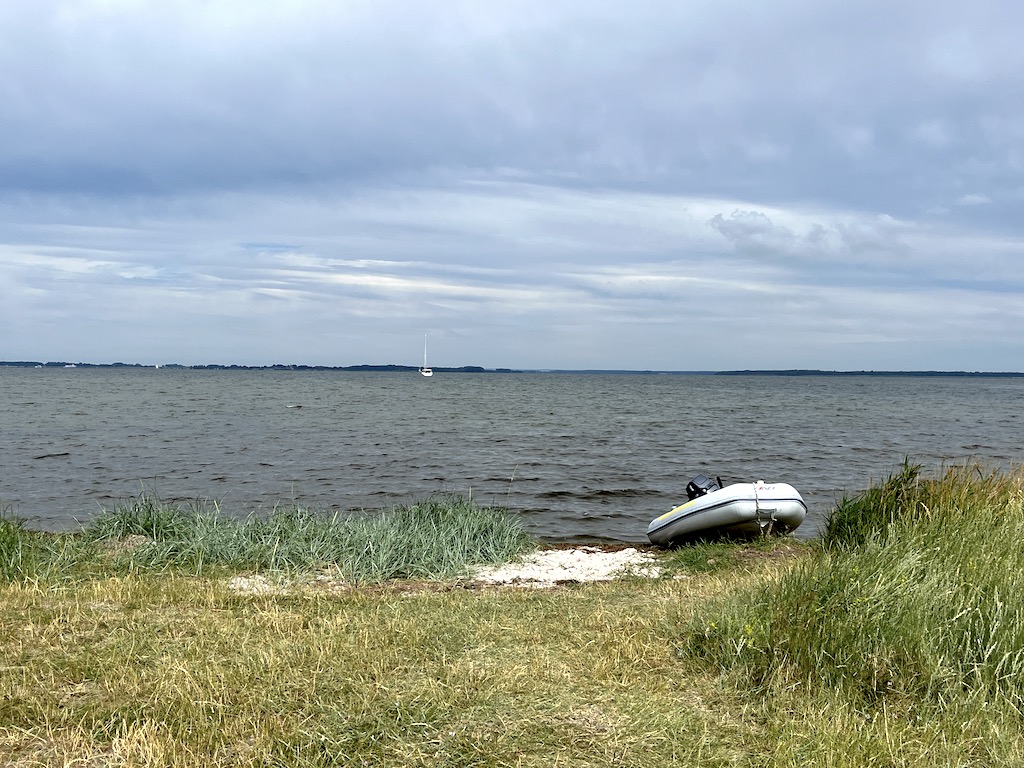 Blocked from walking south we gradually found ourselves in a small port, likely with origins in the fishing trade until visiting sailboats with shorter keels than ours started taking up residence. We talked an older couple into renting us bikes from their shop using Pedro's command of German and our trustworthy faces. The wife lamented that she had lost many bikes this summer to 'the Danish'. I'm not sure how three hard-to-trace people off of a universally white sailboat would be any easier to pursue, but I had to assume the cost of each summer's losses were baked into the prices set for the next season.
There had clearly been efforts to protect this fragile land from the temper tantrums of the sea by building dykes along the eastern shore. These dykes, similar to those built in the Netherlands, provided the perfect venue for an elevated ride through the fields of tall grasses gracefully swaying and receding with the ebb and flow of the wind. The island was graciously absent of Vespas spewing noxious gases in the air stirred up by the cacophony of their overworked undersized two stroke engines. Nor were oversized jet skis tearing up the water at organ-dislodging rates of velocity. Peace can be hard to find in this ever expanding world. Sometimes it is even harder in theses places of nature than in a big city, as everyone is outdoors sharing the same echo chamber. We felt very blessed to experience the peace and tranquility of a gem like Hiddensee in a state of being as natural as they can be found these days.
For about 1000 people, Hiddensee is their year round home and it was refreshing to see many of their homes still built with a thatched roof, no doubt using the thick reeds from marshes around the island. Every time I see a thatched roof, I am left to wonder how much longer this technique will survive, but it continues to persist in these more remote vestiges of civilization. From the looks of the age span of the work crews, it appears it is being successfully passed down through the generations.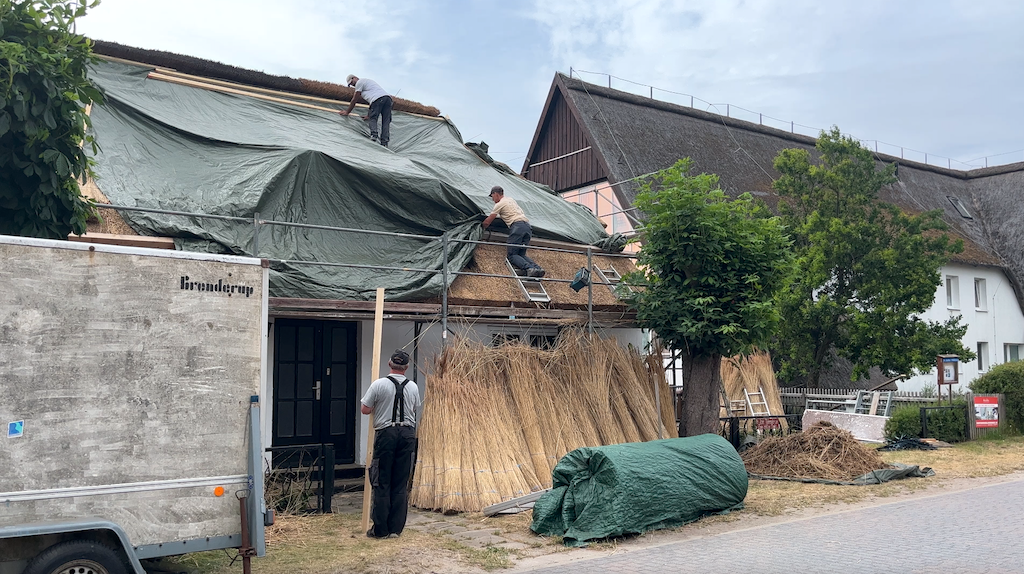 Back onboard Sea Rose, we had our first successful attempt at swimming in Northern European waters. With the seawater temperature near 70 degrees, one could take the risk of swimming away from the stern without feeling like you were severing an embilical cord critical to your survival. I would classify it as almost fun!
In the morning, it was time to find our way back to civilization and a train connection for Pedro's return home. The city of Stralsund was visible from our anchorage; we just had to find our way to and along the dredged channel to safely get there. Following our track line on the chart plotter made it easy to return to the channel, but along the way, while walking a tightrope of depth when another sailboat and then a passenger ferry met us, we bumped the keel twice on the bottom. It must have been all sand as we were able to power through and continue as if we were tripping momentarily on a fold in a rug. But it was not a feeling we wanted to repeat often.
It may have been the influence of the gray skies as a day of rain approached, but the city of Stralsund looked all the part of a previous East German city. It didn't take much imagination to picture the deprivation and hardship that once was, including long bread lines filled with aging citizens dressed in muted black and gray clothing. A few remaining tall brick warehouses occupied a waterfront that, prior to bombing raids in World War II, had been dominated by industry and trade. A member of the Hanseatic League, Stralsund's Gothic brick architecture reflected the prosperity of its 300 ships that traded throughout the Baltic Sea at their peak in the 14th century.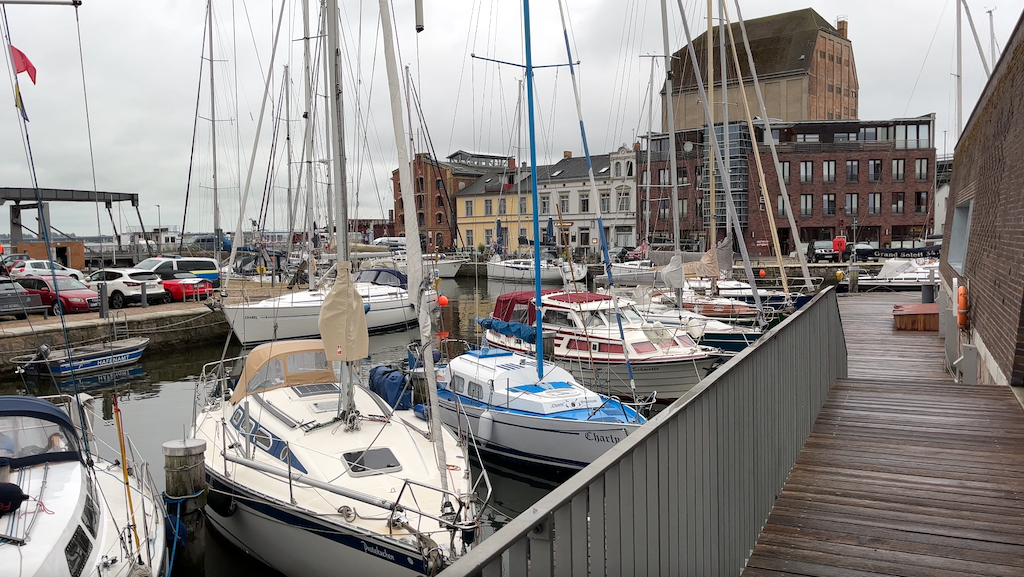 Evidence of a city's past doesn't always come in big packages like the tall waterfront warehouses. They can be small, subtle and reserved, leaving you to rely on your other sensory skills like imagination and reflection. These markers are down narrow alleys, literally at your feet, and they are numerous. Small square bronze plaques the size of a deck of cards indicated the name of a resident who had previously called this address 'home' but was subsequently taken away to a concentration camp during World War II. The deprivation of bread lines now paled in comparison. Our concerns of shallow water seemed trite. The war games offshore felt like the harbingers of human history, destined for the repeat cycle.
In the morning, we stocked up on as many groceries and libations as we could haul down the rough cobblestone streets, following the advice of sailors heading out of the Baltic reporting sky-high prices throughout Scandinavia. We half-motored, half-sailed our way out a twisty buoyed channel to the outlying coast of the Rugen peninsula, past the city of Griefswald, the landing location of the now infamous Nord Stream I and II gas pipelines. Our goal for the night was the tiny protected harbor of Thiessow, from which we could easily depart Germany the next day for the Danish island of Bornholm. But once again, the hazard of the day was the lack of deep water. As we approached the last mile of channel buoys into Thiessow, the depth below our keel kept dropping, starting at 1m, then 0.5m, then an abrupt stop at 0.1m. We were aground, right in the middle of the channel. We tried putting the engine in reverse, but Sea Rose just pivoted around a spot centered on the keel. We tried motoring forward, thinking that we could push our way through what might be a very brief shallow spot to deeper water beyond. Sea Rose pivoted back the other way on her keel. Where is the deeper water, we pondered in angst? Karen and I worked together to launch the dinghy and mount the outboard. As I headed out with our trusty handheld depth sounder, a fisherman in an open skiff slowly motored over on his way back to his home port. Despite an outboard of similar size, he politely declined to help saying his engine was too small. There is a 'code' of the sea directing one mariner to come to the aid of another in need. But I get it why some people tactful bow out. He could have been out on the water fishing since before dawn, or was afraid of risking injury or damage to both himself and us. We were stuck but no lives were on the line.
I started by probing around the boat for water depth. Immediately it became clear the only deep water was behind us. With Karen at the helm, I put the dinghy's bow just forward of the keel, throttled up, and pivoted Sea Rose around while Karen put the engine in full forward. Sand clouded the water all around us but Sea Rose began to slowly develop forward motion and soon enough we were clear of the shallows and on our way again. After a quick look around in the fading light, we found a perfectly good substitute anchorage around the corner at Gager in a wide open bay with plenty of room for us to swing on a long anchor scope. It's funny how accidents can have surprisingly positive outcomes.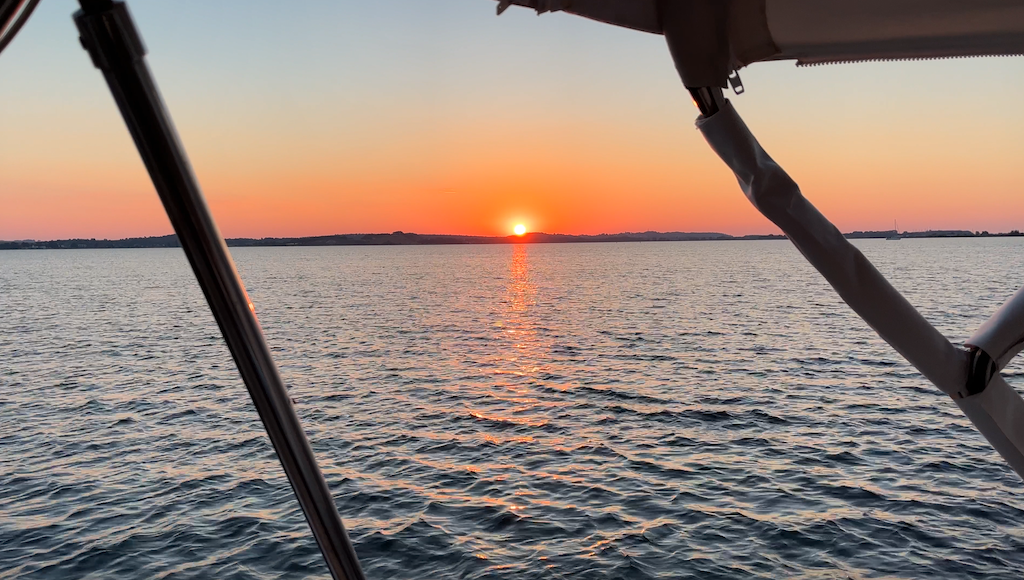 For the last ten days, as we explored this northern coast of Germany, we had experienced a corner of Europe little known to mainstream tourists. There had been plenty of charming small towns like Rendsburg, Warnemunde, and Stralsund. But there had been an irksome 'edge' to many of the people we had met – a distance, a standoffish style, an efficient but no-time-to-chat affect. Could that also explain why we had seen very few visiting boats? Unlike other cruising grounds, everywhere we looked nearly every flag was the black, red and gold stripes of Germany. We were grateful for the experience to see these waters, but I found myself dreaming of the much-touted Scandinavian hospitality. Tomorrow, we would endeavor to make this a reality!
Be sure to also checkout the video content on our LifeFourPointZero YouTube channel. We regularly post updates on our sailing adventures, as well as how to videos on boat repair, sailing techniques, and more!