I will be the first person to admit that we are extremely fortunate to partake in a lifestyle of our own choosing. While Karen and I worked very hard throughout our careers, watched our spending carefully and put a lot of our own sweat equity into projects instead of paying someone else, we owe our good fortune in this last quartile of our life to many people and events outside of our control. And to simple bum luck. I remember a late night drive home many years ago, nodding off long enough to cross the median and waking up just in time to pull out of the way of oncoming traffic. All those diapers my Mom changed, the shuttling to soccer and baseball practices, the fresh baked cakes for my birthdays – all of that could have been for not if I had awoken a split second later. We all have these inflection points in our timeline of life – tectonic, primal, retrospective. Karen and I had a very good friend develop cancer 15 years ago. She was fantastically athletic, her (and our) kids were still quite young, she looked like the picture of health – it did not make any sense. These landmark events can drive focus and block out the noise. Left with a clear signal, this is when I believe we can gain back control in our lives. For me, the signal was crystal clear. Our kids were getting older, my aptitude at navigating corporate politics was waning, my Dad had just passed, our nest egg was secure, and my health, while not as stellar as Emmy's, was the best it had ever been. So I quit. And eventually so did Karen. We purposely didn't call it retirement. I have always resisted labels as they quickly lead to stereotypes and, with them, dwindling opportunities to be the unique person that is you. Instead, we called it a sabbatical. But people still inquire, directly or subtly, what we do for work. You don't fully comprehend what an identity center "work" is until you stop working. To be fair, for some, their work is their identity and for good reason. They are masters of their craft and their identity is rightfully intertwined with their work achievements. There are the Nobel Laureates, but also a good many grade school teachers, fire fighters, car mechanics, family counselors, doctors, etc.
But when you leave work, what becomes of your identity? I'm honestly still trying to figure out this conundrum. In a bit of tongue-in-cheek, I changed my LinkedIn profile awhile back to 'Freelance Travel Writer', in part to spite my tenth grade creative writing teacher who had nothing nice to say about my prose. In the meantime, I am following my passion, sharing our adventures with friends, and encouraging others (some might say, annoyingly so) to listen to those life signals and get cracking before it's too late. The identity crisis can have its own pity-party without you!
We had had a splendid good time touring Galicia last week with Eric and Rhonda, and more guests were on the way to fill their flip-flops. You might recall our amazing trio of Don, Shelly and Dan joining us first in the Almafi coast of Italy and then the Cyclades and Dodecanese islands of Greece. They had now run the gauntlet of travel restrictions in Portugal and Spain, and made it through the other side with all appendages intact. Karen and I would endeavor to get them home in one piece, and maybe with a few special memories to fill out their luggage allowance.
Our first stop was a softball pitch of sorts, just five miles across to the tiny harbor of Rianxo. When friends fly internationally to meet us, we find it's best on the first night to go a short distance out and drop the anchor, no matter how short. Timezone shifts, a bit of anxiety, new surroundings – they all combine to make the first night a bit restless. The more we can do to get them comfortable without sensory overload, the better. Rianxo was the perfect elixir. Polar bear Dan disappeared overboard and soon was walking the beach, while the rest of us were dabbling in paddle boards and dinghies. The town could very well have been in its own identity crisis, caught as it was in this shoulder season between transient beach goers and full-timers. There was no lighthouse hike, no taverna – but reading the positive body language of our friends, my host anxiety was mine alone to own, not there's.
With a full night's sleep in the bank for the crew, we set out in the morning down the Ria de Arousa with a brisk breeze behind us. What seemed like the kind of topography that would draw wind in from the ocean and up inside the Rias was proving to be an inaccurate first impression. Rather, the daytime breeze would build from the East, making our exits from the Rias a pleasant flat downwind sail on the good ship Sea Rose.
We pulled into a broad anchorage at Boiro with the singular purpose of finding a good hiking trail ashore. Our dear friend Emmy had passed away this time two years ago, and we were the humble gathering on the European continent to memorialize her life in the most appropriate fashion. Her friends and family back home were hitting trail heads with much more vertical, but we all had the same goal of keeping her memory, her spirit, her drive alive.
It never ceases to amaze me that you can find palm trees in Northern Spain, but this is what greeted us as we landed the dinghy in Boiro. Soon, we were hydrated and embarking on our memorial hike, taking us through back roads of small villages and into farm land engaged in multiple purposes, including – always including – vineyards. Even California, with its copious beachfront palm trees, would have a hard time rivaling the combination with vineyards in the span of a few hour hike.
What we didn't gain in elevation we made up for in sights, as we passed a construction location for the local mussel farm rafts. These wooden rafts have cross beams that are as straight as telephone poles but substantially longer. Where they find trees so straight and tall, I truly wonder. These beams were then bolted together in a grid formation with fiberglass-encased steel tanks taller than a human being lashed underneath to keep the whole contraption afloat.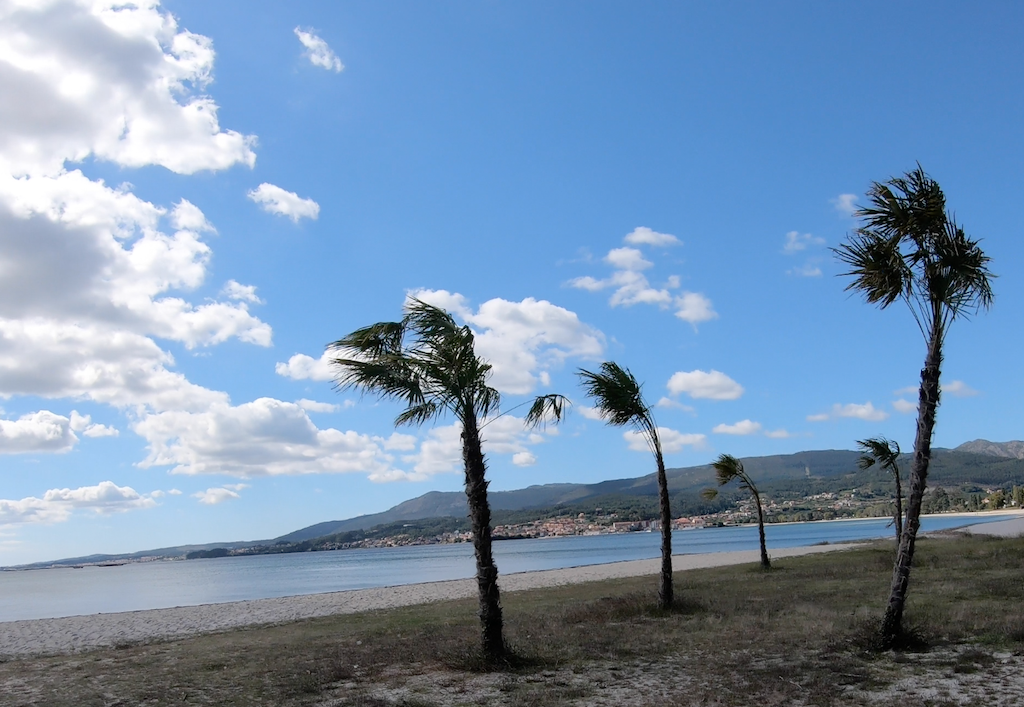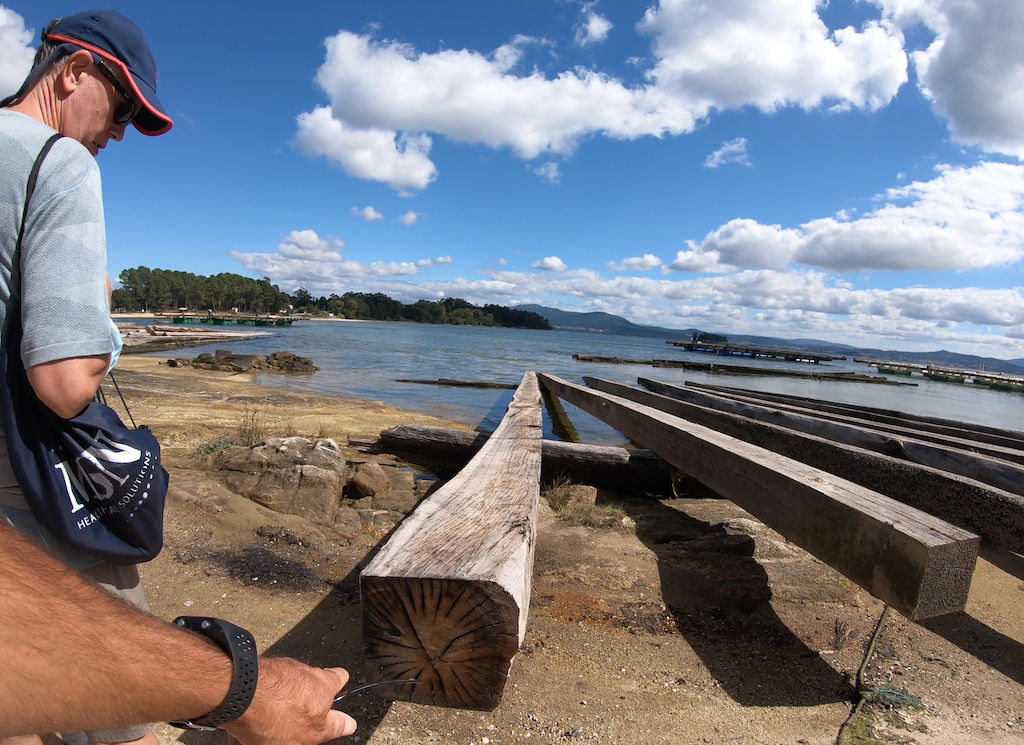 With so much to see in the Rias, we moved on from our lunch and hiking stop to the town of Ribeira where we would settle on anchor for the night. With no other boats at anchor, we had our pick of the litter, which was fortunate as the maneuvering was tight around several rocks just below the surface. We found perfect protection close into the beach where the steady winds didn't have enough fetch to build up any waves. At rest in the cockpit, a show was going on to our stern with what appeared to be dolphins chasing some big fish on the surface. As I continued to stare at this show of nature, it became apparent that these dolphins were staying in one spot. In actuality, it was a couple of sharp rocks breaking the surface as the tide dropped, giving the illusion with white water that the sea was alive!
In the morning, it was time to exit Ria de Arousa and find our way around to the last major Ria that is part of the Rias Baixas (or 'Lower Rias') region. We set our sights on the small harbor Corrubedo halfway between, and only a few miles by the way the crow flies from Ribeira, but almost a 15 mile trip by water to avoid dangerous rocks and shallows. It was a good problem to have, as we soon were sailing in a brisk 15 knot breeze downwind, with Don at the helm and the rest of us enjoying the view in our front row seats atop the foredeck. It's not often that both Karen and I get to chill out while underway. I think Don thought I was doing him a favor letting him drive, but it was quite the opposite! Our course took us around Illa da Salvora at the entrance to the Ria, which then exposed us to a steady rolling ocean swell. Through sheer luck of the weather, our new heading put us on a beam reach, allowing Don to ratchet up the speed and spread wide the smiles all around. The protection of the Rias had allowed us to relax and reflect, but it was sure nice to stumble on some wind to push Sea Rose along to her next destination. In today's case, as we pulled into Corrubedo, we were once again the only boat in the anchorage, down wind from a low lying village with a few beaches sprinkled between summer cottages topped with quintessential clay-colored Spanish tile roofs. On a dead-end road from the interior, and absent any significant commercial activity, this seemed like the perfect sleepy little ocean-front village to write a memoir. That is, until we were inundated by every living black fly in the universe. It was five humans with makeshift fly swatters versus the natives, and we were losing miserably. I've never seen a shore party prepare to disembark so quickly! Ashore, the conditions were altogether placid and serene. Long shadows stretched across empty streets as the last summer holdouts shook off beach sand stuck between toes and disappeared behind weather-fatigued wooden doors. As best we could tell, there was only one restaurant open for dinner on this shoulder season night. But sometimes one spot is all you need for a fine meal, as we passed around communal plates of salmonetta (aka red mullet), rabido, and sea bass.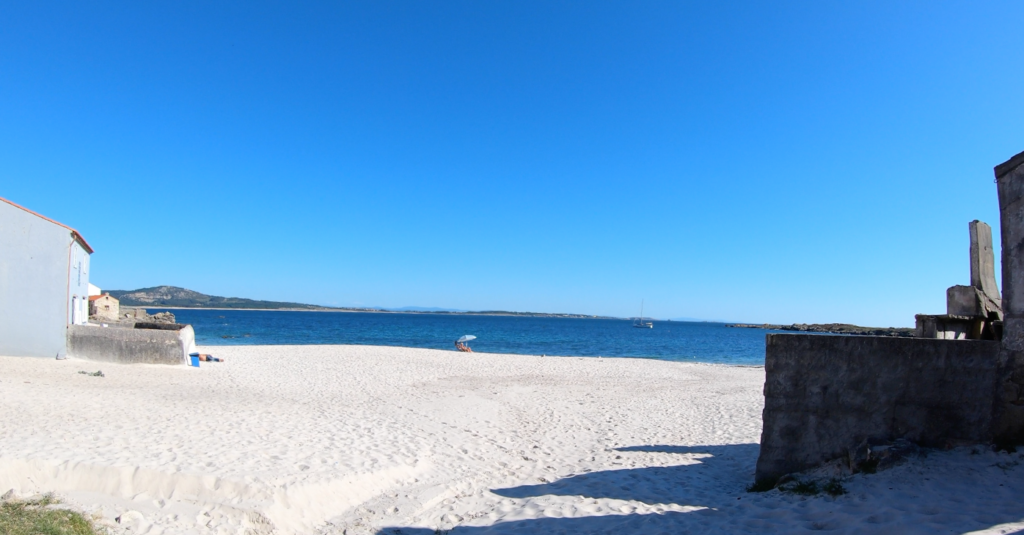 The return to Sea Rose at midnight involved careful boarding of the dinghy at the seaweed infused end of the concrete ramp at low tide, the avoidance of several sharp rocks out in the harbor that we had blissfully motored over at high tide, and a flick of the wrist faster than any major league baseball pitcher in order to kill off the remaining flies. With that, we settled down to attempt sleep on one of the roughest nights onboard, as 20 knot winds howled above in the rigging, and ocean swells carved a path around the point and into our little cove. In time, perhaps we would only remember that Corrubedo had fantastic fish!
Like clockwork recently, the wind came up right at 10am the next day. We set sail, left ample room off the lighthouse at Corrubedo and pointed the bow towards Muros 15 miles away in the Ria of the same name. There were coves and bays further north, but this would be the last of the lower Spanish Rias (Rias Baixas). The wind was not handing us a delicious beam reach sail like it did yesterday but instead a close-hauled bashing-to-windward affair, dropping our boat speed to the point that we had to augment it with the engine. Even then, the boat would slow to 2 knots after a breaking swell rolled under us, causing cavitation in the propellor, and uncomfortable stomaches. It's always easy to tell with a talkative crew when these sea conditions arrive, as the cockpit goes silent. Inch by inch, Muros came closer into view and we finally were able to drop the sails and prepare to tie up at the marina. As luck would have it, after trying to position all ten of our fenders along the hull, one slipped through cold hands and ended up in the water. The wind and waves were calmer now and as we circled around with a boat hook to fetch it, to our surprise, a large dolphin surfaced right next to us, as if it wanted to play with it. This cheerful mammal proceeded to kick and splash his way right in front of our bow, like he was the baton twirler leading the marching band on a parade. We lost track of him as we started to focus on docking Sea Rose in an empty slip, but as we finished tying lines, to our amazement, this dolphin was now pausing in front of a cluster of young adults dangling their toes in the water. He was letting them rub his back, touch his dorsal fin and tickle his tummy. He would go down the dock to each person and then circle back for another round of attention. We quietly joined the group, stripping our shoes off and gave love the way it should be shared. How incredible these creatures are up close, and so friendly.
Ashore, Muros is a town endowed with large plazas but oddly missing the typical cafe umbrellas and busy wait staff carrying octopus sizzling in garlic butter, fresh bread, and cold beers. It's hard to judge if this was just a post season reality or an all season predicament of Covid. In the morning, we at least found two bakeries to choose from. Apparently high or low season, everyone needs their treats!
As we dropped lines in the morning and Karen backed us out of the slip, as if on queue, our dolphin friend appeared out of nowhere and escorted us to the marina exit. I took one of our ball fenders and dropped it to the water. Sure enough, he would come up and nudge it with his nose. I would raise it, drop it again, and he'd repeat the play. I felt like a trainer at Sea World… fantastic.
It was time to wrap up another awesome week with Sea Rose friends, especially the human kind! We crossed the Ria Muros under gentle sailing conditions to tie up Sea Rose at Portosin, where we would find a driver happy to take our crew back to Porto. Another joyous week with friends was in the bank, at a time when we need as many of these shared memory deposits as possible. With so many unknowns these days, you don't want to find yourself overdrawn!