Table wine has to be one of those all time great pleasures of adulthood. It goes magically well with all sorts of food. It can be enjoyed by itself or with a variety of cheeses. By its very nature, it encourages you to slow down and enjoy the moment and the conversation with friends. It's a porthole into the local culture of a distant land. It can transport us back to a simpler time of ox carts, oak barrels, and eating al fresco style at a long wooden table with family. It carries with it all of the romance and practicality of farm-to-table dining. My parents would enjoy a glass of wine most nights with dinner, and so it wasn't a surprise for me to imbibe as an adult, especially as Karen and I started to explore our local Northern California surroundings. But then one day a friend put a glass of Port in front of me and I ran for the hills. It was like a first taste of beer or wine. You nearly gag on the stuff and wonder what the fuss is all about. By the time Karen and I sailed Sea Rose into the harbor of Porto, I had moved beyond the gagging stage, and had a relatively neutral relationship with the wine derivative. Yet, few people come to Porto and walk away with an unaltered view of the nectar. 
You have to be careful not to overindulge, and on a hot summer day it's difficult to resist picturing any liquid as a refreshment. Karen had booked two Port tastings during our visit, and we set out tromping through the narrow streets and across an iconic iron-girded bridge to the other side of the Douro river, technically not part of Porto proper, where all of the Port houses were located.
Our first stop was Calum. There are a number of prominent options next door to each other, with vast tasting rooms and comprehensive cellar tours conducted in multiple languages by well-appointed guides. Calum was clearly corporate money, run on a schedule that vied for Swiss-watch accuracy. This was no family run affair with grandpa coming out of the vineyard on his aging John Deere to balance greeting you and chasing away the chickens and barn dogs. Not that corporate was all that bad. Instead of siting on hay bales, we sunk into an ultra soft couch in a converted stone-arched interpretative center and alternated between Port varietals and extra orders of chilled water. Jet-setting 20-something Europeans had to weigh sitting on a couch too-close-for-Covid with an American couple, or hustle along to the next house. We were not prepared for the distractions of an air-conditioned tasting room, and soon found ourselves hustling along as well for our next appointment, along side streets and past noisy construction sites. When it was clear we weren't going to make it to Graham's Port Lodge in time, we stopped to catch our breath in front of a small sign marking Churchill's Garden Bar. We had stumbled into a garden oasis with terraced orchards descending to the river, coincidentally run by a family member of Graham's that had decided to strike out on his own. No nepotism for this gent, apparently! It's hard not to like a disruptive entrepreneur. And it was hard not to like Ports ranging from rubys, tawnys, and rosés in the shade of an orchard, close enough but separate from the hub-bub of downtown Porto.
We weren't the first to discover this oasis, as a tour bus soon pulled up outside and we were politely reminded of our agreement not to monopolize the picnic table all afternoon. It was a good thing, as a post Port tasting siesta was dangerously approaching. Along the waterfront back in town, replicas of the traditional old wooden boats called rabelas were lined up properly along the river bank as if they were still waiting to use the wind and current to run wine barrels up and down the river as they used to do as far back as the 10th century until mankind threw a curve ball by introducing dams and locks along the Douro in the 1970's.
But Porto is much more than a city plying its Port trade. If you can manage the sometimes precipitous street climbing reminiscent of Lisbon or San Francisco, you are rewarded with such gems as the Santo Ildefonso Church, with a tiled exterior shout out to the Baroque era. Nestled in between all of the cathedrals and plazas are street musicians serenading you along the way to a tempting potpourri of restaurants ready to re-energize you for the start of part two of the European day, which commences with dinner anywhere from 8-10pm. Alas, Karen and I had an early start in the morning; we'd have to trust the 20-somethings to carry the torch for us.
The tide was scheduled to turn in our favor and hit peak ebb at daybreak, giving us plenty of incentive to raise the anchor and be on our way, as we pushed north out of Portugal. We were bound for the Spanish region of Galicia, occupying a little time-out style corner of Spain in the extreme northwest of the Iberian peninsula. Most people think of Spain's prominent cities – Madrid, Barcelona, Valencia – but tucked away in this corner just north of Portugal is Galicia where we were told several extensive river systems ran deep into the interior, providing tantalizing protection from the tempestuous Atlantic. We had developed an expectedly deep fondness for Portugal, a country that holds its charms close, almost secretively, unlike the big bullhorns of Mykonos, Ibiza, and the Amalfi. Jutting out into the Atlantic as it does, we would without a doubt be back.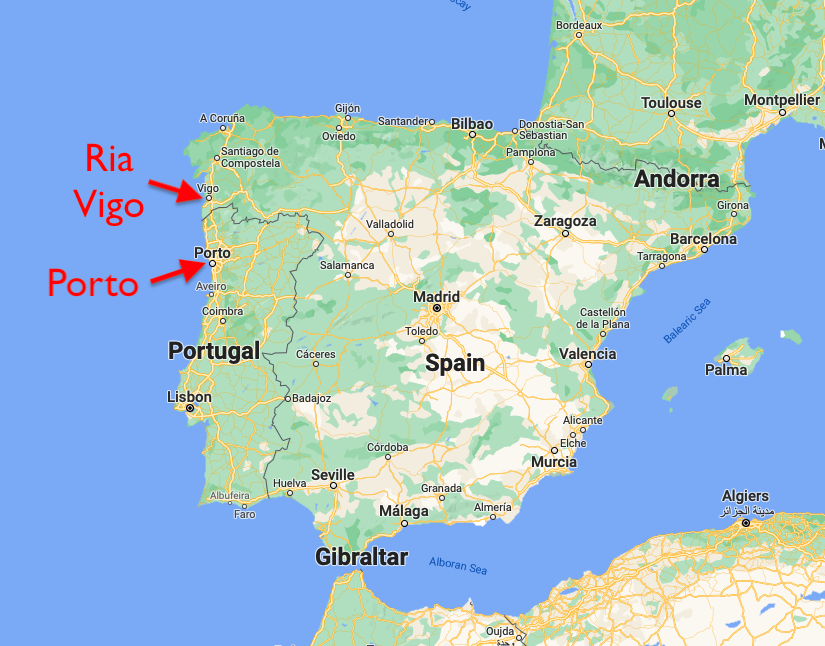 After being flushed out of the Douro River, we had 70 miles in front of us before reaching the first of the Galicia rivers, named Ria Vigo, a distance well within our wheelhouse after our earlier long strides up the coast. After passing the industrial port of Lexioes, with refineries juxtaposed with the fading charms of Porto in the distance, a light breeze developed from astern, tempting us to set our sails. But this rugged Portuguese coast with a reputation full of nasty weather had yet to lash out at us. Only a steady long-period swell rolling in from offshore reminded us we were no longer in the Med. OK, and also the clouds and threatening rain. The Galicia region, along with the northern Spanish coast stretching east to France, is nicknamed Green Spain for a climate that is closer to Ireland and the UK than the more well known arid interior of Spain. Warm moist air blowing in from the Atlantic is halted by a ridge of tall mountains, leading to lush pasture lands and thick forests. Our indoctrination into Northern European weather would be kicking into gear shortly!
Our first stop on the doorstep of the Ria Vigo was the village of Baiona. In our style of sailing, where we are moving steadily and trying to see as much of this beautiful planet as we can in our remaining time on earth, every once in awhile you need a utility stop, and Baiona seemed like the ideal option. A large anchorage in shallow water protected by a long breakwater – with grocery, chandlery and self-serve laundry ashore – checked all of the boxes. By the end of the day, with the errands necessary to keep a cruising sailboat and crew shipshape completed, we peeled back a layer of this understated town to better educate and enrich our Galicia introduction. The Pinta, from Columbus' fleet, returned to Baiona in 1493 and became the first ship with news of the American discovery. To be fair, it's widely understood Columbus didn't discover America, but more accurately introduced Europeans to the American continent. Vikings sailed across, and before them, migrants from Asia traversed the Bering Strait. In modern times, we made our own discovery in the evening, as we searched for a warm meal after a day of dinghying back and forth to shore in the persistent rain. Baiona was not a town to flash its wares along the waterfront. Visitors, the town seemed to insist, had to show more gumption. We discovered our prize hidden a block off the main drag down an alley only wide enough for pedestrians and hand carts – a treasure trove of tiny cafes and bars. It's possible this place was overrun with tourists in July and August, but on this drizzly September weeknight, locals shook hands or shared hugs with the proprietor before saddling up to a high top, next to others that found comfort in their espresso, cigarette and furry friend at their feet. I will never grow tired of the small outdoor European cafe scene. With an entry fee as low as a euro or two, you are welcomed into a social embrace whose dimensions of time and tenor are entirely of one's own choosing.
As we exited the anchorage the next morning, we couldn't help noticing the wide variety of northern European flags flying from boats surrounding us. Heading into the northern latitudes at this late hour of summer, we didn't know what to expect for boating company. If Portugal had been any indication, it would be pretty light. Yet here we were in the company of Swedish, Danish, German, British, French and one Norwegian boat. With the rain, and the lack of tavernas ashore, it wasn't quite the social scene we had left behind in the Med, but it was reassuring to know we were not alone. A few boats also flew a similar flag on their port spreader, which we found out later was the Atlantic Rally for Cruisers (ARC) rally flag. This crossing of the Atlantic wasn't set to start for another two months, but apparently people were taking extra time to explore on the way south to the rally's starting point in the Canary Islands, or maybe they had had enough of the cold and wet of the north.
Our friends Eric and Rhonda would be joining us in a few days and we felt the need to start checking out the various Ria Vigo anchorages to optimize their time onboard. Pre-covid, Karen and I would regularly have guests onboard – life is so much richer with friends to share in the journey – but we do find socializing and daily trip planning to be at odds with each other. The visit tends to go smoother if we have pre-planned a rough itinerary and identified multiple options for overnight locations based on a variety of weather scenarios.
Along the northern shore of the Ria Vigo are a string of small anchorages with long beaches to entice one to swim and explore with their benignly ankle-high wavelets coming to rest gently on the sand. The first, Enseada da Barra, is tucked behind a headland, protecting it from the steady ocean swells that seem to work past islands and peninsulas here with every intention of rolling your boat from side to side and keeping you up all night. It wasn't hard to find Enseada da Barra, as the headland had not one but four lighthouses marking its approach from the sea. Talk about redundancy!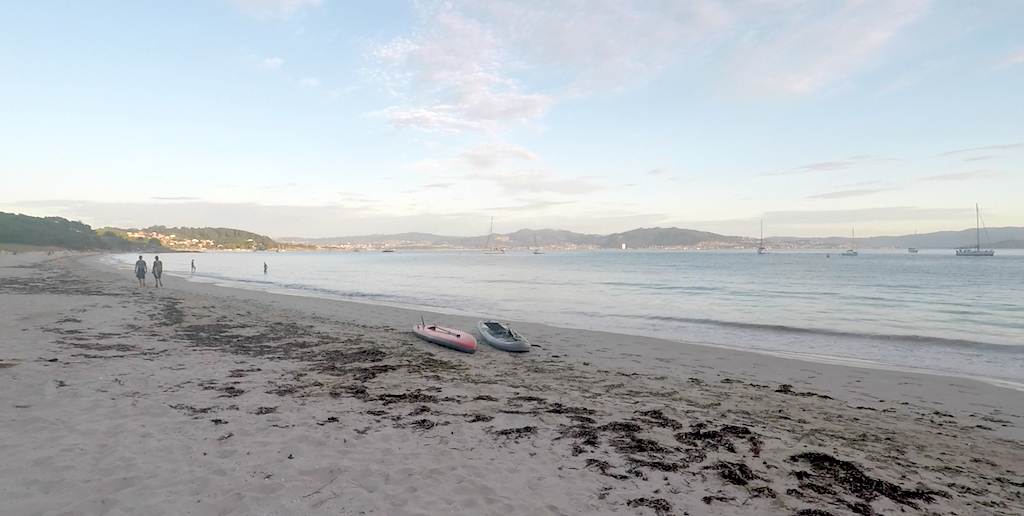 We had been tipped off by other boaters that the Rias supported a robust muscle farming industry with numerous floating platforms anchored to the seafloor, making it challenging to navigate around them. These floating farms, called viveros, were indeed sprinkled along the near shore areas, and we approached as close as we safely could to examine them. But they did not impede our ability to navigate nor to enjoy the safety of these waters. Consequently, muscles are served at nearly all of the local restaurants, and we didn't feel it was our place to criticize an industry that featured so prominently in the local economy with a menu item we would regularly order and enjoy locally. Here was a food offering that, unlike land-based farms that sometimes damaged the nearby sea life with fertilizer runoff, actually worked to positively clean the water with their filter-feeding physiology.
We settled for the night in the adjacent and curiously named harbor of Cangas with its own long sandy beach, tucked in behind a large muscle farm which helped to calm the seas even further. With so much muscle farming going on, and coastal waters rich in seafood, Cangas had its fair share of commercial fishing operations ashore. Yet like so many small towns in this region, work and pleasure seemed to easily co-existed, even thriving on each other. As a visiting tourist, there is a certain groundedness that comes with hearing the sounds and seeing the sights of day-to-day commerce in and amongst the shops and restaurants. I would like to also think that fishermen and women also prefer a bustling, local waterfront full of eager souls ready to order their fresh harvested seafood at local restaurants and grocery stores.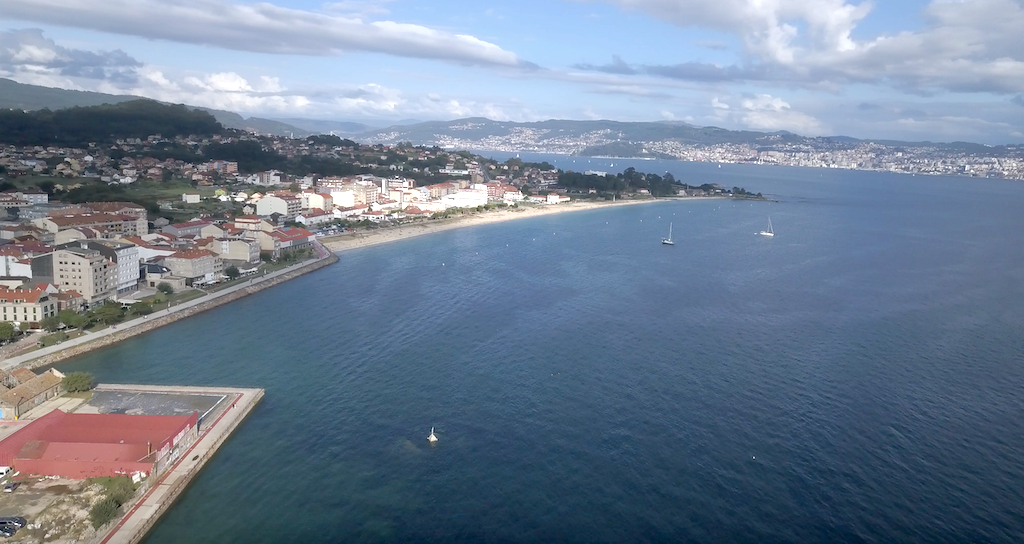 In the morning, we were up early to hop across to the namesake of this ria, the city of Vigo. Eric and Rhonda would be arriving later in the day, and the pre-arrival check list was growing rapidly. It was clear even before we approached the Vigo waterfront that commerce was priority one in this town. Massive working docks lined the shore. On one end, multiple car carriers tied up adjacent to a massive parking lot crammed with thousands of new passenger cars waiting for export. In the center of the waterfront were rows of dry docks and shipyards servicing large commercial fishing, research and tug boats. Next to them were a series of big refrigerated warehouses owned by Pescanova, one of the largest fishing companies in the world and the center of the Galicia canned fish industry. Finally, several tall container cranes loomed over the opposite end of the waterfront. For obvious reasons, we sought out a quieter alternative to overnight onboard Sea Rose, settling on Marina Punta Lagoa, nestled into a wooded knoll on the outskirts of town. The marina had plenty of space for us, with wide long docks and stout cleats. Our only challenge was on the communications front. We had been told to not expect much English in the Galicia region, and that was a very spot-on warning. No one answered our VHF call, and when a friendly man arrived by skiff to greet us, we got by with simple nods and hand gestures. Our usual list of questions on where to get fuel, buy groceries, do laundry, and eat out would have to wait for another time.
Even if we had been able to communicate, it wouldn't have changed our odds of finding an open store on this Sunday. Our best option seemed to be back in downtown Vigo. Not wanting to rely on hand gestures with a taxi driver, even if one could be found on this day, we took Option B of lowering the dinghy and motoring across the harbor. A city of industry is not a tantalizing affair on a Sunday and Vigo was no exception. We settled on the first convenience store we could find that was open, with packaged meats of unknown expiration but the upside of fresh baked bread. Otherwise, Vigo looked like a city who had lost its tourism director after a few abandoned false starts along the waterfront. Still, our first glimpse of the Spanish Rias teased us with their lightly frequented beaches, curvaceous offshore islands, and the fortitude of commerce to lay before us the tasty bounty of the sea. We were on the cusp of a whole new adventure in this secret corner of Spain.