The anchorage at Sagres, with its semi-circular beach, felt like one of those fancy curved-back love seats, the ones with the high armrests. To each side of us was high protective cliffs, the water around us had soft little ripples like corduroy, as the wind blew gently off-shore, keeping the surface free of swells. Tomorrow's forecast to tackle the west coast of Portugal looked even better than today's, so we took it easy exploring this mariner's outpost. At the point of land, a grand lighthouse stood watch over the tall headlands, making for a long range of light out to sea. Around its perimeter were the renovated remains of the 18th century Fortress of Sagres. It was flat as a pancake on the top of these headlands, with built in protection on three sides with the sheer cliff drop off. The designers only had to take into account a secure wall across the narrow land entrance.
Pre-dating the fortress was a navigational school established here by Prince Henry the Navigator, the Portuguese father of exploration and the person generally credited with launching the Age of Discovery from the 15th to the 18th centuries. The only hint at such grand roots was a large 'mariners compass' on the grounds.
Back onboard Sea Rose, we double-checked the wind and wave forecast, the oil level in the engine, re-secured the dinghy, and various other tasks that kept our minds busy. Still, it was a restless night. Before sunrise, we had the anchor up and motored away, past the prominent Sagres light under gray skies and foul-weather gear temperatures, as the wind rose to a steady 22 knots on our nose. If beauty can be found in the raw and the vulnerable, it was here.
In the distance beyond Sagres was Cabo de Sao Vicente, with an even more prominent lighthouse and a large white-washed adjoining monastery. We stayed five miles offshore, taking the advice of others who had transited past this point and avoided the rough breaking seas close to land. Until the 14th century many believed this was the end of the world, and it was easy to see why.
Soon the gray skies lifted and the winds shifted to the northwest, allowing us to sail close hauled to our destination 60 miles north at Sines. Despite the desolation, several boats came around Cabo de Sao Vicente just after us, and several more roared south in broad reaching conditions. It felt great to see other sailors roughing it with us. That, and a few crackers to keep the sea-sickness at bay, was enough to keep us smiling.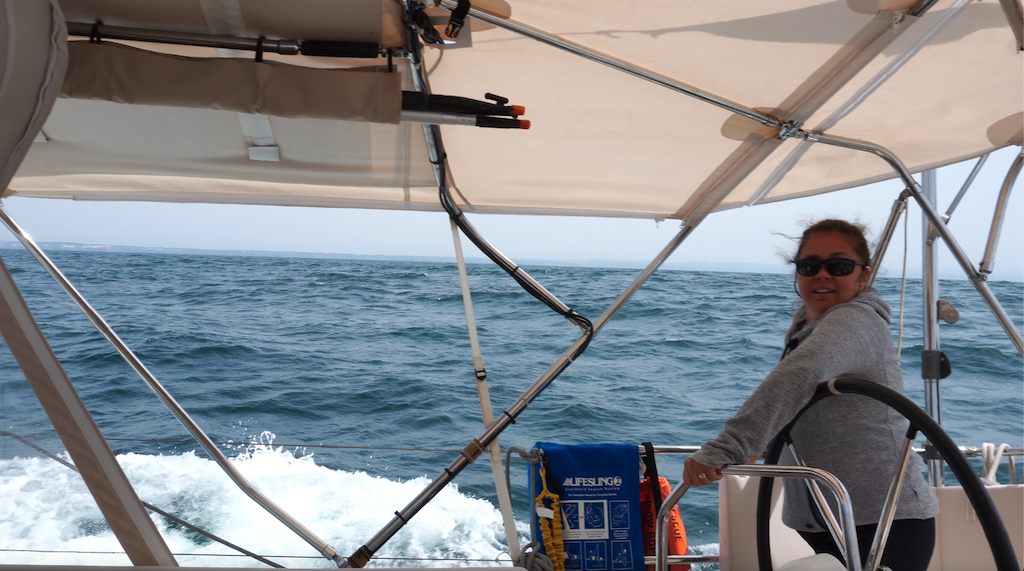 We agreed to one hour watch changes, keeping the helmsperson fresh and alert. As everyone knows, the Portuguese are fanatical about fish, and lines of deep sea fish trap buoys regularly intercepted our path. Their identification was made much easier by standards apparently adopted by these offshore fishermen whereby the east and west extremities of the buoy line are marked with a unique combination of colors and flags. It was great to see these policies in place, as no one wants to get tangled up and disabled in these waters. There's the tangible loss of fishing gear for sure, and the very real loss of personal safety.
After the stunning backdrop of the Algarve, we weren't expecting too much from Sines. As we approached, tall manmade breakwaters made up of irregularly-sized concrete forms took on the exaggerated dimensions of the old game of Jacks. These breakwaters ran several miles in both directions from the Sines harbor. Inside, another pair of massive breakwaters protected the inner harbor. When the human race puts this much energy into creating a harbor out of a little indent in the coast, it can only mean one thing. Corporate money. Sure enough, a glance left and right revealed a large oil refinery, a container port, and more buildings and cranes for big ship repairs. We debated briefly about dinghying into shore, but it had been an early start to a long upwind sail. A glass of wine, light dinner, and a flat bunk were the simple means to an end of the day.
Uncharacteristically, we had no clear destination the next day. A large hook of land south of Lisbon provided protection from the northerly 'Nortada' winds, but when we researched each anchorage or marina, they were either too shallow or too industrial to warrant any accolades from prior boaters. Compounding our conundrum was a pungent sulphur smell that had descended on Sines as we pulled away. At first, we figured it was the unpleasantries from the oil refinery, but as we pushed north, the offensive odor deepened. Not a breath of wind rippled the water, and just above, you could see a layer of pale yellow in the air. I grew up in Southern California in the 70's, when everyone drove everywhere using cheap leaded gasoline. When the wind took a break, the same yellow toxic blanket descended from the sky and chilled any joy of SoCal living. I had thought we had left this noxious pollution behind decades ago.
We aimed for Setubal, but with instant headaches forming, we turned west along the shore intending to go all the way to Lisbon if necessary to find fresh air. A little beach named Praia do Ribeiro do Cavalo caught our eye as the wind came up and the smog dissipated. A few boats were at anchor, and families and couples played beach games along the water's edge. This spot warranted at least a swim break. As we headed more north this summer, opportunities to cool off in the water were going to be harder to find. To our delight, the rocky inlets provided a nice avenue for paddle boarding, and we actually spent a few hours relaxing on the beach, like normal tourists! As the light faded, rows of tanned bodies could be seen exiting the beach and snaking up a path into the brush, disappearing along a trail some unknown distance to a car park. We decided to ditch any exit plans and just stay here for the night. There was no indentation along the shore for protection from lateral winds, but the evening had flattened out into a peaceful interlude between day and night, as a few stragglers on the beach seemed to not want to let go of the day. I could fully identify with them!
We had been fortunate with workable weather so far along this west coast of Portugal, so we weren't too disappointed when the following day's forecast called for strong Nortada winds. We left at first light, as we always do when we know the day's weather will turn against us. We rounded another prominent white-washed lighthouse at the tip named Farol do Cabo Espichel – the Portuguese took coastal navigation here very seriously – and turned our bow right into the wind as we laid a course for the town of Cascais, a common waypoint for boaters visiting the Lisbon area.
As we got closer to Cascais, Sea Rose handled the strong headwinds easier as the fetch across the bay was reduced. Within a mile of the marina, the wind peaked at 25 knots. Moments later, as we approached the fuel dock, the flags are laying limp against their flagpoles. This was certainly a temperamental area for mariners.
The staff guided us to a comfortable slip with a traditional setup using finger piers. While I miss the nostalgia of Med mooring, neither of us miss the drama. We tied up with extra lines so that Sea Rose could rest securely while we took a few planned days off the boat to see the local attractions. The extra lines paid their dues in short order, as the wind built inside the marina, Sea Rose started heeling over, and I dashed below to see the anemometer register 37 knots. If it was this windy inside, I can't imagine what it was doing offshore. If this had been any marina back home, it would have been cause for major alarm by staff and boat owners. Yet people here leaned a bit more into the wind and soldiered on without concern.
Cascais has a little bit of French Riviera flare, and oozes charm, so charming that the mayor of Lisbon lives here instead of the big city, and there's a rumor his dashing style leads him to take a dip in the water everyday before work.
My impressions of Portugal before arriving here this summer were how most New Yorkers think about the U.S. Was there anything else besides Lisbon? Our last week of sailing had cleared that matter up. Now it was time to see if Lisbon was worth all the capital-of-the-country hype. Karen and I eagerly hopped on the super convenient and regularly running train from Cascais to Lisbon to fish out some answers as bonafide tourists. 
Right away, the cosmopolitan nature of Lisbon hits you in the face, and the nostrils. The train station empties its passengers across the street from the aptly named Time Out Market, a vast indoor bizarre of food and beverage stalls. You can even be cheeky by pouring yourself a cold pint of brew at the self-service bar. We ordered some kind of tiny toasted bread specialty with varieties of fish layered on top, all at exorbitantly swanky big city prices that somehow escaped my accounting on account of the good time and good cheer all around. I felt like the dad in that cruise ship commercial that is having such a good time, he risks embarrassing the rest of his family. It's a good thing Karen signed a long term contract!
Lisbon rises abruptly from the water's edge, casting reminders of the walking trips Karen and I did while we were dating in San Francisco. The exquisitely endearing street trams continued the parallels with SF, and gives one a refreshing break from hiking the hills, if you can find room onboard. I couldn't help but see a bit of Haight-Ashbury in Lisbon's bohemian Barrio Alto neighborhood. The sun had set and the timing was right for some dinner when we arrived there. We found a restaurant with four tables outside – how these places survive with such small capacity I will never know – and we wedged into two rickety chairs around a cafe table the size of a small pizza on a sloping corner busy with people and cars nearly running us over as they carved the corner. But, hey, the people watching was perfect! Dining in the barrios of Lisbon, in the capital of Portugal, you can order something other than fish, but it feels a bit like going to Ghirardelli Chocolate Factory in San Fran and ordering a slice of lemon meringue pie.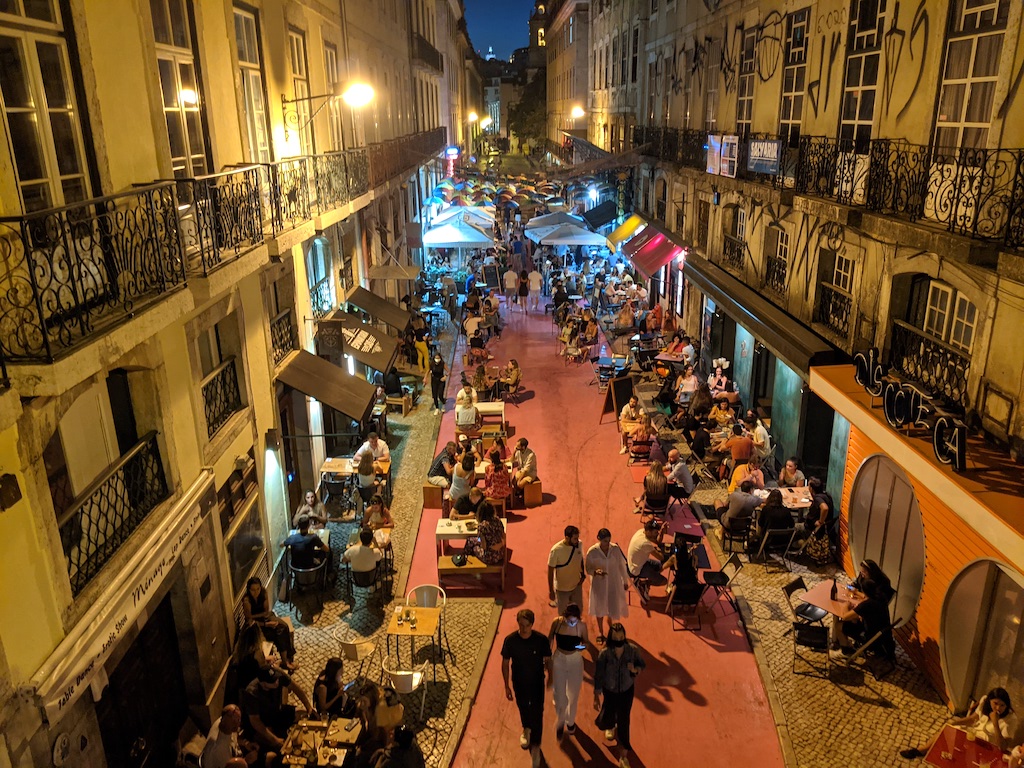 Back home onboard Sea Rose that night, being rocked asleep by the pulsating winds outside, I was left to wonder if my beloved Greece would forgive me. I had become quite smitten with cosmopolitan Europe, and our northerly course hinted at even more. I will make it up to you some day my dearest Athena!