We've been out of the US for almost four weeks and we've been living aboard our sailboat for almost three. We know nothing more definitive today regarding how specific countries or even certain islands within a country will respond to increased risk of community spread of Covid-19 than we knew a month ago. We have come to believe the only thing that is certain is uncertainty. As tourism and summer vacation travel have increased in Europe, we have observed the implementation of new or adjusted restrictions. Because of this, we recently decided to extend the time we would sail in Greece before transiting to another country in the Mediterranean. We would re-evaluate regularly.
Our next big decision was where, in Greece, did we want to explore? We thought about going north toward the Saronic islands. We had spent a little time there after passing through the Corinth Canal but we had to move along into the Cyclades at that time. The main challenge with this option was fighting heavy winds. To get to the island of Hydra, for instance, we would need to head northwest into a region known for very strong and pretty much non-stop north winds, especially during the month of August, which we just crossed into! I suggested Crete; it had never been on our itinerary because of the limited time we had thought we would be in Greek waters. However, now that we have extra time and we were eager to take a break from the relentless winds in the Cyclades, we planned our passage toward the middle of Crete's long northern coast, to Iraklion specifically.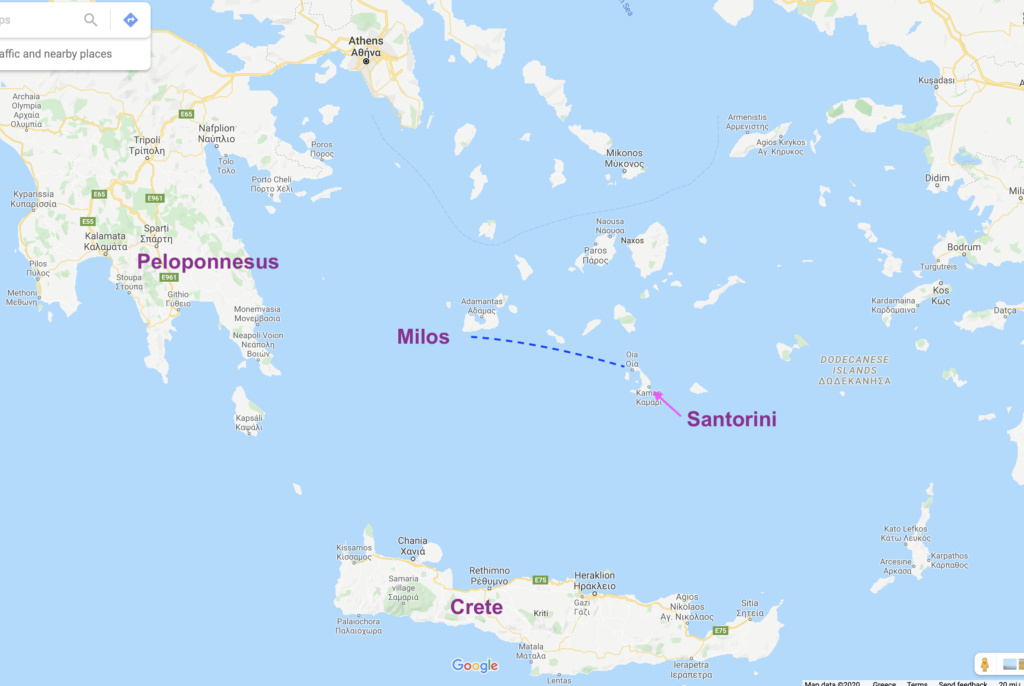 We anticipated exploring the island of Crete for a week and focused on the western half so we could jump up to Peloponnesus more easily afterward. Santorini would be a perfect island to leave from to make way for Iraklion. We loved Santorini when we stayed there for our honeymoon 27 years ago and on a normal year it would be nearly impossible for a private boat to spontaneously stop there given its immense popularity. Yet, as we all know, 2020 is far from normal; maybe we could make this work!
After a bit of research, we discovered a place called Captain John's Restaurant that offers moorings on Thirasia, the island right across from Santorini that forms the other side of the volcanic caldera cliffs. Nightly, tourists sit in restaurants in one of the hundreds of famous white and blue buildings that trickle down the Santorini side of the caldera and look over at Thirasia and other islets to take in the sunset. Maybe we would sit on Thirasia and watch them watching us!
The location of Captain John's was perfect for the forecasted winds so we bid Milos Island a fond farewell and pointed our bow toward Santorini and Thirasia, 43 nautical miles east southeast. We had strong winds then light winds. We even had no wind for a stretch but we finished by screaming around the northeast point of Thirasia.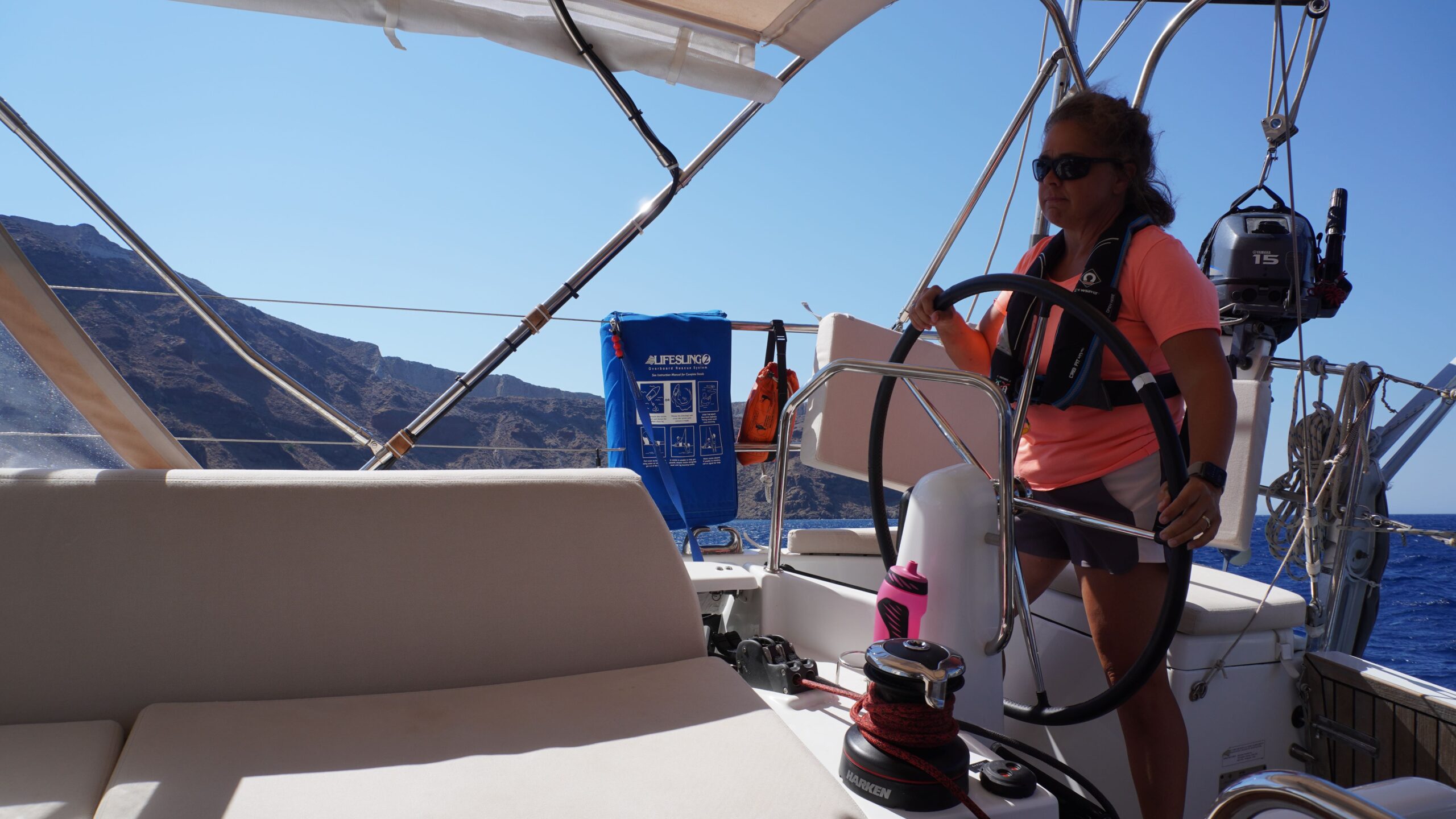 There is nothing that can prepare you for the immensity of this caldera! Navigating into the middle of it on your own sailboat is an experience I will not soon forget. We are like a tiny rubber duck in an Olympic-sized swimming pool. The height of our mast is absolutely dwarfed by the surrounding steep cliffs. The water depth is so great it doesn't even register on our sounder until we are less than 30 meters from shore. The tall cliffs looming nearby are just about to shut out the afternoon sunlight. There is a very small development along the water's edge … 3 small restaurants (at least one of which was closed), a couple houses and not much else! We see a steep walking path switch-backing up to a town on the top of the cliff and we know we have to follow that path. Hopefully, there will be a dinner option but for now we are focused on what the view from the top will be!
Here are some pictures we took on our walk: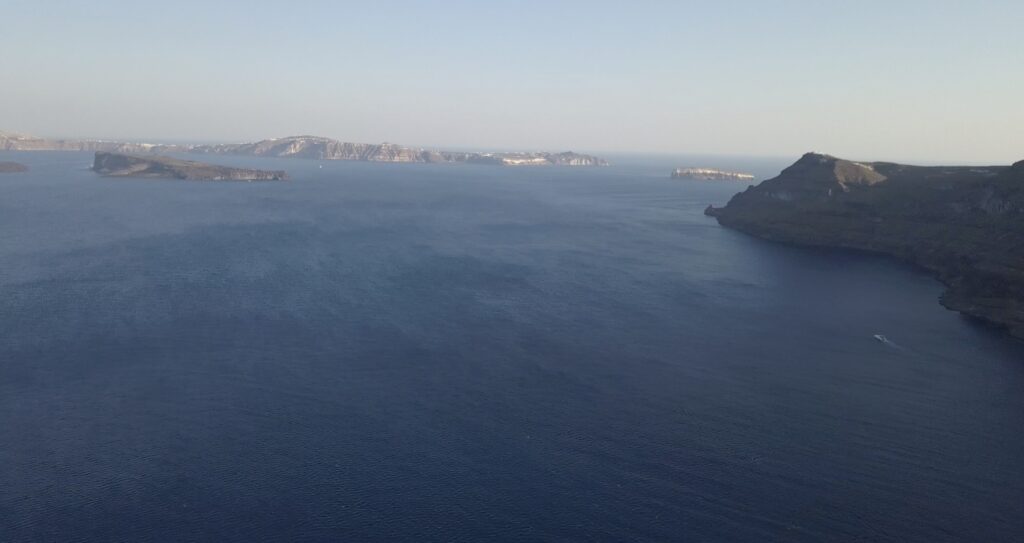 The main Santorini town across from us is Thira and it is about five miles across the caldera from our vantage point. The total crater is roughly six miles long by four miles wide. Let that soak in for a minute. Think of something that is five or six miles away from you and imagine everything between you and that point suddenly flying up into the air such that there is nothing in front of you except a hole that is around 2000 feet deep. Santorini's caldera stretches from roughly 1000 feet below sea level to 1000 feet above sea level.
Tom flew the drone from here and got some unique footage (seen above) but it is still hard to show the scale! As we were taking in the view, we came upon the family from the boat next to us. They were German and Austrian and we were enjoying our conversation. When they asked if we wanted to join them for dinner, we eagerly accepted. All restaurants serve outdoors so our risk of exposure to the virus was minimal. You naturally spend a lot of time in your own (small) bubble when you live on a boat so when we get the rare opportunity to socialize, we typically take it! They had visited Santorini and encouraged us to do so as well since this year is so much less crowded than it would typically be. However, we chose not to so that we could keep the memories of our time on Santorini during our honeymoon intact and uninfluenced. We talked late into the evening before walking together back down the path. We each approached our own dinghy and said our 'good-bye'.
Sometimes I get sad about not being able to maintain friendships with other cruisers we meet. They are often such interesting people. However, I try to be realistic about the likelihood that our plans will collide again. If they do, terrific – that will be a bonus. I try instead to be thankful for the experiences we have with new people. I think about at least one interesting thing I can hold on to that will help me recall these people and their lives. Thanks for the pleasant evening Ulla, Marco, Clara and Phillip – stay safe!
We drove out of the southern opening in the caldera early the next morning bound for Iraklion, Crete. We were still dumb-struck by the magnitude and the beauty of this place.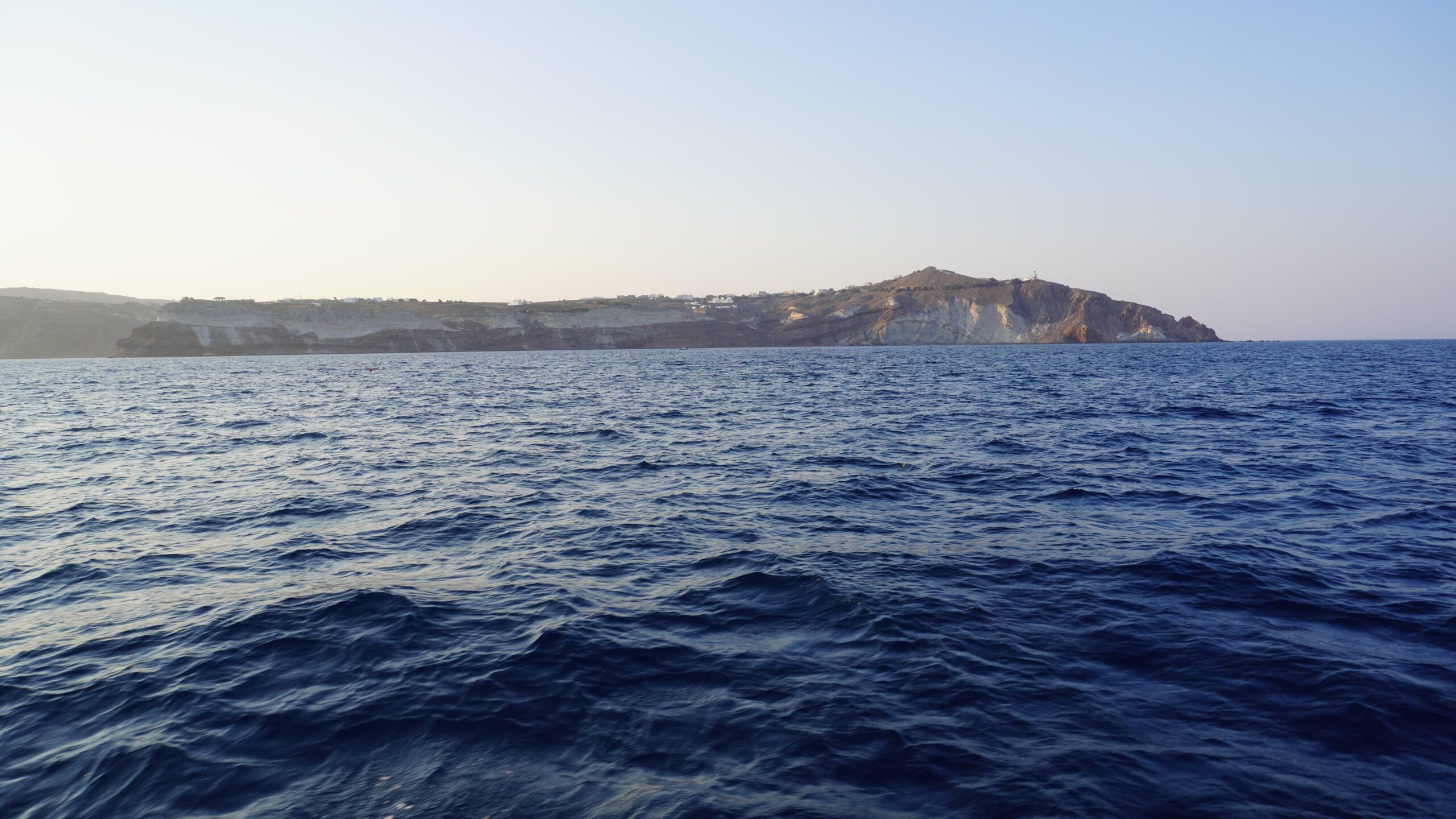 Like the volcanic island of Milos I covered in our previous blog, the geology of Santorini as we know it today is the result of hundreds of thousands of years of volcanic activity. However, an eruption that occurred around 1600 BC reshaped more than the land masses here. The explosions were so huge that the island of Thira (as Greek's call Santorini) was devastated. It also destroyed communities and agricultural areas on nearby islands and on the coast of Crete with related earthquakes and tsunamis.
Since 1967, excavation has been ongoing on Santorini's gently sloping 'back side' of the volcano's caldera. The site is called Akrotiri and it has been identified as an ancient Minoan settlement dating back to the third or fourth century BC. The sophistication of the discovered artifacts, which include multi-story buildings, pottery, frescos and an advanced drainage system, lead scientists to believe this was one of the most advanced civilizations on earth at that time. All of the findings were remarkably well preserved because it was quickly buried in ash from the eruptions and life as it existed just prior to that cataclysmic event was entombed and remained untouched and likely undiscovered until some local people found old artefacts in a quarry in 1867. It would take another 100 years before the significance of this settlement was fully understood!
Tom and I visited Akrotiri in 1992 and it was a remarkable place then! If this type of thing interests you, Pompeii, near Naples in Italy, is also impressive. The city of Pompeii was similarly well-preserved by being buried in volcanic ash after the eruption of Vesuvius. However, the settlement at Akrotiri was buried almost 2000 years before Pompeii and thus the civilization which was preserved there was truly prehistoric but surprisingly advanced!
Stay safe everyone and join us in Crete for our next episode!
Here are a couple sources if you would like to learn more about the geology: