This blog post covers our departure from Donousa, a stop along Naxos's south coast and ends with stunning Milos and the nearby islands of Palaigos and Kimolos.
Some stops are nothing more than functional … 100% utilitarian, with little to no entertainment value and that's just how it is! This should be fine, right? However, it is easy for all of us to get caught up in wanting an amazing experience at every turn. We really struggle when we have friends or family on board because they only have a week and we want each day to be full to the point of overflowing with sights and activities; we hope that each evening's anchorage will be beautiful and memorable – yet one without drama where we can all get a restful night's sleep. If you have spent any time living on a sailboat or going on an extended driving trip, you know how hard it is to balance moving along on your planned, longer-term route while also having enriching or exciting experiences.
I was looking at the current portion of our summer's journey as something to tolerate between special stops. We had recently left the amazing islands of Samos, Patmos and Arki and we were headed toward renown Milos but we had at least two stops along the way. However, the first of these stops was in Roussa Harbor on Donousa – the final island Tom covered in the previous blog – and it was a very pleasant surprise and a place I would hate to categorize as functional. We had a beautiful anchorage with calm seas in the large, protected bay as the wind was wild just outside and the busy, welcoming taverna fed our souls as well as our bodies.
We raised our anchor early the next morning for our trip to the southern coast of Naxos and we immediately encountered what had been battering the area while we slept. We were hit by gusts just shy of 30 kts and the seas were chaotic and tossing us about as if we were its play-thing! We know in our brains that both the wind and the water are compressed and exacerbated the closer you are to land. With the high elevation islands that pop straight out of the surrounding deep blue sea, the waves rebound off the steep cliffs of the land and the water that had previously enjoyed great depths is now squeezed by the shallowing of the sea floor. We knew it should get a little better, but it still wasn't fun and we couldn't wait for it to calm down. I had barely poured my coffee, let alone given it a chance to wake me! Yet, like clock-work, 20 minutes beyond the influences of the land-sea boundary and we were in better conditions. The wind was a steady 23 kts, the gusts had largely disappeared and the seas were large but not as messy – they had a regular rhythm to them. With 2 reefs in both our main sail and our jib, we were comfortable enough and we had good boat speed (6 plus knots).
In all, we would travel 21 nautical miles, which had us underway for about four hours. It wasn't long until familiar sights came into view. To the south of us, we could see Koufonisi and the island group known as the 'Small Cyclades' where we had sailed the previous summer with friends Steve and Christy. And, we were soon in the lee of the large island of Naxos to our north; our intended destination was a bay on the southern point. While Naxos is an amazing island with lots of variety, we picked our anchorage for the night because of protection from the wind and seas and for the convenience of being on our direct path to Milos, 40 miles west-southwest. Tonight would be our utilitarian stop.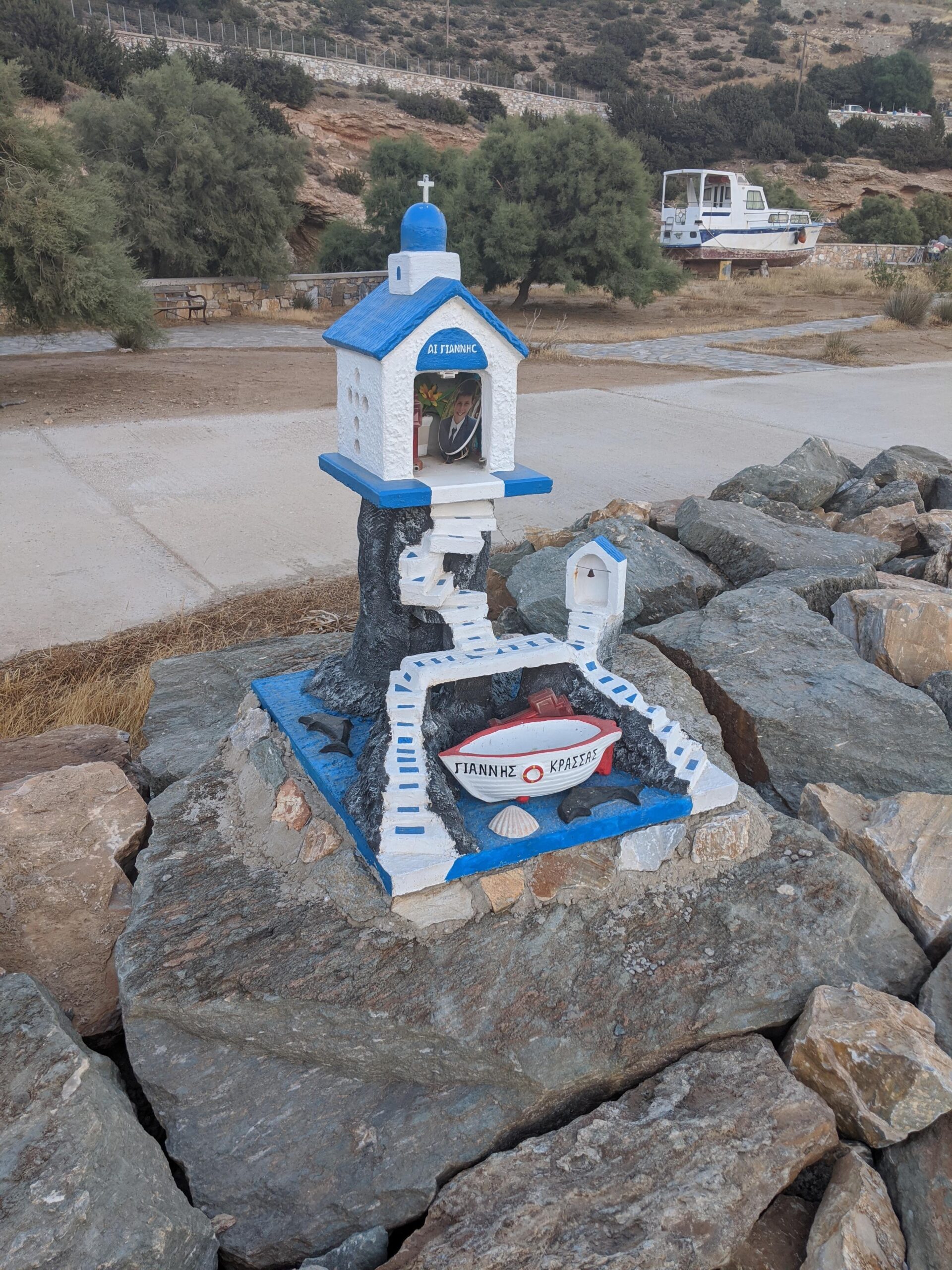 We had heard of Milos' beauty and appeal from a number of sources and this had us excited to see this island and her nearby neighbors for ourselves. Look again at the map of this episode's travels (above) and locate Milos in the lower-left corner. You'll see two sizeable islands, Polaigos and Kimolos, that make the points on a triangle with Milos being the final point. The area between these islands forms a sheltered cruising bay that is popular with people like us and with tour boats. Before going to Milos itself, we decided to anchor in this center cruising ground off the island of Polaigos. When we arrived, the anchorage was a little crowded so we decided to anchor and back toward the shore and find a rock structure to tie off to. This crazy mushroom rock is the view we had from the back of our boat.
A word (or many words) about the geology of this area
These island's land masses are almost entirely made from or as a result of volcanic activities that is thought to have started 2-3 million years ago and ended 90,000 years ago. What I found striking is that most geological research agrees that the bulk of the formation of Milos and, to a lesser extent the other two islands, took place under water! Santorini, the volcanic caldera to the southeast of Milos is also the result of volcanic activity but in that case, the entire center of the volcanic dome collapsed after the explosions and subsequent lava flows. What was left is the steep-sided cliffs of the caldera with the collapsed center forming the sea floor in this massive area.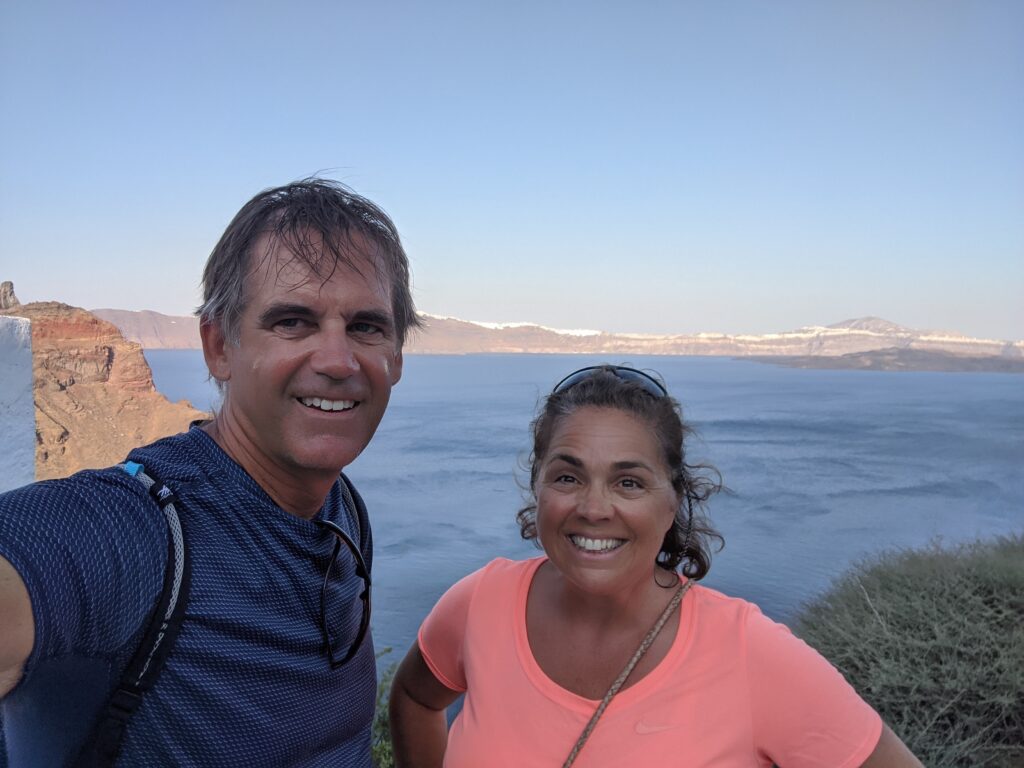 These volcanic islands are both part of the South Aegean Volcanic Arc which stretches from mainland Greece to Turkey and it results from the African tectonic plate is subducting (or going below) the Aegean plate. Many collections of volcanoes around the world exist near subduction zones like this. One plate is rubbing against another as it dives down below and this massive friction and pressure causes magma to change and move and it often rises and becomes what we know of as a volcano in the earth's surface, whether that surface is above or below water … or somewhere in between! Obviously, this is a very simplistic explanation of a complex series of geological changes but if you are at all like me you need to have some explanation for the remarkable rock features that dot our amazing planet's landscape. When I saw this place, I had to do some research! Ok, back to the present.
Our first anchorage in the area was incredible and the beauty kept us for a second night. There was so much to take in.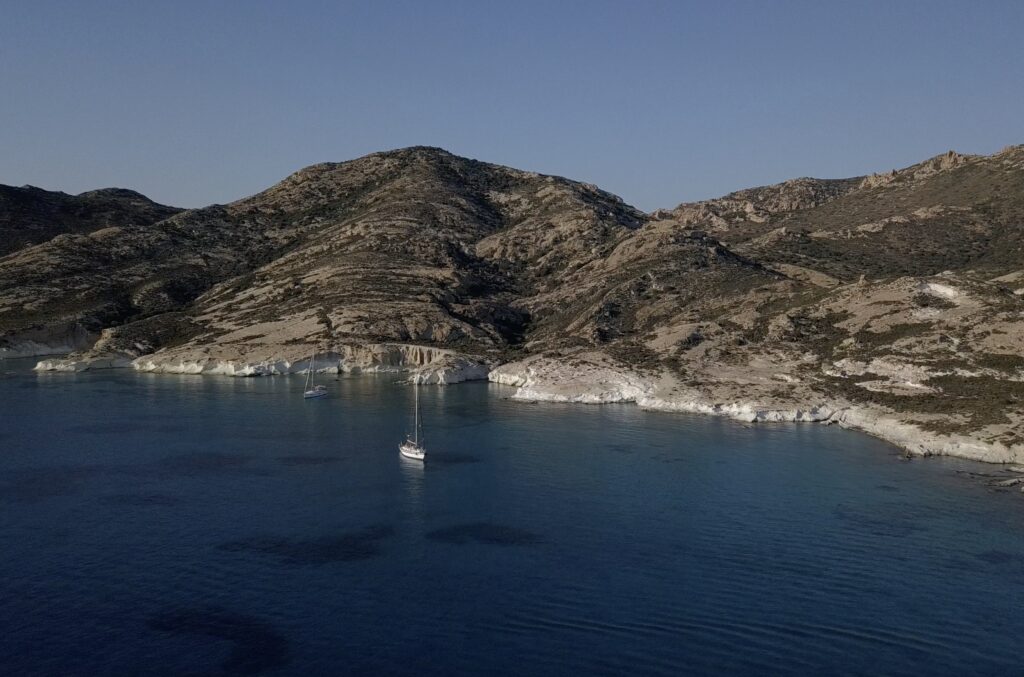 We spent several hours in our dinghy driving to different coves both on Polaigos, where Sea Rose was anchored, and over on Kimilos as well. Here are some of the highlights: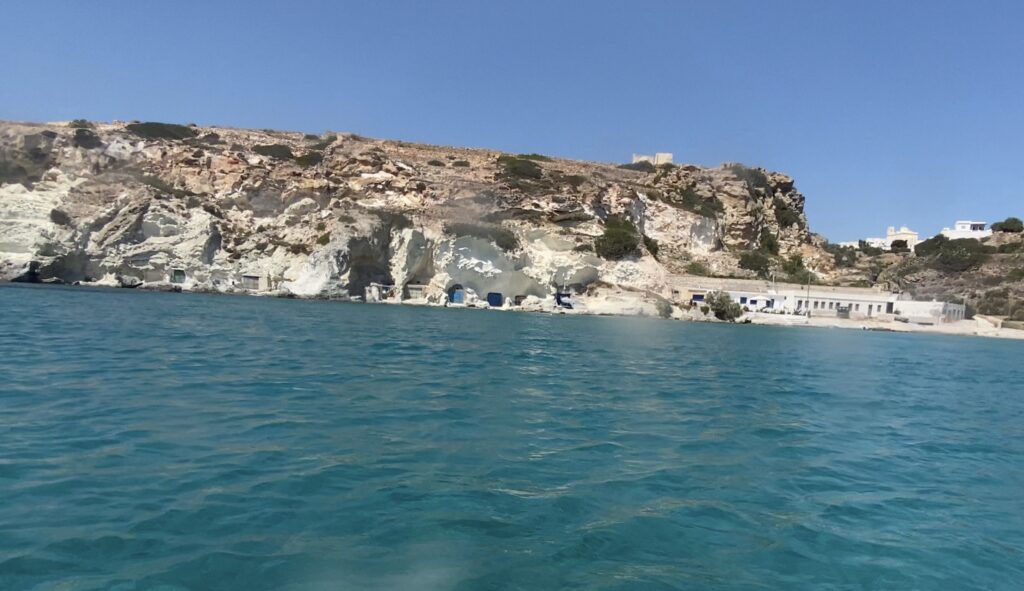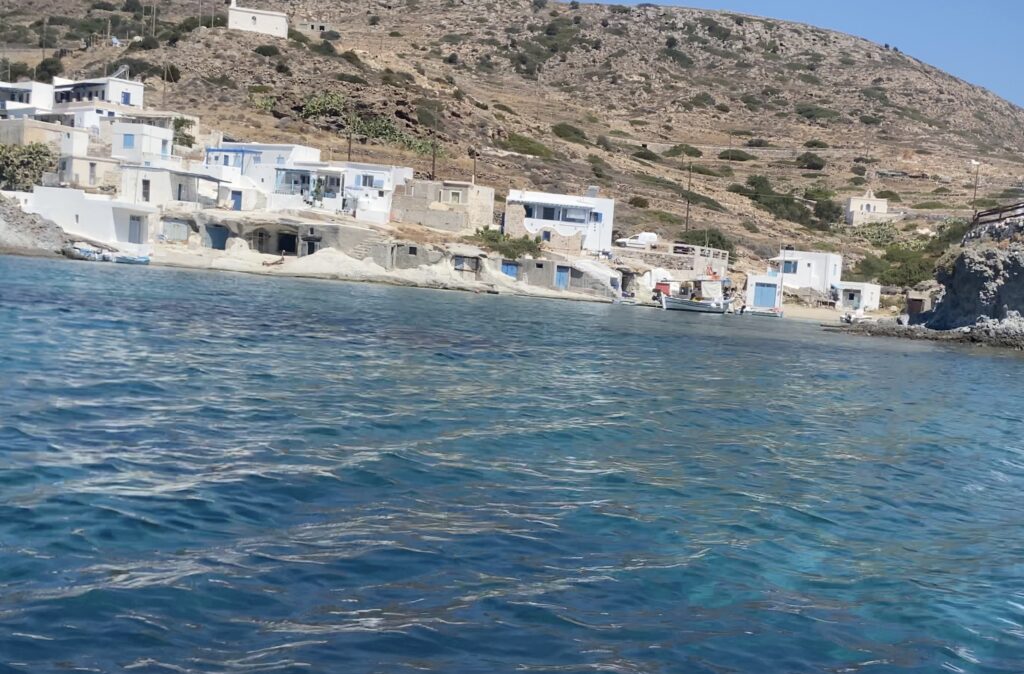 After Polaigos, we anchored in the main harbor of Milos for two nights. It quickly became obvious that there was more to Milos than we could experience by moving our boat to new locations. Tom suggested we rent a quad – what we would call an ATV (all-terrain vehicle) in the United States. While I wasn't jumping for joy at the thought of bouncing along winding Greek dusty roads in the intense heat of the day, I went along with the idea. Tom was just too much of a kid when he put the opportunity to me and I couldn't say 'no'. It turned out to be fun – there, I said it! We drove up to the high, hilltop Chora (main town) and decided we needed to come back there for dinner.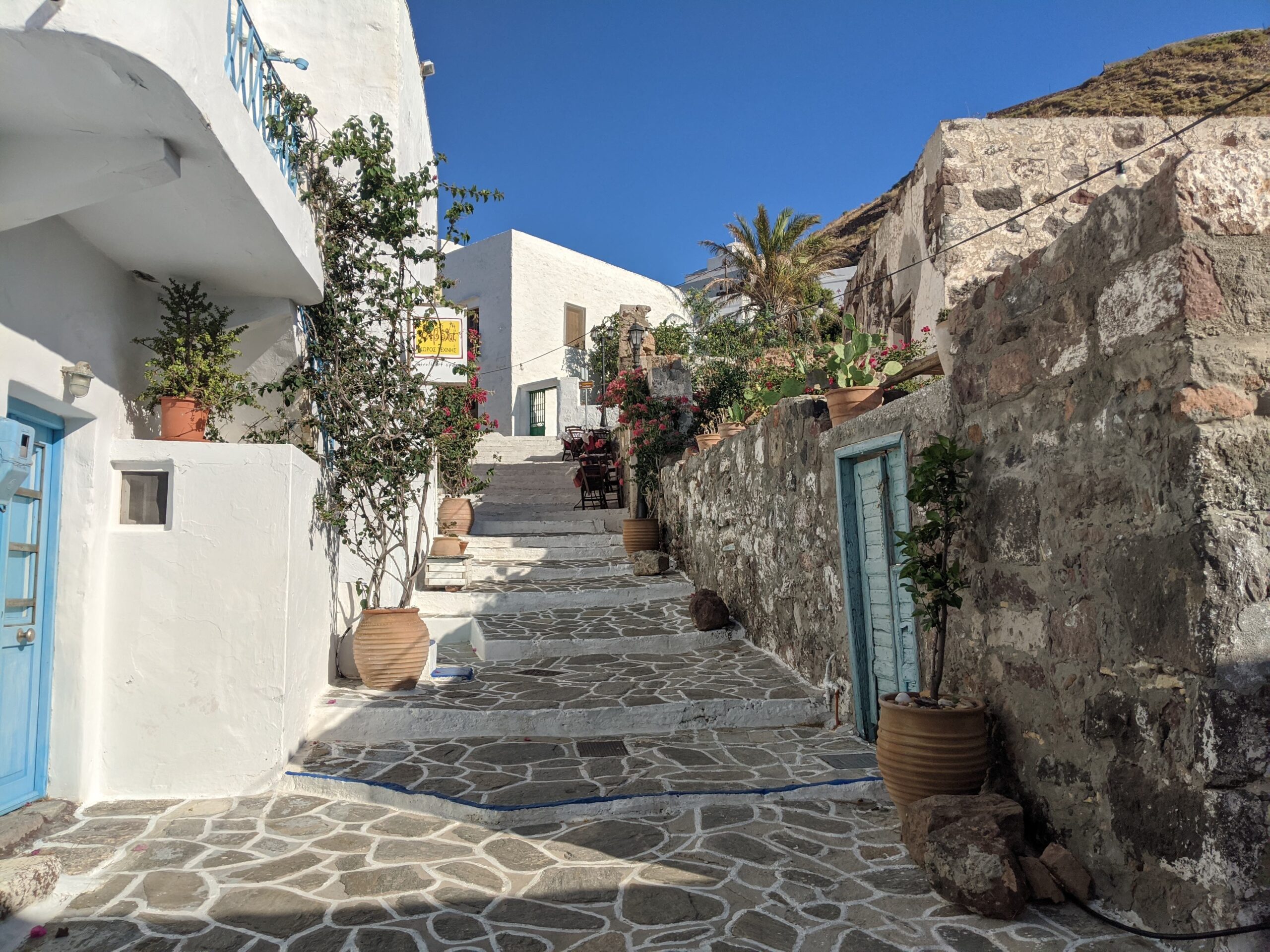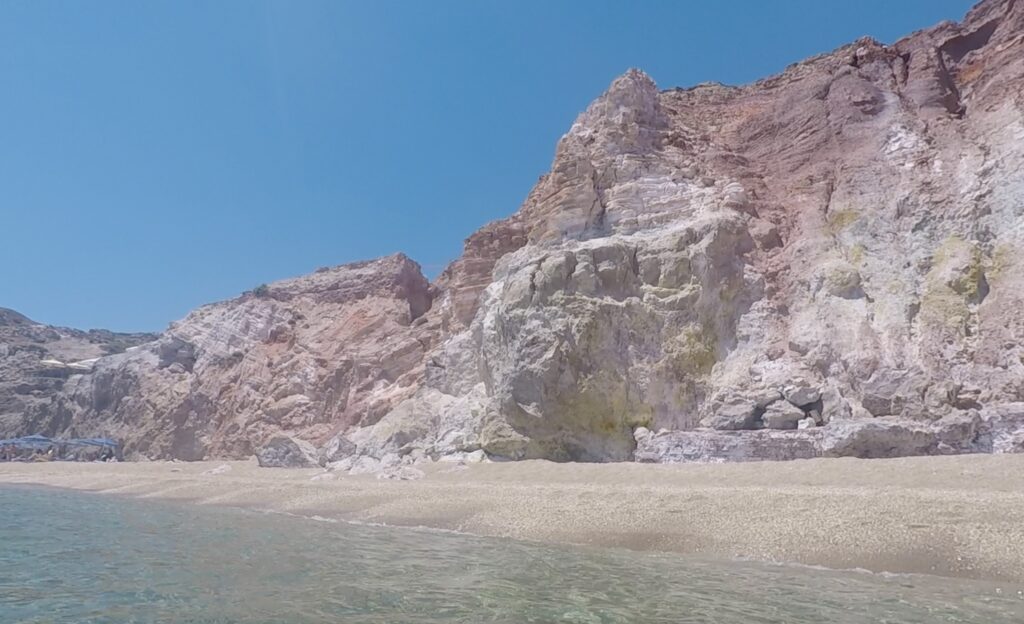 With lots of play time behind us, we needed to take advantage of having 'transportation', such as it was, to get some errands done! We had dropped our laundry off the night before so picking up the three loads of folded laundry was made so much easier with our wheels. We also made a trip to a large, inland super market and carried more stuff back to the dock on the quad than I suspect it was designed for.
A quick shower and we were back up at the hilltop Chora to enjoy a stunning sunset.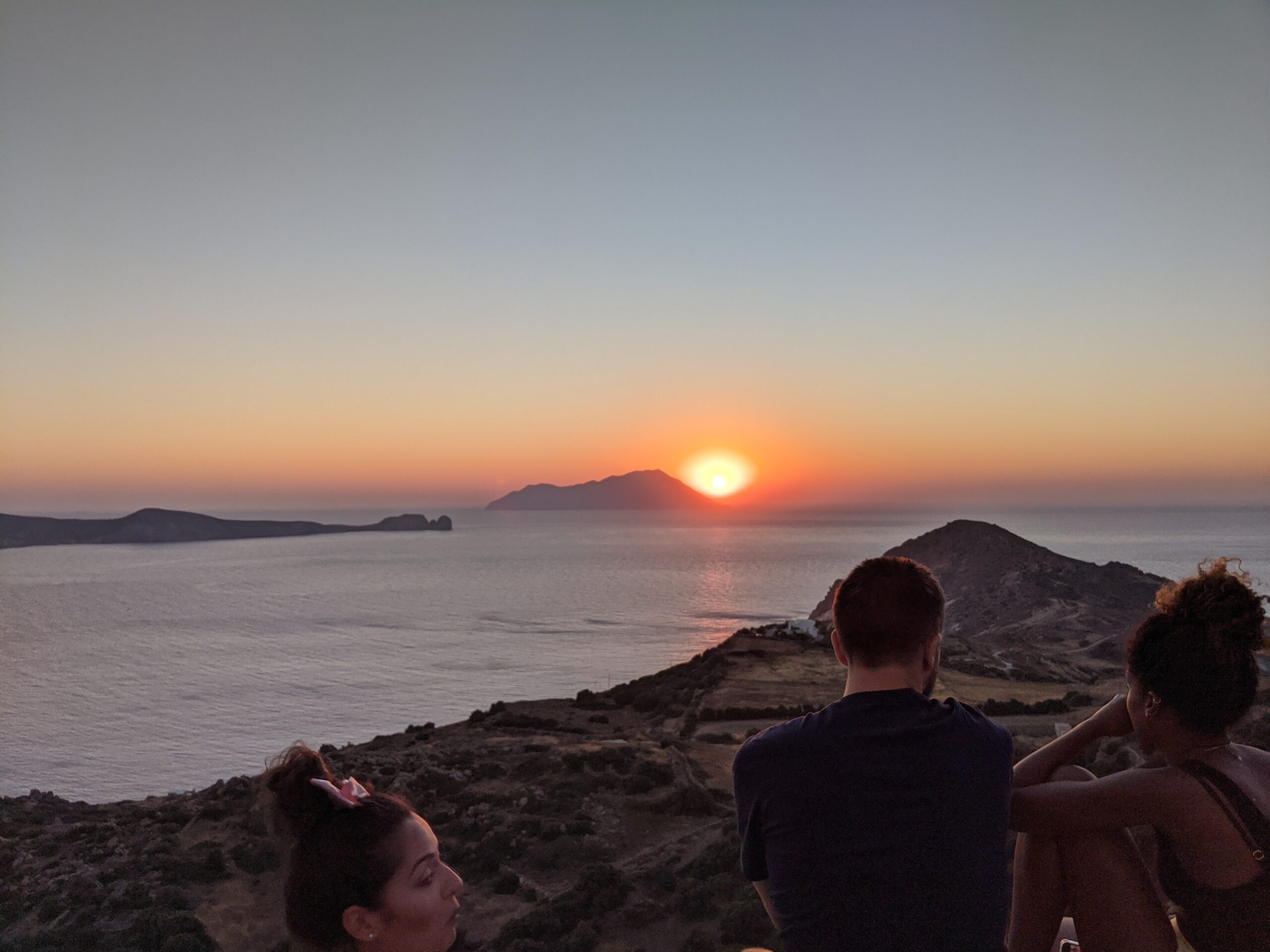 We came flying back into the port town (Adamantas) just before 11 pm to hand over the keys before they closed for the day.
There was one final 'must-see' we had to work in before leaving Milos and that was Kleftiko Bay on the southwest corner of the island. No roads lead to this spot so we left the harbor and navigated around the barren and rugged west coast and dropped Sea Rose's anchor amidst the cliffs shown in the following photos.
Even though we spent a full day exploring the caves in this area, we had an entire section we couldn't make it to before the sun set. In the morning, we swam through these additional caves and coves. What a place.
We would leave early the next morning for Santorini and wanted a good night's sleep. The wind is often erratic around the Kleftiko Bay cliffs and it had us up several times the previous night as we made sure we were swinging ok with the other boats. We decided to move further east along the southern coast of Milos to anchor off of one of the many beaches to increase our odds of a peaceful night's sleep.
Our first stop was at this terrific beach … look at how people get to it from land! Of course we swam here too! Unfortunately, there was an old mining operation up the hill and the wind was blowing sand from it onto our boat. If we stayed the night we would have had a big clean-up job so we moved yet again, to a wide-open bay with no other boats. We were tired and it was certainly pretty. The top picture of this blog is taken by drone of this bay.
Even though we were nearly water-logged from the amount of swimming we had done, we wanted to cool off. We swam ashore and were casually poking around when Tom spotted some bubbles rising from the sea floor.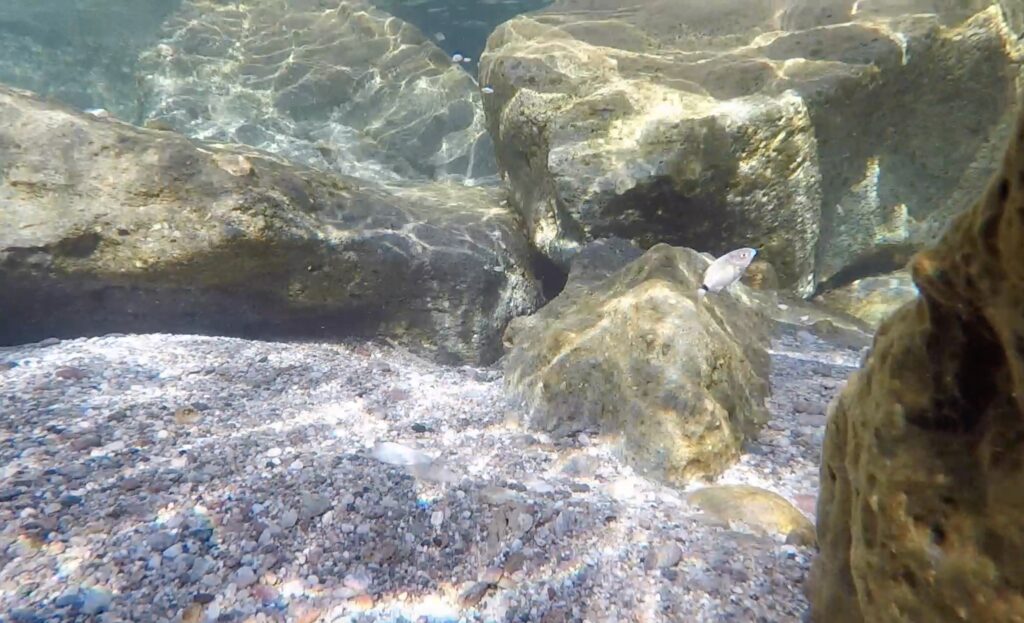 The water here was only 2 – 3 meters deep so the bubbles could be easily traced to their source. We had swum upon a hot spring! Milos continues to surprise and delight! The water here was quite warm but not hot. Since it was nearly 8 pm, it felt terrific. Rocks and the sea floor in the area were markedly warm to the touch. We felt so lucky to have stumbled upon this treasure. We thought we had picked another utilitarian stop for the night but, as we saw with Donousa, you have to be open to finding and enjoying the unexpected.
Join us on our next blog as we travel to Santorini and Crete!
Stay safe everyone!