It was July 15th when we were finally underway for this pandemic-impacted sailing season. There were far more unknowns to contend with this year but since we already acted on the tough decision to come to Europe amid all the potential for new and changing travel restrictions we had to dive in and start exploring. This summer would be an exercise in flexibility … and not of the musculature type!
For our first night away from Sea Rose's winter home, we set our course for Agathonisi, a short trip to a small island to the NE of Leros. Being early season, we have a list of projects that would steal our time over the coming days, so picking a place close by seemed perfect. Being afternoon when we finally departed the boatyard, we immediately experienced high winds and quickly found ourselves flying past small islets at 9 kts of boat speed. I hope we're ready for this wild ride!
The first project on our list would be performing dinghy leak repairs and the process would have us without our 'family car' for about 48 hours. Luckily, Agathonisi has a very small town quay for visiting boats to utilize. We kept our fingers crossed as we motored around the corner and into the harbor. It took a moment to determine which dock was intended for public use because we were so unaccustomed to having an empty town quay all ready for its first visitor! Could it be that at almost five pm we are the first or only boat for the night? We knew there would be a lot less boats this year and maybe we were getting a perspective of what that would mean. We picked the end of the dock so we could be in the deepest water and we put our med-mooring skills to use for the first time of the 2020 sailing season!!
What is med-mooring? We should probably write a blog post and do a youtube video on all the various types of docking or otherwise securing yourself in a cove. We have learned a lot! Basically, 'med-mooring' is a way to squeeze as many boats onto a dock as possible because each boat only takes up space equivalent to their width plus some number of inches for fenders to keep you off of the boat you are rubbing 'shoulders' with.
I began paying out the anchor chain about 3 boat lengths from the dock and backed towards the wall of concrete – always raises my heart rate! Tom was ready with two lines tied to cleats on each side of our stern. He would get the up-wind line secure first to hold us in place. I could then motor forward to keep us off the wall while I took up slack on the anchor chain – thus holding us between two secure points, one in the water with the anchor and one on land. We put the second stern line out to hold your boat as perpendicular to the dock as possible and to minimize the impact of any cross-breezes. This procedure is always hard with just two people and when you don't have anyone on the dock to grab a line it complicates things further. We were blessed with calm breezes and no boats to hit on our way in, so we did ok for our first one of the year!
When we finally had a moment to take in our surroundings, we felt like the luckiest people in the world. A tiny waterfront lined with several restaurants, a café and a small market was at our doorstep. Just to our starboard side was a swim area and beach. Aahhh, what welcome sights! We swam on the anchor to cool off and to make sure it was securely dug in (this is windy Greece, after all, and we are only 5 or 6 feet off of solid concrete).
Since the dinghy repair required a dry surface, we lifted it onto the dock and tipped it over — the hot sun would work its magic. We had had a full day and decided on dinner on shore. We agreed we would visit restaurants much more this summer so we could support the local businesses and being the only boat on a free town dock, our responsibility was clear and we welcomed it! One estimate we heard was that only 30 percent of the number of cruising boats are committing to sailing this summer and even all of those will be abbreviated seasons, like ours will end up being. Hopefully these businesses can somehow survive one year and see their revenues come back next summer. We will do our part!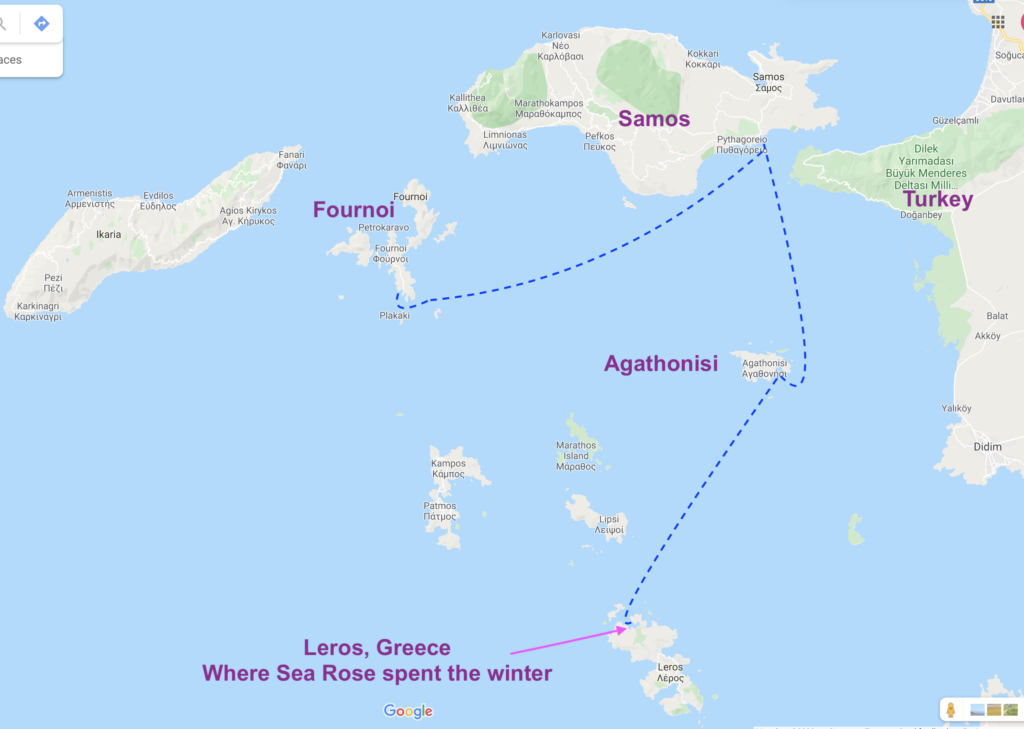 In the morning, Tom set to work repairing the dinghy leak. Once he adhered the new rubber material, it would need to have pressure applied and remain dry for at least 48 hours. The sooner he started, the sooner we would have our ticket to move on from Agathonisi … though we were pretty happy to have a reason to stay put for a couple days after the stress of the multi-leg travel and the work to prepare the boat for use (see Tom's previous blog).
I took the opportunity to work on video creation at a cafe about 10 meters from our boat. Before we left the US, I was making a series of Youtube videos I called 'Flashback Series' which covered the first couple months we owned Sea Rose in June and July of 2018. We were so busy getting used to the boat and all of her systems and the new sailing waters that, while we captured lots of great content, we never found the time to make videos covering those experiences. I had two more to finish up and schedule to allow us to publish weekly videos through mid-September. After that, our videos will focus on our abbreviated 2020 sailing adventures.
At one point, I saw Tom walking to the beach with a bucket and a large plastic spoon … is he going to play with the kids? As I saw him make a couple trips back to the boat, I realized he was filling large plastic bags with pebbles so he could have weights to hold his repair in place. I'll bet the kids think this mean adult is stealing their beach!
With our 'work' behind us, we walked to a nearby cove for a late afternoon swim. This is really a requirement in this climate. Everything gets so hot with the intense sun beating down through a cloudless sky. It is no wonder most towns essentially shut down mid-afternoon. This is hard for Americans to get used to but once you do, it makes perfect sense and feels to be a very healthy way to live. Everyone gets their work out of the way in the early morning hours and then retires to consume a small early afternoon meal before resting or relaxing. Then, sometime between 4:30 and 6 pm, the towns and her people come back to life. Though the heat is still intense, the knowledge that it will soon dissipate is fuel to the spirit as the remaining days' errands and/or hours of work are accomplished. This evening time is also the communities social, gathering time as residents walk about and enjoy the cooling outdoors while catching up with friends and family. I love this time of day – it is when you get a true vibe of a place. And, because we were on the town quay, we began to recognize the townspeople. The man who works the café is the Dad of two young children who walk from the small market their Mom runs, past his café and to the beach. After 'good morning' hugs and kisses for Dad, they walk up a short hill and feel the breeze touch their faces. The little girl wears a pink hat she must love, for each time it blows off her head her brother lets go of her tiny hand to chase after it for her. Hat securely back on head, they again clasp hands and walk the remaining 50 meters to the beach. A simple, happy life.
Our daily exercise was walking to the tiny traditional villages that crowned each hilltop above the small port town. The steepness puts use of a stair master to shame and the climb quickly has the desired effect of elevating your heart rate for a good workout! The rewards of a stiff breeze, expansive views and a peek into Greek life is always present.
With our dinghy eager to jump back in the water, we cast off our dock lines and raised our anchor. Our next destination would be on the southeastern coast of the large island of Samos – the Greek island that is the closest to Turkey, a channel with a width of just 1 kilometer separates the two country's here. Samos would be the northern-most point we would experience in eastern Greece this summer and with the prevailing NNW wind in this area, we would need to tack up-wind for part of the day but we really wanted to visit one of the larger islands in this region. We anchored off of Pythagorio Harbor. Does that name sound familiar? It should, the famous mathematician, Pythagorus, came up with his theorem to determine the length of a side of an right triangle … A2 + B2 = C2. So much ancient knowledge originated from Greece! Here is a monument to Pythagorus in the harbor named after him.
We rented a car for a day to drive into the island's mountainous interior. Samos is famous for its honey, the incredibly tall mountains with small villages nestled into their sides and for gorges and waterfalls. We started early and were treated to amazing views right away.
The inland roads were curvy, narrow and lined with terraced agriculture – largely olive tree groves.
We had lunch in a darling town after we squeezed our small car between walls and trees to pass into the town square.
On the north side of Samos, we hiked up a gorge to this waterfall.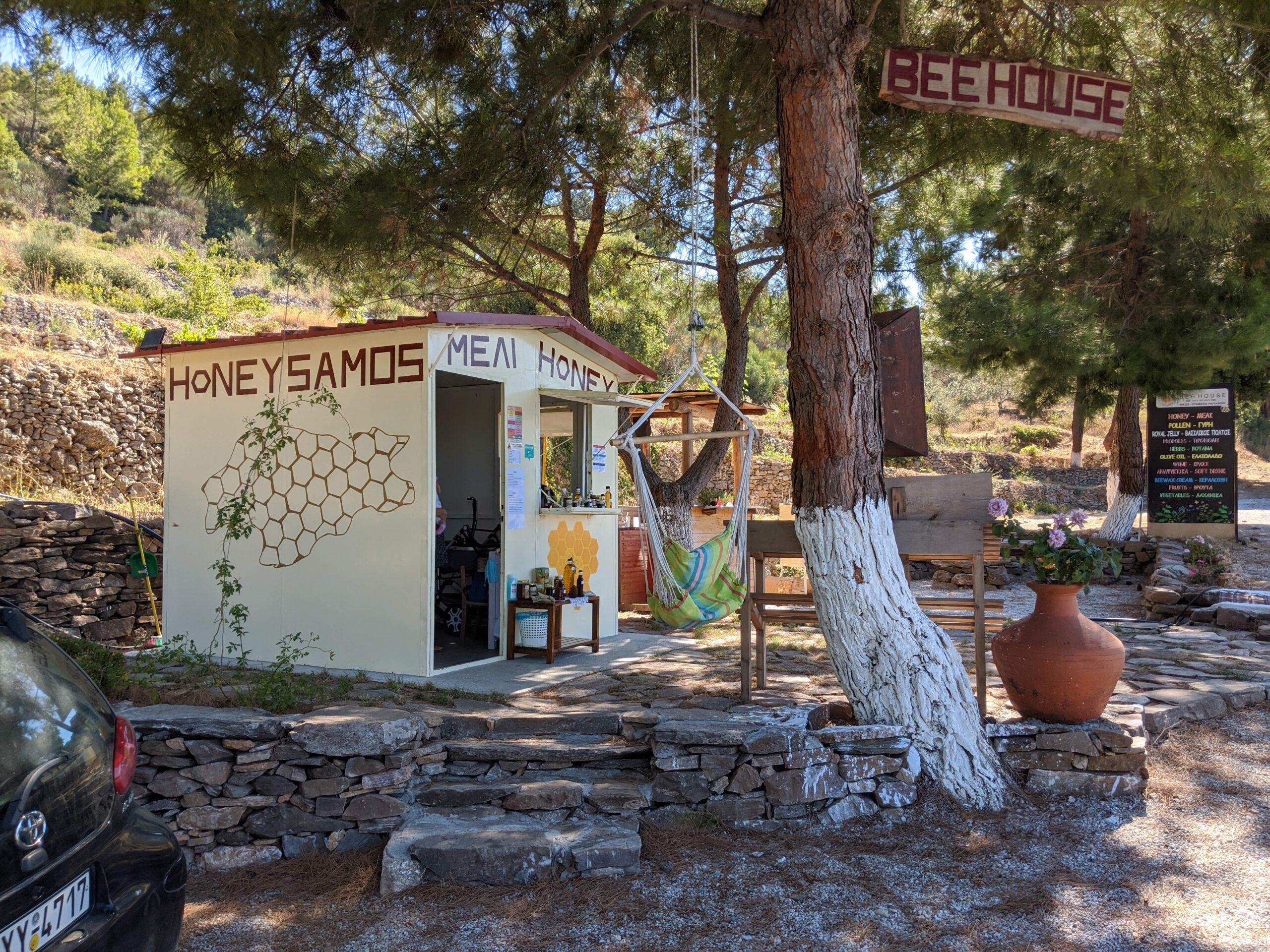 To make the most of the day, we went to another sweet town up in the hills – Mytellini. The waiter recommended Tom and I share their special roasted pork knuckle and we are so happy we took the recommendation. It was fantastic, but I know I couldn't replicate it since I would need the tree laden town square with several tables of old Greek men sitting together into the night. I would need the thyme-scented warm breeze giving us a hint of what other patrons were eating and the restaurants were preparing. I would need the memory of a wonderful day crossing the island of Samos with my sweet husband. Alas, I will have to keep the memories in a safe place so I can step back there should the need arise.
We departed Samos the morning after our second night anchored off Pythoragio. We would begin making our way west but agreed to see as many special places along the way as we could work in. The island to the southwest of Samos, Fournoi, would be our home for the night. Many cruisers choose not to visit Fournoi because of the gusty winds that regularly buffet the land and her many coves. We knew it to be a rustic place and Tom and I both seek these locations. The wind WAS strong on our approach and the seas were pretty big so we picked the closest safe cove and had it to ourselves!
The wind howled all afternoon so we remained close to the boat. We snorkeled and did projects. I finished the final edits on my last 'Flashback' video and we watched the sun set and the stars pop out. As we often do before turning in for the night, we shined our bright spotlight onto the sides of the cove to make sure we were well positioned. To our surprise, a light shined back at us! There were remote dirt roads that make these coves accessible to the island residents and tourists so I figured someone was having a nice evening on the beach and we felt bad for maybe putting them in our sights! After being in bed for a while, we had a particularly strong gust so I popped my head up through our hatch to see if we were still setting off the rocks ok. To my horror, I saw an underwater light shining along the shore but quite close to us. My mind raced … was someone going to board us? After my brain processed a couple more evil scenarios and I woke up some, I came upon a more logical conclusion – someone was looking for octopus! That was something out of Jules Vernon's 2000 Leagues Under the Sea and though we now knew it was a benign encounter, our nerves were on edge.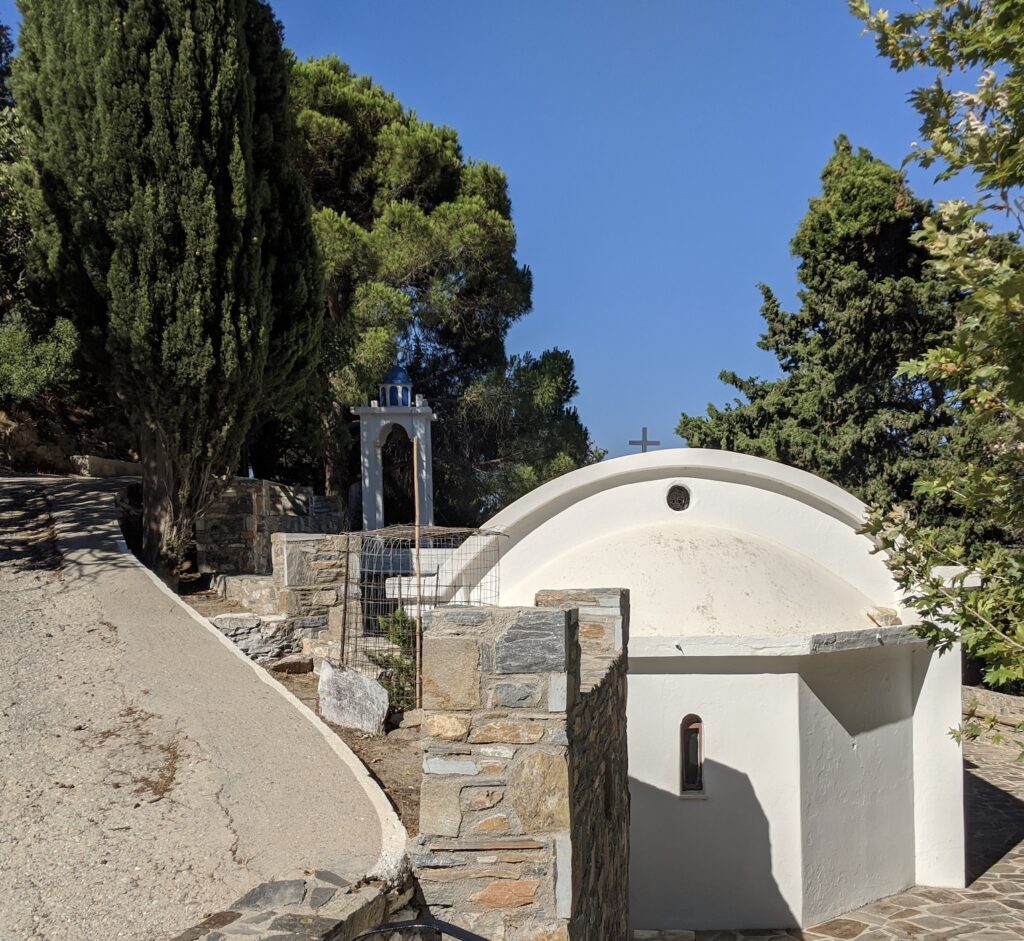 We walked ashore in the morning and stumbled upon a cute chapel and small working village. The cove to the north of us is called 'Beehive Bay' and the reason was clear as we walked along the steep nearby roads. We saw many large collections of pastel-colored bee boxes dotting the landscape.
There also seemed to be every fragrant, flowering spice bush possible. The breeze's scent resembled having your nose deep in a jar of Herbs de Provence! We now had a feeling for Fournoi but we didn't need to extend our stay. We were bound for the tiny island to the south of us, Arki!
We are thrilled to be underway and exploring again. We typically would have been at this for two months at this point in the year; but as we all know far too well, little in life is 'normal' any more.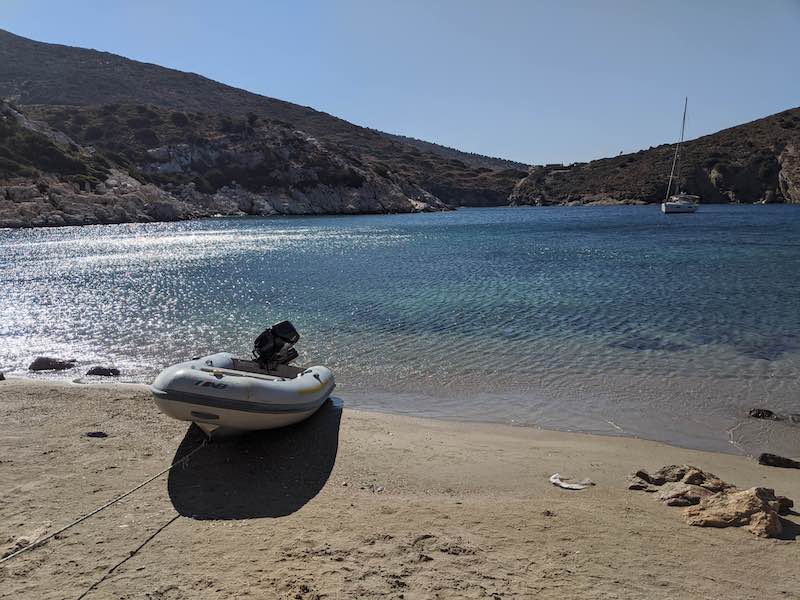 Tom and I hope this post finds you all healthy, safe and seeking happiness in whatever form it might take.