The last blog left off with us on the verge of practicing our meditative states as we outwaited a Meltemi wind that hammered Paros and the surrounding Cycladic islands for over a week. We were in for at least another day of 35 knots-plus winds and we were also about to welcome Steve and Christy on board. Steve was our broker for when we purchased Sea Rose two years ago. He helped us take delivery of her in France so we could sail in the Mediterranean before taking her to our home waters of Maine in the United States. I went to elementary school with Christy and we were friends throughout our school years. We lost contact with one another for a while as we each raised our families then reconnected again when we were planning a sail through the American Great Lakes.
At least we knew these two would understand the challenges Mother Nature introduces to sailing schedules and plans. They are located on the eastern end of Lake Ontario which sees its fair share of crazy weather and demanding sea states! Tom and I spent the summer of 2017 getting up into and navigating throughout the Great Lakes. If you are interested in learning more, see our Youtube channel playlist, "Sailing Into The American Heartland".
Steve and Christy came to Paros a little early and enjoyed some couple time before jumping on board with us. Since we had rented a car to explore the island, we drove over to their Airbnb in Nauossa Bay to pick them up.
Tom and I were a little stir-crazy from being on the boat all the previous day so after we returned our rental car, Tom and Steve took their bags to the boat while Christy and I explored the town of Paros. It seemed we would be able to depart the harbor the following day, especially if our intended direction was somewhat south! If it meant we could leave, we would go south … no problem!
Leaving the protection of Paros' main harbor the following morning was a rolly but we all tolerated it knowing the swells would soon be astern of us. We would be heading southwest around Antiparos. See our route on the map below.
The northwest coast of Antiparos was wonderful to sail along – craggy, jagged coves that are nearly uninhabited. Continual white water crashing ashore with each swell made us happy to be passing a good distance offshore.
We hooked below the small island of Despotiko which is nearly attached to the southwest corner of Antiparos. We found a cove along the southern shore that we would have all to ourselves; however, we would need to use more than one anchor point to keep us from swinging into rocks or shallows with the ever-changing wind strength and direction.
The swimming and snorkeling here was pleasant and it was great to be back in the water after so many days of howling winds. The evening was amazing – perfectly clear with a million stars and the brilliance of the milky way lighting up what was otherwise a dark sky. We always feel very special to have a cove all to ourselves, especially one as beautiful and peaceful as this one.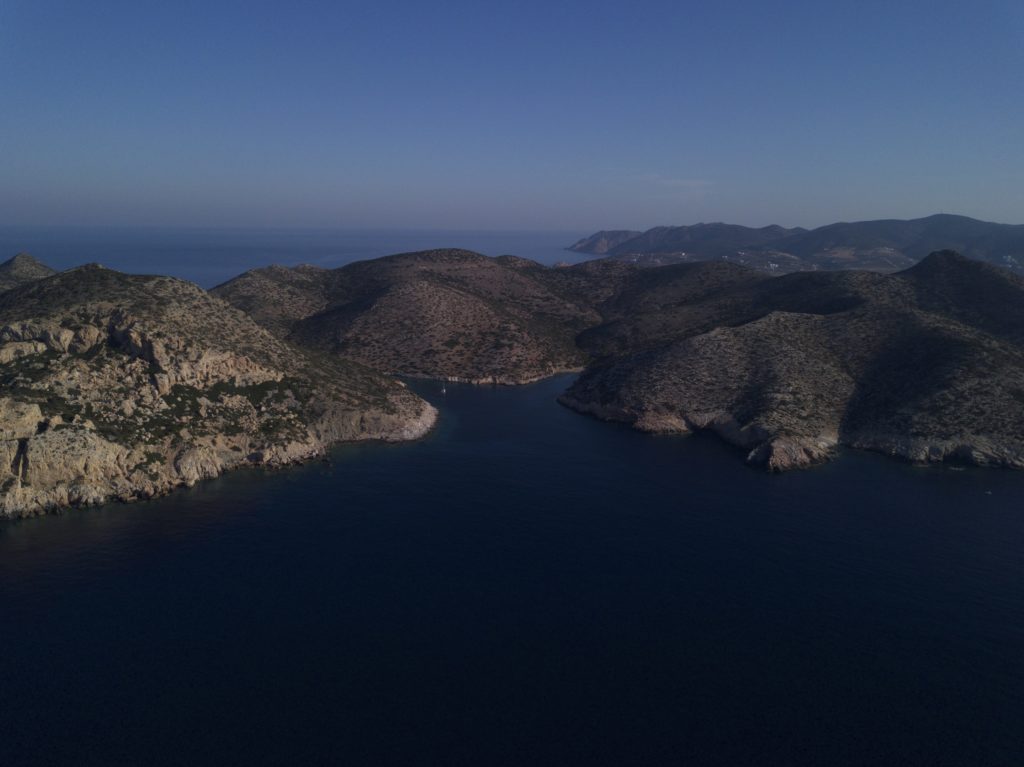 In the morning, we had some fun getting ourselves out of the cove. If we just released our stern line, we would blow too far into the shallow, rocky waters to our left. We needed to keep our stern pointing out of the cove while we raised our anchor which was further in the cove, qiute close to very shallow waters. We slowly released a little stern line while taking up anchor chain. Tom was in the dinghy pushing the port-side of our mid-ship point toward starboard so we wouldn't swing. Slowly, we got closer and closer to lifting our anchor and when it came up, Steve hauled in on our stern line quickly as I used the bow-thruster to push our bow to starboard. When we were clear of the shallow water, I put the engine in gear while continuing to coax the bow around to starboard and we were off! Nice teamwork.
Before we departed for places further afield, we had to explore a cave located along the coast of Antiparos in the bay formed by it and nearby Despotiko. We swam through the rock opening and when we looked back, Sea Rose was perfectly framed. We were all thrilled to have taken the extra time and effort to make a quick stop here.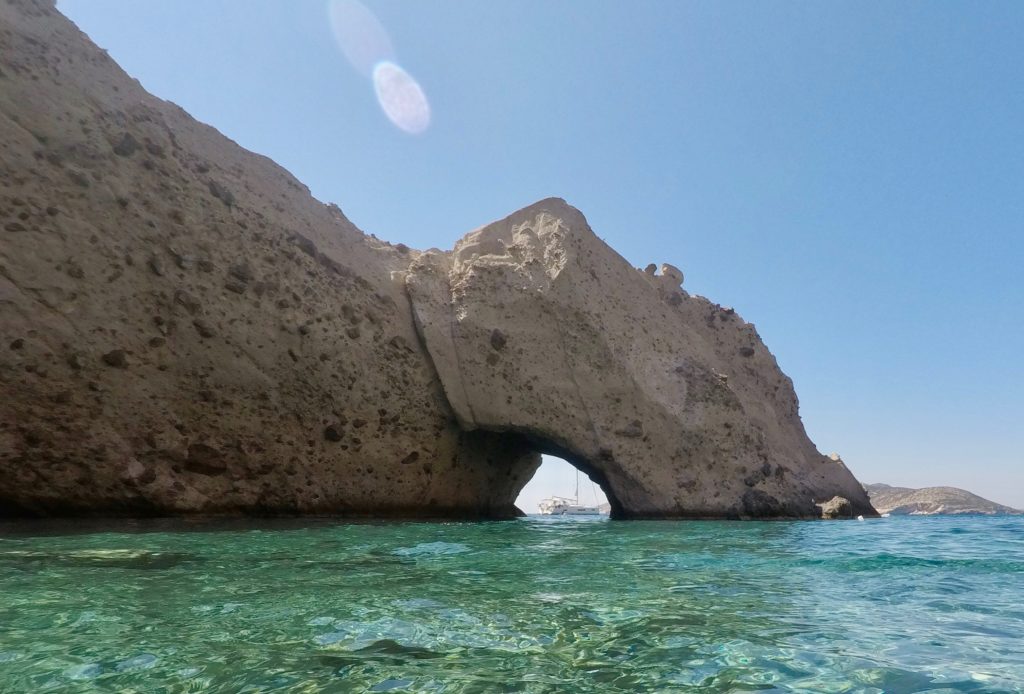 We made a quick lunch before we set off on a terrific sail toward the western end of the island of Irakleia. We had read that a crashed world war II plane had been discovered by a fisherman and dragged into the cove here. If you anchor nearby and swim over the center of the cove, you can easily spot the wreck with your naked eye. It is always eerie to swim over anything that indicates a life once occupied a space which is now underwater and below you. I find it easier with a plane than with a boat but I still cannot shake the feeling of the immense fragility of life which overwhelms me in these situations. I always swim very close to Tom … I'm sure I bug the heck out of him! Sorry dear.
It was late afternoon, but we would not be able to remain in this cove for the night, since the winds were predicted to shift. Back underway, we scooped below Irakleia and headed up the east coast. This is a small and sparsely inhabited island so we knew any stop for the night would be more functional than fun. However, because this wasn't a hot-spot for cruisers we found a perfect spot to anchor in the center of the large harbor off the tiny town called Livadi. We had no threat of crowding us, there were no swells to speak of nor any wakes from passing boats! Everything has a bright side and we were thankful for the peaceful night's sleep. It was late when we arrived and got settled in so we stayed on-board for the night and would do our land-based explorations in the morning.
We walked from the beachfront of Livadi up and over the hill to the nearby town of Agios Georgios. Although this town was probably five times the size of Livadi, it was still tiny! This is where the ferry for the island docks and it couldn't be cuter. We grabbed some fresh veggies from one of their markets and made our way back toward Sea Rose
We left the quiet anchorage of Livadi late morning and looked at options to make a lunchtime or afternoon stop along the way before we found our home for the night. Steve and Christy were having so much fun just sailing that we kept moving along! By late afternoon, we curved up around the northeast point of Kato Koufonisi and began discussing our options for the night. We could anchor off of the town on the south coast of Koufonisia … or … then off to our left several beautiful haystack rock structures came into view. Or, we could anchor off that stunning cliff with the scattered blond-colored haystacks all around us. The debate was over – we had literally stumbled into a very special place.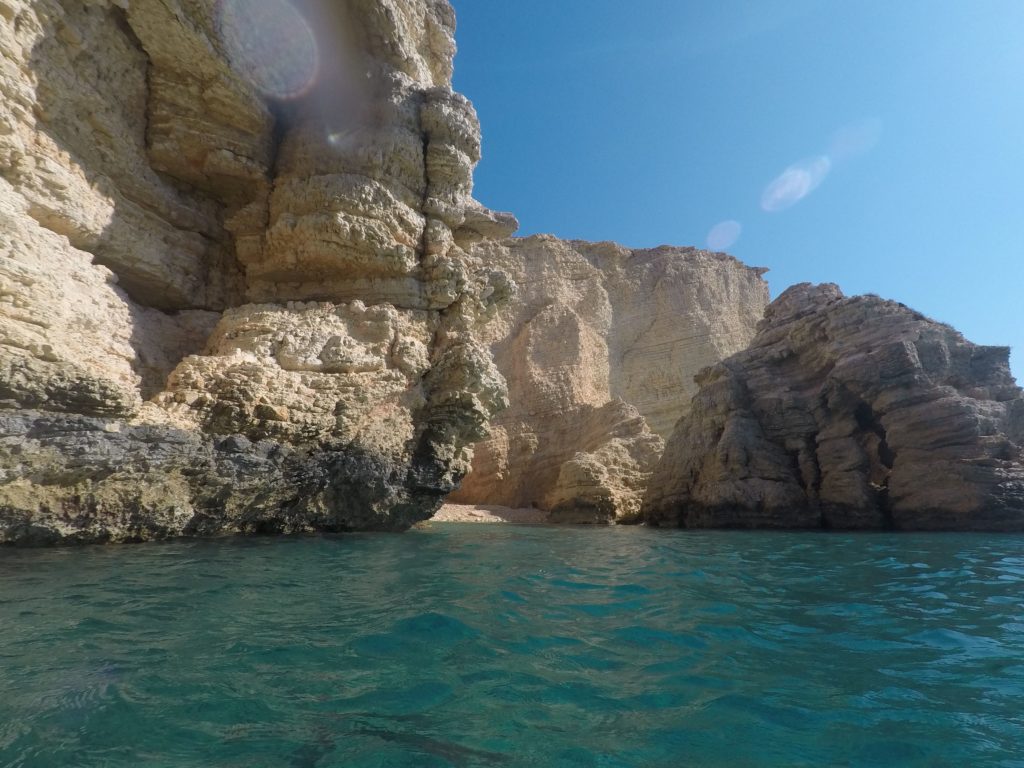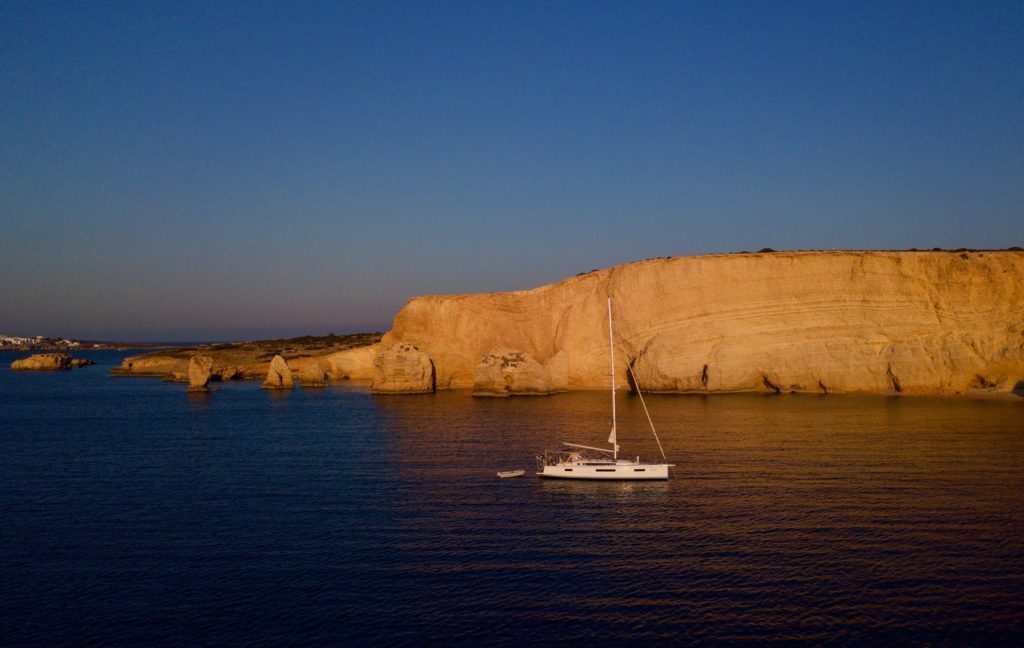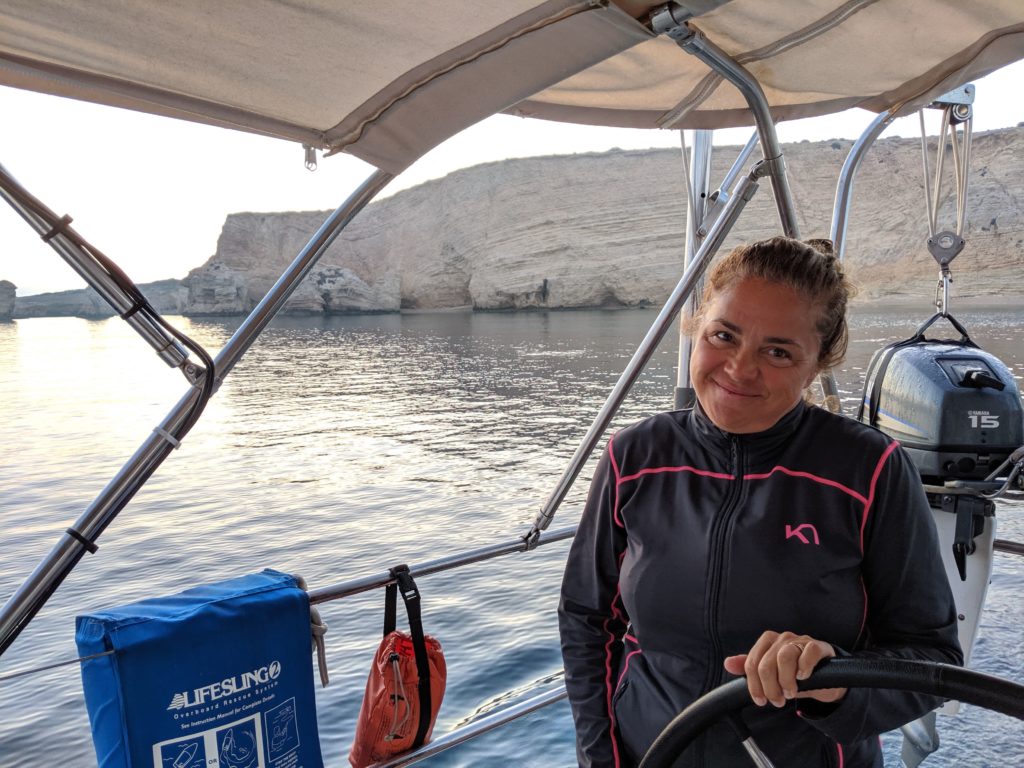 We snorkeled in the waters around these haystacks for well over an hour and as night fell, boat after boat raised their anchors and moved on. It might be a little rolly here overnight but we all agreed that the view of our surroundings made it all worth whatever we had to put up with. Besides, we needed to get an early start in the morning – we could sleep underway if we needed to.
Steve and Christy would catch an early evening ferry from the main port town of Naxos, on the island of the same name, bound for Athens. Tom and I also wanted to tour the old town of Naxos – we had come to the Greek Islands on our honeymoon 27 years ago and one of our favorite memories is of Naxos. After saying good-bye to our friends, we would be heading south to the island of Ios. Instead, of taking Sea Rose all the way up into the Naxos harbor, we decided to anchor off a place where we could catch a cab into the old town. One thing we didn't factor in was the difficulty we would have in getting Steve and Christy's luggage ashore! There was an easy place to tie the dinghy up to but there was no easy way of having a taxi driver find us there. There was a beach around the corner but there were very sharp rocks all along it and it seemed to be a beach for the nearby hotels. They wouldn't appreciate having a dingy left on their beach all day. So, Tom dropped Steve and the luggage on the beach (not an easy task) and then took Christy and I to the landing on the other side of a headland where we could leave the dinghy. Uugh – logistics!
While Tom, Christy and I were making our way over to the beach, Steve hauled the luggage over the beach and to a hotel whose concierge was nice enough to call us a taxi.
As we waited for the taxi, Tom and I thought how nice it would be to stay on land for a night at a beach resort. We inquired and there was a room – yippee!
There were a couple sights around the old Naxos town which looked familiar, especially when we walked out a causeway connecting the town to an islet. However, it was so crowded with tourists and loud buses going everywhere that I preferred my memories to our return visit. Still, I am happy that we returned. We said good-bye to Steve and Christy mid-afternoon so we could get ready for our big night ashore!
We taxi'd back to where we had left the dinghy and packed our overnight bags. We decided to move Sea Rose around the corner so we could see her from the hotel. Now, we again had to get bags ashore over sharp rocks … Tom took me close enough to walk the last couple meters to the beach and I shuttled our bags to a nearby bench to wait for him. He took the dinghy back to the boat and locked it for the night. He then swam ashore and together we walked into the lobby of the luxury beach resort … me dry and somewhat presentable and him soaking wet!
Shortly, we were settled into our lovely and very comfortable room! We went to the pool and relaxed … read … swam … and ordered fun drinks with umbrella decorations in them. We would eat dinner that night at the resort's restaurant so we didn't have to work hard for anything! What a fantastic belated celebration of our anniversary!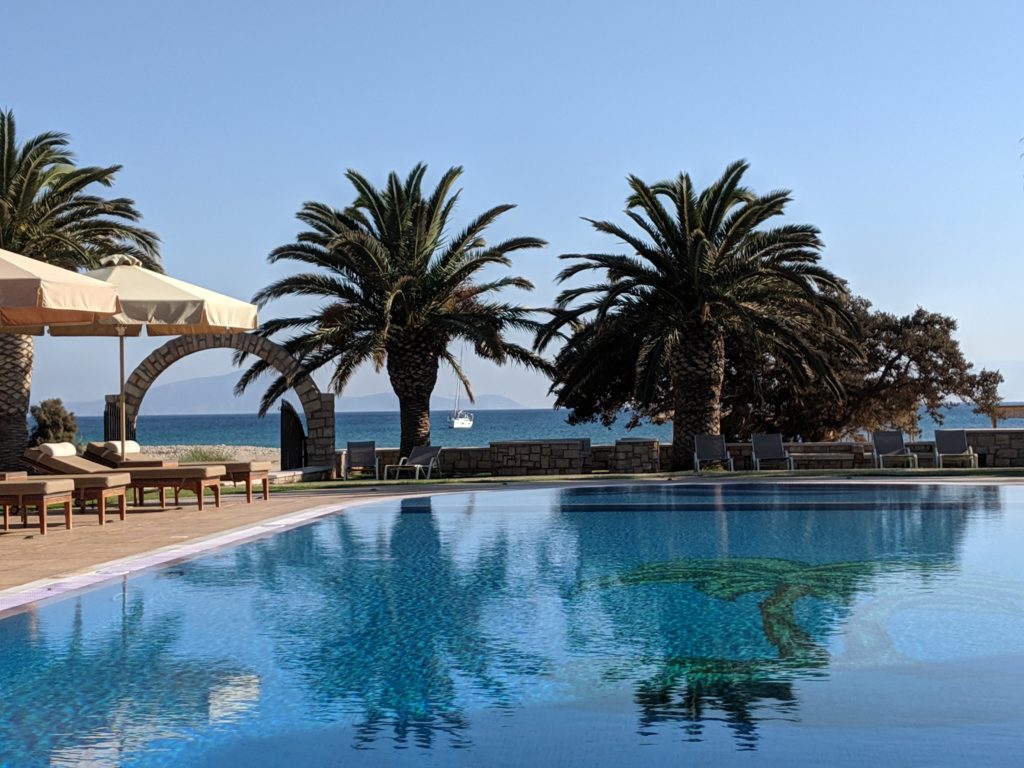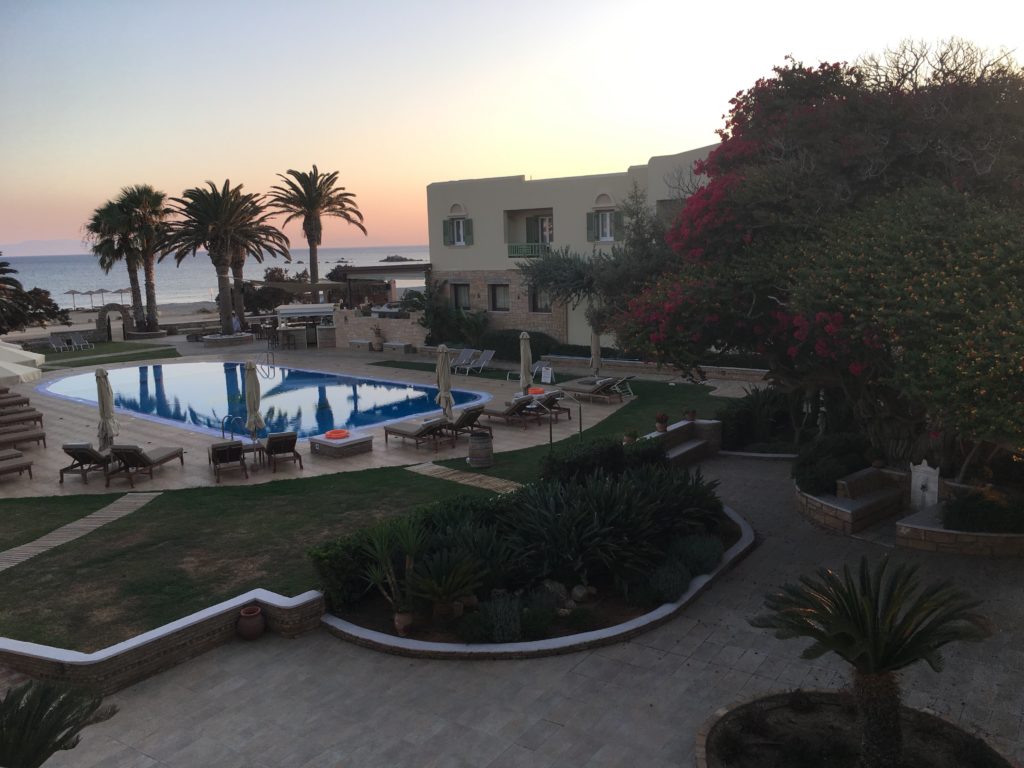 We took our time getting around in the morning … comfy beds, hot showers, a house that doesn't move with each passing boat or swell, a breakfast buffet made for a king. Aahhh – we better not get used to this!
Just before noon, we were checked out and reversing the process from the afternoon before. We carried our bags to the beach. Tom swam out to the boat, climbed on board, unlocked the dinghy and came in to get me.
We raised our anchor with a spring in our steps. We felt so relaxed and pampered after just a single night at a nice hotel. We have just over two weeks left of this summer's adventures. At that point, we'll be at or near the island of Leros, Greece, preparing to haul Sea Rose out of the water for her winter rest. For now, we pointed our bow south-southwest and began scanning the horizon for the island of Ios!