Moving to the East Coast of the U.S. many years ago, we had to accept the difficulty of staying in touch with our West Coast family roots. Not only did both of our brothers live in California, but much of my extended family was in British Columbia. And despite best intentions, it simply is hard to keep close ties. So I was pleasantly surprised, after reconnecting during a winter ski trip to Western Canada, that my second cousin Graham and his wife Sarah accepted our open invitation to join us for sailing in the Med. Perhaps because of our casual nature, I think they thought they better take us up on our offer before we changed our mind! Both Graham and Sarah sail their own boat on Okanagan Lake, and we always welcome experienced hands onboard Sea Rose. After planning our summer cruising calendar, we reached out to our friend Emmy to see if she could join us for the same week. Emmy took up the challenge last summer, helping us sail overnight from the French Riviera to the rugged island of Corsica, and we knew her friendly demeanor would fit in well with my Canadian family.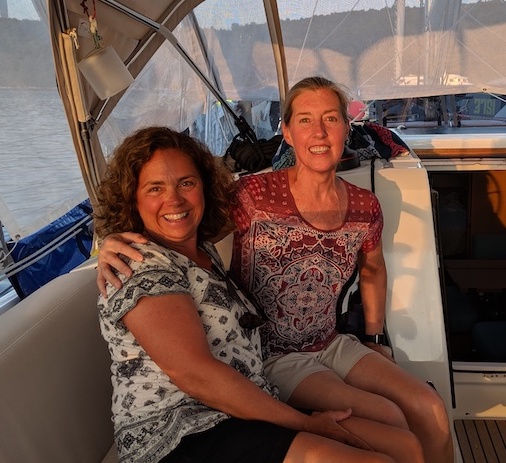 As often happens with our guests, they choose to tack on travel in Europe before they arrive onboard. Graham and Sarah spent several days in the Croatian capital city of Zagreb, and likewise Emmy pounded the pavement through Budapest. Not only does this give us a buffer in case there are issues moving Sea Rose to our meetup location, but it gives our guests time to acclimate and get over their jet lag.
Sea Rose was waiting patiently for our new crew at the D-Marin Borik marina in Zadar, Croatia. We had lucked out at D-Marin, an uncommon marina with actual finger piers, making our stern to mooring much easier. Our marina needs are pretty cut-and-dried at this point, as we become used to preparing for guests. We need to fill our water tanks, find groceries and hopefully fresh produce near by, and do laundry. D-Marin had all this, plus super clean showers and a helpful office staff. I even found a rack of Dash electric scooters and took one out for a brief joyride! After our chores were done, we headed into the Zadar city center for a little tourist time. Like so many other cities here, Zadar's center, and tourist hub, is an old medieval town tucked safely behind a high stone fortification. To get to the old town, you cross over a foot bridge, separating you ever so briefly from the crazy cacophony of cars, buses, and omnipresent scooters.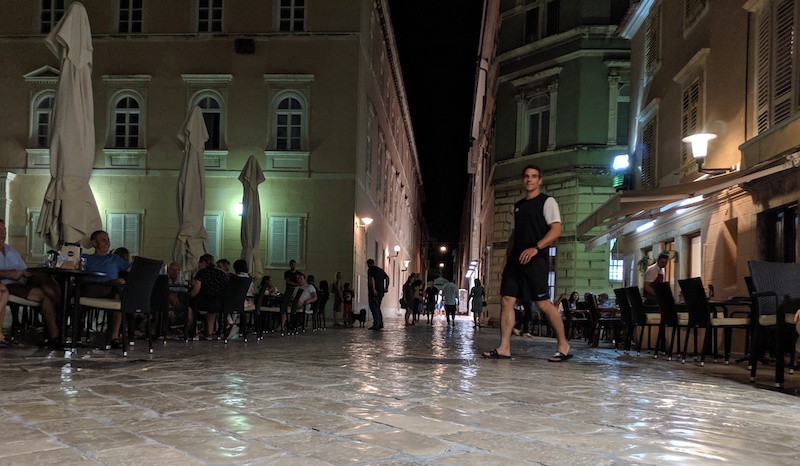 The western edge of Zadar was heavily damage by Allied bombers during the Nazi occupation in World War II. Now, thanks to some forward-looking city planners, we benefited from a waterfront promenade wide enough for large groups of teenagers to lock arms and walk the breadth of it, which they did to the angst of many a baby stroller-pushing parent. It was Saturday night, and instead of teenagers overtaking the local mall back home, this is where they came in Zadar. Still, it did not detract from us enjoying the sounds of the adjacent wave organ and the sights of the distant buildings reflected in the near calm water.
Emmy, Graham and Sarah arrived mid-afternoon the next day and we did not waste anytime to get underway. This week was going to mark our most northerly transit along the Croatian coast, and with experienced sailors onboard, there was no interest in lingering at a marina. After our newfound interest in tacking upwind from last week, we did not hesitate to put the rail in the water as we zig-zagged our way 15 miles up the coast to Otok Molat, a low-lying wooded island with a substantial cove on its southern end. Despite the presence of at least 10 other boats, there was plenty of shallow, sandy depths to anchor in, and just enough westerly views to grace us with a dinner under a glowing orange sky.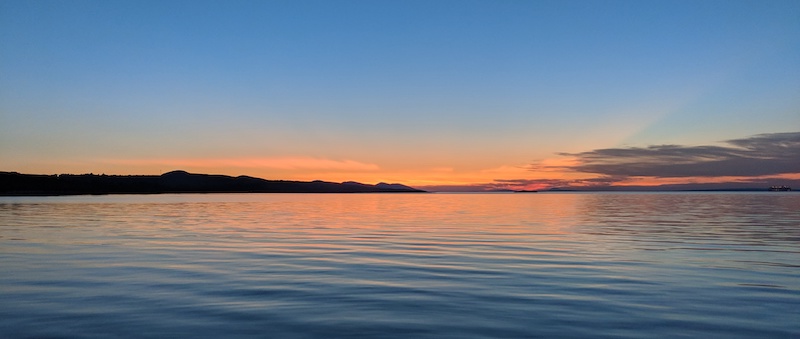 It was only appropriate that the next day was Canada Day, giving me the opportunity to play the Canadian national anthem for our guests! The wind had completely left us, making for ideal conditions to explore the cove by paddle board. The water in Croatia is some of the clearest you will see in the Mediterranean, and in Molat, it seemed to be completely translucent. Paddling over the shallows near the shore made you feel like you were floating on a magic carpet. Later, while exploring ashore, we were struck by the peculiar buildings oriented in amongst holiday makers swimming at a small beach. One building looked like an old warehouse, the others were mini turret towers. Thankfully, someone had placed a plaque for us confused visitors. Apparently, during World War II, this was the site of a concentration camp for 20,000 when the Fascists Italians were kicked out of Italy, just across the Adriatic from here. Today, it was a peaceful sleepy village with one small grocery store and a church where three roads met at the crest of a small hill. I can only hope our future is filled with these quaint island communities built on the stomped out remains of man's evil ways.
The windless morning carried throughout the day, as we motored 20 miles north to the island of Otok Iloik. On its south side, an actual sandy beach lined the shore. Together with the light dancing on the sandy bottom, it was a perfect spot for a long snorkel. At anchor we noticed an increase in the number of Italian-flagged boats, as we inched closer along the coastline towards Northeastern Italy. 
A good breakfast is important to keep the crew happy, so the next morning we dined on scrambled eggs, onions, peppers and toast. A hearty breakfast can come back, literally, to haunt you in heavy weather, but with light winds we tacked gently north to a cave named Uvula Balvanida that had good reviews in the cruising press. I am a sucker for caves and other uncommon coastal features. Alas, this 'cave' was oversold, and we weren't the only ones over marketed as a large tour boat disgorged its patrons into the sea. We had been spoiled by mind-blowing caves and cliffs last summer in Corsica, but never have I seen so many fish swim around us as we climbed back onboard Sea Rose, leaving us with a memory just as special.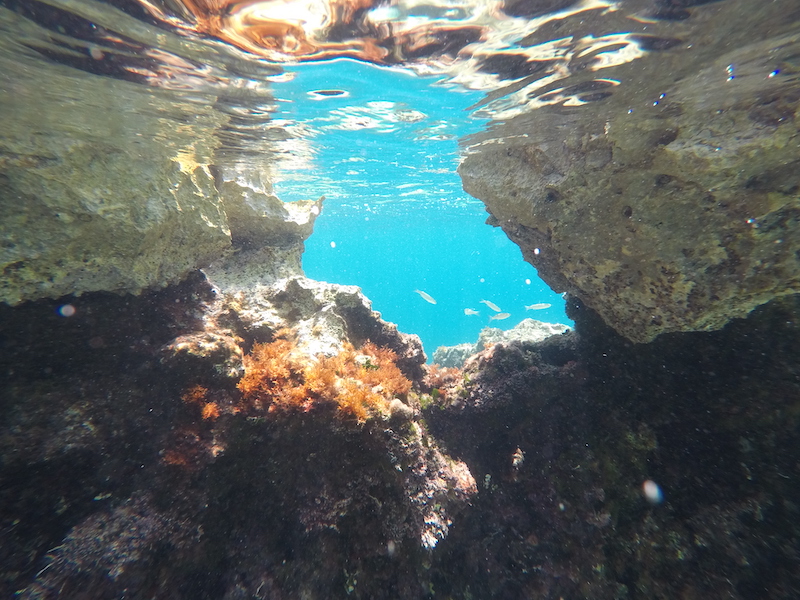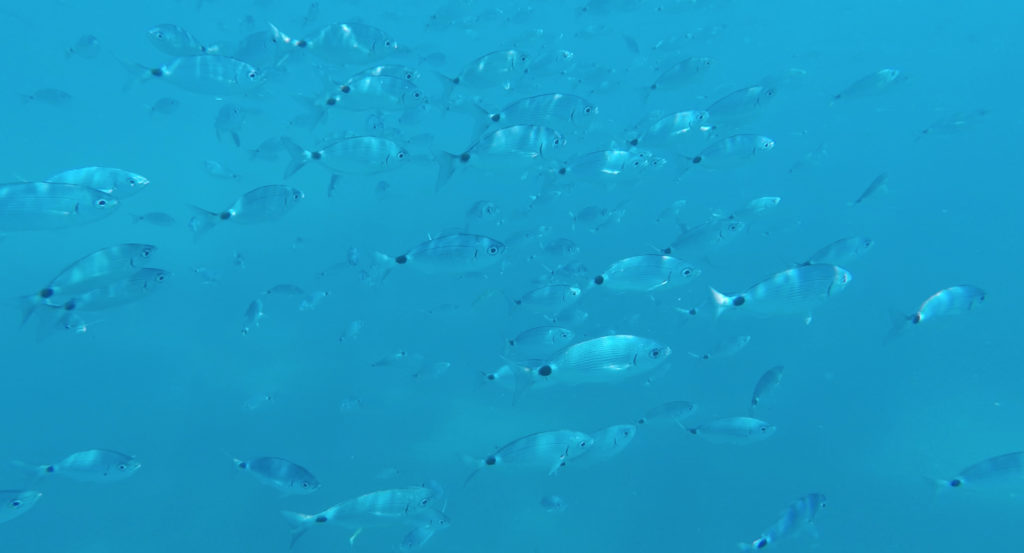 It was time to grab the brass ring and turn south again, marking Uvula Balvanida as our most northerly destination for the summer. With the big Code 0 sail helping us along from the few zephyrs of wind, we found ourselves at Uvala Siroka on the island of Ist. Here in the harbor was many more boats and signs of civilization, a welcome change of scenery after many days in near isolation. This was a proper island town, with several grocery stores, including one selling reasonably good tasting fill-up-your-own-bottle style bulk wine. Large oleander bushes lined the narrow streets, and memorials graced the small postage stamp sized parks, one of which was commemorating locals lost in World War II. After cleaning up, we headed back ashore to enjoy a dinner al fresco, with several of us opting for the peka (or 'under-the-belle') specialty with octopus, while the rest dined on pig that had just finished cooking on the outdoor rotisserie strategically located at the restaurant's street entrance. Not a bad way for re-entry to civilization!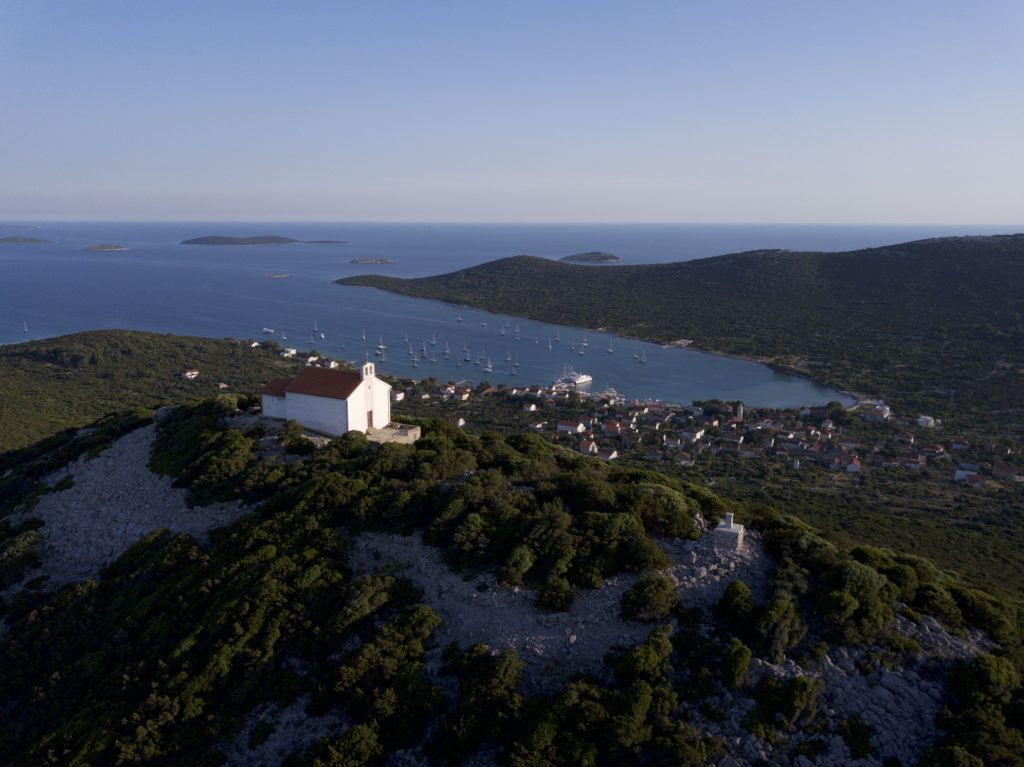 After a morning discussion with our sailing-enthused crew, everyone seemed to be onboard with a long sail today, as we aimed for the Telascica National Park some 30 miles distance. Our route took us along the outside of Dugi Otok, one of the longest of the outlying Croatian islands, and one with dramatic cliffs abutting the sea. What we lacked in conditions to sail was made up for with front row seats to striking Croatian beauty.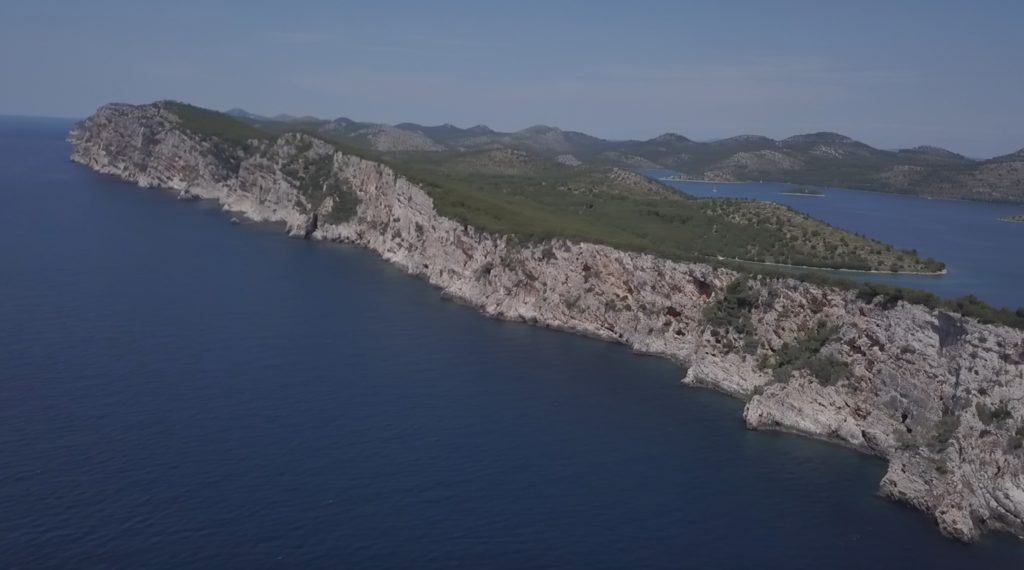 A windless day in July here can feel like you are being cooked over a rotisserie yourselves, but as we turned the corner into the Telascica National Park, what would normally be unwelcome headwinds gave us a new, cooling lease on life. We headed to the familiar Mir cove, where we had been last week, enjoying the peace-of-mind that comes with a second-time-around arrival. After a walk ashore to check out the cliff overlook to the Adriatic, and a swim in the nearby lake, we reveled in the many miles we had covered today, as we dined on barbecued sausages complimented with a tomato and mozzarella salad and fresh bread off the supermarket boat. It was a good thing I felt tired and hit the bunk early, as this night was going to be a doozy.
Karen and I awoke at 3am to increased wind in the anchorage. We were on a stout national park mooring so I wasn't worried too much about dragging, but regardless I put a second line around the mooring. Periodically, the wind would hit 25 knots – worth our attention but nothing we had not dealt with before. Karen went up on the deck to double check the paddle boards, tied off on the foredeck stanchions as they normally are. Suddenly I heard the muted sound of sailcloth flapping in the wind, and simultaneously, the shrill, carnal fear in Karen's voice as she yelled, "Tom, the Code 0!" We had left the code 0 rigged in place furled in front of the jib. A small section of its sailcloth had pulled away from the tight wrap and as it flapped in the building breeze, started unwrapping more of the sail. I was up on deck in an instant and we both went into overdrive to start lowering the sail. Karen untied the stopper-knots in the sheets then eased the halyard while I prepared to grab the loose sail as it came down on the foredeck. But for some reason the sail dropped a few feet and just stopped. It was jammed and would not release. Meanwhile, the sail was unfurling more and as that material was exposed to the high and building winds, pulled out even more sail. If we couldn't muscle this sail down to the deck, we were soon going to be in crisis mode. The firecracker-level sounds of the brand new sail cloth snapping in the wind was enough to wake up our full crew, and people on neighboring boats. I grabbed our flashlight and aiming it to the top of the mast, expecting to see something wrapped up there and preventing the sail from coming down. But nothing obvious was amiss. At this point, Karen and I were yelling at the top of our lungs to be able to hear each other on deck. The sail was unfurled enough now to press as tight as saran wrap around the mast and spreaders. I thought I saw some of fabric tear on the sharp metal edges of the spreaders. If we didn't get the sail down we not only would loss it, but the pressure on the rigging could very well bring the mast down. There was also the very real possibility of being torn from the mooring and running hard aground on the nearby rocky shore. I grabbed our sharpest knife from the galley and decided it was time to cut the halyard – something I considered to be a last resort but this was clearly where we were at. The knife cut the expensive Dynemma halyard like butter. The Code 0 came down another foot and stopped again. What? This was crazy! Sections of the sail were clearly tearing across the rigging now, producing long strands of shredded sail blowing in the wind like big tell tales. The entire mast was shaking violently. I looked again along the mast and found the issue. A small line that we had used to tie off the code 0 halyard away from the mast to keep it from slapping in the wind was still connected to the halyard, above where I had cut the halyard. This thin line, with its rolling hitch working as a death grip on the halyard, was holding up the entire sail. A second cut of the halyard above this line was enough to release the tension on the sail. Still, with the high winds, the sail remained pressed tightly against the rigging and would not come down, threatening more and more every minute to bring the mast down. Graham came up from the galley with a collection of large and small knives and we all began the process of cutting the sail wherever we could reach it in order take the pressure off the mast. I was working with Sarah and Emmy on the foredeck, and Karen and Graham were working at amidships. As Sarah and Emmy tried to hold the sail steady, I took my knife and started to cut through the fabric, but a gust came and snapped the fabric out of their hands, hitting my hand in the process, and sending the knife flying through the air and into oblivion. The forces of nature were simply too strong. After a quick check to make sure no one got hit, and we started again with a second knife. As small sections of sailcloth made it to the deck, it relieved pressure from the remaining sail, and it slowly came down with us tugging and laying the weight of our bodies on the fabric. Soon, all but a few wispy strands still flying from the spreaders were down on the deck. The wind had eased slightly, and the deafening roar of a runaway sail was capped, like a genie, back in the bottle. We all worked together to push the sail down the companionway hatch, and after double-checking that no one was hurt, we took some deep breaths and headed for our bunks. I could feel the sigh of relief from the neighboring boats as well, and saw a few of them going up to double check their furled sails and biminis.
The morning came like a bad dream. Did we just lose a one year old sail, taking knives to expensive fabric? We sat in disbelief around the cockpit, with the only bright side being that no one got seriously injured in the ordeal, other than a few bruises and rope burns. In true irony, I remembered that today was July 4th. I'm as much a fan of fireworks as the next kid, but the 3am wakeup call was entirely over the line. A newly arriving boat in the anchorage swung around our stern, and seeing our American flag, wished us a happy 4th. Ahh, the innocence of new arrivals!
In an effort to learn something from the accident, we took some time to debrief and determine what we could have done differently. Karen had questioned earlier in the evening whether we should take down the Code 0. Clearly now, this was the paramount issue. The previous summer, in very high winds in Almafi, the code 0 had unfurled on us at night, causing a panic by us and our Russian sailing neighbors, who came to our aid to wrestle it down. In the future, the Code 0 will have to come down at the end of our sailing day. No more leaving it rigged overnight. The next lesson was avoiding the tie off of the halyards to the shrouds. Or, at a minimum, tying it in a way that would allow the halyard to slip through. Third, we need to be able to cut the sail away quicker. A sharp knife permanently located at the base of the mast, or somewhere easily accessible on the foredeck, would have helped a lot. Last, communication was critical. I think we did a fair job at this, but the deafening roar of a loose sail made it hard to hear. Having the extra crew members onboard helped with this. It would have been much more difficult with just Karen and I.
We all took a walk ashore to clear our heads, but for the whole day, I had a hard time shaking the stress of the early wake up call. After going up in the bosun's chair to check the mast and rigging for any obvious damage, we got underway in a light breeze, heading further south down through the stark Kornati National Park. At the little town of Vrulje, where the national park's head office resides, we stopped in for a delightful lunch, made all the more special by the restaurant's water taxi service. There are days like this where I relish in the release of responsibility of navigating, even if it is for just a 5 minute ride ashore.
With our stomachs contentedly full, we continued our sail south through the last few islands of the Kornati National Park, dropping our anchor at Otocic Ravni Zakan, a spot with ideal depths and a large protected bay to keep the few boats here from swinging into each other. The changing hues in the sky brought on by the sunset were diminished only by the crazy antics of one jet skier from the large super yacht in the harbor. I could not understand the attraction of continuously carving donuts and S turns in between the other anchored boats. Perhaps, too, my nerves had been over-taxed in the last 24 hours.
Finally, a return to a peaceful full night's sleep! In the morning, Emmy and I ventured around the harbor on the paddle boards, followed by a refreshing swim. I'll admit these swims can serve a dual purpose of washing away days of dust, sweat and grime; but, hey, at least we are not stripping down to our pure nakedness to bathe like so many neighboring German tourists do – that propensity didn't apparently make it across on the Mayflower!
This day would be our last one onboard together and we sailed in a light breeze over to Murter, a town on the mainland with good travel connections. Some of our guests willingly take the wheel, while others shy away, and I was happy that Emmy accepted my offer and navigated us safely across this delicate sea.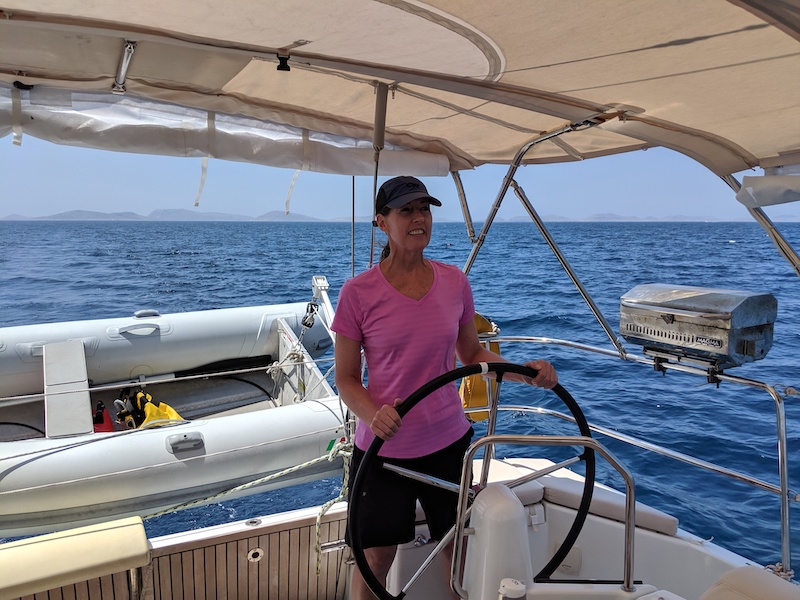 The plan was to take up residence for 2 nights at the Betina Marina, next to Murter. Coming into our designated spot on the pier and turning around to go stern-to as we have now done countless times, I let my guard down and allowed a stray bow line to get sucked into the bowthruster, which abruptly stopped working. That will go to the top of the repair list after our guests leave.
In the evening, the small waterfront area of Murter was a buzz with activity, as the masses came out of their refuge from the day's earlier heat wave. We scored a perfect table on the rooftop of the Bistro Pizzeria Mareta, overlooking the harbor and facing exactly west for a remarkable sunset in a land that is no stranger to remarkable sunsets. Torn sails and flying knives aside, it was the cherry on top of a fantastic week together. We were so happy to re-unite with Graham and Sarah, and to have another week and heartfelt conversations with our close friend Emmy. With great bus connections in Murter, Graham and Sarah headed off for more land travel in Croatia, while Emmy caught a bus to Zagreb and a flight home. Karen and I would be alone for the next week, moving the boat back south to Cavtat, as our days in Croatia start to come to a close.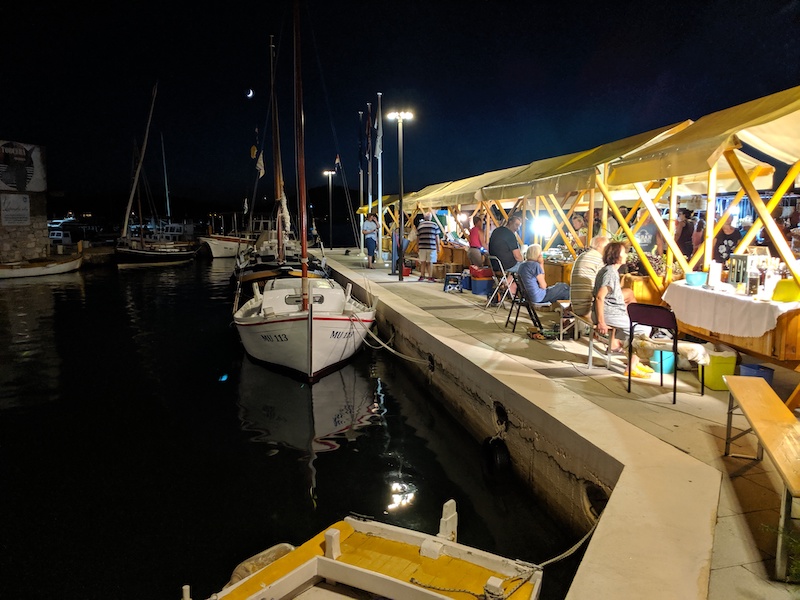 Epilogue:
Our dear friend Emmy passed away in September, after a 13 year battle with cancer. She was an amazingly strong woman who rarely let on that she was suffering. I clearly remember a 3 day hike in the White Mountains of New Hampshire a few years back where she was always ahead of the rest of us and never seemed to get winded. How could this person going through regular chemo be so resilient? It was only during her visit this summer in Croatia that we first noticed signs of her fatigue. Two months later, she was gone. It seems trite and inadequate to say she will be missed. But her spirit and strength of character carries on, a gift to the rest of us that we can only hope to pass along before our last breath. I remember when Emmy was first diagnosed. It was shortly after Karen and I had taken our kids out of school, left jobs, packed up the house and headed out for a year aboard our sailboat. I was having lingering doubts about whether we were doing the right thing and whether we could put our life back together when we returned. Having a friend in their 40's hit with cancer gave me the courage to cast off the chains and take the road less travelled. If her life could be upended so suddenly, so could ours. For my renewed mantra of 'doing it now before you die', I have Emmy to thank. We all have important things in our life that we've put off doing. What is yours? Life is short. Go now.