When the wind rises before you in the morning, you know it's best to get up, get dressed and make a plan. After yesterday's parade of boat arrivals in Kioni, we were wedged in tight with boats fendered off of us on both sides. We had seen how other boats had struggled during the strong side winds, and I skipped a morning run in order to get us out before the building wind made it even more challenging. With so many boats med moored around us, and plenty of variability in where they each dropped their anchor, we also wanted to slip our lines sooner than later in order to sort out any crossed anchor chains. We had seen plenty of examples this season of one boat lifting another boat's anchor and causing a domino effect of boats become unhinged.
Thankfully, as Karen drove us briskly out of the tight embrace with our neighbors, Sea Rose held a straight line and we didn't have to scurry to the downwind side to fend off fiberglass on fiberglass. I was sure glad we decided to do this now rather than later in the morning. We had a rats nest of lines to sort out at the stern, from our multiple tie-offs to the shore, but I left that for later as I went forward to the bow to take over from Karen raising the anchor. Blessedly, the anchor came up smooth and even. I was prepared to hear the windless starting to strain under the weight of a second anchor and chain, but everything proceeded like clock work. Cat's paws, the visual sign of wind bursts across the surface of the water, made us scale back our sail plan. We started with just the jib and, at 20 knots of wind, we had all the speed we could handle as we left a trail of white water behind us on our downwind course.
Our destination was Vathy, where Theo had anchored up last night. He had reported strong winds and rolling waves but the anchorage was still manageable. Paloma was considerably heavier than Sea Rose, so we had to factor that in. Rough seas in the anchorage were going to affect us much more than him.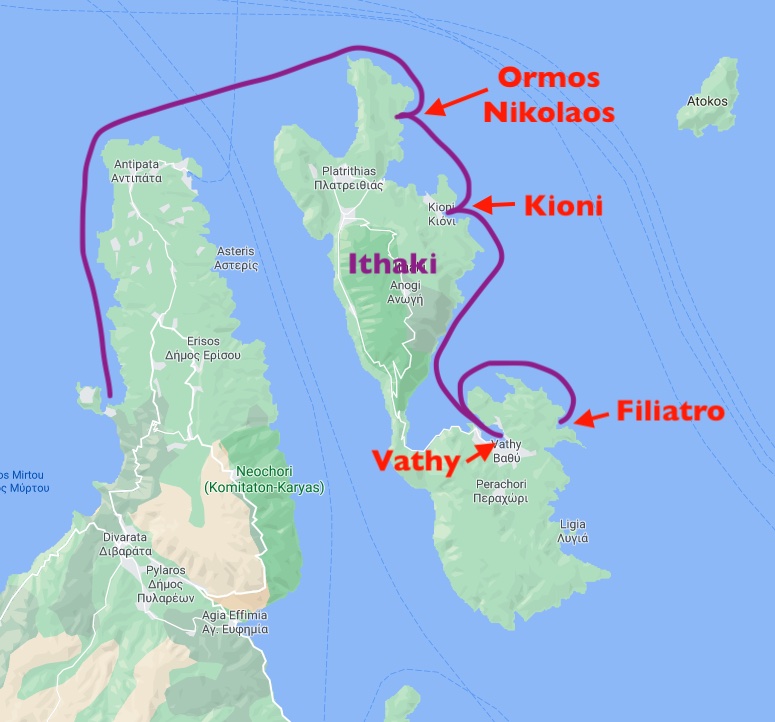 To get to Vathy, you have to follow a long indent in the eastern shore. What's not shown on the map is the immense height of the mountains to the north and windward of this inlet. Seeing this feature as we turned in from Kioni, we thought the tall mountains would offer the perfect protection from the strong winds. The opposite was true, and, as the wind accelerated to 32 knots, we were left to doubt our assumptions on how wind and geology worked together. One would think that if you have an 800 ft mountain upwind of you, it's going to shadow the wind for you. While these mountains do cut down the wave height, with the limited fetch of the wind over water, they can have a compounding affect on the strength of the actual wind. After researching this afterwards, I found a good example using the shape of an airplane wing.
As long as the air flow over the bump in the top surface of the wing remains smooth, or laminar, that air becomes compressed and in turn accelerates to make more room for the wind coming behind it. Rod Heikell, author of many cruising guides for the Mediterranean, explains this well for boaters in his Top Tips for Mediterranean Sailing. Check it out for more details.
This change in wind strength can catch you unprepared, as the water will still be relatively flat. The picture below shows us moments before entering another 30+ knot gust, as the wind spilled down from the mountain peak to the right.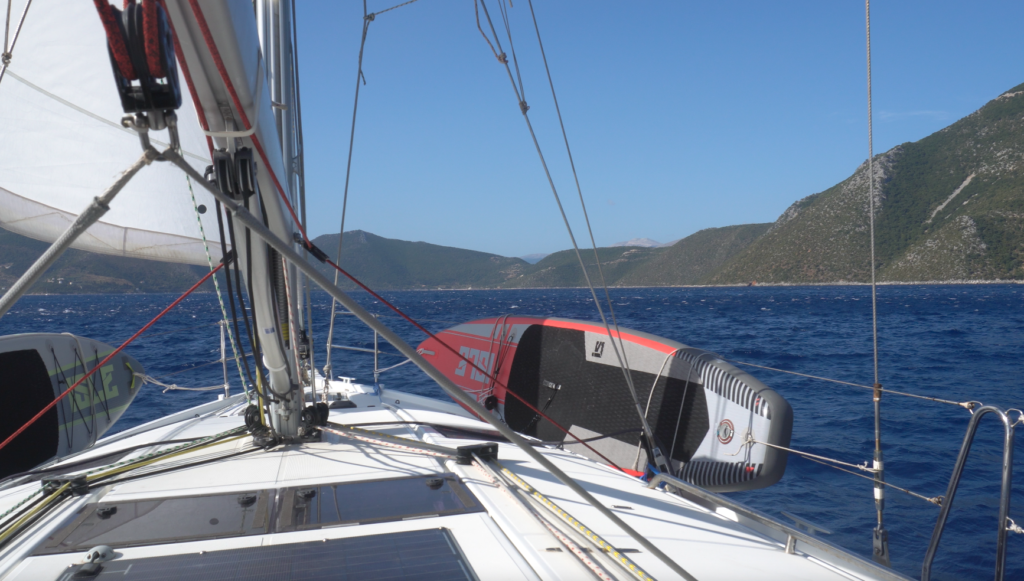 The high wind from this mountain peak flowed down to the water and directly into the harbor of Vathy. Not an ideal situation! The harbor was relatively shallow with good holding, so the risk of dragging the anchor was low. But the comfort factor was an issue. We found Theo, happily bobbing on his anchor and delighted that it was holding him solid. We circled around and took an open area downwind from an aluminum boat that was fish-tailing right and left as the gusts made their way across the water. When an anchored boat upwind of you has all of their fenders out, should you worry?!
It was gusting to 25 knots in the harbor, and we had to run ashore with the dinghy to do laundry and other errands. It was a downwind ride to the town dock, which was tolerable, but when we returned with clean bags of laundry into choppy seas and spray was thrown over the bow, it was no fun at all. The prospect of several hours of work to produce clean cloths that take just a moment to get coated with saltwater was in the forefront of my mind as I left Karen behind at the dock so that I could get the bow to ride high enough that I might be mistaken for offering wakeboarding trials! Thanks to the wonder of plastic, the clothes faired reasonable well, but when I returned to pickup Karen later, I got drenched by a wall of water over the bow. Oh well, I would be just another salt-encrusted sailor walking the docks!
We took Theo up on his offer to ride to shore in his larger (aka drier) dinghy, and we managed to make the day not all about work, as we enjoyed a pleasant dinner in a quiet back alley taverna. Like usual, the town came alive more at night, but there were noticeably less people out overall. I was wondering, as we moved into September, whether the summer tourists were starting to return home. With Covid, the summer overall had been very quiet and uncrowded. In this post-August scene, would Sea Rose and Paloma be wondering the Ionian in isolation?
The wind continued to howl all night and we got very little rest. From the worry about boats dragging upwind of us, to anchor alarms falsely going off in the dead of night, we were less than chipper in the morning. But there is always a silver lining. I got a message on my phone from a boating couple in the nearby harbor of Filiatro. They were subscribers to our YouTube channel and had seen that we were anchored nearby, and, oh by the way, would we want to come by for a beer and a chat. Most definitely! Let's be clear, Karen and I are not in the league of high count sailing channels like La Vagabonde, so we were thrilled to meet one of our subscribers in person.
Filiatro had been on our short list anyway after the rough seas in Vathy. We left word with Theo to join us later, and we hastily raised anchor in the morning. The trip around the corner was short with a few moments of sailing in the residual high winds. We had been to Filiatro last summer so we knew right where the best anchoring spots were. This was important, as we had just come out with a series of videos on how to properly anchor, and I sure as heck did not want screw up now in front of one of our subscribers! It wasn't as smooth as we had planned, mainly due to a neighboring boat that was convinced our chain was crossing theirs when I could clearly see their anchor on the bottom and out of the way. To communicate this across the water could have been interpreted as yelling, but we made sure to wave graciously afterwards to the boat 'Living the Dream' with Allison and David onboard, our fateful devotees! We swam over to them shortly after, and enjoyed a rare tour of a powerboat cruising the Med. They were a UK couple that had sold everything and travelled down the canal system into the Gulf of Leon. Allison in particular seemed disappointed to hear that this was the first time we had come across our subscribers on the water, holding firm to an impression that we must be inundated with fans, like rock stars. Let's just say we all had a good full-belly chuckle about that idea over the cold beers and chips.
Theo made it around the corner in the afternoon, finding Vathy too rough as well, and we all celebrated our good fortune over a delicious dinner Karen prepared with pasta, meat sauce and roasted eggplant. The adversity around the globe seemed, for an instant, to be a million miles away.