I apologize to our friends in Rhode Island and Connecticut. We had every intention to visit your waters, but fate had other plans. I can hear you already. "But we are the Ocean State!" say you Rhode Islanders. And yes, the charming Connecticut shore is hard to miss as one works their way down the New England coast. But we got pulled into that powerful vortex that is New York – first, the city, and then the countryside.
It all started in City Island. This is a small enclave in the eastern part of the Bronx, in the shadows of New York City, with a rich maritime heritage. If you haven't heard of it, don't worry, neither had I. That is, until a friend and I were sailing my old boat "Two if by Sea" up from Annapolis 31 years ago, and he insisted that we stop at City Island. His name was Bob Woodside and you would be hard pressed to find a more salty character than he. We both lived aboard our boats at a marina outside Annapolis, but that's where the similarity ended. I was 23, he was at least 75. In reality he could have been 40 or 50, but when you are young, everyone older than you seemed real old! He was the old wise man of the marina, always lending advice on fixing boats, and if your boat docking skills were a little shaky, as mine were, he'd give a gentle pointer or two, in a grandfatherly way. He agreed to help me move my boat up the coast as far as NYC in the spring of 1986, in the first step of my summer cruise of New England that year. I was a young kid with lots of ambition and big ideas, and thankfully he took me under his wing.  A kid with big ideas can easily become a kid with a big head, and I think he knew this. An old man with a ton of experience can easily become a preacher – and worse a cynic about the younger generation – and I think he knew this as well. He struck a careful middle ground. As Goldilocks said "Not to hot, not to cold!" I was tremendously fortunate to have this gentle, inspiring soul in my life at such a pivotal age. If we are lucky, we'll cross paths with one or a few of these folks in our lifetime. If you've got someone like this in your life right now, hold on to them!
I can only hope that I gave Bob something back, if nothing else, a chance to get away from the marina and to sail through the awe-inspiring New York harbor. As it ended up, we had a few boat issues along the way, including a temperamental engine that wouldn't start. Thus, Bob's recommendation that we stop at City Island. As he promised, there were a bevy of marinas, marine stores, and boat mechanics on the island. I got my issues fixed on Two If By Sea, all the while rubbing shoulders with lots of fellow sailors ashore.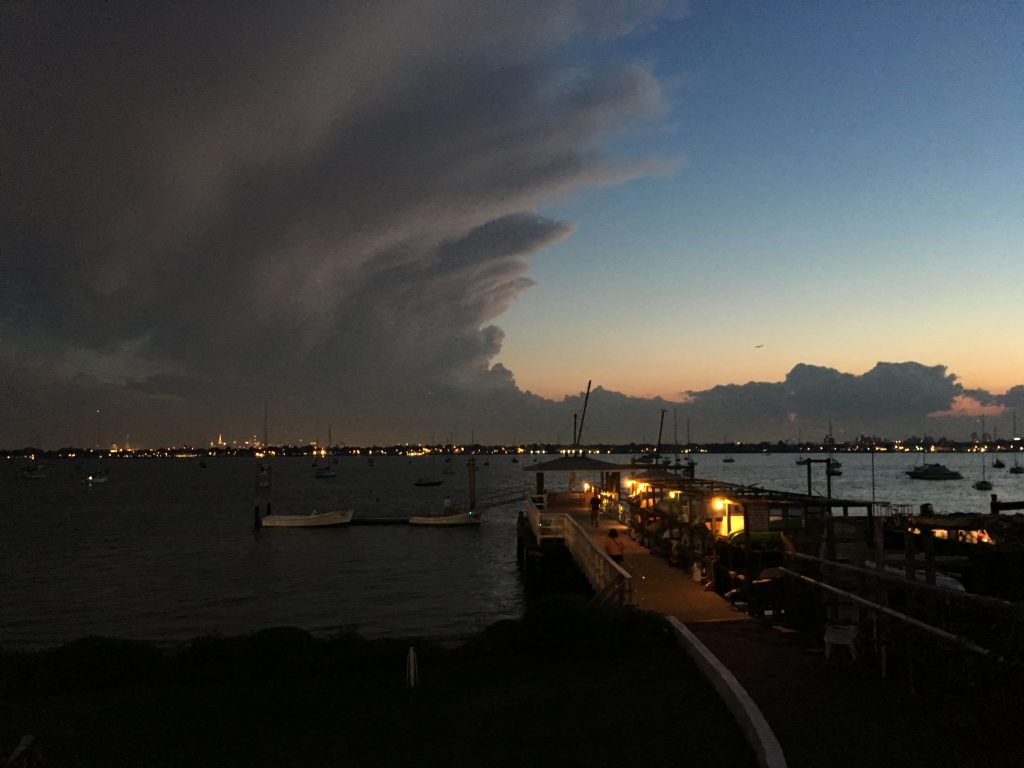 On our current trip, we settled into a guest mooring at the City Island Yacht Club. It was a Wednesday night, which happened to coincide with their race night. Crews were coming and going everywhere and it was a festive mood in the clubhouse. CIYC is not an overly fancy, well-to-do club, but rather a functional place to store and sail your boat, and have a nice meal or drink back at the club when you are done. Despite rubbing shoulders with more sailors ashore, a walk down the main City Island Avenue revealed to me that the island had lost much of it's nautical heritage since I was last there. Sure, there was the miniature sailing ship displayed in a planter outside the local elementary school. And the same marine store that I had visited 31 years ago was still there, along with a sail loft. But the feel of the place had changed, and I suppose I should have expected this after so many years. It wasn't such a bad thing, if I thought about it from a landlubber's perspective. There were now more restaurants than I could have imagined, many promoting their lengthy seafood menus and even lengthier views overlooking the water. We had heard that City Island, with it's proximity to New York City, had gone through a transformation, becoming a popular commuters enclave as people were gradually forced out of more expensive NY suburbs . Who could blame them. Economics can change a place in the blink of an eye. We had several nice meals ashore, the people were super friendly, and we also used it as a commuting location into NYC. Going back to an old haunt is tricky to the psyche – you want to see where you had been, and resurrect those memories, but I feel like your odds are 50-50 that you'll be disappointed.
We kept the boat at City Island for a week. For the first few days, we rented a car and drove back home to attend our youngest child's high school graduation. We are super excited they had reached this milestone in life and it was fantastic to be there to share in the joy.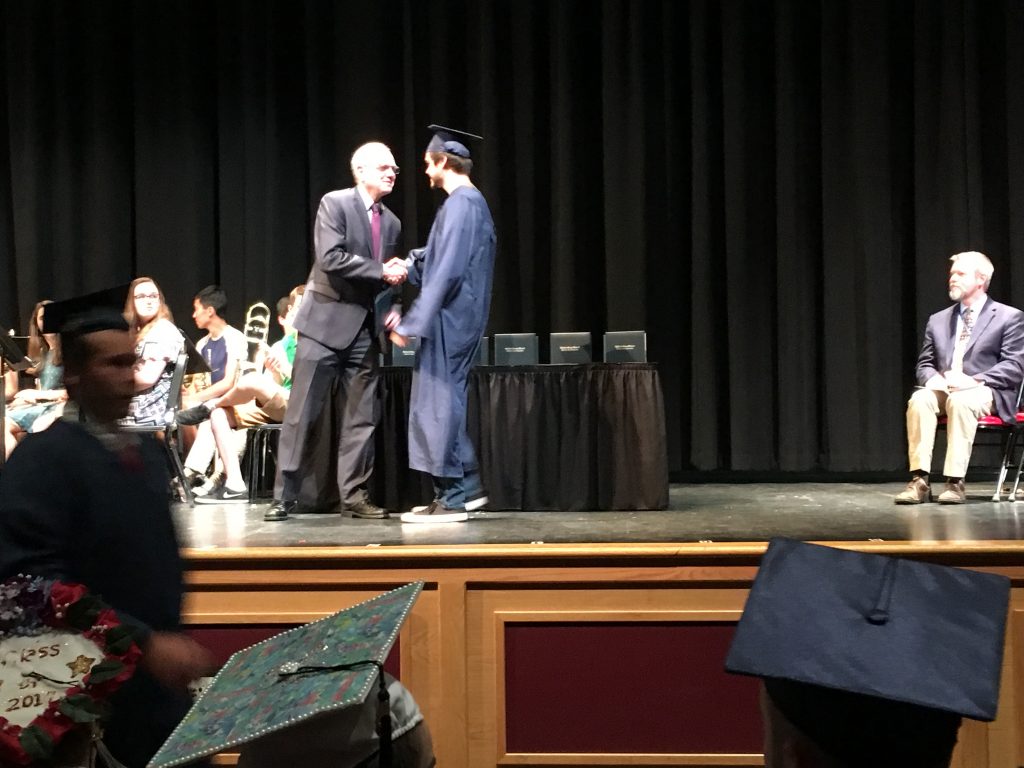 All along, we had planned to return home after the first week of the shakedown cruise, a handy break so that we could ship any needed parts to the house and pick up anything else from home that we might have forgotten or discovered we couldn't do without. In addition, the car was laden with 5 heavy deep-cycle boat batteries. During our first week, we had found that the house battery bank would not hold a sufficient charge, and the 5+ year old batteries needed to be replaced. Luckily for us, there was a distributor of the brand we needed – Trojan – in Auburn, MA, right on our path home to NH. For the gear heads out there, we bought the Trojan AGM Group 27 battery, as it came highly recommended from Practical Sailor.
Thankfully CIYC operates a launch service so we could manage the transfer of batteries using their boat instead of our little dinghy. Everything went smoothly and we hope these new batteries will give us many years of use. After some repairs to the plumbing in the aft head, we were all settled back aboard Thalia, and it was time to play tourist in NYC. Karen and I had 3 days in the Big Apple. We took in two Broadway shows, tasted amazing food, and walked so much that our step counters were smoking! One of things I love about sailboat cruising is that you ditch the car and your own two feet become your primary mode of transit ashore. The highlight for me was walking across the Brooklyn Bridge as the sun was going down and the lights were coming up in the city.
We also met up with Karen's high school friend John over a delicious ramen lunch. The weather had been cold and rainy for most of our stay, but on the last night, Karen's old work mate Toby and his girlfriend Stephanie, joined us onboard Thalia for a dinner, complete with a beautiful sunset in the background. The weather was finally starting to turn and feel like summer. After a week at City Island, it was time for the band to move on.
City Island is at the extreme western terminus of the Long Island Sound, where it funnels into the East River that runs down the eastern side of Manhattan. Sailors know to approach this area with great caution. Similar to The Race on the other end of Long Island Sound, the East River is the choke point that flushes water into and out of the Sound every 6 hours. In addition to general caution, we had to make a decision on whether to navigate down the East River and around the bottom of Manhattan, or try the path less travelled, up the Harlem River.
Here is Karen's video work on our New York navigation conundrum.
About an hour later we were deposited into the Hudson River just north of the George Washington Bridge. It was official. We were a riverboat now, and Thalia had to kiss goodbye the ocean swells and salty air.
On this portion of the Hudson River, the sights and sounds of New York City drop away quickly and you find yourself surrounded by lush, green banks on each shore. On the western shore that was still New Jersey, generally referred to as the Palisades, impressively steep cliffs dropped down into the river. A few tugs and their tows passed us, but otherwise, the steady drone of our diesel propelled us up the smooth, serene waters of the Hudson.
Fortunately, many others had gone before us to explore and map out these waters. The river gets its name from Henry Hudson, who in 1609 sailed his ship the Half Moon up the river in search of a northwest passage to the Far East, an exploration funded by the Dutch East India Company.  He got turned back by the shallows near Albany. Interestingly, he tried again two years later, proceeding into what is now known as Hudson's Bay, but faced misfortune and worse, a mutinous crew. Poor fella, at least he got named to a lot of the area geography.
We settled in for the night close to shore and the steep cliffs of Hook Mountain, just north of Nyack, NY. Dinghying ashore allowed us to experience the adjoining Hook Mountain state park and it's delightful walking path along the rivers edge. The path eventually wandered inland to nearby Rockland Lake. It was here in 1855 that ice harvesting was conducted, and they apparently developed world fame for their ice quality. I'm sure glad someone invented refrigeration, as having pond water melting into my cocktail would definitely taint happy hour. The nearby cliffs were quarried for rock and supplied to the growing metropolis of New York City.  This area was kind of like Shel Silverstein's "The Giving Tree" – Mother Earth generously sharing it's possessions with the human race.
The Hudson River can get a lot of boat traffic – tugs and barges headed down river laden with sand and gravel, ferry and tour boats circling, and of course pleasure boats like ours going both north and south. The guidebooks warn of frequent wakes from this traffic when you anchor near the river banks. But on this night, the river settled down to a glassy calm and sleep came quick and deep. No vertigo for the captain!
From Hook Mountain, we set our sights towards the oft-recommended town of Kingston, some 60 miles to the north. This section of the river has some very steep cliffs and twists, with a few small villages along the way, capped by the prominent military academy at West Point.
The water was so flat, and therefore Thalia so steady on her feet that I think you could have setup a pool table on the deck! Instead, Karen did most of the driving while I finished up polishing the stainless steel on the deck. Together with the wash down we had given her back in City Island, Thalia had a fresh spring in her stride!
Kingston was once a contender for the capital of New York state, and was therefore in the cross hairs of the British when we were struggling for our own independence. Two massive chain blockades had been erected across a narrow expanse of the Hudson further south at West Point, but those pesky British defied the young revolutionaries and made it past the blockade and up to Kingston, where their burned the city to the ground. Time passes, and we've all grown up, and so has little Kingston. It is a charming stop along the Hudson River, with an attractive lighthouse at the entrance to a creek that runs a mile up into town, with a bevy of shops and restaurants at the waterfront, including an admired maritime museum.
The water turned so flat in the evening that you could have mistaken the river for a quiet mountain lake. It was only outdone by a beautiful full moon rising.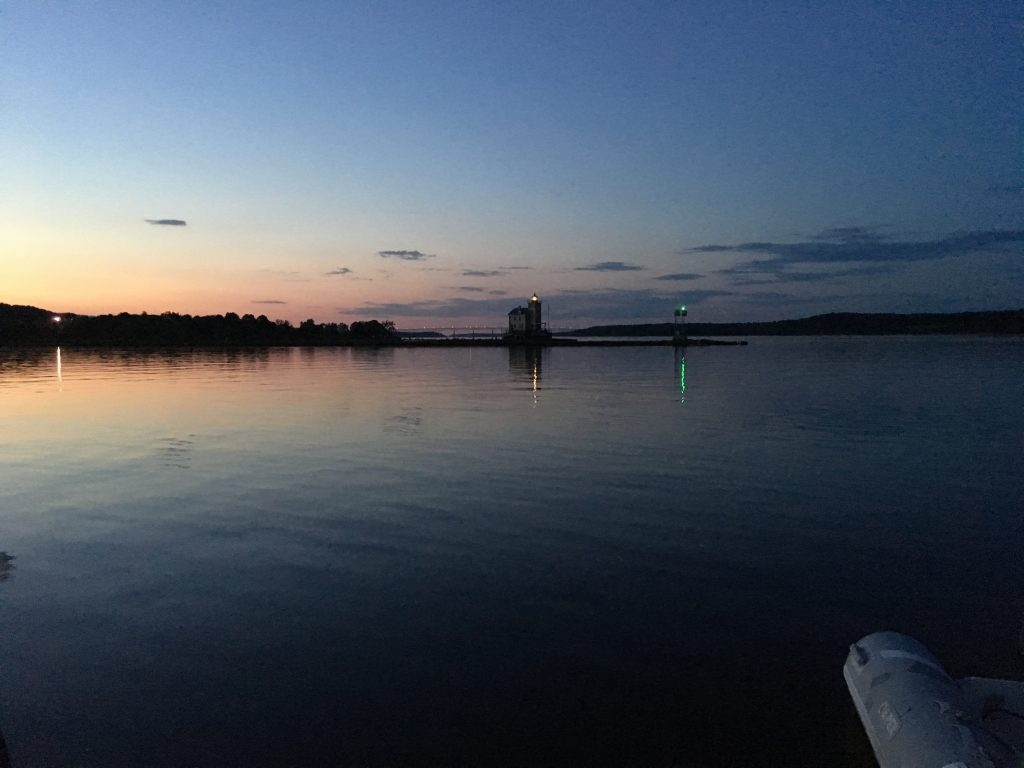 We have criss-crossed New York, from Trumans Beach in the eastern reaches of Long Island, to City Island and the bustling center of New York City, to the agrarian landscape and twisty geography of the Hudson River Valley. And it's not over yet… we have the Erie Canal ahead of us, for our final New York chapter!