Welcome to the Grimmett sailing, and lifestyle, blog!
We enjoy sailing to new and unusual places onboard our sailboat "Sea Rose", and we share these experiences – in all their natural and unfiltered beauty – on this blog. Our intent is to show you what it is truly like to live onboard a long-distance cruising sailboat, to share what we learn, and to describe how we overcome the challenges that Mother Nature doles out to sailors.
This blog also contains occasional updates on our non-sailing activities. Being onboard a sailboat 24/7 can make us yearn to discover land-based treasures and we share these other lifestyle experiences with you.
In addition to the blog posts you will find here, we also post videos regularly to our YouTube channel, LifeFourPointZero. Check it out! And yes, we are also on other social media platforms, such as Twitter and Instagram.
If you wish to subscribe to our blog, and receive an email notice when a new post is published, please scroll to the bottom of this page. We enjoy receiving your comments and feedback too. Feel free to post a comment on our blogs and videos, or go to our Contact page.
Karen and Tom
In a nutshell, we share a common passion for adventure and the outdoors. While we love the hubbub of a big city like anyone else, you will more frequently find us taking the road less travelled. We live in the rugged, rural landscape of New England, and when we are not sailing we spend our time elsewhere in the outdoors – hiking, biking, skiing, and, yes, quintessential long walks on the beach!
Our Boat
In early 2018, we purchased a new sailboat, a Jeanneau Sun Odyssey 440, "Sea Rose". This model was first introduced at the Annapolis Boat Show in October 2017. We took delivery of the new craft in France in the Spring of 2018 and we are currently spending our first few seasons sailing throughout the Mediterranean. If you navigate to Sailing | Mediterranean, you can read posts about our preparation and initial sailing adventures.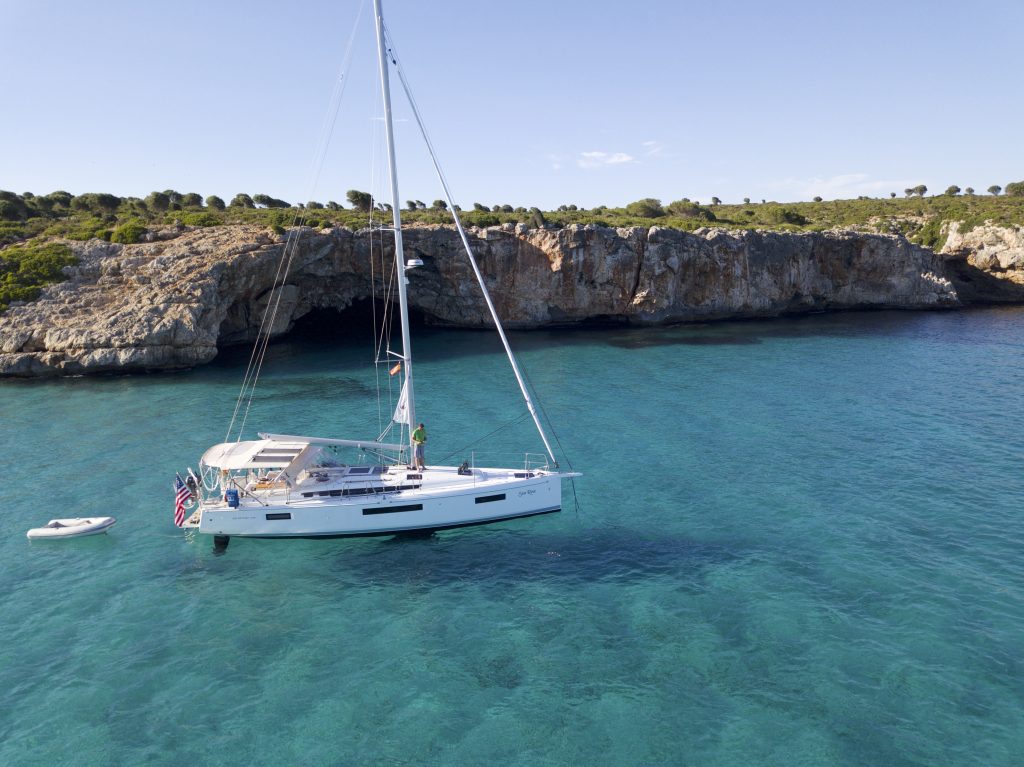 Prior to Sea Rose, we owned a 1989 Jeanneau Sun Kiss 47, "Thalia". We owned her for 13 years, sailing throughout the New England and Canadian Maritimes, as well as a jaunt down to the Caribbean with our two young children. Most recently, we spent the summer of 2017 sailing her throughout the Great Lakes. This blog contains many stories of those adventures. To learn more about our time specifically in the inland US waterways, navigate to Sailing | Great Lakes-Thalia . We also created a series of videos on our YouTube channel that described our Great Lakes experience. It is titled 'Sailing Into The American Heartland'.
"So What's The Story With 'Life Four Point Zero'?"
Life 4.0 (LifeFourPointZero.com) finds us, Tom and Karen, with an empty nest and a desire to fully experience our beautiful world and all of the wonderful cultures and people that call this planet home. Our primary means of exploration will be via sailboat but we realize that mode alone will not be adequate. We will augment with inland travel often. Why 'Life 4.0' you ask? Here's the back story …
Life 1.0 – Our lives before we met one another. Tom was born and raised in San Diego, California and it was his parent's influence that led to his love of the ocean and the sailing lifestyle. His mother's favorite place was the beach – ANY beach, any time. His father frequently took the family on sailing adventures around San Diego harbor and Tom had owned more boats than cars by the time he was 30! Tom studied industrial engineering and got his masters degree in Ocean Systems Management. He took a little time for fun between degrees and sailed his 32 foot Chesapeake from Annapolis to Nova Scotia and back again. Having spent his undergrad and graduate years outside of California, Tom eventually took a job with American President Line in Oakland, CA and settled into life in San Francisco. Back on the west-coast, Tom decided to get back into snow-skiing so he joined the company ski-race team.
Karen was born and raised in upstate New York and, although she came to sailing later in life, she loved the water and spent most days of her childhood at the lake or at a nearby swimming hole! After graduating from high school in New York, Karen made her way to California, got a BS in computer science then worked at several software and systems consulting companies in Silicon Valley. One of her consulting assignments brought her to American President Lines and she decided it was time to expand her circle of friends to include people who shared a passion for snow skiing … what better way than to sign up for the company ski-racing team!
October 17, 1989 – The day of the Loma Prieta earthquake that shook the San Francisco Bay Area for 29 seconds, toppled the 880 freeway, caused a span from the bay bridge to crash into the waters below and started disastrous fires and wide-spread power outages. This was also the day we met! There was a lunch-time ski-team meeting to discuss the upcoming winter fun.  After the meeting, Karen called Tom to see if it would be ok for her (a consultant) to ski on the company's team. At 5:06 that afternoon, Tom was discussing this topic with the head of the ski team and they determined that they did need a woman skier who could finish a race course so, yes, she would be able to ski with the team … then – rumble, rumble … the earth shook!
Life 2.0 – Our lives before kids. Karen and Tom developed a close friendship that turned into a romance throughout that ski season. They also shared a love for mountain biking, hiking and, generally, anything done out of doors. Over their courtship years, they traveled widely. Karen was introduced to sailing aboard Bodacious, a racing boat out of Berkeley Yacht Club captained by a physics professor from UC Berkeley. Getting to know Tom convinced Karen that proximity to salt water was a given for any future life they would develop together. It was also quite apparent they would one day own a sailboat together … or maybe more than one!
Karen and Tom married in 1992 and continued to fit adventure travel into their weekends and work schedules. We loved camping, hiking, mountain biking and, of course, skiing!
Life 3.0 – The years with children at home. In 1995, we had the first of our children (hope the switch to the first-person didn't throw ya!) The second child joined our family in 1997. When our kids were four and one-and-a half years old, we moved to New England and immediately began exposing them to our love of snow sports. As the first summer came and went, we realized that many people on the east coast have 'summer places' where they spend extended periods. We were lonely during that first summer and decided we would need  a plan for our summer weekends if we were to fully embrace this east-coast living thing.
As the kids improved their skiing, Tom began his sales job for our summer 'plan' … he found some trailerable sailboats for sale and tried out his pitch. I think he was shocked to hear my response. I said I didn't want to have to re-rig the boat each time we took it on a trailer to a new destination. I asked if it would be possible to get a boat big enough for the ocean and one that we could spend the night on and not have to also find places to sleep each time we wanted to sail on the weekend. He must have thought it was Christmas day! He was dumbfounded to discover his wife talking him into a bigger boat. Personally, I was just thinking of what would be easier for a family of four to pull off.  Regardless, we found a perfect 32-foot Pearson Vanguard and named her Pamela J after Tom's recently deceased mother. We got her a mooring in Casco Bay, Maine had a blast exploring the jagged Maine coast.
For several years. we sailed on Pamela J during the summers and skied in the winter. Tom and I both clearly remember the year when all four of us boarded a quad-chair at Pat's Peak ski resort, each under his/her own power, and then successfully skied down a very fun blue (intermediate) run. We had made it out of the baby years and the kids were so much fun to explore with.
On each wedding anniversary, Tom and I would share our favorite memories and our deepest dreams. Tom wanted to experience everything and the typical work-centered life-style was not going to fulfill his longings. I wanted to travel over as much of the world as possible and, because I had done so little of it before meeting Tom, I felt I was losing time we wouldn't be able to recover. We got more and more serious about taking time off to travel while we home-schooled our kids. Some time in late 2002 or early 2003 we put a stake in the ground, so to speak … we asked ourselves, 'what would be the perfect age for our kids to be to experience a year on a sailboat?' We talked with school counselors and settled on 3rd and 6th grade which was 3 years away at that time. I requested a bigger boat so we would come back a family (why do men always insist it is them talking their wives into bigger and bigger boats??!!). In June of 2006, with all of our land-based possessions either donated, tossed or in storage and our home rented out, we moved aboard Thalia (our new-to-us 47-foot Jeanneau Sunkiss). We blogged all about this time in our lives so if you want to learn more about the 14 months we spent aboard Thalia please see episodes numbered 63 and lower and dated 2007 or 2006 under the 'Sailing' menu of this site.
When we returned from our year of sailing, we again became a 'normal' family governed by the pace of school and work. We continued to sail on weekends and for a couple weeks of vacation each year and we skied as much as we could in the winter months. I went back to work and got tremendous satisfaction out of developing my career. I was able to travel extensively for work and thoroughly enjoyed collaborating with peers from around the globe. I felt I had to keep traveling … each trip increased my longing to see and do more.
In 2013, our oldest child went off to college and we found ourselves with additional free time. We began to dream about the years we would spend once both kids were independent. We decided to use our first empty nest summer as a trial run – we would move aboard our sailboat for four months and explore the Great Lakes in the upper, center portion of the United States. We had always sailed on the oceans and had each wanted to explore these mysteriously huge bodies of inland water so we began making plans. Tom was dissatisfied with corporate life so he quit his job to begin preparing for a life back on the boat. I continued working until the week before we shoved off the dock.
Life 4.0 – Can you say 'retirement'? The trial run was a tremendous success and our youngest child was the perfect age for some additional independence. It was time to see if we could make this work on a permanent basis. At this time, we were each in our early 50's and had been married for 25 years. We had known one another for over half of our lives!
After lots of hand wringing and spreadsheet manipulation, we took the leap and decided we would officially retire … and buy a new boat! Doesn't each new phase of life call for a new boat? We have always wanted to sail in the Mediterranean and northern Europe but I (Karen) was apprehensive about crossing the often stormy and rough northern Atlantic with our older boat. Taking delivery of a new boat in the Mediterranean checked all of our boxes and would provide amazing cruising grounds for years to come.  We set out to execute our plans to spend summers in Europe living on our new boat while reconnecting with family and friends (and enjoying snow sports) in the off-seasons.
In summary,
Life 1.0 – Life before we met one another!
Life 2.0 – We met, dated, married and enjoyed outdoor adventures together!
Life 3.0 – We had two children, raised them to love the outdoors, spent a year living aboard a sailboat while home schooling then eventually launched them on to their independent lives.
Life 4.0 – We retired early to build a life balance between land-based living with lots of time for family, friends and sports and water based living aboard our new sailboat, 'Sea Rose', exploring wherever she takes us!
Enjoy Life 4.0!