If you do any amount of sailing in Greece's Ionian Sea, you are bound to cross paths with the island of Levkas. And, if you are not too thrown off by its equally common name of Levkada, you will find a beautifully mountainous island with something for everyone. Together with the town of Preveza on the mainland, there are a plethora of services for sailboats on Levkas, and the commensurate line up of bars and restaurants to keep all the sailors in good spirits. We had visited Levkas last year with our friends Steve and Julie during a whirlwind tour of the Ionian. This time, as we sailed gently around the southern coast of Meganisi with both Paloma and time on our side, I was looking forward to exploring the island more deeply.
Levkas is connected to the mainland by a floating bridge, and its main villages like Nidri and Levkada town get the benefit of easy access and fresh supplies. Yet it remains a step apart from the mainland, a characteristic that truly all islands should have. We continued on a gentle sail west, with just enough breath of air to keep the boat moving, but not enough to drown out the sound of the bubbling, gurgling water sliding along the outside of the hull and dispersing in our wake. These are the halcyon days of summer, living in peaceful coexistence with the great Mother Earth.
With our goal of trying something new, we pointed Sea Rose's bow into the southern harbor of Vasiliki, a huge bay with plenty of space, yet protected from all directions except the south. It was no work at all to drop the hook into the nice, grippy sand, knowing our crafts were safe and sound. Vasiliki had somewhat recently expanded its marina with a larger breakwater and long finger piers to accommodate at least fifty more boats, but for some unknown reason, it remained un-used and off-limits. For an industrial engineer like me, this waste of resources irks my soul!
My companions and I found a watering hole along the long sandy beach with a cold beer that conveniently reversed any residual irksomeness. We found ourselves instead immersed in an enclave of young surfer dudes and dudettes, here for a chance to windsurf, kite-board, hobie-cat, or simply mingle with those that did. With a broad shallow bay and winds that dropped down from the high interior mountain peaks, conditions were perfect for a variety of water sports. Feeling a bit of the California beach bum kinship, our try-something-new-and-different Levkas strategy was starting to pay dividends. At a minimum, Vasiliki was worth at least an extra night's stay.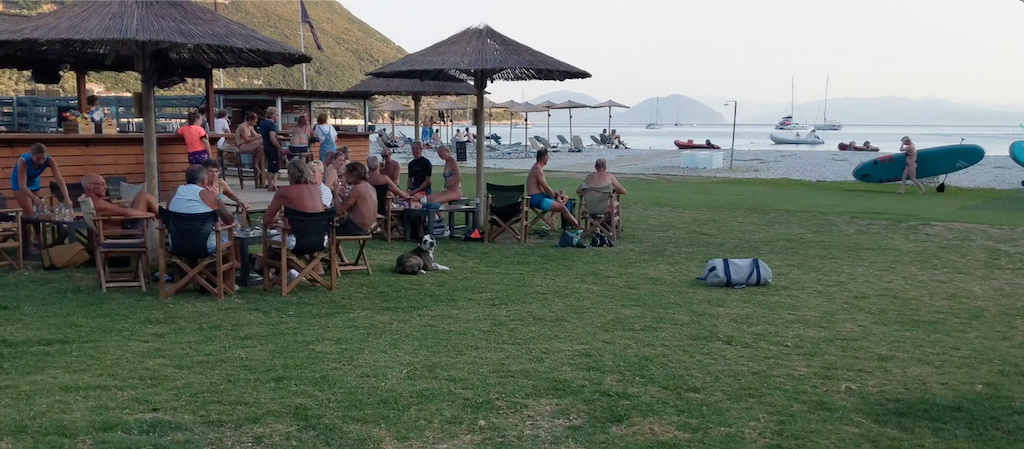 After a sleep peaceful enough to rival the best Ritz-Carlton accommodation, we all dinghied ashore to secure a couple of rental scooters for a tour of the island's interior. Theo rattled away in Greek with yet another proprietor that was impressed with his mastery of the language but curious about the off-kilter accent. It took some reassuring to prove he was a genuine Greek citizen, which is good because some sweet talking was necessary before the proprietor would release a bigger, more appropriately sized scooter to us without a motorcycle license.
Soon, we are leaving the town of Vasiliki in a cloud of two stroke engine exhaust (as I hear Greta Thunberg in the background scolding me, 'How dare you!'). I love this combination of traveling experiences – one day sailing along in a gentle breeze, the next, zooming around the wooded island interior on a scooter.
The west coast of Levkas is steep-to and its challenging roads made us thankful to have the extra horsepower. At one point, we made a spontaneous decision to exit the main road and follow signs to Gialos Beach. Really, any beach would have been fine. The narrow road became a test of steadiness with the handlebars, as we switched back and forth down from the cliff above, carefully avoiding large concrete barriers intended to keep us and cars from careening over the side.
With the price of admission so high, we weren't surprised to find only a handful of bathers and beach umbrellas at the water's edge. Ever steeper cliffs dropped to the sea north and south of us. To the road engineers and excavator drivers of Greece, I salute you – your colleagues in Kansas can't hold a candle to your master craftsmanship!
We carried on along the spectacular western edge of the island, weaving back and forth between sweeping ocean vistas, and cicada-filled pine forests. Eventually the road led us to Agios Nikitas, a popular destination with beachgoers and sun worshipers. Tavernas, shops, and mini-markets lined the road to the water. We picked one taverna at random to satisfy our lunch craving, and I watched as the owner's daughter, sipping a cold drink and doing school work at one of the outside tables, was asked to move when Daddy needed to make room for paying customers. It's good to see that rolled eyes and a tersely-worded reply was standard teenager protocol around the world!
A refreshing dip in the water washed away the dusty road residue. Karen and I lingered at a warm thermal vent in waist deep water, while Theo settled in for a post-lunch beach blanket snooze.
But time was of the essence and we couldn't dottle too long, as a more remote beach awaited our attention around the corner. After a 20 minute hike past ancient olive trees, we carefully descended on a slippery sand trail to Mylos Beach, a postcard-worthy spot accessible only by foot or boat. I was left to assume that the lucky person who coined the word 'turquoise' must have been inspired by this view.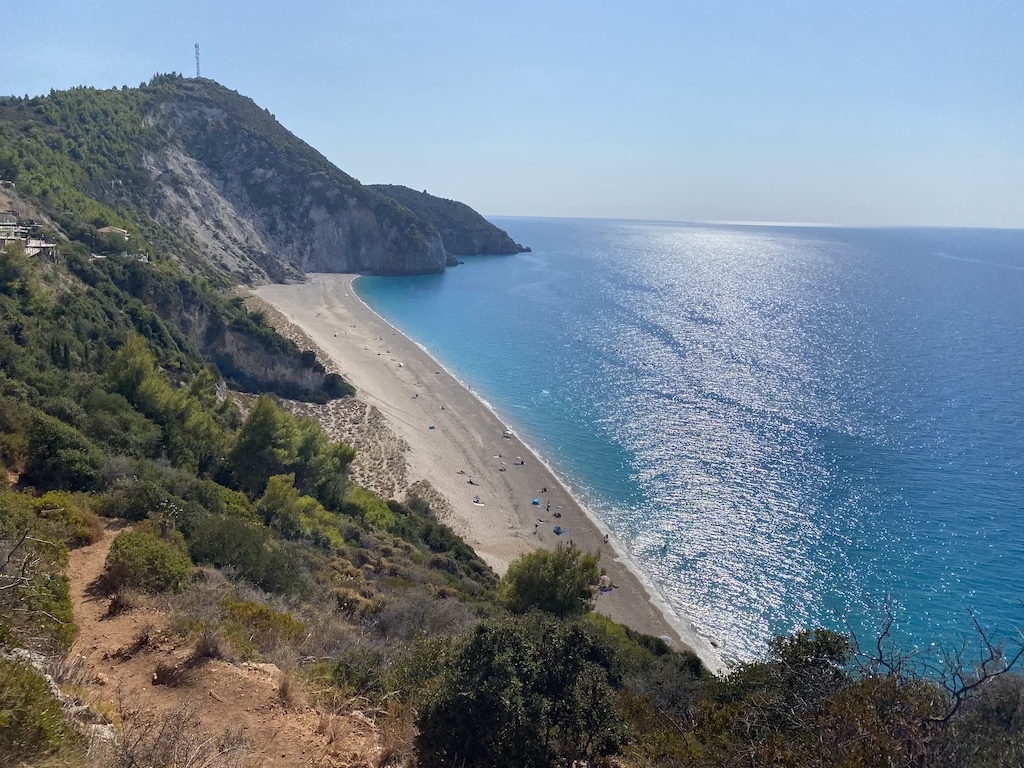 We were nearing the northern end of Levkas, and to avoid a return after nightfall, we cut inland, over a high ridge running along the centerline of the island. We were in search of a winery, to sample the local nectar. Instead, at the ridge line, we found a desolate moonscape, and I couldn't stop rechecking the fuel level as thoughts of being stranded and exposed ran through the drama-side of my brain. On the other side, we descended slowly to the village of Karya, tucked into the side of the mountain the same way a rugby player tightly clutches his ball. To avoid more saddle sores, we dismounted at the town's central square and went in search of a beverage, finding a few empty seats despite the ever-present cohort of older men, some talking, some staring, all drinking. I challenge you to find a town square in Greece without them!
With a workable cell signal, Theo caught an updated weather forecast that sent a chill through our bones. A developing storm off the coast of Tunisia was tracking directly for Levkas, with a shocking, buzz-killing wind speed of 104 knots! I told Theo there must be a mistake, perhaps it was a typo – as I modeled the early 'denial' stages of the standard grief spectrum. After checking another forecast model, the winds were slightly less but still of grave concern. We downed our drinks and saddled up for an end to the lazy sightseeing pace, deciding instead on a fast track back to Vasiliki.
The scooters were returned in a flash, and we sat around dinner examining the latest models of the storm. They were calling it a Medicane – and that's not a new kind of medication, but the mix of the Mediterranean and the force of a hurricane. Apparently we had climate change to blame for their increasingly common presence in these waters. A few models showed it tracking just south of Levkas and then into the Peloponnese peninsula. Other's showed a direct hit on Levkas. Anything above 30 knots is a concern. At 50 knots, objects start flying off your deck, pieces of sailcloth start to work loose, and cloth biminis – with solar panels attached – lift off into the heavens. Needless to say, a storm in the 100 knot range is no place to be.
We made the easy decision to depart at 6am the next morning and head north to Preveza, out of the core storm track. We might still have some strong winds, but Theo knew the harbor well and assured us we could find good holding for our anchors.
The sky was still pitch black when we raised anchor in the morning and Karen and I both tried to calm our collective nerves and focus on the task at hand. A slight swell rolled into the harbor but the wind was calm. I stood on the foredeck, panning the spotlight from side-to-side every 20-30 seconds, looking for any obstacles in the water. While the chance of wrapping a fish buoy around our propellor was slight, being disabled as a storm descended on you seemed like an irresponsible act. Soon enough, dawn struck and we could dispense with the search pattern. When I'm nervous or scared, the darkness seems to compound the feelings of dread. Like a candy slipped to you by a doting grandmother, once a glimmer of daylight appears, there's a wholesale change of mindset.
We rounded the southern tip of Levkas and started motoring at a healthy pace northward. As the morning light filled in, we could see the cliffs and beaches we had visited by scooter, in a blissful past life that was hard to believe was just yesterday. With urgency on our mind, we weren't inclined to sail under a moderate breeze. Fortunately, as we approached the clear air north of Levkas, the wind built into perfect beam-reach conditions, and both Paloma and Sea Rose unfurled full sail. I was able to pick up a weak signal and downloaded the updated forecast models. There was a strong possibility the storm would linger over Levkas, causing extra strong winds in Preveza. We had a short discussion over the radio and quickly redirected our sights to a new destination much further north with good protection and plenty of space to anchor. It took some hand holding by Theo, but eventually I was able to confidently pronounce the name of the town – Igoumenitsa (Eee-goo-man-EE-cha) – our new safe haven. There was no messing around, in our mind. Situated 45 nm north of Preveza, we weren't going to leave anything to chance. None of the forecast models had the storm coming anywhere close. We would likely see cloud cover and some heavy rain, but no significant wind. It would take all day to sail there, but it felt good to find a safe and secure place to wait out the weather. To our astonishment, we could see plenty of sailboats heading south, likely on the beginning of their charter week from the bases of nearby Corfu. I sure hope they would come to their senses sooner than later.
The wind continued to build and we had a glorious sail north under Karen's capable hands at the helm. I went down for a nap in the afternoon, not realizing how tired I had become with the restless sleep the night before and the anxiousness of impending doom. We had a robust plan and the strength of two boat crews; I just had to reassure myself that it would be alright.
We sailed all the way to the entrance to Igoumenitsa harbor. A narrow buoyed channel led a mile to the inside harbor, and we clung close to the buoys to allow room for the many passenger ferries to negotiate their way through. We discovered that Igoumenitsa is a popular boarding location for ferries to Corfu and even to Italy.
We were trusting our chart that there would be ample room in the inner harbor to anchor, and indeed there was – a nice muddy shallow bottom with plenty of room for both boats to swing freely. We were 70 nm from Vasiliki and with that number in my head, I fell easily asleep on flat calm waters, knowing we had made the right decision based on all of the information at hand. We would be hanging out here for as long as safety dictated.