The summer winds in the Ionian Sea are by-and-large quite mild. When it does blow, the wind comes onshore from the west. Therefore, most of the favorable, comfortable anchorages are on the eastern side of the islands. Cephalonia was no exception, with a range of options between quaint and bustling. As we motored into Poros under glassy calm seas, and we were the only boat in the anchorage, the town was feeling much more on the quaint end of the spectrum. A pronounced V-shaped gorge was cut into the ridge behind the town, hinting at a large valley inland and many decades of heavy spring runoff. A few multi-story buildings lined the shore, but otherwise, a long uninterrupted beach greeted us as we landed with the dinghy. Cephalonia was lining up to be a chill, low-key island, about as much of a polar opposite to Mykonos as one could get. A few teenage boys explored the rocky shallows, appearing to care less about what they might find and more about the simple companionship of a friend. Or perhaps Mom kicked them out and told them not to return until dinner time!
There was not a lot of interest in cooking onboard, so we chose to stroll the waterfront for options. It was the least we could do to help the Covid-ravaged businesses! A small brick square anchored the center of town, with a few kids playing basketball, and a few seniors watching on and likely dreaming back to their Michael Jordan moments. There was no shortage of tavernas, only a chronic shortage of customers. We passed one after another of completely empty tavernas, trying not to make eye contact with the forlorn wait staff. It reminded me a bit about interviewing candidates at an internship fair I had attended years ago – no visible end in the long line of eager resume-clutching graduates, so many qualified ones to choose from, and only one position to fill. We ended up with a waterside table, a token bottle of hand sanitizer, and some of the best pork souvlaki I've ever had.
We did eventually find other patrons, and thankfully didn't have to carry the rescue-from-Covid flag all by ourselves. In typical European fashion, a bar nearby advertised happy hour from 1900-2200! We were clearly off schedule with our dinner timing, but we made our best effort to adapt to happy hour!
In the morning, Theo came plodding up the coast and joined us as we collectively headed north on our discovery of the eastern shore. The next logic stop would be the town of Sami, but the reviews, both from Theo's trip last summer and other boaters, were mixed. We opted for the quieter harbor aptly named Antisamos, where only a lone set of straw beach umbrellas had taken up residence amongst the thickly wooded shore. Anchoring was tricky, with a thin line of optimal depths encircled by sharp dropoffs into the inky darkness. This would be a fair weather anchorage only. We zipped off in the dinghy with Theo and Theo's trusty dive knife to explore the local snorkeling. Luck was on our side. I found the largest shell by far that I've seen in the Med, an Atlantic Triton. It looked completely out of place, with enough girth to fill up your whole fist. Theo pried it off the rock for us to examine closer. Fried up in a pan of butter, it would have made a generous appetizer with friends, but we returned it to its rocky home.
Around the corner from the anchorage, right before we gave up for home, we found a tiny beach with clear shimmering water lapping up to its shore, and the brightest white pebbles rustling around as each wave rose up and retreated. A seam from the rocky coast ashore was filled with this bright-as-bleach white rock, and clearly was the source for our unique pint-sized three person beach.
Over a dinner of tasty grilled pork steaks, Theo told us that he really missed the sound of goats. I'm not sure, maybe it was a Greek thing. On cue, three goats ambled down the rocks nearby us to take a drink, as we fell over in laughter. The only time I had seen him more distracted was by the ample number of single women ashore looking for a man to sail away with! It was important we get to the bustling town of Fiskardo pronto!
Fiskardo has a few commercial docks for ferries to offload their patrons, but otherwise leaves it up to private boaters to find a spot on the harbor's perimeter to med moor. This was fine with us. Cramming into a tight town dock, with the high probability of a less experienced charter boat hitting us, was more worry than we needed. We were starting to perfect our technique with Theo. He had been reluctant to visit Fiskardo because of the difficulty of med mooring by himself. But now he had a few buddies. We would scope out a nice wide spot first. Then Karen would back us down to the shore while I released the anchor. I would then jump in the water with one of our stout stern lines, and a large cargo strap with loops on the ends. Once I found a suitable spot ashore, whether that was a tree or a boulder or occasionally a metal ring, I would rig the strap around it and then tie off our stern line to the strap. The strap provides several important benefits. It's replaceable, as the wear and tear of abrasion with rocks takes its toll. It also grips well to the backside of rocks, whereas a line can roll off of them. And finally, I can swim ashore with just the strap if I want to, and get it all in place before running the stern line to it. We also have several lengths of heavy chain that serve a similar purpose, but when I nearly sank once trying to swim the chain ashore without swim fins, I quickly opted for the lightweight strap!
Once we got Sea Rose tied up with at least one stern line, then Theo backed down, dropped his anchor remotely from the cockpit and Karen fended him off as he came alongside us. As the two of them held the boats together, I ran stern lines ashore for Paloma, Theo took up the slack, and we all breathed a sigh of relief, with me having the biggest smile, as I was the first one to enjoy an afternoon swim!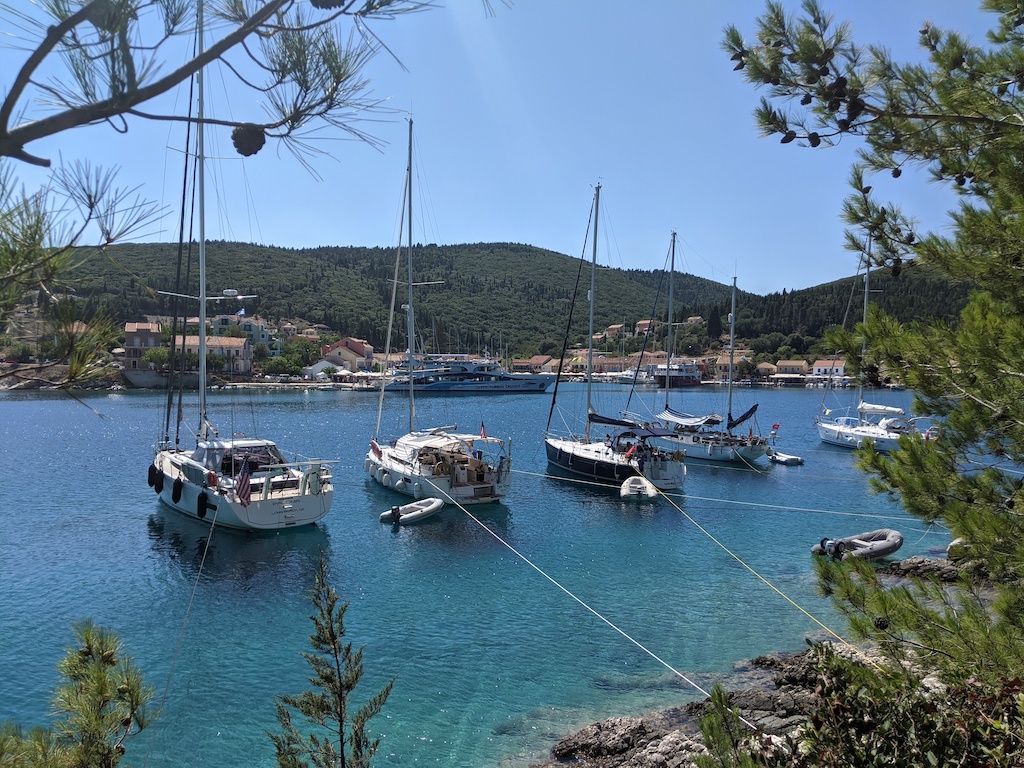 The others were not too far behind, and soon we were all enjoying a couple luke warm beers at Paloma's stern, in that magical in between state of existence that I will be very envious of in the winter. When I got too hot, a slip into the water cooled me off; when the water was a little cool, a soaking in the sun on the stern brought me back to stasis. A chatty Brit next to us swam over for a hello. He was an engineer, or some similarly less than chatty career back home – I can't recall from the hazy holiday my brain cells were taking at the time – but I did have the mindset to ponder how the sun and warmth and azure waters makes even the most shy of earth's creatures bloom.
When the beers ran out onboard, there were plenty to be had onshore in Fiskardo. I was surprised to find an upscale, swanky street scene, and equally surprised to locate a marine store with all the items on my list despite its tiny footprint. The Greeks, and Europeans in general, are masters of space utilization. Over drinks under a cabana, we tried hard to size up prospective mates for Theo, but like the beer, he was luke warm on the matter. I took it as a sign of how enamored he was with our presence, or that he knows the game – your odds of finding a great mate are much better when you are out with your buddies rather than alone!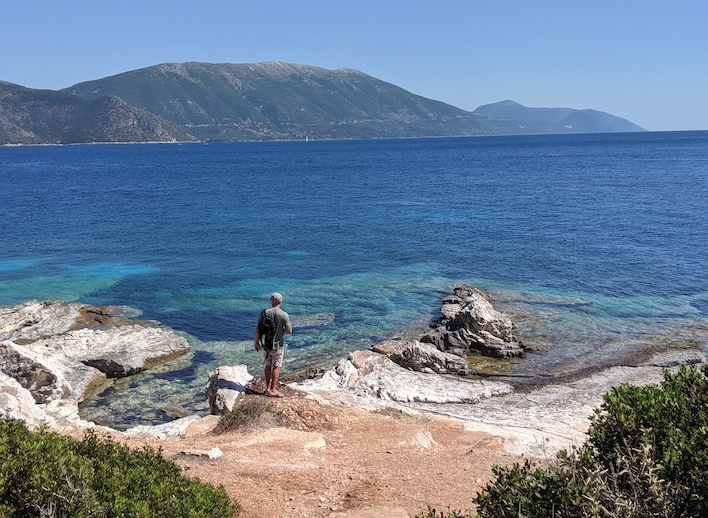 All of this east coast exploring was great, but the real cherry on the top was around the west side of Cephalonia at the town of Assos. If you are careful not to offend the locals with how you pronounce the town name, you will be rewarded with fine views on all quadrants. Let's just say I got my money's worth from the drone on this visit!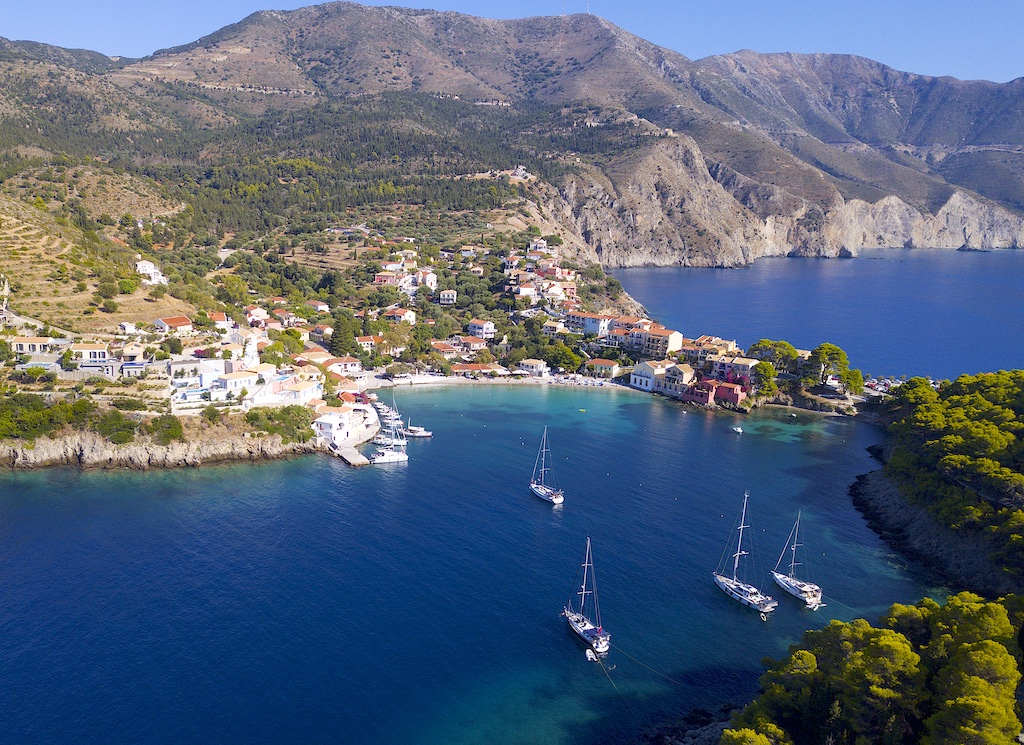 As if the colorful views of the harbor were not enough, we were told the sites from on top of the headland, ringed with a long serpentine castle wall, were ideal for viewing the sunset. The ascent required some careful footwork in spots along a sloping dirt path that dropped to a beach below, strewn with plenty of boulders to identify where your next of kin would have the highest probability of finding you. No risk no reward!
At the summit, several dozen people had already collected, and hushed voices were the protocol. A few smart ones, or those tipped off by their guide, had brought bottles of wine and snacks. I tried to imagine a nice burgundy as we slurped up the dregs from our water bottles. Slowly the big orange orb dropped down to the horizon, framed by cypress trees and a fertile valley. I wondered if the warriors of this castle headland ever got out of their war-mongering headspace to enjoy these gifts of nature. I sure hope they at least had some fermented grapes to dull the pain.
On the walk back down, we found a wonderful switchbacked stone road, which would have made our earlier ascent much more agreeable. I was so happy they had preserved this spot for so many to enjoy.
Walking back across the narrow isthmus that separated the headland with the town, dusk was descending and gentle lights were coming up on the streets and porticos. I could picture arriving here with Vespa and shoulder bag, renting a place for the summer, tucking away in a nook by a window and writing a love story. Some places on this earth stir your emotions in ways hard to predict and not easily forgotten. Until the next time, I will visit often on a magic carpet of my memories.