After owning and nurturing Thalia for 14 years, it is time to move on. Thalia is now up for sale at Navy Point Marine, in Sackets Harbor, NY, and we have bought a new boat! Our future adventures will now be onboard a brand new 2018 Jeanneau Sun Odyssey 440.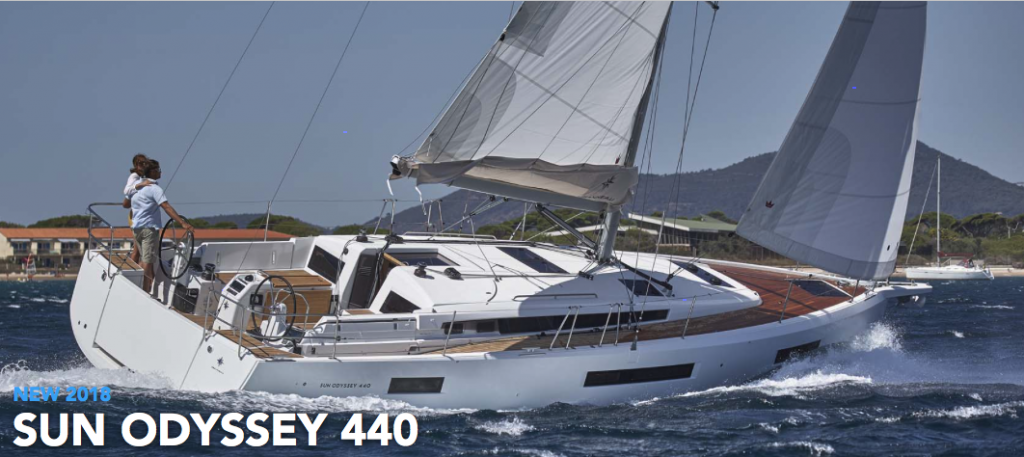 If you had asked me several months ago if we would ever sell Thalia, I would have told you an emphatic "NO"! She had taken us up and down the East Coast, to the Canadian Maritimes, and to the Caribbean. The year we spent with the kids onboard filled our family bank with priceless memories. And our most recent adventure this summer, breaking into new territory in the Great Lakes and the canals, was more beautiful and charming than we could have imagined. Thalia was at her finest sailing us across the waters of our choosing with ease and grace, and at the end of the day we could enjoy her new amenities, including this year's new dodger and varnished mahogany cockpit.
But, alas, we ended up at the Annapolis boat show in October, walking the docks and the decks of as many new boats as we could manage during the show's opening hours. Through it all, I remembered why we had not gone to a boat show in the last 14 years. Seeing all the shiny new boats, I knew the temptations would be too strong! The wheels had been set in motion when we listed our boat for sale with Navy Point Marine and realized they were a Jeanneau dealer. And conveniently, we hauled out a week before the Annapolis boat show. And, OK, I'll come clean by admitting that there were a few days in the summer that I had been browsing the Jeanneau website and accidentally left a page open of a new beauty, as Karen was taking over the watch!
The Jeanneau 440 is their newest generation of cruising boat design and has some very appealing features, the most notable of which is an inclining side deck that leads around the helm into the cockpit, making the transition from cockpit to deck very smooth. Unlike a lot of sailors that keep getting bigger boats, we are downsizing with this new boat, but Jeanneau has done a fantastic job with the use of space, making it feel very similar to the size of Thalia.
With the Jeanneau plant in France, we opted to take delivery in the Mediterranean. If all goes as planned, she will be bobbing in the water in late Spring, ready for us to grab the reins and start exploring the Med. More news to come as it gets closer! In the meantime, if you want a fantastic long distance cruising boat, check out this listing! The wonderful folks at Navy Point will take good care of you.