When an island has everything you need – beautiful clear water, rocky pink shores with deep woods, wild blueberries that grace your pancakes in the morning, and bonfires around which you develop new friendships – it is hard to say goodbye. But that was the Benjamins, and although goodbyes don't come easy, they are a reality in the cruising world.
Nearby, at Hotham Island, we had been tipped off by a fellow North Channel cruiser that if we played our cards right, we could be invited ashore for happy hour. As it turned out, the invite came easily, as Elaine came kayaking around the anchorage with a friendly welcome and an invite. The rules were easy enough. Bring something to drink, bring a small food item to pass, and take home your own garbage. Sounded good to us!
Elaine, and her husband Norm, are retired boaters who graciously open up their beautiful house, complete with a deck overlooking the harbor. They were clearly very social. Plus, it gave us an opportunity to meet other power and sail boaters and to learn their stories.
While there was not too much creativity in our potluck offering – sliced cheese, summer sausage, and crackers, and there was plenty of cheese and crackers from the other boaters – the wine flowed easily and we quickly learned a little Ontarian lingo. You don't bring a drink to a party, you bring a 'bevvie'. And the little guest house Norm and Elaine built next to their main cottage is properly called a 'bunkie'. I can only guess what a few more nights with these folks would have revealed!
There was a strong Northeaster predicted the next day and most folks at the happy hour were planning to stay put . But we needed to make westward progress in order to get to Mackinaw City, and a northeast wind in these parts qualified as a 'fair wind', if not also a 'following sea'.
The next morning dawned dark, gray and threatening of rain, as forecasted. We decided we could sit in the cabin all day listening to it rain, or we could sail in the rain and make progress towards our goal. With a bimini, dodger and foul weather gear, how bad could it be? As it turned out, not bad at all! We made it safely to our destination 25 miles away at Turnbull Island, weaving our way between small islands and channels, including one especially narrow passage named 'Little Detroit'. I'm sure there must be a good story on how it got it's name, but there is nothing Detroit about it. It is just 75ft wide and 16ft deep. No GM world headquarters nearby. In fact no sign of life anywhere nearby. Boats customarily do a securite call on the VHF before passing through, as it really is only wide enough for one boat at a time, unless you want to play Russian roulette with the rocks on shore.
From Little Detroit, the waters start to open up into Whalesback Channel. Enjoying the fresh breeze from behind us, we tried not to look to often at the clusters of rain clouds appearing in the rearview mirror. Luckily, although it was cold, the rain seemed to work its way around us, as we concentrated on our course through the channel to the larger Turnbull Passage, eventually furling our sails for the narrow entrance to Turnbull Island. The wind was steadily building to 20+ knots and it felt good to get behind the island and safely anchored, while the tall trees took the brunt of Mother Nature's temper tantrum. The upside of a fresh breeze is that you get to your destination much sooner than projected. In this case, we huddled down below in the cabin and baked bread and recited poetry. Actually that's what I really wanted to do but instead, for the benefit of our friends and family, we spent the afternoon and evening coaxing the razor thin cellular bandwidth to accept our many videos so that we could post to our blog! The sacrifices we make for all of you!
Poetry would have also helped ease our nerves as the wind hollowed outside and Thalia swung broadly from side to side on her anchor. Instead, we tried our best to get sleep before our next long day westward. Dawn broke to deep blue skies and a lingering fresh breeze still out of the Northeast. The two weather sites we use weren't much help – one predicted 10 knots, the other had gusts to 30 knots – but we weighed anchor regardless and set a course across the wide open expanse of the western North Channel area, destined for Drummond Island 45 miles away. It was a glorious morning, as I tried to capture in this video. Like I said it was windy, so the audio didn't come out too well on the GoPro, but yours truly added subtitles. Again, the sacrifices we make for you!
Our destination, Drummond Island, was selected because other cruisers recommended it as the best place to clear into U.S. Customs. And, in fact, it was. Karen and I had recently applied for the Nexus card, and the Customs officer seemed relieved to hear about this, as it saves everyone a lot of time. We simply called into their local office in Sault St. Marie, and 5 minutes later, we were officially welcomed back into our home land. Almost as easy as Canadian Customs!
We had made such great progress with the early morning wind that we continued pass Drummond Island and wound our way through Detour Passage, where lake freighters transit on their way to and from Lake Superior. The previous day's storm, and it's accompanying wind, was a distant memory as we motored in calm conditions along the shore of Michigan's Upper Peninsula, finally settling on Beaver Trail Bay. We had made 65 miles on this day and were in striking distance of Mackinaw City.
Beaver Trail Bay was not identified on any of our cruising guides or ActiveCaptain as an anchorage, but was well protected from the prevailing wind. It was fun to explore a new spot and be able to make our new entry in ActiveCaptain to benefit other cruisers.
In the morning, I awoke to glassy calm conditions, which meant only one thing – time to launch the paddle board! The water was so clear it felt like I was floating on a cushion of air over the surface of the rocks below. Truly magically. You'll have to put up with my chit-chat as I strapped on the GoPro and reflected on various topics of our trip.
It was a morning of playing with toys, as I took the drone up over the Bay after the paddle board ride to capture a bird's eye view of this special anchorage.
At some point, the playtime has to end and we raised anchor from Beaver Trail Bay for a short 20 mile hop to Mackinac Island. Any Michiganian you meet is quite familiar with Mackinac Island, and likely most Midwesterners are too. It's an extremely popular tourist destination, being just 5 miles off the mainland and served by so many ferries, you could practically walk across them to get there. The island's most noticeably feature when you disembark is the pleasant lack of cars. People get around by either their own two feet, by two wheels, or by horse-drawn carriages. If you never leave the main street, which I'm convinced many visitors do not, you'll quickly discover it's hard to keep your positive calorie burn in check after indulging in one of the many fudge shops. And I mean many. The published count is 15, but I think the guy assigned to do the counting was a little too much into the sauce, if you know what I mean. I would estimate that every other storefront sold the sugary delight, and those that didn't were selling t-shirts and other souvenirs.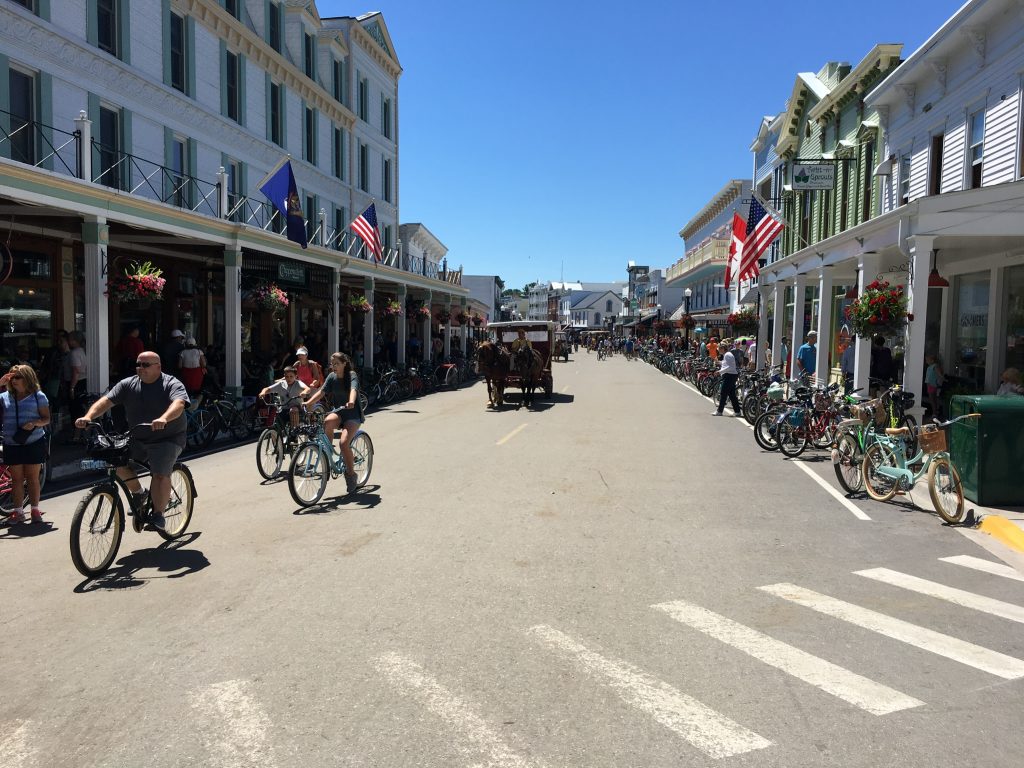 On top of the fudge, the town was in a bit of a pandemonium when we arrived, as the Port Huron to Mackinac sailboat race had just finished and the town was packed with the crews of over 100 boats. In fact, a friend that we had meet in the North Channel had just completed the race. The other big race here is the Chicago to Mackinac, and clearly the town was very proud to be the finish line for these noteworthy events, as long as they didn't overshadow the fudge business.
I was surprised to see one shop named Murdick's Fudge, and the name rang a bell. Sure enough, there is a Murdick's Fudge in Edgartown, on Martha's Vineyard. So, it was an easy decision on where to spend my preciously small fudge budget.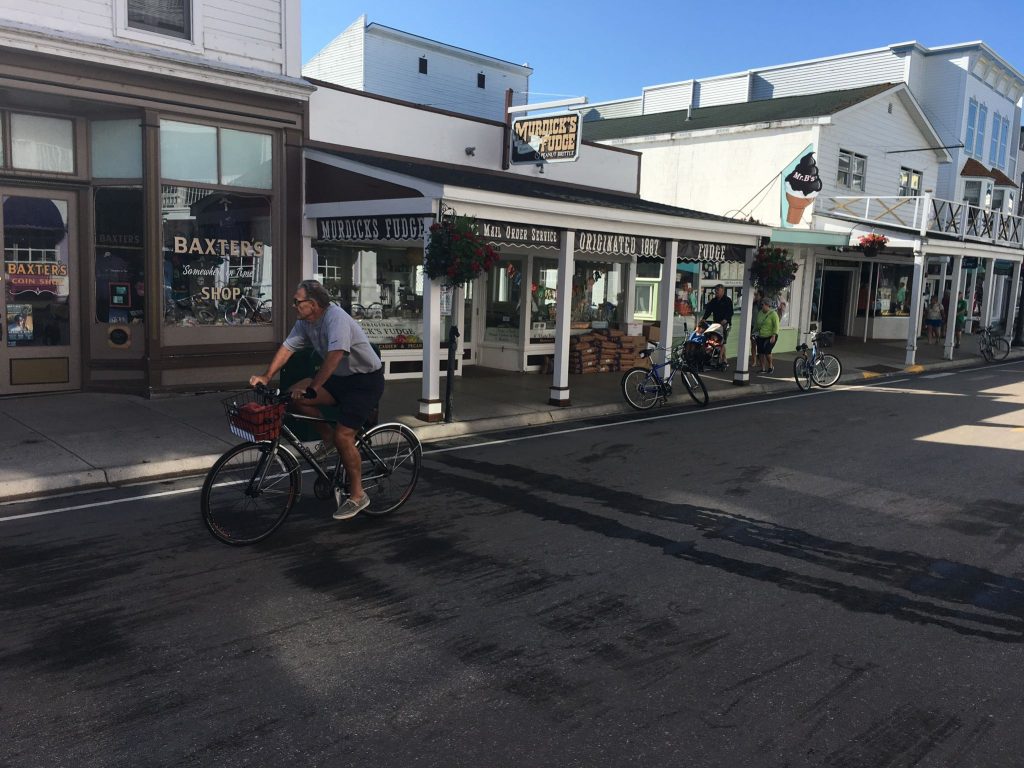 If you were ever confused on the main ingredient for fudge, you need not look any further than this healthy stack of 50lb sugar sacks awaiting the day's production in front of Murdick's.
It is a good idea to rent or bring a bike to the island, so that you can see more than the main street, and to revel in the fact that no car is going to take you to an early grave. The bike path circling the island is 8.2 miles long, and one shop in town has a bit of fun with this fact by selling those oval running race-style bumper stickers with a bold 8.2 on them. In fact, they sell just about anything with 8.2 on it!
While on the back side of the island, we stopped at 'British Landing'. At this site in 1812, a persnickety group of British soldiers snuck ashore and caught our men in arms by surprise at Fort Mackinac. It seems that our men had not paid up on their cellular service as they did not know that we had recently declared war with the British. Poor Lt. Porter Hanks capitulated and the British seized the fort.
Mackinac Island holds watch over the Mackinaw Straits – the channel that separates Lake Michigan from Lake Huron – and due to it's strategic location, it has been fought over repeatedly by native tribes, British and Americans. The British built the fort during the American Revolutionary War, to guard the Straits, and – showing their persnickety traits early – did not relinquish the fort to us until 15 years after we won our independence. Maybe that is why they were so eager to steal it back in 1812. Thankful, at the Treat of Ghent, during the settling of matters at the conclusion of the War of 1812, we got the island back. It is a good thing, as I figure we are close to paying off the national debt with the burgeoning fudge sales. I shouldn't be so hard on the Brits, though; they did bring us the Beatles!
Two days, a couple of t-shirts, an 8.2 mile bike ride, and a token fudge purchase behind us, we set out for Mackinaw City, just 5 miles away on the mainland. Before I get too far along, I should explain the Michiganian lingo around these parts. The island, spelled Mackinac, is pronounced "MACK-in-awe". The 'c' is silent. If you are confused, be happy we no longer use it's original native name "Michilimackinac". Now, the city of Mackinaw is pronounced the same – "MACK-in-awe". However, the bridge and the straits it crosses go by Mackinac. They are all pronounced the same, thankfully. To keep it simple, a crafty Michiganian named the bridge "Big Mac" and the nickname has stuck. That works for me! It's a mighty one. It has the longest suspended span between anchors in the world, at 3800 feet. The whole structure is 5 miles long. Considering that it was built in 1957, the whole thing is pretty impressive.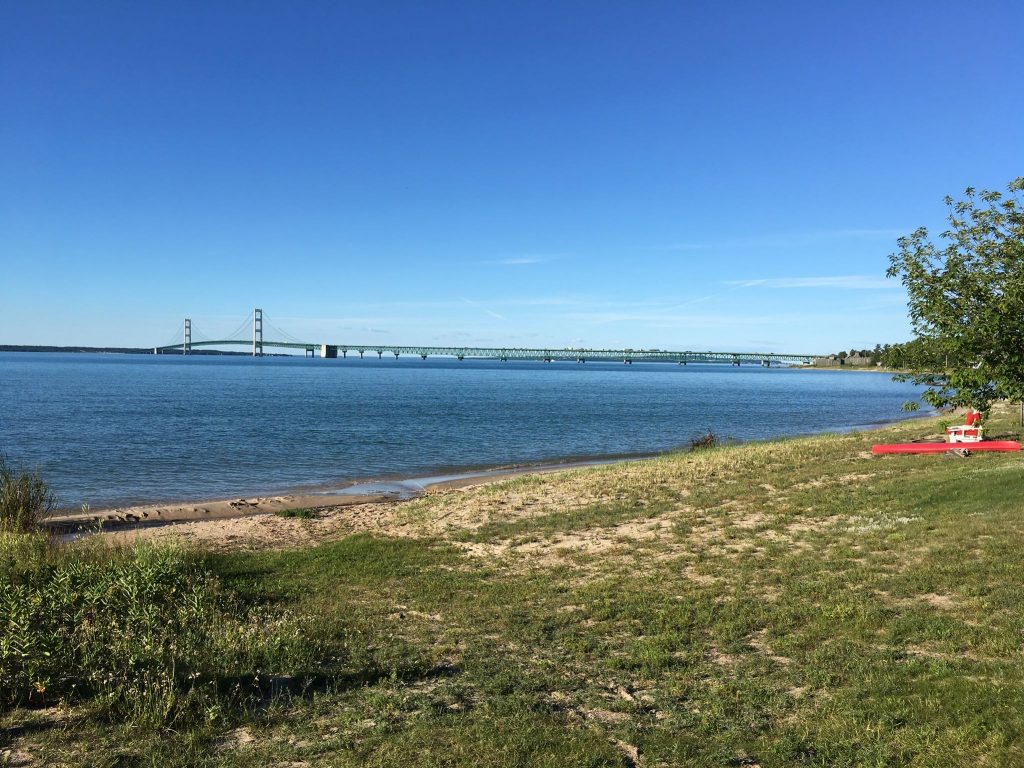 For now, I'm camped out at the Mackinaw City Marina for 4 days while Karen flies out to her 35th high school reunion. This town is odd in the sense that it is like Mackinac Island, with it's plethora of fudge and t-shirt shops, but without the charm of horse carriages and the absence of cars. It seems that once upon a time, when cars became affordable to most households in America during the early 1900's, there was the West Pike that traversed from Chicago to Mackinaw City, and there was the East Pike that travelled from Detroit to Mackinaw City. Great gangs of drivers and their cars would sign on to a 'motor club' and travel up one of these pikes, landing in Mackinaw City for a little R&R. Thus began the tourist business here, and it has never looked back. Coming to visit here, you have a dizzying array of choices including basic hotels and motels and campgrounds, or you can hop on the ferry to go to Mackinac Island. The City has a disney-esque feel to it, with tourist attractions like a zip lines, haunted houses, and virtual reality rides. Curiously, the neighborhood hardware store, which has seen a visit from me every day, has a non-stop stream of people walking in off the street. Young kids, grama and gramps, baby strollers – the whole gang will traipse through the store and admire the items as if it is one of those gift shops you walk through at Disney after you've stepped off the ride. I wasn't sure if I should love these people, for their interest in hardware, or despise them! The upshot was that the store stayed open until 10pm.  That's a record in my log book of American hardware stores.
The list of boat projects – from the 'I got to get that fixed immediately' to the 'it would be nice if…' items – was pretty long. Thankfully there was a marine store adjacent to the marina. I won't bore you with the details, but I made some modifications to the refrigeration system, which has been acting up on us for the last few weeks. I also dragged out the anchor chain and laid it on the dock to refresh the every-30-feet markings.
The varnished mahogany in the cockpit got a few more coats, including more grit to keep us from slipping when it gets wet. The portholes on the main cabin house also needed new caulking to stem a few leaks during heavy rains. It felt good to knock items off the list during this mid-cruise stopover. The boat gets a lot more use during full-time cruising and issues become more annoying as you live with them 24 hours a day. I can highly recommend taking a break like this to catch up on the punch list.
I wrapped up my bachelor weekend with a visit to the US Coast Guard icebreaker "Mackinaw", right next door to the marina. We had enjoyed the company of the "Mackinaw" back at Put-in-Bay, Ohio, as she was making her summer rounds. But it shouldn't be confused with the real "Mackinaw", launched in 1944.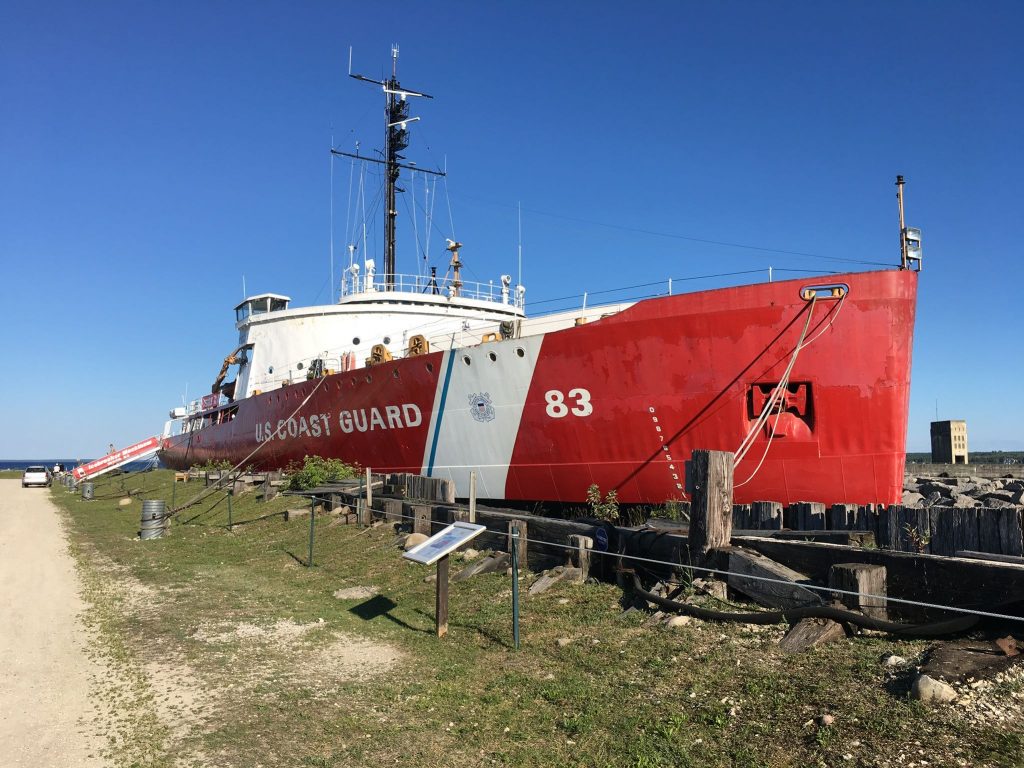 For 62 years, she cleared ice in the shipping lanes of the Great Lakes, to keep the lake freighters moving. It was a noble mission, but the real driver for building her was the start of World War II. Immediately after the attack at Pearl Harbor, the U.S. government approved the building of the Mackinaw. Iron ore and other minerals from Lake Superior were critically needed for the war effort, and keeping the ships moving through the ice to keep manufacturing plants running was a no-brainer. She was decommissioned in 2006 and replaced with a combination icebreaker and buoy tender.
The tour of the Mackinaw was very well done. The interpreter in the engine room was a fella that served three tours on the ship as an engine mechanic, so it was great to hear directly from him. Hats off to the organizers of this floating museum. They did a stellar job, especially considering the expense to keep a ship of this size still floating. The Mackinaw used to operate out of Cheboygan,  15 miles to the south. I understand that the Cheboygan town leaders couldn't decide what to do with the decommissioned ship, so a few insightful business leaders in Mackinaw City stepped in, found dockage space, and now we have a living history museum for generations to enjoy. Awesome job!
Tomorrow morning we bid adieu to Mackinaw City, and pass under the Big Mac to continue our westward progress into Lake Michigan.
Thanks for following us. We appreciate your support and feedback. Also, you can follow us on Farkwar, where we post our GPS position each day that we are moving, and we include a short comment on the day's highlights. You can subscribe on the Farkwar site to get email updates, or just go to their page to see where Thalia is currently located.