It was mid-July and we were headed back up the Rijecka River just north of Dubrovnik for another quick turn-around for fuel, water, laundry, cleaning and provisioning (all easily done at the ACI Dubrovnik Marina). We were very much looking forward to welcoming our two young-adult kids and one of their friends on board for a week of continued exploration of the amazing Croatian islands. Our fingers were crossed, hoping we had reached the end of the long streak of bad weather we had been coping with. You will recall our last couple blog posts about the many, low-sleep nights we experienced at the hands of Mother Nature where we had a night-time fight with an unfurling code zero followed by several nights of dragging anchors (ours, but more often others) and repositioning boats mid-storm. Our nerves were frayed, our patience was tested and strained and our ability to cope was compromised by not enough sleep. This is not the best way to begin a week with family, but we hoped a night on anchor in a very familiar and secure place would help.
By 7 am on the morning of the day we would meet our kids in Cavtat, we were on the ACI Marina fuel dock, filling our water tanks and washing down our boat. This was a Friday, an extremely busy day for charter boat turn-overs so if we didn't get on the dock before it opened for business, we wouldn't be able to get water and we would likely have to literally wait in a floating line for our turn to fuel-up! The evening before, we had finished laundry and buying/stowing groceries. As we tossed off the dock lines with full tanks and holds, we turned south for the short sail to Cavtat and looked forward to welcoming our youngest, Alaska, on board in a couple hours' time.
The Cavtat harbor was quite full so we anchored in a spot neither of us were fully comfortable with. After we set our anchor, we put out a stern anchor to limit our swing in this crowded space. This harbor is very deep in the center so we were not able to put out a scope we had hoped for. In good weather, we almost always put out an amount of chain in a 4 to 1 ratio of chain length to water depth. This ratio is called your 'scope' and it is a common ratio to provide good holding if light weather tries to push your boat away from her holding. When you expect anything more severe than mild weather, you increase your scope to help your anchor hold. Today, we were only able to put out a 3:1 scope given the constraints of this harbor. It was a beautiful day, we could adjust later if needed.
Tom stayed on board while I took an Uber to the nearby airport to meet Alaska's flight. She would be tired – the trip for these three from the United States was long and required multiple hops! We were back on board before noon and as Alaska got settled into the single berth in the cabin we refer to as our 'workshop', we made lunch and prepared to just relax and swim for the afternoon. Tom's cousin Graham and his wife Sarah—who had recently been on board—were flying home from Cavtat this evening. We planned to meet at a restaurant in town to introduce them to Alaska and share a quick meal before they hustled off to the airport. We didn't need to meet Zack's friend, Andrew, until after his flight arrived around 9 pm that evening. Zack would fly in the next morning.
Throughout the day, I learned that severe thunderstorms might hit our area over the coming 24 hours and that strong winds from the Northeast would accompany the storm. Severe storms had been predicted for various regions throughout the Croatian coast for the last two weeks – sometimes they materialized, sometimes they didn't. I seem to be the one who is much more anxious about bad weather. Knowing this fact, I really tried not to over react. Given our recent experiences, I was working especially hard to just chill and do the best we could if and when changing conditions came our way. We reasoned that the high bluff to our northeast would protect us from winds and that we were better off here than in the larger harbor just east of us as that location would provide a greater fetch for the wind to build an agitated sea.
Somehow, we never got around to adjusting our anchor scope even though the skies grew dark and ominous as Tom and I went back in to meet Andrew later that evening. Waiting in front of an agreed to meet-up place, lighting became increasingly prominent in the northeast. We were texting Andrew and it felt like an eternity to wait for his Uber … it was probably just 15 minutes! As soon as we saw him, we said a quick 'hello' then began a brisk walk back to the dock and our dinghy. The lightning and thunder were just about upon us … suddenly, the electricity in the entire town went out. No time to dawdle … let's high-tail it to the boat. The winds were beginning to build.
Andrew had never spent time on a boat so welcoming him on board took a while. We didn't know Andrew either, so we were trying to be calm as we got him on board and then assessed things with the boat and the approaching storm. Alaska was fast asleep already given her day of travels and jet-lag. The sound of the wind increased, prompting Tom to go up on deck to see how we were holding; he quickly called down that we were being blown too closely to the roped-off swim area against the shore. I ran upstairs … the winds were now building quickly so we didn't have much time. I turned on the engine and Tom went up to the front to take the snubber off the anchor line so we could raise the anchor if we needed to or at least drive up on our anchor and hopefully hold our position until the winds died down some. We had a stern line out that we would also need to deal with.
Alaska woke up to our concerned voices and she jumped into action immediately by checking our changing position with regards to nearby boats. The wind had already pushed us too close to the swim area and to other small moorings for me to be able to put the engine in gear. If the propeller grabbed one of the lines underwater, our troubles would be much greater. It is very hard to hear in high winds so Alaska went part way up toward Tom to repeat what I was saying from the helm. "Try to pull us forward by the windless … at least enough to free us from lines so I can put her in gear". Tom tried that but the winds were too strong and we were clearly dragging further into the swim area for the on-shore resort. We needed to get the dinghy ready to help … Alaska tried to unlock it but since she just boarded she didn't know which key would work. Time was passing too quickly and we were getting in real trouble. When Tom realized he couldn't help enough with the windless, he also knew we needed to get the dinghy free to help pull or push Sea Rose until we could safely put her in gear. With the dinghy finally unlocked, Tom jumped in and drove to the bow where Alaska had a line to secure in hopes that our 15-horsepower dinghy engine could pull Sea Rose against the crazy winds we were fighting. The dinghy was barely able to hold us, but it was not strong enough to move us forward. We were now getting way too close to shallow water and the concrete edge of the wall that was the shore-side of the swim area, which we were now fully inside.
Yikes … we were in a very tough spot. Making no real progress from the bow, Tom moved the dinghy to the starboard side of Sea Rose between the stern and mid-ship and began pushing with the nose of the dinghy – tug boat style. We were holding for now but who knew if the winds would build further. I had Alaska and Andrew working to toss off our the stern line since it was currently doing more harm than good. We would try to retrieve it later or tomorrow. All of this was going on while Tom had the dinghy engine full-throttle, lightening was everywhere, rain was pelting sideways and a wedding was going on on-shore! Many people came out onto the dock to watch … I screamed over the storm's din, "We need help … does anyone have a stronger boat to pull us away from the dock?" They all looked at me, but no one said or did a thing. Eventually, they went back inside to stay dry and safe! A bit earlier in our crisis, I had Alaska get life jackets for each of us and asked her to help Andrew make sure he knew how to put it on. If we went aground and the wind kept up, our boat would likely tip and we would need to get off quickly to stay safe. We were only about 15 feet from the shore, but the water would be rough.
Now I had to ask an important question. I am a licensed captain with the US Coast Guard. I am at the helm, it is 100 percent my responsibility to keep everyone on my boat safe. I got Andrew's attention then yelled over the screeching wind, "Andrew – can you swim?" Even at this incredibly tense and dangerous moment, Andrew had his quick wit as he responded, "Yes … do I need to?". I laughed … "no, not yet but I just had to know if you knew how!" Andrew is from southern California, which made me nearly certain he would know how to swim; however, I just needed to have that confirmation so I could continue to address things that were most important in each second.
Tom was continuing to push against Sea Rose with our dinghy to hold us off of the wall and out of the shallow water. There were a couple times that ropes got caught around the dinghy propeller. Tom would stop the engine, we would blow ever closer to this pointy concrete wall and he would untangle lines then start again to gain some distance once more. At one point, the rough waves from the wind tossed the dinghy a bit and she went sideways and dumped Tom in the water. He was incredibly lucky his legs (or any other body part) didn't hit the propeller. Adrenaline had him back in the dinghy in a flash; he put the engine kill switch band on his wrist in case that happened a second time. It didn't.
How would this all end? Ever so slowly, the winds lightened. In a lull, Tom again took the dinghy to the bow to pull Sea Rose forward as Alaska raised the anchor … it was working this time. I had Andrew checking all around our stern to let me know when we were completely free from all the ropes marking off the swim area and all the mooring buoys. Shortly, he gave me the 'all clear' – finally, I could put her in gear! A wave of relief washed over me but I needed to remain focused.
We were now slowly motoring forward and were out of the shallows but we had another problem. To help us manage our emergency, all our deck lights were on and this now blinded us so we couldn't adequately make out our surroundings – at least I couldn't see at all from the helm. I needed Tom back on the boat, the lights off and people spotting … now. The storm, though weakened, was still on-going. In the middle of the crowded harbor, I took the engine back out of gear so we had minimal headway. I had Alaska and Andrew spot for any boats I might be getting close to while Tom got back on-board and secured the dinghy. We turned off all the deck lights, turned on our running/steaming lights, fixed a problem that arose with the chart plotters so we could now see water depths and our charts for navigation. With all those tasks done, we could drive out of the smaller Cavtat harbor and circle around a point of land to a wide-open anchorage a couple kilometers away. The wind strength grew again, causing visibility to again be quite poor. Alaska and I stood on the bow to spot for boats and buoys while Tom took the helm. We were all drenched and now that we were coming down off the adrenaline rush, we were getting chilled. I was shaking uncontrollably and could hardly speak but I knew it was only a couple minutes more before we could try to anchor again.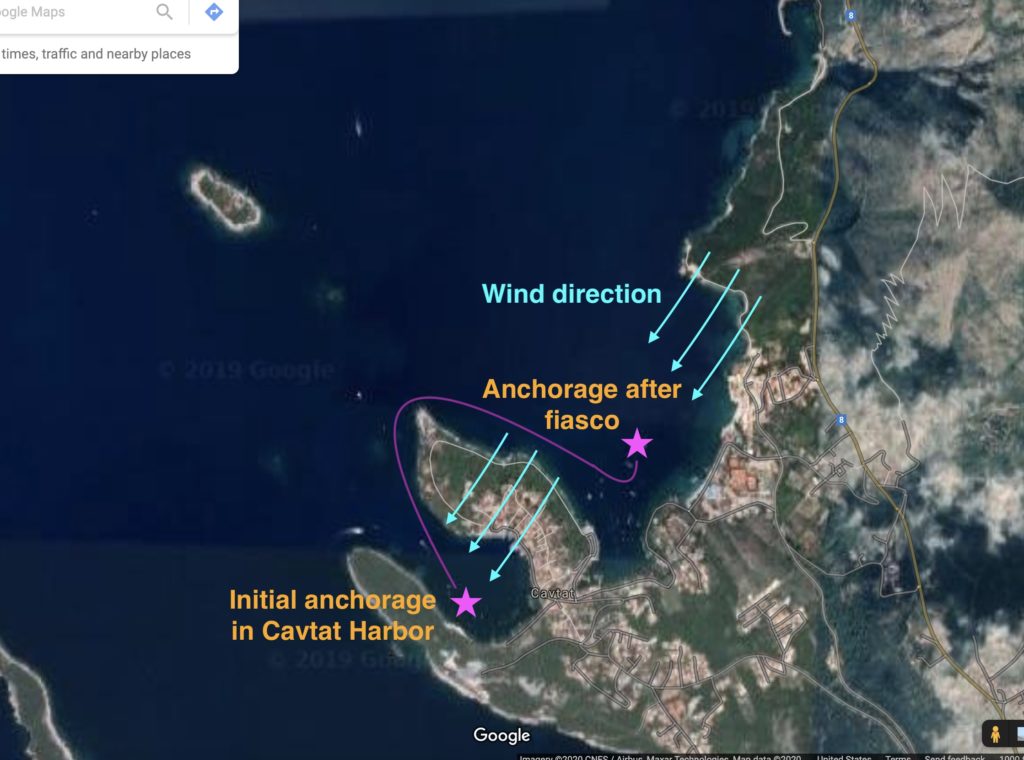 The area we were shooting for was wide open which would be great for being able to put out a bunch of scope but it meant that the winds had a much greater fetch in which to blow up seas we would be tossed around in. Given the options and the situation we had just escaped, we felt much better over in the larger harbor where we fed out more than a 9 to 1 scope. Everyone dried off, helped clean up all the water throughout the cabin, hung up wet clothes and went to bed. It was probably about 11 pm and the wind was strong but not overwhelming. I was so upset from our near disaster that I couldn't calm down. I was also probably suffering from hypothermia since my whole body was still shaking. Finally, after snuggling with Tom and starting to warm up, I let go and fell asleep.
In a near dream state I heard our rigging rattling, then I could tell I had been awoken by our boat swinging back and forth on our anchor. We have an instrument display in our berth which allowed me to easily confirm that the wind was howling. I watched it approach and pass 40 knots. My phone showed it being 3 am and Tom was now stirring next to me. We both went up on deck to check on things. We seemed to be holding fine but several boats all around us were maneuvering. We watched one catamaran re-anchor four times and they were still dragging. A large, sleek sailboat next to us was also dragging and re-setting their anchor. Another boat nearby had a ripped bimini that was flapping wildly in the stiff wind. After watching for 30 minutes, we were still holding fine; however, neither of us wanted to go back downstairs for fear of a boat dragging onto us. A while later, Alaska woke up as well and we all watched the sunrise together! She had been an amazing help the night before. She calmly jumped in and helped in any way she could.
We would need to meet Zack around 11 am but the conditions were rough in our current location and the winds were predicted to remain strong throughout the morning. If we took the dinghy to shore from here we would get soaked and it could be dangerous – we needed a different plan. We again selected the anchorage up the Rijecka River north of Dubrovnik and texted Zack that location as our new meet-up destination. We raised our anchor and headed off – might as well get settled so we can try to get some real rest. First, however, we needed to retrieve our stern anchor and line. My heart rate rose as we drove back into Cavtat harbor even though conditions were entirely different. We launched the dinghy, then Alaska and Tom went back to where we had struggled against the storm just a few hours prior. I motored in circles while they raised the stern anchor and line and were back on board in no time. I was very happy to turn and leave Cavtat behind!
We hugged the shore on our way to and past Dubrovnik to lessen the impact of the wind on the waves. The three of us caught up some more while Andrew slept. We had awoken him enough to not alarm him when we started the engine but he was down for the count. In fact, he would sleep through our entire trip to and up the river, through the anchoring process and even through taking the dinghy to shore to pick up Zack several hours later!
Since Tom and I had already toured the old city of Dubrovnik; we didn't accompany Zack, Andrew and Alaska when they went in after lunch. We would meet them for dinner after we had a long nap. Dubrovnik is a terrific place, though crazy crowded! By 10 pm we were back aboard Sea Rose with our fingers crossed that we would have a light-wind night.
Below is a map of our week with these terrific young adults on board – this should provide a helpful reference to the places mentioned in this post.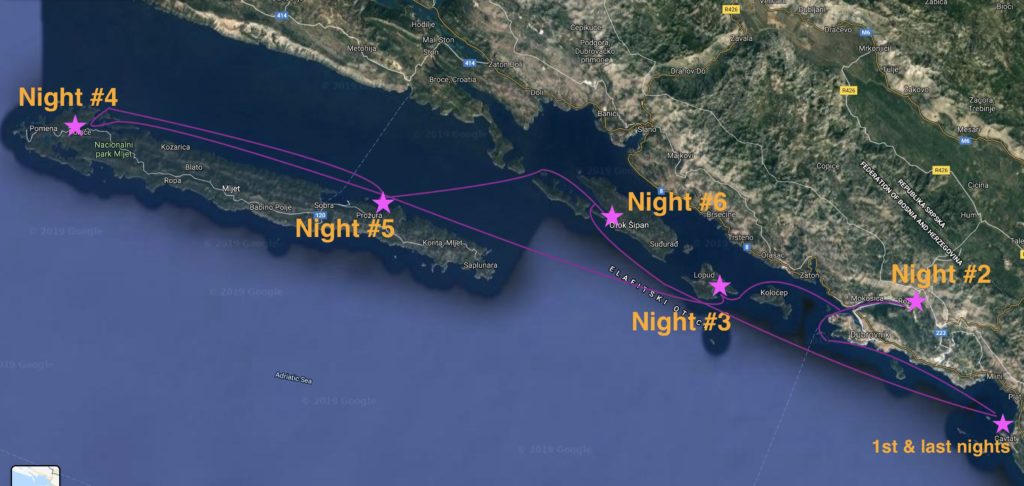 After a restful night, we motored down the river and out into the beautiful islands of southern Croatia! The islands right off the mouth of the river are rustically beautiful.
We would make it to Uvala Sunj on the southern end of Lopud island for the night. We all enjoyed a long snorkel adventure along the cliffs and caves. Zack loved the swimming here and stayed in the water as long as he could stand it. There were many boats in the harbor when we arrived and more coming and going all afternoon; however, once it finally quieted down, we re-anchored in a spot a little closer in and, therefore, more protected. Tom, Alaska and Andrew went ashore and hiked across the island to a less protected but still very busy harbor. The wind was beating down on the boats there, so we were happy with our selection on the lee side.
As night fell, additional boats came into the anchorage and ended up quite close to us. It is always amazing how this happens … everyone thinks the spot where other boats are located is the only spot to anchor! Earlier in the day, boats were scattered across the entire harbor and we were now all crowded on top of one another. One boat arrived well after sunset and put out two anchors. While this method can be helpful in high winds, it can also be problematic if boats begin to swing with changing wind directions and one of your anchors holds you from adequately swinging like how the nearby boats are swinging on their respective anchors. This is exactly what happened … the wind shifted quite significantly in the middle of the night and we all swung on our anchors accordingly, except for the boat with the two bow anchors deployed. That boat's second anchor prohibited them from swinging as far as they should and, therefore, it held them too close to another boat – luckily not us! It was comforting to see that everyone was up and paying attention but it was after midnight when people from the two-anchor boat loosened the anchor which was causing their problem. Since this anchor was pretty much under another boat, they couldn't just put a fender on it and retrieve it the next day. They would need to fully raise this second anchor. They did this by dropping the end of their anchor chain which was connected to their boat into their dinghy, patiently waiting below the bow with some of the crew to receive the burden. They then pulled the dinghy along the anchor line – bringing more and more chain into the dinghy all the time – until the anchor was right below the dinghy. Giving one final tug, the crew freed the anchor from its hold on the sea floor. With the anchor and rode (line) retrieved, the guys rowed themselves back to their big boat, which was now swinging with plenty of room for all nearby boats! Of course, we chose to watch all of this, not only to learn what to do and what not to do in various situations but because we were all near one another in high and shifting winds and we wanted to stay safe ourselves or offer help if it was needed. All's well that ends well.
As morning broke, we sleepily got around and prepared to get underway toward Otok Mljet. Though we had seen it a couple times already, the beauty along this stretch is magnificent. We were thrilled to share it with our young crew! We wanted to also share the traditionally made 'Peka' meal so our destination was Polace, where we knew they did a great job with this meat and vegetables dish cooked 'under the bell'. We called ahead to reserve a space on the dock and to pick our meat. Since this meal cooks for at least three hours, you need to order your choice early in the day. We would get one order of lamb and one of octopus.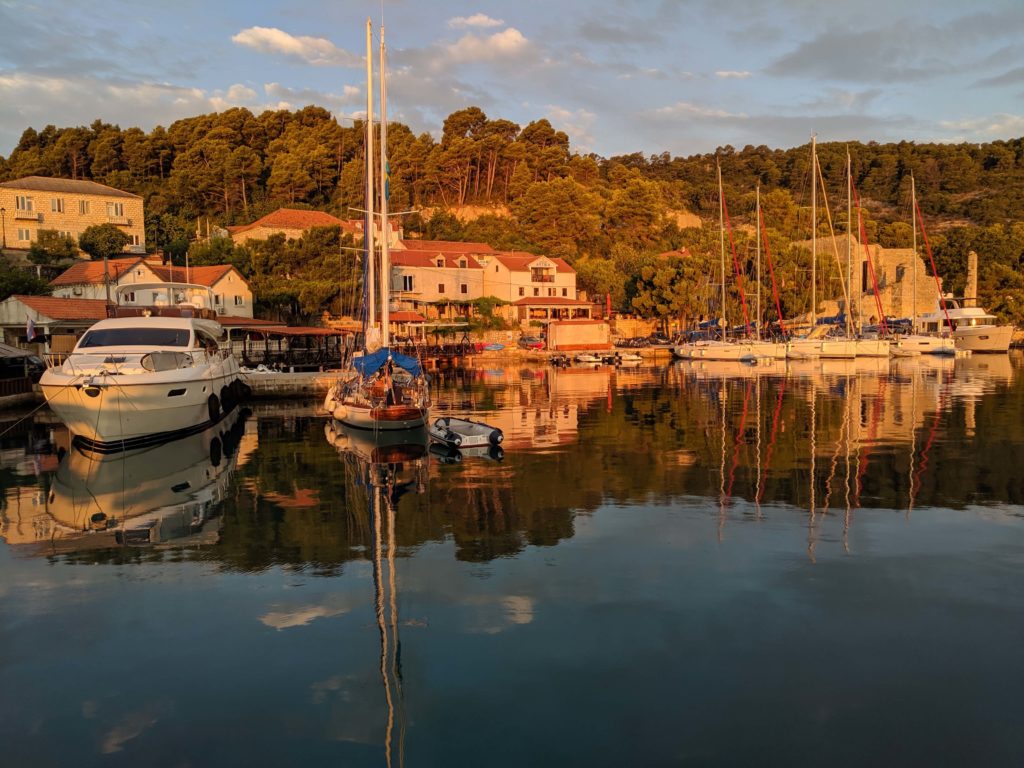 We arrived early enough in the afternoon to allow for some on-shore exploration. The three from the younger generation were petitioning for renting scooters. We knew the island had a bunch of amazing sites to explore so we were easily convinced to join them! We took a short ride before dinner up to the northwest end of the island (see map below) then cleaned up for our big night in the small town. Here is a beautiful view of the north end of Otok Mljet!
What an amazingly peaceful night's sleep … gosh, you don't know how much you can long for a deep sleep until you go without it for too long! After a quick breakfast, we were on our scooters and ready to explore!
There is a famous cave on the southern side of the island, about halfway along this thin stretch of land. It is called Odysseus' Cave and it would be our first destination. We made several photo-stops along the way and even found a grocery store for some drinks (and a rest from the exhaust of the scooters). The last stretch before arriving at the cave parking lot was a dirt road with lots of curves and ups and downs. I'm pretty sure the rental company didn't want us taking the scooters this far, but we all did ok and the scooters weren't damaged … we're all good! We still had a pretty good hike to get to the cliffs and from here the path wound down precariously until we were overlooking the open-air portion of the cave, shown below.
This was going to be fun! We all got ready to swim and we each scoped out the point of entry we hoped to execute. Alaska and Tom jumped in from lower heights. Andrew was waiting to see what others would do. I climbed out on a platform where others were jumping from (maybe 20 feet in the air?) and Zack – our daredevil – jumped from a very high perch. I couldn't breath until I saw him resurface after his splash. It must have been 30 feet high. Andrew jumped in last from a spot very near where I left from. Once in the pool, we swam into the cave and took in the amazing rock structures all around us.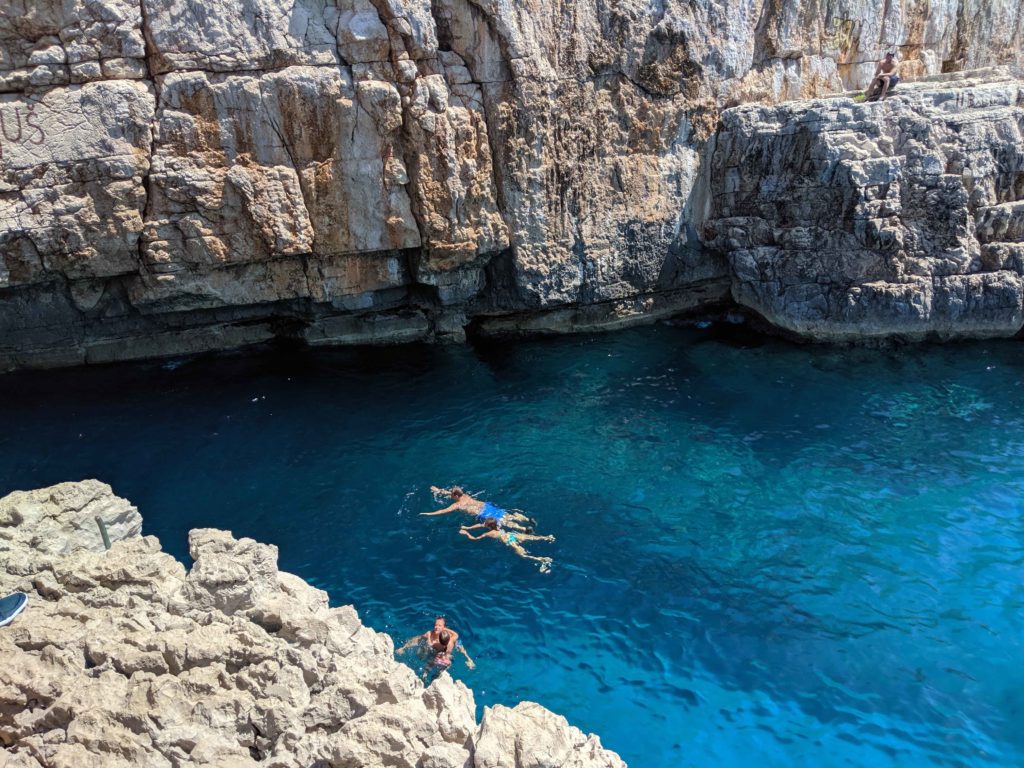 Walking back up the cliff path, we couldn't by-pass this cute stand that was selling cold beers and fresh squeezed orange juice! This guy and his wife probably carry stuff down here every day … amazing.
Back on the scooters … we continued on toward the southeast point of the island of Mljet to a cove called Uvala Saplunara. Here we enjoyed a late lunch before making our way back the full length of this wonderful island. Look back at the map of Mljet Island above to see the road used for our explorations … the only road on the island! Below are photos of some of the beauty we experienced along our scooter adventure.
We probably pushed it a little to remain on the dock in Polace this late into the afternoon. The restaurants here allow you free dockage if you patronize their establishment but they now had people wanting to dock for tonight's dinner. We quickly returned the scooters and prepared to depart! As soon as we were underway, all three young adults passed out from exhaustion. Tom and I were left to pick a spot for the night and, since we were probably as tired as these 20-somethings, we picked the first viable spot to stop – Uvala Prozura on the northeastern side of Mljet only a couple kilometers outside of the Mljet National Park lands. There were spots to go stern-to the shore but it would take a fair bit of work and we were spent. Unfortunately, this place charged a lot for their moorings but we just paid it and tried to forget about it. It was a beautiful cove with good snorkeling so we refreshed with a swim before dinner.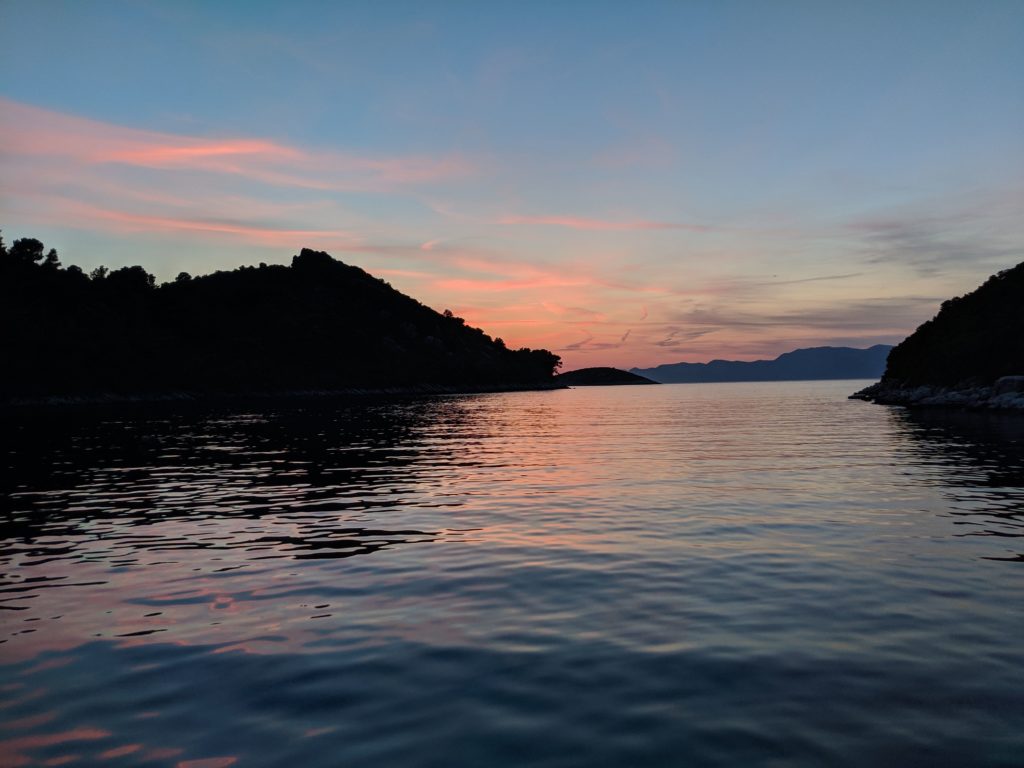 After dinner, the bugs came out HUNGRY. We retreated below for a game of cards; however, everyone was so exhausted that we all fell asleep before we could organize a game! What a terrific day on an equally terrific island – Mljet, Croatia.
Our next day's destination was Otok Sipan and the town of Sipanska – the largest establishment on this long, narrow island which is exceedingly popular since it is quite close in to Dubrovnik and the hordes of charter boats that are based nearby. We didn't have far to go, but we had a brisk starboard wind abeam to us which made the sail between Otoks Miljet and Sipan exciting. We tacked a couple times to gain passage through the narrow opening between the western and eastern end of Otok Sipan (see map of our route above). We had been in this same area with Tom's brother and family several weeks earlier but this was now high season. An early arrival was the only way we would have a shot at getting a good spot for the afternoon and night. There is a swim area tucked in a cove around the corner from the darling main port town and we had set our hopes on that being our home for the night. As we got closer, we saw sufficient space for Sea Rose; we prepared to drop an anchor and then back up towards shore to tie stern-to. There was a tiny dock with a bollard on the end that would make the perfect tie-off point – our plan was set, now we worked on execution. With opposing winds, it took a little work to get our anchor rode and stern-line tight enough to hold us in place, but our crew was very helpful and we were soon safe and secure. We were all psyched with our lovely surroundings! Everyone swam again and again throughout the day and we were close enough to the dock to easily get off the boat for walks.
The bugs were again determined to pester us after the sun set. This drove us downstairs into the salon where, tonight, everyone had enough energy for a couple games of cards.
The next day was our last full day with Zack, Alaska and Andrew on board – they all had flights the following morning. It would also be our last day in Croatia as the calendar was urging us south toward the Greek Ionian island group. After a relaxing breakfast, we set off for a lunch-time snorkel stop in an anchorage tucked around the southeastern end of Otok Sipan, about six kilometers away.
This cove was called, 'Uvala Pertusa' and was a spectacular find that we are happy to have not missed. Check out this amazingly colored, strangely-shaped starfish (shown below). We saw a couple of these interesting creatures on this swim! And, we almost missed seeing this cave/ocean hole that was only visible if you walked up the steep (and SHARP) rock face on the side of the cove.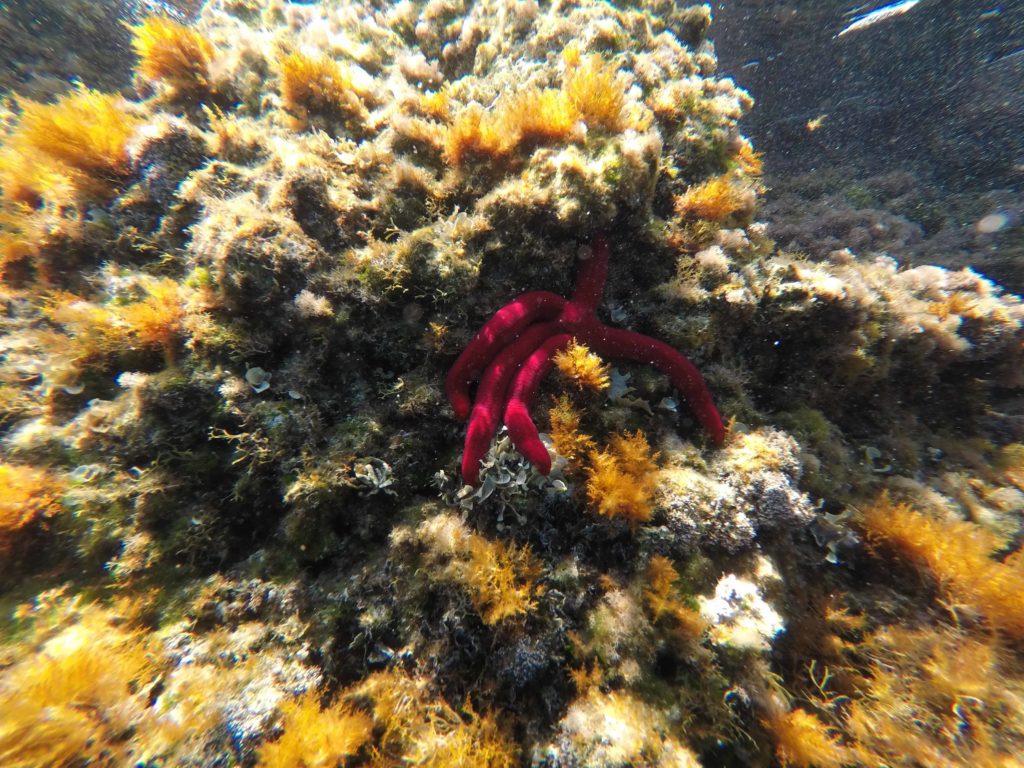 After lunch, we again motored past the fortress enclosing Dubrovnik Harbor to give Zack and Andrew an opportunity to enjoy this impressive fortress from the water side. By 4 pm we were anchored in the larger of the two Cavtat harbors and people were eager to go ashore into what was a larger town than we had seen since leaving Dubrovnik five days earlier. We enjoyed a last dinner with these three and were treated to stunning views of a beautiful sunset.
Everyone was up and active by 7 am. It was time to pack and clean for our young adults and Tom and I had to replenish our food stores. By 9:30 we had all our crew and their gear on land and were awaiting the Uber that would leave Tom and I alone aboard Sea Rose once again.
We are thrilled that our kids still want to come spend time with us on our sailing adventures, even though they have busy lives of their own. The four of us had spent a year living onboard our previous boat, Thalia, when they were in third and sixth grade (ages 9/10 and 11/12). Although they only get a week a year to sail at this point in their lives, they fall back into a life at sea with ease. Inviting their friends on board is one of the greatest compliments to us and it was a pleasure to share the week with kind and witty Andrew. We are thankful that the chaos from the first night on board didn't overshadow his experience or our time with these three!
To learn more about the 13 months we lived onboard Thalia with our (then) young children, go to http://www.lifefourpointzero.com/ and from the 'Sailing' drop-down menu pick one of the sailing categories involving 'Thalia', the boat we owned prior to Sea Rose. If the episode number is less than 63 or the date is in 2006 or 2007, the blog post contents cover the year we sailed with our kids. As an example, this post covers the crossing we did from Hampton, Virginia to Tortola in the British Virgin Islands.