All I can say about the interior of Finland is that there are trees, a lot of them. On our train ride out of Hanko, after closing up Sea Rose for a few nights of healthy separation, all we could see out the window were rows and rows of tall, straight pine trees. The kind that, with such fine uniformity of height and spacing, makes one wonder if you are traveling through some kind of Nordic version of the Truman Show. It sure does explain why the Finns love their wood-fired saunas though.
Karen and I were setting out on a whirlwind big-city tour of the northern Baltic, which, setting aside Stockholm and the unruly neighbors to the east, consisted of Helsinki and Tallinn. While you might be vaguely familiar with the former, like some Americans, the later is the capital of Estonia. If we successfully set foot on these urban bastions of the Baltic, we could check off all of the destinations of the original Baltic Rally except St Petersburg, which would have to wait for a detente between nations, or a day when Putin discovers the simple joy of blowing bubbles and playing Wordle!
Most Finnish people are humble, reserved individuals. They are peacekeepers and prefer to not ruffle feathers. Unfortunately, today as it was yesterday, the loudest mouth in the room gets the attention. And that's not Finland. They have had an on again/off again relationship with their neighbor Russia. They are the shy new kid in school, having just gained independence in 1917. So, if you found yourself here with the same thin knowledge of Finland like so many other members of the globe, myself included, well rest assured, I will try my best to thicken your memory bank. Being an introvert myself, and having my voice talked over in one too many corporate meetings, I have a vested interest in bringing this small nation to the center stage. And, when you are done reading this, consider downloading a copy of 'Quiet: The Power of Introverts in a World That Can't Stop Talking'. It's an excellent work on the subject.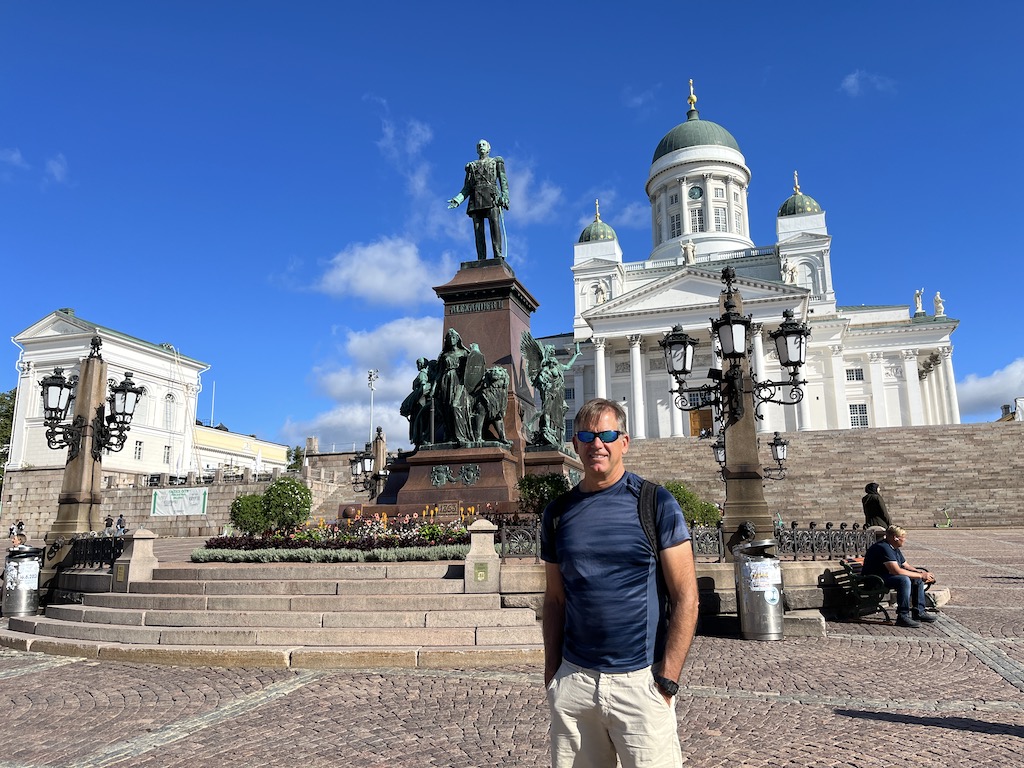 We started our Helsinki adventure on the steps of the ornate Senate Square, with our attention focussed as it often is on the words of our walking tour guide. Today, it was sweet, energetic, baseball cap-toting Jonna. She alone defined much of what is important to know about this country. Finland has a long heritage of egalitarianism and self-sufficiency. Being a woman and running her own travel business, Jonna was a model for her own country's spirit. Rugged yet engaging and inquisitive, she worked for herself, managed no one, and worked six days a week and throughout the winter as demand dictated. She was ever the symbol of polite-yet-firmness as others tried to freeload on to our paid tour. Her parents had grown up in the Karelia region in the extreme eastern portion of Finland, land that was ceded to the Soviet Union after the Winter War. I can only imagine what torment this would have caused. The place where I grew up, the specific house, is near and dear to my heart. I return there regularly in my dreams, I have to assume because it grounds me in an envelope of comfort. To be forced to move from your ancestral home must have been traumatic. You could tell this was a sensitive issue for Jonna, but one she didn't shy away from discussing. She was not afraid of Putin, nor in her eyes was her country. The Finnish people didn't want to join NATO, but they were left with little choice and would not stand in the way now.
I didn't need Jonna to explain Finland's remarkable efforts on gender equality. She was a walking example, as was her prime minister, the 37 year old leather jacket wearing hipster Sanna Marin. Yet, in troubling contrast, Finland has the highest rate of domestic violence in the Baltic region. Could it be backlash for its efforts towards fair and equitable treatment or maybe the long, dark winters?
Finland has been lagging behind the current world trends in decriminalizing certain drugs like marijuana. As a result, drug use, particularly in Jonna's age group, has been a rampant problem. Yet, in another twist, she claimed to have no fear of walking home late at night. Excessive drug use's close cousin – street crime – is a partnership apparently lacking here. Broad, sweeping generalizations were not going to be possible today.
Finland has a progressive tax system, and by this I'm not referring to progressive vs conservative. Progressive in the sense that the more you make, the more you pay. Americans have a progressive system as well, but what is different in Finland is the transparency and the lack of complication in the tax codes. The top 100 earners have their income reported publicly. The day of the reporting is nicknamed National Envy Day according to Jonna. For all other people, the amount of tax paid by each individual is made public, which she admitted makes it fairly easy to back into their income. 'Progressive' also applies to unfortunate events like speeding tickets. The more you make, the more you are fined. Just ask Anssi Vanjoki, a board member for Nokia who was caught speeding in Helsinki on his motorcycle. Traffic fines are assessed at 14 days of one's income, which for him totaled 116,000 euros! Yet, this is therefore a true deterrent to everyone to misbehave, not just the poor! Karen, my rule-following wife, absolutely LOVE this approach.
I had been struggling, as Jonna took us around to Helsinki's important sites and modern day accoutrements, how to summarize in my mind Finland's historical coming of age. Thankfully, she was there for us information-starved tourists, explaining that there are fundamentally three phases of Finland's history. From the 1300s to the 1800s, life was dominated by Swedish rule. From 1800 to 1917, Russia took over, but in her opinion most citizens felt it was not all that bad. They were allowed to live semi-autonomously. She insisted it was a different Russia back then; and, Russia had its focus elsewhere. Finally, in 1917, Finland gained full independence. But, like a bad relationship you just can't decouple from, Russia didn't fully leave until after World War II. I always think of the U.S. as the young kid on the block, with European countries deeply rooted in the days when calendars had very small numbers, so it is fascinating to walk the streets of a country that is only 105 years old.
For all of the old architecture in Helsinki, there are two modern structures that were refreshing to experience. The first was the central library, not only for its ultra contemporary outer shell, but what it held inside. This was not the kind of library offering you long, dark rows of books stacked to the ceiling. Yes they had a few stacks, chest high and brightly colored, but if books were your mission, there were plenty of other more traditional satellite libraries that would satisfy your need. Here, you had multiple recording studios, a wall full of guitars to borrow, high quality video recording gear, state-of-the-art CAD design stations, and 3D printers, large format printers, and the apparel printing equipment to support a small business. Jonna should know; she had used much of this gear to get her business off the ground. It went a long ways to putting meat behind the words of national egalitarianism. Very impressive.
The other modern feature was appropriately timed at the midday end of tour, when our stomaches were calling out – Market Square. You can tell a lot about a city and its culture by what is for sale at its street markets. Here, under bright orange tents, vendors were selling the usual fresh fruits and vegetables, plus sausage made from reindeer meat and a wide variety of fried seafood, including salmon, shrimp and a freshwater white fish called Vendace, accompanied by a starch which if you looked diligently enough was baby new potatoes instead of the common french fries. The Finns are a little crazy about their potatoes, and to be fair, so are Swedes. In a small grocery store, with just one variety of milk, you might find a barrel full of 'new potatoes', with a big slotted tool the size of a garden shovel to load up your basket. These potatoes were small, round, about the size of a ping pong ball. Unlike larger 'old' potatoes, the kind that is in abundance in the U.S., these potatoes are less starchy and high in potassium, Vitamin C, iron and fiber. All I can say is when they were served with butter and perhaps a sprig of rosemary, it was so good I wanted to smuggle some home and become a potato farmer!
Summer street markets make for some of the finest people watching. Here, the natural order of species was on display, as unsuspecting tourists ordered up their fried fish and walked away from the protective cover of the tents, only to have Russian MiG jet-trained sea gulls swoop down from the sun's blind spot to separate the tourist from their 14 euro lunch. And when the gulls finished their entrees, we saw them make an assault from the rear quarters to extricate a scoop of ice cream from the cone-clutching hand of a lady in front of us busily talking to her friend. We opted for some delicious salmon soup, in the comfort and safety of the indoor market.
Heli and Kalle, the couple we had made fast friends with back in the sauna in Fejan, Sweden were gracious enough to take us on a harbor tour onboard their boat home-ported in Helsinki. One of the assets of the city is the UNESCO-recognized sea fortress named Suomenlinna, dating back to the 18th century. When you are done feeding the seagulls your expensive fried fish from Market Square, a ferry adjacent to the market will take you on a short ride out to the island fortress, where even more expensive dining options exist. This time, though, we were safe from prying birdlife. Heli and Kalle docked at the neighboring island of Sarkka where we dined in a long, narrow stone building with 2 meter thick walls, a restaurant in a converted storage building used to stockpile cannon balls. The wood floor sloped up at an angle purportedly to allow the cannon balls to collect together at the bottom of the building, a practical solution at the time, but which made for some delicate minding of the many wine glasses laid before us on the table.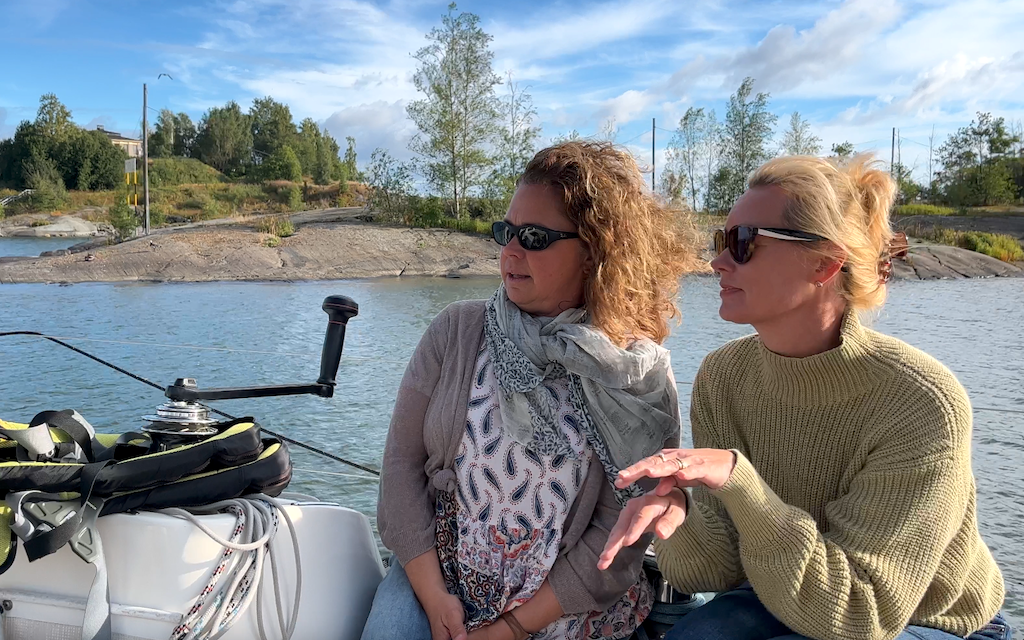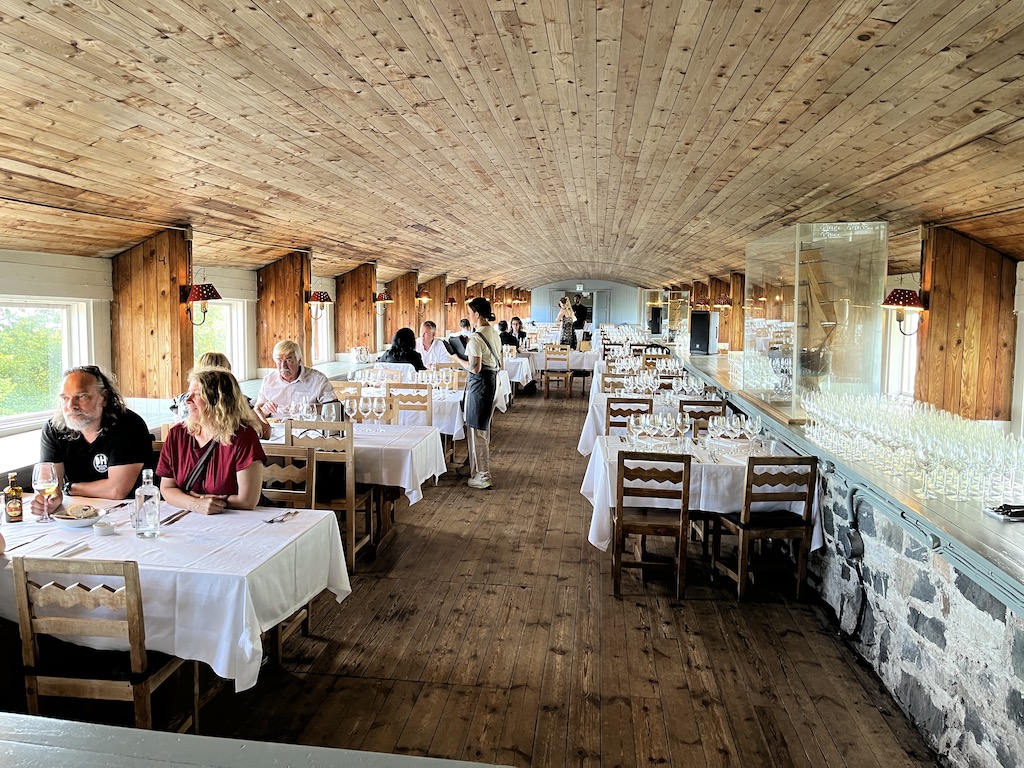 We had only enough time in our schedule for one more night away, and being of sound mind and spirit for a better-see-it-now-before-we-die lifestyle, Karen and I hopped on a large passenger ferry to the city of Tallinn, Estonia just 50 miles across the Gulf of Finland. After being nearly run down by these behemoths several times since we arrived in the Baltic, I was eager to see what made up their interior. Disappointingly, it was a lot of shopping! The amount of room for sitting was actually quite limited – perhaps only a couple hundred spots – and many of those were entwined with a restaurant or bar, trying to guilt you into buying their goods. Much of the rest of the space was given away to jewelry and fashion stores, even a grocery store. In my Greta Thunberg-mindset, I wondered why so much fuel was being expended to push a big, poorly attended shopping mall around the Baltic. I was starting to get homesick for our beloved sailing craft.
Tallinn was completely different from what I had expected. But my expectations were based on some pretty vague threads of knowledge. Estonia, along with its southern neighbors Latvia and Lithuania, are loosely grouped together under the term 'Baltic States' or 'Baltic Nations'. Their fate has been tossed around mercilessly like that of an illegitimate child. Large portions of the region were under Swedish control until the expansion of the Russian Empire in the 18th century. All three countries gained their independence at the conclusion of World War I, that is until Stalin invaded in 1940, followed swiftly by Nazi Germany in 1941, and then once again by the Soviets in 1944. Strong civil resistance to Soviet occupation in the 1980's led to the Singing Revolution in 1989, culminating in a two million person long human chain stretching from Tallinn to Vilnius in Lithuanian. Finally, in 1991, all three countries regained the independence they hold dear today.
With this history, it came as no surprise, as we walked past the Russian embassy, how angry the response had become to the invasion into Ukraine.
The Russian embassy was in the center of Tallinn's historic district, strategically located on top of a knoll encircled by a tall, robust stone wall protecting it at one time from invaders but now from the encroaching modernism of mankind. Large cone-shaped medieval round towers, standing out in a distinctive red brick color, were the most eye-catching feature of the historic district. A total of 26 towers and over a mile of tall stone walls make this one of the best preserved medieval fortifications in Europe. If you made it through the Harry Potter series, you, like me, may see a bit of Tallinn influence in the Hogwarts architecture.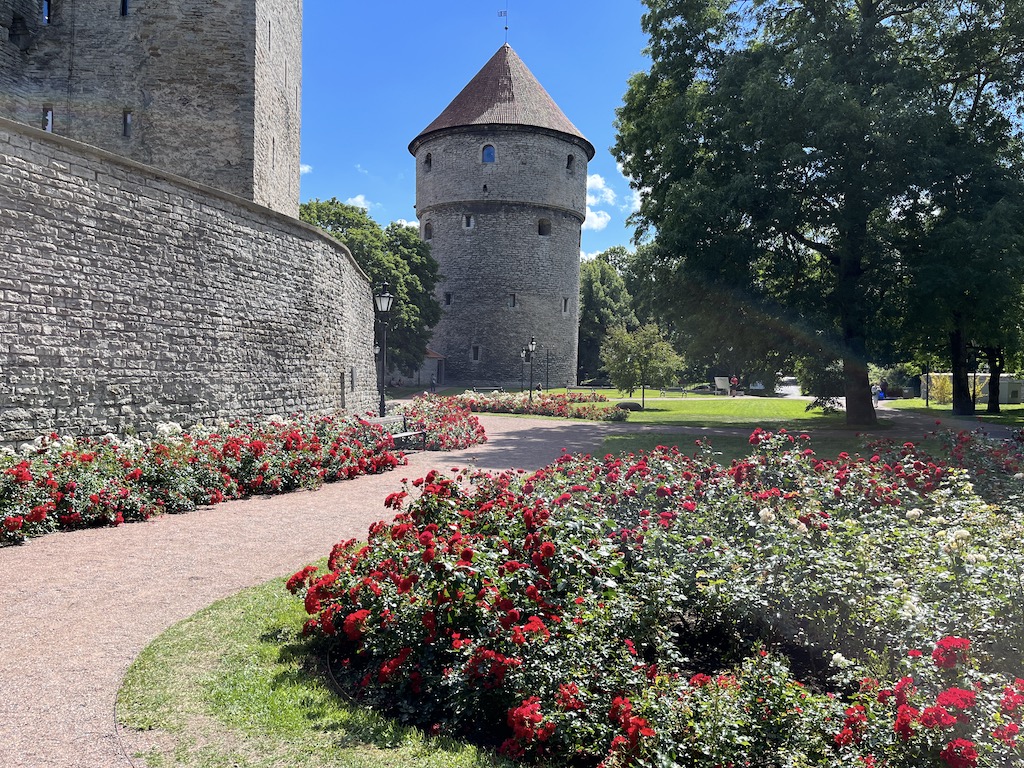 But back to the encroaching modernism, Tallinn is known as the Silicon Valley of the Baltic. In my naivety, I was expecting to see residual signs of Eastern European depravity – distraught war-torn faces, tall featureless apartment buildings, and small boxy sedans left over from Russian occupation. Yet, outside the medieval walls, technological development was abuzz. Three Tallinn developers were responsible for the early creation of Skype. Then, one of those Skype developers partnered with an Estonian buddy and built the 4500 person strong financial technology company Wise in 2011. Bolt, the micro-mobility company (aka, the provider of fun lime green scooters to race around European cities) was founded in Tallinn. And most recently, a robotic food delivery service is being tested on the streets, sidewalks, and intersections of Tallinn.
The speed and breadth of tech development was mind-blowing. Some observers of this incredible progress believe there's a connection with the decades of depravation suffered by Estonians. With a few smart people to incubate hi-tech ideas, a city like Tallinn has the unique ability to wipe the slate clean and start anew. There's no legacy of gradual infrastructure, cultural and educational development that other cities confront, which can bring more gradual, incremental improvements but nothing legendary. Instead, Estonian tech wizards can let their minds explode with radical new ideas unbounded by the clutches of the recent past. No elder critic stands nearby to pooh-pooh the rapid production line of innovations. I liked that explanation. It shows what potential we have as a human race if we are willing to take risks and ignore (or escape) the skeptics.
We wrapped up our one day crash course on Estonian life with a Bolt-assisted scooter ride to the beautiful but difficult to pronounce Vabakujunduslik Park. There's nothing like the tranquility of an inner-city green space when your mind is suffering from information overload. The foresight of early city planners to secure these spaces, and to continue to protect them against urban sprawl, deserves our utmost appreciation.
After a Bolt ride back to our hotel, a trip on a floating shopping mall, a train ride through manicured pine tree forests, and a bus connection back to Hanko, we found Sea Rose happily bobbing away at the dock, in a kind of head nod gesture of over confidence saying, 'Yeah, I knew you'd come back to me!' Like every trip, no matter how special, there's always a part of us that is happy to be back home. Onward!
Be sure to also checkout the video content on our LifeFourPointZero YouTube channel. We regularly post updates on our sailing adventures, as well as how to videos on boat repair, sailing techniques, and more!