Ever get that feeling that you are spinning your wheels? Like, as much as you try, you can't move forward? We had just finished our Covid bubble embraces with Dan, Don and Shelly at Portosin. It was time for our last big push before our haulout in a week. The sky was dark and threatening to rain, but we needed to make progress. We shoved off the dock at the Real Club Nautico. As lines and fenders were getting stowed in lockers, we quickly got stopped in our tracks. A row of floats had been placed across the harbor entrance. At the far end, a skiff with several people plus a diver were busy handling lines and moving equipment. At the same time, I noticed a distant voice on the breakwater yelling and waving their hands. Were they trying to get our attention? As we approached closer, it was clear there was a line on the surface strung between the floats, blocking any vessel movement. At the skiff end, a narrow gap remained with barely a single boat's width between them and craggy concrete forms angling down into the depths from the breakwater. Karen got on the VHF radio and tried to call them. I did my best to send a confused hand signal to them. Instead, they started motioning us to run the gap. There was no way we'd have any part of that. First, the diver was randomly disappearing from the surface, presumably to the sea floor. Where he would surface next was anyone's guess. Second, we didn't know the depth so close against the breakwater. The whole situation was appalling. Here was a harbor with at least 50 pleasure boats, and possibly as many commercial fishing boats, including several deep sea craft, and these guys were blocking essentially any movement in and out. The yeller onshore kept up his antics, and the skiff boys continued to insist there was enough width and depth. Regardless, we knew one thing for sure. If we ran aground or, worse, struck a diver, it wouldn't matter what some bystanders said was safe. It would be our neck on the line. Another local fishermen was speeding back into the harbor, up on a plane, and nearly struck the float line before being waved off. Finally, we were able to reach the marina on the radio. They sent one of their launches out to meet us, talk to the skiff people, and get them to move their gear over so we could safely exit the harbor. We never found out what they were fishing for. I'm all for supporting a person busily putting fish on the table at home, but I draw the line when they put others at risk and cause a navigational hazard.
It was an auspicious start to our final week. I hoped it wasn't a sign of how things were going to unfold as we headed out from the protection of Ria Muros and into the Atlantic. Our journey thus far in the Spanish Rias had been concentrated in what is called Rias Baixas (lower Rias), a name also given to the local wine growing region, dominated by a delicious white wine varietal named Albarino. It was still morning but we could have both used a healthy pour of Albarino right about now. The other Rias region is named Ria Altas, which, as the name implies, refers to the upper Rias and the area where we would be sailing through on the way to A Coruna. 
Our first stop was the most westerly point of the Spanish Rias, Cape Fisterra. As we shed our nerves from Portosin and set sail down the Ria Muros, the sky behind was dark and gloomy, while the sky ahead was sunny and blue. We took this as a good omen. Once clear of the Ria, we turned north past the sharp silhouettes of interior mountain ranges juxtaposed with long sandy beaches at their base. This might be Green Spain, but it was also clearly Sandy Spain.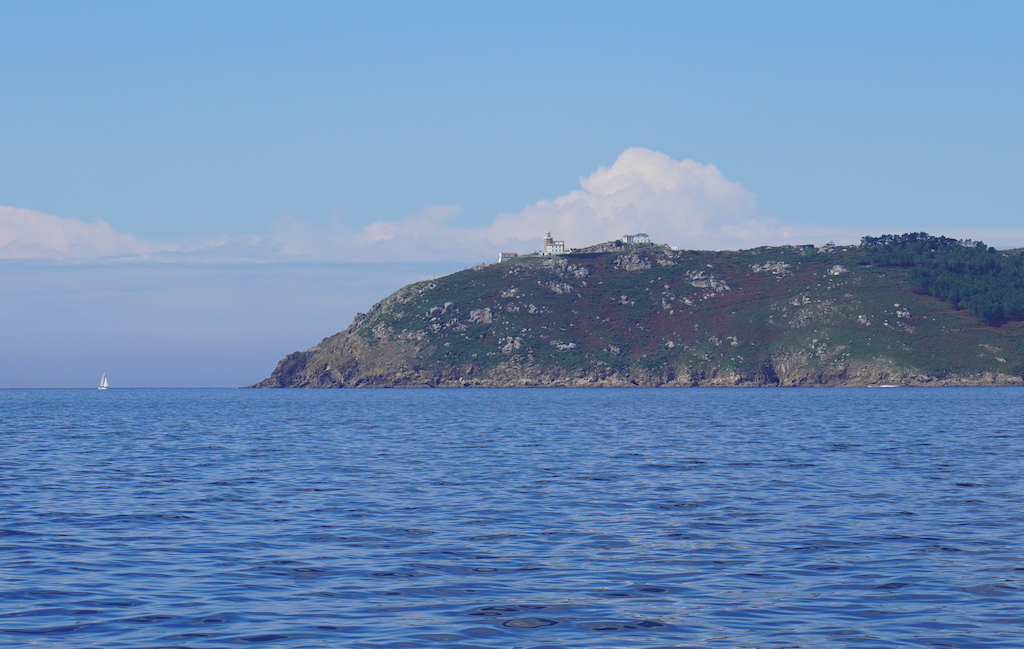 Cape Fisterra, also called Cape Finisterre, promised a multi-faceted welcome to the dwindling crew of Sea Rose. Inside the harbor, behind a breakwater easily two-stories high, stood a brand new guest pontoon. The marinas in this part of Spain won't break your wallet, free is hard to turn down; and, equally, the positive message it sent to visiting boats was undeniable. There was enough room for at least eight boats and we were only the second to arrive for the night. We laced up our hiking shoes and headed ashore. The other enticing feature of this harbor was the easy access to an hour long trail out to the lighthouse at Cape Fisterra. The trail followed a road that was at times busy with cars and buses, but we were joined by many pilgrims of the Camino de Santiago, all bright eyed and cheery as they skipped along the last stretch of their 500 mile spiritual journey. Not all pilgrims come this far. They are officially done at Santiago de Compostela, 50 miles to the east; but who can deny the climatic pleasures of an ocean epilogue. When we arrived at the Cape, backpack toting pilgrims were everywhere, taking selfies at landmark overlooks, sharing high-fives with reunited trail buddies, ordering drinks at the tiny hotel bar. We met a nice young chap from Paris, sharing stories of his pilgrimage in between sips of his espresso and Red Bull. 
It is the terminus to an incredible physical as well as emotional journey. The reasons these men and women of a broad age range choose this interlude in their life is not much different than those of us onboard cruising sailboats. It's easy to feel a special kinship here, together with a booster shot of life-expanding adrenaline.
Centuries ago, this Cape was also an emotional stop, and an abrupt terminus, for many weary ship captains. The name Finisterre is derived from the Latin 'finis terrae' or 'end of the Earth'. Indeed, since antiquity, throngs of people would come here to gaze out to the sea with the setting sun, this western extreme of Europe, and assume Earth ended on the other side of the horizon. More recently, this spot acquired the moniker Costa da Morte (or Coast of Death) as a result of strong ocean currents, submerged rocks dangerously close to the surface, and frequent storms. There are over 600 documented cases of ship sinkings along the Coast of Death. In the age of Spanish gold and dominance of the world's ocean routes, 20 ships of the Spanish Navy, directed by Martin de Padilla, sank right at the foot of the Cape Finisterre lighthouse in 1596. In 2002, the tanker Prestige, carrying 77,000 tonnes of oil, met its fate here, causing one of Europe's worst ever environmental disasters. The message was clear. We'd be giving this coast a wide berth when we left tomorrow.
Avoiding death and the end of the earth for the evening, we ventured into the town of Finsterra for a bite to eat. The vibe here was of a totally different nature than the lower Rias. Pilgrims, mostly in the 20-30 something age range, having just nailed a major life goal, were milling about burning off steam and looking for fun. Being pilgrims, their wallets weren't overflowing with euros, so much of the fun came in the form of spontaneous jam sessions and lots of chatter. Howevver, we did find a table full of revelers next to us at dinner, selecting from an unusually tasty fare of American-style hamburgers out in the Covid-friendly open air terrace of one of many little flavor factories lining the streets. Despite the language barrier, stories of the Camino were clearly being boisterously traded back and forth. In the shadowy distance sat another young pilgrim, alone at her table with a tall glass of red wine, glancing regularly at the big table. In quiet contemplation, after a burger and two wines, she paid and slowly strolled back to one of the many hostels in town. I felt deep sadness that her reward for a successfully completed journey was dinner out alone. Or was solitude the purpose of her pilgrimage? At once, I realized the Camino was a perfect metaphor of life. Sometimes you are in the middle of the arena, sometimes you are on the outside looking in, sometimes you just need solitude to heal your soul and discover a new path forward.
While we had technically been in the Atlantic as we sailed up to Cape Finesterre, the next stretch around the Northwest corner of Spain and into A Coruna, some 70 miles in total, would be the most exposed and risky. Gone were the deep interior estuaries of the south. Along these Rias Altas were a few small bays that, as long as the wind didn't roar out of the north, could provide a modest amount of protection. Regardless, we were taxing the servers at PredictWind on a daily basis as we hit refresh more than they would, I'm sure, prefer.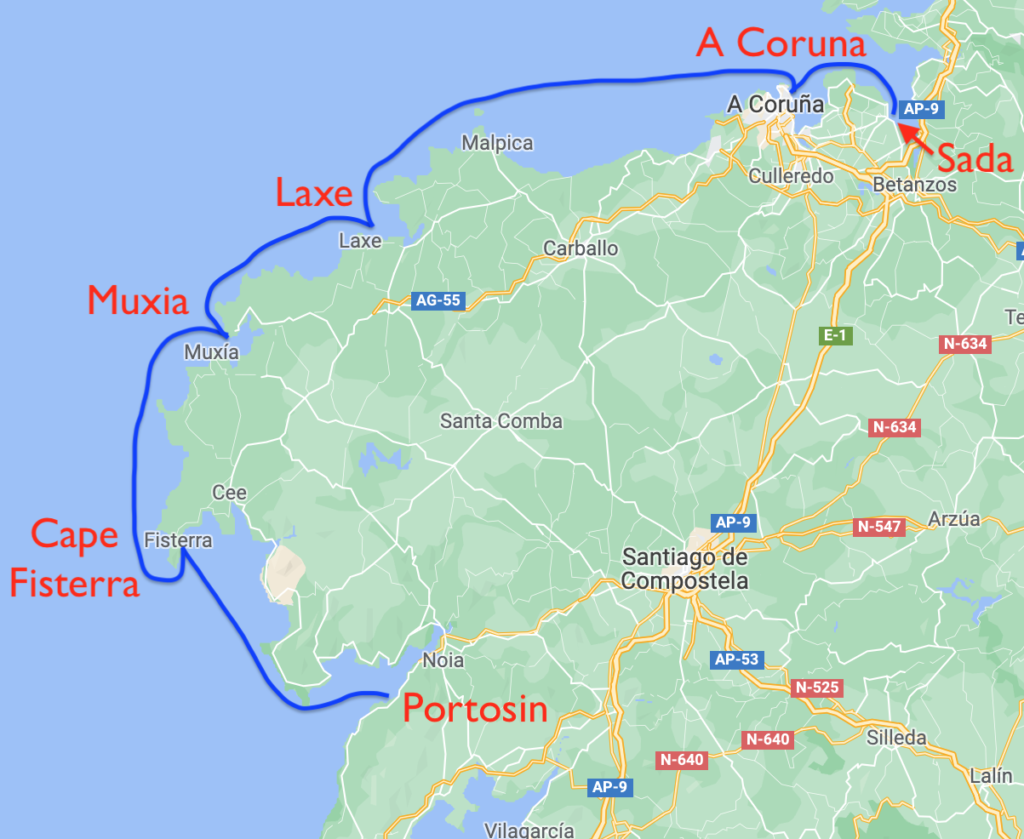 The first viable stop along the route was in little Ria de Camarinas, at the town of Muxia. As we left extra sea room around Cape Finesterre in the morning, the sky turned dark and a strong wind built from the south. Around here, you work with what you've got, and despite the ocean swells trying to force a crash jibe, we roared along with full sail downwind and a preventer lashed tight to the boom to keep everything and everyone onboard. Little islets dotted the coastline here and required thoughtful maneuvering, but fortunately they were easy to spot with the crashing, spewing white water as breaking waves met unflinching rock, leaving behind long entrails of white foam on the surface, like the slathering slobber trailing down from the muzzle of an old St Bernard, beautiful and bothersome at the same time.
As we changed course for our entry into Muxia, large curling waves were making quite a show of sea spray as they found their mark at Punta da Barca, the end of a long barren peninsula off of the town. We were the only boat at anchor and after a full day of sailing, our legs needed a stretch on shore. The main landmark here is the Santuario da Virtue da Barca (Sanctuary of the Ships), a twin-steepled church so close to the water it would seem not long for this world of rising sea levels. We took to the high ground in the center of the peninsula to gaze forth into the setting sun, and reverse the rise of wine inventory before we left Sea Rose for the winter. 
The weather here is certainly shifty and sly, like a dedicated compatriot of the Costa da Morte. After half a sky painted in orange hues at sunset, in the morning we were back to gray monsters skudding by overhead and winds steady at 20 knots, gusting to 25. I had slept great the night before, but for some reason I gulped down an extra helping of fear for breakfast, as we set sail off the twin-steepled Santuario da Virtue da Barca. I hadn't noticed it on the way in, but for us to turn north and start following the coast required attentive navigation around two more submerged clusters of rocks, each the size of a basketball court. They were stealth, at times undetectable among the ebb and flow of surface waves. But when a larger set came rolling in from the Atlantic, they would break over the submerged rock, turning the area all foamy white for a brief moment, and then like an invisibility cloak, disappear again. How the mariners of old found their way into these harbors without more catastrophes I'll never know. If one could analogize these underwater threats with the image of Satan, I had my steady-hand co-captain steering us through with the determination of Job.
We kept our distance from the rough and violent seas along the coast, which put us out into fresher winds as we set our preventer for downwind sailing. Our speeds climbed steadily to 7-8 knots. It is always good to have a strong breeze when the seas are equally large, as it gives the boat tremendous momentum through the water and allows you to take control back from the grip of the waves. Our destination of Laxe to the northeast allowed us to shift gradually onto a beam reach, keeping our speed up further, and making quick work of our passage. Soon enough, we were furling sails and motoring into the anchorage. Like Muxia, Laxe was at the southern end of a wide-mouthed bay, leading to the potential of a funnel-effect of concentrated waves and turbulence inside the harbor. Thankfully, the Spanish government had secured this harbor with a stout breakwater wrapping around the harbor like the outstretched arm of a parent, pulling you into their sphere of safety. That is, except for the fact it was completely taken over with construction barges. We had seen a heavily-laden dredge ship steaming out of the harbor as we were entering, weighed down so much by dredge spoils that it labored slowly through the ocean swells like a bull struggling through the pain of the picador's lances. It could not have been making more than 3 knots of speed; the freeboard was so lacking, I fully expected water to start washing across its decks. As we settled into our anchorage spot, the dredge returned from the sea, empty now with a spring in its step, taking up a position alongside a jack-up barge to be loaded again by a clamshell crane. Future cruising sailors to Laxe will likely benefit from the deep water this dredging operation will provide, but rarely does a city or national government body take on this kind of work for the pleasure boat industry alone. The majority of time there is an economic interest at play, in this case, to support the commercial fishing business in the Laxe area. When you travel by boat, you get used to playing second fiddle. It was that way for us with Maine lobstermen, New Bedford trawlers, and Shelburne scallopers. It can lead to a dance of a delicate nature similar to David and Goliath, but I like to think that on most days, out of mutual respect, there are few toes stepped on, and maybe there is even a bit of reliance on each other. 
With the harbor given up to construction, the anchorage area was packed with local fishing craft and visitors like us, so we chose to stay onboard to keep an eye on several boats that were anchored a little too close to us. The winds were forecasted to build into the evening, bringing rain and a 180 degree wind shift as the storm moved beyond us. Sure enough, several boats around us had to re-anchor, and we slept intermittently, waking up like new parents, checking every sound and sweeping the anchorage with a spotlight.
On these nights, the morning comes with a level of regret, like an afternoon break at the park jilted by the endless barking of a neighbor's dog. At least I didn't need to captain the dredge, which was just coming back into the harbor from continuous trips all night long.
We poked our way out of the harbor on a windless morning. Sometimes these storms leave town and leave behind tons of wind. Other times, it's like they are the Grinch, stealing everything possible from Whoville, including all traces of wind.
It was just as well. We had a lot of fantastic sails this summer, and this day ended up being our last major hop along the coast. We made arrangements to tie up at the marina in A Coruna for a couple days of decompressing, a leg of almost 35 miles. Motoring all day, for a couple of sailors, can seem to be an odd way to enjoy the end of a season, but I have to give credit to our power boating friends. There is a certain predictability you get by setting the throttle and steering directly to your destination, taking stock in the GPS' estimate of your arrival painted on the screen in crisply precise minutes and seconds. A Coruna is a popular arrival destination for boaters crossing the Bay of Biscay from the UK and other Northern European ports, and all day long we waved to boaters heading south, many of which were likely setting up for an Atlantic crossing. We saw no boats heading our direction. No one ever accused Karen and I of being herd followers, even more so now.
But going against the grain can test one's resolve. The lackluster wind left us to drive through swell that seemed to be getting bigger in the absence of anything else like sail trim to focus on. As the city of A Coruna came into view, one could see white water lining the shore, and long trails of white leading out into deep water. This was a sea doing battle with the land, with or without the help of any local wind. And the battle was finding its way inside of me, as my stomach started to file a complaint of cruel and unusual punishment. Like a fidgety smoker counting the minutes until the next coffee break, I couldn't wait until we were inside the harbor and tied up. The staff at Real Club Nautico were every bit the symbol of kindness, situated on the doorstep to a city of many charms. There was the old city center, full of narrow stone streets and tiny merchant storefronts. In a slightly more modern end of town, numerous rows of tapas-style restaurants tempted us with their cheap wine and sizzling aromas of the sea. Between them rose one of the most impressive city parks I've seen, wrapping around the entire oceanfront of the city, anchored in the center by the Tower of Hercules. Coincidentally, this tower, built originally by the Romans, was meant to be a welcoming symbol to seafarers marking safety from the sea. After battling sea sickness the previous day, I'd say they hit the nail on the head with this welcome!
Although A Coruna had a few options for winter haul out, we chose a little harbor outside of town named Sada based on the good vibe I received from speaking to them, and the generous helping of good comments from previous boaters. It was just 10 miles around the corner, but the route put us right back into the confused sea state we had left earlier. There was barely a breath of wind out, but big rollers coming in from multiple directions, causing Sea Rose to alternate between pitching fore and aft and rolling port and starboard. This is pretty much the perfect recipe for sea sickness. In addition, as we do every season right before haul out, I had to get down and dirty in the form of cleaning the boat's two holding tanks. We learned after the first season that you don't want anything close to human waste left over in the winter. It's a task best suited for a long run in flat seas and we had neither today. I first started with the deck wash down nozzle. With the inspection port removed and the seacock open for drainage, I begin by blasting the inside of the tank with as much high pressure as I could muster out of the hose. No matter how much protective gear I put on, it's still a strong contender for a Dirty Jobs remake. Together with the sloppy sea state, I was barely holding on to my breakfast, but the job got done and all other tasks for the day seemed to be a walk in the park.
Sada is deep inside the Ria Betanzos, and as we got closer the seas steadily calmed down, permitting us to take in the beautiful views of wooded cliffs dropping to the shore with birds gracefully riding the thermals above. To my shock and joy, the water was so flat, you couldn't see a ripple other than our little bubbly wake. Fishermen in small skiffs sat at anchor all around these shallow head waters, appearing equally content catching fish or catching rays. I understood. It felt equally delightful to stay onboard Sea Rose or fly home. It had been four months since we left Preveza, Greece with the usual mix of anticipation and anxiety for what the summer might bring. We knew we had a tremendous distance to try to achieve this year if we had any hope of making the ARC Baltic Rally next summer. After nine regions – Greece, Sicily, Malta, Sardinia, Balearics, Mediterranean Spain, Gibraltar, Portugal, and Atlantic Spain – and over 2700 nautical miles – we had put ourselves on the doorstep of the Bay of Biscay, like a sprinter on the blocks ready for the gun. Though we had put much more water under the keel of Sea Rose this summer, we still had rushed through many parts of the Mediterranean and skipped over entire other regions full of wonder and intrigue. It feels like no matter where we go, like layers of an onion, the more we stop to look around, the more gems this great planet decides to reveal to us. Our haul out in Sada marks the end of our fourth season in Europe. We can't wait for the next revelation.
Thank you for continuing to follow our adventure and for your kind words of support and encouragement. We greatly appreciate it. Best wishes for a new and exciting 2022!