How does a highly social species such as ours social distance from each other? As it turns out, not very well. You don't need to be a sociologist to realize that with few exceptions, we thrive on the company of other human beings. Over 80% of the U.S. population lives in an urban area, and the trend is steadily increasing. On the prairies of early American settlement, we would flock to the saloon, the church, the school to share stories and re-invigorate our spirit. It's why today we collect in corner cafes, on park benches, at the water cooler. It's no wonder that solitary confinement is a form of human punishment. Would a rock concert be as fun if you were standing alone in the audience? It's no surprise that we don't take well to distancing ourselves. Karen and I often chide each other that while it's been great to be with the one you love through the last two pandemic summers, we greatly miss the company of friends and family.
Fortunately, our remedy was just a taxi drive away. Eric and Rhonda pulled into Marina Punta Lagoa and soon enough the long talks and laughter fell naturally into place like a reunited pair of long lost socks. It's a defining feature of humankind, how we can bounce back from adversity and pain.
For the first stop on our week of collective adventure, we set our eyes upon the Cies island group, a part of Spain's Illas Atlánticas de Galicia National Park. One needs to request permission before anchoring in the park's waters, and entry can be denied on busy summer weekends. As we approached in Sea Rose, we were so grateful the government controlled over-development of these enchanted islands. We anchored first off of an undulating sand beach on Cies' northern island of Illa de Monteagudo. Together we climbed a windy path to the summit of Illa do Faro, past thick eucalyptus stands and smart travelers that had thought ahead and stopped partway to enjoy their picnic lunches and glasses of wine. Like the headlands back at Enseada da Barra, the Spanish government was so intent on navigational safety, they installed two lighthouses – one low to the water, the other at the very top of the summit. Before us, hundreds of feet below, were the churning white waters of the Atlantic being atomized into sea mist across a narrow channel with the southern Cies island of Illa da San Martino. A small wooden skiff, the size of a pinky fingernail from our height, negotiated the sea foam with aplomb. Looking out into the middle distance, it felt like we had been dropped into an Apple screen saver, the kind with colors so vibrant and mysterious you assume they have been computer generated. 
We motored the short distance to Illa da San Martino for better overnight protection. Here, where the daily passenger ferry from Vigo does not stop, the beach was like a page out of a Caribbean brochure. Feet buried themselves in the thick soft sand, making the walk more laboring, the island's message to slow down and savor. A few other sailboats shared our anchorage, yet ashore you felt an oasis of tranquility. The thickly wooded interior rose sharply from the beach into wisps of fog, perhaps building, perhaps receding. It brought me back to weekend mountain bike rides through the Marin headlands outside San Francisco where wind-whipped fog and dripping eucalyptus made you at once both damp and reinvigorated, an unexpected memory visiting from an era of unbridled innocence.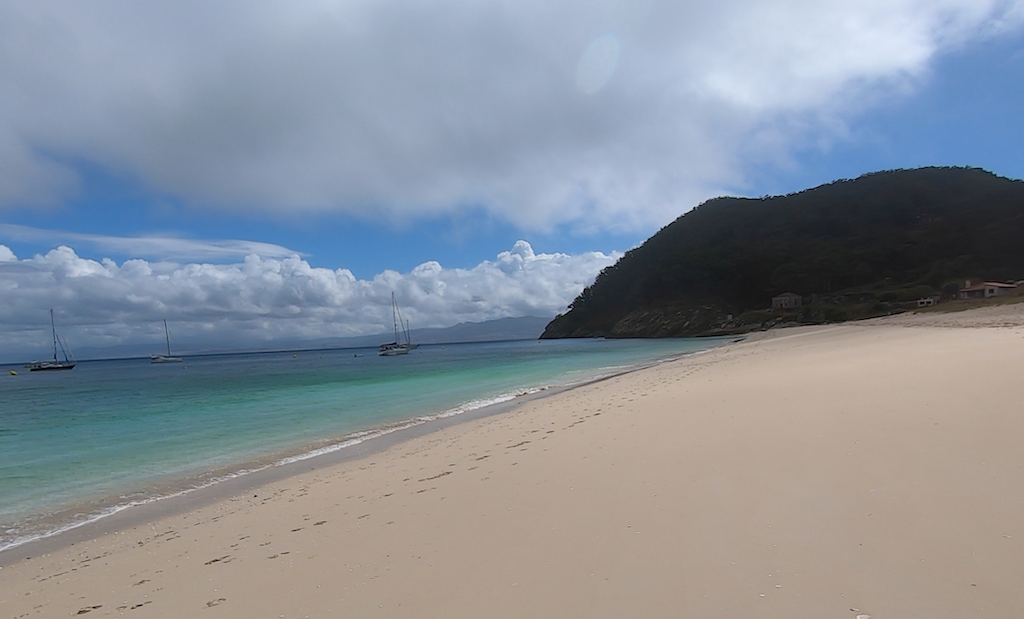 Memories, however sweet though, can easily become a liability if they stand in the way of present-day living, and we promptly launched into paddle boarding lessons back onboard Sea Rose. You might assume that it's easier to learn when the water is warm like in the Med, but this cold water, like negative reinforcement, can be quite an effective teaching tool!
Overnight, I woke up several times to the low drone of a fishing boat engine as it passed close by. Some national parks prohibit fishing. Apparently this one does not, or pretends not to notice.
In the morning, it was time to kiss Ria Vigo goodbye and explore the next of the four big rias, Ria Pontevedra.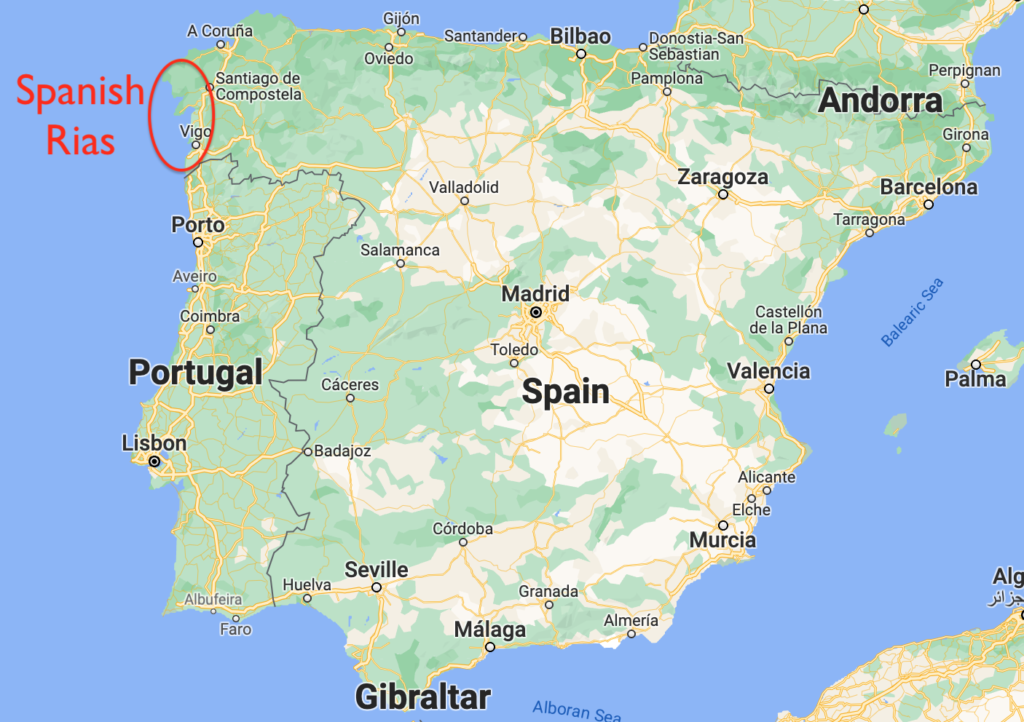 Deep inside the Ria, we were told of a quaint fishing village named Combarra with much of its historic stone fishing cottages intact. It certainly seemed to have more pleasure potential than the large modern city of Pontevedra at the nearby head waters and for which this Ria was named. Once we got beyond the marina staff, who seemed to be in a post peak season state of mind but still agreed to let us tie up our dinghy, we discovered a wonderful waterfront walkway winding its way through the historic fishing center crammed with small residences and a few businesses selling seafood, beer and the perennial collection of tourist trinkets. We imbibed in it all. But Combarro's roots are deeper than the excellent fish they serve. Sprinkled throughout the town are elevated stone granaries unique to this region. They were used to store grain from the fertile interior, designed with narrow slits in the walls to protect from moisture, as well as large discs at their base to block out rodents. With a footprint about the size of a large dining room table, no two were alike and soon we were spotting them everywhere, tucked in and preserved from the advances of modern urbanism. On our return to the boat, we found more modern day items at preservation prices as we stocked up on bottles of red wine for 0.99 euros each!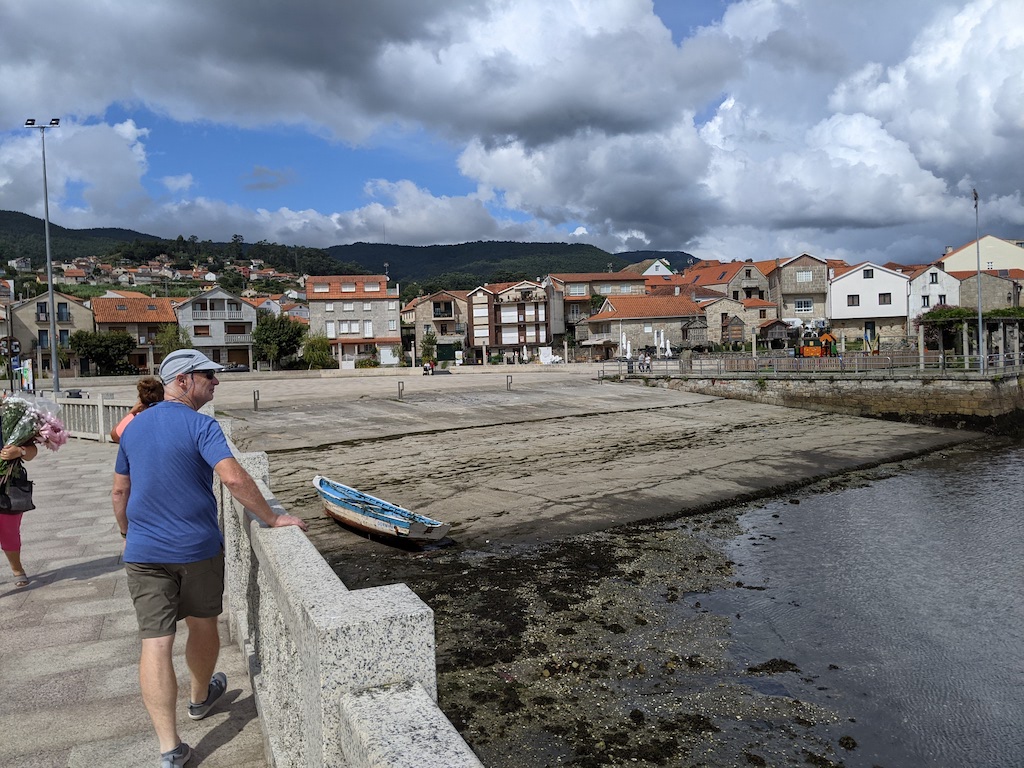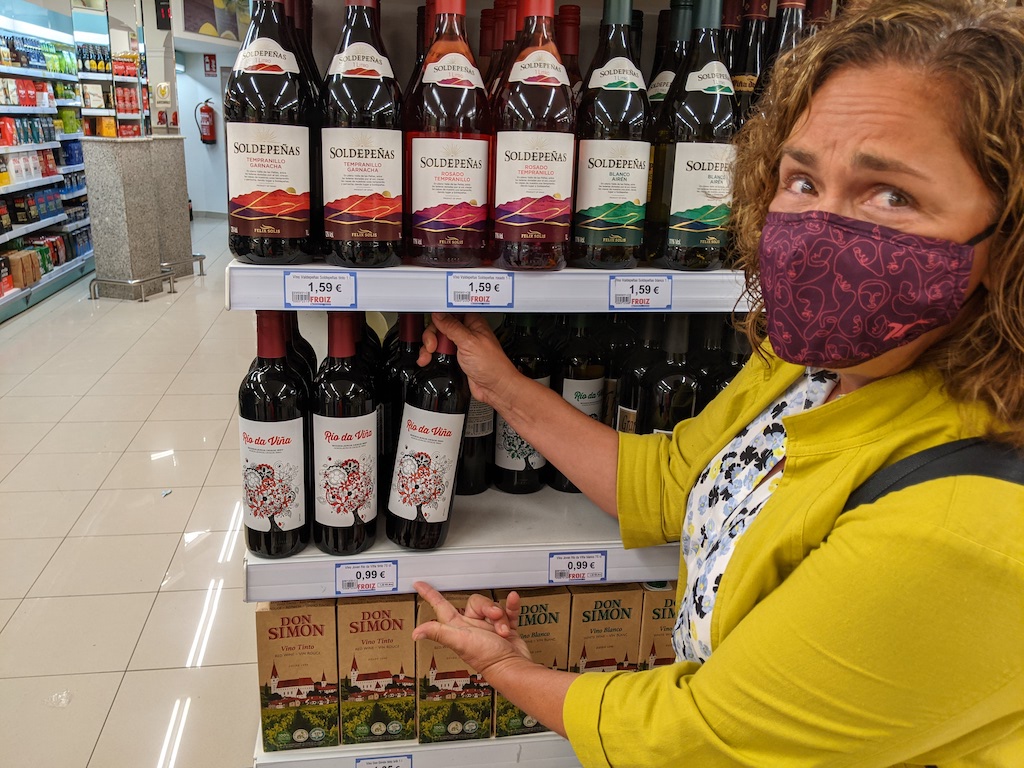 Combarra had been a clear winner in the 'lets pick a harbor and hope its fun' list, but it only served to raise the bar for the remainder of the week. We took advantage of a following breeze to sail back down the Ria Pontevedra, practicing jibes and other sail trimming skills with our new crew. Wind had been a rare commodity recently, so it felt good to let Sea Rose stretch her legs and strut downwind.
In short order, we found a tiny cove on the north shore named Playa Canelas with plenty of swinging room for Sea Rose to rest up from her vigorous sail. Here we were all alone and couldn't count on a historic village. We had to make our own fun, which came in the form of a coastal walk through the tall pines and rocky outcrops. At the outer end, a small memorial plaque had been placed into the rock with a short but touching tribute for a man posing with a surfboard. Had he lost his life here or was this his family's chosen spot to reflect on his life. I could only hope for such a fine vista from which to be remembered.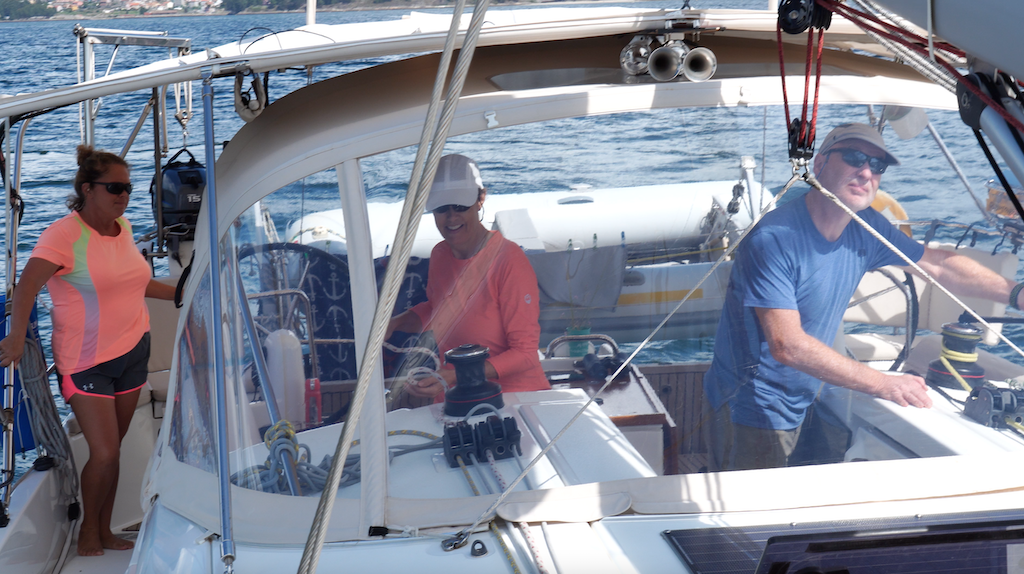 Just offshore of the Ria Pontevedra stands proud the island of Ons. Unlike its neighbors at Cies, Ons is a long, tall bluff with a single lighthouse at its center. We anchored off the little village in the shadow of the lighthouse, taking in the island before dusk via its elaborate walking paths. It was good to see a country like Spain, home to one of the most famous walking trails in the world, the Camino de Santiago, continue that spirit of naturalism out here on its offshore islands. Indeed, there was something for everyone here, including a campground full of beautiful new tent cabins, and when you are done sweating it on the trails, a secluded nudist beach on the northern tip. Now, if only we could find a pitcher of 0.99 euro sangria to top it all off!
The local fishermen were not prone to such temptations, as we found the waters all around our boat filled with their craft in the early pre-dawn morning. Apparently, we had anchored in the premier fishing spot, yet they went about their business un-flummoxed as we rubbed sleep out of eyes and returned hand waves of gratitude. The preferred method of fishing on this morning involved diving overboard and disappearing for several minutes, returning with a small basket of loot. With the language barrier and their busy work ethic, questions were out of the question. I could only hope that through their level of effort, it was the high-profit equivalent of truffle hunting. Regardless, like the school bell at the end of recess, within an hour the playground was completely deserted. The entire fleet had returned to the mainland.
Ons stands halfway between Ria Pontevedra and the next river to the north, Ria de Arousa. As we set sail with a light breeze in the morning, we coaxed Sea Rose up into the Arousa, settling into the harbor of Caraminal on the north shore. Muscle, and to a lesser extent oyster, farming is still prevalent in these northern rias, and after securing Sea Rose, we got an upclose view of the fishing fleet – colorful but all business with their articulating cranes and hoppers.
They say that your travel reflects the person that you are back home. My parents saved a lot and spent very little so they could stretch their travel to far flung locales. If we weren't sailing in Europe, we would be sailing at home, but more fundamentally, Karen and I enjoy seeing the great outdoors on foot. Our visit to Caraminal was no different as we walked all over town – its simple, free, and just the right tempo.
Our week of collective adventure was coming to a close, and in the morning we took the short hop across Ria de Arousa to Vilagarcia, a large, modern industrial harbor chosen more for its transportation links than its sightseeing. It seems that in addition to limited English here, there's a significant lack of public transit. Moving by boat through the Rias worked perfectly, as did using our feet while in town, but getting friends to and from major airports proved to be a logistical challenge of leaving messages and emails all across town. In the end, we found one rental car agency sporadically open. With some careful planning, I was able to drive Eric and Rhonda back to their flight at Porto, and pickup our next set of friends – Don, Shelly and Dan – for the return to Vilagarcia. Greece, with its thousands of islands, had been much easier to rendezvous with crew than this picturesque but far-flung region of Galicia. Despite the social distance challenges – both Covid and an isolated geography – it had been tantalizing to discover Green Spain, and to rediscover the joy of friendship.