Having filled our cup of historical knowledge, we set sail from Cartagena for a 25nm jump westward to find protection behind a large headland at Ensenada de la Fuente as a two day blow passed offshore of us. We couldn't have asked for a better natural windbreak.
Knowing that we had some extra downtime, I took on a few projects that I had been putting off for long enough. One of our two paddle boards had sprung a slow leak and even though I would pump it full before taking off with Karen, by the end, it was a flimsy noodle. Well, at least that was my excuse for constantly following off the thing! I had even brought a spray bottle from home to sleuth out the leak with some soapy water. Our paddleboards were made by a San Diego company, Isle, and my love for a hometown favorite waned considerably when I found several leaks along one of the seams. But after our extensive dinghy patching work over the last two summers, we had plenty of material and adhesive to make things better.
With fresh adhesive at hand, I also reglued the oarlocks on the dinghy. We bought this dinghy right before we came to the Med, aiming for as light weight of an aluminum-hulled craft as we could find. This one met the weigh-in requirements, but now with so much patching in 3+ years, I fear she's as heavy as the rest of the fleet!
Ashore, numerous groups of people were walking a steep hiking path around the headlands, and stopping to examine the origin of Fuente, or Fountain, in this cove. As it turned out, the geology of the area produced a natural spring just above the waterline which provided fresh water to earlier mariners, including pirate ships that would hide out in this protected cove.
Our pirating days were over and we resigned to a long walk to town in the hot humid air to find a summer village of vacationers who apparently did not cook much themselves, on account of the paltry offering at the grocery store. We licked our wounds with a refreshing snorkel around the cove finding plenty of Mediterranean red sea stars peeking out from the crevices of rocks, and a sunset blanketing the sky orange on our final evening.
It was time to put more westbound miles under our keel, as we left before dawn once again for an 80nm run down the coast to Cabo de Gato and then westbound until we ran out of light. I started out on the bow with our spotlight, looking for any fish trap buoys while Karen was back at the helm. When the light came up enough to clearly see the water, I took over the helm for my first watch. The wind picked up immediately, as was forecasted, and we were able to set sails downwind for a rolly ride in building seas as the sun popped up over the horizon. In these conditions, I like to keep looking forward, as the swells that are building and breaking behind you can be intimidating!
We pressed on down the coast, continuing to admire the ruggedness of the landscape, interspersed with resort hotels and beach communities. We passed offshore of one particularly large hotel built down the side of a mountain into the sea. If you look closely at the picture, you will see the words 'Hotel Ilegal'. This is one of many hotel structures we learned about that had been built with improperly acquired permits or no permits at all. Actually, there are reported to be thousands of properties like this, destined to be demolished.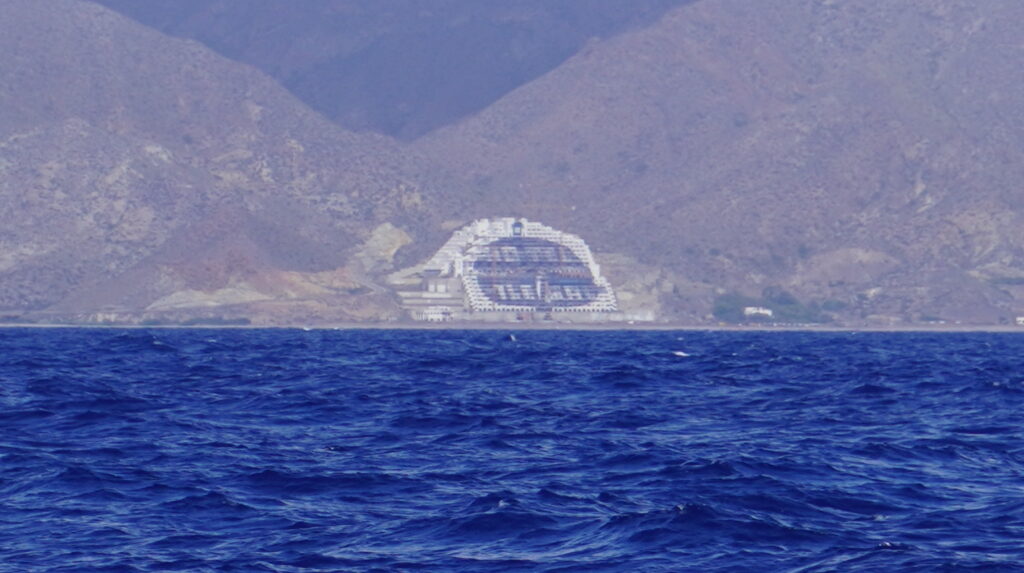 As we approached the point at Cabo de Gato, the wind died, and abruptly changed direction into a headwind. At least ten boats appeared, going the opposite direction, happily sailing along, yet we had to resign to motor through the new wind and the combination of old swell in our direction and new wind waves from head on which caused sudden peaked waves doubling in height. At the same time, the temperature dropped at least 15 degrees. It felt like the warm halcyon days of the Mediterranean were over. This was the transition point. Mother Nature was greeting us with the cool Atlantic air and sea temperatures, even though we had 170nm to go to get to our exit at Gibraltar. We filed it away in the 'strange phenomenon' folder while we pitched and rolled in the seas while fighting a new current against us. If someone had offered me a gyro and a free trip back to Greece, I might have taken it!
We knew this was going to be a long day, and as we put Cabo de Gato to our stern, we weighed our options. Due to the counter current and wind, our arrival at our original destination would be between 11pm and midnight. The enthusiasm for that option was marketably lower than it had been the day before. Instead, we aimed for a nondescript harbor called Roquetas de Mar, which, based on the distance, we should arrive at right around dusk. We found ourselves carving a path between late day jet skiers as we nosed towards a long sandy beach, wasting no time to get the anchor down before we lost our working visibility. Thankfully, the jet ski tours were winding down too, and we settled into a quiet evening behind a breakwater, listening to the distant joyful laughter of kids on the beach milking the last few slivers of daylight. I understood. Fifty years ago I was begging my mom for the same late day privileges on the beaches of San Diego. It's comforting to see that some things withstand the test of time. 
It is claimed that this region of Spain, called the Andalucia, provides a majority of Europe's fruits and vegetables, about 13 million tons annually. It's not hard to imagine. As we pushed further west towards Gibraltar, expansive white patches along the coastline could be seen from far away. Dubbed a 'sea of plastic', greenhouses are so prevalent here, the white plastic can be seen from space. We were warned by the cruising guide that on occasion, these football field-sized sheets of plastic can blow into the Mediterranean, causing obvious risk to the environment, and a serious navigational issue.
The sun sets in this part of the Med around 930pm. While we would be anchoring in the dark, a general no-no for an arrival in a new harbor, we felt we would be OK with the lingering light. In reality, we had a lighthouse on the shore of Fuengirola just behind the anchorage, with a band of light sweeping by us every 10 seconds to provide a guide to our anchoring spot. In contrast to the romantic nature of anchoring in the shadow of a lighthouse, we had a busy highway running right along the waterfront. With the new cooler temperatures, though, the road noise was blocked by the need to close hatches and bury ourselves in an as-yet-underutilized duvet. I wasn't complaining. Our friends in Greece and Turkey were dealing with exceptionally high temperatures and the risk of fires. I was perfectly fine cocooning ourselves onboard Sea Rose. 
Our main navigational challenge now was how and when to transit through the Strait of Gibraltar. We had been watching the weather closely for the last few days. The prevailing wind through the narrow slot of water was out of the west, directly in our path, and it was not a shy wind. While we contemplated slight adjustments to our sails over the last few days, the Strait of Gibraltar was besieged with winds in the 20-30knot range. Add to this the fact that the current is against you most of the time, as the Atlantic re-supplies the Mediterranean with water that it loses to evaporation, leading to a steady flow of 2 knots from west to east. During a favorable tide cycle, we might expect to get a few knots of tide pushing us west bound, but most of the time sailors have to work the edge of the shore to get some relief in the eddies. Looking up tides and currents was a common occurrence back home in New England, but we were woefully out of practice after being in the Med where the tide change is a mere 0.5m. It was time to re-learn this skill and we started with our noses in the cruising guide, studying the current tables for each hour before and after high tide at the Gibraltar reference station. At the same time, we closely examined the weather models and found that tomorrow we could expect not only an easing to the prevailing westerly wind, but the chance of a slight east wind. This was all the news we needed to continue our push westbound. The stars had aligned for us and time was in short supply. We left before dawn once again from our anchorage at Fuengirola to strike while the iron was hot. It was a feeling of nervous anticipation. To navigate the Strait of Gibraltar, with it's crazy currents, temperamental weather, and the navigational compression of every variety of ship from countries throughout the Med and the Suez passing through this choke point – it was all a bit daunting. It felt like a final exam, and we hoped we had studied enough to pass, if not with flying colors, at least with a suitable level of decorum and lack of drama!
In the distance, we could see the tall rock of Gibraltar coming into view, the iconic bouncer for those leaving and entering the Med. Once we crossed the Strait of Gibraltar, our exit from the Med would be complete, marking the end of our three and a half summer tour of this magical, unpredictable, and diverse region of the world, a journey that we originally had planned for just two summers. We left knowing there was so much more in the way of rare and unusual sights that we could have seen. The world is so alluring and captivating. If only we could live long enough to see it all.