There may be no place more iconic in the Mediterranean than the island of Ibiza. A bit like a stylish Rio de Janerio, with a good dose of Key West thrown in, Ibiza is the place you go to let go. In our previous visit to the Balearic Islands, we ran out of time, after several weeks in Mallorca and Menorca, to try out Ibiza. This time, Ibiza, on the rhumb line to the Spanish mainland, was unavoidable. Like Rio, there's a party at every turn, and despite Covid, there were people shoulder to shoulder in stores, restaurants, bars and beaches. And in our region, there were loads of 20 somethings piled onboard sailboats, tour boats, and luxury chartered yachts. Our cruising guide described a world of nightclubs trying to out do each other, with, as an example, one version being a bring-your-skimpiest-bathing-suit foam party. It also described nudism as an accepted practice, choosing the interesting phrase that it was a 'feature' of the island.
When you are in your 50's and just a couple onboard, it's best to not let these words shock the system too much, so we chose to ease into the experience by first checking out the more remote northern coast of Ibiza. With 50nm to cross from Andratx on Mallorca and a hefty wind to push us there, we eased out of the anchorage without a rush. As we cleared the tall headlands off Andratx and started to feel the full effect of the wind, the conditions were perfect for a beam reach, flying the Code 0 and the mainsail. We were soon on the Ibiza superhighway, trying to overtake boats ahead of us while waving at our boating brethren heading the other way to Mallorca. We were regularly pushing the upper limits of Sea Rose, as we hit speeds in the 8 knot range. As Ibiza came into view, the true wind speeds were peaking at 20+ knots (apparent wind at and slightly over 15 kts). In retrospect, we should have doused the Code 0 before this, but the deliciousness of the conditions had dulled our senses. The challenge with a Code 0 is that once the conditions get too much for the sail, it can become nearly impossible to furl it. We should have taken it down back when the wind was hitting 15. But here we were. As gusts hit 22 knots, we took our positions. Karen engaged the autopilot, and started to ease the Code 0 sheet. This sail has, owing to its synthetic fibers, a high pitched crackling sound when it luffs, and in this wind, it was snapping and crackling to the point that it was hard for Karen and I to hear each other. I was on the continuous line furler, trying to pull the furling end in against the pressure on the sail. About half way there, the sail didn't seem to be furling, despite how much I was heaving on the furling line. I realized that the line was slipping through the drum, with so much pressure from the luffing sail. As I pulled in three feet, most of it would slip back out. Oh, what to do! The crackling of the Code 0 will forever be associated with the night we lost our old Code 0 to a sudden storm in Croatia, where we resorted to cut the sail with knives in order to wrestle it down to the deck. The solution to our current predicament wasn't clear either. I kept pulling and Karen eased the sheet, and finally it formed the dreaded hour glass shape, where extra material was billowing loose at the top, wrapped tight in the middle, and billowing loose on the lower half. It's nearly impossible to furl it closed when this happens. And the pressure of the billowing balloon sections adds to the pressure on the rigging and control lines. We were left with no other options but to lower the halyard and the partially furled sail to the deck to get it under control and avoid it from shredding the very thin material it is made out of. 
Once down on the deck and hastily stuffed into its sail bag, we could finally breathe a sigh of relief, as we continued under motor the remaining three miles to an anchorage at Cala Xarraca. Most of the calas (coves) along this north coast were small spots with too many boats too close together, but thankfully our first experience in Ibiza was a large open cala, still with 30 or more boats, but plenty of room for everyone, including three not-so-small super yachts. 
Our quick crossing from Mallorca left us with time to pull out the paddle boards for the first time this summer and explore the nooks and crannies, and with the subtle nature of paddle boarding, to eavesdrop on the who's who of the anchorage. We even found a boat with a US flag, hailing from Chatham, MA, but there was no sign of life onboard to help us do a sing along of 'Sweet Caroline'.
We had heard stories of how clear the water was in Ibiza, and Cala Xarraca was no exception. We anchored in 15 meters of water, and could see down to the bottom from the deck as our anchor touched the seafloor. This was our second anchoring spot, with the first one leaving us without enough swing room with another boat as the winds cycled around in the evening. Fifteen meters is close to the deep end of our safe anchoring range, but it put us out away from the crowded area of the shallower shoreline. 
Karen and I sat out on the foredeck as we do quite often to take in the evening air, with faint voices, perhaps distant music or someone playing a guitar, made all the more special by a glass of vino. Many people think of boating life as just this, sitting around enjoying a beverage and a view. The reality is that there are plenty of harrowing moments like the one we just had a few hours earlier with the code 0. So when we get a chance to collect ourselves and slow down, we take advantage of it.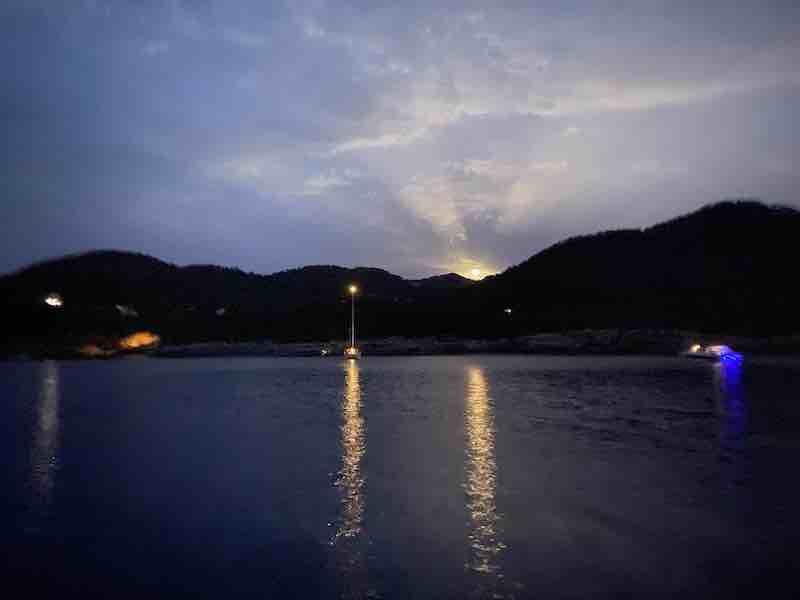 As it turned out, the harrowing nature of boating paid another visit in the middle of the night. And, why is it always after dark, I don't know! The wind had started to shift directions and build in strength. We both came up on deck around 2 am to check out how we were swinging. A boat had come in as we were going to bed and anchored too close to us and didn't drop enough chain, so they were our main concern. They had dragged down past us and far into the center of the bay. We could see them on deck trying to raise their anchor and move. More alarming, one of the super yachts, which had not impressed us much when they were re-anchoring earlier in the day and did it why dragging all of their water toy paraphernalia behind them, was now dragging as well. We had noticed they had a very small gauge chain, not robust enough for the size of the anchor nor for the size of the yacht. For sure, it is always easy to criticize others over yourself, and we have had a few regretful times of dragging anchor ourselves, but for a super yacht to drag is a whole different kettle of fish. These are many millions of dollars of floating excess, and the wind we were encountering, at ~25 knots, wasn't extreme. This was a captain that needed another career. As we stood and watched the yacht drive forward to reset its anchor, we were alarmed by the wind coming down the interior mountain ridges and blowing across the harbor. What was most shocking was the wild swings of temperatures. At one point while I was on the foredeck, I felt a blast of hot air blow by me, like you might feel if you stuck your head into the open door of a hot oven. It was instantaneous and made me jump, such a dramatic shot of hot … not warm, but truly HOT air it was. The next blast was normal 80 degree air like it had been all evening. Then, moments later, another shot of ultra hot air, like a flame thrower taking aim at you, blew at me. Life on earth is full of surprises. This one was so out of the ordinary, it felt super natural, alien like. 
Our super yacht neighbor continued to motor upwind to the shoreline, choosing to drop the anchor in water that would be too shallow if he swung around into shore. They were also upwind of us, which put us at risk of them dragged down on us. Further complicating matters was their Christmas tree-array of lights onboard. I didn't see any guests on deck at this late hour but they still had it all lit up like it was disco night, including high intensity underwater lights which are fine at the dock or a calm night, but on this windy occasion, as they rolled from side to side, these sudden bright lights would shine across the harbor, causing other boaters like us to lose their night vision. At this point, there were at least six other boats in motion around the harbor, either having dragged or being proactively moving to avoid further issues with neighboring boats. Karen tried to hail the super yacht captain several times on the radio, to no avail. Finally, he answered and accepted Karen's request to turn his underwater showiness off. Soon, another of the super yachts was moving forward to raise their anchor. They could have been dragging, it was not clear, but for sure they had swung too close to the rocky cliff edge. This too was alarming to learn about super yacht captains. It is pretty basic practice to anchor only where you have enough swing room in all directions, in case the wind shifts like it was doing on this night. Even the third super yacht crew was on deck, although it appeared more to check on the risk of other boats hitting them than anything problematic on their end.
Karen and I stayed up in the cockpit to make sure the many other boats in the anchorage that were now moving weren't going to re-anchor too close to us. Finally, the wind settled down, and most boats had found new homes or left the anchorage entirely, and we felt safe enough to go back down to sleep.
We were groggy in the morning and it wasn't because of the typical Ibiza reasons! Along the north coast, many more calas, big and small, dotted the shore, but a steady, chronic swell out of the north made it tricky to find a suitable place for our next night. There was so much natural splendor along this stretch, we didn't want to circle around to the more populated southern coast just yet, and miss out on this rugged beauty.
We found a new resting place for our anchor at Ses Balandres, a little indent in the shore facing west, away from the swell, and towards an island with a curious hole in the middle. We were conditioned to expect crowds, but were pleased there was only a half dozen other boats, several that looked like day charters that would likely head back to port before the evening.
Behind us on the steep cliff face was a lesson for amateur geologists, with layer upon layer of rock, and cube-shaped pieces breaking off and scattering at the water's edge. At one point the layers took a strong bend and twist before continuing across the cliff. It's incredible the power that must have been exerted to deform this rock.
Our experience with Ibiza's 'feature' was soon abundantly clear, as some in the 20-something crowd next to us happened to modify their two piece suit with a one piece, and others ashore felt uninhibited to walk around and sun bathe au naturel. The parents on a family boat next to us, with four little kids, seemed unfazed. The kids jumped off the stern, splashed around, climbed up and jumped again. Life went on. It seemed the only thing out of place were the two Americans trying to make sense of it all!
We jumped in the dinghy for a tour around the hole-in-the-rock island, hoping to do some snorkeling as well, but the water was too deep to anchor our dinghy, as it dropped down into the inky depths right off the sharp limestone edges. It was probably just as well, as the hole was a popular gauntlet for a steady stream of jet skiers to negotiate, at speeds that seem to rival those of a crotch-rocket.
By late afternoon, all those clothed and otherwise had left the anchorage and we were all alone. This gave us free reign to lay out a stern line to keep us straight into the swell that was gently rolling into the cove, but could develop into something bigger overnight. We hadn't used a stern line since Greece, but this seemed like a perfect opportunity. I found a chunky boulder underwater close to shore, which allowed us to tie the stern off without having to go fully on shore, or to block boaters or swimmers who wanted to pass by close to shore.
In the middle of the night, the wind had changed direction and was coming at us sideways, along with a new wave action from that direction. Sea Rose was holding ram-rod straight with a tight anchor chain and stern line. But at some point, with strong pressure on the beam, it can become too much for either the stern line, or the hardware it passes through to secure to the cockpit winch. We were up repeatedly throughout the night, watching the wind gusts and checking the pressure on the stern line, a line that is not really built for strength, with its floating foam inner core. The strength only comes from the thin outer sleeve. I'm not sure what the breaking strength of the line was, but judging by how much the line had been flattened, we were probably getting close. Thankfully, the wind eased slightly and by morning time, when the light came up and we could get our bearings better, it didn't seem so bad. I swam ashore while Karen got ready with the engine and anchor snubber. When I got to the boulder with the girth of a dairy cow, the strap had pulled underneath it from the pressure overnight. I dove down several times, and could untie the floating line, but could not free up the strap itself. Losing the strap was one thing, but I'd also feel obliged to come back with a knife to cut away the excess so we minimized our debris left behind. I dove down for one more try, placing my fins flat against the rock in a standing position, and pulled hard on the strap. The boulder shifted slightly and the strap miraculously came free. It would live for another day onboard Sea Rose after all.
As soon as we had the anchor up and started motoring away, Sea Rose started a big rolling pattern from port to starboard and back. A large swell was coming in from the north. Our anchorage had pleasantly protected us from this new reality. Walking across the cockpit, let alone down the companionway to get something to eat for breakfast, was a challenge in coordination and the identification of advantageous hand holds. There was no wind to speak of, so we were left to motor down the coast, in company with several other early risers exiting this exposed northern shore, plus a few energetic (or naive) boaters heading the other way. With this big swell, it would work its way into any of the anchorages we had passed, making life on the hook far from a hallmark card experience.
Our plan had been to go into the large city of San Antonio to get some provisions, but the reviews on the city were less than glamorous, and the sea state made us feel like we should be finding a protected anchorage early, before the inevitable crowds showed up. So, we skipped the big city and pushed on further south.
Yet, everywhere we looked there were boats moving, and even more parked in the preferred anchorages. Our best option for protection, and also scenery was Cala d' Hort, but the guide book warned of crowds and rowdies. We had had our night alone last night, so we throw caution to the wind. As Karen nosed Sea Rose into the anchorage, we found limited space, except for a large gap in an area with Posidonia grass on the sea floor. Here in the Balearics especially, the harbors are patrolled closely to make sure no one damages these grasses, known to be ideal habitats for both turtles and young fish, with their anchor and chain. Fines have been issued in some cases as well. We chose to anchor outside in deeper water, which also put us upwind of others and less likely to have someone drag down on us. Our strategic position was usurped quickly, as a continuous line of arrivals came into the cala, some of whom anchored further out than us, while others seemed to nearly clip our stern as they negotiated the skinny gaps between boats, all the while happily waving at you as they passed, like this was a normal day, and perhaps in this version of paradise it was. A man on boat next to us sat out on his swim platform, facing out to all of the other boats, fully naked. You might have seen pictures of the annoying man-spread on NYC subway trains, or witnessed it yourself on your local public transit. Add a few pounds, a few years – actually a lot of years – and you get why certain women onboard Sea Rose were a bit taken aback. Soon, the party music came on, makeshift dance floors formed on the nearby catamaran trampolines, and gaggles of women in dinghies motored around looking for the best party to crash. I had told Karen earlier that before we left Ibiza, I wanted to experience a bit of the craziness this island was so famous for, and we were getting just that without even having to leave the boat!
Cala d' Hort was also famous for its strikingly tall offshore island, named Isla de es Verde, and with it, the parallels to Rio and its offshore landmarks. It was the perfect companion to a setting sun, which for a very brief moment while it touched the horizon, quieted down the party scene in the harbor. 
We must have been adapting to late night music, as we both slept quite soundly, until the rising sun shone bright through the portholes in the morning. We were off to the skinny neighboring island of Formentara, touted as a little less party, a little more serene than Ibiza. It was just 12 miles distant and we loaded up the sails with plenty of wind, making the time fly by. The only thing calling us back to reality was the blizzardingly crowded plotter screen, full of AIS vectors going to and from Formentara.
Here once again, the calas were reported to be very crowded, and we were due for a little more peace and separation. We opted for a small sandy spot, Punta Negra, amongst a long low lying rocking bluff which held promise for a swim, if not a lengthy snorkel outing. This was ideal, as we looked out on the virgin turquoise water while our sailing colleagues just to the south of us were crammed in bow-to-stern with 40 other craft. It was all good, until it wasn't. Karen had noticed on the morning forecast a 30% chance of thunderstorms in the area. This seemed like a conservative statistic, as dark clouds came up from seemingly no where, and the wind clocked us around on the anchor. I had just gone in the water to check on the anchor, and Karen called me out abruptly, as we saw a bolt of lighting in the distance. As things happen, it didn't take long for the rain drops to arrive. We weren't altogether against this scenario, as the deck, rigging and solar panels still had entrenched sand in them from the summer's earlier errant wind-storms blowing up from the Sahara desert. A good dousing would make our girl shine like a gem stone. And did it rain! It came down so hard I thought for sure it had turned into hail. The runoff from the interior land started collecting and cascading off the edge of the cliff, producing a milky brown plume of water flowing out to our position. The most alarming aspect, though, were the steady lighting strikes on all sides of us. When you have a 60 ft tall metal pole that leads down to your home on the water, it makes any presence of lighting very unsettling. These bolts seem to have a machine gun quality about them, as they struck a single spot in rapid-fire succession before taking a pause to target their next victim. Sea Rose stayed dry down below, but we discovered all of the leaky spots in our bimini that somehow had not been a priority in an otherwise dry summer. As thunderstorms go, this was a fiery one, and after a momentary break and rest in the cloud ceiling, the dark and stormy skies returned for one last attack of the seagoing society. Small inflatable boats and skiffs with little protection from the rain were pushing by us upwind to find better protection. At least we could go down below and get warm and dry. 
As the rain eased and low clouds rose to improve our visibility, a new swell pattern developed out of the northeast, as suddenly as a flick of a light switch. We were immediately in a barrel roll condition, upsetting everything loose in the cabin below and rattling the contents of the lockers. Our nirvana anchorage, first upset by lighting, now by unruly swells, was quickly turning sour to our senses. We raised anchor for better surroundings, all while two other boats eagerly took our spot, thinking they had found heaven.
Formentara is not as mountainous as Ibiza, so we couldn't expect much protection from the wind, but all we wanted was a place that didn't roll us all night and leave us sleepless and sea sick in the morning. The southern tip of Formentara, with nothing but North Africa to the south, had a prominent lighthouse on the headland, providing a nice vantage point for tourists to gaze out into the sea, and see Sea Rose sailing through the fickle winds for greener pastures. We finally made it around to the south side, with a beach so long you could hardly see where it ended, and plenty of spots to anchor in sand. The precocious swell was now wrapping around the island from the west, and south – how it can change like this in a matter of a few miles is a mystery – but its force was weakened to the point that we could manage to co-exist. A further attraction was the Blue Bar ashore, known for its space alien theme night and live music. We chose to take paddle boards ashore to manage the breaking waves easier, bringing our sandy feet onto a veranda that didn't roll with every swell so that we could take in the nice view with a carafe of flavorful sangria. We had left our alien garb at home, and there were plenty of other healthy young adults needing a place to drink and dine, so we called it an early evening and paddled our way back to Sea Rose. I have to say, it was a bit sad to say goodbye to Ibiza and Formentara. From what we could garner from the rest of our itinerary west of the Balearics, we were leaving behind the party and sightseeing region of the Med for the more urban sprawl of the Spanish coast. As a tribute to the many hedonists of the Balearics, it seemed appropriate to take one final dip into these warm heavenly waters. Adios y muchas gracias!