260 nautical miles. That's what stood before us as we raised our anchor from the island of San Pietro in southern Sardinia. This would be our longest crossing for the summer, as we proceeded with our mixed plan of sightseeing and boat movement out of the Med. It was slightly longer than our leg from Greece to Sicily, and for that one, we had woken up at 2am to try to squeeze the crossing into one and one-half overnights instead of a full two. We learned two important lessons from that approach. First, when you start out tired on a crossing, it doesn't get any better. Second, when you are trying to arrive before nightfall on the second evening, to avoid a third night at sea, it makes you stressed about every little slow down in speed. We quickly realized we had to average six knots in order to make it to Sicily before dark, which made it hard to experiment with the sails in moderate winds. On this crossing to Mallorca, we had a good, solid night's sleep, leaving in the early morning once the sun was up and visibility was clear. We were fully prepared to spend two nights at sea before our arrival. And it was evident right away how much better it felt.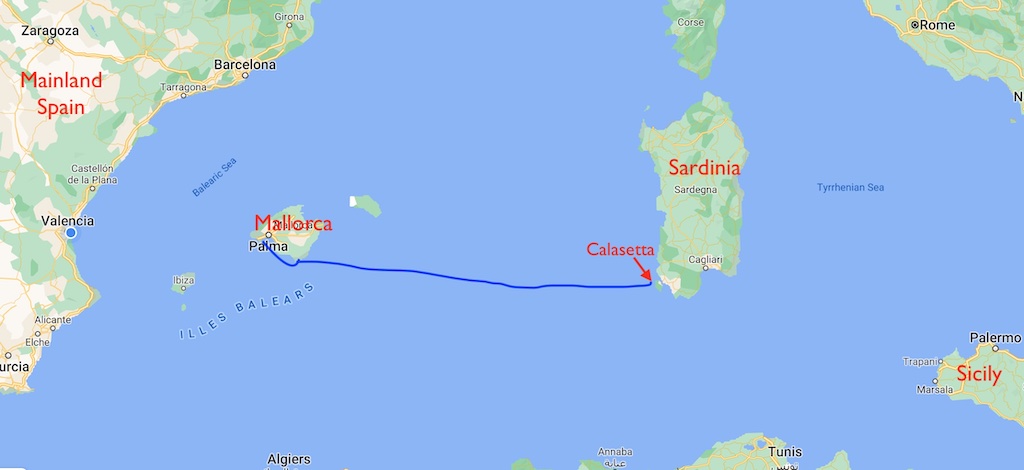 As we put San Pietro to our stern, the wind freshened out of the north, and we unfurled sails for a pleasant beam reach directly west to the Balearic Islands. Six knots would have been a great average, but we didn't feel like we had to hit that for our arrival time, knowing we had a full third day's worth of daylight if we needed it. Our speed of 5-5.5 knots was perfectly satisfactory, and it was blissful to turn off the engine. The solar panels were happily putting out lots of amps with the full sun rising above us, given our little off-grid home all the juice it needed, between the electronics, the autopilot, and the fridges. Life was good.
Like any crossing, we had spent most of the prior evening hunched over the weather forecasts, closely examining the similarities and differences of each model over the next two and a half days. We had chosen our departure to coincide with a lull in the normally active mistral winds that blow down with great force from the Gulf of Lyon off the French coast. These winds had been giving much joy to the Open Skiff racing contingent, but were more than we were looking for with their wind-whipped seas. Instead, we had a forecast of moderate northerly winds for the first day, and virtually no wind on the second day.
The winds on our first day continued to freshen, our speeds improved and the first real potential for us to arrive early became clear. As nightfall approached, and we got closer to the second day's forecast of non-existent winds, I expected that we would have to furl sails and start motoring, but the glorious wind held overnight, with the added bonus of a waxing moon to guide us along the way.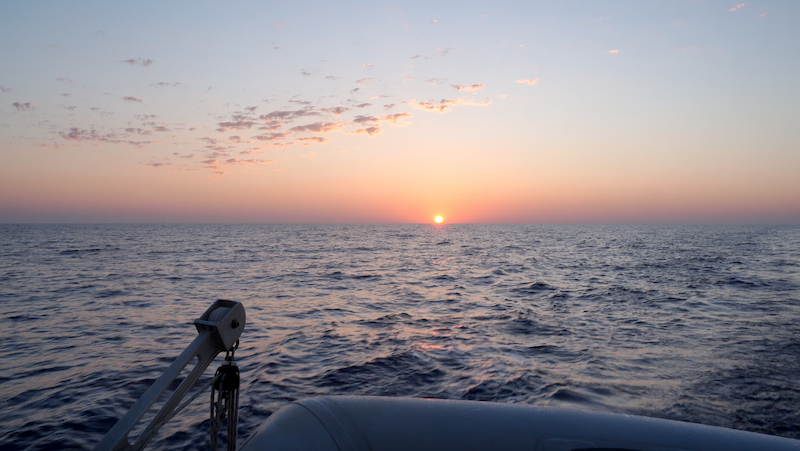 By the morning, with our good speeds since we departed, it became evident that we could arrive before nightfall and not have a second night at sea as long as we kept up the pace. So, as the wind eased off as forecasted, we kept the sails up but added a little boost from the engine to keep us moving. Normally, I'm not a big motor sailor. If there is wind to sail, then sail. If not, then don't try to fake it by putting sails up and run the engine, tricking your fellow boaters out by your impressive speeds! However, impressions were of little importance on this quiet sea, and with the prospect of arrival before nightfall in our grasp, we were strongly motivated.
As planned on our second day, with a little help from the iron sail, we inched closer and finally by late afternoon we could make out the outline of Mallorca's strikingly tall interior mountains on the horizon. We were aiming for the southeast tip of Mallorca, with a plan to round the point and tuck into a little anchorage on the inside, to avoid the building southerly winds coming in the evening.
One of the benefits of sailing west and staying in the same timezone is that the sunset occurs later in the day. As we rounded the point at 9pm, we still had good visibility, enough to pick out a good place to drop the anchor on sand in the anchorage at El Caragol.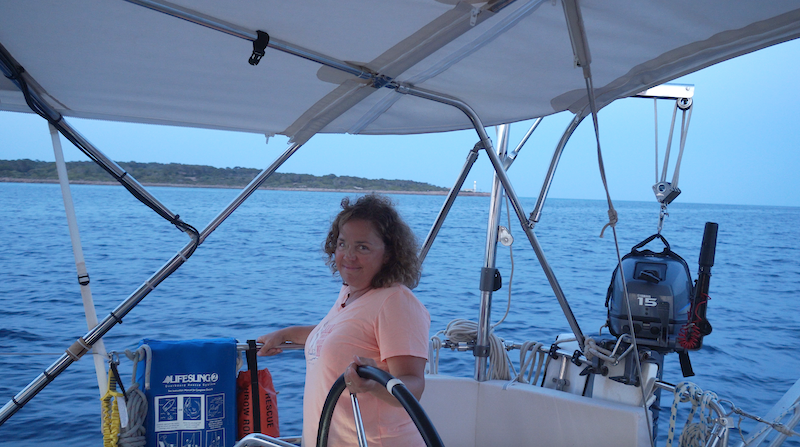 There wasn't much at this little carve out of the rocky coastline except a beach, a few straggler beachgoers, and three other boats. That was fine by us, as all we wanted was something easy and low-frills, as we anchored up, had a quick bite, and headed to bed. We had put the longest crossing in the bank and could now rest assured that in terms of overnights we had only one more left, as we crossed to the Spanish mainland in a week or so. 
As we were maneuvering to drop the anchor, Karen had turned the bow thruster on briefly, only to find out that it spurted momentarily to life and then all the power went off, as if we had tripped a breaker. It was too late to troubleshoot it at the time, but in the morning, I jumped in the water on a hunch that maybe we snagged something in it's little propellor. This had happened once before, as we were med mooring, and a dock line got pulled in and jammed the unit. Sure enough, as I swam towards the bow, I could see a small line floating in the water, probably leftover from a fish buoy. We could have snagged it somewhere along our route from Sardinia, or possibly right in the anchorage, but regardless, it was tightly wrapped numerous times around the propellor shaft. I kept thinking of the warnings about sticking your fingers into a jammed snowblower, and how our hand surgeon friend Bob gets a lot of calls early in the winter season back home in New England. But with a combination of delicate finger movements and brute force pulling, a wrap of line came unwound, and then more, and finally it was completely free of the bow thruster. Horrah!
The next step in restoring the bowthruster involved opening up the control box and checking the fuse. As I suspected, the big 100a fuse was blown, and after the last occurrence, I had stocked up on a bag full of new fuses. Once a new one was in place, Karen turned on the joystick control and we were back in business with our bowthruster! It's nice when a repair goes as straight forward as this.
As we pulled away from the anchorage and pointed the bow across the expansive Bay of Palma, we were shocked by how many boats were underway all around us. Furthermore, nearly all of them were on AIS, so our chart plotter screen was a pick-up-stick pattern of vectors pointing every which way. Even fishing boats were transmitting their AIS position. This was a marked change from other Med countries, and especially for fisherman who seem to want to hide their secret fishing spots. The AIS dealers must have cut a deal for the boat owners of Mallorca! All of the new data on the screen kept us busy navigating.
On this excursion to Mallorca, we really wanted to see some different sites from our previous visit three years ago, where we skipped the southern and western shores. As we sailed offshore of Palma, and zig zagged around the many AIS targets on the screen, we rounded up the south coast to a harbor with the appealing name of Camp del Mar. I had grown up on the beaches of Del Mar, near San Diego, so I find myself with a certain affinity to any place with a similar name. Childhood memories are pretty persistent that way. While my Del Mar was a sleepy, hippy California beach town, this Del Mar was quite full of multi-story hotels and throngs of beachgoers. Californians love a beach, but I think it is fair to say that Spaniards are enthralled with the beach, and no more so than in the Balearics. They want their accommodations to be located just a step or two off the sand, and if that's not possible, clinging to an adjacent cliff edge. We nosed in to an open area amongst 20 or more boats laying just out to sea from a yellow buoyed swim area. Spain is very intent on marking off areas from the beach that are for swimmers only, and hat's off to them. There are too many crazies driving inflatables or jet skis at full throttle close to shore. It's amazing there are not more accidents.
As soon as we were settled on anchor, we jumped in the water for a cool down from the intense heat of the day. We were so singularly focused on this wonderful replacement for an air-conditioned cabin, that we didn't notice at first the appalling amount of trash in the water, mostly bits and pieces of plastic, but also jerry jugs, used covid masks, and other unmentionables. This detritus was slowly flowing out of the harbor, and we timed our swim for the in between time before the floating debris came back into the harbor in the late evening. Every country has their priorities and their personalities, but I will just say that this experience was in stark contrast to our witness of local Sardinians, at the windy Open Skiff championships, chasing after the ubiquitous empty plastic water bottle rolling into the water from the dock, clearly passionate about not populating their local waters. A young sailor even lost a short length of thin line off the dock next to our boat, and was fretting until we offered our boat hook for her to retrieve it. 
We had ultimately come to this southwestern corner of Mallorca to visit the isolated and enticingly named island of Dragonera. However, a strong southerly wind made the few anchorages on the island, most with only room for one or two boats, impractical. We opted instead for the big town experience of Andratx. And speaking of interesting names, I couldn't break my mind out of wanting to say 'Anthrax', but Karen was quick to point out the correct pronunciation of 'Ann-DRAW-chh'. We were in need of some provisioning, which made this sizable town an attractive last stop before we departed Mallorca for Ibiza. Boats of all sizes and speeds were zooming by us as we got closer to the mooring field, once again reminding us that boating has not gone out of fashion here in Spanish waters. It wasn't clear how all of these boats kept their fuel tanks re-provisioned either, as we approached the tiny fuel dock at Club de Vela and took our place in line. But their staff was very professional and directed us to an empty buoy in their mooring field, after some fiddling about whether we had a reservation. Reservations. That was a concept we were going to have to get more used to, as we moved west in the Med, closer to the metropolises and vacation meccas of the jet-setting Europeans. I can't remember ever being asked in Greece if we had a reservation – at a marina, restaurant or elsewhere.
Equally out of context for us was the upscale nature of the village and patrons. We got away from the grocery store with still a few euros, but my interest in buying a new swim suit were soured by the first store's price tag of 95 euros, and the second stores 119 euros. It made a lot more sense to separate myself from that amount of euros at a pleasing outdoor cafe than to put a high fashion bathing suit on a 50+ man. Best to leave that for the well-heeled 20-something Spanish male, too many of which seemed to catch the eye of my wife!
In a town like Andratx where there seemed to be more restaurant seating than tourists, it's always a shot in the dark to find a venerable dinner experience. Everything looks and smells good. With our life on the water all of the time, we try to divert to a street or two off the waterfront, where generally the prices are better, but for sure the quality is a step up. And on this evening, we lucked out, as we indoctrinated ourselves into the local dining culture by ordering a seafood paella for two. To say it was a sensation is an understatement. It might have even rivaled the fine paella handiwork of our Spaniard friend Lisa, the master of anything involving the kitchen, but I may have been caught up in the moment. She was eager to hear the details and we shared what we could, despite the delirious effects of the day's heat, and the evening's libations!
After a stroll along the waterfront, it was time to hit the berth and get ready for a morning departure to Ibiza. With the forecast calling for a brisk southeast breeze, the potential existed for a lively sail across the 50nm expanse. It was certainly a good excuse to go down early and rest up. Although we were only in Mallorca for a few days, not nearly the three weeks we spent during our first year in the Med, it brought us great pleasure to be criss-crossing the azure waters of the Balearic Islands, in the comfort of the familiar, while marveling in the joy of the new.