When Karen and I adventure travel, we try hard to find the unusual and the less-trodden. I think a lot of travelers have this same goal. Most of us live in urban environments (55% by current measure) and it's only getting more common. So, our travel ends up filling a need to escape the crowds and congestion and remind us that peace and beauty can still co-exist on our planet. With a sailboat as our magic carpet, Karen and I are able to get into some pretty small and rustic spots. But inevitably, there will be others there, maybe even a tour group, and it makes you look to the horizon again for something more remote. I don't mean to imply that fellow tourists, and the tour groups they often leverage to find adventure, are inherently bad or somehow unworthy. It's great that people are getting out there and discovering the world. It's just that when you work hard to find an out-of-the-way cove or beach or mountain peak, and discover there's nothing new to the discovery, it leaves you with goals unmet. And when you hitch up the wagon to find even more remoteness, and there too, other pioneers are traipsing around the site, you start to long for the folkloric Huck Finn days.
Now, I know you may think there's nothing particularly remote about the Mediterranean – we'd have to go to the North Pole or the pole on the summit of Everest – but I would argue that even Everest climbers grapple with this same conundrum. I've heard base camp is pretty overrun these days. For our part, we were sailing away from the Greek mainland and heading for two tiny dots on the Ionian Sea – Paxos and Antipaxos. There are no airports, no cruise ship terminals, nor large passenger ferries. It's only accessible by small boat. If you want to be in the company of crowds, you'd visit nearby Corfu. So across the sea we sailed, pointing the bow first towards Paxos.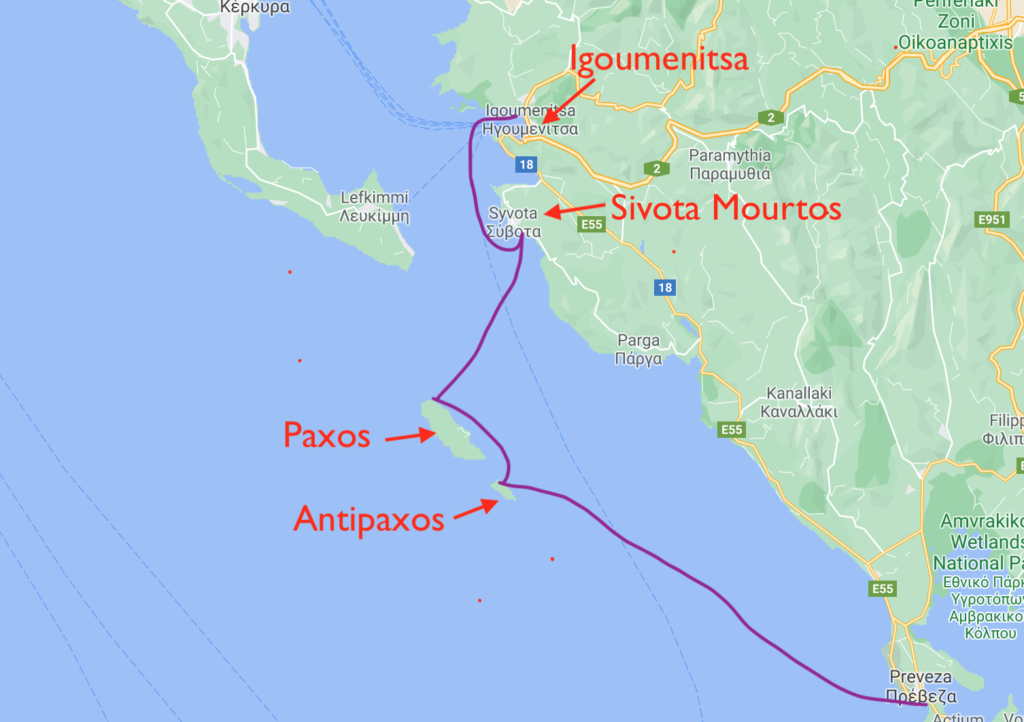 We arrived at the northern harbor of Lakka, which has to be one of the most ideal island anchorages with its perfect blend of beauty and protection. Inside the nearly circular harbor are plenty of places to anchor and back down with stern lines ashore to rocks or metal pins. Usually, these med moor harbors are deep in the middle, causing captains to put out a lot of chain and increasing the risk and chaos of crossed anchors. But here, with 2-3 meters of depth, it was ideal, with the water clear enough to often see your anchor from up on deck. We had been here last summer, but with Covid I had assumed we would be experiencing this island on quieter terms. Yet, the harbor was filling up quickly, and a long line of boats could be seen from the entrance, sailing down from Corfu. Oh well, we'd be in the company of many other boaters this time, but maybe our next stop might reveal some element of remoteness. In the meantime, the harbor view did not disappoint.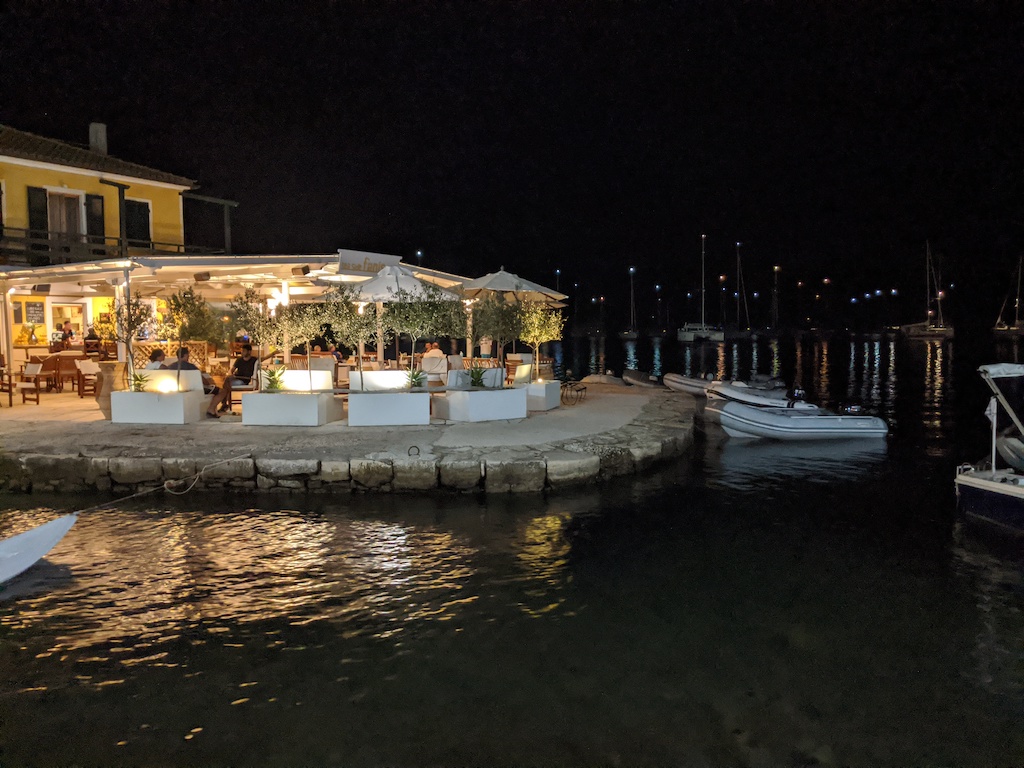 If Covid wasn't going to restrict the number of boaters, we wanted to make sure we didn't get skunked on a spot ashore for dinner. When Karen and I had visited Greece many moons ago for our honeymoon, I had reveled in the common practice of taverna owners encouraging you to walk right through their kitchen to see the night's selections. Progress had been good for Greece, but I had missed this quaint little treat. Alas, our hostess at Alessandro's, after talking care of our thirst, pleaded with us to come inside to see what was cooking. She had no hesitation, in her nice attire, to walk behind the counter and start pulling up lids and describing the huge array of options. I was blown away. All joking aside, I wanted to dive in and try them all! Lamb kleftiko is a specialty in this area, and it stood up to its reputation. Technically translated as 'lamb stolen', it is a slow cooked affair, with potatoes, onions, red peppers and tomatoes, and of course a good helping of olive oil, garlic, and wine, all simmered together. It's almost a religious experience!
They say the way to a man's heart is through his stomach, but I'd suggest this is sexist and outdated. I think all of our hearts were enriched from the evening's experience, and with renewed vigor, we set out in the morning for the western side of Paxos, with its impressive cliffs and caves. Again, this should not be confused with Everest, but there are no safe harbors on this weather-exposed side of Paxos, and when you swim deep into the limestone caves carved out by centuries of storms, you can feel very small and trivial, and yes, a bit remote. We anchored Sea Rose off the first tall set of cliffs, with the term anchoring used loosely here. There is no sand or mud to grab the anchor's flukes. You basically drop the anchor and a good helping of chain, and the whole thing nuzzles down in between big boulders, with the weight holding you in position as long as the wind and waves are not too strong. When it's time to leave, you hope and pray that the many pointy parts of the anchor, designed to catch on the sea floor and hold you in a storm, don't do exactly that and get wedged in between two boulders. It's too deep here to dive and recover gear. We'd have to leave our cherished Bulwagga and chain behind and start all over sourcing a new anchor system. I breathed a sigh of relief as the anchor came into view.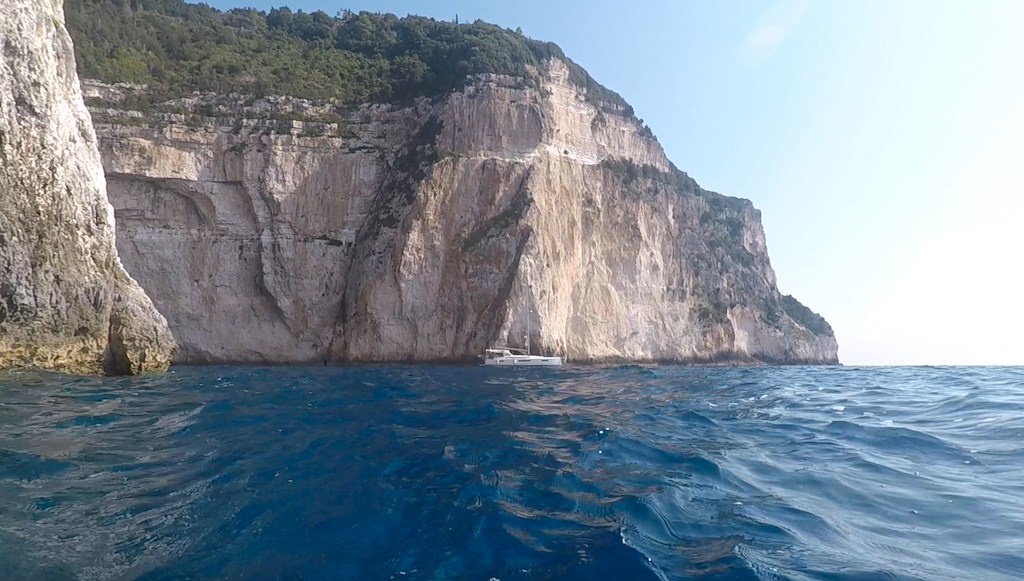 The west coast is a nearly continuous undulating course of cliffs and caves. We headed south to see and sample the next gift of rugged beauty. It came shortly after, as we rounded a tall point and aimed for what the chart simply called 'Blue Cave', an understatement for three large interconnecting caves with ceilings taller than a typical sailboat mast. And there were plenty of masts to take measurements from, as we nosed our way in to find depths shallow enough to anchor. Rugged beauty, check. Remoteness, not so much!
Still, there was good reason for the crowds. As you swam into the first cave, a shaft of sunlight encouraged you to swim through to the adjoining cave with tall sides opening to the sky. From there, a narrow hole in the rock guided you to a third cave with a deep overhang protecting a narrow sandy beach. This was quite the playground, whether you were swimming, paddleboarding, or just floating without a care in the world.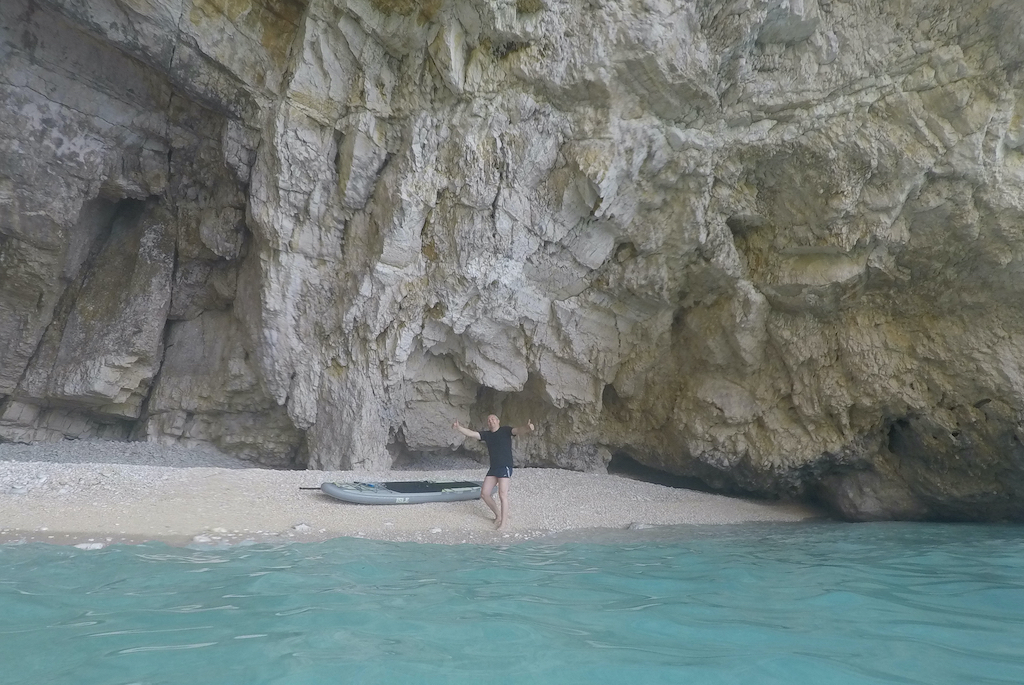 But the carefree life didn't last for long. In the distance, we could hear a large boat blowing its horn as it rounded the point about a mile away and headed our direction. I thought this was odd. Was there an emergency? They were pushing a big bow wave of white water as they quickly closed the gap to the Blue Cave. I could hear the captain on the intercom saying something unintelligible. As he got closer, it became painfully obvious his intention to run Sea Rose down, as he followed a straight line to the caves, other boaters be damned. You don't need have a captain's license to know that an anchored boat (assuming it's anchored in an anchorage like we were and not in a shipping channel) has the right of way over a boat underway. Yet this captain was aiming for our bow, and telling everyone in the area to move out of his way! I was shocked! Karen and I were a hundred feet from Sea Rose, and I watched in horror as the overhang of their boat towered over our foredeck. He was really going to run us down – this was nuts! The tour boat was overloaded with passengers, and the captain didn't give a damn about the rights of other boats in the area. He just wanted to bully his way through. I started yelling at the captain to stop, and when this didn't work I resorted to more colorful language. An embarrassing amount of it. I didn't know I harbored such anger! But when you've invested so much blood, sweat and tears into your home, there's no telling how far you will go to protect it. Thankfully, Theo was closer and climbed onboard, started the engine and motored a boat length forward, as the captain pushed past and drove right into the cave, despite swimmers everywhere. My anger turned to disgust and then to revenge. As the tour boat motored past us on the way out, I convinced Theo to join me at the bow for a traditional American act of rebellian. We dropped our drawers and gave them the moon!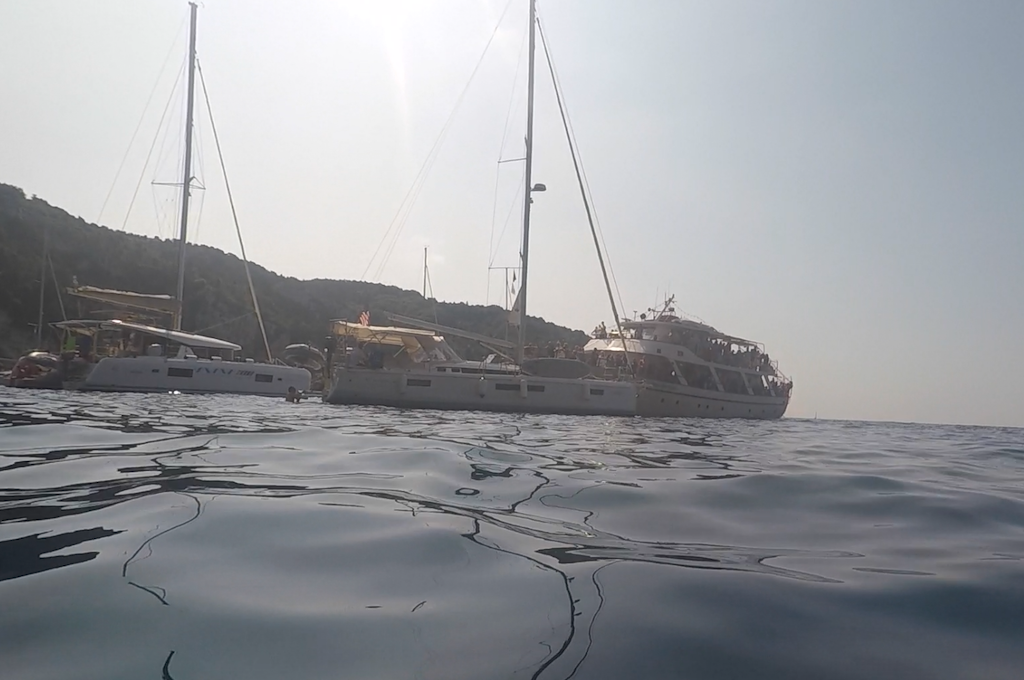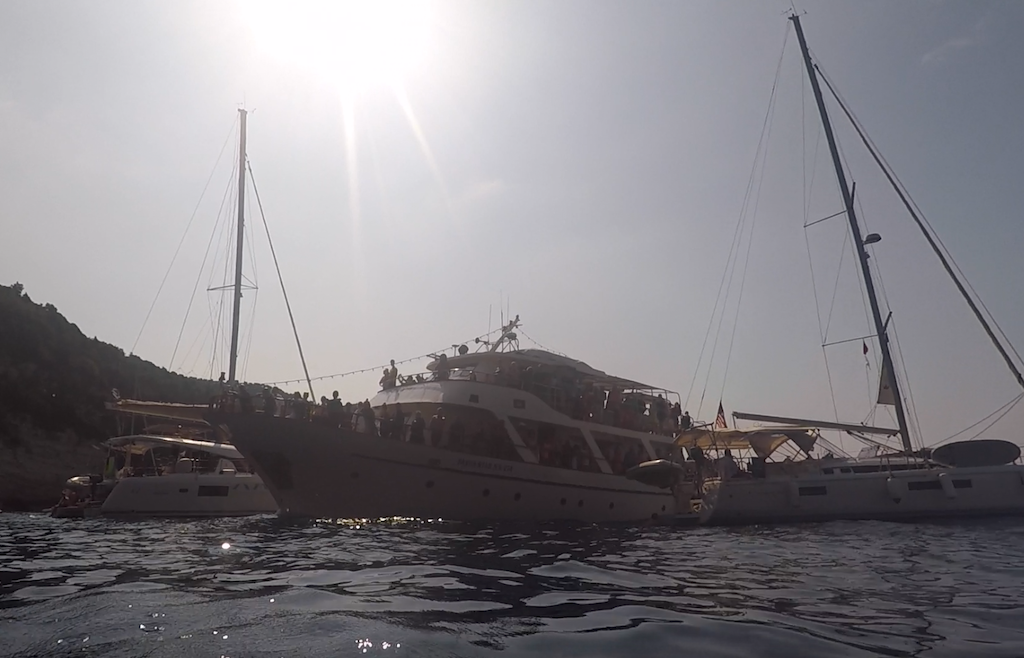 We pushed further south to find a perfectly quiet and drama free spot for lunch and a swim, with the added bonus of a natural arch to decorate the shore.
Despite the careless acts of others, it had been a great day together and fun to have Theo join us on Sea Rose so that we only had to worry about one boat. Upon our return to Lakka for the evening, even more boats joined us – by Pedro's count 65 in total! The roar of a pair of fighter jets overhead seemed to confirm my foolishness for seeking remote discovery. I would have to learn to embrace my spot as one small cog in the greater gear of humanity.
Knocking us back into reality, another storm was brewing to the west of us, promising to bring high winds and rain for the next two days. We needed to find safe refuge quickly, before the favorable spots filled up. We had read promising stories about Antipaxos, the next of kin to larger Paxos to the north. We made haste under power and calm seas to a little harbor named Voutoumi, on the protected eastern shore. The only alarming part were comments online about how the tour boat captains here would demand everyone leave the anchorage so they could use it – oh no, not again! We took a chance that the approaching bad weather would keep the aggressive captains in port. It turned out to be a lovely spot. The one taverna ashore was closed for dinner due to lack of boat traffic, but they did sell me a bottle of wine to restock the Sea Rose cellar as we awaited the storm. Swimming through the shallows of the cove, salamandering through the rocks like the family of fish around me, I hoped they would allow me to interrupt their day for just a moment, so I could renew my vows with Mother Nature.