Earlier in my working career, I was very cautious about making friends outside of the office. For one thing, life in Corporate America can be highly transient; you never know whether it's going to be worth the investment. Then, you start working with someone, and you realize your connection transcends the workplace. It could have easily been a cafe, a flight departure gate, or a campground in the mountains. It just so happens that you each found the same employer. I was fortunate to have a few of these special people in my life, and one of them was my friend Pedro. We worked together at Autodesk, and while work conversation was required at times, we had a lot more fun talking about life outside the office. It helped that he was a lifelong fan of Bruce Springsteen!
Pedro had been living in Germany for many years, and he had the distinction of being the first and only guest of Sea Rose this past summer. None of our friends from the U.S. could get through the EU border controls. With Pedro's EU citizenship, it would be up to him to fill the big shoes of our many past summer guests!
We were thankful that the just-exiting medicane did not affect his flight arrival in nearby Preveza. With an hour taxi ride north to Igoumenitsa, it gave me plenty of time to land the dinghy at the closest beach, shake the hand of a friend I hadn't seen in 19 years, and help him sling his duffel bag onboard.
Igoumenitsa had served its purpose well, but it was time for us to move back down south where the fun in the Ionian is concentrated. Typically, with a new guest onboard, we like to make the first day an easy and mellow experience. Even I get a little queasy in the stomach until I find my stride. So it was that we ended up in Sivota Mourtos. We had anchored off the southern end of the town last year, but this time we were up for a new experience. We found it on many levels in a narrow passage between two outer islands.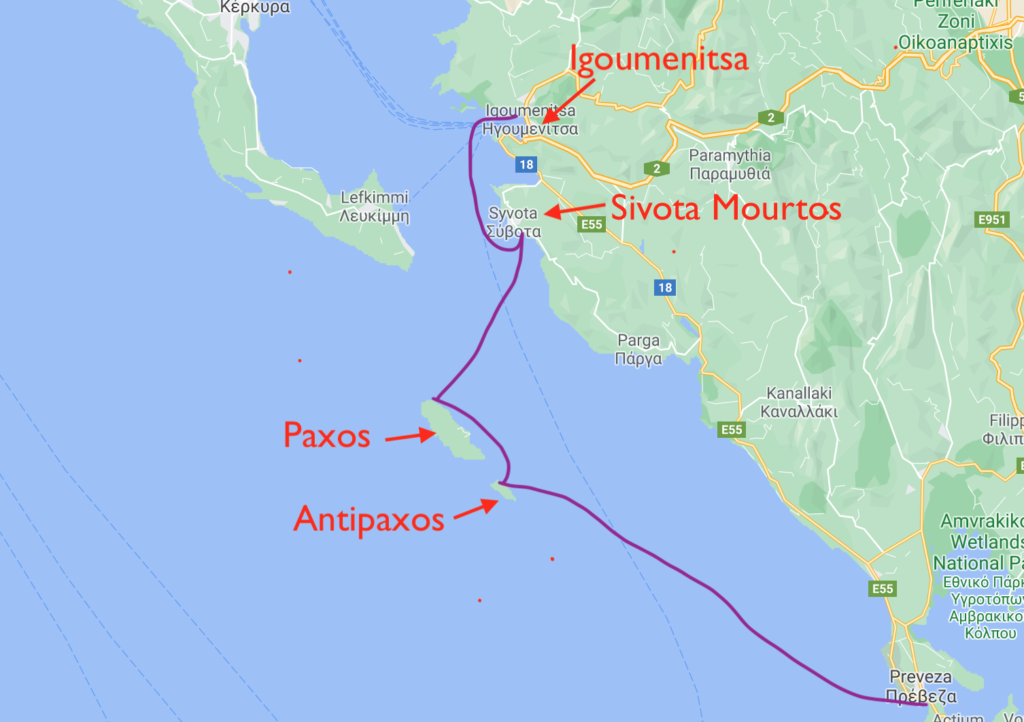 It felt fantastic to be on the move again. We just had a few short miles to the Sivota area, perfect to get Pedro acclimated, and to re-invigorate us for the final few weeks of the season. We crept into the cut between Nisida Sivota and Agios Nikolaos, carefully using our senses and our depth sounder, as the chart was of limited help. One other boat was in the cut maneuvering and when they decided to leave, we had sufficient space to set our anchor on one side of the cut, and back down with stern lines to the opposite shore. The wind had calmed down from our morning sail, and barely a breath of air rippled the surface. After we raised the Portuguese courtesy flag on the port spreader to show the expanding nationality of our crew, everyone was quick to take a dip, especially Theo, who was a good guest to bring his own beer over (or perhaps he didn't like our onboard selection!).
After a splendidly peaceful overnight, we ventured out in dueling dinghies the next morning to explore the shoreline and find a spot to introduce Pedro to Mediterranean snorkeling.
We had become accustomed to light crowds throughout the summer due to Covid. But now at this stage in late September, with the few summer tourists finding their way back to life at home, it felt a bit like we were explorers in a new land. The underwater sea life and formations were so stellar, and in particular, the abundance of bright red starfish, that I am left with no other choice than to dedicate the rest of this post to their admiration. It feels fleeting to try to put words to their beauty. But if these starfish (technically, the Mediterranean Red Sea Star) could be assigned a caption, this is what I would suggest!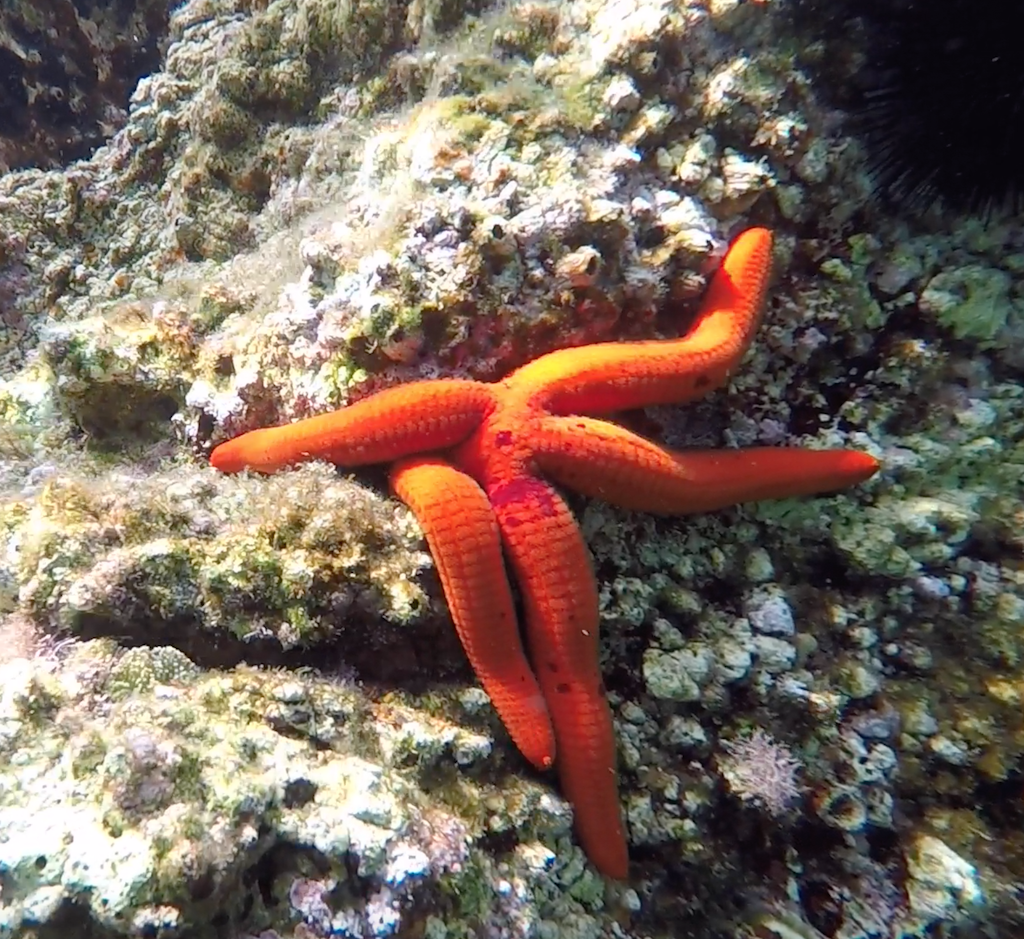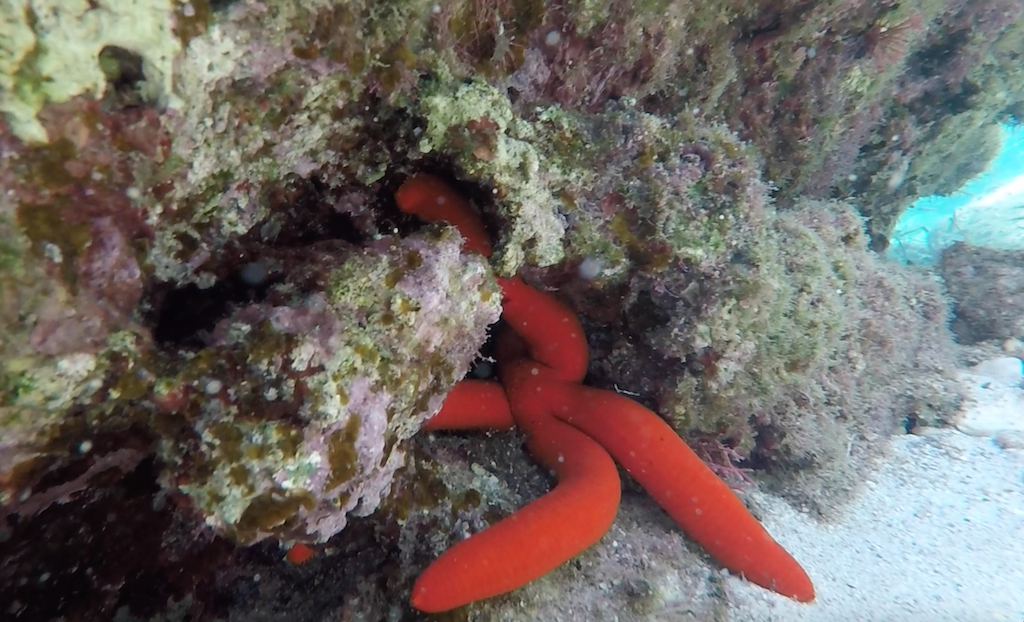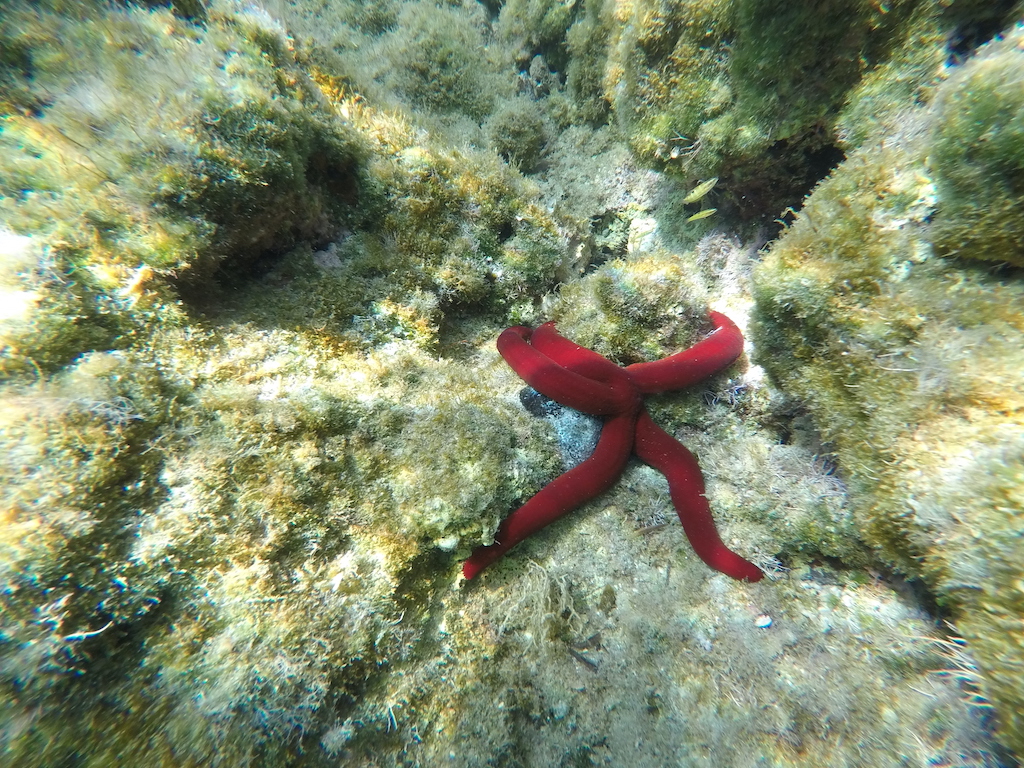 I hope you enjoyed that unaccredited course on Marine Biology! We left the mainland that afternoon, crossing over to the popular Ionian island of Paxos, and more adventure. Bye for now!