Let's get one thing out of the way at the beginning. There is a particular island in the Ionian, Ithaki, that is not pronounced like you think it would be. It is 'ehh-TALK-yy'. This came as troubling news to Karen, growing up as she did next door to Ithaca, NY, where natives would think you were from another planet if you didn't say 'ITH-a-kuh'. We had the good fortune of a Greek native with us, Theo, to break the news gently. There you go. Now we are ready to move on.
As we rounded the northern tip of Cephalonia on our eastward leg to the neighboring island of Ithaki, the winds started to build, just as they had been forecasted. We started off with both sails fully set, sending us gently along at a speed, because it is less than one could motor at, that can make one twitchy if there's a long distance to go. Theo, just inshore of us, had a little less wind and more tonnage to move through the water, leading him to keep motoring. We soon had a bonafide breeze of 15 knots, cause enough to begin thinking about a plan to reef, as we skimmed across the water on a glorious downwind angle. The forecast called for higher winds into the evening and possibly over the next few days, so we sought protection on the eastern shore of Ithaki, with our first stop at the little cove of Ormos Nikolaos. Ormos means bay in Greek, but there was nothing expansive here on the scale of San Francisco Bay or the Bay of Biscay. I will be filing for a name change to Limanaki Nikolaos, as soon as I find out who in the Greek government will entertain my request.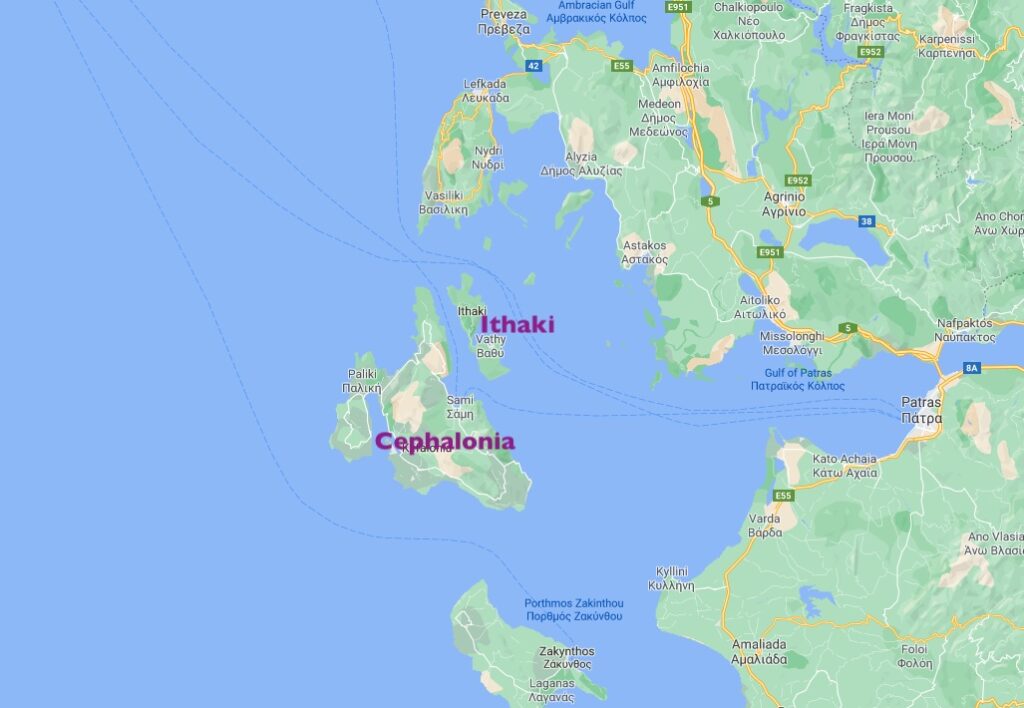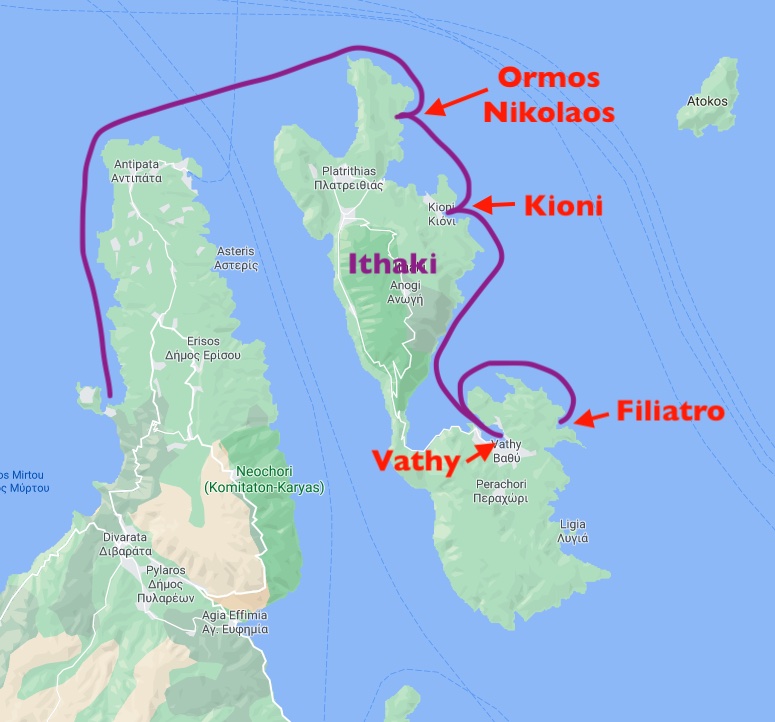 After a thrilling downwind ride, we were brought back to reality as we approached Ormos Nikolaos. A large, poorly charted reef sat right in the middle of the northern entrance to the cove and to our astonishment, a sailboat just moments before had carried smoothly over the top of it without incident. We opted for a loop around a tiny islet standing offshore, and approached the cove from the south. The color of the water indicated rock and reef everywhere except for very close to shore, space which had been squandered by other boats before us. We creep forward to a small sand beach and found a rock-free area to drop our anchor in pure, glorious sand with just enough area to swing if the wind shifted. Suddenly we were the popular place for new arrivals. This happens far too often. As soon as you pick an open place in an anchorage that no one else seemed interested in trying, all the new boats want to come crowd you in. A small day-boat slipped by our bow and anchored in the shallows, which wasn't that annoying as it was far too shallow for us. But as they were leaving, a large charter cat, with a cockpit up so high you might as well call it a crow's nest, motored slowly just off our port side and proceeded to anchor right in front of us. I took my stand at the bow and tried to tactfully point out that they were too close. This is always a delicate matter with a crewed charter. The paid captain wants to show the passengers their adept skill at boat handling. Saving face is very important. And there's no sense talking to the passengers, who may or may not be close at hand, but regardless are checking cell phones or thinking about where to lay their towel when the boat stops maneuvering (and when will that be, by the way, captain??!) I don't mean to insult charter captains. Many are extremely adept. It is just that they want to push into the most ideal anchorage spot possible, for the benefit of their patrons and tip optimization, but that can put at risk others like us who actually have to pay for damages to our preciously cared for boats. This captain, to his credit, was backing down on his anchor, albeit not with the kind of throttle that is really necessary, but at least he was trying. On their ultra-short scope, it was no surprise to see them sliding backwards as the anchor failed to dig in. They would slip by our port side, nearly close enough to pass the Grey Poupon, and then raise anchor and try again. The ego-meter was fairly low, as we exchanged small talk, but the solution was clear and I was glad to see the captain see it without me complaining. I can complain nicely, but I can also complain with gusto, and it's not pretty. Yes, Californians, like all humans, have a breaking point! The captain and his super-size cat motored off to a new anchorage and left us to finish up with a stern line to shore. We were snug as a bug.
Next, I dinghied over to Theo, who was unfortunately on his fourth or fifth attempt at setting his anchor. I climbed onboard to help at the bow, spotting for what might be soft sand. On this end of the harbor, there was painfully little of it. I'd drop his huge shiny stainless steel anchor on a bright color in the water, letting out plenty of scope as Theo backed down slowly. As he revved up the engine, Paloma would gradually drift backwards and drag the anchor. Rafting up to us was an option, but the swing room was very tight. Finally, it seemed like he was holding, but not by much. When we dove on his anchor later, his chain was zigzagging through gaps in the rocky floor, giving him some holding power but not enough if a storm were to roll through. With night approaching, it was a compromise he'd have to make, with the result that sleep would not be as relaxing as normal. In these situations, part of your brain has to be awake for any strange noises or movement. It's for this reason that I sleep like a baby when we get back home after the season. It can be blowing like stink outside. and I don't have to reserve any processing power to worry about the house sliding down the street.
Theo regaled us with a pasta and salad dinner onboard Paloma. His boat, an Amel 50, was not that much longer on paper than Sea Rose, but was tricked out with every conceivable convenience. The helm, which was located comfortably inside a pilothouse, was behind an array of switches, dials and screens. Sails could be set, reefed and furled with a flip of a switch. He had looked long and hard for a boat that would take him around the world, but even for a summer in Greece, it seemed to be the right boat to safely sail when you suddenly found yourself alone onboard.
In the morning, we took a paddle by a little islet, complete with a small chapel, that we had encircled on our approach yesterday. The rugged beauty of this place in the company of Theo gave me cause to reflect on the many forms of friendship. Here we were, getting to know someone new in our life. At our age, to be frank, Karen and I really don't meet a lot of new people. We have friends that we have developed over many years, some of which we don't see very often, but we still rekindle a close bond when we do finally get together. We don't have young children at home anymore, a sure-fire way to meet a lot of other people. I don't feel disappointed by this phase in our life; we are blessed by some very kind souls that we hold dear to our hearts. But it does contrast sharply with the sheer quantity of people you meet when you are in school, or working in a city, or raising kids. What I don't miss about that period in my life was the blatant transitory nature of the friendships. We would meet a new couple, have several fun dinners together, followed by radio silence – 'ghosting' if I understand the latest terminology. Roommates would come, roommates would go. After awhile, you become more guarded about opening up and trusting to let someone into your inner circle of thoughts, feelings and aspirations. But with the friends that I have now, we have been through so much together, so many triumphs and tribulations. I can trust them unequivocally. I can be vulnerable around them. I can take risks and if my weaknesses are exposed, we can laugh about it and move on. That trust has taken many years to crystalize.
It seems that relationships with people you meet while traveling, and especially while sailing, can move quickly and grow deeper. I found this starting to happen with Theo. But, equally, I found myself thinking about my earlier years and wondering if I was trusting and becoming too vulnerable too quickly. With so many long-time friends that I could trust back home, I was clearly not prepared to navigate a new and deepening friendship. Have you ever experienced this type of accelerated friendship later in life? I used to dread the idea of becoming closed off to new friends simply because I had others that could pull the age-card. I don't want to be one that is standoffish. Meeting new people brings new energy and excitement, and turning some of those people into your close friends should be a natural progression. But accepting the work to build trust with them can seem daunting at this point in my life. I hope I can find a balance. What has been your experience? Comments welcome!
It was a quiet morning wind-wise. The high wind forecast had not landed as predicted but we kept an eye out for more high wind warnings in the coming days. In the meantime, Karen and I decided to take the short hop down to Kioni, while Theo opted to head further to Vathy, where he was more comfortable anchoring. Although he was too polite to say it, I think he didn't want to burden us every time we came into a med moor anchorage like Fiskardo or Assos or Ormos Nikolaos, where we are onboard and in the water to help him tie up and run lines ashore. Karen and I didn't mind it, and it allowed to have someone to share stories and meals with. But I could appreciate his reticence.
Karen and I were excited to be back in Kioni, after a great overnight experience last summer. Back then, the harbor was packed with boats moored and docked in every little crevice of space, so we were curious this summer how it would appear. There's a long rocky shore on the port-side as you arrive that last year held at least 30 boats. This afternoon there was only one other boat there, and they left as we arrived. We knew the drill and how far out to drop the anchor, and where to tie our stern lines ashore, so the process was quick and easy. Once we were settled, the afternoon breezes started to kick in, and a non-stop stream of boats started motoring into the harbor. The side breeze made it a challenge for many, as they tried to back down to the shore while the wind tried to push them sideways. What started out as curiosity, turned into comical and then into critical, as more boats got into trouble and needed help. I helped one catamaran next to us that had wrapped their stern line around one of their props, and their effort to hold on to the other stern line against the push of the wind was treated as a testerone moment for the male members of the crew. Why they didn't just wrap the good line around a cleat was beyond me, but I came in the dinghy to push them upwind while one of them dove overboard to free the line from the prop. A boat upwind of us, as seen in the picture, was anchored out in the middle of the harbor, with an ambitious amount of stern line that they seemed indifferent about using to pull themselves into the shore. Another dropped their anchor, started to back down, got a line caught on their prop and resolved to just swing around in the center of the harbor with boats trying their best to jockey around them. I finally dinghied over to see if they needed help. They promptly handed me a macrame bundle of old line that was some how supposed to be easy for me to untangle, and run ashore for them. Instead, I got our ultra-sharp lobster knife from Sea Rose and leant it to them to cut the line around their prop. Then, I recruited one of them to come with me ashore to make a stern line out of the spaghetti.
And the march of boats into the harbor continued. Neither of us felt like we could turn away to do anything else for fear another boater would get in trouble and either pose a risk to us or a neighboring boat. Finally, as dusk neared, the circus mellowed out, and we took a walk ashore for some exercise and tension release. These islands are covered in olive orchards and it always amazes me how the trunk of an olive tree can look like the most weathered, gray and dead piece of nature in the entire field of rock-fused soil, yet out of the top will be growing live branches filled with olives. These are some seriously rugged trees. And the effort the local farmers put into terracing the mountain slopes is equally impressive.
After a long day of helping other boaters, a nice dinner ashore was in order. Last summer, we had one of the best dinners of the season at a taverna that was now all boarded up. I hoped that this was just a choice by the owner to not deal with covid, rather than a permanent situation. The scene ashore was lively, with the harbor now being packed to the gunwales again. In a nod to the terraced orchards, we chose a multi-level taverna with advantageous views of the reflected harbor lights, and dined on delicious goat and mushroom risotto. We may have been over-served on the house white wine, but I'll overlook that in my restaurant review. If you ever get to Kioni, keep your lines away from your props and be sure to dine at 'Mills on the Hill'. For the rest, you'll need to figure it out on your own. Isn't it more fun that way, anyway?!