Earlier in the summer, a 6:30AM departure would mean plenty of sunshine to light our way. But this morning, as we dropped lines at Porto Gouves, the night watchman was still at his post, with a dog as his sole companion. We were underway early to avoid headwinds this afternoon during our 40 mile run westward to Rethymno. With a mostly featureless shore, the only excitement came during my watch when I spotted a free floating dinghy. With only one oar inside, and a thin line dangling in the water, I had to assume it was a castaway from some upwind marina. Approaching it cautiously, I made sure no one was inside needing help, and we left it to be discovered by new owners.
There are very few anchorage options along this coast of Crete, and as we approached the harbor at Rethymno, we passed a large car ferry and a bulk freighter before we found the nearly empty visitor dock at the marina. Each med moor setup seems to have slight variations, and this one was the most variant of all. As Karen backed Sea Rose to the dock, I was on the bow trying to retrieve a floating buoy that substituted for bow lines run from the dock (often called laid lines, or more accurately, slime lines). The buoy had a tiny loop at the top and I was surprised I was able to catch it with the boat hook, and then immediately concerned I was going to be pulled overboard. The buoy was tied tight to the seafloor and with no slack, I couldn't free up the boat hook to get our bow line around it, causing me to drop the boat hook into the water and hoping it would float. A guy on the boat next to us took no convincing to jump in the dark green murky marina water and swim out to retrieve our boat hook and pass our line through the buoy. This was all very fortunate, as there would have to be a very tall and very cold beer, handed to me by a 30-something Jennifer Anniston, before I would jump in that water! It was all the more remarkable, as the next day, it was our neighbor's boat that I spotted spurting out distinctly brown fluid from the vent above their head! But I'm getting ahead of myself.
Rethymno was a more tastefully designed village than Porto Gouves, with tavernas lining the shore. Venturing further to the inner Venetian harbor, past a tall minaret-style tower at the entrance, we were hawked by taverna owners as if we were walking past arcade games at a county fair. This is a sure sign that you need to keep moving, and soon enough we were rewarded with a small family restaurant up a quiet alley in the old town behind the harbor. Our young waitress kept calling out to 'momma', a women barely older than her, for clarification on our menu questions. With only one other table filled, we felt good about supporting a covid-struggling business. In reality, we were just dining too early. By the time we left at 11pm, working hard to get to our feet after a complimentary doubling of our house wine order, all tables were full, kids were running off steam as their parents dined, and the chef was busy shuffling between the kitchen and a storage room next door to keep up with orders. They were doing just fine, thank you very much.
In the morning, I needed to pay the marina and also find the port police so they could stamp our transit log, a requirement for non-EU boats in Greece. The marina was straight forward, and with the standard government rate applied to our boat length, the 7 euro nightly charge left plenty of coins for our next dinner ashore. However, the visit with the port police was anything but. I was cautious as I approached the front desk, as the process of stamping of transit logs seems to vary widely between Greek harbors. I was motioned into the adjacent room where a young woman took my papers. She fired questions to me faster than I could answer, and was quickly agitated that I didn't come yesterday when we first arrived, despite the fact that the door I tried was locked. Apparently our monthly cruising tax paperwork was not in order. We paid up back in Leros, but she was convinced it had expired. She's was gone with all of my papers and our passports for too long. When she returned I was told to go downstairs to the 'tourist police' office, where they recorded our passports in their computer system. This really was starting to feel like Russia, not the amicable Greece portrayed in brochures and Hollywood feature films. She finally tossed me off to another young woman who sat behind a desk flanked by two large open binders. One was the hand-written notations of arriving boats, and the other was for departing boats. She swiftly wrote down our boat details in both, so that she had more time to chat with me about where we were from and how we were enjoying Crete so far. Ying and yang at work again.
We have another upwind slog as we continue our westward passage making to the city of Chania ('HAHN'-ya). We new about these westerly headwinds before we decided to cross to Crete, and it's the price to be paid to see new scenery. Sometimes the wind is not in your favor, but it makes days of good sailing that much more sweet.
Fast fighter jets roar over our head as we passed offshore of Souda, a bay occupied by the local navy. Rumor has it that our USS Eisenhower is visiting too, and joint military exercises are underway. This comes as no surprise but is still unsettling, considering that Greece and adjacent Turkey are rattling sabers this summer over drilling rights in the Med.
Chania has a similar minaret-style entrance to its harbor and a small public quay as the only overnight option. I drop the anchor and Karen backs us straight to the concrete quay, where a guy from a nearby boat helps us with our stern lines. I don't want to jinx it but I think we are getting back into our med moor groove. 
This town is bustling. It is the former capital of Crete, and seems to have been spared of the usual dull vanilla character of most capitals. During a early evening stroll, after the heat of the day subsided, we are charmed by the many narrow alleyways full of retail stores and tavernas. I can't picture how they could possibly fill up so many dinner tables. The answer is clear after nightfall, when our dock – part of a windy harbor-side walk – is chock-a-block full of people playing a game of human bumper cars. Tables are full of dinner and cocktail patrons, and just as many more on foot looking for a spot. I love the vibe of this town. For a bit quieter scene, there are several town squares hidden slightly in shore, with more dining locals. I knew one thing for sure. If I had to pick a place to live overseas for a couple of months, this would be it. A little apartment, a Vespa, a couple pairs of shorts and t-shirts – perhaps a journal too – and I'd be good to go!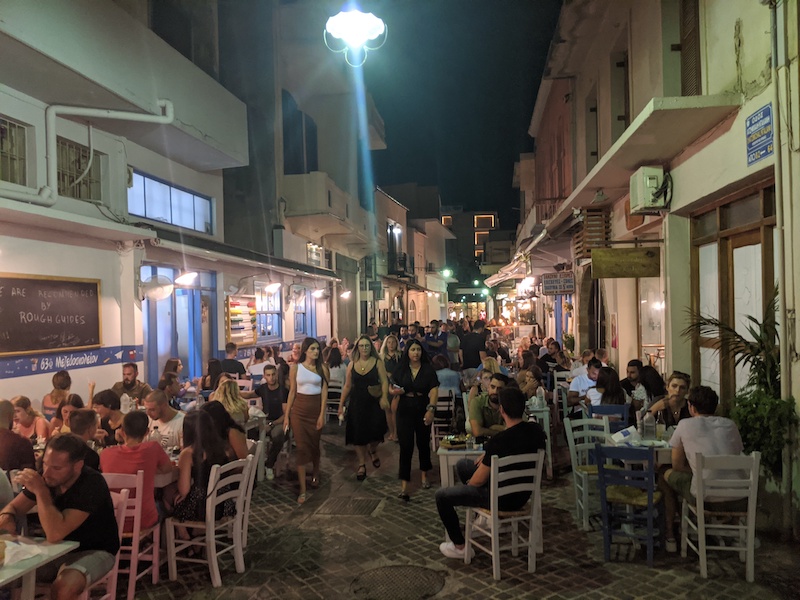 We rented a car the next day to learn more about the area inland from Chania. Particularly in this western half of Crete, the mountainous terrain is loaded with deep gorges. The most popular offering from the tour agencies is the Samaria gorge, a full day affair ending at the south coast with your sole exit a ferry boat down the coast to the next village and a bus ride back to Chania. Equally promising for it's dramatic beauty but less frequented on the tourist brochures was the Imbros Gorge, a three hour commitment, ending also at the southern coast of Crete, but with easy access to taxis back to your car. No less important was the historical context of this gorge. During World War II, Crete, with its central location in the Med, was seen as a strategic imperative by Hilter. On the 20th of May, 1941, in what became known as the Battle of Crete, Nazi paratroopers besieged the island, with resistant not only from Allied forces but many enraged civilians. Through missteps and communication failures, the Allies lost the airfield near Chania, leading eventually to the evacuation and surrender of the island, including the escape on the 29th of May of 6000 British, Australian and New Zealand troops through the Imbros Gorge to awaiting ships that took them off to Egypt. Seventy-nine years later, we dropped down into this circuitous chasm, protected from the heat of the day, as we reflected on the lives lost and lives saved. In the middle, deep, smooth gouges in the rock walls, carved out by many years of spring floods, permitted only a meter or less of width to pass through. We arrived at a small weathered wooden hut with primitive benches to rest and enjoy any snacks and water brought along. Taped and tacked to the walls inside were many youthful selfie shots, sprinkled with much more faded black and white pictures that I had to assume were survivors of the Allied retreat.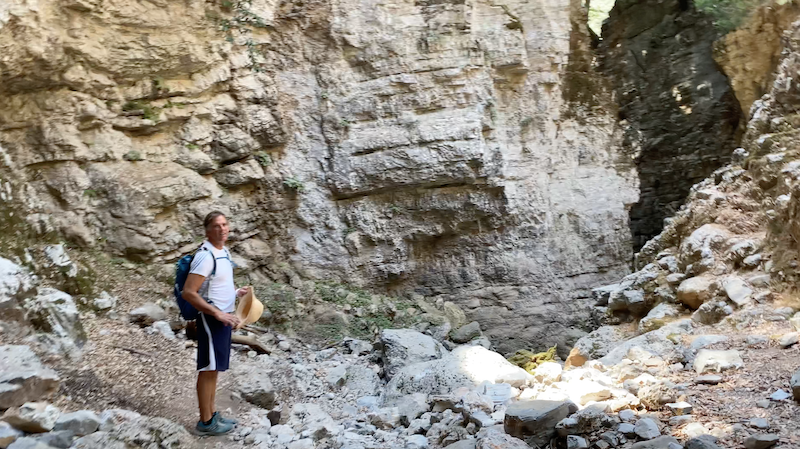 Signs at the end of the trail beckoned hikers to divert their gaze from the shimmering waters of the Mediterranean and instead guide them to one of several local tavernas. Our top priority was landing a ride back into the interior where we left our car. At the first taverna, a young guy in shabby shorts and faded muscle shirt sat alone inside simultaneously watching his phone and the big screen TV. He showed no disappointment when we told him we were in need of a ride and not in need of a meal. For 20 euros, he would happily drive us in his air conditioned-less, dusty, hard-to-see-past-the-windshield little sedan. Hitch-hiking across Europe used to be like this, so I tried not to worry as he executed at least 20 hairpin turns with limited guard rails in order to climb back up the steep terrain to our car, and a better looking taverna for our lunch.
The valley we traversed to return to Chania took us by the remains of an old Ottoman-era castle, reminders once again of the numerous occupiers of this land.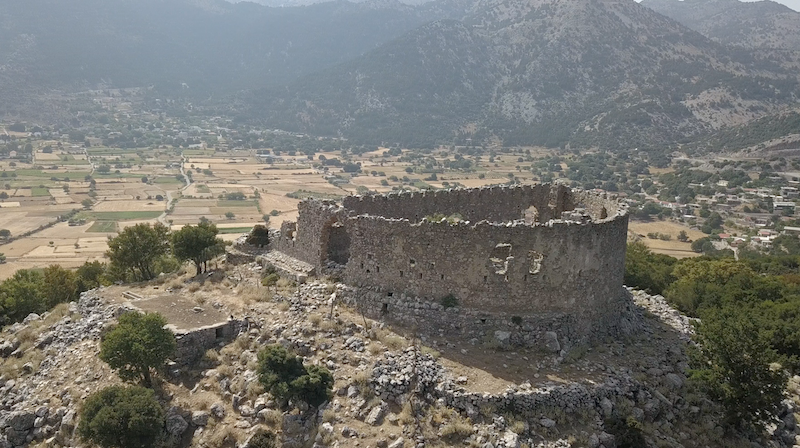 Enroute, we pulled off at the signs for a 'War Museum', feeling like we should learn more about this WWII experience even though rusty guns and ammo aren't my typical thing. It turned out to be a private collection of both Allied and German equipment that had grown too big to be called private any longer, and the son and granddaughter of the original collector led us through, with an out-of-context serving of local raki at the end of the tour. But that is sometimes the way it goes while traveling through a land of different cultures and customs.
With our discovery of Crete's interior complete, at least as much as our schedule would allow, we prepared to depart the town of Chania while holding on dearly to its splendid memories. It was time to continue our march westward.