Our previous blog left off with us exploring the wonderful island of Kalimnos by rental car with our friends, Conner and Andree! They would be flying out today to make their way back to Athens and then eventually to the United States. They kept the car since the harbor where Sea Rose is docked is on the opposite side of the island from the Kalimnos Airport.
We walked them and their luggage to the car and said our good-byes. We would be leaving the dock as soon as we had Sea Rose prepared for her final sail of 2019. We had about 20 miles ahead of us to get up to the northern end of Leros Island, where Sea Rose would be hauled out and stored for the winter. See the map of our starting and destination islands below as a reference.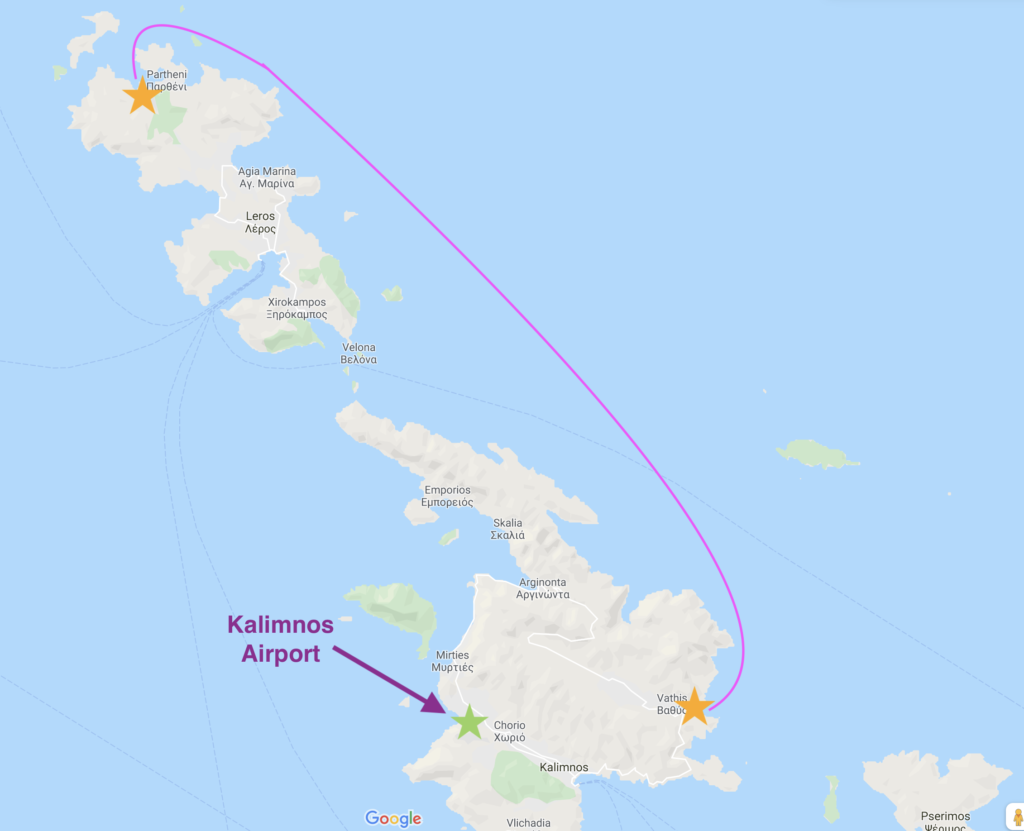 Tom and I were eager to make this final sail uneventful. We double checked everything above and below deck. The wind would be strong and most likely from our port-side aft-quarter. This would likely cause any seas that blew up to roll underneath us and we hopefully would not be slamming into on-coming waves. We were tied stern-to the dock so, as usual, we talked through our approach for getting off the dock and raising our anchor. Even with all the boxes adequately checked, we were both still a little uneasy.
We had had very similar feelings on our last day at sea the previous summer. The best way I can describe what this might be for us is to present the situation as we were experiencing it. We have been at sea and moving regularly for right around five months. We had serious situations arise each summer, but we came out of them with no injuries to speak of and no major damage to our boat. We had welcomed our dear friends and family on board and had been fortunate to have kept them all safe. On the final day of each season, I guess we're hoping that our luck hasn't run out. We want to finish off the season with our safety and that of our boat's intact. We know that accidents happen when short-cuts are taken or when boaters get too comfortable. Therefore, we double and triple-checked all our work and thoughts with one another and hoped for the best.
The seas were rough leaving the protection of Vathis harbor, but once we rounded the point of land roughly 2 miles north-northeast of us and we could adjust our heading accordingly, the wind hit us right where we thought it would … on our port-side aft-quarter and we took off like a rocket! The waves were tossing us a bit but more in a fun than a dangerous way. The wind gusts frequently surpassed 30 knots so we stayed alert and attentive. It was early October and fewer boats were out than we had seen just a couple weeks before. Fall was settling in and we could feel a slight chill in the air as we covered the remaining 18 or so miles at a good clip.
As we adjusted our heading to round the northeastern point of Leros, we became close-hauled and were screaming through the water at nearly 9 knots. This certainly was fun, but I asked if we could reef our sails to keep 'Luck' happy with us! We didn't have far to go, so we rolled in the jib all-together and still had pretty good speed. We rolled up our main sail as we turned the final corner and headed straight toward the mooring balls we had been directed to off-shore from Artemis Boatyard – Sea Rose's winter home!
We had the rest of the day and all of tomorrow to prepare for our haul-out, which would happen around 10 am Monday morning. We had a long list of tasks that needed to be done now and an even longer list for after Sea Rose was secure on the hard. We got right to work and the first order of business was to meet the marina staff and get a tour around their facilities. We were so excited to see their sail-cleaning area. They had bathrooms, showers, laundry and even a cook-out area. We also met the person who delivered our rental car for the week and took a look through the chandlery. We would stay on the boat until she was hauled; then we would spend the remaining nights at an Airbnb overlooking the cove to the east of us.
Over the previous couple of weeks, we had made lists by day of all tasks we should accomplish to stay on track and finish before we had to catch our flight out of Leros in five days. I don't want to bore anyone with details but I will say that we both worked steady from 6 or 7 in the morning until we were ready to drop around 8 pm each night. I'll put our fall boat close-up list below in case anyone is interested.
Haul-out is different at each facility and for each boat. It is always nerve-racking and exciting at the same time. They first took away our dinghy with outboard engine on it. A fork-lift with an empty pallet was waiting on the ramp near shallow water. They pulled our dinghy close, allowing three guys to pick it up and place it on the pallet. The fork-lift operator then drove off to where our big boat would be stored for the winter.
Now it was time for the big boat. Artemis Boatyard doesn't have a sling travel-lift like those we have experienced in the past. Instead, they have a trailer which gets driven into the water below the vessel with hydraulic arms which are raised up against the hull to hold the boat upright as the trailer is pulled out of the water. They position the arms such that the support pads hit the hull at sections which boat designers intentionally reinforce for the purpose of moving or storing boats out of the water. We have an external bow-thruster and a deep keel – two factors the yard would need to keep in mind as they positioned the trailer and lifted Sea Rose out of the water.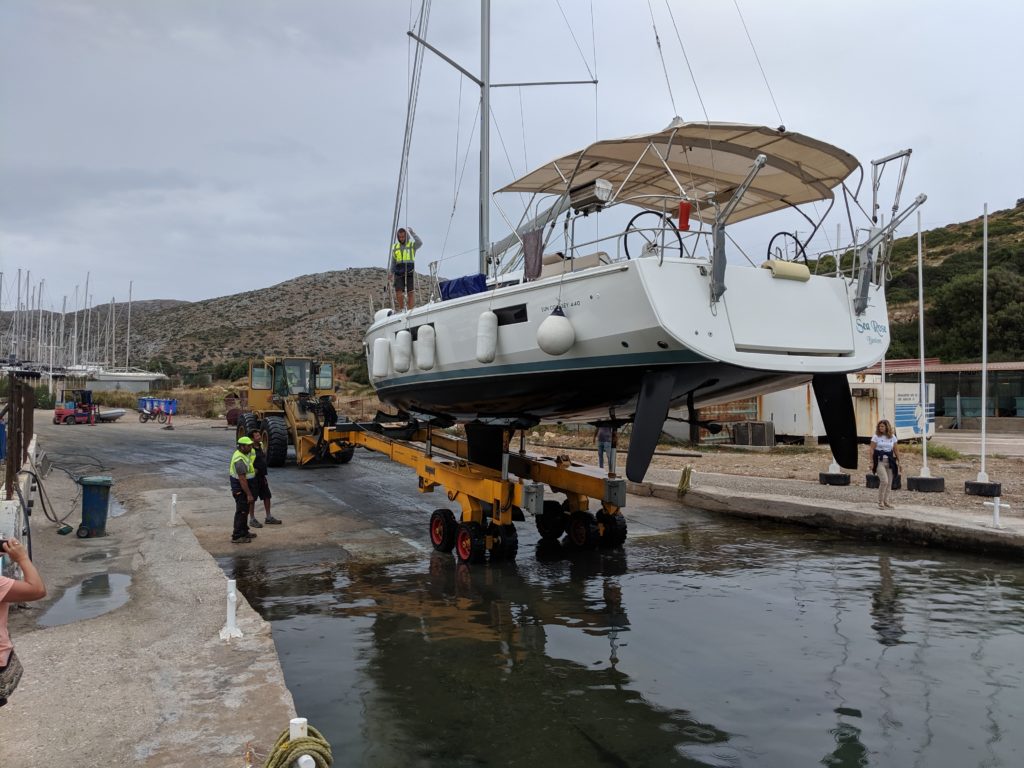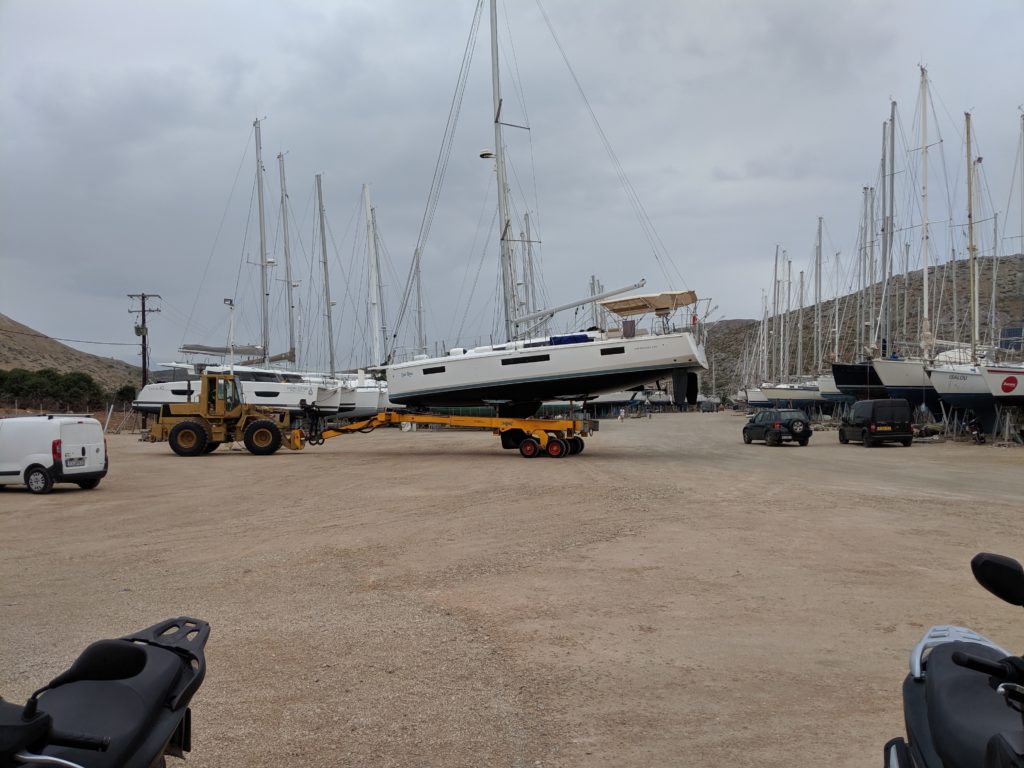 The crew at Artemis was conscientious in their handling of Sea Rose. They picked a very good and extremely stable cradle instead of individual jack stands. Either can work but we loved the cradle option here since the wind is relentless and if one stand works its way loose, it can spell trouble. We had an empty pallet placed at the bow that would hold our anchor chain and primary anchor. They took our outboard engine off to a storage shed so they could service the engine in the spring. We tucked our dinghy (still on the pallet) under our big boat and locked it to the cradle. We put a ladder against the stern to get on and off the boat for the next several days, then we jumped back into our big list of jobs!
In addition to all the plethora of close-up tasks, we had a couple projects we wanted to fit in so the results would be ready for next summer. One required me to squeeze myself onto the shelf in our workshop with my head only fitting when turned to the side. I needed to reach way up in a narrow opening behind and above the shelf to try to tighten nuts onto bolts for a stern chock we were hoping to install. I was in this position for over an hour and was cramping in places I didn't know could cramp!
Our favorite project, by far, was the ability to wash our sails in the facility the boatyard had created for this specific purpose! There was a large concrete surface with drainage running around it. We spread each sail out here and wet, then scrubbed both sides. They had a mast with several halyards rigged up and this allowed us to essentially raise our sails, both to aid in rinsing it off and to get it thoroughly dry before storing it. Around the area were a bunch of sturdy tie-off rings which made it possible to get your full sail up into the air and not flapping against the nearby fence for expedient drying. It took a bit to think through the best approach to get both of our sails up and drying at the same time. With so many boats all being hauled out in the fall, use of the sail washing/drying area was in high demand.
They also provided a huge cement tub that could be filled with fresh water for soaking lines. We hadn't seen either of these capabilities at other boat yards, but we will consider their importance going forward as we evaluate winter homes for Sea Rose.
We also had to make a couple trips into Leros Town to meet with a canvas shop, purchase a piece of luggage for our land-based travels and struggle with immigration and customs to make sure our boat was classified as not being in use for cruising/tax purposes. It was a nice way to see some of the island besides Artemis Boatyard!
We love the couple of hours we relaxed each night after retreating to the Airbnb we rented in the neighboring cove. Tom had found this darling 2-bedroom apartment below an elderly couple's lovely home. This is the view from the deck that was ours to enjoy! We already booked this apartment for the days before Sea Rose would be launched this coming spring.
Until next summer!
As promised, our check-list of boat close-up items:
Before haul out:

Pickle watermaker, remove pre-filter and charcoal filter, clean sea strainer, leave as much of this as dry as possible
Top of mast rig inspection (many yards don't want you going up the mast while you are on the hard)
Remove sails
Pull knot meter, clean and paint with fresh antifoul paint
Open up holding tanks and spray out – Do this while off-shore for the final system tank empty

General rig inspection, tape off turnbuckles and cotter pins
Open water tanks, sponge out excess water, and leave inspection port open
Check how many spares are available (e.g. watermaker filters, engine parts, shackles, etc.) and make order list for winter
Meet with yard on work to be done over winter (e.g. engine maint, o/b maint, hull buff, SS polish, bottom paint, electrical, rigging, etc.)
Remove bimini, dodger, stow solar panels
Clean and inspect bimini and dodger for any potentially required repairs
Clean cockpit cushions and allow to dry thoroughly. Stow in cabin
Boomvang down on deck, level boom with topping lift, for boat cover
Determine location to store dinghy, decide where to put outboard engine. Cover dinghy
Wash sails, allow to dry thoroughly
General sail inspection – plan for any repair work
Flush freshwater thru engine
Flush freshwater thru heads, fill holding tanks with fresh water
Cover wheels – including electronics, cockpit table, winches
Remove sd cards from chart plotters and stow in nav station
Open up SUP paddle handle pieces and flush with fresh water
Clean and stow snorkel gear
Turn in boat papers to customs for bond
Electrical shutdown, shut down all breakers not critical to boat storage
Complete cleaning, inc fridges, and prop open
Clean food lockers and bins
Clean as much of the under-floor areas as possible
Varnish cockpit table, pull handle at companionway
Stainless steel polishing
Inspect and lube rudder contact points
Inspect engine bolts
Inspect propeller shaft & zincs
Inspect stuffing box (shaft seal)
Remove piston from each head pump assembly and lube with Super Lube Synthetic or the harken grease
Replace the joker valve (or in spring), and put slot vertically
Drop anchor/chain onto pallet, clean anchor locker
Clean and stow bar-b-que
Take pictures of things left on the boat (shoes, clothes, hats, cosmetics, medicines, toiletries, etc. to help when packing for return)
Make list of things to bring to the boat in the spring
Plan with yard for battery trickle charge over winter months
Potentially fill propane tanks for ease of launch in spring
Close sea cocks and stuff with rags to limit insect nest building
Remove, wash and stow all porthole screens
Wash and stow all linens
Remove/donate all non-canned foods
Final close-up before departing
All trash removed from boat
Close/lock all hatches
Close all shades – overhead and side
Stow hoses
Raise swim platform
Remove ladder
Unhook electric