As we looked back on our time with each of the collections of people we had aboard Sea Rose over the past summer, special details stand out for each group. Some had particularly amazing snorkeling experiences or a bunch of caves to explore. Others had lots of opportunity for star gazing from isolated coves. Our good friends Bob and Lisa joined us on the island of Mykonos, Greece and got off Sea Rose in Paros and their time with us was defined by high winds. As Tom mentioned in our last blog post, the hot, dry winds that come out of the North and slam down through the Aegean Sea during the Greek summers are called the Meltemi and we got very familiar with that term while Bob and Lisa were with us!
Our friends were enjoying a few days in Athens before hopping on a ferry bound for Mykonos to meet us on the agreed upon boarding date. The old town of Mykonos is adjacent to the main harbors and it is worth visiting; however, the high Meltemi winds made it untenable to bring Sea Rose into this exposed location. We instead anchored in one of the coves (Ornos) along the south shore and this provided us enough protection given the high land masses upwind of us. On the morning of Bob and Lisa's arrival, we hopped on a bus for the old town and made our way over to where the ferries come in, arriving just as two familiar people walked down the dock – good timing. We wanted them to see the cute town so we had lunch, stowed their luggage then strolled around while we caught up with one another.
By 4 pm, all luggage and people had successfully taxied and dinghied back to Sea Rose. Tom and I had wanted to move from Ornos Cove after Bob and Lisa got settled on board. The location we were anchored in was safe, but we were tucked around a bluff and it didn't feel like an interesting place to hang out for the night. From a utilitarian perspective, it had been perfect to provision, get laundry done and to use as a meet-up location. We had a spot in mind further east but still along the south coast of Mykonos. It was only a bit over 4 miles so even if it didn't work out, we could always come back to Ornos.
The coastline is quite dramatic and there was a lot of boat traffic along this stretch which made for a fun but short trip. If it was possible, the winds felt even stronger in the new cove we were entering. We dropped our anchor in a location that allowed us to put out sufficient scope. The sustained wind strength was already 25 kts, gusting to 30 and was expected to get higher over the next couple hours. We had an enjoyable night on the boat, sometimes yelling over the sound of the wind. However, we didn't feel comfortable going ashore – either in the evening or the next morning. Even though the distance between our anchorage and the shore was quite short, the wind would have caused every little splash against the dinghy to thoroughly soak us! Tom and I were also anxious about leaving Sea Rose with no one on board during such high winds.
Lisa attempted to enjoy some yoga stretches on the bow before we got underway the next morning. She would pin down one corner of her towel with a heal and before she could strike her pose, she was needing to grab another part of her airborne towel! One characteristic of the Meltemi, is that the winds remain strong through both the day and night for multiple days at a time. Most waters throughout Greece experience afternoon winds on a regular basis; Meltemis are persistent!
We would not travel a great distance today, but we would still visit three islands before our heads again rested on our pillows that night! The island of Delos is just west of Mykonos and it boasts a huge archeological site popular with day-tripper boats. Apparently, as many as 25,000 people used to call the island of Delos home in the early first century BCE. Greek mythology says Delos was the birthplace of Apollo and the oldest temple to Apollo is located here. This site served as the commercial center for world-wide trade and its importance lasted nearly 1000 years beginning around the 8th century, BCE.
We anchored in the narrow channel between Delos and one of the many tiny islands and rock outcroppings which make navigating these waters so challenging. The wind was still howling but we would be able to see the boat from shore so we embarked on our exploration. There was excavated evidence of bath houses and wells and a large network of canals. Several striking mosaics had been discovered and are now protected by roofs. A substantial amphitheater sits just outside the crowded alleys of what is believed to have been the main part of the town. There is also evidence of a marketplace and several temples.
After we had our fill of the ancient world, we headed back to Sea Rose for some lunch and cold beverages – for that we gave thanks to modern conveniences! Our intended destination for the night was very close by; after raising anchor, we had just over a mile to go to get to the southern reaches of the island of Rinia. We would round the point and head up into the well-protected harbor for the night.
Tom and I were glued to weather forecasts in hopes of learning we would get some relief from the Meltemi, which was in its fourth day. Most forecast models had a slight decrease in intensity for about 24 to 36 hours before building again. Up to this point, we had remained along the southern coasts of islands which gave us fairly settled seas in comparison to what we would experience in more open or exposed waters. We did want to move on, though, and since we hoped to go south to the island of Paros we felt we could make this hop without much risk. The winds would be high but less so in the morning; and it would be much more comfortable having the strong winds push us from behind than if we had to fight against a head wind. After our morning coffees, we raised anchor and headed away from the protection these islands had provided us! Slowly, the seas got bigger and we soon found ourselves surfing down the topsides of the waves as they came under our stern. Bob and Lisa each took a turn at the helm and it helped them settle their stomachs. The ride was a little rough but also quite fun — steering in these conditions is a contact sport!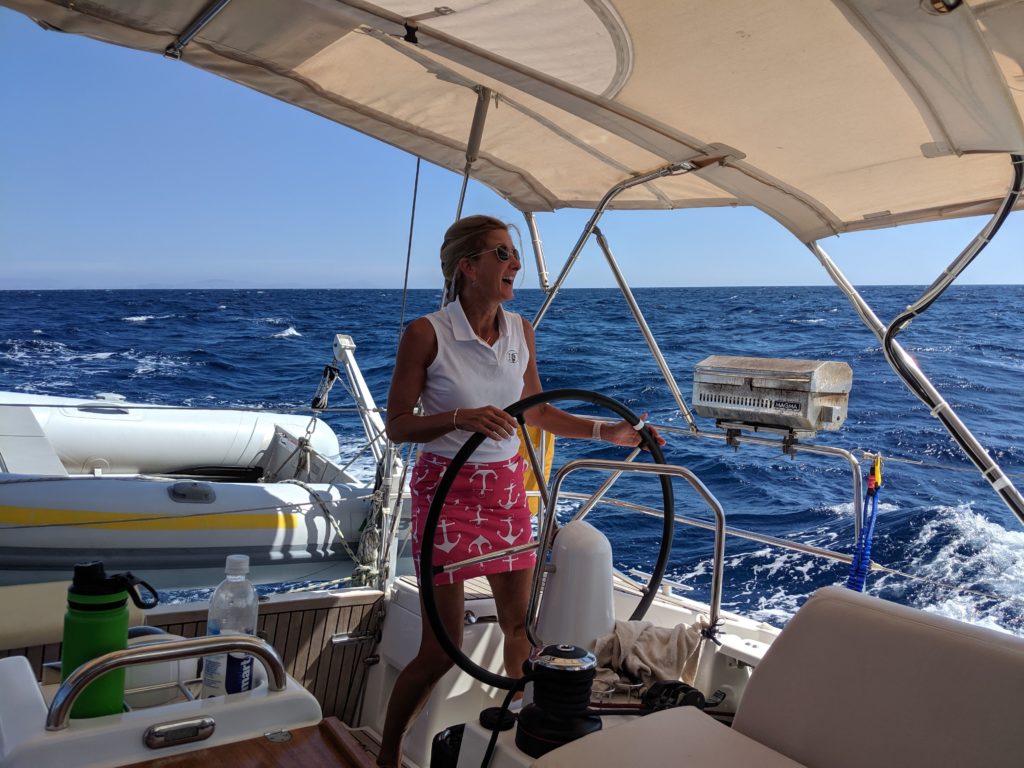 Our bow was pointed toward the huge bay on the northern end of Paros called Naoussa Bay. As you can see from the map below, the entire western portion of the bay is protected from a curved land mass that nearly circles the large basin in the top, western corner. The headlands all along the coast here are quite high, so once we rounded the point, the water surface was flat calm.
Bob and Lisa discovered that the town of Naoussa had a winery which was highly respected. We now knew what our afternoon activity would be! We decided to head into town shortly after getting Sea Rose secured in the northern-most cove. Review sights highly rated the food at the winery as well and we conveniently had not yet had lunch. We learned that a boat taxi service ran from our cove over to the town dock … everything was falling into place!
Moraitis Winery is a 4th– generation, family run business that has their tasting room and restaurant in the old building that has housed their operations for over one hundred years. They give a fabulous tour and provided a lot of history about the special relationship the island of Paros has with grapes.
Here are two interesting tidbits we learned:
The wind is often so incredibly strong as it blows through Paros that the grape vines are not trellised. Instead, they are cultivated as something more closely resembling a bush. Being close to the ground has the added benefit of reflected light off of the barren groundcover which helps the grapes ripen evenly.
Phylloxera is a microscopic insect that was responsible for destroying most of the European vineyards beginning in the late 19th century. American vine stocks had natural resistance to the Phylloxera disease and are, therefore, used as root stocks onto which European grape varietals are grafted. There are only a few locations throughout Europe where the original vine roots are not susceptible to phylloxera and one of those is Paros. This is why there is a grape variety called Paros which can only be grown in … you guessed it, Paros, Greece! Of course we needed to taste THIS wine.
Moraitis had one very special wine that we all thoroughly enjoyed and appreciated. It is a rose wine made from monemvassia and mandilaria varieties and the name of the wine is, 'Meltimi'. How appropriate!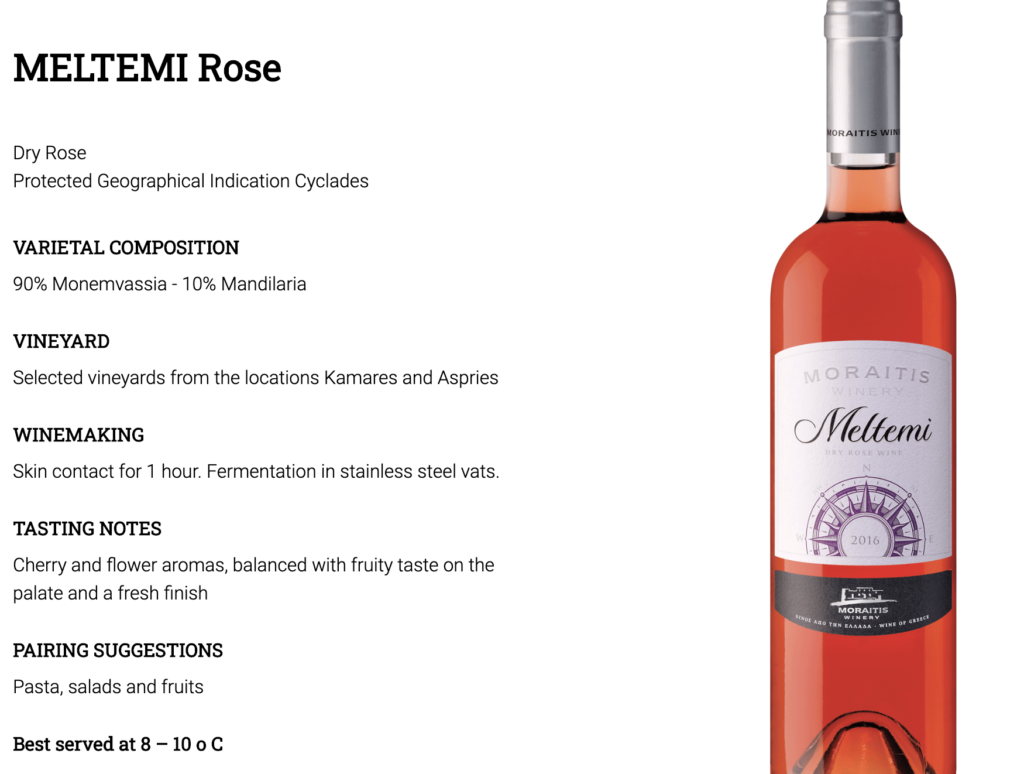 After we selected our wines for purchase, we walked around the darling town of Nauossa to work off our lunch and wine consumption. It was nearly 6 pm when we boarded the last boat taxi over to our cove. As we waited to depart, we saw tonight's dinner options drying on makeshift rails!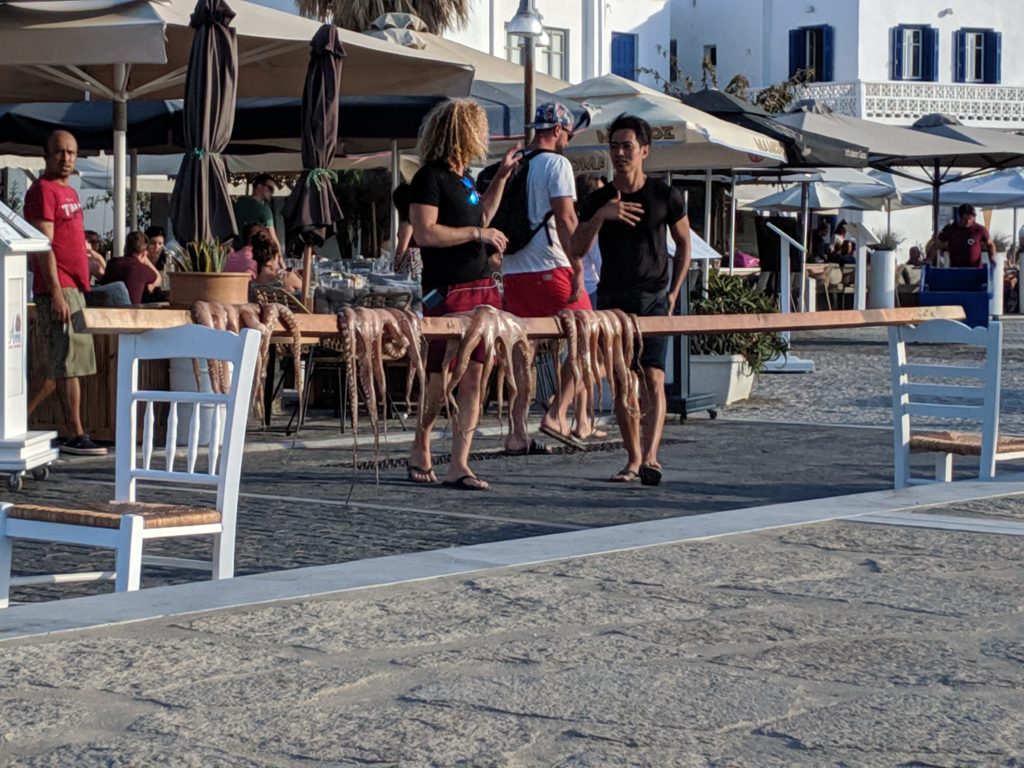 In the morning, we hiked out to the lighthouse that sits proudly on the point of land at the very northern tip of Paros. The pictures don't really capture the beauty of the deep blue water crashing in a brilliance of white foam against the rock formations below.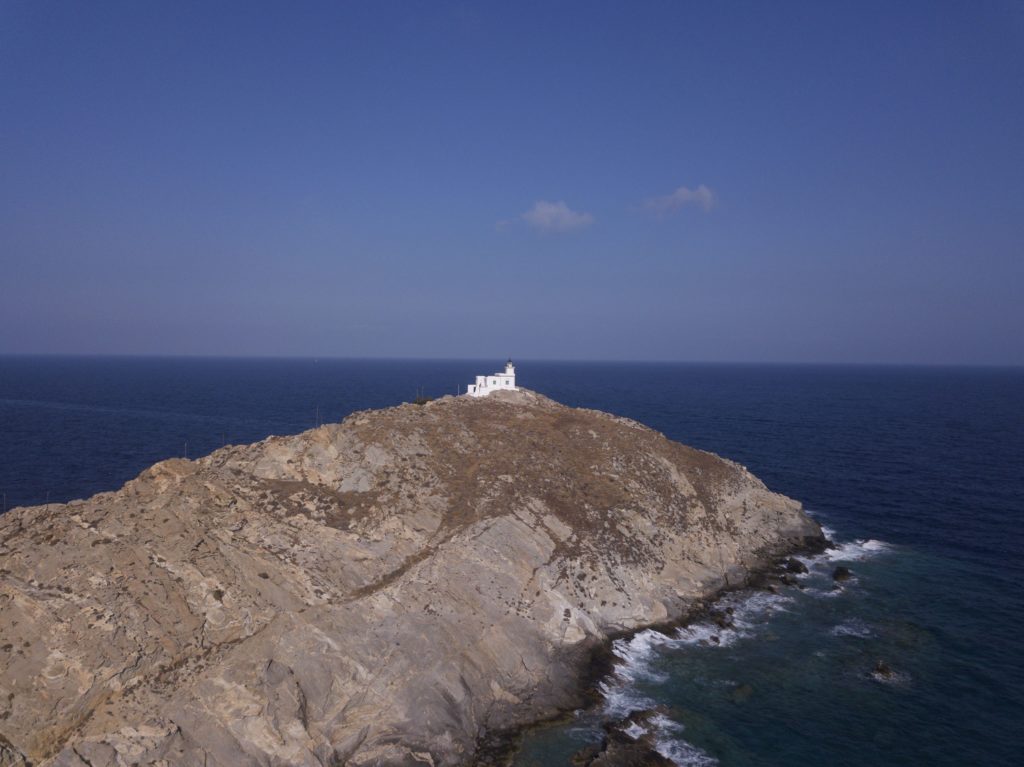 Back on Sea Rose, we prepared to depart. We would circle out of Nauossa Bay and head west to enter the main Paros harbor. The winds were still quite strong and predicted to increase further in the coming days, so we felt we could endure the rough seas we would have in the northbound and westbound stretches of our short seven-mile sail, especially if we left now. If we stayed for another day, we probably wouldn't get out of this bay for another four or five days. A change of scenery is always nice; plus, the ferries to and from Paros use the Paros harbor. Bob and Lisa would be boarding one in a day or two and we had our next guests arriving in Paros by ferry as well.
The significant swells had Sea Rose slamming into oncoming waves as soon as we passed below the protection of the land. This was slow-going … wind and wind-driven current worked against us as we motored out of the harbor. The slapping of the hull against oncoming waves further slowed our forward progress. Ugh, this wouldn't be fun. When we began turning west to curve around the top of the island, we had waves rocking us back and forth. We put up our reefed sails and this provided some relief from the rolling. Still, none of us were feeling great and each time a high-speed ferry would whiz past us, we had a chaotic ride and the lovely diesel smell. Sea sickness is yucky – it is the closest feeling I have had to morning sickness while pregnant. Our ride felt like slow torture as we curved around the final point and headed into Paros Harbor and the calmer seas.
We looked for a spot in the anchorage that would have us up-wind of any other boats. The predicted wind strength for tomorrow and especially the day after was over 35 – 45 knots; boats would be dragging and we preferred that they dragged away from us instead of onto us. Therefore, we dropped our anchor just inside a sand bar in the remote NW corner of this large bay making it impossible (in theory) for a boat to anchor upwind of us. We put out an 8-to-one scope (anchor rode to depth of water) and used our very long storm snubber. Ok, we're ready for another round of the famous Meltemi wind!
During windy spells like what we were experiencing, local fishing boats use the time not out on the water to examine and repair their nets. The photo below shows a common sight of men mending their nets along long stretches of a harbor's wharf.
We went ashore in the afternoon and discovered some fantastic shopping. Paros Town is quite large and has everything one might need; it would be ok to be held up here for a couple days. While in town, Lisa smartly inquired about the ferry schedule for the coming days given the predicted high winds. The clerk explained that they would run the following day but in all likelihood, would not run the day after – during the expected peak in the Meltemi. Bob and Lisa would need to move their departure up one day which meant leaving the following evening. First, though, we had a great dinner in town and took in the beautiful sights of the waterfront as the sun set and the lights came on.
We wanted to make the most of our last day together by renting a car to explore the island. We were all loaded up by mid-morning and off for our first stop, just outside of Paros town, where we visited an old marble quarry (see the map several paragraphs above for the green stars where we stopped along our journey). Next, we stopped for a hike around the very traditional, hilltop town of Lefkas. Once we arrived on the east coast of Paros, we stopped at a bluff overlooking the dramatic coastline and the nearby island of Naxos to the east. We enjoyed a late lunch at a beach town along the southern coast before turning north and back toward Paros town.
We made a final stop to overlook the islands around Andiparos to the west. We had set an anchor drag alarm the day before and we had gotten no alarms last night and nearly all day today. However, around the time that we made our final stop, Tom realized we were getting regular anchor drag alarms. The winds had been sustained at around 25 knots throughout all of this time so something else must have happened to have us getting alarms now after holding on our anchor for nearly 24 hours. We hurried back to Sea Rose and noticed that someone was anchoring up wind of us. This wasn't going to work; Tom and Bob took the dinghy over to speak with their captain. Tom explained how much scope we had out and when learning how much scope they had out (not nearly enough) and where they were sitting regarding our anchor he knew they must be over our anchor chain and likely pulling on it as they tried to set. This explained the alarms. The captain was hearing none of what Tom had to say. They were actively working to put out a second bow anchor which would pull them slightly to the left of our bow. He asked Tom to see how they set once this additional anchor was deployed. There were six to eight men on board and sometimes I feel an all-men boat is the worst combination of people to have to work with. Crazy as it may seem, many older men still feel as though they must save face in front of 'the guys'.
Tom returned to the boat and tried to think through our options. We reviewed our electronic charts and it was obvious that we had dragged from the original position we had settled into the day before. The meltemi was predicted to strengthen overnight – we couldn't stay as we were right now. Bob and Lisa began packing and I was making a nice dinner to have before sending our friends off. Tom made a second trip over to the upwind boat and essentially pleaded with the captain. He explained again how it was obvious that our anchor chains were crossed and asked, 'wouldn't it be better for us to work this out now in the daylight hours than to get tangled up in the middle of the night?' Still nothing. It is common courtesy for subsequently arriving boats to move if factors change and cause boats to get too close in an anchorage. However, our boat was our home and our investment so if they wouldn't move, we had our own decisions to make. Tom explained that if they wouldn't move, we would. He asked the captain to please put our fenders and prepare to fend off as we lifted our anchor and would –of course–be getting very close to them. I put dinner preparations on hold and went to the helm. Tom and Bob put out fenders and prepared to take the anchor in as I drove up on it. The more we took our anchor chain in, the closer our bow got to the side of their boat and we still had a lot more chain to raise. We would need them to drive forward to get their chain off ours since we could see our chain's path cross in front of and onto the other side of them – this proved what we had been attempting to explain. At this point, I couldn't remain quiet. My husband is a very mellow and kind individual. He explained the situation several times and asked nicely. I walked up to our mid-ship point and called over the very short distance and said, 'This is just unacceptable, we have asked kindly, three times. You either need to move your boat so we can raise our anchor or you need to move. Frankly, you need to let go of your male ego and admit that our two boats cannot remain as we are right now.' We had arrived over 24 hours ago because we knew strong winds were coming and here we are just 6 or so hours before gusts that could top 50 mph and somehow we're the ones that need to move? The captain didn't acknowledge me at all but instead looked at Tom and said, 'tell her …'. Uh oh, he was going dangerously close to a hot button for me so I said, 'Tell her what, if you have something to say let's hear it.' I didn't get this said before his body tensed and he literally shuddered up and down as he looked at me and said, 'you … you … shush!' I have worked in male dominated jobs my entire life and I have become absolutely intolerant of anyone not hearing my contributions to exchanges. Besides, 'shush' said by an older man to a woman is crazy offensive. He is basically saying, 'you stay in your place in life and do it quietly'. I got right up to the rail, pointed my finger at his face, leaned over and said, "don't you ever, EVER tell me to shush … this is no longer just a man's world and you better get used to that fact." After a few tense moments, Tom calmly encouraged me to walk away and as I turned towards the helm, I am sure I added in a few additional and very colorful expletives.
The other boat finally said they would move and I couldn't help but wish our exchange hadn't had to get so heated, but it did and what was done was done. I tried to shake off my heightened emotions and enjoy our last dinner with Bob and Lisa on board. Luckily, our friends know me very well and have seen my extreme passion be used in positive ways over the years. I had a wonderful belly laugh a few days later when I saw a post on facebook from Bob saying he learned to never, under any circumstances tell Karen to 'Shush!' We did get our moment to relax and enjoy a final and lovely bottle of one of the Moriatis Wines Bob and Lisa had bought for us … notice the name shown in the photo below – we thought it was appropriate!
Just before 7 pm, we dinghied Bob and Lisa into town for the walk to the ferry terminal. We were sorry to see them leave a day early; however, these are people never to lose out on an opportunity, Lisa had already booked a fun Athen's market tour and cooking lesson for the following evening.
As we walked back to our dinghy, I made a quick detour into a market to buy a couple bottles of wine. I asked Tom if he would please drive the dinghy up to the side of the boat we had had the "issue" with. As we pulled up alongside the boat, we saw the captain shake his head and go below. I spoke with one of the younger men and thanked them for moving. I explained that we were anxious about the high winds and wanted everyone to stay safe. I apologized for getting too angry and handed them two bottles of wine. They laughed and said that the gesture was very kind. I told them to read the label … they saw the wine's name of 'Meltemi' and chuckled some more.
The day after Bob and Lisa left, we remained onboard to make sure our anchor held as the winds increased. It was an odd feeling to not see a single ferry come or go from what would otherwise be a busy harbor with non-stop ferry traffic from before sun-up until well after the sun descends below the horizon. We used the hours to do boat projects, write blogs, and to organize our photos and other media.
Hearing the term, "Meltemi" will now cause me to recall a lovely rose wine we purchased and enjoyed on the amazing island of Paros. Quite often, the most rich experiences are had when something has caused us to slow down. Is a Meltemi a signal to take life one day at a time?
Interesting Resources –
Delos – https://ancient-greece.org/archaeology/delos.html or https://ancient-greece.org/museum/delos.html
Paros wines – https://www.ilovegreekwine.com/greek-wine/regions/paros/
Meltemi wind explained – https://en.wikipedia.org/wiki/Etesian