As we departed Poros in the pre-dawn light, we would be leaving the Saronic Gulf and entering the greater Aegean Sea region. This part of the Aegean is best known for the Cyclades islands, with popular destinations like Santorini, Mykonos and Naxos. And popular with our friends, of which we had four groups joining us over the next five weeks. Karen and I had one more week by ourselves; seven days to cross the 100 miles to Mykonos, where we would pickup our good friends Bob and Lisa. The excitement of having guests after several weeks of being by ourselves was tempered by the reality check of the mid-Summer wind conditions in this area. We had been casually watching the weather forecasts in the Aegean since we had arrived in Greece a month ago. Boy, was this going to be interesting! July and August here are renowned for the Meltemi, a very forceful wind that blows down from the Black Sea and fans out over the Cyclades islands. It can ebb and flow, but when it really blows, it can carry on for five or more days, pinning you down in the closest south-facing harbor, trying to avoid the fetch of waves that start several hundred miles to the north.
We were excited beyond description to see our friends and re-discover these honeymoon-esque islands, but the thought of our crew flying in for a week of Greek Island sailing and having to shelter in place for the whole time had us sending cautionary emails to everyone involved. In the end, I think we were the most worried; our friends seemed unfazed, some even relishing the idea of being 'stuck' on a Greek island. With that spirit, we charged forth, leaving Poros in the rearview mirror, and started our sail across 40 miles to the island of Kea, forecast be damned!
If you are mindful, you can hopscotch your way east or west from island to island in the Cyclades without too long of a day's sail – our first day to Kea would likely be our longest – we targeted one of several protected harbors to rest up for the next day. 
As the sun rose east of Athens, the wind grew with it, and we were soon in 15-20 knots of northerly breeze and choppy waves on the beam as we pointed Sea Rose east. Kea was just beyond the horizon, which left us to steer by the compass, and sometimes a well positioned clump of distant clouds, as long as we remembered that they were moving as well. The wind soon built to 25 knots and shifted direction to be more in front of us, making the sea state uncomfortable as we crashed into waves and slid down the backside into the trough. In these conditions, you almost wish to be in the open ocean rather than an enclosed body of water like the Mediterranean, as the ocean waves have a much longer period and are akin to the gradual up and down motion of a tall swing set. Today, the waves were of the short, steep variety, and coming from multiple directions, making it feel more like accelerating down an uneven dirt road sending jarring motions right up your spine from an old Army jeep with no suspension. Waves were regularly washing over the bow, and some were making it back to the high-side of the cockpit, around the dodger, which thankfully was at least keeping the cabin dry below. We setup one hour watches, but it was hard to do much during your off-watch, except provide company to the skipper. We finally furled the sails to the third reef position as the wind started hitting 30 knots, but it was still very uncomfortable. We hadn't yet driven Sea Rose in this rough of conditions for hours on end, only while storm cells were crossing over. These Meltemi winds were gale-force winds but without all the threateningly dark clouds. Indeed, today was remarkably blue if not for a slight haze at the horizon. While storms cause every sailor to feel a measure of disdain, these winds were settling in for the long haul, forecasted to ease to a slightly lighter red hue on the nighttime forecast image, and then a deep blood red during the day.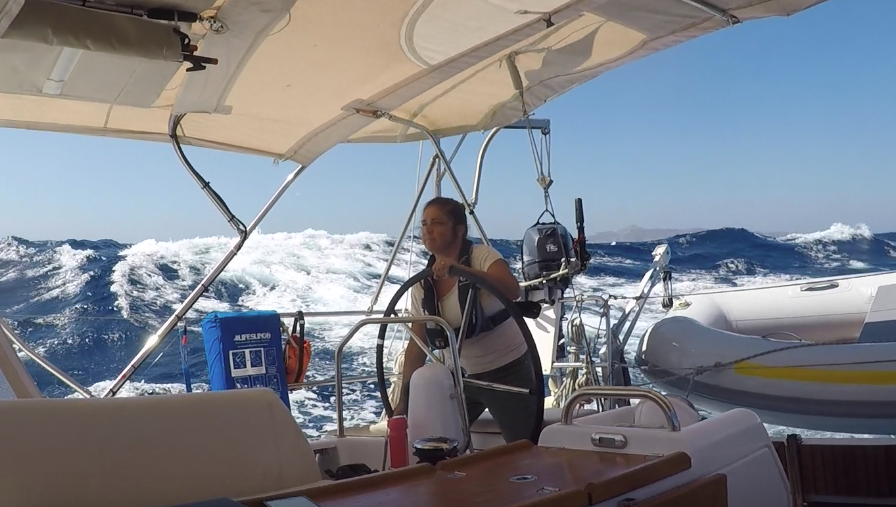 We took stock of the situation and promptly decided Kea was not in the cards today. If we cracked off our course 30 degrees, we could make landfall at Kithnos, where a peninsula swung out on the western side to give protection from the Meltemi. This new course helped tremendously, as the wind held at a steady 30 knots and the waves built up from the prolonged increased winds. For a few brief periods, the wind would die down and we would miss it, as it caused Sea Rose to slow and be tossed around willy-nilly like a corked bottle on the sea, lacking momentum to drive through the waves.
In the lee of the point off Fikiadha harbor on Kithnos, the wind dropped enough that we happily struck the sails and started motoring the last mile to the anchorage. It wasn't a spacious anchorage but all we needed was a spot protected enough for us to release our stress and get some sleep. Laying out the anchor with a 7:1 scope helped too. Day 1 in the Cyclades. I sure hope our friends are our friends after a week of this Meltemi madness. If we were getting ready to interview job candidates or fraternity pledges, this all might make sense, but our friends had already passed all of the tests and we didn't want to lose them!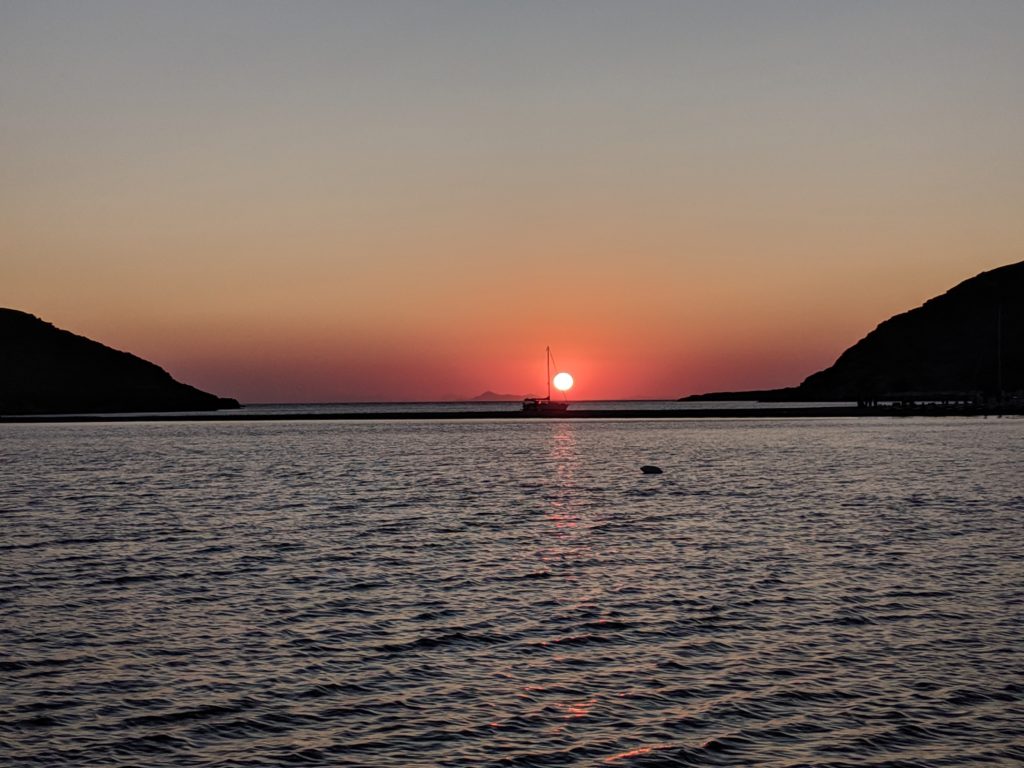 The wind had refused to settle down overnight, and in the morning we took a walk ashore to the crest of a small island standing offshore and connected by a narrow sandy isthmus. More than anything, we were curious about the little white chapel at the top. In the stark beauty of these wind-swept islands, white-washed buildings stand out begging to draw your eye, and your feet, to them. The door was locked, no tour guide stood ready to receive us, nor where there any Rick Steves audio tours available – only a modest veranda and a few cafe-style lights making me wonder if hardy newlyweds might chose this over Myknonos for their intimate reception. They would have to hold on fiercely to their champagne flutes as the winds were now accelerating over the crest and making it hard even to stand upright. At least the bar bill would be light.
The starkness of the landscape reminded me a bit of the Kornati National Park in Croatia, where those who have walked before us built seemingly endless meandering stone walls, for which purpose it was unclear. If they were for grazing animals, none were present any longer, except for a rare tribe of goats. Were they to demarcate ownership boundaries? This too seemed like an excessively laborious proposition. I know how tired I get shoveling gravel around our yard at home. I can't imagine the physical toll to build something yesterday that holds such little benefit today. God bless them, whomever they were.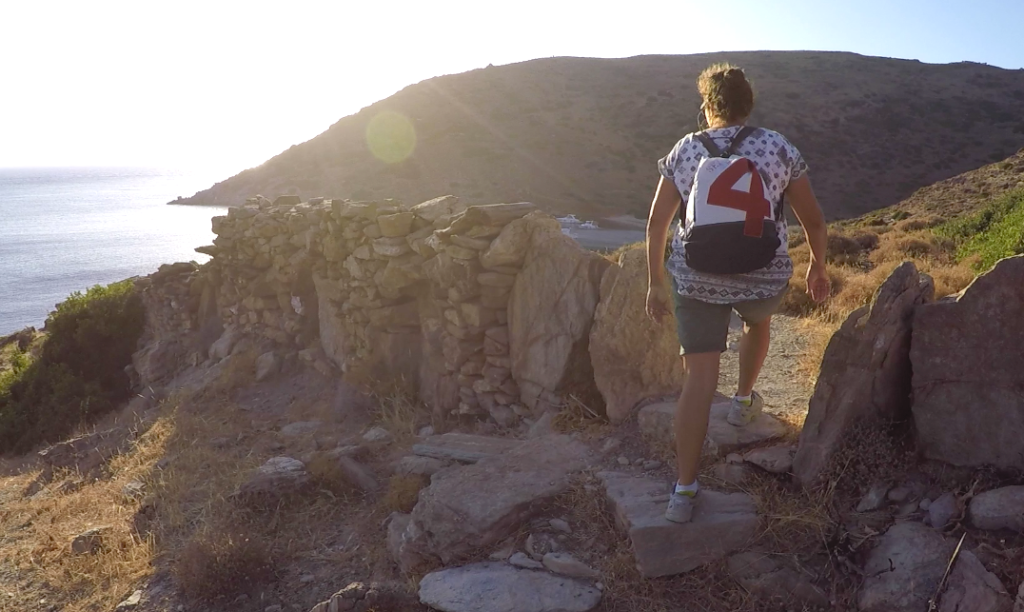 Back in the present day, a boat pulls up swiftly next to us and attempts to anchor, sending me racing out in the dinghy to start our engine and get ready to move. With their chosen position, there's no way they could avoid hitting us with just the slightest wind shift. I try to maintain my cool while at the same time yelling across the water loud enough to be heard over the wind. Body language is critical at these times. They thankfully move on to anchor way too close to someone else. We've made our fair share of stupid mistakes on the water, but there are basic laws of physics and geometry that I had wishfully thought every boater would comprehend.
Back on shore, Karen and I take a hike in search of a rumored hot springs in the adjacent cove. You might not think of a hot springs as an attractive choice in mid-August Greece, yet these islands can cool down in the afternoon, especially as the cove ahead of us fell into late day shadows. One sailboat and a small power boat bobbled gently off the beach, tucked in tight in the wind shadow of the cove's high ridge above, making me feel jealous of their choice of anchorage.
I wasn't sure what to expect for a hot springs but we spread out looking for any sign of rising steam. A nearly dried up creek bed leading down from the hills above seemed like it could have been a contender at one time, with its off-color markings on the dried up rocks. Then, we found it, a half-circular puddle of water just above the wave break at the beach. Someone had collected a few rock boulders to protect it, and slowly released air bubbles hinted at the water temperature. I stripped down – being the only one willing to submit myself to life's free little pleasures on this day – and sat down in the yellowish-green muck, telling myself that some people pay big bucks for this kind of mud bath. If only I had brought the cucumber slices. 
It was a hedonist pleasure to spend two nights in one anchorage, especially at a place like Fikiadha with its aura of isolated beauty. But friends were beckoning. We set sail heading south until we reached the tip of Kithnos and turned back north along the eastern shore. What had started as a light wind day in rolly leftovers from the prior high winds turned into a slog upwind against strong currents trying to undo our hard earned progress. The sailing challenge was fun for a few hours, as we secretly tried to best the few other sailboats heading upwind, but when we discovered the protection of little Kanala, on the western shore of Kithnos, we were ready to lay the anchor down. This small hamlet was huddling at the water's edge behind a little point of land housing a monastery. After some tasty barbecued chicken, we took a walk on shore, following a white-painted path, past white-painted houses, white-painted stones, and even white-painted tree trunks. Even if we had visited during the height of European summer holidays, you'd be hard pressed to find more than a couple dozen tourists here, with only two tavernas and one mini grocery store. Although, the store had an unbalanced inventory of tomatoes. I couldn't find a hardware store nearby, but I'm assuming there was an equally unbalanced inventory of white house paint somewhere close. 
The next morning, before embarking on a full day's sail across to Syros, I couldn't leave without more views of Kithnos, as I took off for a run up the windy roads out of town. Here, more centuries-old stone walls ran off in dizzying directions, this time a little more utilitarian as they held back the goats and sheep. The goats were further held back by having their forward and back legs tied together on one side, making it impossible for them to jump, and painful for humans to watch. But, hey, pass along that tasty feta!
On our exit from Kanala, we greatly enjoyed a close drive-by of the monastery jutting out on a point of land off the village, narrowly missing an unmarked reef jutting close to the surface below our keel. Like I said, we are no strangers to stupid mistakes.
The wind built to a pleasant 15 knots for our crossing and we put in cautionary reefs in both the main and genoa. The adverse current from yesterday was again playing havoc with our ETA, pushing us back at close to two knots, forcing us on to a close-hauled course to keep us tracking on the rhumb line to Syros. The wind continued to build, as did the seas, and soon we were heavily reefed and crashing into waves, but feeling a bit more comfortable than prior days. Starting from our experience back in the Gulf of Corinth, we were logging regular days of sailing in 25 knots or more, helping us to dust off the cobwebs and become familiar with how Sea Rose wanted to be trimmed for these conditions. Equally, we were growing our confidence in the boat and in our own abilities. It's surprising how soft you can get after weeks or months of docile sailing. We were now in the daily wind tunnel that is the Meltemi. If we didn't adapt to this new reality, we might as well haul out and head home. But we were adapting, and the rodeo of a ride from one wave peak to the next was actually starting to be fun! I alternated steering from the high side, getting periodic sea spray in my face, and the low side, with a better view of our sail trim and other boat traffic.
During these Meltemis, the visibility can be impressive at dawn, but then becomes hazy during the day. Putting our electronics to the test, and practicing good helmsmanship by steering from the compass, the island of Syros soon rose from the hazy horizon. As we sailed past the protection of the headland off Finikas, the seas settled down nicely and we had the pick of the litter in the substantial harbor beyond. Even though it had been a vary active day of sailing, a long walk ashore felt like the perfect balance to the day. Here, many more vacation cottages lined the arc-shaped beachfront, and with them a decent selection of tavernas, making it hard for us to pick one for a late day glass of wine and olives.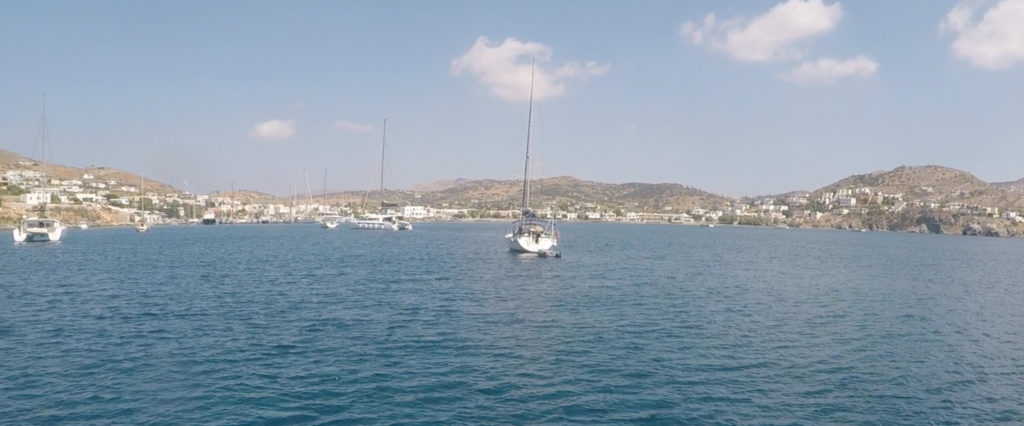 On these full days of sailing, we chose not to chase the shoreside disco scene into the wee hours, opting instead for a restful night sleep. That plan was interrupted at 2am by the sound of two sailboats driving aimlessly around the anchorage, apparently trying to decide where to drop the hook. Why someone would be coming into the harbor so late was unclear. There aren't many times I can recall having a positive experience anchoring in a harbor after dark. Crew members on one of the boats had red headlamps on, and it seemed like one boat was going to anchor first, and then inform the other boat. I couldn't go back to my bunk knowing they were still circling. I tried to indicate with my spotlight a large area downwind from us that was perfect for them, with tons of swinging room. Yet, they kept circling. Finally both anchored, in different ends of the harbor. Apparently they weren't friends after all. At daybreak, there was no sign of them. Now, I thought, our friends can be very happy we don't treat them to such insane late night and early morning departures!
Before we got underway in the morning, I jumped into the dinghy to help a sailboat being towed to the dock, a tricky maneuver in the building winds. And as we raised our anchor, a second boat, this time a large motor yacht, was being towed into the harbor by an equally large tugboat. Even if it was something stupid and preventable – like a line caught around a prop, clogged diesel filters, or just poor navigation – I selfishly relished in the fact it was happening to them and not us. Hey, I'm not alone am I? Who among you have not breathed a sign of relief when you see one car back into another in a crowded grocery store lot. You've just dodged a bullet that will one day strike us all!
Like at Kithnos, we left the west side of Syros and sailed down around the southern tip and up the east side, to the little harbor of Vari, up a long narrow slot in the shoreline. The wind still howled through the anchorage, but that kept Sea Rose ramrod straight in the narrows, and, absent of a long fetch, left us with ample flat water. Along the water's edge were more summer rentals and a sprinkling of tavernas, but you could feel it in the air that the town was breathing their version of a sign of relief – the summer tourist season was coming to a close. Indeed, several rentals looked boarded up for the winter. We found a near-empty taverna on the water, literally at the water's edge, with impromptu sandbags holding the water back from lapping over the feet of the dining patrons. I was wondering if any smart-ass tourists had shared the upcoming news of climate change with the proprietor. 
As a sailor, you always have one eye on the weather, but here in the Cyclades, it demands full attention or you'll end up paying the price – maybe a little sea sickness at first, but then it could quickly turn into a tow by a big tugboat. I remember clearly looking out the window on a ferry ride between islands when we were here for our honeymoon, at times seeing sailboats motoring along in glassy calm waters, and at other times not a sailboat to be seen amongst the white sea foam hurling sideways. Before we owned a boat, let alone considering sailing in the Med, I remember thinking on that ferry why anyone would want to sail here. It seemed so temperamental. And, 27 years later, here we were. Hah!
Our destination for the day was Renia, 12 miles distant. With winds gusting to 30, it was starting to feel like Groundhog Day. We split the crossing into two 6 mile watches, and soon enough we were dousing sails for the anchorage. That's one of the side benefits of a Meltemi – where ever you are headed, you are there before long! Renia is a low lying, desolate island, with only a few low buildings that pass as animal enclosures. We couldn't see any signs of human life, apart from two other boats already anchored. In our favor, there were three distinct coves and we chose the empty third one – like a trio of street workers claiming their corner, demanding rights to all that came their way. If you come here, it's not with aspirations of being social.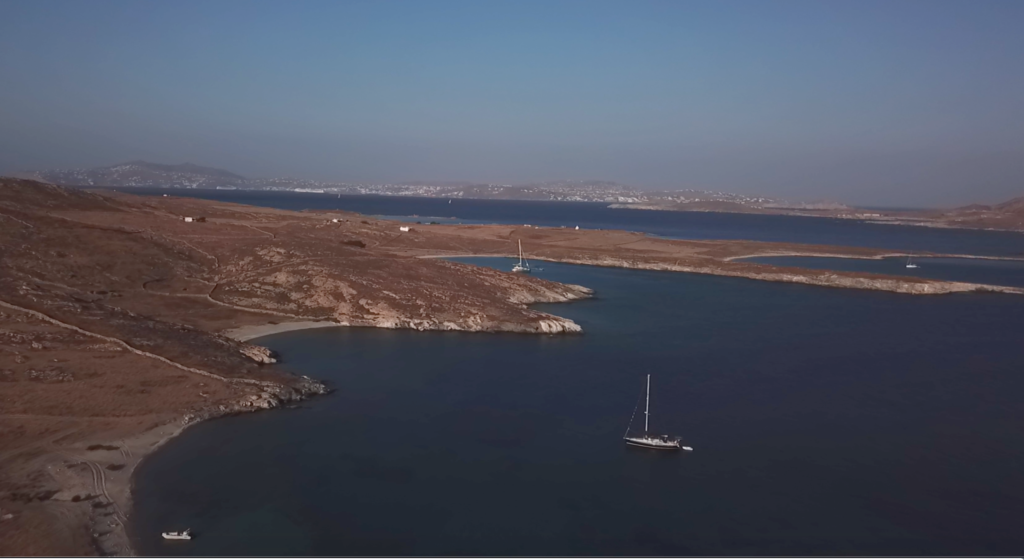 Laid before us was the most pristine white sandy beach you can ask for, gently arcing around us as its focal point. Suiting up for snorkeling, we dove in between crevasses of limestone rock, finding unusual and prolific varieties of fish. They were likely enjoying the solitude from human traffic as well. Rowing the dinghy ashore, choosing to not break the peacefulness of this spot with a sputtering two stroke outboard engine, we took a walk along a long isthmus to eye the eastern end of Renia, as it overlooked neighboring Delos, once a holy sanctuary and center of maritime commerce for ancient Greece. In the further distant was Mykonos, a not-particularly-holy sanctuary of modern day life. Still, we were within easy reach of the island where Bob and Lisa would be arriving, and we had much to be thankful for, on our blustery, bouncy but fruitful crossing of the Cyclades. We gazed skyward on a sea of stars after dinner, and all seemed right in the universe.
Well, maybe not 100% right. Karen woke up feeling sick, so I took a long walk again on the shore, following the well worn twin tracks of a farm vehicle, eventually losing the path and going off course through thick brush dried to a crispy brown from the Mediterranean heat months prior. Back at our private cove, I stripped off clothes and swam out far enough to wash away the morning's trail dust. If only every morning could start this way, so fewer pharmaceuticals would be needed.
We debated staying another night at Renia, but opted to sail around the southern tip and slid up between neighboring Delos to check out the logistics for a future visit to the archaeological site ashore. The wind was blasting down the skinny, rock-infested channel between the two islands, compounded by a strong current, and we put the throttle down for a quick transit. Turning now towards Mykonos, it seemed like sailing would be an option, but waves were reflecting off the steep rocky shoreline surrounding us, and only caused our sails to slap sharply from port to starboard and back. Regardless, it wasn't far to the Meltemi protected harbors on the southern side of Mykonos. We motored towards the first one at Ornos, only to be turned away by the downwind odors of a nearby water treatment plant. I can understand how they sited it here, itself downwind from the swank hotels and beach resorts just north. We pushed on, realizing how contrasting this island could be from the remote skinny dipping sanctuary of Renia, just five miles away. Next up was the harbor of Platis Gialos, chock-a-block full of super yachts anchored stern to the shore, with their assortment of jet skis and over-torqued shore tenders. Finally, around the next corner we found Paradise Cove, and we promptly set our anchor just off the shore. The thumping disco music from at least three competing beach bars ashore was resonating through Sea Rose as we tried to get started on an overdue dinner. Two helicopters flew past overhead. An overloaded catamaran of 20-somethings next to us seemed ready to resonate the cove with yet another EDM beat. The thought of music blaring all night long put me on the verge of a mental breakdown, and Karen needed no convincing either. We had the anchor back onboard and were motoring away at dusk to find a reasonable place where we could get some rest. Five miles to the east was an unnamed cove with its only apparent claim to fame of a nudist camp. There were thankfully no beach bars in sight, and any nudists with a penchant for late night partying had decided to take it indoors. Heaven! We read and played backgammon until we couldn't see straight. 
Instead of partygoers, Mother Nature woke us at 2am, as high winds and lighting rolled through our anchorage. Shortly after, a catamaran came motoring in, going deep into the harbor and anchoring what seemed like right on top of the beach. Another strange boating behavior for the log book.
At daybreak, I checked the long term forecast and found more of the same. These Meltemi winds were painting the whole Cyclades dark red on our weather app. What gives? We raised anchor and motored back to the harbor at Ornos, placing ourselves strategically far enough away from the water treatment plant, and laying out extra scope for any high winds that would arise while we explored ashore. Ornos was packed cheek-by-jowl with sun bathers, served by attentive, sun-tanned wait staff bringing out trays full of tall summery drinks with long straws and little umbrellas. But the disco scene was very subdued. Maybe I shouldn't paint the island with our Paradise Cove impressions. Set back from the beach goers, we found everything we would need – a large grocery store, a butcher, a laundromat, a few trash dumpsters, and a bus station. Tempting as it was to take the bus, we opted for the 40 minute walk into the main town of Mykonos, a sweaty affair that justified a nice lunch on arrival, and an agreement to take the bus or a taxi in the future. Mykonos town was full of narrow, twisty, white-washed walking paths lined with boutique stores and bustling outdoor cafes, the most attractive of which held back the dangling ends of blooming bright bougainvillea. Fresh off the boat, a wet dinghy ride, and a sweaty hike, we didn't provoke any jealousy from the other more bougie shoppers.
People watching on an island, especially in Greece and in particular on Mykonos, is a multi-layered experience. You've got the young newlyweds, all excited with each other and their new life ahead, but with modest means to really celebrate. There's the ever present vagabond college crowd, enormous backpacks slung over their shoulders, packing into cheap gender fluid accomodations, but seeming to have bottomless pockets of euros to spend on drinks, discos and naughty t-shirts. There's the 20-somethings, with cash in hand and no children to support emotionally or financially, on a guys trip, girls trip, or a little bit of both to test the romantic waters, renting ATV's and scooters, filling up the tavernas, and frankly making everyone else jealous. Then there's the older cruise ship crowd, finally able to hit their bucket list items, freshly showered everyday and clothes finely pressed by their cabin stewards, but facing the eyre of most restauranteurs and shopkeepers, with so many needs provided by the ship instead. Flying under the radar in all of this are the ultra-rich, trying to squeeze in a vacation in their otherwise overly-planned life, hoping to escape the annoying general public but still sneak in a visit to the Louis Vuitton or Chanel or Prada shops, the kind of consumerism that exists in a completely parallel universe from the rest of us, and frankly just doesn't compute for me.
One things for sure about our day-about-town. Mykonos is much more than super yachts and all night parties at the Paradise Cove. I felt sheepish for the stereotyping. It's a lovely gem not to be missed on your tour of the Greek isles. Just make sure you park well clear of the water treatment plant.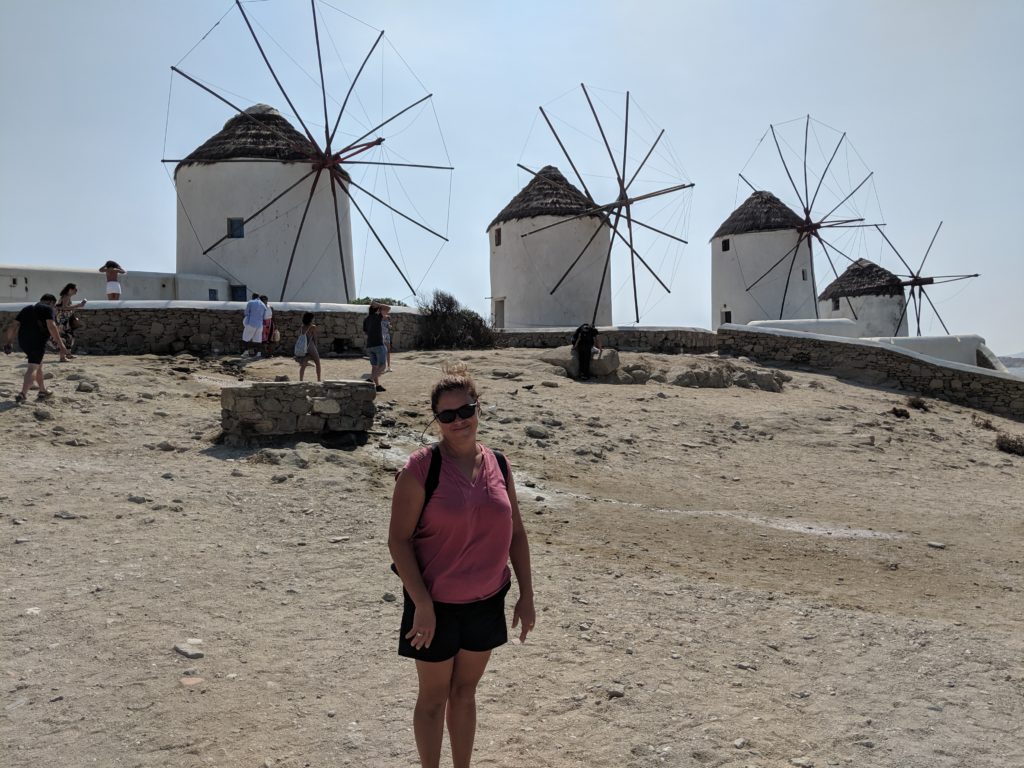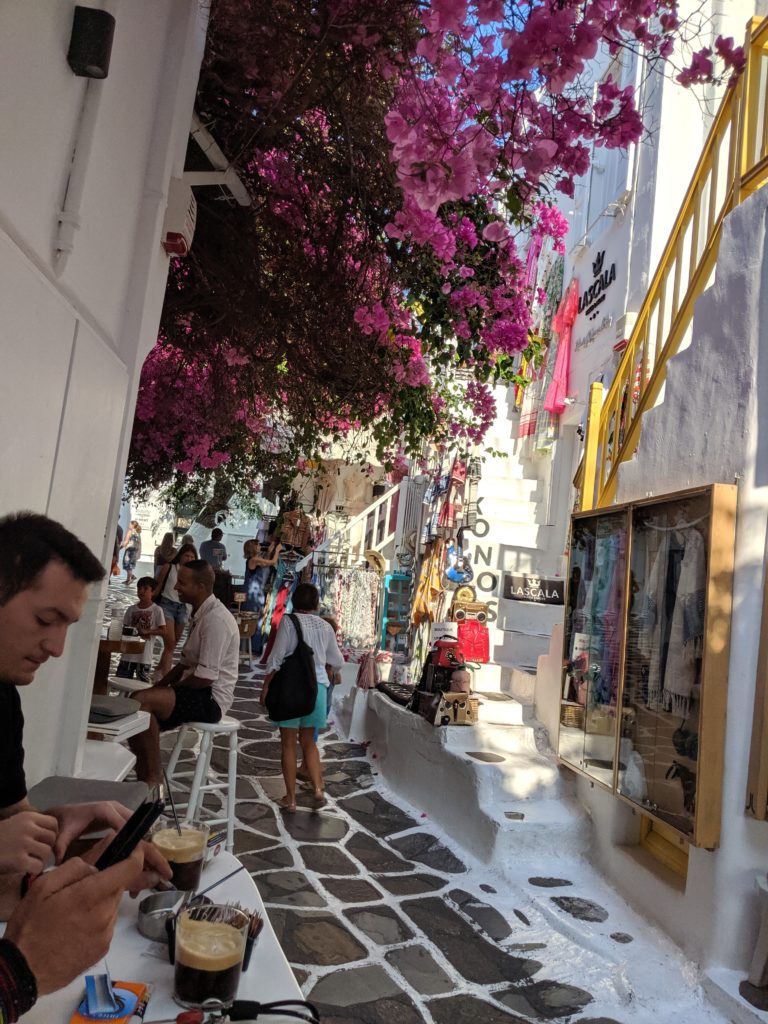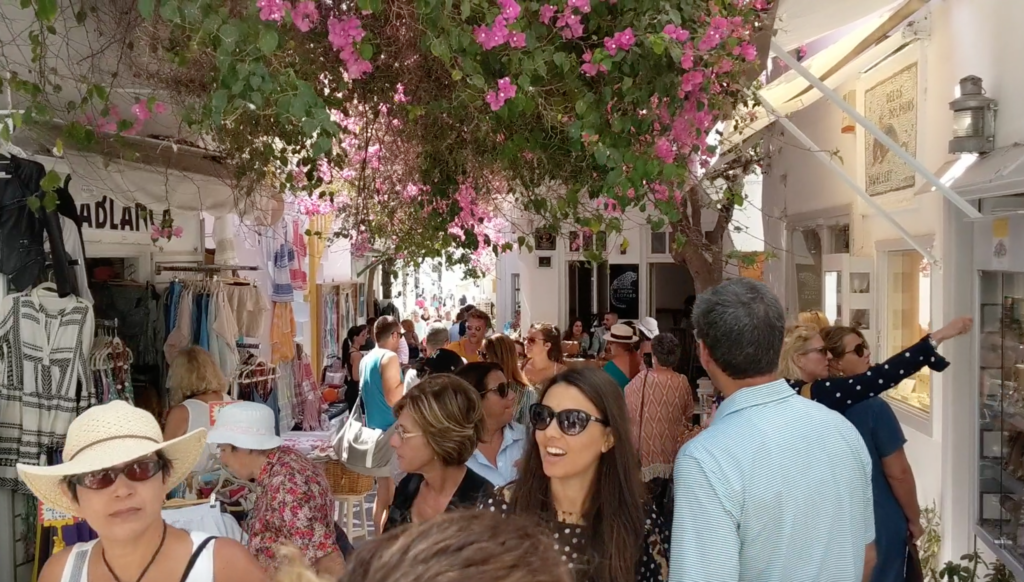 I had one more errand to complete before Bob and Lisa arrived tomorrow. Our dinghy was critically low on gas, low enough that I might not even get into the dinghy dock. This captain should have checked the level long ago. I gingerly idled into the dock, feeling more elated than most to lasso the cleat and avoid a long upwind row. I grabbed the portable gas tank and headed off in search of a gas station. To my surprise, I passed the bus station just as it was arriving, and the ticket agent, when I pressed him for the location of the nearest service station, suggested a more practical plan of riding the bus. The nearest gas was uphill several miles, and after he confirmed with the driver, I was enthusiastically encouraged to board, dirty, fuming gas tank in hand. The bus was crowded beyond reason, as newlyweds and 20-somethings were well dressed for an evening in Mykonos town, and I was the last to board, pressed into the standing room only aisle with plenty of revelers who avoided eye contact with the bum and his bright red fuel tank. As the bus swerved around pedestrians and other crazy drivers and wound up the hill, the gas tank kept slipping out of my grasp, at one point tumbling down the stairs to the door Slinky style. My stop could not have come quick enough.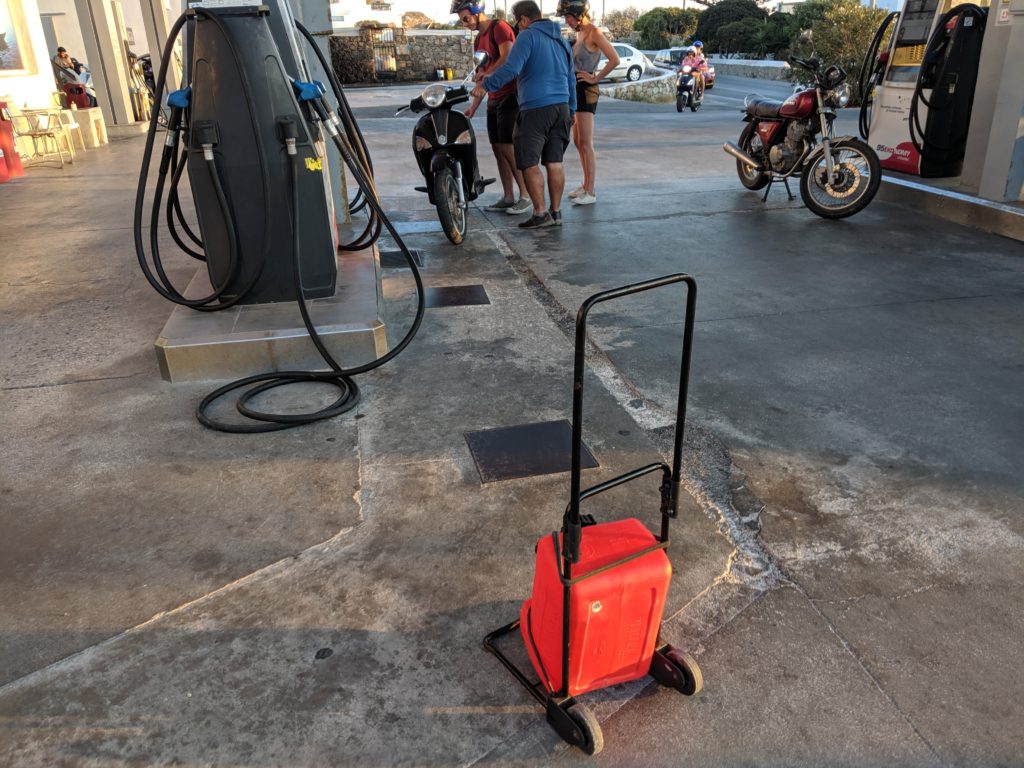 Clearly I was not meant for these land-based exploits. I was back onboard Sea Rose long after dark, but content that we were fully ready for entertaining after three weeks on our own. Bring it on!