After a long day of transatlantic travel, it felt great to be back onboard Sea Rose. During our trip back home to the States, she had managed just fine in her slip at the Gouvia Marina on Corfu. When your boat is your home and you put your blood, sweat, and tears into her care and feeding, it's a little unnerving to leave her alone for ten days. In our favor, no sudden storms arose nor bumps from navigationally-challenged neighbors. She was just as we left her, plus a little growth on her waterline from the few days of idleness. It was time to get our pride and joy prepped and ready for more adventure. Our friends Steve and Julie would be arriving in two days and we had a full task list to complete before we started entertaining again. 
On the top of my list was completing the water-maker. I had brought all of the parts over with us in the Spring to Gaeta, and had put sporadic hours into the project wherever we had free time earlier in the summer. Over the next two days, I had several wiring and plumbing steps to complete, which I did with the help of a chandlery at the marina. All that was left now was testing it out, which would have to wait for a future day when we weren't sitting in the relatively dirtier water of a marina. While a water-maker works great separating out the salt from seawater, the parts inside don't enjoy dealing with any amount of oil in the water, which can be common in marinas. Any excessive amounts of organic matter will also prematurely plug up the filters. So, while I got very close, I couldn't completely check it off the list yet.
My other big task is the installing of pad-eyes and stern chocks on both sides of the cockpit. The pad-eyes will be for the Code 0 sheets, which unlike the jib sheets are led outboard of all the stanchions until it reaches the cockpit, where it was designed to turn 90 degrees and lead to the cockpit winch. Jeanneau had planned for this turn using a block strapped to the stern stanchion, which had been a red flag for me as most stanchions are not designed for the high loads of a sail, let alone something the size of a Code 0. To improve on this, I bought a pair of stout pad-eyes that would hold the turning blocks, and be bolted through the deck. The challenge, though, was reaching under the deck to attach the nuts and washers. This was in an area no wider than 3-4 inches, high up in a slot between the outside hull and the slanted deck. The only way I could reach the bolts was to climb fully into the stern storage locker and reach blindly up a slot only wide enough for a single hand, and with an extension on the socket wrench, just barely long enough to reach the spot. My plans to put a backing plate on first were tossed out the window, and even my ability to put washers on proved fleeting. Only after much sweating and bruising up and down my arm could I get a nut on the bolt and slowly tighten it with a single click at a time on the socket wrench. Also, in the same space, I had planned to mount a pair of stern chocks. These are the curved hardware pieces that you see dock lines run through on a deck before they are cleated off. The existing stern chocks that came from the factory worked fine, but we needed a way to secure additional dock lines and lead them to the cockpit winches to use the strength of their electric motors. These stern chocks required a drill bit larger than I had in my kit, and after receiving a ride on the back of a motor bike from another guy in the marina, and purchasing both a large drill bit and a new drill (because our American drill was too small for the job), I successfully drill four large holes in the deck. That was the easy part. Reaching with nuts to attach to the bolts underneath proved similarly challenging to the pad-eyes. In the end, we only mounted one stern chock. The other would have to wait for another free day. The fatigue from climbing through stern lockers in the mid-day heat of the Mediterranean and reaching for several hours with nuts and washers on your fingertips had taken its toll. I was utterly exhausted, and wondering why I take on these projects that teeter on the impossible. But with large holes drilled into the deck, I couldn't give up partway. A long shower at the marina and outdoor dining at a nearby Italian cafe provided the antidote to our pain.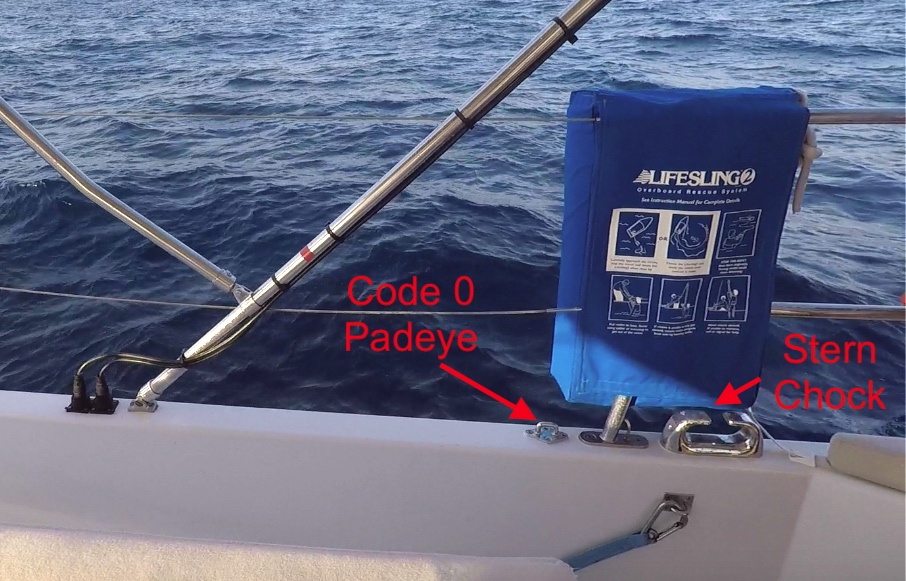 By mid-morning the following day, after filing our tanks with water and washing off the dirt from Sea Rose's decks, Steve and Julie sauntered down the dock with bags in tow, looking ready for a vacation in the Med. We gave them an abbreviated orientation on the boat, and got underway quickly, as no one was interested in lingering at the dock. We usually try to do a modest first day with new guests onboard, and on this day, we headed 20 miles down the east coast of Corfu and across to Sivota Mourtos on the mainland. On the way to our anchorage, below the cliffs that prop up swanky villas with bougainvillea cascading down their walls, we had spotted several caves that looked ideal to explore by dinghy. Wasting no time, we all changed into swim gear and headed off on a fast plane in our dinghy to check these spots out. The highlight for me was taking the dinghy through a skinny hole in one of the rocks, low enough to require all four of us to hunch down on the dinghy floor! This region proved to be a perfect entry into a week of sailing the Ionian Sea. 
With all four of us finding our sea legs, we headed off in the morning to the island of Paxos. Our first stop was on the northwest coast where we expected to find cliffs and caves for exploring. We'd have to find somewhere else less exposed for our overnight, but from the pictures we saw, this coastline was not to be missed. I'll just say there was no buyers remorse on this experience! We anchored Sea Rose in a notch of the coastline with cliffs towering 300 feet above us, dropping straight down to the sea. There was one other boat lingering around when we arrived, but soon we had the whole area to ourselves. With this coast exposed to endless miles of Ionian Sea, a steady swell rocked Sea Rose. We didn't have swinging room for a normal amount of scope, but given that we would be nearby, we decided to launch the dinghy and head into the caves to explore by snorkel. It was definitely an adrenaline rush for me, and I've seen a lot of cliffs and caves in the last two years.
We had been warned of the popularity of this island with local charter boats, so it was not surprising when we arrived at the first overnight harbor option, Lakka, to find tons of other boats already anchored. Fortunately, this harbor was nearly enclosed from the outside sea, making it very attractive in case any weather developed in the evening. It was also perfectly shallow, at about 10-12 feet, allowing more boats to anchor on shorter scopes. After a few passes, we found a perfect spot to go stern to the northern shore and therefore reduce our risk from other boats swinging on a single anchor. I would not go so far as to say that we were now pros at going stern to, but I think we were definitely advanced-intermediate! With Karen at the helm, me at the anchor, and extra help from Steve and Julie, we were settled into our overnight accommodations in a snap. It was mid-afternoon when we arrived, which meant that there would be many more sailboats streaming in until dusk, squeezing into ever smaller spots in the middle or along the shore, which, without a TV, gave us as much entertainment as we could handle. In these waters, like in Croatia, sailboat chartering is very popular, and in addition, some of the boats were clearly part of group rallies whereby they all raft up together and share anchors and stern lines. Not only did this look like a lot of fun, with everyone traipsing across the decks of each other's boats to wherever the festivities were taking place, but it seemed like a practical way to safely navigate these waters. These flirtatious Ionian islands were starting to work their magic. If ever there was a place for us to come back to with a group of friends and charter a boat, it would have to be here!
Ashore in Lakka, we explore by foot past countless restaurants serving our sailing kin, visitors like us that could not contain the heady exhilaration of being around Mother Nature's aromas. Watching the lights of the masts dance on the water as we sipped our after-dinner drinks, I could not find words to describe this abstract beauty laid before us.
With its popularity, we'd have to toss out any hope of finding an undiscovered special harbor on Paxos. The well documented destination south of Lakka was the port of Gaios. The cruising guide was full of warnings about narrow channels, lack of space, mosquitoes and, my favorite, rodents, if you chose to go stern to the adjacent island of Agios Nicholas. But it seemed like a town not to be missed. As we approached slowly, we could make out a narrow windy channel with many boats tied stern to. Not being sure how far of a walk it would be to town, we continue slowly down the channel to its end at the town center. A boat just in front of us nabbed a nice spot, but there was clearly no additional room. The air was hot and still, and while it would be fun to be right on the town waterfront, a sweaty night in our bunks was a big negative. The overnight weather was supposed to be benign, so we headed back out the channel and found a beautiful spot in the outer harbor, with a strong breeze keeping us cool. In due course, many more boats joined us in the outer harbor. I felt pretty confident we would have many more opportunities later in the summer for town-side docking. We cleaned up and headed ashore in the dinghy to explore the shops and sites. We happened to be walking by the waterfront at 5pm when boats from the previous night are required to leave, as well as tour boats, thus opening up many spaces for new arrivals. I was very happy we had not timed our arrival for this mayhem! Boats were everywhere, some leaving, many more trying to dock, and one tour boat trying in vain to raise their anchor, blocking the whole channel. To the credit of the Greek way of life, I did not hear any raised voices, just offers to help. In an odd way, though, I missed the emotional drama that would surely have marked the event in Italy, or New York. My disappointment is brief, as we enjoy dinner moments later at a nice taverna on the water. The mood is festive as well due to the retirement today of Julie. She had just emailed her boss earlier in the day… more people for us to play with!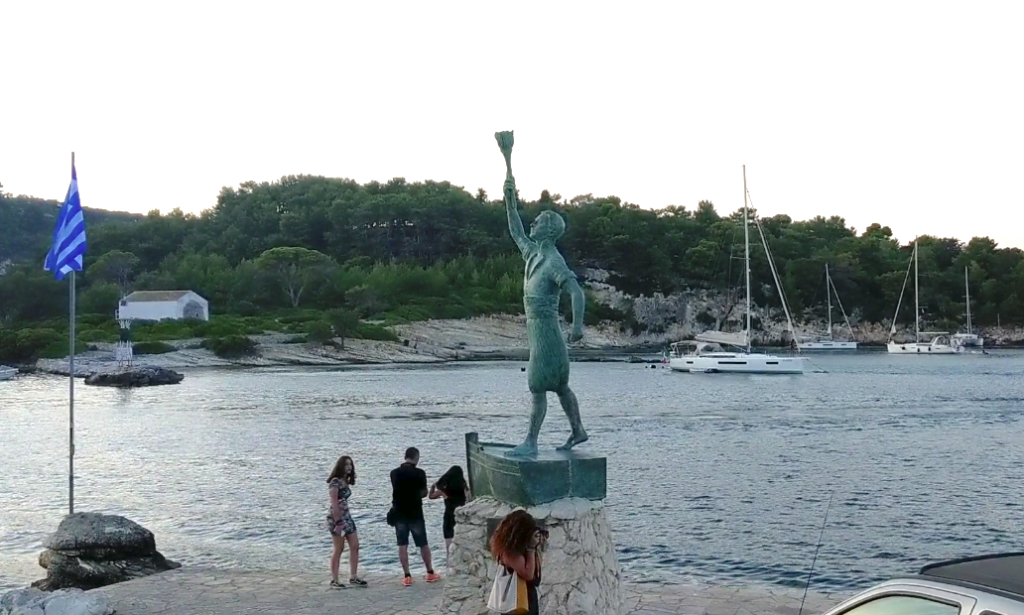 We are up before sunrise for a long run today down to the Levkas canal. This canal separates the mainland and the tall island of Levkas, and is the favored route to reach the treasured 'inland sea' that forms south of the canal, surrounded by cloud-reaching mountain tops. The wind is light today and we rely on the motor to propel us the 35 miles to the canal entrance. After a summer full of canals when we navigated the Great Lakes of the US two summers ago, this canal should present no major challenges but we could tell right away, as we waited for the floating bridge to swing out of the way at the top of the hour, we were not alone in this canal adventure. A few boats were already queuing up and many more could be seen approaching behind us. The canal authority made it very clear they did not want boats too close to the bridge, nor did we want to get closer on account of a strong current and an uncharted shoal coming off the point at the entrance. But we had to make sure we took our position in the queue or the other boats behind us, that all seemed like they want to ride overtop of our stern, would usurp the pecking order. Finally, a distance horn blew and we could see the distinct light blue bridge moving out of the way, and cars queuing up on both sides of the now impassable roadway. This bridge is the only vehicular access to the substantial Levkas island. Cars, delivery trucks and buses were showing patience now in the queue, but would they revolt if all of these yachties didn't hurry up?!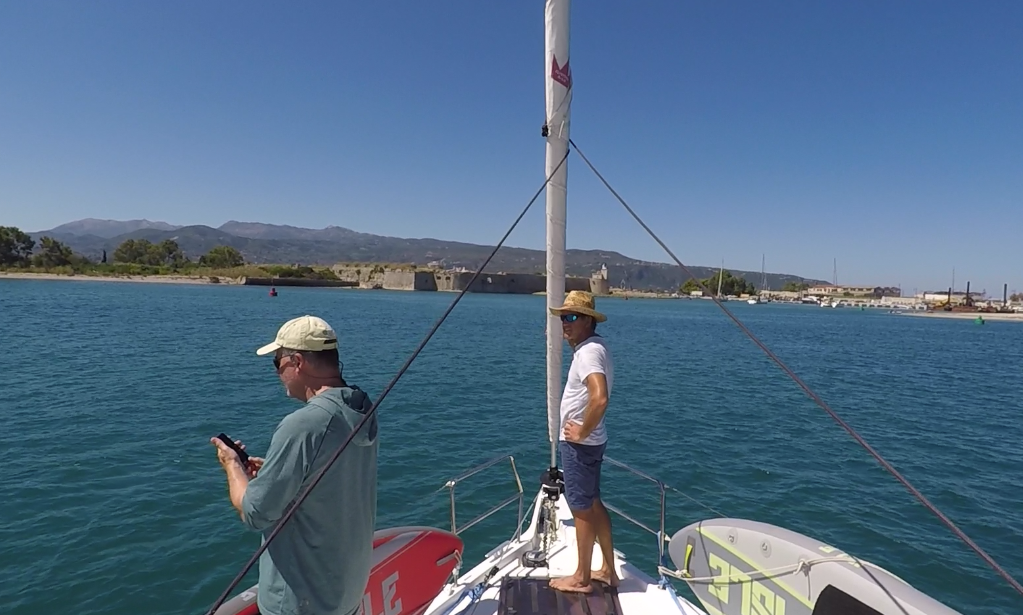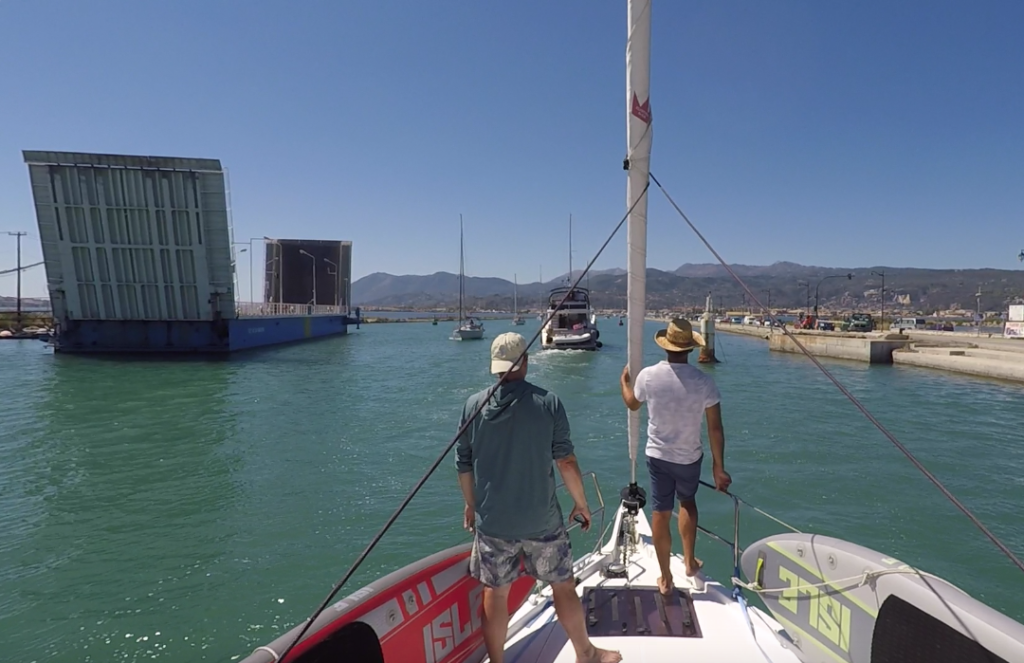 We passed the floating bridge without issue. On the other side, the canal continued in a straight, narrow direction that had all the hallmarks of human construction. In the distance coming towards us, we could see other boaters accelerating, and even passing a smaller sailboat, hoping to get past the bridge before it closed. Free of the canal's bondage, we unfurl sails to capture a light following breeze into the inland sea towards Meganisi island. Meganisi is a bit like the sickle shape of Corfu, but with crazy tentacles growing out of its north shore. We venture into this labyrinth, finding a small private cove in Ormos Kapela. Despite several other boats anchored stern to the shore, there are so many nooks and crannies that we feel far away from humanity. The shallow water at our stern, a couple of rock skips from the shore, is too inviting to not cool down in after the noisy, dusty crossing of the canal. Like our own private swimming pool, we are in the water all afternoon, except for a paddle board trip around the harbor. Well, technically I was in the water then too, as I tried unsuccessfully to stay upright through the wake of a large powerboat!
It was tempting to spend a second night at this private island nook, but there was more to see on Meganisi. We left early the following morning and motored around the northeast tip. Immediately, we discovered a cliffy beach area and it was clear this is the kind of place you don't pass up. Two bright red and blue traditional-looking Greek fishing boats are idling just off shore; thank god for that picture-perfect scene as I'm sure in a few years there will be cruise ships here. We are overboard with our snorkel gear in no time, finding new-to-us species of fish as well as a deep red colored starfish. To top it off, we find an underwater rock hole and I swim through it, feeling like I'm five years old again, playing on a jungle gym. The bright white striations ashore are unlike any other.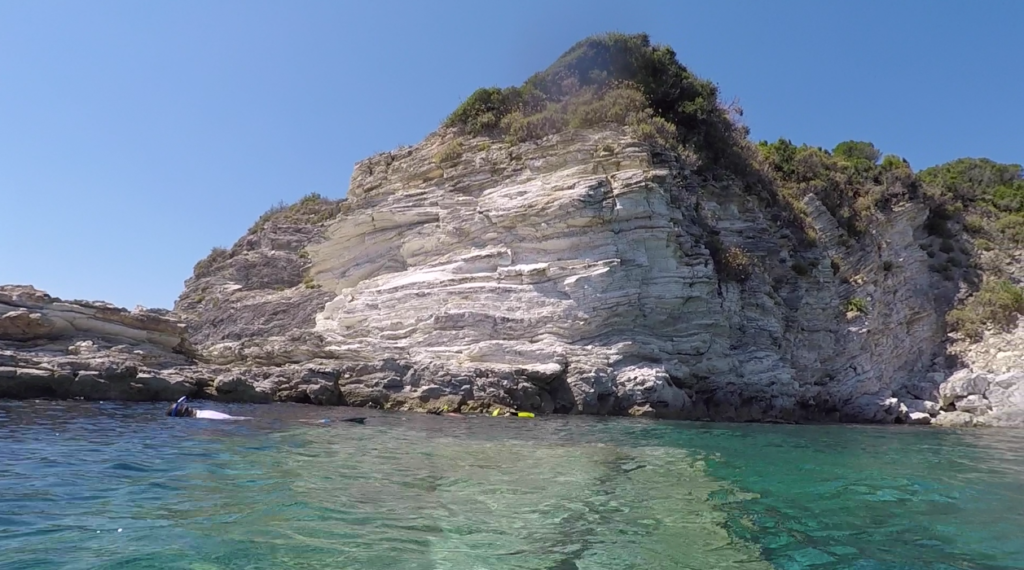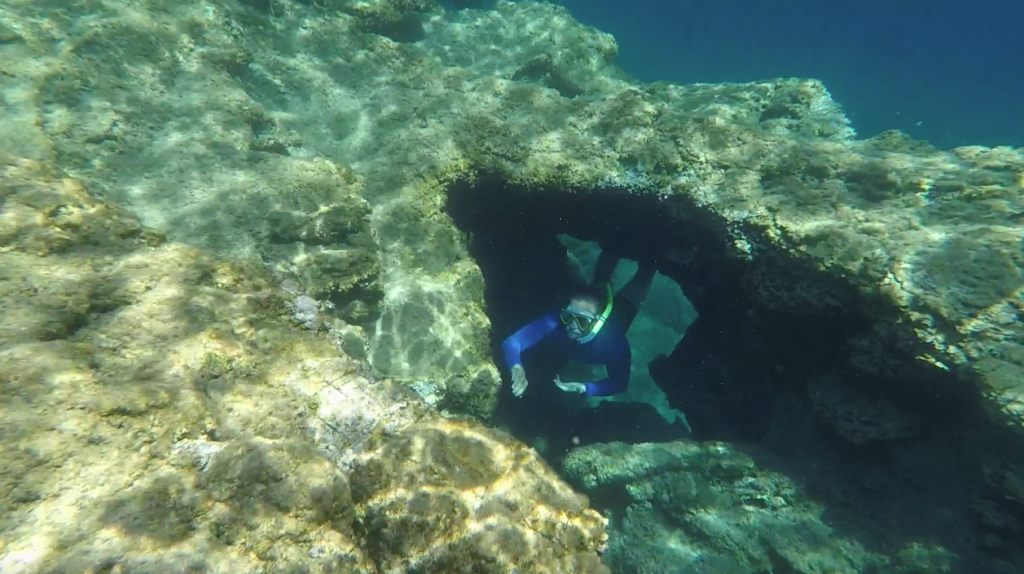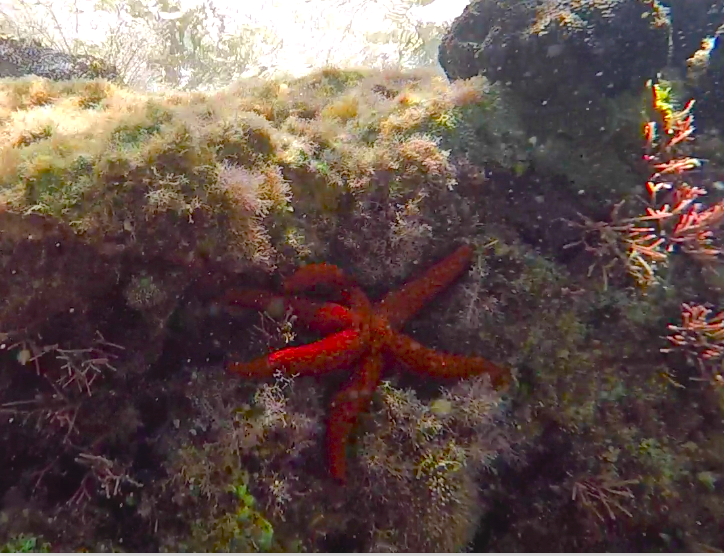 We push on to the southern tip of Meganisi, finding a building 20 knot breeze, leading us to tack through a very narrow channel between Meganisi and Kithros. I recall these crazy quick short tacks when I used to race on San Francisco Bay, trying to beat the contrary current by staying dangerously close to the city front, near enough to practically reach out and steal young kid's ice cream and cotton candy from Fisherman's Wharf. This time, we have stolen electric sheet winches from Jeanneau, making the cardio work less, but the fear of running hard aground is still heart-thumping. 
We sail back across to Levkas, rounding up to anchor off Rouda Beach at Mikros Gialos. Having had our cake but wanting more, we dinghy over to nearby cliffs for more fantastic snorkeling, and christen the end of the day with an after dark swim under a full moon. There are certainly a lot of positive ions in these Ionians!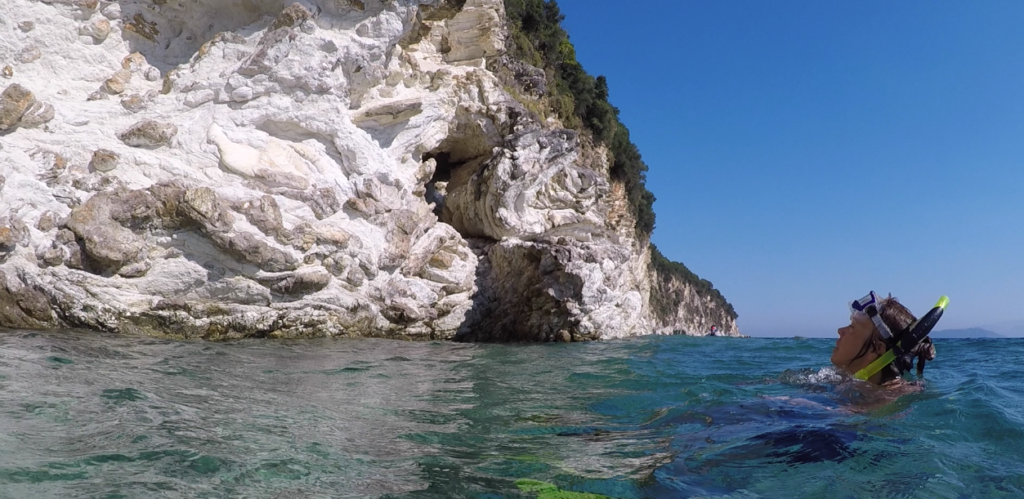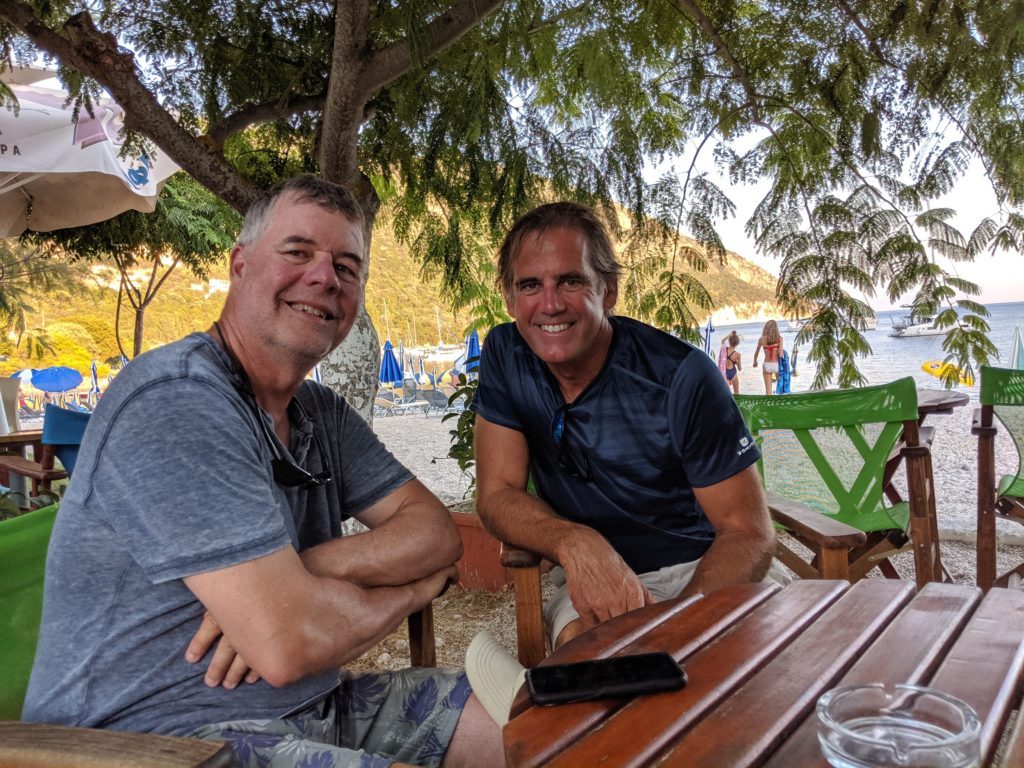 A storm is brewing for the next day, so we head up the Meganisi channel between that island and Levkas to the port of Nidri, chosen for its good wind protection and for taxi access to the airport, as our visit with Steve and Julie starts to wind down. We tuck into so-called 'Tranquil Bay' across from the town's waterfront, a spot that was likely more tranquil in the 60's and now is full of boats, some like us transiting through while others seem like they have been brought by their owners here to die. With the pending high winds, we lay out all 70 meters of our anchor chain, and run two tight lines ashore, wrapped around rocks with new anchor chain I bought for the purpose of reducing the risk of chafe. We were set for whatever the weather gods were going to throw at us. In the meantime, we all venture ashore for a last supper of sorts, dining on traditional Greek taverna affair, after being hawked into the restaurant by a high-heeled, short skirted, red-lipsticked hostess, all of which made it very hard to concentrate on the posted menu. But, alas, we already knew we were likely to dine here, as earlier in the day the proprietor was kind enough to call a taxi for Steve and Julie's departure tomorrow morning. In a small town like this, I'm sure the taxi driver was his first cousin!
We saw the two of them off the next morning, after a hike inland to a refreshing waterfall. But when it came time to strip down to bathing suits and jump in, the participant list dwindled quickly, on account of the brisk temperatures!
Our week together had been a whirl-wind of sailing and swimming adventures. Thank you, Steve and Julie, for making the trip across the pond to see us! Now it's time to pay homage to the Nidri chandlery, grocery store, and laundromat, oh my!