The big news this post is that Tom got our water maker working! We carried all the components of this reverse osmosis desalination system from the states to Italy when we came over in May. Tom had worked on various aspects of the installation since launching, whenever he could find spare minutes. Now we were ready to flip the switch and see how everything had come together. We ran the system for 30 minutes, making water into a bucket at first. This is a recommended step to clean the system from any manufacturing or shipping particles before running the clean (or desalinated) water into your tanks. He found one leak that was quickly fixed by tightening a hose clamp. After testing the salinity and being comfortable with the level, we turned a valve which directed the flow into one of our two water storage tanks – how exciting! We could now check off one more factor that made us ready for long-term, self-sufficient cruising! Our solar panels supply the energy for electricity, our sails provide power for movement, our freezer enables "fresh" food storage for longer periods and now our water maker turns sea water into drinkable water. This gives us the freedom to stay in remote locations for as long as our food stores hold out!
I am very proud of Tom's effort on this project. He evaluated our fresh water consumption needs, researched options, selected and purchased the right solution for us, re-packed all components to accompany us on our air travel and finally installed the whole system in his spare time. He used one of our seldom used but readily accessible sea cocks for pulling sea water into the system and he ran a line for the discharged water to and off the stern of our boat. All components were tucked under floor boards or in storage lockers. Electricity had to be run to the system and new water lines taken to each of the tanks and connected to new fill spouts for accepting water from this alternative source. There were gauge displays to be mounted, several water redirection valves to be installed and probably a bunch more tasks I am forgetting. Well done, sweet pea!
Over the coming days, we would run the system while we were underway and any time we were in an anchorage we felt was clean enough. Having just had the company of our friends Steve and Julie on board, our fresh water stores were depleted, plus we were thrilled with our new capability! Our tank capacities are 87 and 52 gallons and the water making system produces 8 gallons an hour. We like having at least one some-what full tank on hand in case we go into a harbor where we feel the sea water is too dirty to run through the system. By the end of the summer, we found that running the system for four or five hours every couple days met our water consumption needs. If we had additional people on board, we would double or triple the time the system ran.
Before setting off, we used the convenience of Nidri's waterfront businesses to have all our laundry cleaned and to re-stock our perishable food stores. As we stowed our food, we were surprised to notice a near-complete depletion of our non-water beverage supplies. Didn't we just do a huge re-provisioning of beverages when we had the rental car in Corfu?! Wow. Then again, it is remaining quite hot each day, so we'll need to keep an eye on our beverage needs.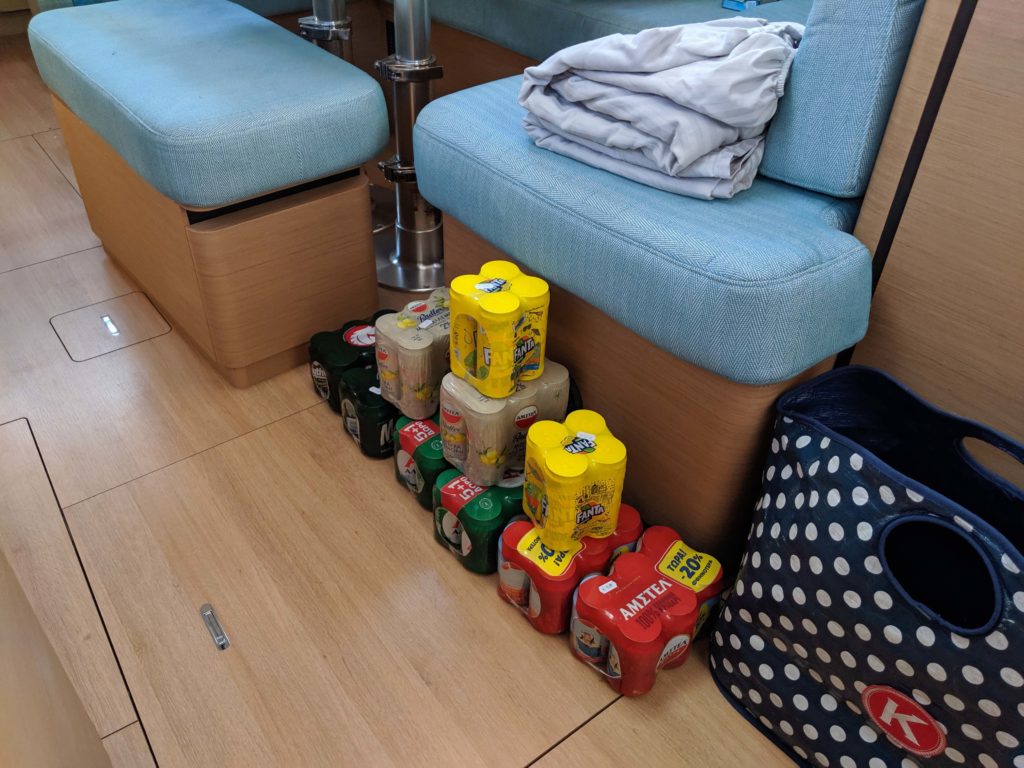 Speaking of water, we have a lot to cross in a short period of time. See the map below. We want to be in Mykonos, one of the central Cyclades islands on the other side of the Corinth Canal, in three weeks. On the right side of the map, you can see the islands of Kea and Kithnos which are the first of the Cyclades Islands. Mykonos is roughly 50 nautical miles beyond Kithnos.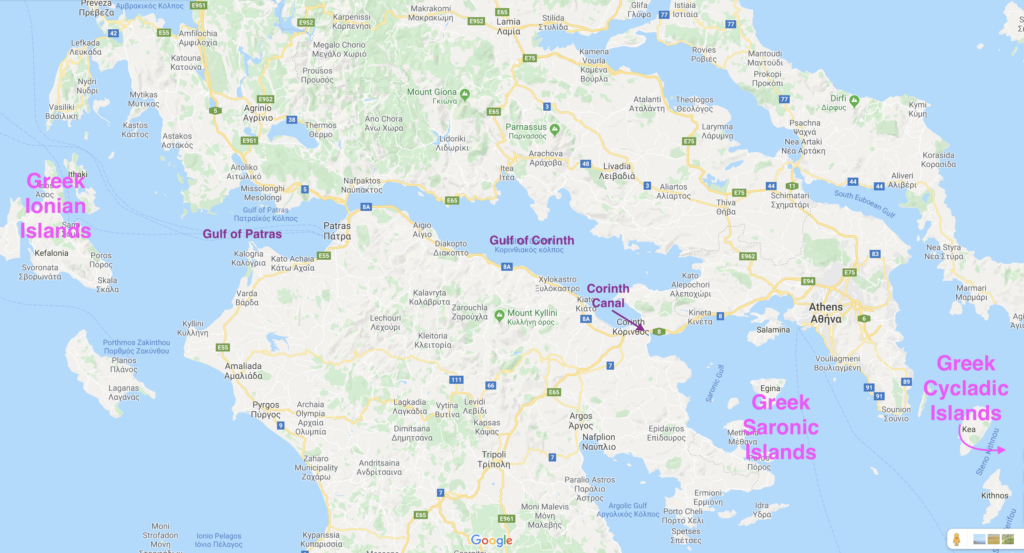 We decided to spend a few more days exploring the Ionian islands before crossing the Gulf of Patras and thus closing some of the gap on our intended 3-week goal. We departed Nidri Harbor with our water maker humming and headed south along the east shore of Lefkas. We enjoyed a late lunch stop off the nearly deserted island of Arkoudi.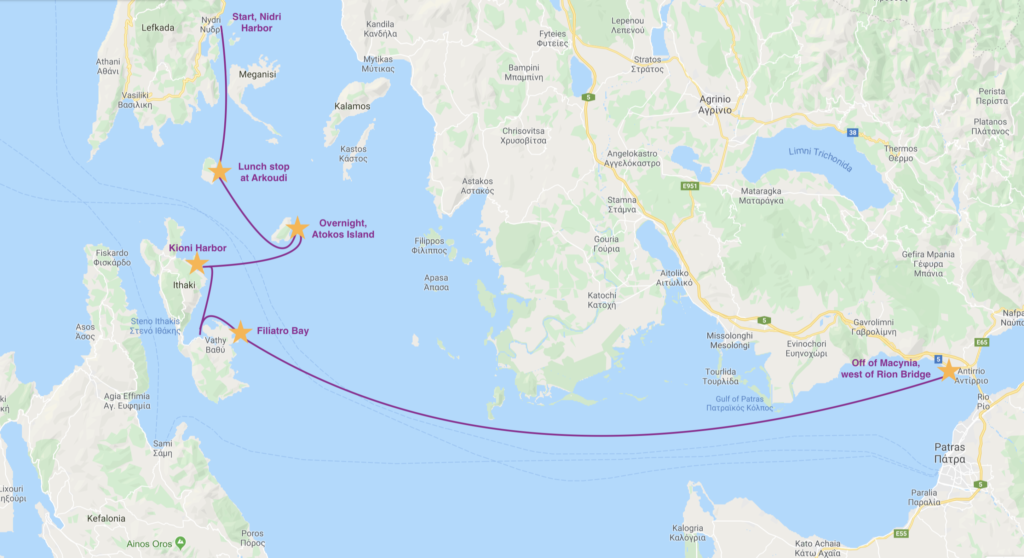 Our intended evening destination was 'One House Bay' on the island of Atokos. The afternoon winds kick up in the Ionian islands and today was no different. We were able to enjoy a speedy, 12 nm sail around the southwest headlands of this stunning island. With northwest winds, we were happy to cross around to One House Bay on the eastern side of Atokos. The cliffs rise steeply and dramatically all along the southern end of One House Bay. As we rounded the last point of land, many boats came into view and we began navigating among them, looking for an ideal spot. We hoped to tie stern-to the northern shore but the space was already quite full. We opted for dropping a single anchor in the middle of the bay and it seemed we would have sufficient swinging room with the existing boats. We swam and snorkeled in the late afternoon hours as we also talked about how happy we were to be enjoying the wonderful islands of Greece, which we had honey-mooned at nearly 27 years earlier. We had three weeks on our own and wanted to make the most of them!
Around dinner time, several additional boats came into the anchorage. While most of these boats were very conscious of how their positions would impact others, one couple approached and seemed to be unequipped to properly anchor. They made a bunch of attempts and got too close to us and several other boats on each cycle. Everyone was keeping a vigilant eye on their maneuvers. Ultimately, we were too uncomfortable with their [lack of] skills and decided to move to not be anywhere near them. Our dinner was literally half-cooked, but we stopped everything to lift anchor and move over to go stern-to the north shore. A couple of the boats previously tied stern-to in this area left in the late afternoon, providing us with plenty of space. It was a little tricky with the constantly changing wind strength and direction but we eventually got tucked in next to a sailboat which was the home for a young family of five. The youngest child had to be no more than two-and-a-half and all three kids ran from end to end of the boat … climbing onto the sail bag along the boom and looking down into hatches for the others. We fondly recalled the years our two children called our previous boat their home, beginning when they were nine and eleven.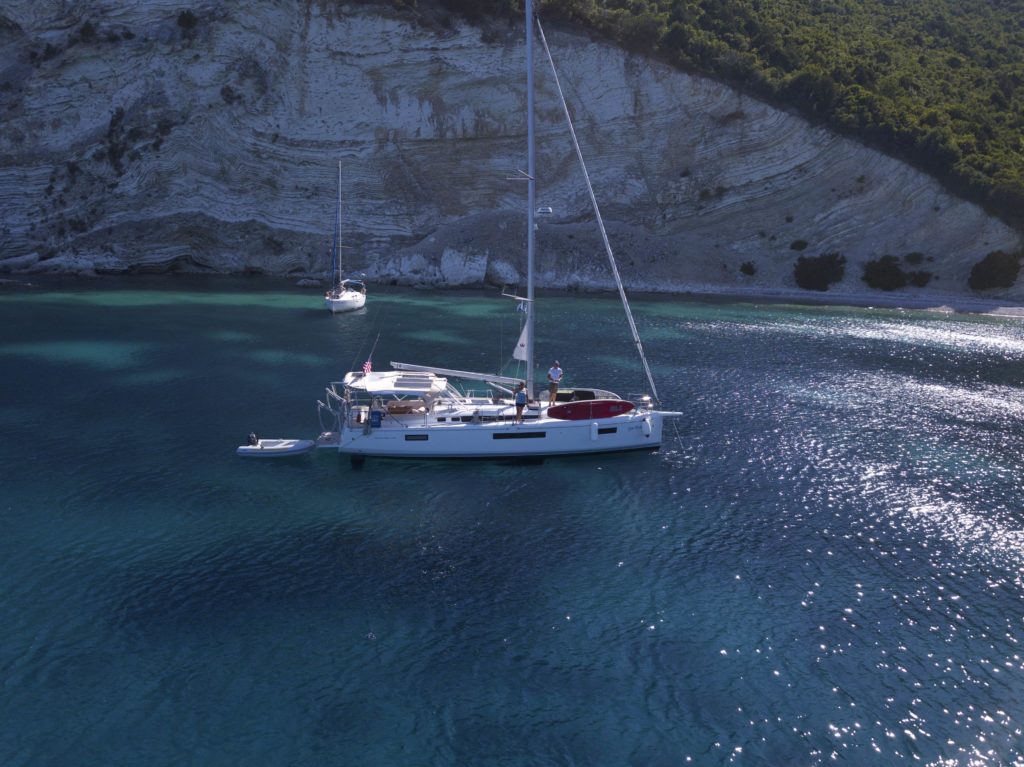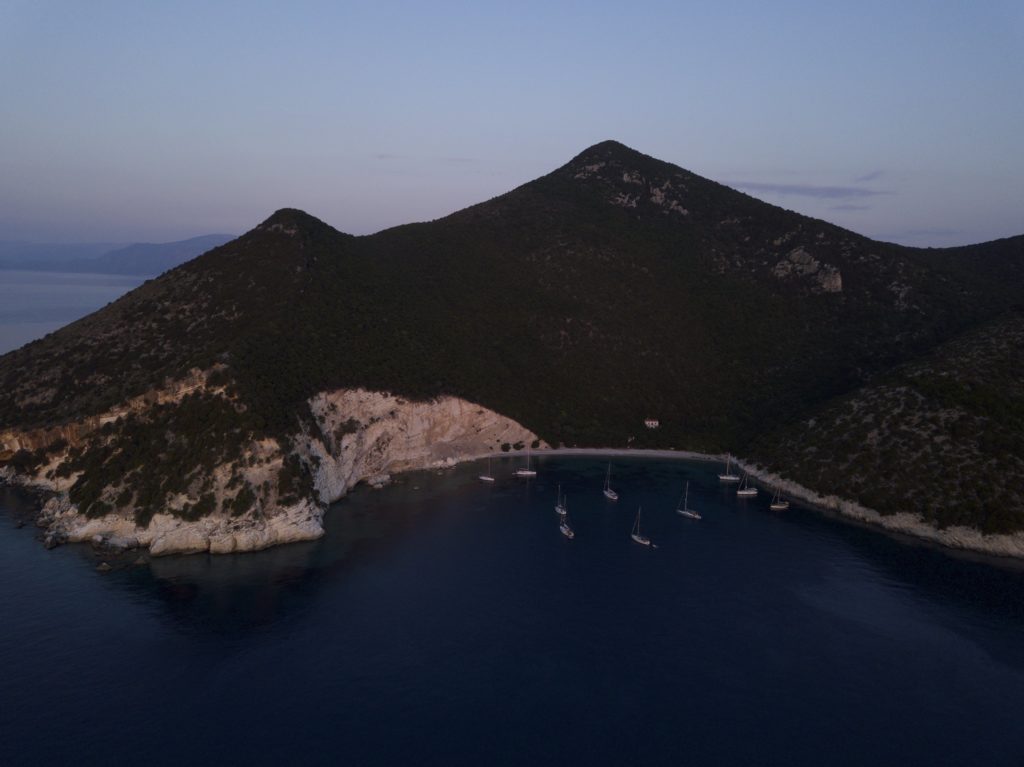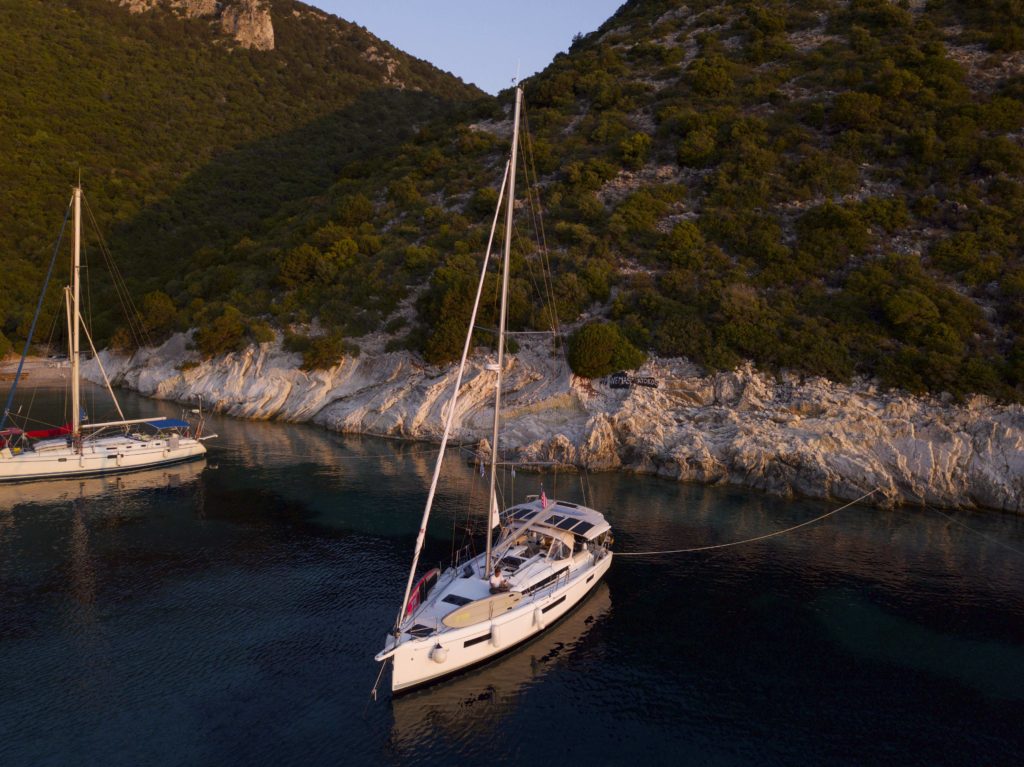 In the morning, we grabbed our go-pro and snorkel gear, jumped in our dinghy then headed around the corner to check out the nearby coastline. Here is a cool rock-amphitheater that mother nature has lovingly put on display.
Further along, we entered "Cliff Bay", appropriately named for the extremely high cliffs surrounding a medium-sized bay of deep, clear water. The rock faces along these walls were intricate, beautiful and impressive. I realize not everyone likes rocks as much as I do. Sorry for always showing numerous formations, I really do try to restrain myself!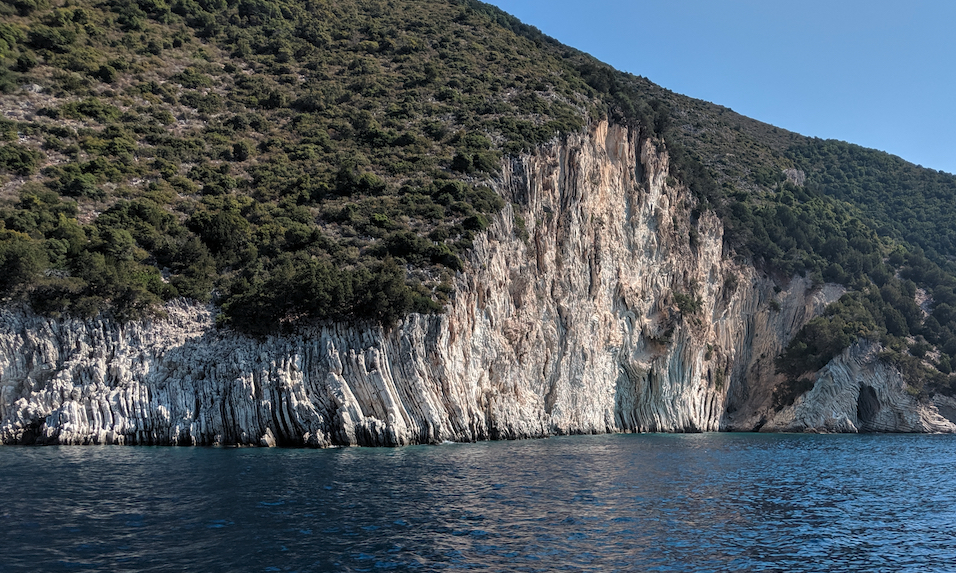 Back on Sea Rose, we evaluated weather forecasts for the upcoming days and decided to visit the island of Ithaca before heading further east. We had heard many positive things about the coves on Ithaca's eastern shore and since I grew up in Ithaca, New York and learned to snow ski at Greek Peak (near Ithaca, NY) it felt as though the stars were aligning for us to make a visit to the island of Ithaca. We are both happy we took the time – Ithaca offered one of our favorite anchorages of the summer – the harbor of Kioni in the northern half of this special island!
It was a little after 1 pm when we entered Kioni harbor and began evaluating possible locations for spending the night. The best option appeared to be going stern-to along the south-western shore. We would need to squeeze into a spot between boats already tied to shore so we picked what looked like a decent spot and began our preparations. We lowered the dinghy, put the outboard engine on it (in case Tom needed to use the dinghy to help me get the big boat into the spot safely), got out two of our long stern lines, put fenders along each of our sides and prepared to drop our primary anchor from the bow. I calculated the amount of chain we would need to put out on our anchor based on the water depth at a probable drop location, then eyed our distance to shore … I was asking myself, "if we dropped 'here', would we have enough scope out after backing down toward shore to hold us securely in place." I try to err on putting out more than we will need for the predicted weather conditions so we don't need to adjust anything in the middle of the night.
"Ok, are we ready?", I asked Tom, who had gotten into his swim suit in case he needed to swim lines to shore. 'Yes, go ahead!', he yelled from the bow. I had the all clear to motor up to where we should drop the anchor. When I directed, he began lowering the anchor. I could take over the pay-out of anchor chain from the helm as I backed toward shore so he came back to the stern and prepared to take the first stern line to shore. The wind was kind, so it wasn't too difficult to navigate into the spot between our two neighbors. There was probably at least 1 boat width on each side of us once we were secure. I kept the boat in reverse and tried to determine when the anchor was holding us. If I got too close to shore, I would need to pull in some of our anchor chain. If I wasn't quite close enough to shore, I would let out more anchor chain. Once we were stopped and holding in position while in reverse with a decent throttle on, I slowly let out just a bit more anchor chain to position us at the optimal distance from shore. As I held Sea Rose in place, Tom took one and then a second stern line from cleats on our stern to tie off on rocks (or iron hooks placed into the rocks) along the shore. Within 10 minutes of adjustments, our boat was being held very securely by two lines going back and a taut anchor line going forward. We admired our home for the night!
Before long, additional boats navigated toward this section of the bay and repeated the steps we had recently taken. One captained boat came in on our port side and asked if they could tie off against us while their captain secured the stern lines to shore. This was a great idea and we were happy to help! Once their two stern lines were secure and tightening, we eased their line from our cleats and they stood nicely off our boat … though close enough to pass the Grey Poupon! We chatted with the captain and he gave us a heads up about how crowded the bay would be by nightfall – and he was 100% correct! We were lined up like dominoes.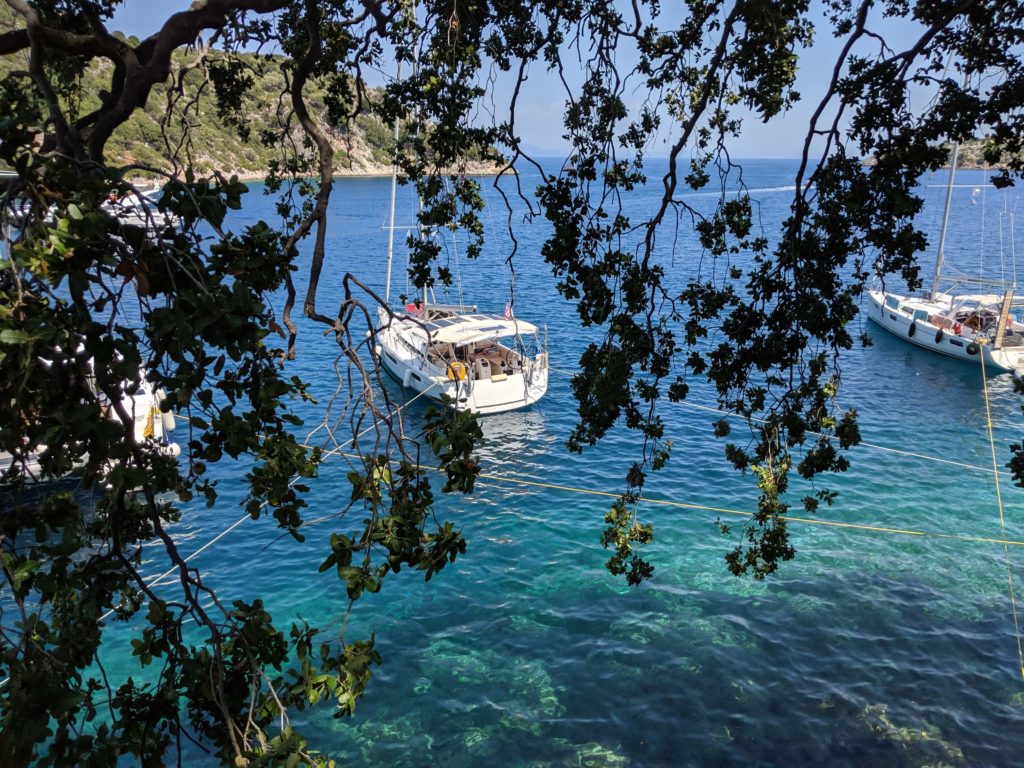 We loved this town and had a wonderful dinner on shore with leisurely walks both before and afterward.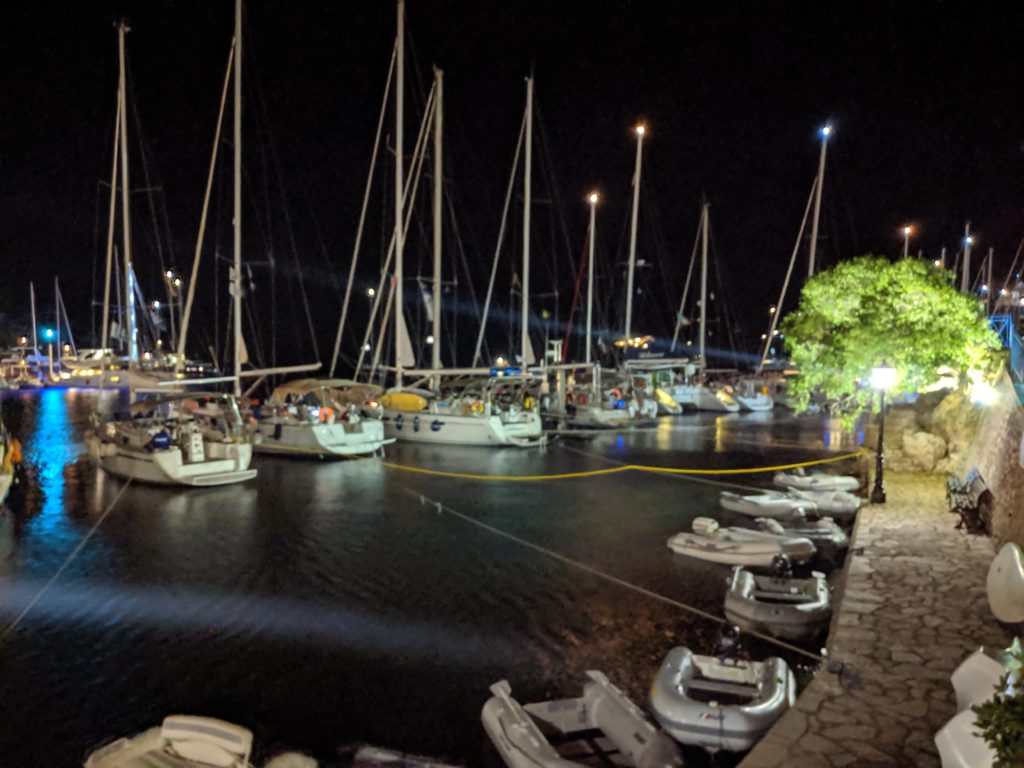 As I awoke the next morning, the day's date popped into my head … it was my Dad's birthday. He would have been 83 had he not passed away the previous November. I am in my mid-50's and this is the first time I'll pass by this date on the calendar without my sweet father being on this earth with me. I made sure to reflect on my favorite memories as thoughts of my Dad came and went throughout the day. Love you, Dad!
We wanted to spend at least one more night off Ithaca island. The capital city of Vathy is located about 6 nautical miles to the south of Kioni. The cruising guide had nice things to say about the waterfront and we knew there were options to fill up our fuel tanks. Time to drop our stern lines and drive away from this busy but very fun spot. It was a little tricky for Tom to release the stern lines quickly enough for us to not be pushed too hard against our neighbors. I ended up having to leave him to fend for himself as I drove up on our anchor, fending off from the down-wind boat and hoping their anchor line didn't grab our port-side rudder. I was driving forward, using the bow thruster to turn us a little so our stern would rotate away from the boat on our port sides' anchor line. All this time, I was also taking in on our anchor chain and hoping Tom was doing ok on his own. He was in the dinghy, so once I tossed off both stern lines lines, he was on his own! We made it away ok, but it was a little tense for a bit!
With Tom back on-board, we reversed the steps we took the day before. We raised and secured the dinghy engine back onto the outboard bracket mounted on our stern rail, we raised the dinghy up on the davits, then I could begin motoring out of the harbor while Tom stowed all our fenders and lines. Lots of work but a wonderful spot! Off toward Vathy …
Vathy Harbor didn't end up appealing to us. We were looking for something with more natural beauty. We took the opportunity, however, to fill up our dinghy's gas tank and Sea Rose's diesel fuel tank. We then motored back out and south along the coast. We expected a stiff breeze from the north to begin building in the afternoon and remain present throughout the night. This meant we were looking for a cove that offered protection from the north. We picked Filiatro Bay as our new home for the night, knowing that anywhere except the bay's southern shore would offer adequate protection. Deep in a cove in the southwest corner of the bay was a popular beach crowded with summer residents of Ithaca. Yellow buoys toward the outside of the cove indicated that boats were not to anchor in this swim area. North of the cove, the remainder of the shoreline at the back/western side of the bay was crowded with very large power boats. There was room near the northern-most shoreline so that is the direction we headed; however, we hoped at least some of the boats throughout the anchorage would move on as night fell.
We had tucked in right next to a large catamaran and noticed a middle-aged white guy sunbathing nude. Not an uncommon occurrence, just an observation. Then we saw two young Asian women who had to be sisters doing lots of random housekeeping tasks. Each time the guy went away from the boat (frequently on his SUP), the young ladies would take turns keeping a look-out while smoking low on their boat's stern. I couldn't help but wonder if these ladies were safe and on-board with this guy by their choice or not. I kept looking for an opportunity to speak with the sisters … would they understand my English? Would they tell the guy about my inquiry? I basically chickened-out. They left early the following morning and I hoped I hadn't missed an opportunity to help two young women who might be in danger. I hoped for the best.
Tom went for an early-morning run and spotted this great view!
We left quite early as well since we were targeting an anchorage near the Rion Bridge, a long north-south oriented span which separates the Gulf of Patras to the west from the Gulf of Corinth to the east. Today, we would be making a 50 nm trip into and through the Gulf of Patras. On the northern side of the gulf is mainland Greece with very high peaks which slope down into vast flat-lands heavily used for agriculture. To the south is the massive chunk of land called the Peloponnese Peninsula which is considered part of mainland Greece. It covers over 21,000 square kilometers (over 8000 square miles) and stretches a long way toward the island of Crete to the southeast. It and the rest of mainland Greece to its north form the western boarder of the Aegean Sea. We won't explore much of the Peloponnese Peninsula this summer, but we hope to next year, as we make our way west and out of the Mediterranean. Until then, we have many islands of Greece to visit!