After a welcome send off from our Halifax area friends last week, we made our way back down the Nova Scotia coast, first stopping in Lunenberg. It is much easier to arrive in a port when you already know your way around… and when you have the charts of the area! On the way into the harbor, we crossed paths with the Bluenose II.
The Bluenose II, a replica of the original Bluenose, is based in Lunenberg, and is described as "Canada's most famous sailing vessel". Judging from the crowds of tourists vying for tickets at the dock for one of three daily cruises, they were right! We were surprised to find out she was named after a local potato varietal (seems like they could have used a good marketeer back then…), but her real reason for the notoriety is a famous sailing race between folks here and those in Gloucester. As the story goes, there was a strong rivalry between the fishing communities of Nova Scotia and those in New England, especially in Gloucester. During the height of this rivalry, the Halifax Herald in 1920 established a formal race between schooners and these ships had to be bona-fide working ships too. This was definitely not the pomp and circumstance of the America's Cup! To the dismay of Nova Scotians, on the first race, the Gloucester ship Esperanto defeated the Delawana out of Lunenberg and took the trophy home. The Bluenose was then commissioned to be built by the Smith and Ruland yard in Lunenberg, and after a season fishing on the Grand Banks, went on to defeat the Americans for her entire 18 year racing career. If you are interested, plenty of additional information is available about the Bluenose on the web.
Oddly enough, when we were in Lunenberg this second time, we witnessed the annual dory races between the best of Lunenberg and Gloucester. Apparently the rivalry persists!
While in Lunenberg we took care of a bunch of errands, as we had done most of the tourist stuff on our previous visit. We finished a surprising number of loads of laundry, and I ran three roundtrips with a 5 gallon diesel jerry jug to a local gas station, as the fuel docks here are quite a rarity. We spent two nights there, leaving early Sunday morning to try to take advantage of a planned south wind. Along this part of the coast, our course would be directly southwest and with the winds traditionally out of the southwest, we'd have to tack or motor, neither being very attractive options. So, you find yourself watching the weather closely and in particular the wind direction. As it turned out, we had a gentle sail for an hour with the spinnaker up, then what wind there was clocked around to the southwest and we had to motor. We chose a spot a short distance down the coast called Brooklyn. It got a less-then-inspiring write up in the cruising guide, but it was something new and the right distance away so we gave it a try. Across the harbor was a large paper mill that produced newsprint. Apart from this sight, it was a very pleasant stop. The Brooklyn Marina had a long visitor dock with plenty of space to tie up to. It's a marina made up of volunteers and they simply ask for a donation in whatever amount one feels appropriate with. This was typical of the no-nonsense, simplicity of this town. The marina had a small common room of what looked like donated excess furniture, an honor-system snack bar, and random board games. We played a rousing game of B.S. — the perennial favorite card game in our family — and also enjoyed a substantial park and playground nearby named after Hank Snow. Hank apparently is a country music star, but with our iPod filled with U2, Bruce Springsteen and the like, we hadn't bothered with any country music yet and thus knew nothing about Hank other then his generosity in providing playgrounds! If any of you have heard of him, please email us with the details!
We are continuing our regimen of home school and this has been taking most of the morning and sometimes into the early afternoon. On Monday, after school was finished, we continued on our march back down the coast, as far as we could reasonable make it. In our minds, we were ready to get back to Maine and make our way through southern New England. We had a steady, strong breeze blowing offshore and we made good progress along the coast. By dinner time, we arrived at the entrance to Port Joli. The wind had increased to 15-20 knots, but we saw a protected harbor just in from the coastline. It wasn't written up in the cruising guide, so we carefully motored in and circled a couple of times to get a solid understanding of the depth. We were all tired and anxious to settle down for the night and cook dinner. We anchored without issue, but what we didn't realize until the anchor was set was the steady swells rolling in from the ocean. The breeze was blowing off the shore and although it was strong, it didn't have much fetch to produce waves; however, the ocean swells were rocking us steadily. I think we each were silently dreading the thought of trying to sleep in such rolly conditions, but nobody wanted to be the naysayer. Karen and I found the first reasonable place further south of here, Lockeport, and we all agreed we'd endure a sail into the evening if necessary to make it there. It turned out to be a wonderful evening, with winds peaking at 20 knots and heeling us over alot as we sailed close-hauled for about 20 miles to make the entrance to Lockeport. This time of the summer, the sun is going down sooner, around 8pm, and there's little twilight afterwards. Karen and I felt our way in past a number of red and green buoys, some lit, some not, and into a harbor nearly enclosed with breakwaters. It was the other extreme then Port Joli – the water was as flat as a pancake! We tied up at the White Gull Restaurant wharf and settled down for a much need night's sleep.
Lockeport is a small, coastal town with an impressively long, sandy beach — Crescent Beach — that used to be on the back of the Canadian $50 bill. Though the town was small, we found every thing we needed here, including a pleasant afternoon at the beach, and another very calm, very peaceful night's rest at the wharf. On Wednesday morning, we again made our pursuit south. We were in striking distance of Cape Sable, 35 miles away, and I figured with the timing of the currents that we should be at the Cape at about 4pm when it was slack water. There was not a stitch of wind when we left Lockeport, so we resided to motor. This gave us time to spend with the kids on their school work.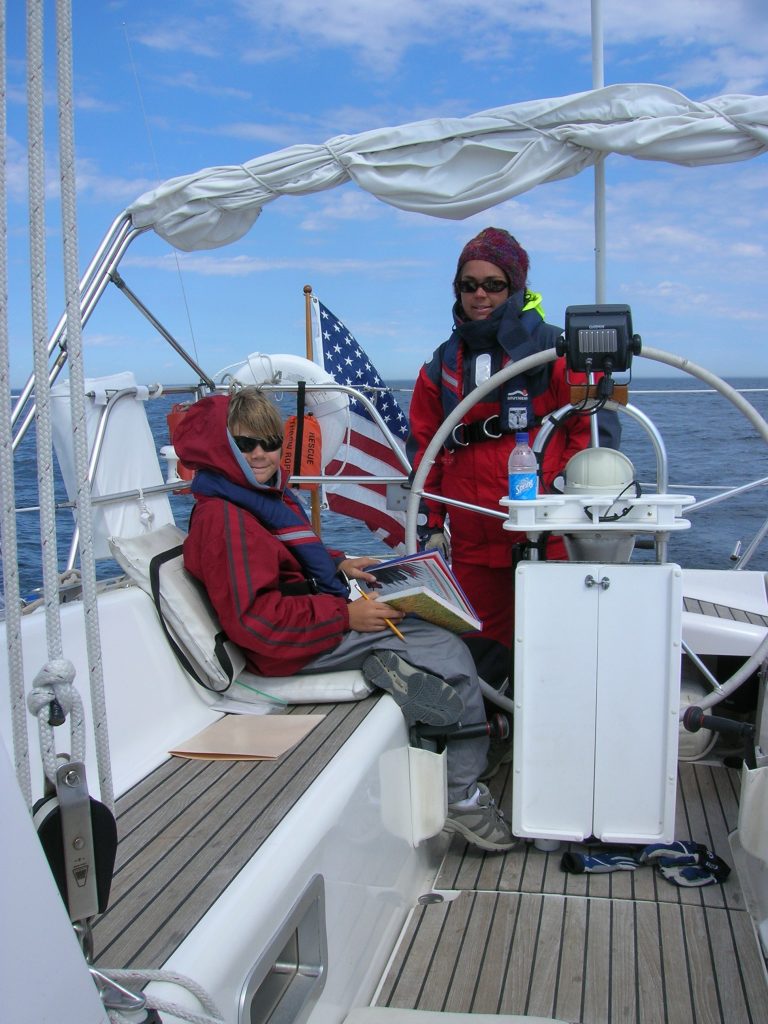 We pressed on under motor power with very light 5 knot headwinds. This was going to be one mild rounding of the often-dreaded Cape Sable, and a sunny one too! All around the Cape, there was a significant fleet of fishing boats. At one point we counted 20 boats, far more then we had ever seen in one area in Nova Scotia. Here's a picture of one of them and we believed they were dragging for scallops.
While debating where to stop after rounding the Cape, we considered the calm weather, and the fact that we had nothing but forecasted light winds for the next few days, and we decided to just keep on going and head overnight back to Maine! It would be a 160 mile non-stop leg. Karen was particularly keen about this overnight voyage. I think she wanted to prove to the sea gods that she had put her seasick days behind her — they wouldn't get the best of her this time! She took the first watch until midnight, while our youngest and I went to sleep right after dinner. When I took over, we were motoring along in relative calm and light headwinds into an inky black sea – no moon this night. It takes some adjustment in these conditions. One's normal instinct of looking forward into the water for what's coming at you has to be put aside. You have to trust/hope that nothing on the water is in your path. We have the radar running continuously, so we should see any other boats, and the chartplotter keeps us on our track and away from any buoys that may be near us as we close in on the coast, but still, it is a bit alarming not being able to see the path in front of you.
I was feeling more rested then the last crossing, having had a few hours of good sleep on flat seas. Our youngest stayed awake with me until about 3am, trying their best to hang in there. We pulled out their star gazer chart and tried our best to find what was supposed to be up there. Sure, there were lots of stars, and we found the little and big dipper without too much problem, but true star gazing eludes me — I can't understand how you can take a collection of stars, and, drawing the lines in just the right places, come up with a lion or a horse!
The ship traffic was very light on this night. I saw one slowly moving powerboat coming towards us and she passed a mile off without problem. While locating her on the radar display, I saw a line of 3 blips on the screen, smaller then you would expect for a boat. They looked like the radar image of what is called a high-flyer — a lobster buoy with a radar reflector on the top of it's pole. This seemed odd since we were in 500+ feet of water. Searched as I might with the spotlight, I could see nothing on the water. They were all in a direct line and we crossed over the line without a problem. Something was there but I'll never know what!
By about 5am, that welcoming glow of an impending sunrise was visible. On days like this, I wish I could permanently switch to a schedule of waking at 4-5am so that I could enjoy these pre-dawn sights every day. It is a calm, thought-provoking way to start the day.
After daybreak, as they had requested, I awoke Karen and Zack. Before long we could see the outline of the prominent peaks on Mt. Desert Island ahead of us! Land ho! On the chart, it looked like we still had a ways to go, and sure enough, we stared at those peaks longingly from 7am until 11am, as they slowly got bigger — never in recent memory have I been questioned so many times by Zack, "When are we going to get there??!" He's a kid that enjoys more of the destination then the journey to get there! I, frankly, was beginning to wonder if we would ever get there too!
Now that we were entering US waters again, it was time for a little officialdom. First, we had to douse the Canadian courtesy flag. Good bye Canada, we look forward to our next trip in your waters!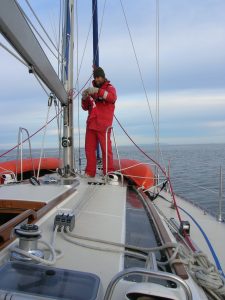 We also had to figure out the process of clearing through US Customs. In the Canadian ports — big or small — you would always see a government sign at the dock that instructed you on how to contact the customs office for clearance. I did not remember seeing any such signs in Maine, and I spent a good half hour scanning the US Customs and Border Protection website before we left Canada to figure out what we were supposed to do. There was some information on Florida's local office procedures, and some stuff on entering Maine by car or ferry boat, but it took some major digging to find out what to do when arriving on a pleasure boat. Someone had told us that though we were headed to Northeast Harbor, we might be forced to go to Bar Harbor where the Customs office was. I dreaded making the 4 hour diversion to Bar Harbor and back. When we were just entering NE Harbor, I called the customs number and after taking all of the information on Thalia and our crew, the officer told me there would be two agents ready to meet us at the dock! Yikes! We had been able to "telephone clear" in Canada; I wasn't ready for an actual inspection! I hoisted the yellow quarantine flag and we tied up at the town dock where, as promised, two agents in big black boots ("mind that new deck, boys") and waist holsters boarded us. They ended up being very friendly and seemed to want to put the boys at ease, who weren't prepared to see armed men come aboard! I had to fill out more paperwork and pay to get a required boat decal. They told us that since 9/11, they have been required to inspect every boat that arrived. On this sunny morning, in a harbor of astonishing yacht wealth, it didn't seem like such a bad job. Still, given all of the research I had to do, I wondered how many boats returning from Canada didn't bother with the clearance process and didn't know it was required.
So, we are now back in Northeast Harbor, and will look forward to spending more time here in Acadia National Park. It is the second most visited National Park (I assume Yosemite is the first), and for good reason. There's so much to see and do. And, now that we are back for our second visit, we feel like real pros!
By the way, the kids both wrote some material for the website this week. Many of you expressed an interest in hearing from them and understanding what they thought about the trip so far. You'll find their postings periodically on this site. Apart from an adult doing the typing, it's all their content!