This week was a little more mellow then past weeks. We spent most of our time in the Halifax area, taking in two more days of the Busker's Festival. I think the kids would have been fine if we had stayed for the whole 10 days, seeing the same acts being repeated time and again! We moved down the harbor front away from the immediate hustle and bustle that marked the Maritime Museum wharf to a wonderful area called Bishop's Landing. Within a short walk was a very substantial grocery store, but even better than that was a Saturday morning farmer's market at an old brewery building. This market was like none other that we have been to, and we've seen a lot of farmer's markets! It meandered through old passageways inside the basement and two upper floors of the old brewery — it was truly a labyrinth of hallways and oddly shaped rooms. Near the end of our foraging, the path opened up into a sun drenched courtyard, pictured below — looking like something out of an old European village, complete with an string quartet playing Pachelbel's Canon!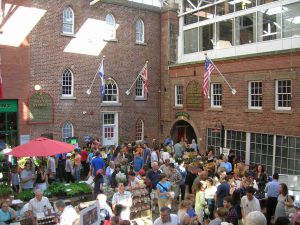 We left the Halifax waterfront, after squeezing in some time to complete the varnishing of the handrails on the deck, a job that didn't quite get completed at home, and we headed to nearby Armdale Yacht Club. This yacht club is up a waterway called the Northwest Arm, and while it it still in the city limits of Halifax, is quite a bit more quiet and peaceful. A day of rain forced us to find something else to do then stay cooped up in the cabin. And, lucky for us, we found the Halifax Shopping Centre within a healthy walk from the yacht club. This gave us a chance to rub shoulders with many more Haligonians than we had seen before and reminiscence about our old landlubber ways — and get a lot of much needed errands checked off the list too! I was nearly tempted to get a haircut — having missed my last appointment in Bedford in June — but reason got the best of me and I decided to wait for a future port of call!
A week in Halifax and it's environs was enough for us and on Thursday we headed out the long harbor entrance and pointed our bow south along the coast. In so doing, we were turning our backs to our most northerly point of our trip. While the coast of Nova Scotia north and east of Halifax is purportedly to have many more beautiful harbors, and further downeast was the highly touted Bras' d'Or Lakes — where some boats spend the whole summer cruising — we will have to hold these images in our memory for a journey. We are now making our progress south, feeling a bit like a migratory bird getting ready for the winter months. While the weather is nothing like winter — in fact, it has been a perfect temperature for many days straight now — we started planning our itinerary down the coast of New England and to the Chesapeake Bay and we figured we should be heading back to the Maine coast within a week or so. So, the migration begins!
Just south of Halifax, we passed Peggy's Cove, site of what we were told was the most photographed lighthouse in the world. This lighthouse is on a barren, rocky promontory, reminding me of the Pemaquid Point lighthouse back in Maine.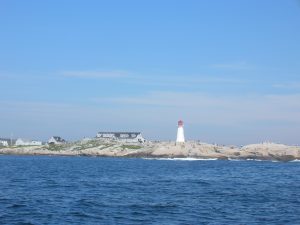 Peggy's Cove also became famous for being the site where, just offshore, the crash of SwissAir Flight 111 occurred. There's a nice memorial onshore for the victims of this tragic accident.School started this week for us. While it is earlier than when the Bedford school system opens, we wanted to get a jump on the curriculum in case we had days where sailing demanded our exclusive attention. Here's the kids on Day 1.
We are using the Calvert School homeschool program, out of Baltimore, MD. They are celebrating their 100 year anniversary of providing homeschool material. We've been very impressed with the curriculum, the textbooks and the instruction material. Like anything, it takes a while to get a handle on the process — for both teacher and student — but we are getting there. Karen's been taking the lead on the school schedule and exercises and I'm helping out as much as I can — particularly with their science and math lessons. It's a very cool thing to be teaching your own kids, seeing them learn and (most of the time) getting excited about the upcoming lessons. It gives one a special opportunity to control this influential time in their lives.
But, while I'm enjoying telling you all about these events of our past week, they are all overshadowed by the occurrence of one other event — actually a series of events that have touched our lives in a way that we will always treasure. It was a story that was in the making in last week's trip update, and centered around a very benign and inanimate thing — the windlass — but yet warmed our hearts to no end. What could this possibly be, you say? The generosity of strangers…
The week before last, we were anchored at Rogue's Roost, near Halifax. We had been getting by without our windlass for a couple of days at that point, but a raft-up of boaters next to us took pity on our situation. After enjoying a late evening of laughs aboard one of their boats, the men of the group came aboard Thalia the next morning, checked out our defunct windlass and mulled over solutions. If I had been at home, I would have surely taken it into a machine shop to be repaired, but being strangers in a foreign country, we didn't have the proper knowledge to do this. Needless to say, I was glad to have them aboard. They were genuinely concerned about this substantial hunk of metal that would not function properly. Before I get too far into this story, I should introduce you to these kind folks — Ben, Stan and Gerald. They each live on the water in separate coves a short sail away in St. Margaret's Bay. These guys have been around boats a lot. Ben and Stan both had small railways that they would haul their sailboats ashore into a boathouse for a winter of tinkering and tweaking (a winter pastime I can greatly appreciate!). You could tell they had a lot of experience finding solutions to boating problems. And, then there was Gerald. He had been at sea earlier in his career as a Chief Engineer aboard a Canadian Hydrographic ship. He is now part of a large engineering firm in Halifax. He insisted that when we arrived in Halifax, I should call him and he would arrange for one of his engineering supervisors to meet us at the boat and take the windlass to their shop for repair. How could we turn this offer down?! We were assured by Stan and Ben that we had met the right guy — they said Gerald had the right connections all around Halifax!
Sure enough, when I emailed Gerald upon our arrival in Halifax, he sent out his colleague, Darren, and an assistant to our dock. These were two guys who could have looked at us with scorn, a family spending a year sailing while they had to break away from their projects to fix a hunk of metal at the insistence of their boss, but none of this happened. They were just two friendly guys, interested in our predicament and wanting to help in anyway they could. While we enjoyed show after show at the Busker's Festival, many emails and phone calls went back and forth between myself, Gerald and Darren. Gerald was hoping he could get the windlass fixed that day and get it back to us and therefore not delay our trip. I got the feeling that each call to me was matched with many more calls behind the scenes as they contacted electrical shops and other stores in the area for parts. Gerald told me late that day that the magnets inside the motor where completely shattered and beyond recovery. They would search for new magnets. It was Friday evening, but he and Darren were going to search the internet for parts — not an easy task for a 20 year old windlass made in France. On the following Monday and Tuesday, they were on to a new solution. After checking with suppliers in Toronto, the right parts were found to be no longer available. Gerald told me they were going to try fitting a new motor to the windlass. On Wednesday, this possibility looked unlikely too. While many of these windlasses use a motor very similar to a starter motor on a car, our windlass required a special spline fitting to mesh with the gear mechanism. I could tell now that each time I spoke to Gerald he was getting more disappointed that a solution was not at hand. This was a man that had a full-time job to attend to, but yet it seemed to me, with his frequent emails and phone calls, that our windlass was his full-time occupation presently! The amount of concern he felt for our predicament completely blew Karen and I away. I had bought him a small gift in Halifax, but any gift I might give him seemed to pale in comparison to the tremendous generosity he and his colleagues were extended to us.
On Wednesday, Gerald, knowing that we were probably tiring of Halifax, recommended we sail around to St. Margaret's bay, near their house, to a place called Woodens Cove and he would bring our windlass — repaired or not — to us the next day. But, this was not all there was to it. While we were sailing to Woodens Cove, Gerald was arranging for a mooring for us to use (a particularly kind gesture when you don't have an anchor windlass!). We arrived safely late in the afternoon and successfully found the particular mooring he had arranged. Shortly afterwards, Gerald and his wife Anne Marie, came over on their powerboat to raft up and welcome us to this tranquil cove. They felt certain we would have a round of visitors the next day, and how right they were! First, Stan, who lives in Woodens Cove, came out in his dinghy for a morning hello. His wife, Jackie, offered to drive Karen on a grocery run later that morning, which Karen heartedly accepted. After Stan's visit, an elderly man came motoring slowly over to us on an old skiff. With a hand wave and a greeting of 'Welcome to Nova Scotia', how could one not cherish a moment like this. This man, who we later found was named Burpee, was the owner of the mooring and stopped to make sure we were OK and to assure us that the mooring was plenty strong to hold our boat. By mid-day, our next visit was from Don, a neighbor of Stan's in the cove. He had shined a floodlight out on the harbor the night before to make sure we had arrived safely, and now had stopped out to introduce himself and let us know we were welcome to land our dinghy on his dock and, oh by the way, did we need anything else? Karen and I were getting the feeling the whole harbor was watching over us!
By late afternoon, after Jackie took Karen to the grocery store and back, Gerald and Stan came out in the dinghy with the irksome windlass. Gerald had tried without success to repair it, and I could tell he and his colleagues had exhausted every possibility. Here's a picture of the three of us and the windlass. That's Stan on the right and Gerald in the middle.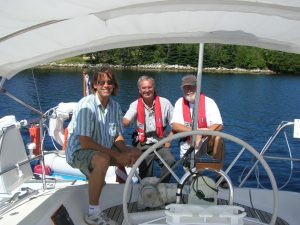 Gerald immediately invited us over to his house in nearby Modesty Cove for dinner and Stan and Jackie invited us to stop by for a drink later too. But wait a minute, we should be the one's showing generosity to them after all of their work but they were going out of their way to continue to welcome us! We enjoyed an incredible seafood chowder, made by Gerald's wife Anne Marie. We enjoyed all the comforts and luxuries of household living compared to a 47′ boat. The kids even took in a movie on their surround sound home theater. A great evening for all family members!
With our departure from Woodens Cove the next day, bound for Lunenberg, we had a lot of time to reflect on the kindness that had been extended to us in the last week. When cruising you see a lot of boats in a lot of anchorages. Some, like those in Rogue's Roost are rafted up and sounds of merriment grace the air, making you long for the companionship of friends back home. But a broken windlass, mixed with a group of friendly, thoughtful Nova Scotians, has made us look differently on the world, as well as given us reason to return their kindness. So get ready… we are Paying It Forward!