We have had a busy week and have covered some ground … or well, water! After we enjoyed a few more days of the Classic Boat Festival in Mahone Bay Harbor (where we saw more boats anchored, moored, rafted, sailing or just motoring around than we have seen the entire time since arriving in Yarmouth, NS two weeks prior) we took in a few more special destinations within the larger Mahone Bay region of the same name as the town and harbor! We quickly learned that the good sailing is NOT around the Yarmouth/Cape Sable Island and Southern portion of the Southeastern Coast of Nova Scotia! Mahone Bay alone is reported to have some 365 islands to sail around and explore and boasts more lovely seaside towns than we had time to visit!
Here is a picture of the boys in the town of Chester in the Northern reaches of Mahone Bay. This is a very New England town–from the architecture to the summer residents!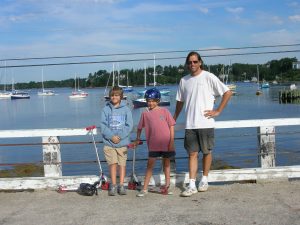 After a night in Chester, we had a very windy sail to Big Tancook Island, also within Mahone Bay. This is a year-round island for 115 people and it has their own elementary school! We walked around the rugged cliffs and supported the local ice cream shop before the skies darkened and the wind picked up. Here is a picture of our boat within the anchorage at Big Tancook Island.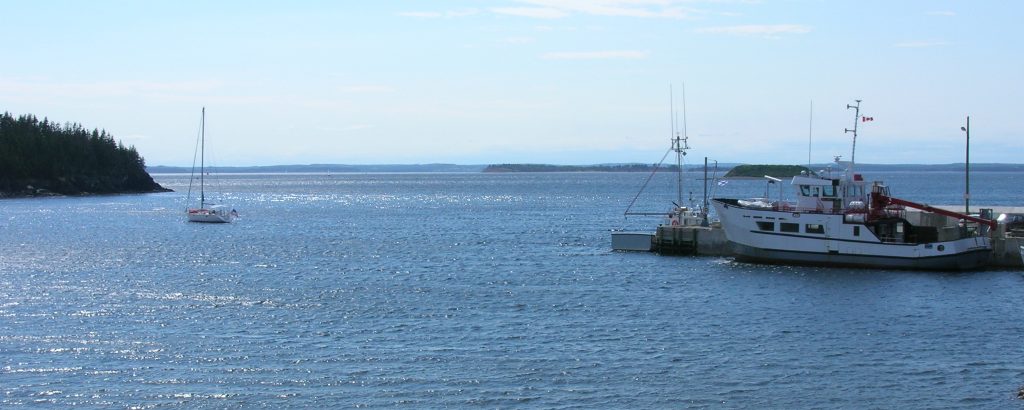 As the anchorage was not very secure in winds from the South, we decided to move to Deep Cove within Mahone Bay for the night. What a great spot Deep Harbor is! The approach is nearly hidden along the shore of the bay and the channel is so narrow that it would be intimidating (if even possible) to have two boats of our size passing one another within it. The banks are lined with huge boulders dropped off from the long ago glacial activity which formed much of Nova Scotia. Once we rounded our last bend, we came upon a protected basin at the end of the channel. We were followed in by another boat whose captain very thoughtfully made us aware of all the tricks of anchoring in Deep Cove. We hunkered down for a rough night in the forecasted high winds, but instead slept very soundly to a gentle rocking of our boat! No wonder the locals use this shelter to hold up in storms.
The following day we had to creatively work in some exercise for the crew in between the numerous rain showers! Since our youngest had recently purchased a fun little whirligig, we used it in a game which got the kids running down the road to catch this while we advanced on our walk!
We stayed in Deep Cove a second night as there were more storms forecasted; besides, we were enjoying the relaxing pace. The second evening, we were treated to a private show by one of the residents … a beautiful, bald eagle! We watched this keen bird eye his prey, then swoop to the water to retrieve a fish! Here he/she (??) is seen on watch over the cove.
The same gentleman who guided us upon entry to Deep Cove shared details of a favorite anchorage with us during a chat the following day. This anchorage would be a great stopping off place between Deep Cove and Halifax Harbor, so we decided to follow the recommendation and are so pleased that we did! After a fantastic sail, we approached a locally famous anchorage called Rogue's Roost, inland from Betty's Island and near the town of Prospect, NS. The approach was stunning, as is seen here…

We wound our way through more narrow channels toward this recommended anchorage and saw, upon rounding the final bend, another boat in this very tight anchorage and two boats following close on our stern. It seems that the two boats following us had plans to raft up to the existing boat in the anchorage. Tom and I started to discuss alternative plans but the captain of the anchored boat explained how we could all fit just fine if we each put out a stern line/anchor. After we anchored and secured our stern, Ben came over from the other boat and introduced himself. Within an hour, the rafted three boats sent Ben back over with freshly caught, filleted and bar-b-q'd fish for our enjoyment. What a treat!! The kids had just watched the men pull these fish from the water!!
So, after we put our kids to bed, we joined the three couples for some libations and laughter. What a pleasant surprise to find such friendly people in an anchorage with us! We were so touched by their friendliness that we baked them a loaf of Irish raisin bread in the morning and delivered it in time for their breakfast. Before long, all the men from the three rafted boats were discussing our non-working windlass (large motor and winch which works to pull up anchor/chain). Shortly, arrangements had been made for some people who worked for one of the men to come to our berth in Halifax to see if they could assist in fixing our existing windlass–which they are doing even as I write this! We have learned that the people of Nova Scotia are one of the most special aspects of this beautiful place!
Tom and I agreed that our most picturesque anchorage so far on this trip is Rogue's Roost. I tried to capture some of the beauty with our camera, but I just could not do it justice. So, we have the picture in our memories and thoughts of it will always lighten our burdens, we are sure!
We waved good-bye to three very nice couples and began our journey to Halifax Harbor.
Our sail to Halifax was in strong winds, a fair amount of fog and choppy seas. Navigation was challenging, but once the fog lifted somewhat, the seascape was dramatic. Huge, arching, rocky islands everywhere.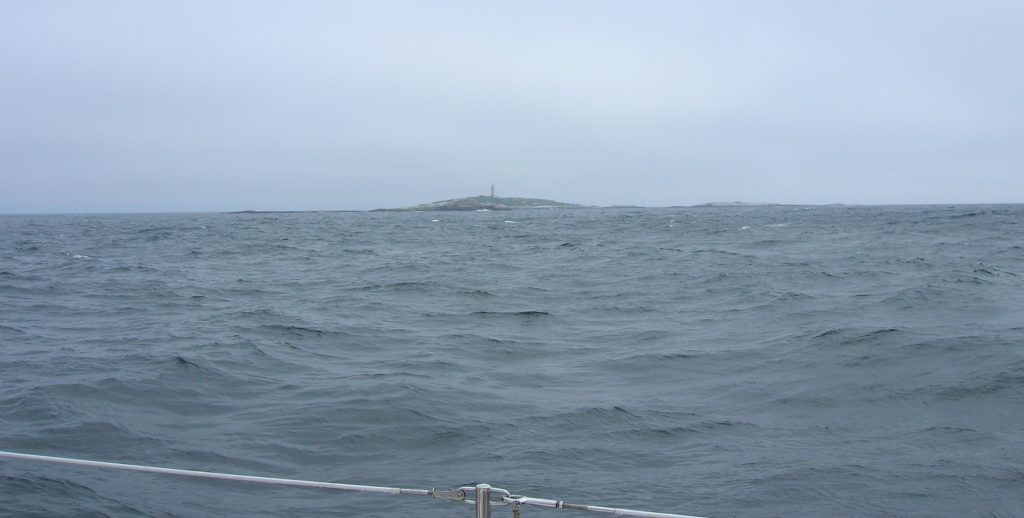 We decided to reserve dock space in the heart of the waterfront district in downtown Halifax, as there is a festival taking place here during our stay. What a shock to come from quiet Rogue's Roost to bustling downtown Halifax in a matter of 5 hours! Here is a picture of us having dinner in our new home!! Zachary can not STAND having dinner in our boat's cockpit while people are milling around! It does feel something like a fish bowl to be living among this tourist destination!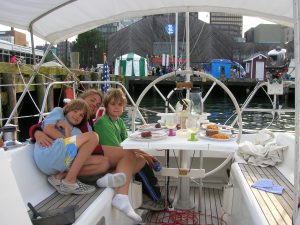 The festival in Halifax is a 10 day international Busker's festival which features celebrated street performers from around the world. These folks perform time and again on the 6 stages scattered along the waterfront. From what we have learned, it is quite an honor for a group or individual to be chosen to participate in this event. In the three days that we have taken in these Busker Festival "shows", we have seen more than 15 groups/individuals perform–what a blast! Here are a few of our favorites ….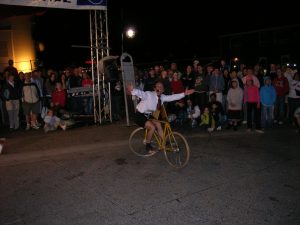 Plus, here's two short videos of the unique sights and sounds of a couple of guys from Australia.
We have seen some beautiful country ~ plan a trip to Nova Scotia! The history and scenery is terrific, and the people could not be nicer!