Our last post was from Mackinaw City just before we were to leave Lake Huron to pass under the Big Mac (the suspension bridge that connects upper and lower Michigan and also represents the line between Lake Huron and Lake Michigan). The waters here are called the 'Mackinaw Straits' and since this is a relatively small passage between two huge bodies of water the conditions must be considered before navigating through in anything other than a large ship! We passed under with sunny skies and light breezes which was just fine with me. This image shows our ports of call for this episode – our anchorage/dockage locations are marked by the stars and the arrows show our path of transit. Facts on Lake Michigan can be found at the end of the blog.
Beaver Island
Our first land-fall in Lake Michigan was on Beaver Island, the largest island in Lake Michigan located almost in the center of the northern part of this massive Lake. Beaver Island has a large, beautiful harbor that encircles boaters by a natural basin and a protective spit of land that nearly completes the circle. The harbor is adjacent to the quiet town of St. James that originally had us seeing the island as just 'ok' — not all that special. However, through exploration we learned that this island has a very colored past and a lot of charm! A walk to the light house took us by a small but impressive maritime museum and a grocery store and bakery that could compete on the mainland! In the afternoon, we took a bike ride to the other side of the island to enjoy a beautiful beach and a coastline of sand dunes.
Beaver Island's colored past has to do with religion and heritage – sounds like the pattern of disagreements that has gone on since the beginning of time. A man named James Jesse Strang migrated to Wisconsin in 1843, where he converted to Mormonism. Upon visiting the then Mormon Capital in Illinois, he was named a Saint of the church. When the church became fractionalized later that same year, he declared himself the ruler of the Mormons. While most Mormons followed Brigham Young to Utah, a few hundred believed that Strang had in fact had a vision to be head of the church and they followed him to Beaver Island. They drove off current inhabitants (mostly Irish fishermen) and began construction of a utopian community. A couple years later when the Island community was thriving, Strang traveled to Washington, DC and successfully lobbied to have the island granted to him and his followers. Through this episode Beaver Island became the only declared independent kingdom in US history! By 1956 Strang had made enough enemies that his demise was swift – cornered on a dock, he was killed by two of his supposed followers. Mainlanders quickly sailed to the island and drove the Mormons away. The Irish settlers return and for the next 100 years the island was mostly inhabited by commercial fishermen. (facts taken from 'The Living Great Lakes, Searching for the Heart of the Inland Seas' by Jerry Dennis; published 2003 by Thomas Dunne Books, NY)
While we were off exploring ashore for several hours, the winds picked up. We returned to see that Thalia was not where we left her. Luckily, though she dragged her anchor quite a distance, she did not go aground or otherwise get in any real trouble. Since the harbor has a very grassy bottom, we had difficulty re-setting our anchor so we moved to the outer harbor. As we lie in bed a couple hours later, I heard knocking sounds against our hull. My first thought was that we were dragging our anchor again, but we were very protected from the wind and waves so I waited and listened. I realized the knocking was coming from several sections of our hull and that I wouldn't be able to fall asleep until I solved the puzzle. Upon looking overboard into the black night water, ducks scattered away from our boat – something had attracted them to snack on our hull! We had a good laugh and were then free to fall into a deep and comfortable sleep. Oh, the experiences of having a boat as your home!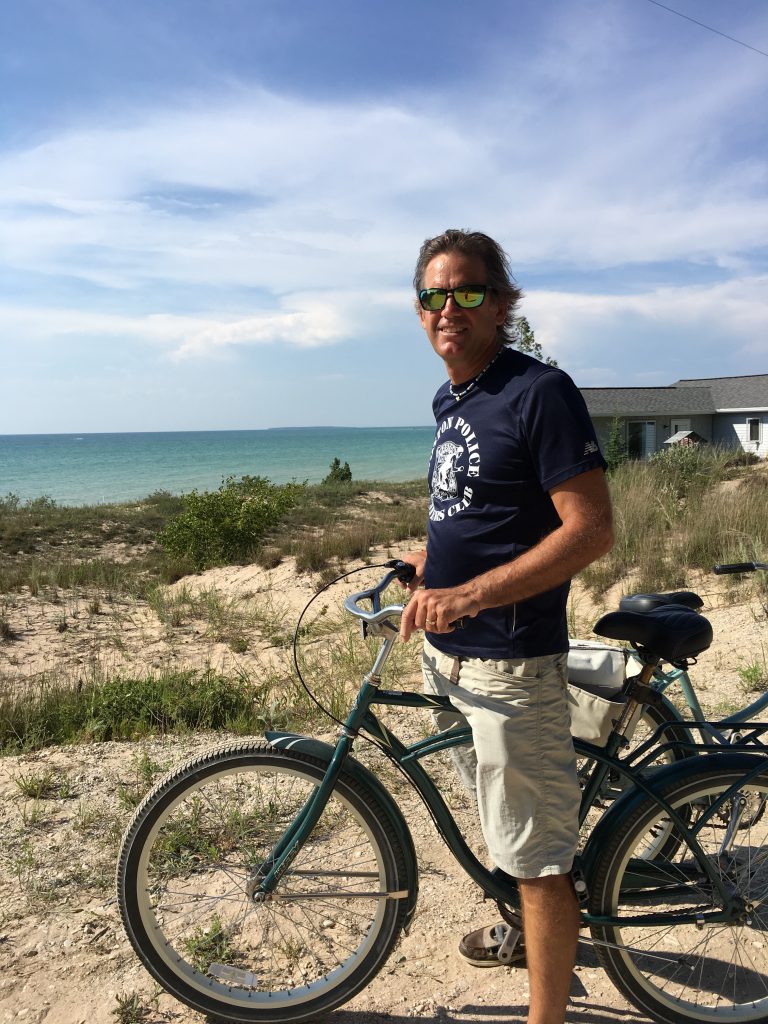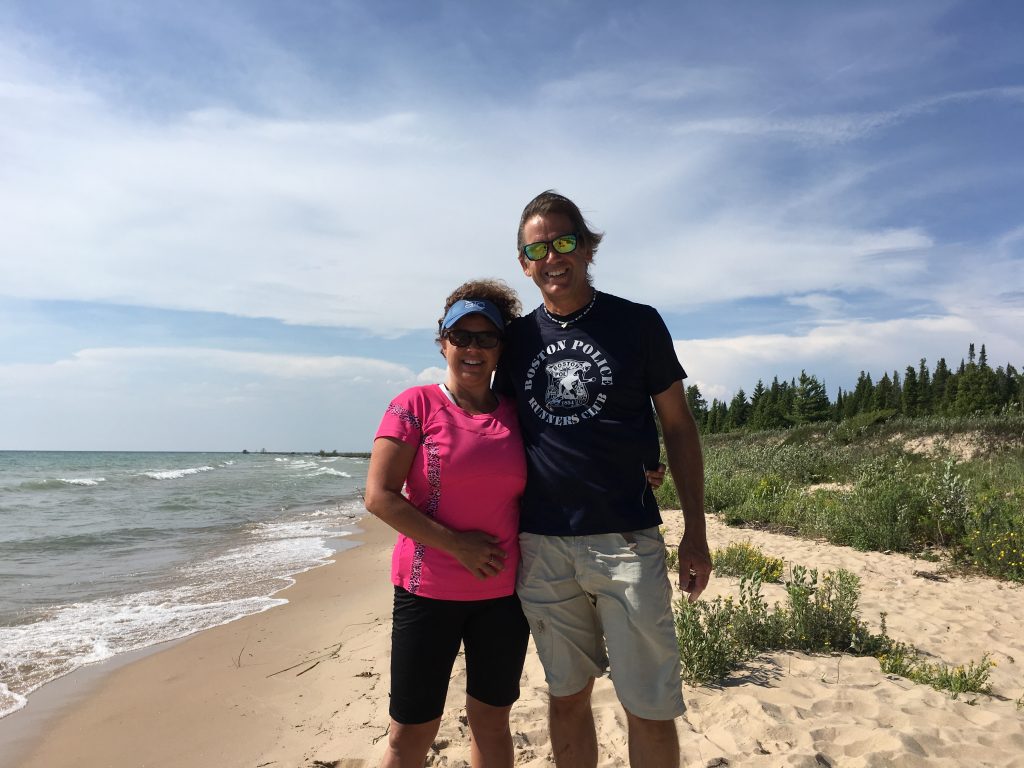 Washington Island & Death's Door
The next morning, we left early to cross the remainder of Lake Michigan and to arrive at the 'Door Peninsula' which is the land mass that closes in the southern portion of Green Bay. (See the image at the top of the post – all of our destinations on the left side of the image are in Door County on the Door Peninsula.) Near the top of the peninsula, there are several islands and shoals that make transiting into Green Bay tricky. The names of the geological features in the area attest to the challenging ship-going history. The best channel to use to navigate into southern Green Bay was named 'Death's Door Passage' between Washington Island and Gills Rock. The hill overlooking the water here is 'Death's Door Bluff'. There were so many known ship wrecks having taken place here that a shipping canal was built so this dangerous passage could be avoided! You can see Sturgeon Bay further south on the peninsula. It is at this location that a canal was built (around 1880) at the back of this deep bay to connect Green Bay more safely with Lake Michigan. We will use this ship canal to make our way back into Lake Michigan after we finish our exploration of the Door Peninsula.
As we left Beaver Island, our coarse was set for 'Deaths Door Passage'!
Washington Island is the northern-most piece of land that is part of the popular Door County Peninsula. After passing through Deaths Door Passage, we headed north to anchor off this Island. There is a constant flow of car ferries bringing visitors to and from the island and that is our first indication of the level of tourism this wonderful part of Wisconsin experiences. We anchored outside the main harbor entrance, tucked inside the protection of an old breakwater. Since inclement weather was predicted, we did not make it to shore for exploration but instead headed out early in the morning to arrive in Sister Bay before heavy winds were to hit.
Sister Bay
Overnight on the first of three nights on the dock in Sister Bay, the wind picked up and the forecast worsened to a 'Gale Warning' for our area. Tom and I began putting out extra lines and fenders at 5:30 am. We took the fabric off our bimini so it wouldn't rip and we removed other things from our cockpit that might catch the wind. By 7 am we had everything battened down and we were hungry! We headed over to Al Johnson's Restaurant – a Swedish establishment famous for its grass roof on which goats graze during the day. We walked in with our wind-blown hair, donning our foul weather gear and I'm sure we were a sight. We didn't care since we were some of the first patrons … however, an hour and a half later we left a packed restaurant! Due to the wind, the goats stayed home on this day; however, we saw them the next morning and I have to admit that I found them exceedingly cute!
Here is a video of the wind's impact on Sister Bay:
First On-board Guests
Mary and Dave are long-time friends of ours that we first cultivated while living in the San Francisco Bay Area 25 years ago. They moved to Idaho and then to Wisconsin and we moved to New Hampshire but we have worked at staying connected over the years. Mary had friends traveling to Door County so when we shared our plans to also visit Door County, a party was in the making!
Mary's business and passion for the last 15 years has been arranging surrogacy for people who intend to parent a child or children but who can not, for a variety of reasons, carry a child themselves. By the nature of this work and because she is a compassionate and very social being, Mary develops deep relationships with many of her clients and with the women who carry the child fetus in their womb (the surrogate). Over the last couple days, we were fortunate to be invited into such a relationship and the rewards were tremendous. A gay couple from France very much wanted to parent a couple children and, through working with Mary, were paired up with a surrogate who wanted to help bring a child (or children) into a deserving couples' lives. Now, after five years, two egg donors resulting in two daughters, lots of doctor visits and ultrasound viewings plus many trips between Wisconsin and France, these people are wonderful friends and a loving support system for one another! The guys bring their daughters back to Wisconsin for yearly vacations and the reunions are sweet – as we observed and ultimately participated in. Over the years that Mary has been supporting surrogacy, she has helped bring 150 babies into the world and she has met each one! To learn more, visit Mary's company website: hopesurrogacy.com
Back to the party in the making … After meeting everyone at the beach-front vacation home of the dads, we all went to dinner at a Wisconsin 'Supper Club'. Did you know this is a thing? Well – it is! Here's some proof … According to this website, "Wisconsin Supper Clubs may have started in the 1920's as Prohibition roadhouses where gangsters stopped while moving moonshine. After Prohibition was repealed in 1933, liquor licenses were first granted to establishments outside city limits that served food, thus giving birth to the supper club.' Lisa (surrogate) was our local authority and she picked 'The Nightengale' for our dinner destination. We were part of a group of eight and tried to be authentic in our experience. Thus, we ordered 'Old Fashions' while we waited for our table and learned that you specify whiskey or brandy and sweet or sour. Both Tom and I ordered Sour Brandy Old Fashion drinks and can give them a solid 'thumbs up'! Supper Clubs are known for their steaks and for their Friday Fish Fry dinners so we tried to fit in here as well. The food was wonderful and the company was even better. As I attempted to understand how a normal sit-down restaurant differs from a supper club, Lisa had the best quote: 'A supper club is like a strip club without the strippers'. The windows are almost always covered or non-existent, the lights are somewhat low, the drinks are a heavy focus and no one is in a hurry! I thought they might ask for a password as we entered through the big solid double-doors.
Lucky for us, Mary was our designated driver. In hind-sight, we should have adjusted that plan since she probably needed the most loosening up since we had get back onto our boat for the night! Remember, we were in the midst of a significant wind storm (gale level) that caused waves to completely cover the breakwater dock we had to walk down to get back onboard 'Thalia'! Here is a shot from earlier in the day that illustrates our challenge, or watch the video we included above.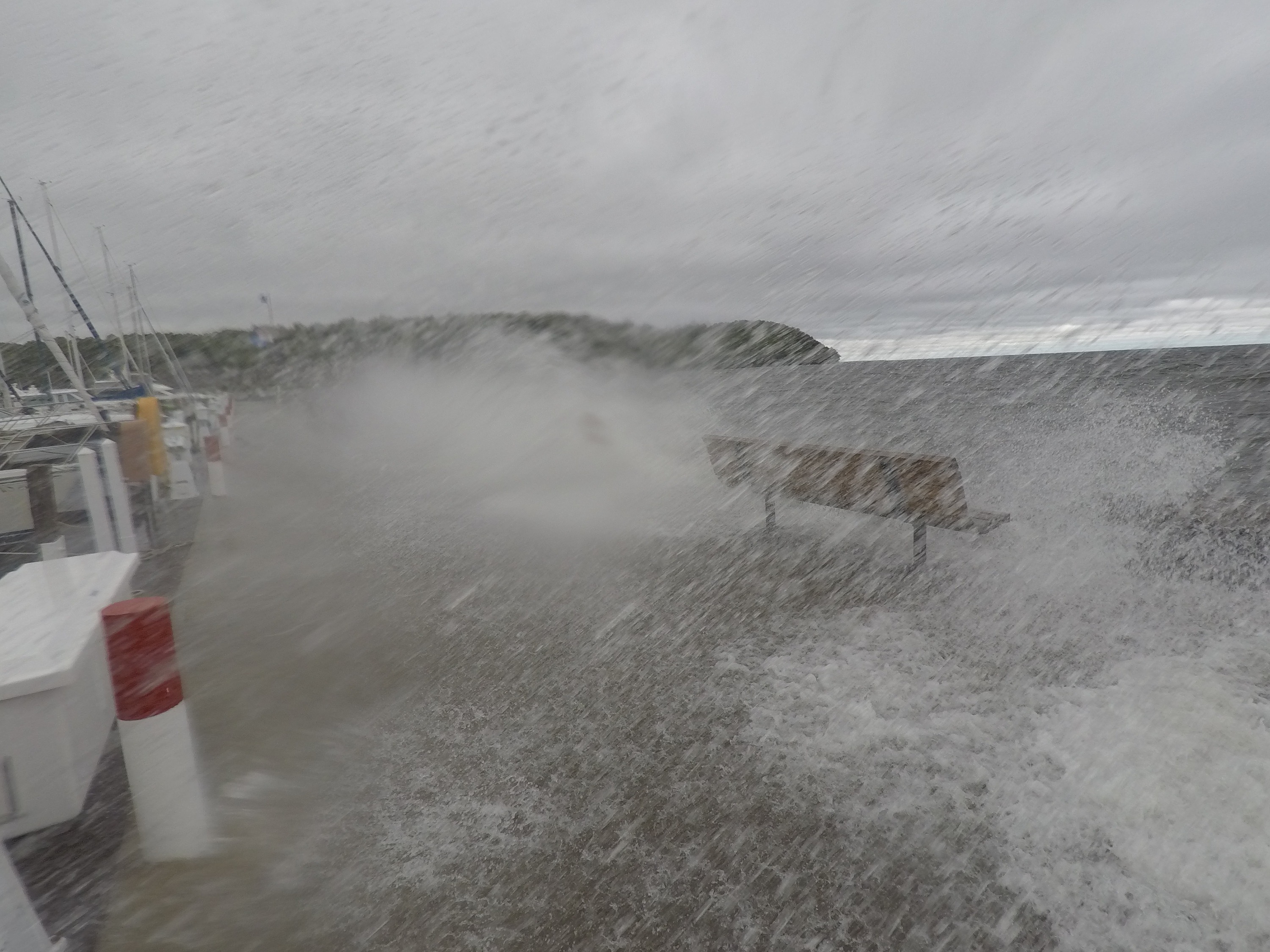 Overnight, the wind quieted down and we awoke to a beautiful and sunny day with Mary safely on board with us. While waiting for Mary's husband Dave to arrive, we walked around Sister Bay. We all agreed that 11 in the morning was as good a time as any to try the local Blood Mary with the Wisconsin trend of 'a beer chaser'! This was a MEAL – we actually called it 'lunch'.
Not only was it yummy, but it was fortified with essential vitamins and plenty of protein! In case you can not make out the details from the pictures (seen in gallery below), our Bloody Marys had a sausage, a chunk of cheese, a dill pickle, an olive, lime and lemon slices and a wonderful tomato soup base that was thick with blended veggies.
When Dave arrived we wanted (needed?) an activity so we decided to bike around the stunning Peninsula State Park. The nine-mile ride was perfect. Hilly enough to provide exercise without excessive perspiration and scenery that was varied and wonderful. We rode along the rocky coast, through pine forests, past a lighthouse and a cove that served as a floating beach party and along meadows. Aahhh – that was very nice.
On Sunday, we offered to take Mary and Dave, the French family and Lisa for a sail as we moved our boat from Sister Bay to Egg Harbor and everyone was up for it. We sailed up close to the rock cliffs the area is famous for and then anchored off of tiny Horseshoe Island to enjoy swimming and halyard jumping. Unfortunately, the weather turned and we had a slog through cold rain to finish out our day. Everyone's spirits stayed high despite the weather – it was wonderful having this group on board. They had shown us warm hospitality and we wanted to return it! Once in Egg Harbor, we shuttled everyone to their waiting cars and said our good-byes.
Here are some photos of our adventures with Mary, Dave, the French Dads and their daughters, Lisa and Jean-Christo & Cicile – friends from Toronto.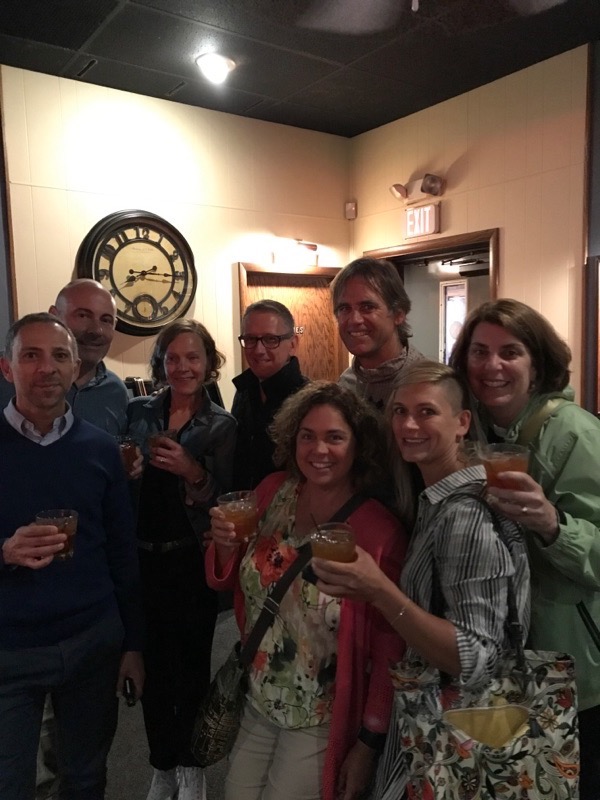 About six pm that evening, the sky began to clear so we set off on shore to find the 'Sunday Night Concert'! Lisa had mentioned this as a fun thing to do while in Egg Harbor and we were finally in a town on the day of a scheduled event  — yippee! Here are some shots of the amazing sunset behind the band-stand as we enjoyed Tonic Solfa and their wonderful percussion and vocal performance.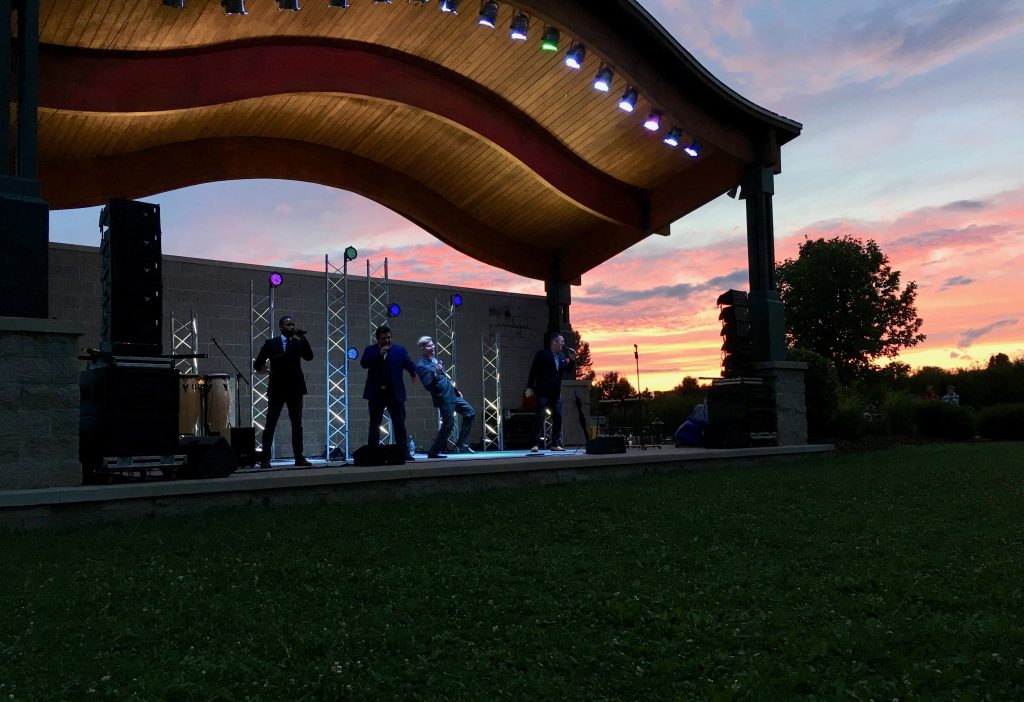 Door County Beauty
In the morning, we strolled around Egg Harbor and observed that this town is just as beautiful as all the other Door Peninsula towns we had seen over the past couple days! Every establishment has abundant and well-maintained flower gardens taking advantage of any amount of soil available! I was so impressed, I began taking pictures of these lovely displays and noticed them in equal measure in front of the grocery store, an insurance agency, a real estate business, an ice cream shop as well as the places you might expect – boutique shops, high-end restaurants and town parks. Looking for a unique summer vacation spot? Consider Door Peninsula!
Time to say 'so long' … for now. We set off for Sturgeon Bay with plans to dock at 'Skipper Bud's Quarterdeck Marina' half way through the ship canal. Lisa had mentioned a group mountain bike ride that kicks off at 5:30 pm each Monday night and we had hopes of making it in time to participate. We docked just after 3:30, showered, assembled our bikes, packed our stuff and Lisa arrived at 5 pm to take us to the trails! THANKS LISA – we had a great time. The single-track paths that criss-cross the property were so much excitement and fun! Regular riders brought snacks and pot-luck food to share so once everyone's thighs and lungs had been put to a good test, a bon fire was started and the feelings of community became even more apparent! What a wonderful asset these 30-some adults and kids have to enjoy with one another! Thanks everyone for making us feel very welcome.
As background, this mountain biking destination doubles as a popular cross-country ski area in the winter – https://www.snowkraft.com/ and this all has been established and maintained largely by one philanthropic and talented individual.
Turning Point
Last night's bike ride was a perfect event to mark our 'turning back' point. We need to get our boat into Lake Ontario by late August so with just a couple weeks left and the promise of a West/Southwest wind, we decided it was time! We set off early this morning (Tuesday, August 8th) to cross back over Lake Michigan. The crossing is around 60 miles and we are now anchored off South Manitou Island. We are back in the Eastern time zone, we are also back in Michigan and in a couple days we will be back in Lake Huron heading south toward Detroit and beyond!
We utilized the Sturgeon Bay Ship Canal I mentioned at the top of this post to gain easy access to Lake Michigan from our location in the south of the peninsula. Being back in a canal again brought back memories of the Erie! We had to have three bridges opened for us and the last section of the canal was very narrow. The red lighthouse at the breakwater on the Lake Michigan side is terrific. Check out these photos:
South Manitou Island
This part of Michigan is known for its sand dunes that tower several hundred feet above the water. I'm sure my pictures will not clearly illustrate the size of these giants. The harbor at South Manitou Island is picturesque and special. You can anchor very close to shore and land your dinghy along the long stretch of beach. The beach is fine sand with wonderfully smooth rocks that we would call river rocks back in New England. Low dunes line the beach and in the woods beyond the dunes group campsites can be seen. As we watched another amazing sunset, we also could smell the lovely and comforting fragrance of campfires. Until next time, I'll leave you with these final shots:
Lake Michigan Facts
Lake Michigan is the third largest of the Great Lakes when measured by water surface area (22,300 square miles), and it is the sixth largest fresh water lake in the world
Only one of the Great Lakes located entirely within the United States. All other Great Lakes share some boundary with Canada.
Lake Michigan has lakeshore in four states – Michigan, Indiana, Illinois and Wisconsin
The lakes current clogs the outlet rivers with sand. The Chicago River used to flow into Lake Michigan but its course was reversed in 1900!
The eastern shore of Lake Michigan is known for its sand dunes. The Great Lakes basin contains the largest freshwater dune complex in the world. Approximately 275,000 acres of sand dune formations are located in Michigan alone.
For More on Michigan Sand Dunes:
Other Great Places in Door County